Playa del Carmen Vs Cabo San Lucas | Your Complete Guide to Choosing
---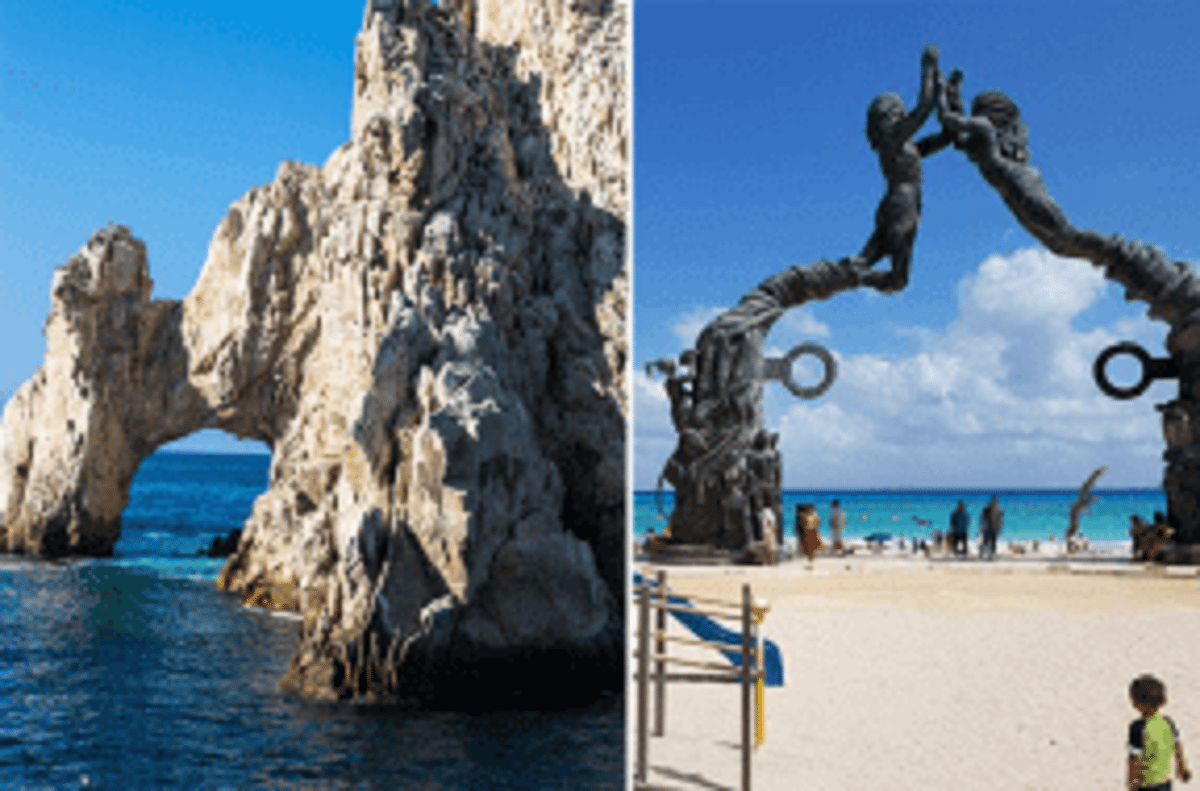 Your next vacation…Playa del Carmen or Cabo San Lucas?  Decisions, DECISIONS!
It seems to me that you've found yourself in somewhat of a predicament.
You're having to make the choice between two of Mexico's most celebrated gems. 
Hard life! 😉
While either choice guarantees you an incredible trip, there's no doubt that both destinations possess different characteristics and qualities that make them more suited to the different wants and needs of vacationers like you.
Luckily we're here to break it down for you.
Find out what makes each place so special, where to eat, what there is to do there, what the nightlife is like, and much more!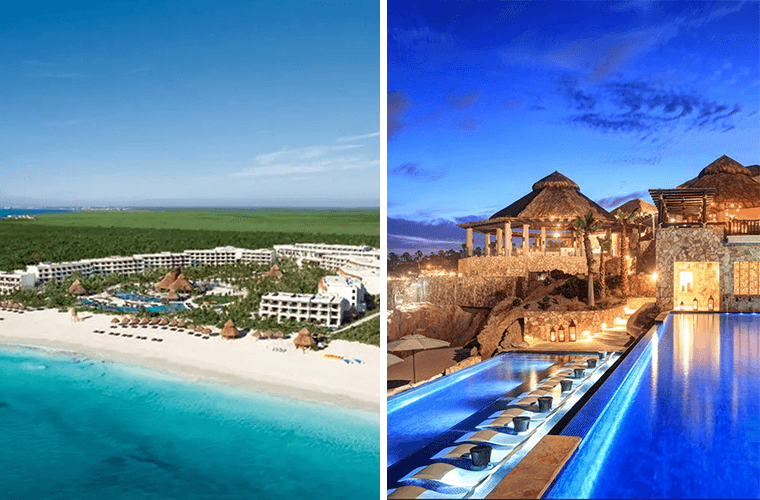 Playa del Carmen or Cabo San Lucas
So how does Playa del Carmen stand up to Cabo San Lucas (Cabo for short) where it matters most?
What are the defining factors that would make you choose one destination over the other?
Let's have a look at the areas where it counts:
Playa del Carmen at A Glance
Playa del Carmen is a quaint coastal city found at the heart of the Yucatan Peninsula halfway between Cancun and Tulum.
Visitors to this destination will enjoy a privileged position as Playa del Carmen features a wide array of tourist activities due to its geographical location in the Riviera Maya. 
Unlike other cities on the west coast of Mexico such as Cancun, Playa del Carmen offers a much more relaxed and family-friendly vibe!
Why?
Well, first off the city is completely walkable. If walking is your thing, then you'll love it here.
There's enough going on to keep you busy but it is not an overdeveloped city,  subsequently, this is what gives the town it's Caribbean charm.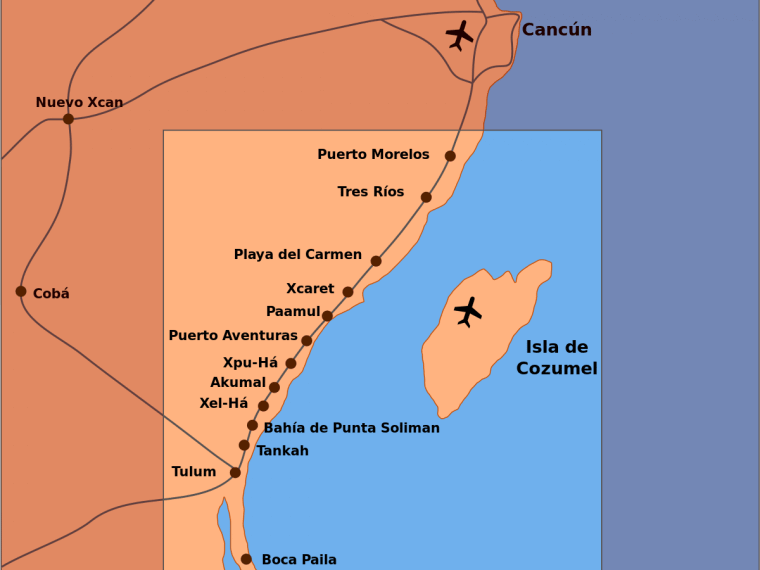 You've probably heard lots about the sublime surrounding islands, and if you have not, then where have you been hiding!
Playa del Carmen boasts amazing transport services that make it easier and cheaper than ever to head across to islands such as Cozumel and Isla Mujeres.
The pier to Cozumel is located at the south end of 5th Avenue.  An Adults one-way ticket is just $10 and the journey takes 40 minutes. You can view our updated ferry schedule here.
Cabo San Lucas at A Glance
Over on the east coast of Mexico, you will find Los Cabos made up of San José del Cabo and Cabo San Lucas.
Best known for its beaches, scuba and diving locations, resorts, and timeshares.
Nicknamed 'Lands End' it's located on the southernmost tip of the Baja Peninsula making is easier to get to for those already living on the west coast.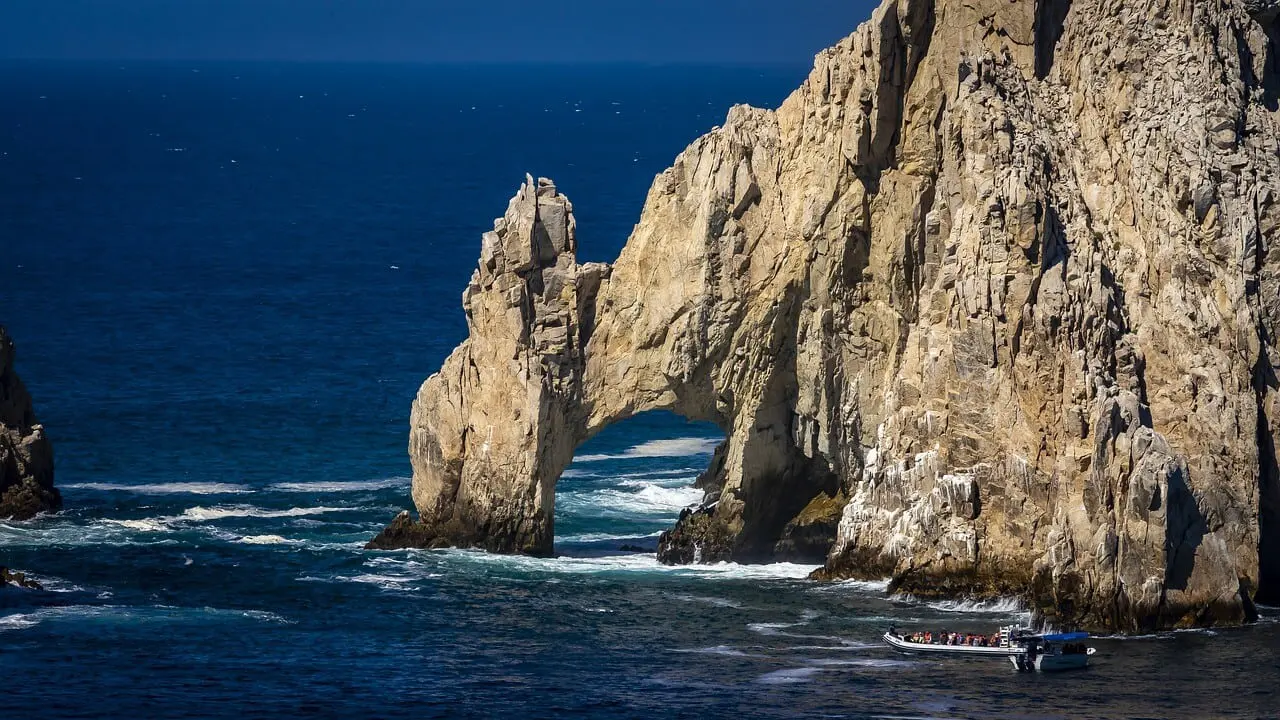 While Playa del Carmen is laregly flat, Los Cabos is surprisingly mountainous with a much more rugged landscape.
The water in Cabo is nowhere near as turquoise as it is in Playa del Carmen but the deep blue tone of the sea is still pleasant.
Cabo is a lot less humid that Playa del Carmen with less than 10 inches of rain per year, much of it falling in the month of September.
There are not as many swimming beaches in Cabo due to the powerful undertows which can make them too dangerous especially for children.
However, there are plenty of other activities to make up for this.
WINNER? Cabo San Lucas
5th Avenue
Ahhh, the 5 mile-long pedestrian only treasure in Playa del Carmen designed to cater to the tourists every need!
Considered by many to be the staple of downtown Playa del Carmen, 5th Avenue is an impressive walkway lined with shops, nightclubs, bars, high-end restaurants, low-end authentic eateries, jewelry stores, cigar stores, and much much more.
It's not to be missed.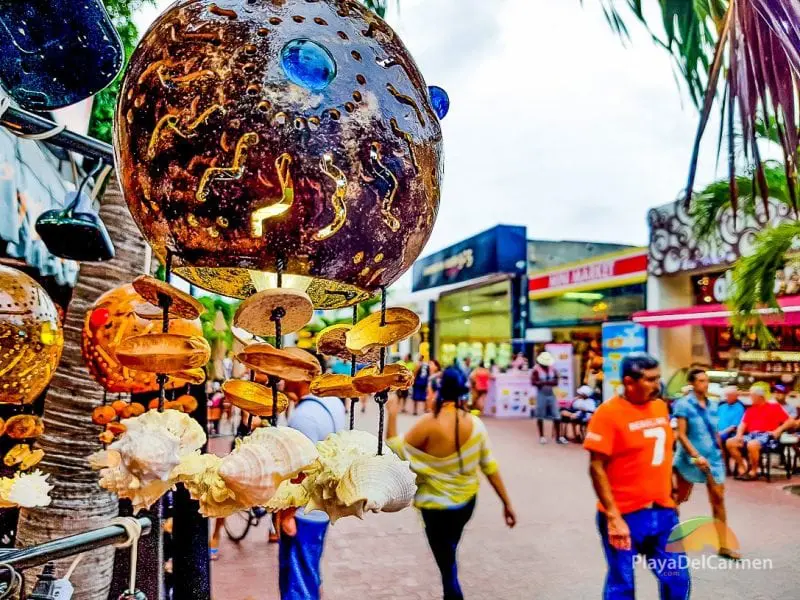 Read our top shopping tips for 5th Avenue here. 
If clubbing is your thing you'll be pleased to know that all of the top clubs can be located on the same street, on 12th.
Here you will find top clubs such as Coco Bongo, Palazzo, and Mandala.
If you keep walking south on 5th Av towards the ferry pier you will find the iconic Playa del Carmen statue at Parque Fundadores. Here you will also find a playing area for kids and lots of little stalls selling tasty local goods.
Our favorite spots along 5th avenue include:
Shopping in Cabo
If you enjoy your retail therapy on vacation or just like to treat yourself to something nice in a new place, you'll be pleased to know that Cabo has got you covered.
This tourist destination is also home to a number of plazas and upscale boutiques, however, compared to Playa del Carmen the shops here are much more spread out and not located in one area like they are on 5th Avenue.
Playa del Carmen has a much more relaxed beach vibe. In Cabo visitors are generally more fashion conscious.  The style is often innovative and original.
Shops line the streets of Cabo ranging from posh designers, world-class jewelers, and gourmet cuisine, to hidden trinkets, exotic bargain souvenirs, and deliciously dilapidated taco stands.
Both destinations offer a unique and exotic shopping experience. 
In Playa del Carmen and Cabo, you will easily find things such as:
Art
Cosmetics
Clothing
Cigars
Swimwear
WINNER? Playa del Carmen
Beaches in Playa del Carmen
Expect glittering turquoise waters, shallow waters, and an abundance of beach clubs in Playa del Carmen!
Playa del Carmen is home to some beautiful beaches, especially to the south in the residential area of Playacar.
However, in some parts of downtown Playa beaches can appear a little narrow.
Luckily for visitors, surrounding areas such as Xpu-Ha  (halfway between Playa and Tulum)  boast some incredible untouched beaches of wide-stretched sand.
If you do enjoy your creature comforts, amenities, and music you may prefer to stay in downtown Playa where you will find an array of great beach clubs.
The best beaches in Playa del Carmen: 
Mamitas Beach Club. (Calle 28 and the beach, Playa del Carmen)
Xpu-ha (20 minutes South of Playa del Carmen on Highway 307, just past the town of PuertoAdventuras).
Akumal. (25 minutes South of Playa del Carmen on Highway 307)
Maroma Beach. (20 minutes North of Playa del Carmen on Highway 307)
If you like to relax by the water on vacation Playa del Carmen not only offers beaches but cenotes as well.
Cenotes are an incredible natural phenomenon unique to this area of the world.
Highly regarded by the ancient Maya as the portal to the Netherworld cenotes are visually spectacular sites that should be on everyone's bucket list.
They are the life and soul of the jungle helping it to survive in the heat and one of the main reasons Mayan empires reigned so strong in the Yucatan because they provided a fresh water supply to ancient cities.
They are the perfect activity if you have kids because many cenotes boast different levels meaning the water is shallow, clear, and not salty.
You won't have to worry about them getting washed away by a big wave.
My kids hate it when the salt from the sea gets in their eyes, they prefer cenotes because the water is fresh and feels holistic to the skin.
Beaches in Cabo
Much like Playa del Carmen, San Cabo Lucas is home to dozens of great beaches.
However, depending on who you're traveling or what you want some are may be more suitable than others.
Some are celebrated for their beauty, others for their safe swimming, surf breaks, and snorkeling. 
Playa del Amor, or Lover's Beach, is probably the most frequently photographed beach in Los Cabos, given its privileged location amidst the granite rock formations at Land's End.
This particular beach is actually only accessible by water, so visitors have to take a water taxi or rent a kayak.
A dense concentration of beaches can be found along the Tourist Corridor, a twenty-mile strip highway that connects the two cape cities.
The best beaches in Cabo: 
Bledito – San Jose Del Cabo.
Solmar – Pedregal Hills/Pacific Ocean.
Las Viudas – Corridor.
Bahía Chileno – Corridor.
Playa Palmilla – Corridor.
WINNER? Playa del Carmen
Food in Playa del Carmen
Mexico is home to some of the best food in the world! Of course, I'm biased! Living here is definitely somewhat dangerous for the diet.
Everything is so tasty, full of flavor, and comparatively cheaper than back home.
In Playa del Carmen you will find exquisite cuisine to satisfy all cravings.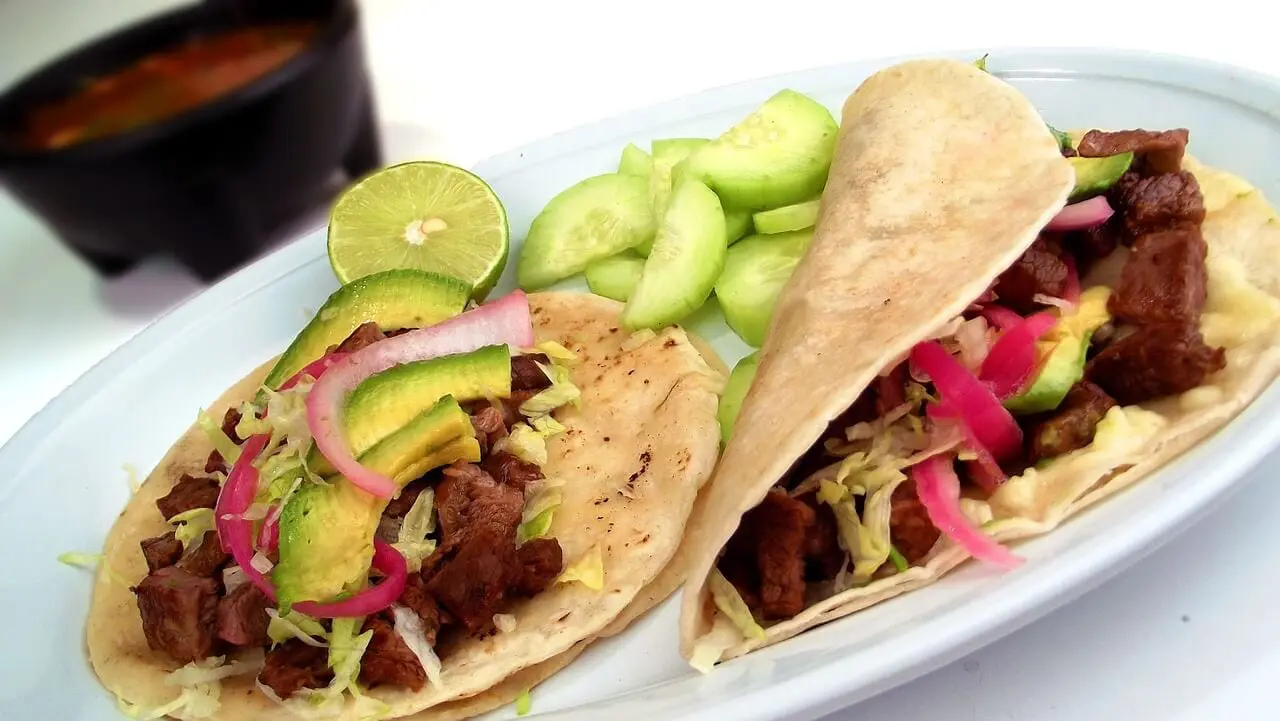 Whatever you do, do not limit yourself to the confines of your all-inclusive hotel because you will be missing out big time.
Read our ultimate guide to the restaurants here in the area for the full breakdown.
You can expect the freshest ingredients, innovative cooking techniques, and great prices.
In downtown, you will find everything from roadside taco stands to fine dining.
Our top picks include: 
Los Hijos Del Mar (tostadas)
Aldea Corazon (mexican)
Food in Cabo San Lucas
There is plenty of delicious gourmet food for you to try out in Cabo San Lucas.
The majority of restaurants serve local foods but it is possible to enjoy some international dishes too. Plus you will find an array of options from casual eateries to fast food joints.
Local cuisine in Cabo is centered on ingredients that are secured from the area.
You will notice that dishes here are heavily centered upon seafood.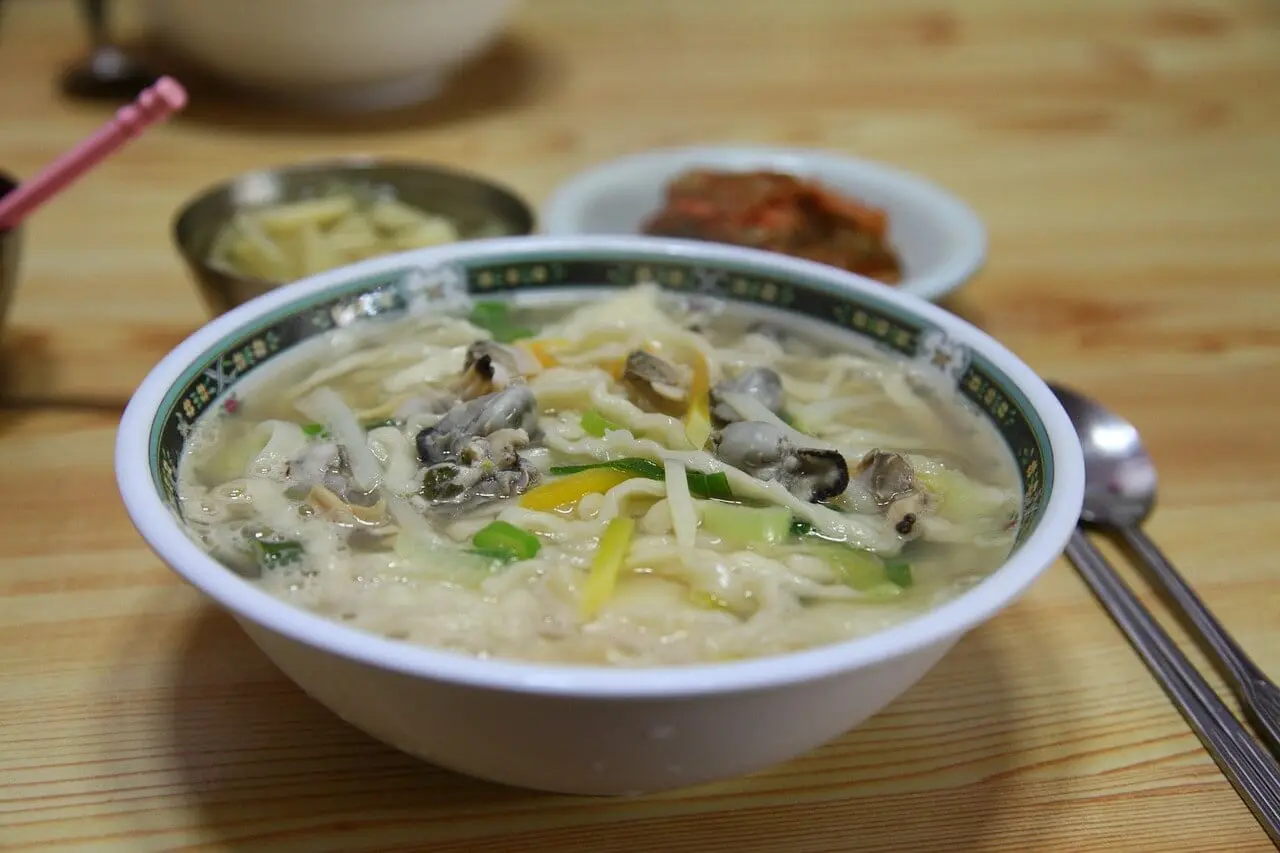 Here is a list of dishes you simply can't miss out on while in Cabo:
Mexican Chocolate Clam (pictured above)
Smoked Marlin
Comida de Pobres (seafood soup)
WINNER? Cabo San Lucas
Nightlife in Playa del Carmen
The one thing I love about the nightlife in Playa del Carmen is how varied and condensed it is. Unlike other close cities like Cancun, the cities nightlife is laregly focused on one street…Calle 12. 
On this street, you will find clubs like Coco Bongo, Palazzo, and Mandala.
If you don't like a particular venue you don't have to worry about getting a taxi to the next place, you can just walk there.
If you're not a big club goer you can find more low key places that play live music, host salsa dancing nights, and more.
Read our ultimate guide to nightlife in Playa del Carmen here.
Nightlife in Cabo San Lucas
In Cabo San Lucas there is also a ton of nightlife to choose albeit it's much more spread out between Cabo San Lucas, the Tourist Corridor, and San Jose del Cabo.
Each area has many different options.
In Cabo our top recommendations are:
Taxi are available everywhere in Cabo however, you should always agree the price with the driver before you get in to avoid any unexpected surprises.
It is known for taxi drivers to get away with as much as they can.
WINNER? Playa del Carmen
Things to do in Playa del Carmen
Searching for things to do in Playa del Carmen? You've certainly come to the right place!
When it comes to tours and activities we are the experts, here at PlayaDelCarmen.Com we pride ourselves on trying and testing all the tours we sell. 
Why's that?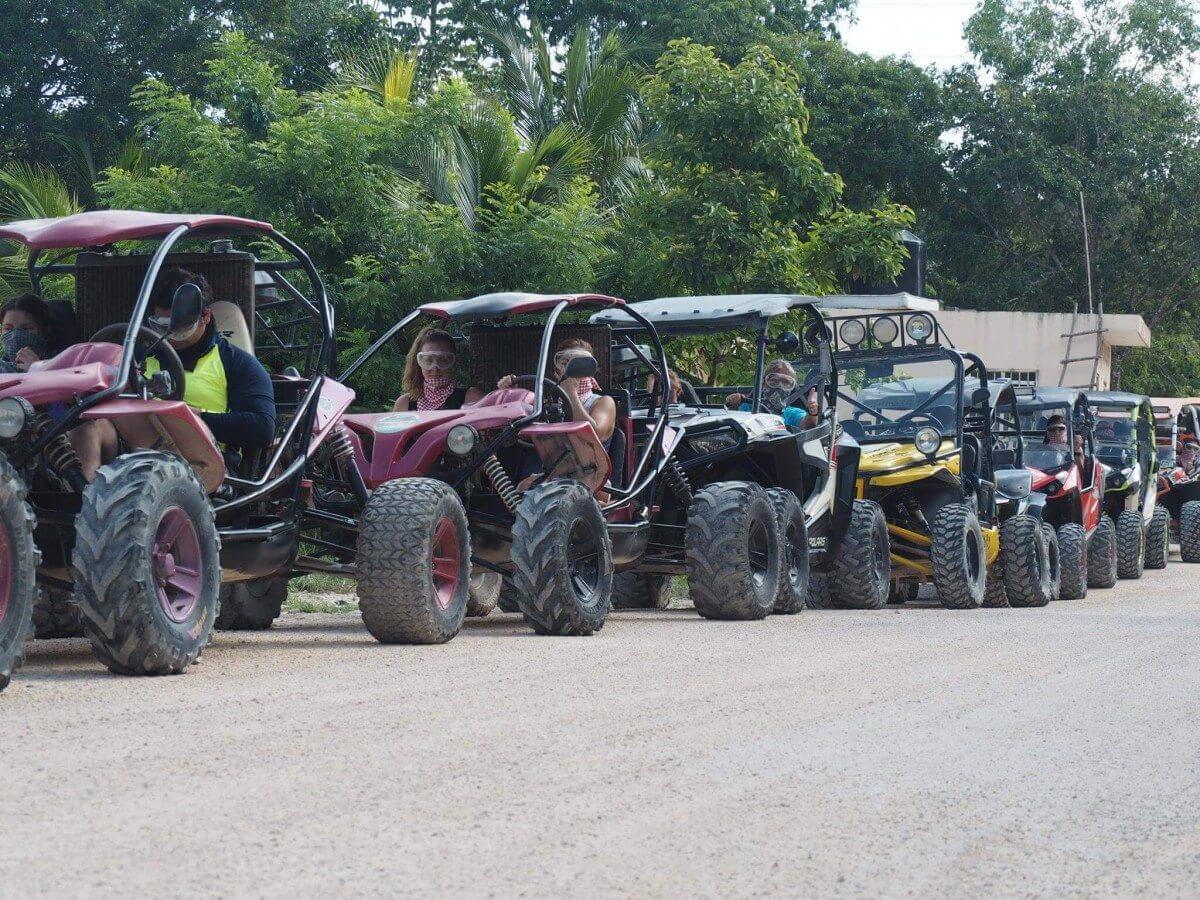 Because with so many different providers offering the same tours and experiences quality can differ greatly. We sell only the best!
My personal top picks for tours in Playa del Carmen include: 
Our privileged position in the heart of the Riviera Maya means you will be in close proximity to ALL of the regions top attractions including the Tulum Ruins, Chichen Itza, Xel-Ha, and more!
Nothing is off limits here in Playa del Carmen.
We, PlayaDelCarmen.com, can make it happen and save you money.
What more could you ask for?
Just ask one of our travel agent specialists today or check out our things to do in Playa page for more inspiration.
The surrounding islands also offer a multitude of activities to choose from.
So… if you're feeling a little overwhelmed, fear not! We're here to help.
You will be spoilt for choice for things to do in Playa del Carmen. Don't hesitate to get in touch either, we would love to give your our honest 2 cents.
You will find that if you search for these particular tours on our blog or social media we regularly post reviews or updates and so stay tuned!
Things to do in Cabo San Lucas
In Cabo, there is also an abundance of things to do!
Like any tourist hotspot, you will find a nice mix of free and paid excursion activities. 
It's always a good idea on a trip to book at least one or two tours. It just gives the vacation something special to look forward to.
You'd be surprised how many people leave booking excursions until they arrive on their vacation. Generally, this is a bad idea as it can be costly and it's unlikely you will save any money.
Many people leave booking until they have a better idea of what the weather will be like. However, in Cabo, there's barely any rainfall so your odds are already looking good.
In Playa del Carmen, providers are happy to rearrange tours on different dates if the weather isn't playing ball.
In Cabo,  you can do all sorts of tours such as surfing, snorkeling, whale watching, ATV, hiking, sunset cruises and more!
Do your research or better yet just ask us! We'd be happy to help.
WINNER? Playa del Carmen
Have You Made Your Decision?
If you made it with us all the way to end…
Well done, you deserve a pat on the back!
Now,  let us know how awesome you are in the comment section below and tell us whether you prefer Playa del Carmen or Cabo San Lucas.
Speaking of awesome…have I mentioned our travel specialists?
They know all the tips, deals, and secret handshakes.
Call them today toll-free at 888-537-9797! 
Or 
Contact us via email at customercare@playadelcarmen.com
---
Trending Now