Playa del Carmen Resorts: A Travel Specialist Guide
---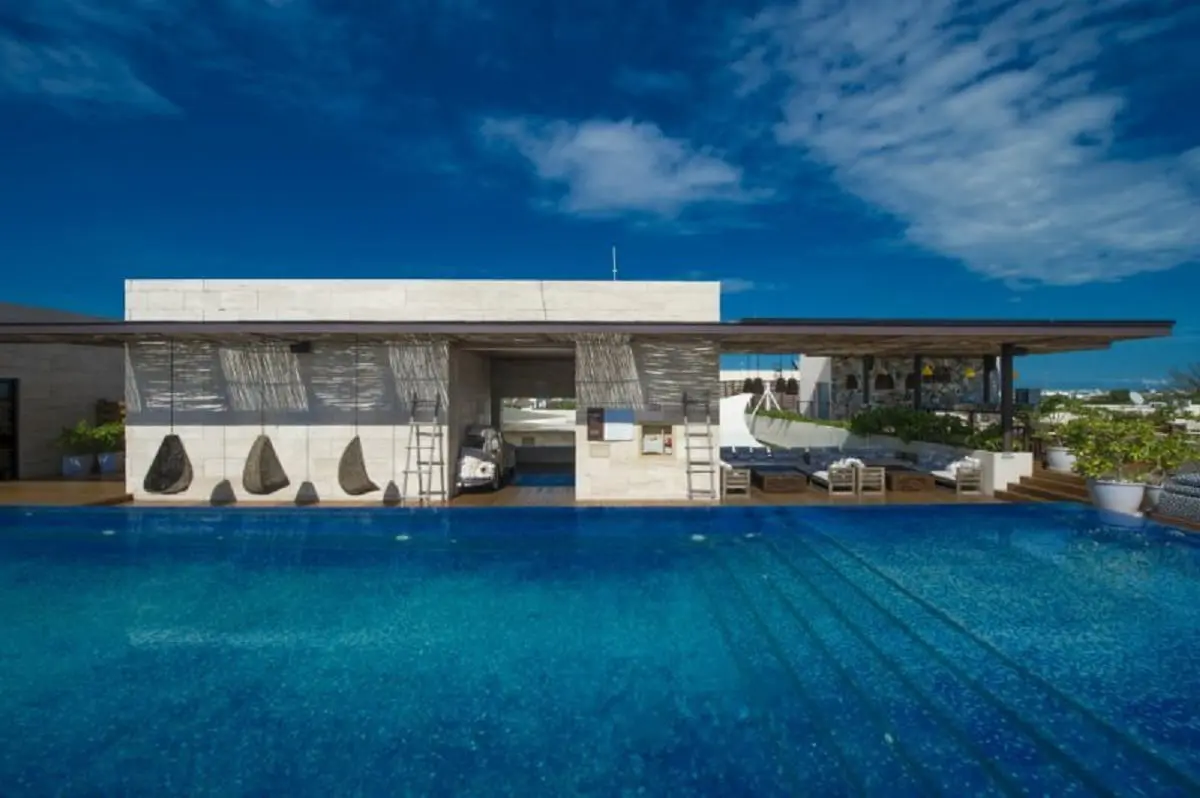 Playa del Carmen resorts are much like human beings. Like us, they come in all shapes and sizes.
So when you're looking to book your hotel in Playa del Carmen, how do you know what to look for? Will it be the right choice for you and yours? Maybe a Riviera Maya resort or a vacation rental would be more up your alley?
We know it can get confusing.
That's why our trusty travel specialists have helped create a guide to Playa del Carmen resorts just for you!
With such a wide variety of available options, in this post we are going to share our recommendations for some booking-worthy Playa del Carmen hotels. The good, the better and the even better, 'cause there ain't no ugly when it comes to Playa del Carmen.
To help make things easier (vacations are supposed to be easy, right?), we are dividing the hotels up into the following categories for hotels in Playa del Carmen and the Riviera Maya:
Family-friendly hotels
Adults-only resorts
Boutique hotels
CondoHotels
Luxury resorts
There are many great hotels and resorts in the region not included in this list. That said, we are including what we at PlayaDelCarmen.com feel are the three best options for each category.
Please note that in order to not exclude some great properties for the different categories, we have included a few Riviera Maya resorts. None of them are more than about 45 minutes away from Playa del Carmen.
And if you want more detailed information about how to book, just click on the title to open up a new tab with the full hotel description!
When choosing a hotel for a family vacation, it's important that the property offers something that will allow everyone in your family to feel right at home and have the diversity of options and activities that will keep them entertained. Here's our top 3 suggestions for family and kid-friendly resorts in Playa del Carmen and the Riviera Maya.
Sandos Caracol has a lot going for it in terms of being a great hotel option when traveling to Playa del Carmen.
The 956-room sprawling property has a lot of great on-site activities, including a private cenote, diverse kid clubs depending on the age group and even a waterpark. Set off in the jungle, Sandos Caracol has a nice tropical feel and lots of local wildlife throughout the property.
Overall the quality of the food is good, and with three different buffets it should be easy to find something for those picky eaters in your ranks. Moreover, Sandos Caracol can accommodate families of up to five and often offers family-friendly promos such as 'kids for free' (children staying at no additional cost).
As an added bonus: there's also an adult's only section for those looking to escapes those hyperactive shouts of joy coming from the pool (and no, we don't mean the hotel entertainment staff).
Interested in learning more? Read our full review on the Sandos Caracol.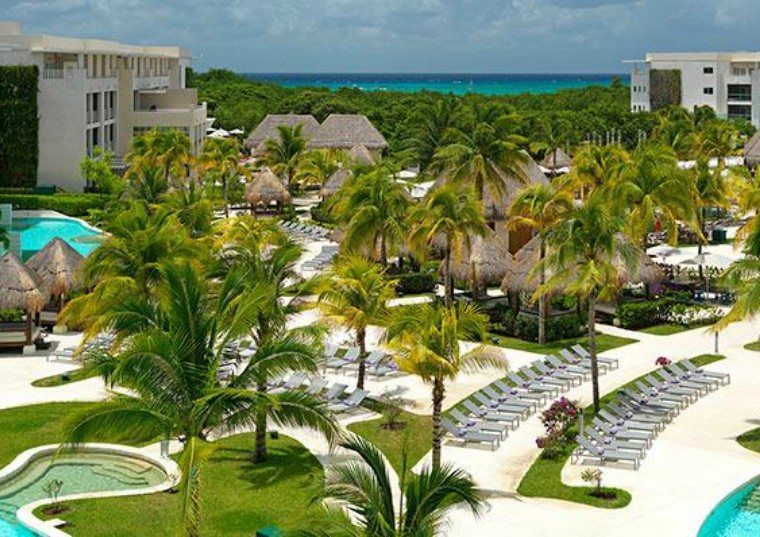 This one's for those of you who want to combine luxury with being able to travel with kids and still have the best of both worlds.
Paradisus La Esmeralda is located fairly close to town, meaning that those fun escapades for shopping, people watching and ice cream are within striking distance without it being too overbearing on the wee ones or the wallet.
Choose the family concierge option and even the kids get special treatment, including bathrobes, beach kits and their own section of the mini-bar. A PlayStation can even be sent to the room upon request and availability. Of course, the adults aren't left out of the pampering, including such fine amenities as amazing food, an amazing spa, and all the goodness you would expect from such a classy 5-star all-inclusive resort in Playa del Carmen such as Paradisus La Esmeralda.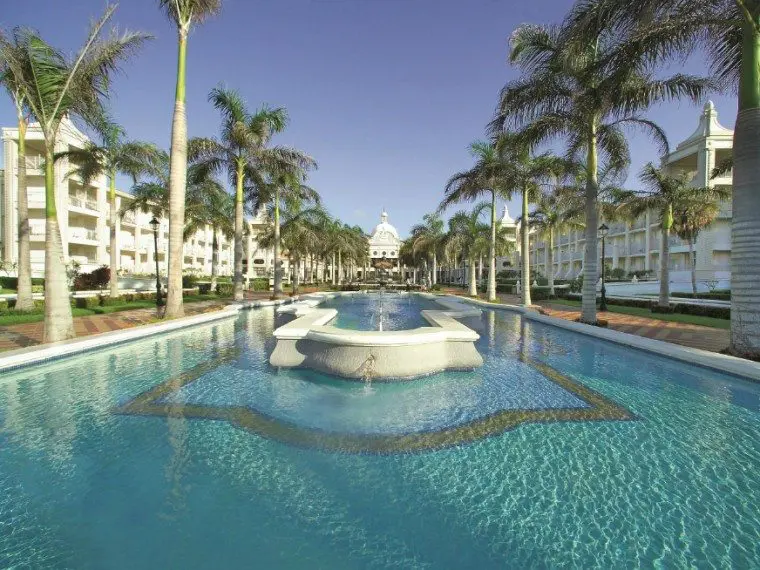 You know that old Pringles commercial where they say you can't eat just one? Well, meet the RIU hotels in Playa del Carmen. With 6 hotels to choose from there's something for every budget.
Located in Playacar, all RIU hotels are close enough to the action on 5th Avenue that you can stay away from the masses or join them as you and your family see fit.
What makes these hotels such as great option when traveling with kids is the wide range of entertainment and sports activities offered by the hotels. In addition, you'll be staying just minutes away from what is undoubtedly the best beach in Playa del Carmen.  What you need to take into consideration here is that the different options run from 3 to 5 stars, so the quality will depend in large part on your choice of RIU hotel in Playa del Carmen.
These are your Playa del Carmen RIU hotel options:
Tip: Stay at either of the RIU Palace resorts in Playacar and enjoy access to all five hotels!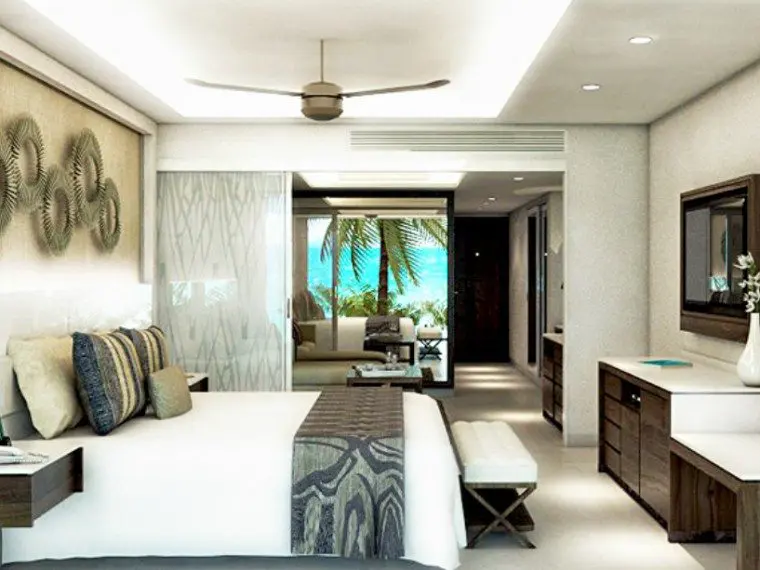 Although we said only 3 hotels per category above, we couldn't talk about family-friendly Riviera Maya resorts without mentioning the Royalton Riviera Cancun.
Don't let the name throw you off, as this expansive resort is located on the south side of the Cancun airport. That's about halfway between the Cancun Hotel Zone and Playa del Carmen.
1,200 rooms, 12 restaurants, 10 bars and a slew of services. Kids clubs, fun stuff for teens, and accommodations that can, er, accommodate up to four kids. Royalton Riviera Cancun is big, impressive and boasts lots of great activities for the entire family.
For those of you traveling in a larger group with some adults perhaps wanting a little separation from the young ones, this hotel has an elegant solution. It's called the Hideaway at Royalton Riviera Cancun, like a boutique hotel within a large all-inclusive Riviera Maya resort. The hideaway has its own section of rooms, swimming pools, bars and restaurants.
Want even more luxury? Opt for the Diamond Club which includes butler service, upgraded room service and a private check-in/out.
Stop the crying because this is some adults-only salvation. No kiddie pools, high pitched screaming or little fingers in the buffet food. Nope. The following resorts in Playa del Carmen are only for those of us aged 18 years and older.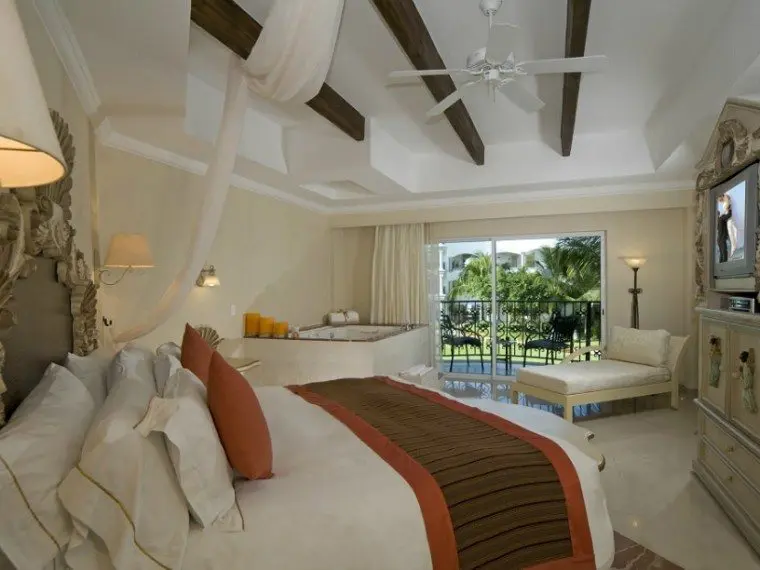 The Royal is one of those places where no matter how many clients we send we still don't get any negative feedback. Even from the trolls. Yes, it's that good.
The quality of a stay at The Royal begins and ends with the hotel's service. Right from the beginning, the staff will not only make you feel right at home, you´ll feel like it's your special day and you´re getting some well-deserved pampering for all the good you've done in the world.
To top things off, The Royal Playa del Carmen has one of the best hotel locations in town: right on the beach and just a short walk from all the action on 5th Avenue. Add to that in-suite Jacuzzis in every room, excellent food and drinks and a world-class spa, and you've just found your next home away from home.
If you're all about rest and relaxation, than you'll undoubtedly fall in love with The Royal Hideaway. A smaller, more intimate hotel with just 200 rooms, it's an upscale hotel with a quieter, mellower ambiance.
The food is gourmet, the beach is stunning and there are a minimal level of activities so you can just peace out and relax.
Lat 20 by Live Aqua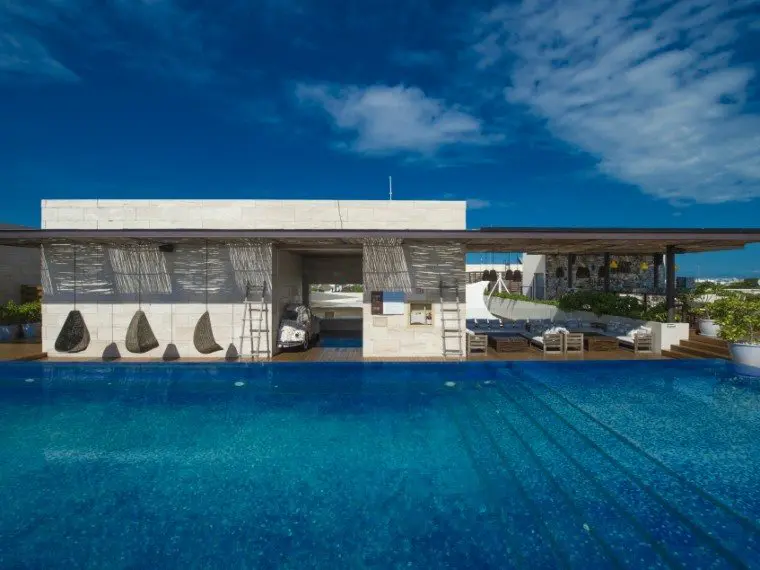 If you're looking to discover the essence of Playa del Carmen, consider a stay at Lat 20 by Live Aqua.
This all-inclusive adults-only paradise combines the superior service level and incredible cuisine of its sister resort Live Aqua in Cancun with the more intimate feel of a boutique hotel right off of Playa del Carmen's 5th Avenue.
Lat 20 by Live Aqua is the embodiment of attention to detail in all aspects of the hotel's chic installations. Lat 20 boasts a stunning rooftop pool, world-class spa, and all the style and elegance you can handle.
What comes to mind when you think of a boutique hotel? Now imagine that in a tropical setting with an explosion of wonderful colors and chic Caribbean décor.
Playa del Carmen boutique hotels are as chic as they are havens of Mexican hospitality. They are places where you won't want to leave and will always dream of going back to during those long office hours when the only thing on your mind is escape. Here are three of our favorite boutique hotels in Playa del Carmen.
People who stay at The Bric Hotel in Playa del Carmen keep going back. Year after year after year. Why? Because they feel at home, pampered and respected. The same goes for those who work there, many of whom have been with The BRIC Hotel for many years now.
What else is great about The BRIC? It's amazing location off 5th Avenue, an amazing spa that only uses all-natural products and never, ever rushes you, rustic elegance and a pretty good breakfast to boot.
A quaint oasis within Playa del Carmen just off of 10th Avenue, Aventura Mexicana Boutique Hotel feels so tropical and intimate that once inside you wouldn't even think you were in the middle of one of Latin America's fastest growing cities.
Even better: the hotel has two sections, one that is adults-only and one that is perfect for families. In the middle is Aventura Mexicana's fantastic restaurant, where you'll be treated to a tasty dose of some excellent cooking. With an all-inclusive option and a pool that's too cool for school, Aventura Mexican Boutique Hotel & Suites is a great little hideaway right in the heart of this vibrant beachfront city.
Oh, and did we mention that it's only a five minute walk from the beach?
Perhaps nothing is more emblematic of a tropical paradise than those beautiful palm trees stretching out from the white sand to embrace the blue sky as they gently sway in the wind.
With everything this boutique hotel has to offer, it could easily be classified under the following category as well.
Playa Palms considers itself to be an alternative to the all-inclusive resorts in Playa del Carmen and they're right.
A charming atmosphere sets the stage for some very comfortable studio type rooms that include kitchenettes, balconies or terraces with hammocks and either garden or ocean views. Yes, ocean views. And that at a ridiculously good price for being right on the beach. Plus the hotel pays attention to the details, which means lots of little extra treats for you, including private beach club, maid service and an on-site concierge.
A condo hotel is the perfect solution for families or groups traveling to Playa del Carmen that are looking for a more D.I.Y. type of arrangement. Of course, that comes with the caveat of the added bonus of having the amenities of a five-star hotel available for any of the little extras.
In general, the condo hotels have great locations, are stylishly decorated and have all of the modern amenities of home. And if for whatever reason you don't want to prepare your own food, they're all centrally located so that the culinary paradise that is Playa del Carmen can be discovered at will. Here are three great options for condo hotels.
The name says it all, doesn't? If luxurious beachside pampering is what you dream of while counting down the hours at work, then look no further than El Taj Oceanfront and Beachside Condos.
What's great about El Taj is also not just it's prime location but also chic installations and excellent service. Featured in several major U.S. newspapers, El Taj offers 57 units ranging in size from 1 to 4 bedrooms. All have spacious living rooms, fully equipped kitchens and even some units have private Jacuzzis on their terraces.
The Elements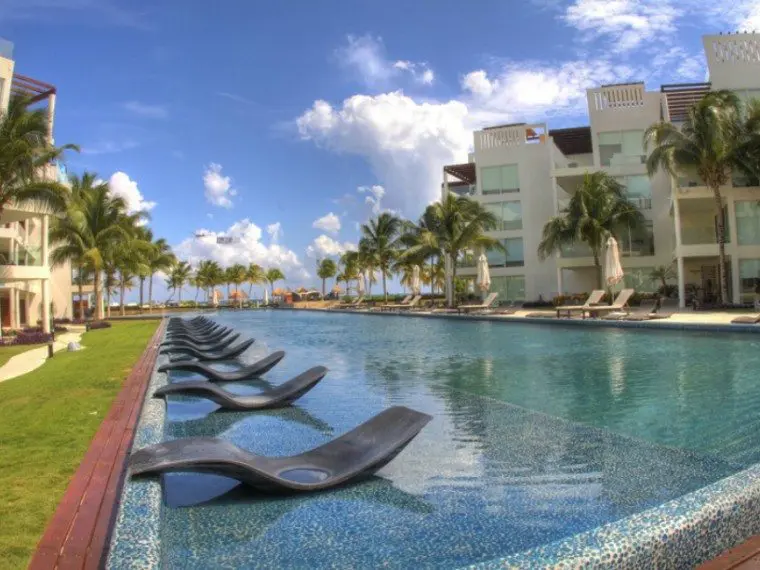 Come to Playa del Carmen and be at one with the universe at The Elements. Boasting one of the largest swimming pools in all of Playa, plus a fitness center and unobstructed views of the majestic Caribbean Sea, you'll find your tropical zen-like state at The Elements.
And if you want to let loose, the world-famous Canibal Royal Beach Club & Restaurant is just a few steps away.
Each 2 bed/2 bath unit has 1,200 sq. ft. and comes equipped with a fully equipped kitchen, posh furnishing and a modern flair. A true home away from home, except this one overlooks the azure waters and white sand beaches of Playa del Carmen.
Paseo del Sol
Set off in the tropical surroundings of the gated residential district of Playacar, Paseo Del Sol condo hotels are strategically located next to arguably the best beach in all of Playa del Carmen and about a twenty minute walk from the town's vibrant 5th Avenue. Elegant and luminous 2 bed/2 bath suites come fully equipped with all the modern amenities you would expect.
In addition, you get the added bonus of a sauna, private tennis court, fitness center and 95 meter swimming pool. The condos all have 24-hour security, and an on-site concierge is available to help with any travel questions.
High-end, upscale, luxurious elegance. If you have ever traveled to Mexico and been amazed by the incredible decor and the impeccable hospitality, get ready to experience another level of wow.
The following 3 hotels are beyond nice. They're the epitome of luxury travel. Gourmet dining, stunning decor, only the finest quality furnishings, and if having a butler is your type of thing, you can have that too.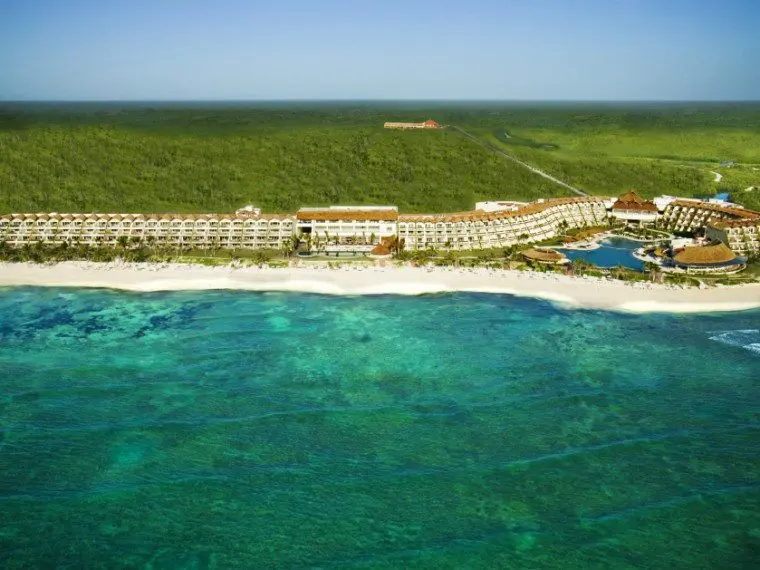 Grand Velas. The name itself evokes images of grandeur. And so it is.
One of the most exclusive resorts in the entire Mexican Caribbean, Grand Velas Riviera Maya takes lavishness to another level and then combines it with a prime beachfront location just a few kilometers north of Playa del Carmen.
Grand Velas has arguably the best convention center in the region, a stunning infinity pool overlooking the Caribbean Sea, spacious rooms that spare no detail and fantastic culinary options at 7 different restaurants.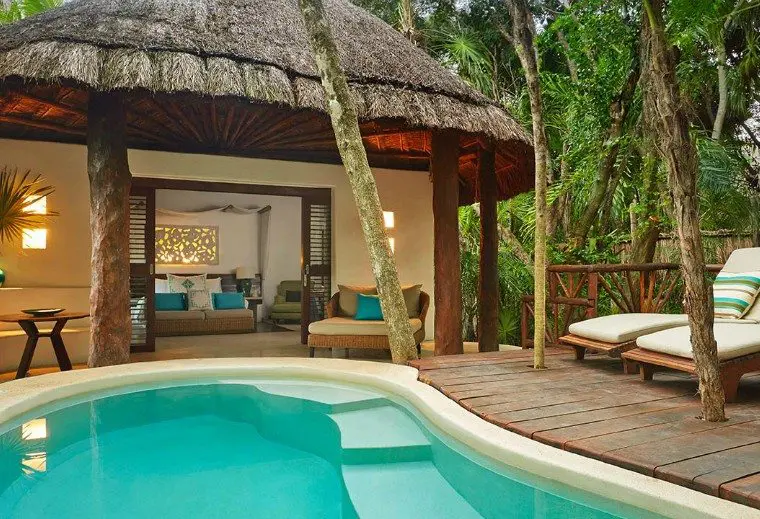 41 luxury villas await you at this celestial paradise that is Viceroy Riviera Maya Resort.
A jungle vibe complements the elegant décor to create an upscale version of Bohemian chic that is simply breathtaking.
The style and quality of the villas are more than worthy of their high price tag, and this adults-only, all-inclusive Caribbean mecca is also a great place to celebrate weddings.
With 7 different types of villas to choose from, at Viceroy Riviera Maya you'll encounter high-end pampering at its finest. Serenity, tranquility and privacy are guaranteed at the adults-only luxurious Viceroy Riviera Maya.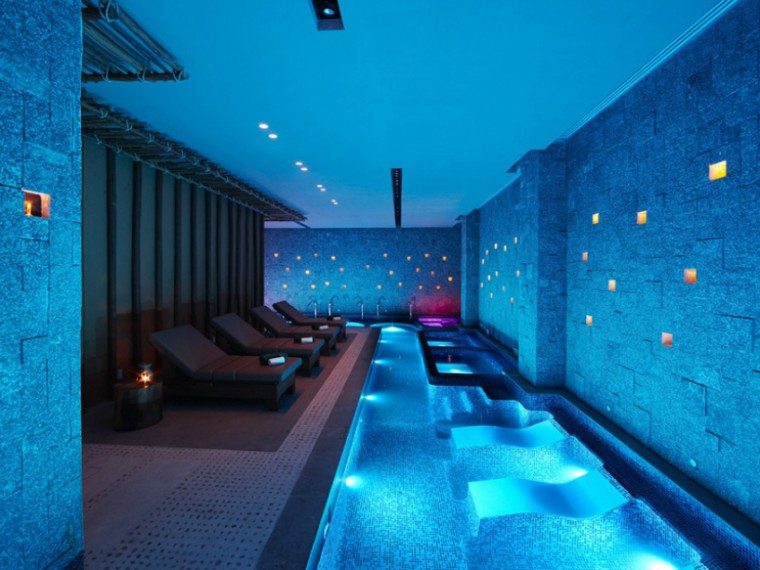 If you ever wonder just where it is that luxury and nature fusion into an otherworldly level of opulence, welcome to Banyan Tree Mayakoba.
Combining the finest aspects of Asian and Mexican hospitality, this gorgeous eco-resort seems like out of some kind of delightful Caribbean dream.
With 10 different villa types to choose from and just 191 rooms, guests at Banyan Tree Mayakoba enjoy the perfect mix of exclusivity and tropical immersion that ensure a relaxing calm amidst the natural beauty of the Mexican Caribbean.
Each villa boasts a spacious garden that includes a pool, outdoor bathtub and outdoor living and dining areas.  Perhaps the creme de la creme of this fantastic piece of Riviera Maya excellence is the resort's award-winning Banyan Tree Mayakoba Spa. Wow.
 Did we leave you with any questions? If so, our travel specialists are not only wonderful people, they're also local experts with the knowledge, professionalism and passion to make sure that each detail of your next trip to Playa del Carmen is as magical as your dream of being here. They can be contacted toll-free at 888-537-9797.
See you soon!
---
Trending Now
You may also like