Rockin' in the Riviera: My Review of Hard Rock Hotel Riviera Maya (2023)
---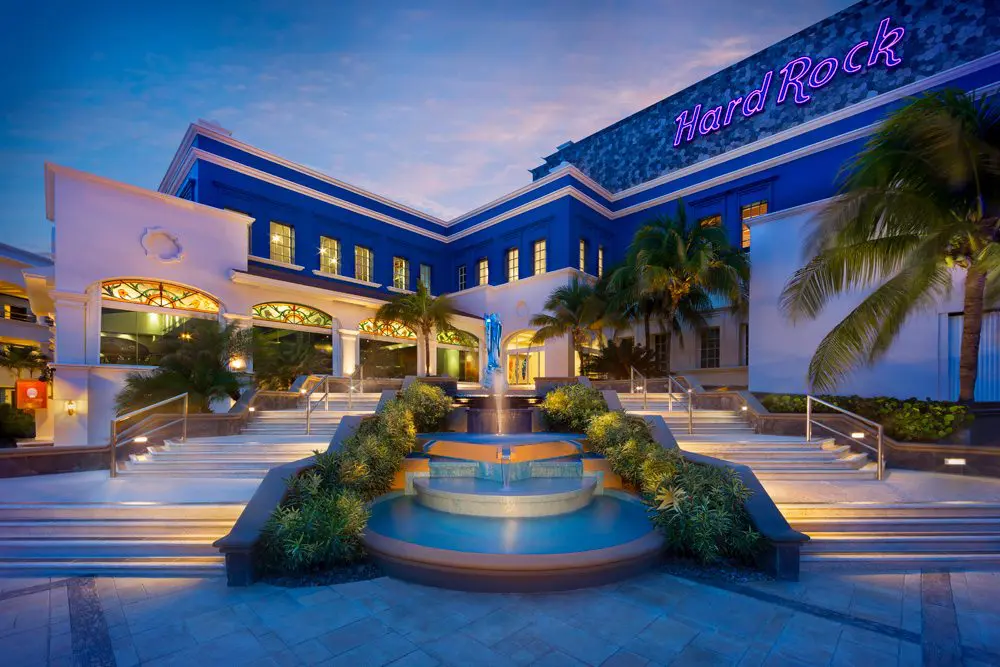 I was recently lucky enough to stay at one of the most sought after and well-known hotels in the Riviera Maya – The Hard Rock Hotel!
Not bad for a days work, hey? 😉
More often than not, I prefer the more independent hotels to the huge well-known names like…' Hard Rock'.
But I came here with an open mind ready to unwind and see what this place has to offer.
Hard Rock Riviera Maya definitely surprised me in more ways than one.

But was that a good thing?
My review of the Hard Rock Riviera Maya Hotel includes:
---
1. Location
This hotel offers you the chance to escape the crowded city of Cancun and immerse yourself in lush jungle bliss!
The Hard Rock Riviera Maya is a 5* all-inclusive located in the Riviera Maya approx halfway between Playa del Carmen and Tulum. 
I feel like many tourists would love this option because it allows you to experience the best of both worlds.
Playa del Carmen is a walkable city. Far removed from Cancun it offers a laid back vibe.
Think of this place as more of a quaint coastal town than a city.
That said, when you visit this place you don't have to compromise any of your creature comforts, you'll find shopping malls, an abundance of restaurants, bars and more.
Plan on visiting Playa del Carmen for at least one day during your next trip check out my 1-day guide here. This is where I actually live so I know the area pretty well. 😉
Tulum, on the other hand, is an untouched slice of paradise.
Much more rural, understated, and underdeveloped than other parts, which makes it all the more beautiful to explore.
You will still find hotels, shops, and restaurants here but you will find they are all very much bohemian and eco-friendly. It's a haven for hipsters and well worth spending a few days of your vacation here.
Staying at the Hard Rock Riviera Maya puts you in a prime position to experience all of the regions top attractions.
2. Layout and Decor
The Hard Rock Riviera Maya is actually two hotels in one.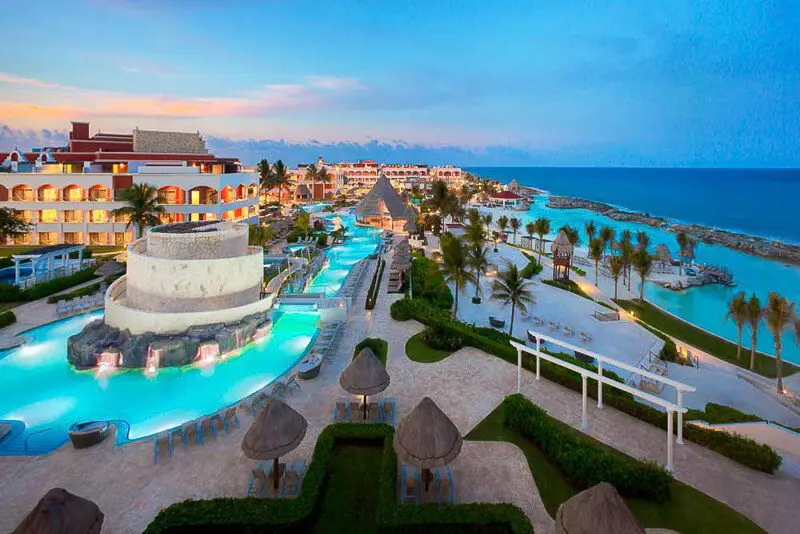 Family-friendly Hard Rock Hotel Riviera Maya (where we stayed)
Adults only side called Hard Rock Heaven.
Both hotels have the Hard Rock theme and vibe but they are also VERY different.
If you're 18 or older, you can float between both hotels. You'll have access to all services and facilities of the Adults Only (Heaven), even if you're staying on the family-friendly side.
You can simply walk from one hotel to the other or just take the regular golf cart shuttle from the lobby – either way, you are only minutes away.
So…..
After the kids go to sleep at night, or while they are in the kids club during the morning, you can sneak out to one of the awesome bars, relax in the yoga hut or in the Zen Labyrinth at Heaven.
It's big but not TOO big.
It is a big hotel but I never felt we had to walk too much.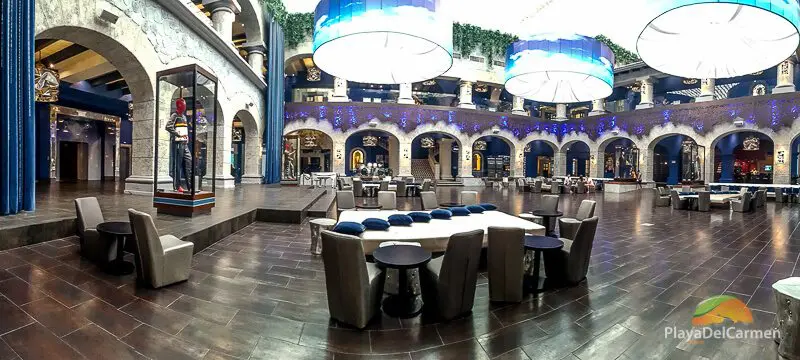 The 2 hotels together have over 1,000 rooms, so the Hard Rock Riviera Maya Hotel is not for you if you are looking for a small intimate hotel.
For that, check out our post on 10 wonderful boutique hotels.
You'd think that getting around this massive resort would exhausting.
NOPE. It's designed so you don't have to walk long distances between your room to any section of the hotel.
Very nice!
Every important area seems to be concentrated around the 2 huge lobbies.
On the family-friendly side, you have a small sports bar with great music (great music plays in this hotel 24/7) and a pool table.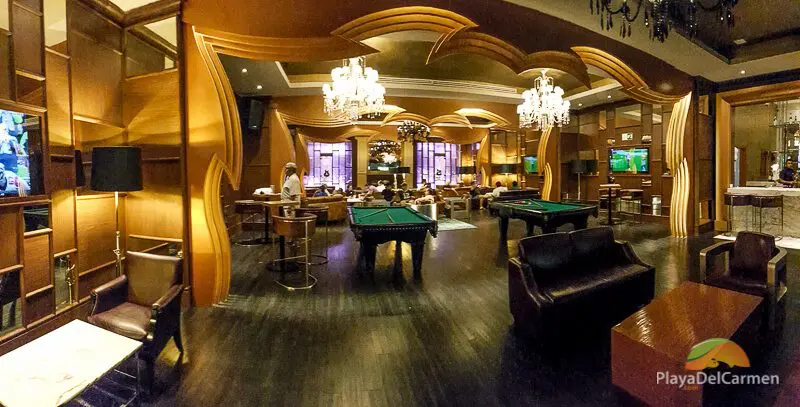 When the restaurants are closed, a small cafeteria extends into a gourmet snack bar.
This little corner was one of my favorites, with their little sandwiches and, of course, doughnuts. 🙂
Footnote: I am a doughnut freak and the chocolate doughnuts at Hard Rock Hotel Riviera Maya are, hands down, the best doughnuts in town.
The only weakness I found here is the fact that their decaf coffee is not great.
Upstairs in the lobby area is the Teens' Lounge:
A pool table
a huge TV with Xbox 360
arcade games
board games
and the best of all: no little kids or adults…
It seriously made me feel like I wanted to be 15 again. 
I missed something like this while growing up!
Of course, the lobby at Heaven is adults-only.
You have a small bar downstairs which is open all day. In addition to drinks, they also serve Asian snacks.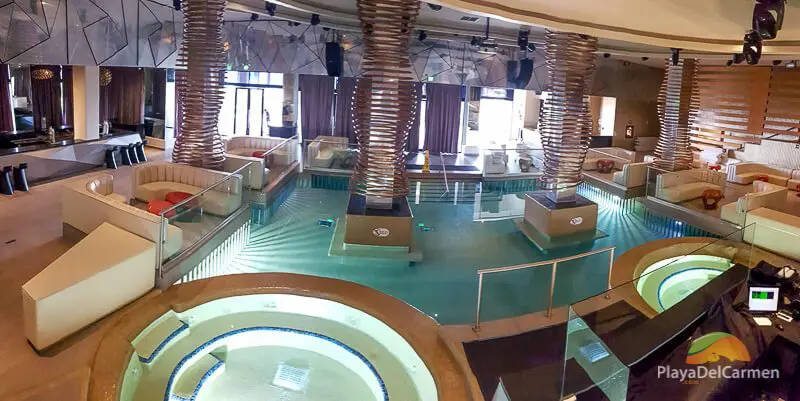 The big attractions of this area, however, are the 3 different bars which all come to life late in the evening.
Upstairs you'll find the gym, a huge and unique spa, and the theater where the daily shows take place.
Both lobbies are of course fabulously decorated with musical instruments and personal belongings of famous rock and pop artists.
Just walking around and appreciating the decoration and the exhibition pieces is already time well spent.
3. Hard Rock Rooms and Suites
Our room was very spacious and extremely well-equipped with a comfortable king-size bed and fully-loaded minibar.
They even have a  liquor dispenser with premium brands that will help in those moments when you are too lazy to leave the room to make your way to the closest bar.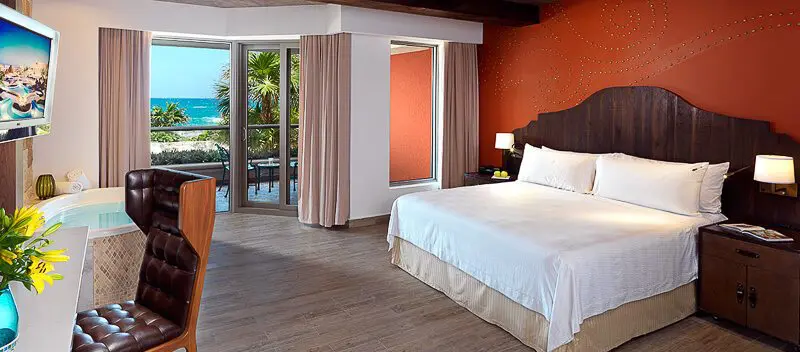 The bathroom is big and modern, which is cool and all, but not as cool as the Jacuzzi upstairs in our personal private open-air second floor!
I have seen that in some rooms the Jacuzzi is inside your room (every room has one by the way), but to be honest I loved that we had a completely different private area.
The fact that room service can deliver your order straight to your Jacuzzi thanks to a second door upstairs seals the deal: I want one of these at home.
Did I mention that you can get an electric guitar delivered to your room?
Just in case you would want to have some unconventional but totally Hard Rock fun.
Editor's note: I hope the neighbors liked his Jimmy Hendrix licks at 1:00 a.m.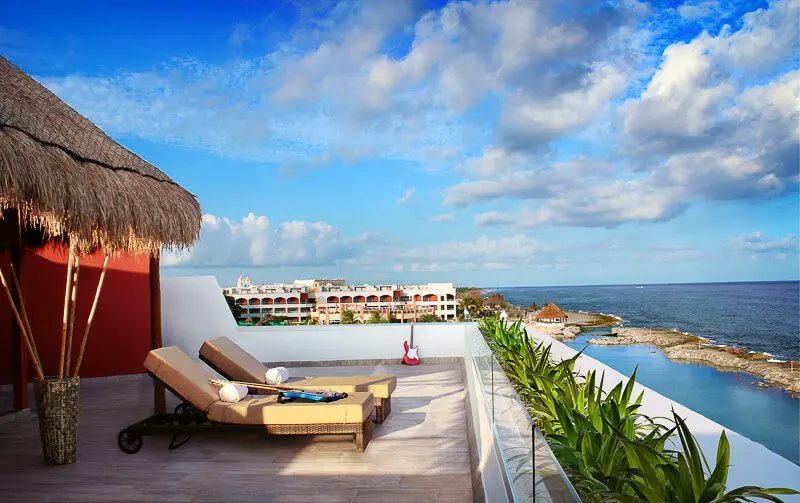 There are many different room categories to choose from, like special ones for families equipped with games and even a special mini-bar for kids.
For instance, the Rock Royalty Deluxe offers a personal assistant (butler), and the room price includes complementary services like couples' massage, shoeshine, and more…
Since we only stayed a short time at the hotel, we honestly didn't spend much time in the room.
However, I can definitely see myself getting lazy and cozy during our next, longer stay at Hard Rock Riviera Maya.
After admiring the comfortable room, we headed to see the pools and the beach.
All-Inclusivity
This hotel is really all-inclusive with extra attention to service.
This means you have Wi-Fi access everywhere, 24-hour room service with a varied menu, and the moment you put down an empty glass around the pool or in a restaurant a waiter will appear seemingly from nowhere and ask you if you want something else.
Even long-distance phone calls are included. So you can call the USA, Canada, and Mexico right from your hotel room.

Since it was my wife's (almost) birthday, I ventured out early morning to get a cake for her with a candle on it, and I ended up with a special dessert plate, a birthday message written in chocolate, and the candle.
Everybody was helpful and made every wish we had come true.
My wife almost had a heart attack because there was none of their to-die-for chocolate ice cream left. Luckily, they managed came to the rescue within a few minutes with a good liter of ice cream (which she dutifully finished, of course).
4. Hard Rock Riviera Maya Beach
The hotel does NOT have a "real" beach.
Instead of a nice sandy beach, the Hard Rock Hotel offers a few small, protected lagoons (they call them Beach Coves) which are artificially created but directly connected to the ocean.
This can easily be a deal-breaker in case you are looking for the picture-perfect Caribbean beach.
But the shore here is simply too rocky; it would not be safe to go swimming directly.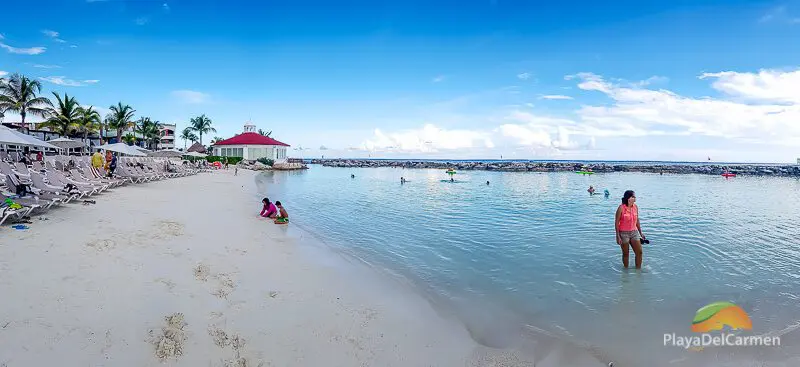 Similar to what you'll find at Xcaret Park, these lagoons offer the best solution.
So unless you are one of those people where the look of the beach is so essential, these lagoons are pretty good alternatives and in some cases actually much better than the open ocean or traditional beaches.
Particularly if seaweed has been plagued the region as they offer a protective barrier.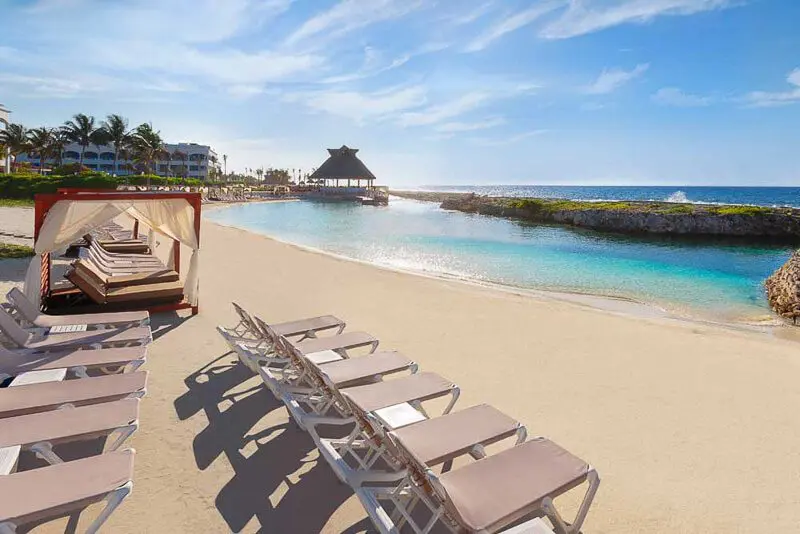 Since they are connected to the ocean, technically you are swimming in the Caribbean.
Plus, you can hear the waves since they are breaking just on the other side of the lagoon, and most of the time you can also see the ocean so it's sort of like a natural infinity pool.
Moreover, being this protected means that anybody, even little kids can get in the water without any major considerations.
In fact, this could actually save your vacation during inclement weather since you can still swim, snorkel or kayak while in other hotels with open beaches the red flag would stop you from doing any of these things.
I personally don't mind the lagoon at all, but then I also live here in Playa del Carmen and work as a scuba diver, so I pretty much get to see the beach every day.
5. Hard Rock Souvenirs
If you are already a Hard Rock fan? This is paradise!
The Rock Shops found in each lobby sell everything from mugs and fridge magnets to clothes, souvenirs, and any piece of branded product you can imagine.
Not a Hard Rock fan? Beware: you just might become one.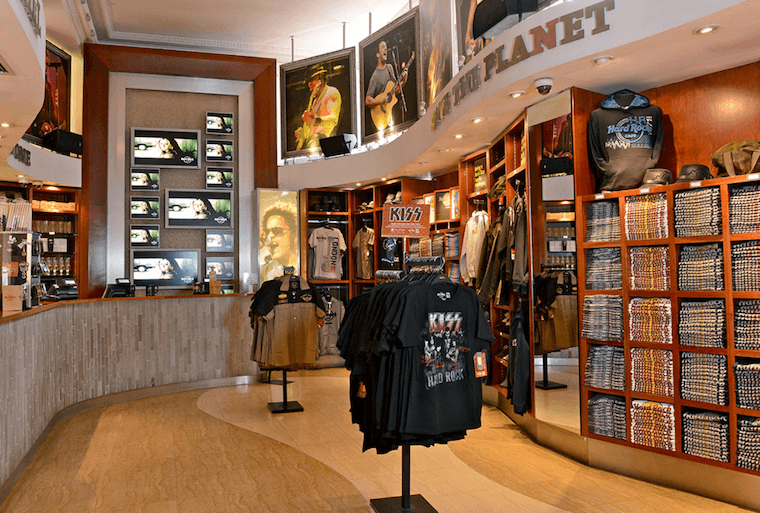 For us it took some time until we managed to leave the lobby building; it was simply too cool to just walk through without stopping.
But once we made it to the room we suddenly felt like a good idea just to stay there…
6. Hard Rock Riviera Activities
You can't get bored in this hotel.
I didn't have the chance or the time to try to get bored, but honestly, I am not sure if it's even possible.
From beach activities to a great water slide and climbing wall, there are activities for every age all over the resort.
There is even an obstacle course located along with a small patch of jungle, which is something I found super cool.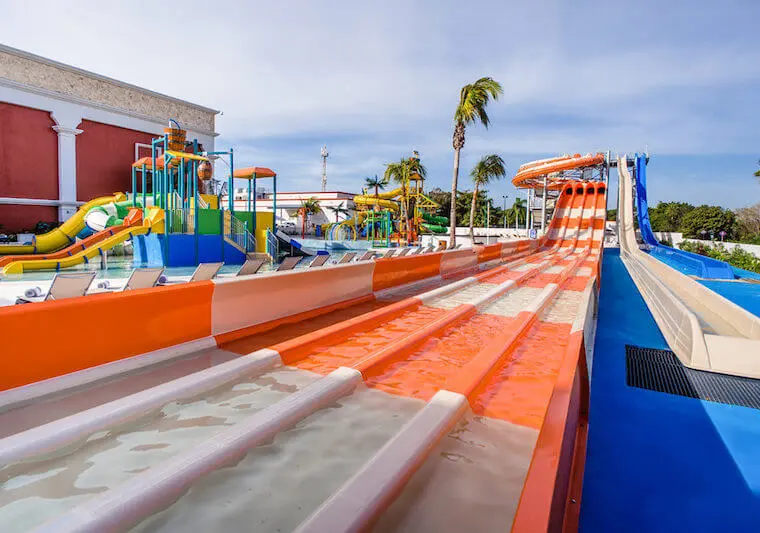 The Kids Club, a.k.a. "Little Big Club", is amazing too.
Some popular brands of cartoon figures such as Thomas & Friends, Bob the Builder and Barney cooperate with the Hard Rock Hotels, which means your kid can play in an amazing and already familiar surrounding.
Speaking of Hard Rock Hotel for kids…
Your kids will be treated like a rock star! And I mean it: they learn to sing, dance and they even have the chance to perform on the big stage!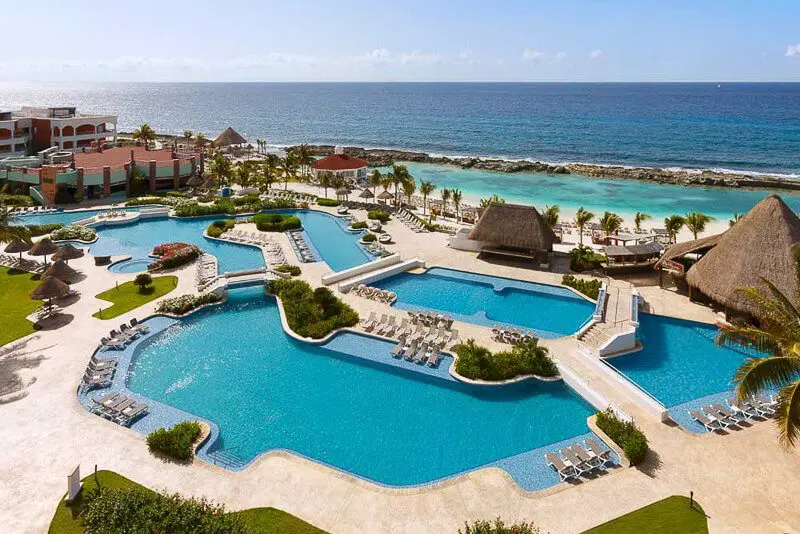 The entertainment team is around the pool keeping you busy and having fun all day long, and of course, a pro DJ is there to make sure the music is always present and great.
The pools also have unheated Jacuzzis and bars, and you can simply sunbathe around the pools or lagoons while you enjoy the ever-present great service of the staff.
On top of that, there are shows every night, daily cinema for kids, and we even got to enjoy a live concert in the Heaven lobby which was pretty cool.
The hotel has a few open spaces where we saw kids playing football or basketball.
You can also get a bike and take it around the property.
Moreover, there is also a running track that surrounds the whole property and it shows the distance to motivate the runners.
Book the Woodward Obstacle Course at the Hard Rock Riviera Maya Hotel.
7. The Food at Hard Rock Hotel Riviera Maya
My "inner food critic" remained happy throughout our time at the hotel.
We tried the buffet at the family-friendly lobby, the snack bar, and 2 a-la-carte restaurants, so these are the ones I can personally give feedback on.
The Market Buffet Restaurant
This one probably took the cake.
It had a VERY nice selection to prepare an AMAZING salad bar, good cheese platters, salmon, a variety of bread, and excellent desserts (I would pay for a day pass just to return for the chocolate ice cream any day!).
I found myself eating more salad here than meat which is honestly not a usual thing for me.
The warm food options for lunch were good too, for sure above average compared to other all-inclusive hotels.
The Asian Restaurant Zen
You'll want to try this while staying at the Hard Rock Hotel.
We chose the set menu at one of the Tepanyaki tables and had so much fun!
Our chef was practically a circus artist playing with knives, fire, and eggs while preparing our dinner. He was genuinely nice and happy which added a lot to the experience.
The prepared meal was nice but don't expect a gourmet Japanese meal. This was more about the show than the food although they do offer a-la-carte options as well.
Ipanema Brazilian Restaurant
I concentrated on their meat selection and found some very tasty cuts
There were 4 different cuts to choose from which is not that much, but honestly, my meat craving was properly satisfied.
Again, I had the chance to sample only some of the many options available, there are plenty more: Mexican, Italian, Steak House, and others
8. Hard Rock Riviera Maya Nightlife
If you like to drink and/or to party, you're in the right place.
The drink selection is superb!
You can find the best international, top-shelf brands at every bar and they just changed to Corona and Negro Modelo (a dark beer) on tap instead of the typical XX Lager.
I personally LOVE this change, especially since many hotels I know would not have Corona on tap.
For the beer drinkers: the beer here is VERY good, not the watered-down junk you find in most hotels.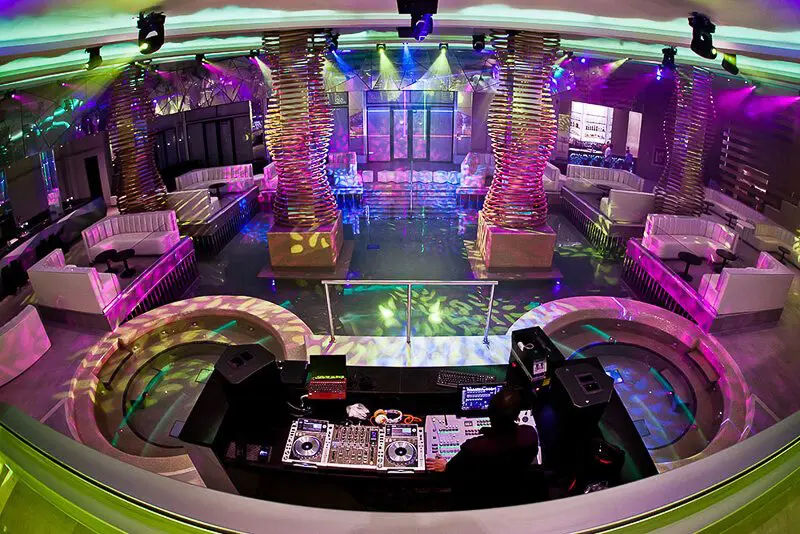 You can choose to have a drink and chill in many areas:
Swim-up bars
sports bar
an elegant bar with pool tables and flat-screen TVs
a more sophisticated long bar which gets crowded in the evenings
a fully equipped club with professional DJs
This is not a traditional club, it's more of a VEGAS style nightclub with a shallow pool and some Jacuzzis.
Yeah….pretty cool stuff.
Throw in the amazing music, the bars, and the drinks, and your unique Hard Rock party experience is guaranteed.
I'll be honest here… we were too tired to stay into the late hours and left just when the party was getting good, but the place is impressive.
If you want to mix awesome nightlife with your all-inclusive vacation or just want to have that "crazy night" out with style the Hard Rock Riviera Maya is your hotel.
9. Golf at Hard Rock Riviera Maya
Golf lovers, rejoice!
The Hard Rock Riviera Maya Golf Club is a stunning 72 par golf course located just steps away from Playa del Carmen's bustling 5th Avenue!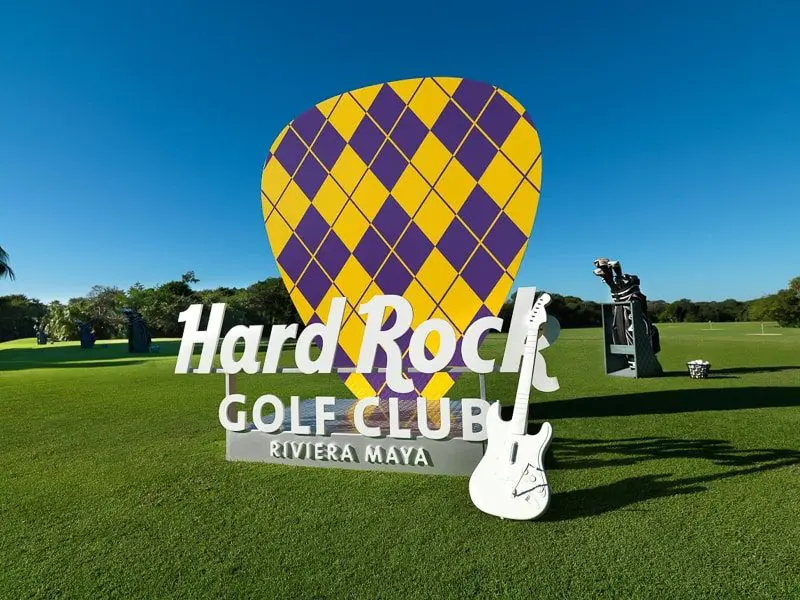 This ideal location is great for families or groups where some may prefer to spend the day wining and dining up and down the Quinta Avenida while the golfers amongst them tee off on a world-class course minute away.
Robert Von Hagge designed the 72 par course which is surrounded by the region's stunning flora and fauna.
Course architect: Robert von Hagge
Year built: 1994
Holes: 18
Par: 72
Turf: ·Bermuda grass
Course length and slope rating
Length: 7,144
Slope: 148
Rating: 76.1
Tee times: 7:00 am – 4:00 pm
10. Hard Rock Hotel Weddings & Events
The Hard Rock Hotel is made for events.
This hotel already hosted a Bon Jovi concert and also home of the Cancun Jazz Festival, which brings the best of smooth jazz right to the Riviera Maya. As you can imagine, the Hard Rock is ready for big events.
The hotel offers almost 90,000 sq. ft. available area for events, for a maximum of 3,830 people.
Oceanfront terraces are available for smaller, elegant social events or weddings.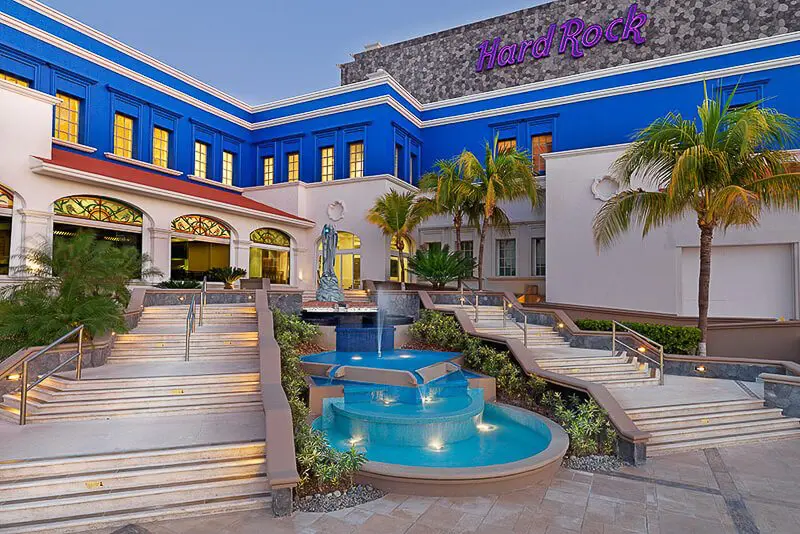 Talking about weddings, you also have a chapel at the beach which makes it possible to plan your wedding (both civil and religious) in this awesome place.
The conference rooms are all equipped with state of the art audio-visual features, individual climate, and lighting control and all the necessary hook-ups for video, photo, data for your event.
Not that we were there to do any of that, but it was nice to know.
Interested in a wedding at the Hard Rock, we can make it happen.
You can also read Heather's review of the Hard Rock Hotel for Weddings here. 
What Makes a Hard Rock Hotel a Hard Rock Hotel?
It is an awesome hotel but let's not forget about the "Hard Rock" element.
If you are worried because you don't like Hard Rock music you really shouldn't be.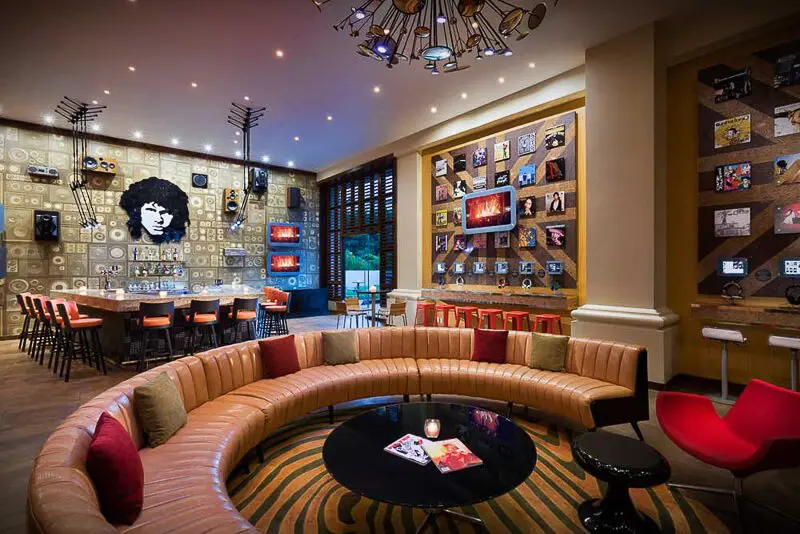 First of all, the Hard Rock Hotel wants to be a great hotel that meets the needs of families and adults alike.
It is not a place for "bikers" and there is no loud hard rock music shouting in your face from every corner.
I would say the Hard Rock Hotel is a great branded hotel with an extra touch involving music, but music in general, not just one genre. In fact, you can find photos and original musical instruments or stage clothing of rock, pop and rap artists.
And although the music theme and music itself is present everywhere, I never felt that it was disturbing or overwhelming.
Plus, if you need some real peace and quiet there are areas designed for relaxation on the Heaven side.
Pros & Cons of Hard Rock Hotel Riviera Maya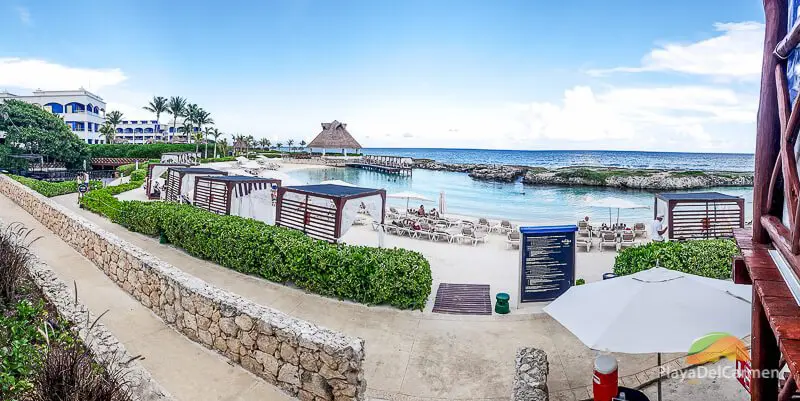 First the pros:
Amazing service
No need for very long walks
Good and varied food
High quality drinks all over the hotel
Internet included all over the hotel
Great choice of activities for kids and adults alike
Amazing clubbing for adults
Now the cons:
I missed the vegetation a bit, the grounds are very nice but could be lusher
Lack of "real beach"
That's it.
Book The Hard Rock Hotel Riviera Maya Now
Ready to turn it up at the Hard Rock Hotel Riviera Maya?
Our travel specialists can get you the best deals on your Playa del Carmen vacation package!
Call us toll-free at 888-537-9797>888-537-9797 today!
My Hard Rock Riviera Maya Hotel Review
Location

Beach

Rooms

Food

Nightlife

Activities

Weddings

Golf

Layout

Souvenirs
Summary
The Hard Rock Hotel Riviera Maya is a great hotel where you can rest, play, or party in style.
The ambiance, exceptional service, and all-inclusive perk result in an exceptionally interesting luxury resort and vacation experience.
In my opinion, this hotel can be a great choice for families, since both adults and kids can have fun all day long together or independently if they wish to do so.
There are kid-friendly rooms, kid-friendly menu options in the restaurants and so many activities that will keep the little ones entertained for the entire week easily.
The Heaven side is an excellent choice for couples of all ages or friends wanting a nice all-inclusive holiday but also like the party, music, clubbing and fine dining.
Of course, the Hard Rock Hotel Riviera Maya is not a cheap hotel, but in my opinion, it delivers.
---
Trending Now
You may also like