My Honest Review of The Andaz Mayakoba Riviera Maya by Hyatt
---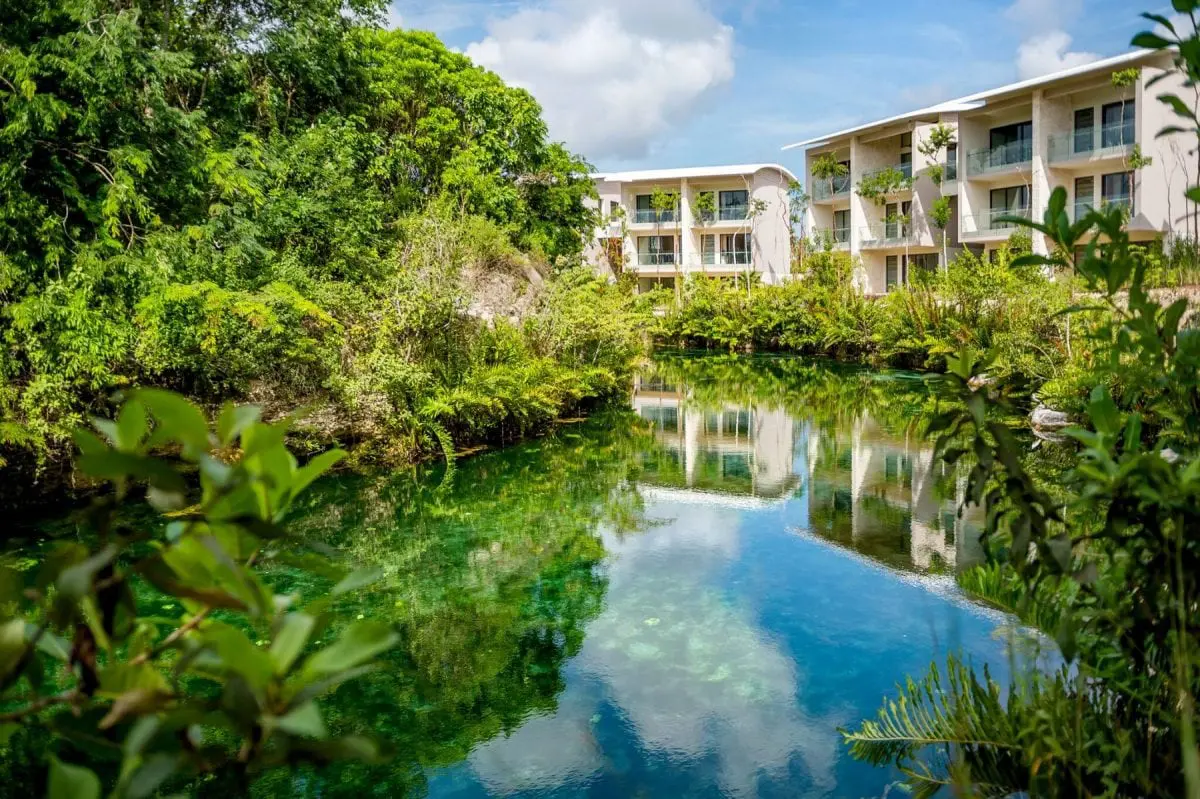 Introducing my Andaz Mayakoba review!
It's time to pull back the curtain on one of the most sought after and lavish hotels in the region.

If you are looking for an honest and insightful review to help you decide whether to splash the cash or not, this is it!
My Honest Review of Andaz Mayakoba
---
Location
Located just 10 minutes north of downtown Playa del Carmen, Andaz Mayakoba is a 5-star resort where upscale jungle chic meets natural luxury.

It's situated in a prime location in the Riviera Maya to enjoy all of the region's top activities.
This resort is part of the illustrious family of 5-star resorts that include Rosewood Mayakoba, Fairmont Mayakoba, and Banyan Tree.
Secluded in the private gated-Mayakoba complex, surrounded by tranquil lagoons and lush vegetation with nature trails that guests can enjoy for walking, jogging, and biking while listening to the sounds of nature.
Overview
What to expect from the Andaz Mayakoba Resort:
214 rooms, including 41 suites
Type of accommodations: family-friendly
European meal plan only
4 restaurants
3 outdoor pools & whirlpool
Complimentary Wi-Fi
Full-service spa with hydrotherapy rooms
24-hour fitness center
Complimentary Kids Club
Complimentary bicycle rental
Special discounts on golf at the PGA circuit El Cameleon Mayakoba Golf Course
Outdoor activities, including nature trails and kayaking
Boat rides through the mangrove channels
24-hour concierge services
618 sq m of indoor and outdoor meeting and event space
Additional activities such as yoga, bird-watching, tennis, archery, and kayaks
Pet-friendly accommodations
Style
Andaz Mayakoba certainly knows how to bring personal style to the brand.
Like many younger siblings tend to do, Andaz Mayakoba breaks away from the more staid and established brethren.
Unlike 99% of the hotels in the region, where uniforms and appearance are a must, the Andaz chain of hotels co-owned by Hyatt follows a different concept altogether.
Personal style.
The concept is simple.
You want your staff to provide the best possible service around.
In order to do so, the employees need to be able to feel free to be themselves.
In a world where even a visible tattoo, however small and aesthetic, can keep you from getting a job, that's an important difference.
At Andaz, employees are free to have tats, grow beards, and wear earrings, and their standard uniform is only reduced to a company shirt and closed shoes.
According to the hotel group, "adapting to a constant change stimulates excitement."
By promoting and encouraging employees to be themselves, they are allowing personal style to become a trademark of their customer service.
"Every Andaz encourages both guests' and associates' to express their own sense of it."
Layout
Arriving at the Mayakoba properties is an experience in and of itself.
Once you pass through the security gate, you travel down a brick path that winds through the thick, verdant jungle, enveloping you on both sides.
The drive itself to Andaz Mayakoba doesn't take much more than five minutes, but you immediately get a feel for the natural luxury awaiting your arrival.
Upon entering the high-walled lobby, christened by the hotel as 'El Sanctuario' or the sanctuary, you are welcomed by a rounded body of water intended to represent a cenote, with a circular opening directly above to let in the sunlight.
The spacious lobby has two check-in areas and a number of seating areas situated comfortably around the cenote.
Simple yet elegant, like so much else in this stunning Playa del Carmen resort.
Andaz Mayakoba is spread out through the jungle leading to the white sand beach of the Caribbean Sea.
In between, beautiful man-made mangrove channels snake through and around the property.
The buildings are graciously distributed throughout the jungle, allowing for more intimate contact with nature while at the same time providing a sense of exclusivity and privacy.
The constructions are large concrete block structures with touches of wooden exteriors to provide both shade and natural aesthetics that blend in with the environment.
As a special Andaz Mayakoba touch, many of the buildings feature street art by the renowned Playa del Carmen artist Senkoe.
Rooms at Andaz Mayakoba
Somber tones of gray and beige characterize the building.
The inside of the rooms contrasts beautifully with the natural light, beautiful wooden interiors, decorative tiles, and colorful artisan décor.
The open layouts lead to small but comfortable balconies and terraces from where guests (depending on the room category they've chosen) can take in the gorgeous tropical views of the gardens, mangroves channels or of the Caribbean Sea.
The decorative tiles are made locally, and each room includes an ancestral decoration such as a traditional mask, Mayan huipil (blouse) or a colorful handcrafted bird.
All rooms and suites include walk-in rain showers, a complimentary mini-bar with non-alcoholic beverages and snacks, 24-hour room service, and complimentary WiFi.
Food & Drink
The food is an essential element at all Mayakoba properties.
Unlike the majority of hotels in the region, the Mayakoba resorts don't offer an all-inclusive meal plan.
Andaz Mayakoba is no different, allowing guests to pick and choose rather than simply splurge and overeat.
French-born and trained Executive Chef Vincent Wallez is there to assure that this Mayakoba newcomer's cuisine is as spectacular as it is at the other resorts.
Having traveled the globe to hone his gastronomic skills, he is now in charge of using his signature culinary style to provide an unrivaled gastronomic experience at Andaz Mayakoba.
With a focus on fresh, locally-sourced ingredients, the 5-star resort's four on-site restaurants provide guests with the opportunity to complement their stay with a touch of gourmet culinary pampering.
The Andaz Mayakoba restaurants are as follows:
cocina milagro – all-day dining buffet with fresh seafood dishes
casa amate – Latin American specialties in a cozy environment
ollataco – Beachfront street food and cocktails
ollaceviche – Fresh seafood at the beachfront
Beach
The beach was everything you'd expect from a resort considered "king of the jungle".
It had the softest white sand, and there were plenty of places to sit in the sun and shade.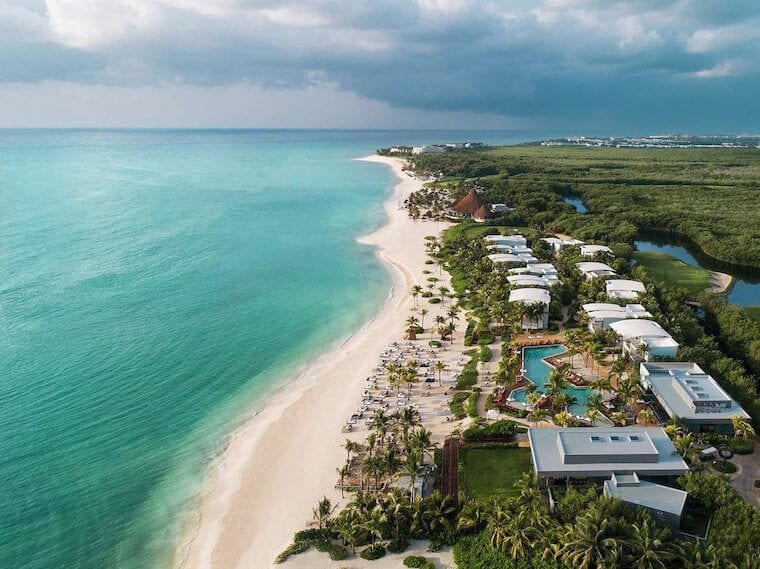 There were kayaks, paddleboats, and paddleboards, which were all free to use.
There were also the usual other water toys available for rent, like sailboats, Jet Skis, and parasails.
But no one was out there pushing you to rent them like on the beach in Playa Del Carmen.
It was the epitome of relaxation.
Activities
There's a whole host of exciting activities for both kids and adults to enjoy such as:
yoga
bird-watching
tennis
archery
kayaks and more
Children between the ages of four and 12 can enjoy the resort's kids club, KIMBO.
Activities here range from storytelling, arts and crafts, and exciting games, to meeting new friends and engaging in inspiring experiences.
The resort boasts two refreshing outdoor pools including a heated hot tub.
Unwind poolside, stretch out on our chaise lounge chairs or cabanas, and immerse yourself in the lush greenery and tropical landscaping of Andaz Mayakoba.
Spa
Mayan Rituals were a time of reflection and offer that could last for minutes, hours or days…depending on the intention or reason.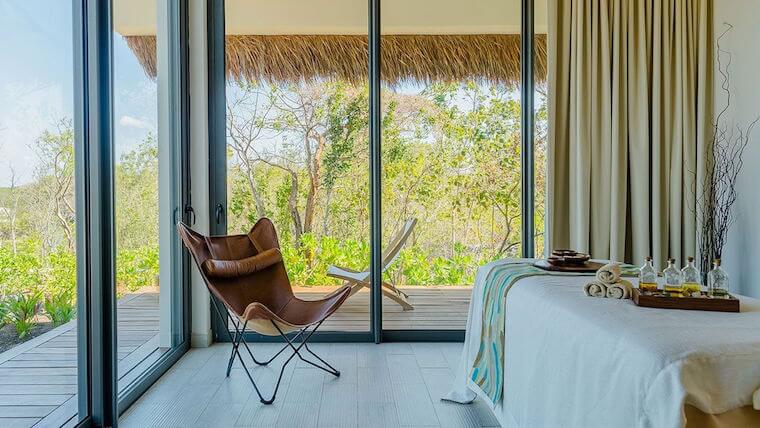 Naum Wellness & Spa at Andaz Mayakoba will help you to custom create your ritual(s) of choice based upon your intention.
Golf
El Camaleón Golf Club at Mayakoba is a spectacular 18-hole golf course designed by PGA legend Greg Norman with a par 72 and distinctive hazards, winding through an area of preserved mangroves.
This challenging course is home to the annual PGA Tour OHL Classic and customized lessons are available at the Jim McLean Golf School.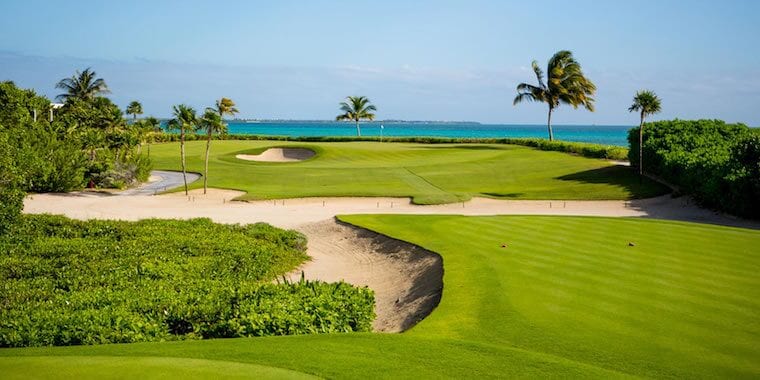 The golf club also features a driving range and a short-game practice facility.
Please note: The El Camaleon Golf Course will be closed due to a private tournament from January 10, 2020, to January 20, 2020.
Weddings
Located in the heart of the Riviera Maya, Andaz Mayakoba offers idyllic wedding venues for your dream wedding.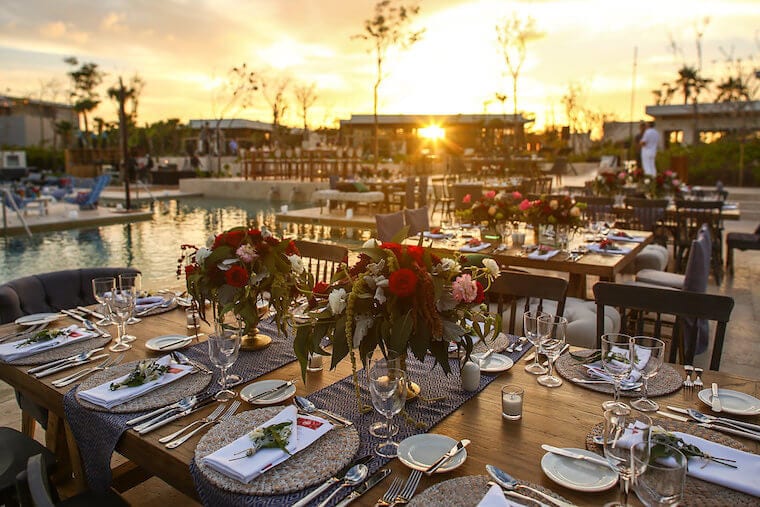 Contact our wedding specialists to start planning your special day.
Andaz Mayakoba Reservations
Demand is always high at this resort so book well in advance.
While prices are considerably higher than some of its competitors, the quality of the Andaz experience promises to be like no other.
Pet-Friendly:
Andaz Mayakoba Resort Riviera Maya gladly welcomes your furry travel companions to join you during your vacation. Please inform us three days prior to your arrival if you will be bringing a pet.
Weight Limits
Canines must weigh 50 pounds or less. Two dogs are allowed if their combined weight does not exceed 75 pounds.
To reserve your stay at Andaz Mayakoba or to request a price quote, contact our travel specialists toll-free at 888-537-9797 or reach out to us via our contact page.
Style, luxury, nature, and the stunning Caribbean Sea await.
---
Trending Now
You may also like