4 Best Snorkel Sites in and Around Playa del Carmen
---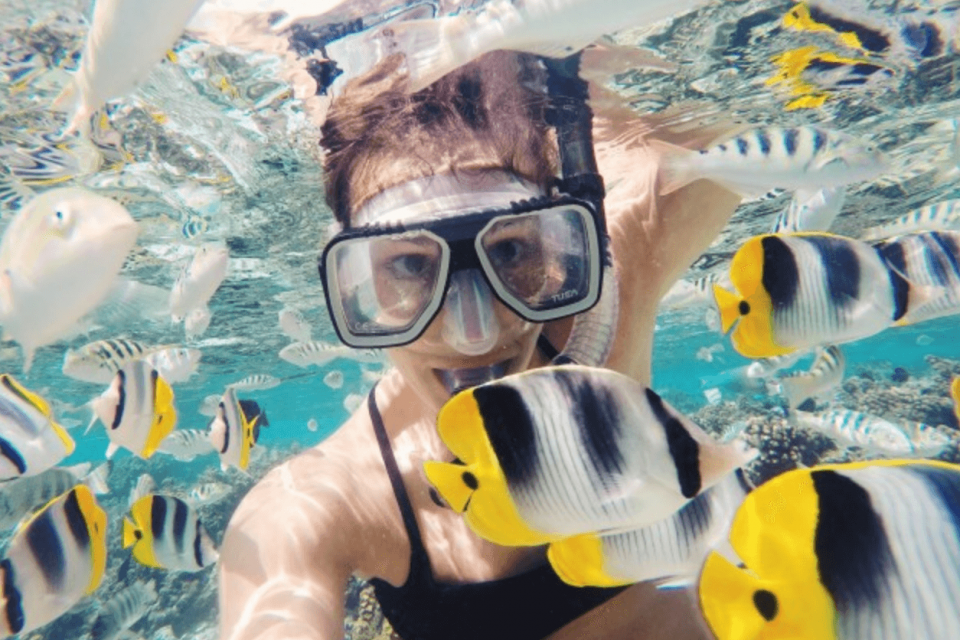 Whether you're looking for vibrant coral reefs, extreme cave exploring, cool freshwater pools, gigantic sea turtles or sweet little schools of tropical fish, Playa del Carmen has you covered.
There's a magical and colorful underwater world just waiting for you to strap on snorkel gear and explore.
With so many amazing snorkel tours to choose from, it can be hard to find the right one (or two) for you.
Taking one of our Luxury catamaran tours guarantees you will see some of the best sites of this region.
It's possible to visit some snorkel sites on your own but to see where the real magic lies you need to set sail into the blue.
Our guide to the 4 best snorkel sites in and around Playa del Carmen will give you a good idea of where to start,  but if you'd like to talk to us today about booking the right snorkel tour for you and your group email us at customercare@playadelcarmen.com.
The 4 best snorkel sites in and around Playa include:
Find out why below…
---
1. Akumal
Situated only 25 minutes away from Playa del Carmen is a lovely little beach town, famous for its shelled residents.
Akumal!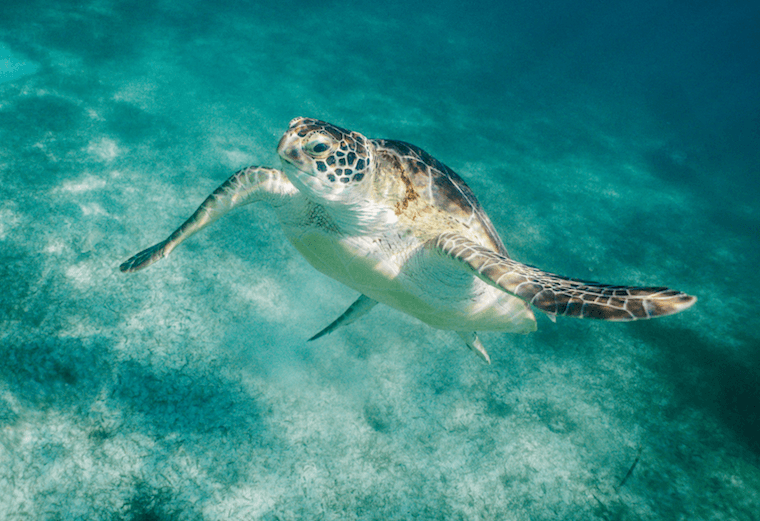 Akumal is definitely the place to visit if you want to experience swimming alongside gigantic green sea turtles.
The unique seagrass that grows under the waves in Akumal attracts these gentle giants all year round, but they aren't the only impressive creatures to call this place home.
Doing it on your own:
You can swim straight off the white sand beaches and you will be greeted by spotted eagle rays, manta rays and even a few needle fish.
If you're willing to venture a little further out, there is also a vast array of vibrant coral, giant sea fans and colorful anemones to be found in the crystal clear waters of Akumal.
Don't have equipment?
Akumal is also one of the most prepared snorkel sites when it comes to equipment. You can rent everything from a mask and snorkel to a wet suit and fins, so there's no need to pack all that bulky snorkel gear and carry it around with you all day.
You can do this on your own because there are plenty of guides and conservation specialists on hand to give guided tours of the area and to answer any questions you may have.
Prefer Guided Excursions?
Don't want to worry about credit cards, deposits, and transportation?
A guided tour allows you to simply enjoy the day without any stress. Plus you can combine swimming with sea turtles in Akumal with another activity.
Get 15% off 1 of the best-selling snorkel excursions here:
For a full guide to Akumal read our 6 Things to Know Before Planning Your Trip blog here.
2. Puerto Morelos
Puerto Morelos is a sleepy little beach town situated just 15 minutes north of Playa del Carmen.
Although this is one of the most laid back places on the surface, under the waves, there's a bright and bustling world of life and color.
A few meters offshore is the famous Mesoamerican Barrier Reef System, the second-largest reef system in the world.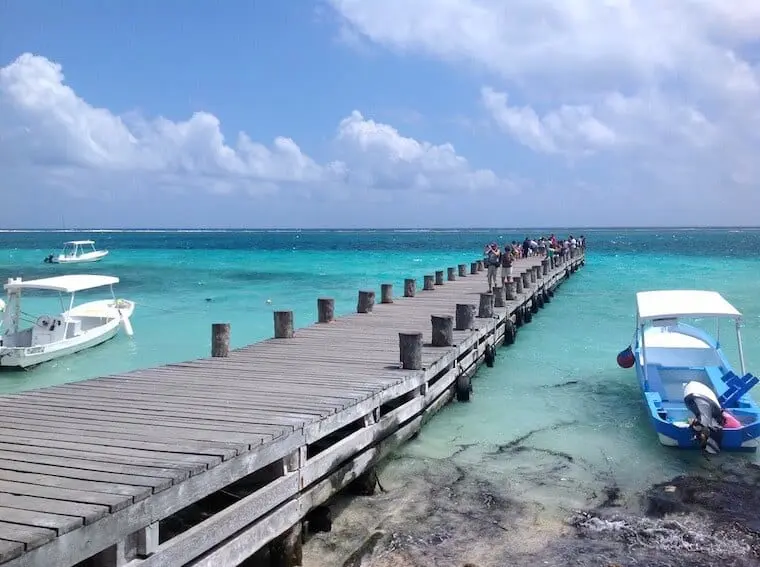 Puerto Morelos is such a unique snorkel site, because here, the reef stretches closer to the shore than in any other area of the Riviera Maya.
It's your underwater dream world full of barracudas, manta rays, seahorses, bright fire coral and even a lobster or two because it is close proximity to the Mesoamerican Barrier Reef.
Since it was officially named a protected marine reserve in 1998, the locals in Puerto Morelos have set up special tour companies that will take you on a guided tour of the reef, whilst protecting its important residents.
Although you can see plenty of life straight off the beach, I suggest opting for one of these tours as they will drop you right in the middle of all the vibrant coral action where you can truly enjoy all the magic of the Mesoamerican Barrier Reef.
Plus, a day trip to Puerto Morelos is totally worth it!
Read our full guide to Cancun's little-known neighbor here. 
3. Puerto Aventuras
If you turn on your heels and head south from Puerto Morelos, past Playa del Carmen, you will find the spectacularly stunning residential town of Puerto Aventuras.
Not only does this hidden gem have a picturesque marina, idyllic white-sand beaches, and dreamy turquoise waters, but it's also home to some fantastic marine life.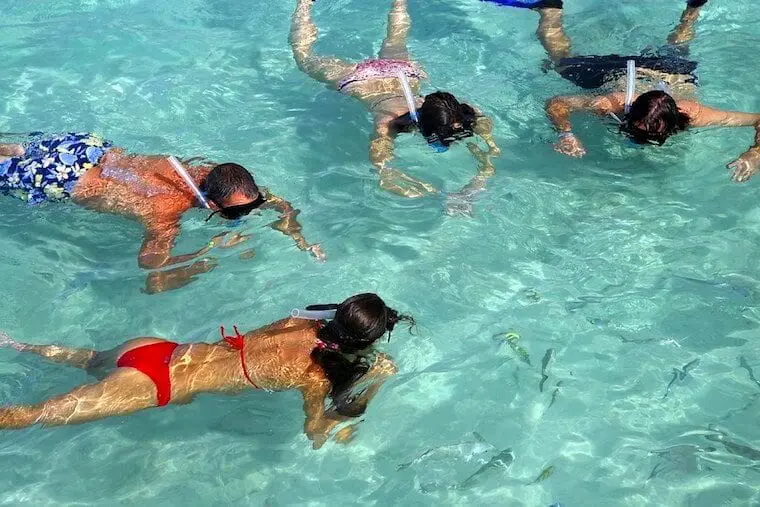 What really sets this snorkel site apart from the rest, is that the government has built a collection of faux reefs for the local fish. These large rock formations attract countless numbers of bright tropical fish, crabs, interesting coral species and even octopi.
Although this lovely little town doesn't boast the same level of expertise and equipment rental the others do, the faux reef creates the perfect protected area for both first-time snorkelers and avid underwater adventurers alike.
Some of our most popular Riviera Maya snorkeling tours start in Puerto Aventuras:
Feel free to call us, PlayaDelCarmen.com, for more details at 888-537-9797.
4. Jardin del Eden
If you're getting a little tired of these saltwater delights and want a change of scenery, then a visit to one of the magical fresh water cenotes around Playa del Carmen is a must.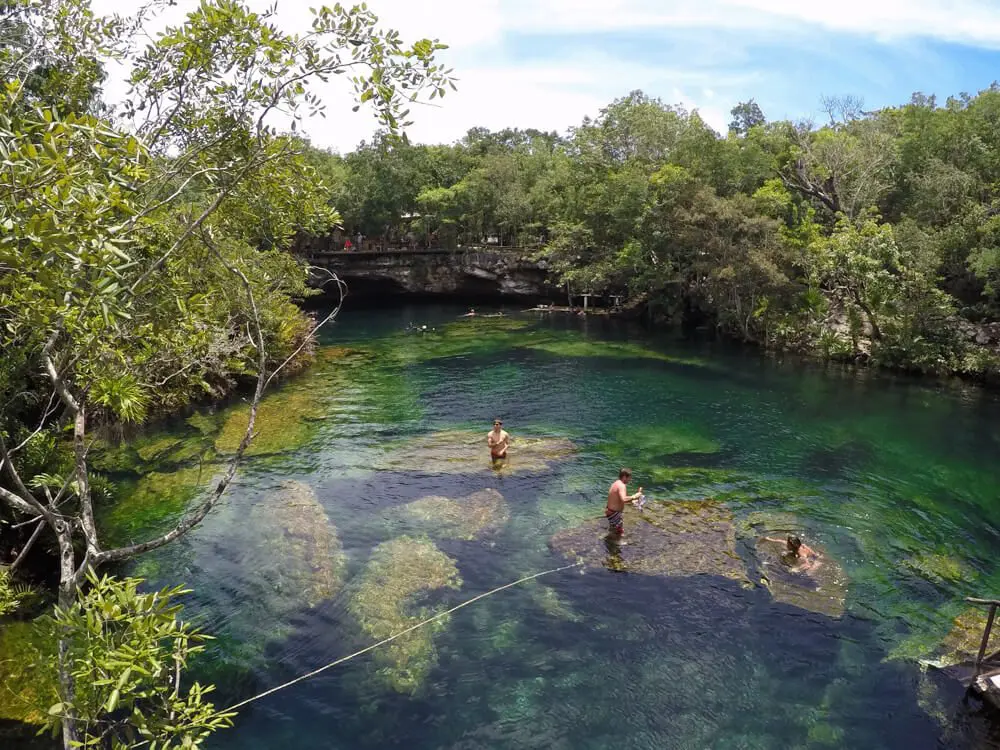 The Riviera Maya is littered with cenotes (freshwater sinkholes) of all shapes and sizes, each suited to a wide range of divers and snorkelers.
However, one of our favorites happens to be only 10 minutes away from Playa del Carmen. Jardin del Eden is one of the larger cenotes in the area and is home to a whole host of unusual freshwater fish and plant life.
Damselfish, wrasses, mini catfish and brightly-colored tetras will happily join you as you explore the fascinating world below the cool water's surface.
You will see some unbelievable rock formations, deep caves and even stalagmites while exploring this enchanted pool.
You may even be treated to a first class pedicure from the resident Garra rufa fish, the exact same species they use in those expensive spas.
There is always a fee to enter the cenote ($80-$100 Mexican Pesos), but this helps pay for the upkeep of the cenote, the on-site first aid and the use of the restrooms.
If you don't have any of your own snorkel gear, then Jardin del Eden also has you covered. You can rent masks, fins, life vests, snorkels and underwater rock shoes for a small fee.
Have you visited any of these amazing snorkel sites? Let us know which was your favorite in the comments below!
---
Trending Now
You may also like