Secrets Aura Cozumel Review: Beach, Bliss & Balance on Cozumel Island
---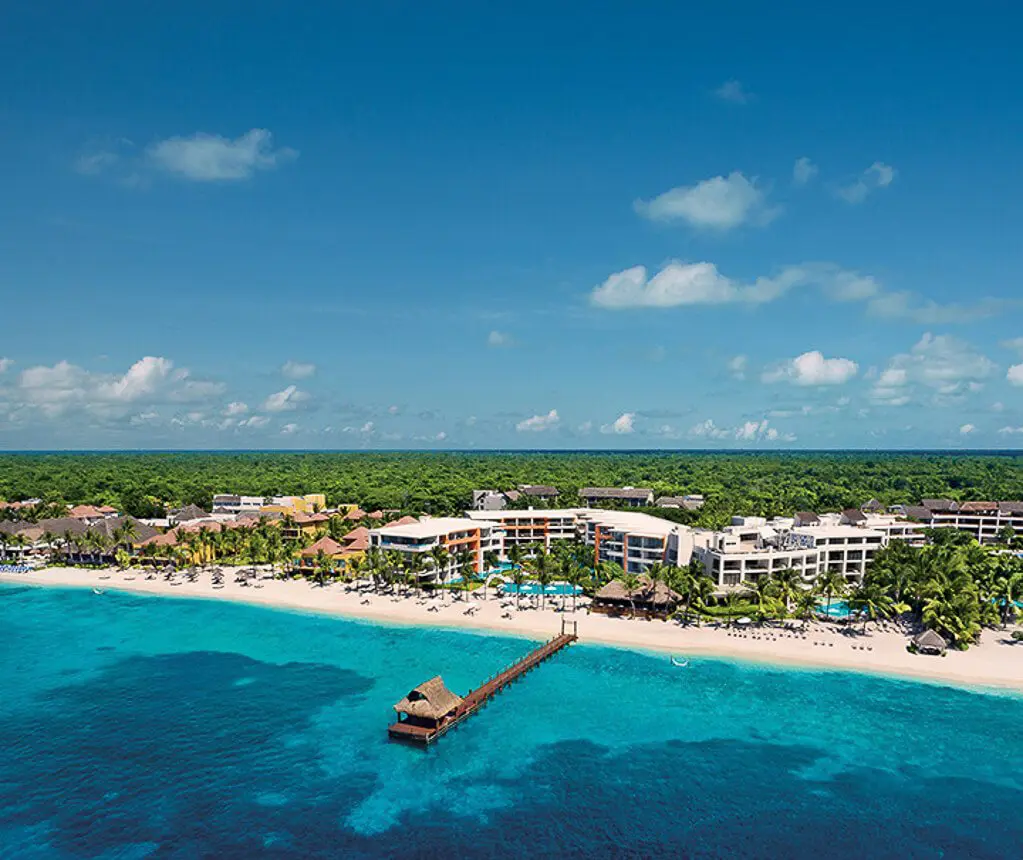 So this is my first official hotel review.
Over the last few years, I've written hundreds of articles about places to see and things to do from Cancun to Tulum.
Never have I ventured into the realm of qualifying a hotel in terms of whether or not I would recommend it, and what I liked and didn't.
Can I even do it right?
I always try to be honest and critical about my recommendations. After all, I write for you and to allow you an informed opinion.
At the same time, I represent the destination and feel an obligation to always highlight the positive over the negative.
Makes sense, right?
It does to me, but it sometimes leaves me questioning my own impartiality or lack thereof.
That said, what would I say about Secrets Aura?
Behold, my first ever hotel review in our series of hotel reviews.
A Review of Secrets Aura Cozumel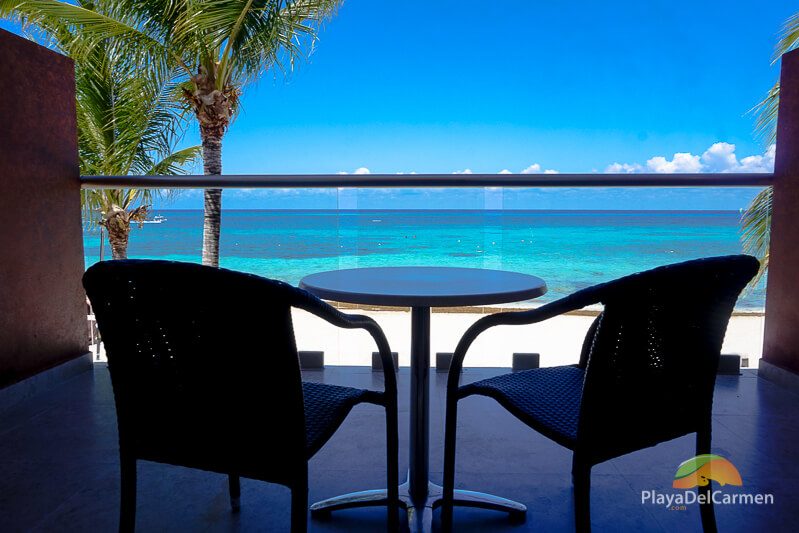 For starters, it's important to explain that my stay was only for about 24-hours, so there are some details which I simply won't be able to talk about.
I did, however, try to explore as much of the hotel as possible to get a good feel for what this adults-only resort has to offer.
It did help that I had the opportunity to stay here on a previous occasion for another job.
In other words, two 24-hour experiences are enough for me to give a fair review of Secrets Aura Cozumel.
So where do I start?
The Beach at Secrets Aura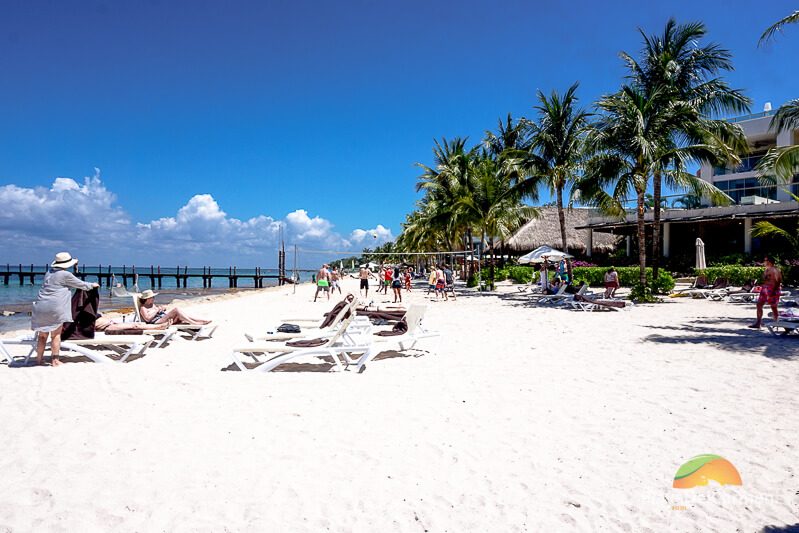 For me, the Secrets Aura beach is hands down one of the most attractive aspects of this adults-only, all-inclusive hotel. The water in front of the hotel is like a tranquil mirror, reflecting the mesmerizing array of blue hues that make the Caribbean Sea so breathtaking.
An approximately 20 ft. stretch of fine white sand runs the length of the hotel, which is spread out amidst a tropical garden in a sort of u-shape in front of the beach.
Directly in front of the hotel lies a private pier, which guests can use to jump into the water, set off on aquatic excursions such as snorkeling or diving, or even enjoy a nice romantic dinner for two.
For those who get tired of the variety of loungers and hammocks spread out in front of the sea, there's also the opportunity to join in a game of beach volleyball.
Secrets Aura Cozumel: Food for All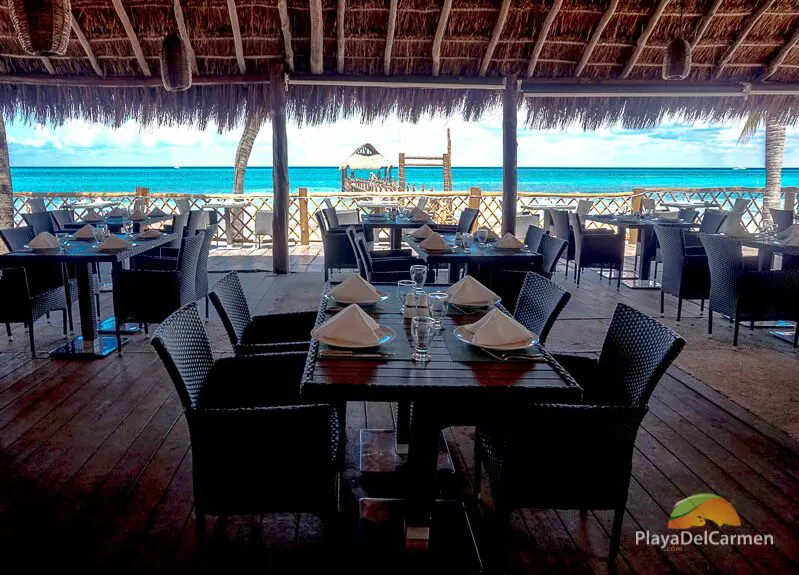 Time didn't allow me to try all of the restaurants at Secrets Aura, so please excuse me if I fail you in a thorough review of all things edible.
But I do love to eat.
If I think about what's important at an all-inclusive hotel in terms of their cuisine, my thoughts immediately go to quality and variety.
I think Secrets Aura does very well in both aspects.
I ate at Windows, which is an à la carte restaurant, Oceana, which is more seafood oriented, and the Market Café buffet.
They all get good reviews, though as a foodie I personally would stay at a place that is not all-inclusive in order to explore the local restaurants.
On a final note, guests at Secrets Aura also have unlimited access to the neighboring sister property, Sunscape Sabor Cozumel. This family-friendly, activities-oriented resort offers an additional three à la carte restaurants.
The Unlimited Luxury Package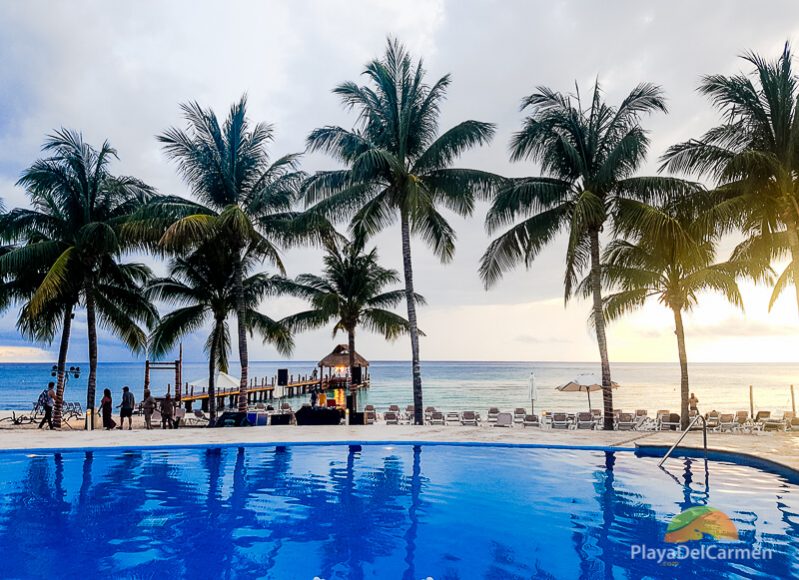 As not one to indulge in the all-inclusive experiences I don't have much of a benchmark to judge how it compares with other similar hotels.
I do know that I was never left feeling like something was missing.
In addition to the food, drinks, and wonderful installations, Secrets Aura Cozumel also has two full-size tennis courts and even an archery range. Because the water is so calm and the reef is not too far from shore, there are also great water activities available such as snorkeling and kayaking.
As for nightlife, there is a sky lounge on the roof overlooking the Caribbean Sea and a nightly disco for those wanting to show off their boogie.
In terms of the rooms, there is a distinction between the normal Jr. Suites, which are the majority of rooms at the hotel, and the Preferred Club membership.
For instance, Preferred Club members have special access to premium drinks, a special pool, and a member's only club filled with snacks, drinks, and an on-site concierge.
How much something like that is needed I guess depends on your expectations.
Walking through the hotel and seeing the people, there was no way to distinguish who was who and everyone seemed happy.
So there's that.
Secrets Spa by Pevonia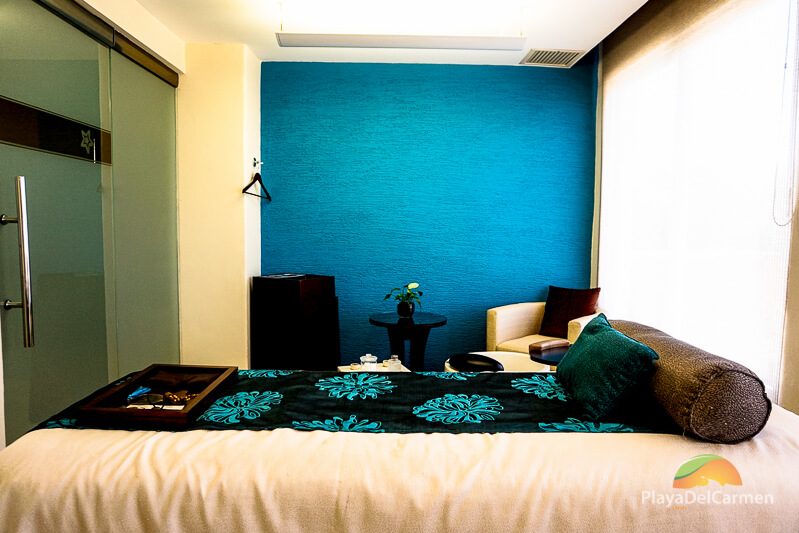 In case you were wondering, let me rain on your parade.
Spa services are not included in the Unlimited Luxury package.
However, they do have a hydrotherapy circuit which is included as an additional perk for Preferred Club members.
I admit I sacrificed myself here for the good of my readers and tried out the hydrotherapy circuit and a follow-up massage.
For those of you who have never experienced a hydrotherapy circuit, it's an experience that lasts about 40-minute taking you on an aquatic circuit which vacillates between hot and cold.
From walking on stones to powerful massage spouts, a sauna, vapor room and some of the coldest water you've likely ever experienced, it is a good way to start off your therapeutic getaway in the Caribbean.
As for my massage, well, I don't really know any more appropriate word than fantastic.
As someone who sits around on the computer way more than is humanly healthy, the knots in my back are like the surface of Mars.
My talented masseuse did a deep-tissue work that, while leaving me a little sore afterward, worked wonders on my desk chair-inflicted back.
Weddings, Honeymoons & Anniversaries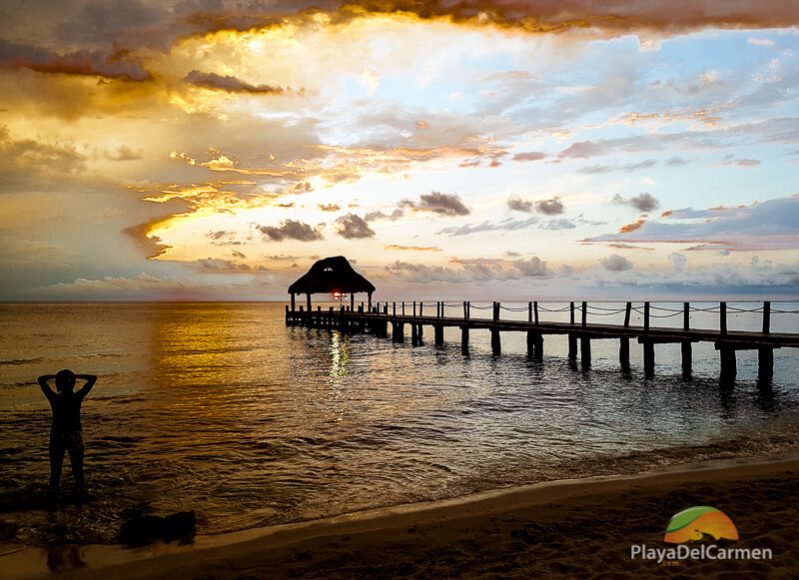 If I were still Catholic this would be the part where I make my confession.
Forgive me, readers, for I have sinned.
But no.
See, while I neither got married nor celebrated a honeymoon or anniversary at Secrets Aura Cozumel, I did realize that this is one great hotel to do so.
On the one hand, it's enough to read everything I just mentioned.
But I think this resort is great for such occasions because of its awesome layout and semi-private beach.
Plus, even though it's an adults-only hotel, which could be a dealbreaker for a wedding, with the neighboring and more economical family-friendly Sunscape Sabor right next door, the entire wedding party can still be together while leaving the adults free from those embarrassing temper-tantrums.
The spacious theater, which is located on the side of Sunscape Sabor Cozumel, can accommodate up to 400 people.
Final Thoughts on Secrets Aura Cozumel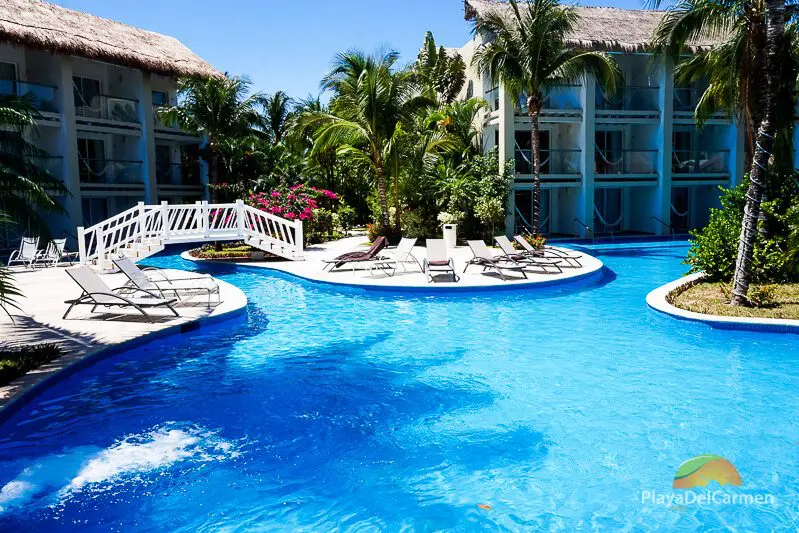 I'm easy.
I've never been one to make much of a fuss about the little things.
Maybe you noticed that I didn't even mention the service. There's a reason for that.
Mexican hospitality is unrivaled, and the people of the Riviera Maya and Yucatan lead the way in providing authentic, empathetic, and professional service. That is the standard rather than the exception, and this was exactly the case at Secrets Aura.
One issue I did have, however, which didn't really bother me but may others, is the fact that I was located on the first floor with my door facing a not so transited walkway.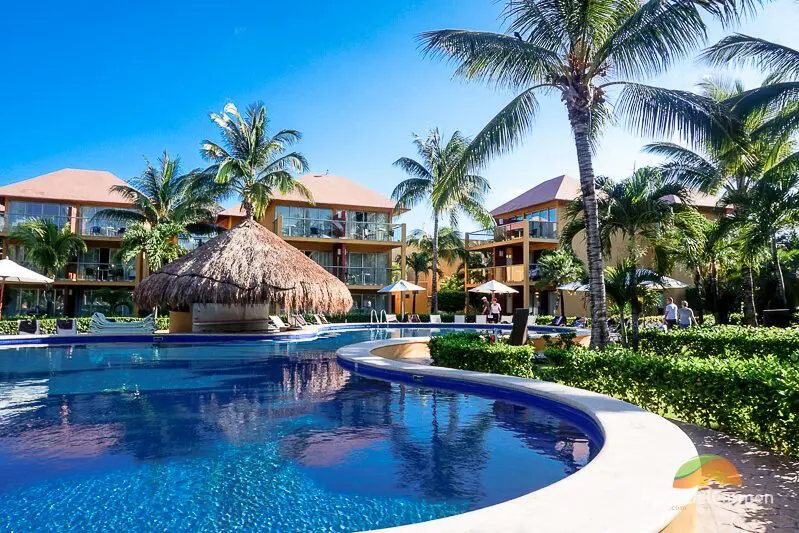 If you're a light sleeper or need more peace and quiet during your stay, then I would recommend making sure you get at least a second-floor room.
Otherwise, I think Secrets Aura Cozumel is the perfect mix of beach, bliss, and balance.
Places like this represent the true idea of what vacations are all about in the first place: finding a beautiful place to getaway, disconnect, relax, and allow yourself to be pampered as the tension and worries of your daily life slowly fade away — even if it is for just a few days.
However, with a range of great on-site activities — not to mention all of the wonderful aquatic activities available on Cozumel Island — Secrets Aura Cozumel can provide the perfect balance for your next adults-only tropical escapade.
Ready to book a stay at the wonderful Secrets Aura Cozumel?
Are tropical travel gurus can get you the best deals this side of Fantasy Island.
Contact them today toll-free at 1-888-537-9797!
---
Trending Now