10 Best Hotels for Kids in The Riviera Maya (2020)
---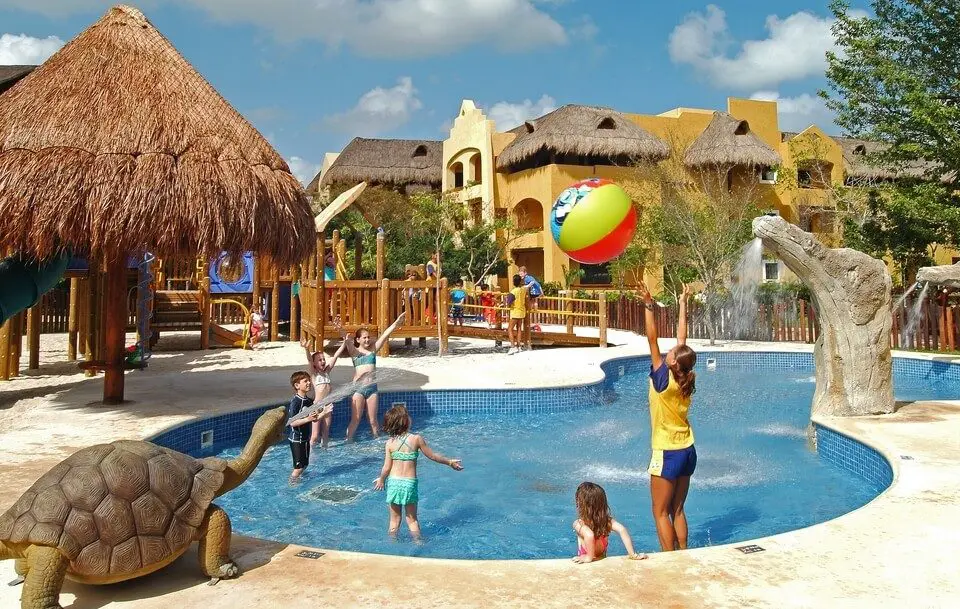 Searching for the best hotel for kids in the Riviera Maya?
Our children bring more meaning, happiness, and joy in to our lives.
I think we can all agree to see them happy, make us feel GREAT!
The Riviera Maya is every kid's haven,  there are so many activities to do here and the best part is, they can be enjoyed by all ages.
However, not all hotels were created equal.
Let's be honest, a waterpark and activities can be enough to make or break an expensive vacation.
So, if you care about how much bang you're getting for your buck and would like an enjoyable and memorable vacation, read on…
Best Kid-Friendly Hotels Riviera Maya:
My best childhood memories are those of me and my parents away on vacation.
When I close my eyes I can still hear the laughter, smell the hotel room, and see all the sights. Good times! 🙂
These are the memories that stay with you and your kids for a lifetime. They are PRICELESS.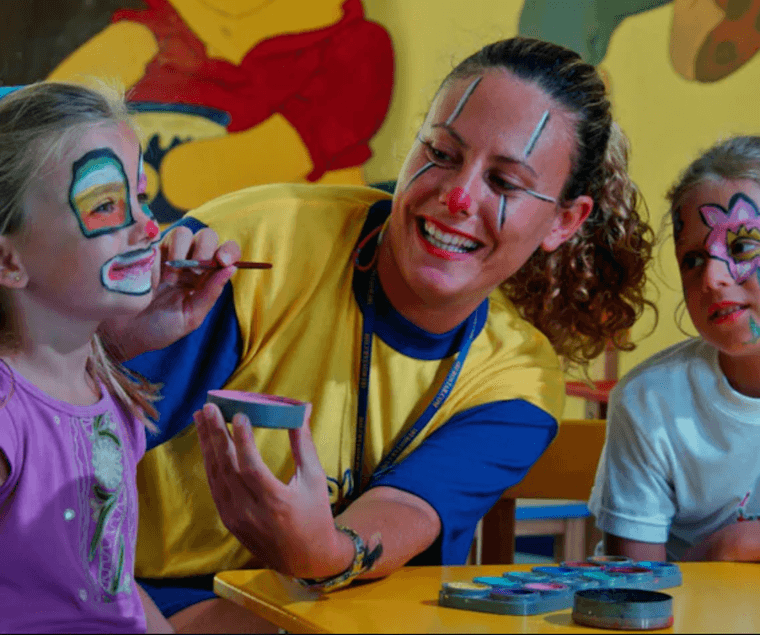 ---
1. Barcelo Maya Colonial
★★★★ | $$
First up, it's the giant resort of Barcelo Maya Colonial!
If you're looking to have some fun with the people you love most in life, then this 4* all-inclusive has it all.
The main attraction for children is the impressive and well-supervised kids zone!
The best part?
It caters to all ages.
For older kids at many hotels, sometimes they can end up getting stuck playing younger games that don't really interest or engage them.
At Barcelo Maya Colonial the Barcy Kids Club is for children aged 4-12.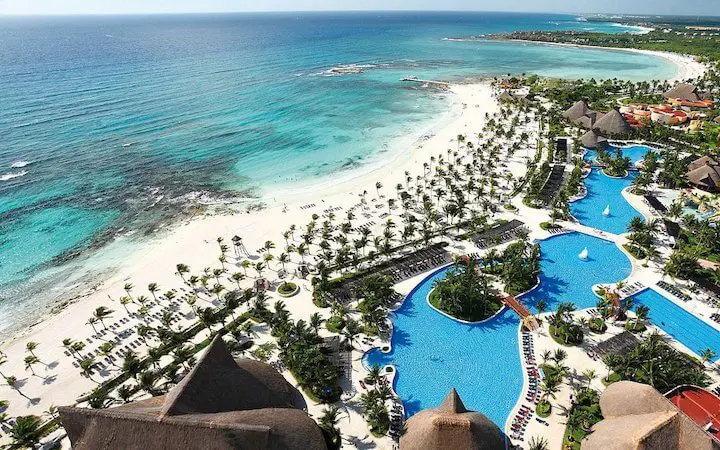 The Teens Club is available for slightly older kids, where they can listen to music, play video games,  and play pool.
There is also a brand new 18 hole mini golf facility, or put-put, where golf enthusiasts can practice their shots. This is heaps of fun, I mean who doesn't love mini-golf?
Other sports and activities include:
2 Pools
Water Park
Fitness center
Tennis Courts
Soccer
Water Trikes
Ping Pong
Basketball
Darts
Billiards
Snorkeling
Windsurfing
Kayaking
Water Polo
Water Aerobics
Introductory Scuba Lesson
Daily and Nightly Entertainment
The people of TripAdvisor have spoken:
"We've just spent two weeks at the Colonial, party of 9, 3 of which were kids under 9. My kids loved the colonial kids club Barcy :- special thanks to Cinthia, Sara & Sary. Kids were upset to say their goodbyes. The ladies were so welcoming, friendly and went over and above to make our kids keep happy & safe. Also, the entertainment team were outstanding getting the ladies in our party motivated to partake in the daily activities (salsa/ water aerobics etc)"
Safe to say this resort was designed with children in mind and you can guarantee that it is never a dull day for them at this hotel.
Speak to us today and book the Barcelo Maya Colonial NOW  to take advantage of our exclusive deal with this hotel.
2. Fairmont Mayakoba
★★★★★ | $$$
Perhaps THEE most upscale family-friendly resort there is in the Riviera Maya?
I'd say so.
This hotel is simply stunning, if you've got cash to flash and you want to treat your family to the very best, then seriously, look no further.
The Mayakoba eco-complex is an award-winning resort that takes the concept of luxury to an elite level.
Set in a gated community amid gorgeous man-made channels and waterways, Fairmont Mayakoba is the epitome of understated excellence.
Although this is not a small resort the hotel's incredible layout and level of service make for an intimate and private stay with your family.
As an added amenity, Fairmont is home to the only Latin American golf course on the PGA circuit: El Camaleon.
Kids 4-12 will find delight and wonder at the Discovery Club, a magical place that offers fun and educational activities and entertainment. From arts and crafts to building sand castles on the beach the kids are sure to make memories and find a few new friends.
Teens 10-17 can escape to the Teens Room where they can hang out and give pool a shot, play a game of table tennis, air hockey, or test their skills on the latest and greatest PlayStation games and equipment.
Other sports and activities include: 
5 pools
Tennis
Kayaks
Bicycling
Cooking classes
The people of TripAdvisor have spoken:
Definitely more low key and great for families (not a lot of nightlife etc.), but we loved the sprawling nature of the resort and the animals all around. June was a great month as it wasn't crowded so easy to get a table for dinner etc. We'll definitely be back!
Want to live in luxury for a week or two? Call us on (888) 537-9797 to take advantage of our local rates.
3. Hard Rock Riviera Maya
★★★★ | $$
You and your family deserve rockstar treatment.
Expect nothing less at the Hard Rock Riviera Maya.
The water slide, Little Big Club and games room will keep your little ones entertained and allow you to spend some quality family time together.
Plus, If you need some grown-ups-only time, head over to the adults-only Heaven section where you will also have full access to all services.
This hotel offers up heaps of fun for the whole family in an entertaining and vibrant environment.
That's not all…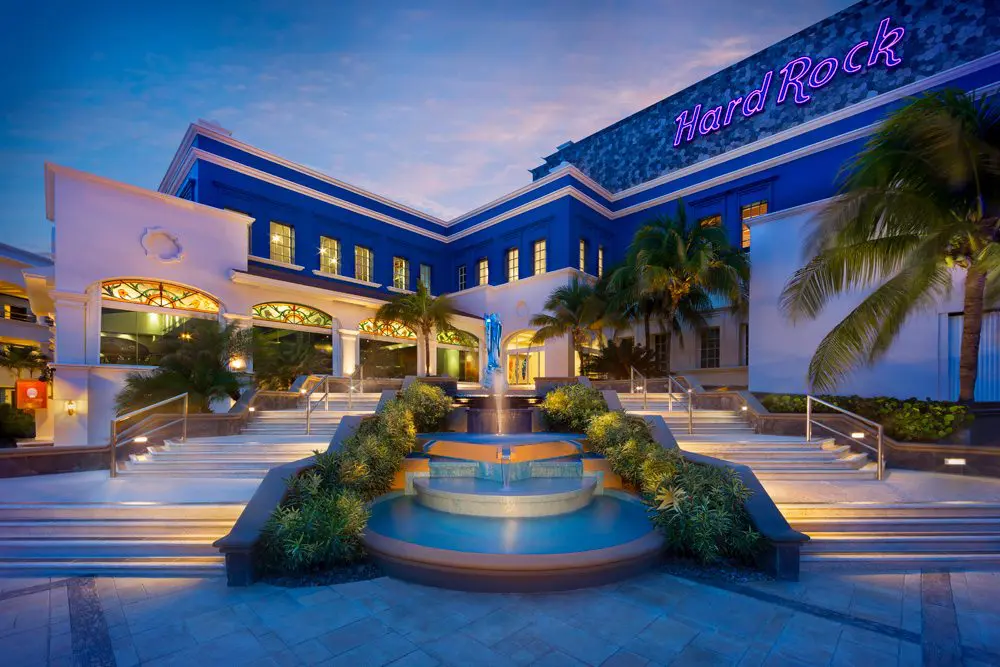 We can package this hotel with airfare from the U.S & Canada, and we will provide free private airport pick up with any stay over 5 nights.
The Little Big Club is the signature Hard Rock Hotels kids club and features your little one's favorite animated characters such as Barney, Thomas the Train and Angelina Ballerina. The trained professionals plan a wide range of activities for the kids both indoors and out.
The splash pad area is sure to be a hit as are the pool parties, dance time, and movie nights.
Hard Rock also caters to older children, with different games, ways to make new friends, and video games.
Sport and activities include:
2 swimming pools
Kids' Pool
Waterslide
Kayaks and snorkeling
Kids' Club
Teen Lounge
Nightclub
Tennis
Bicycles
Yoga Temple
Fitness Center
Games Room
Pool Tables
The people of TripAdvisor have spoken:
We as a family have been to multiple all inclusive resorts and we keep coming back. The staff is simply the best. I highly recommend renting the beach beds. Rene and Sophia are second to none. Great kids club and night life.
If you would like to read more about this particular hotel read our honest review of the Hard Rock Riviera Maya here.
4. Iberostar Paraiso Lindo
★★★★★ | $$
If anyone does kid-friendly well, it's Iberostar. Recognized worldwide for their incredible level of service and accommodations.
This 5-star resort is an all-inclusive vacation spot for the whole family can enjoy.
Be sure to bring your swimsuit because your stay here is not complete without a lot of time in the water.
Swim or snorkel in the ocean, relax and float along the lazy river, ride a swell in the wave pool, or try the hydrotherapy water circuit at the spa.
Lucy's Kids Club at Iberostar Paraíso Lindo is a chance for kids to learn, explore, be entertained and make new friends. Children ages 4-12 are welcome at the club.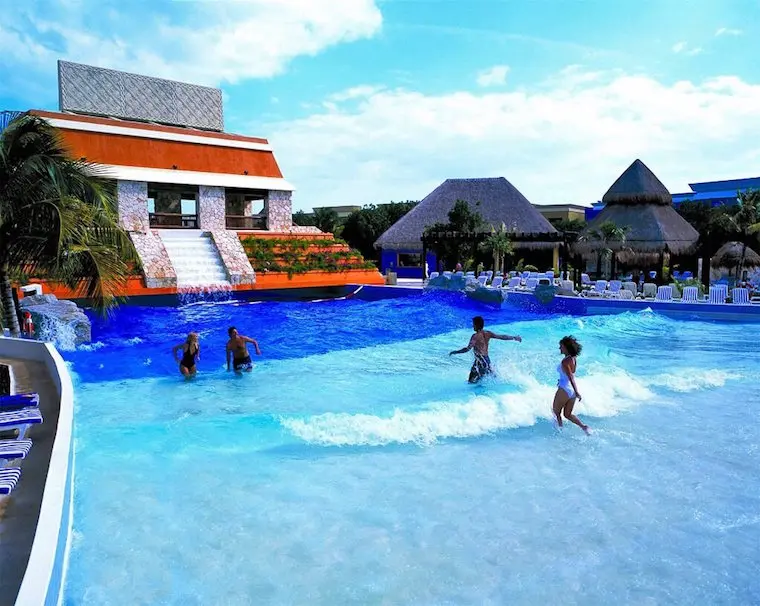 Other sports and activities include:
7 pools
Fitness center
Kayaks
Wave pool
Catamarans
Yoga
Aqua-aerobics
Archery
Bicycling
Basketball
Beach volleyball
Tennis court
Table Tennis
Snorkeling
Evening entertainment
The people of TripAdvisor have spoken:
Great resort! It had plenty of activities for my family to do and the staff members exhibited excellent customer service. The staff members and their bubbly and friendly personalities really make this resort unique. The shows were great; my favorite being the fire show outside by the pool.
See yourself soaking up the sun whilst floating around on a lazy river? Get in touch today to secure your room.
5. Paradisus La Esmeralda
★★★★★ | $$
This is one of our most sought after hotels in Playa del Carmen.
If you enjoy being in the heart of all the action there is no better resort for you and your family.
The exclusivity of the hotel is wonderful but if you and the kids do want to enjoy a trip out and explore the heart of Playa del Carmen you can walk there in less than ten minutes.
The Paradisus La Esmeralda is a luxury playground that caters to both adults and children alike.
This resort boasts a specially designed activities program for kids and teens and is just one of the many perks available for your family's getaway.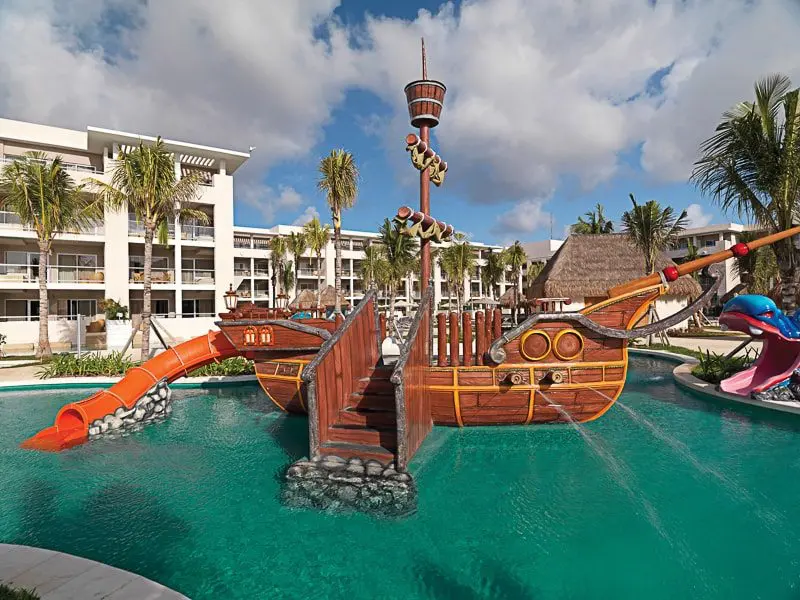 Sport and activities include: 
Multiple swimming pools
Tennis
Aqua Aerobics, water volleyball
Stretching & Pilates
Fitness Center
Spinning
Snorkeling
Meditation
Tango lessons
Wine & Tequila Tasting
Evening entertainment including live music
The people of TripAdvisor have spoken:
We had a fantastic time at the resort. The food was great, the water park kept my kids entertained and they enjoyed he kids club. Jonathan Vergara made evertyhing extremely easy and fun! He was exceptionally helpful and made our stay go super smoothly.
Rooms go quickly at this resort so if you're interested in booking, make an inquiry with us today. 
6. The Azul Fives
★★★★★ | $$
If your family enjoys flexibility then the Azul Fives by Karisma is the place for you.
At this hotel, you can choose an all-inclusive stay or a flexible meal plan if you and the family enjoy eating out.
Trust me, not exploring the gems of 5th Avenue in Playa del Carmen would be a crime, so I love this about this hotel.
In partnership with Fisher-Price and My Gyms, kids ages 6 months – 12 years old have a place at Azulitos Play House to run, jump, play and hang out with new friends.
Special activities are regularly scheduled in the Play House and on the beach.
Parents can stay and play with their kids in the Play House, or if they are older than 4 years old they can leave them for a while with the trained staff.
The Play House is open daily, some reservations are required.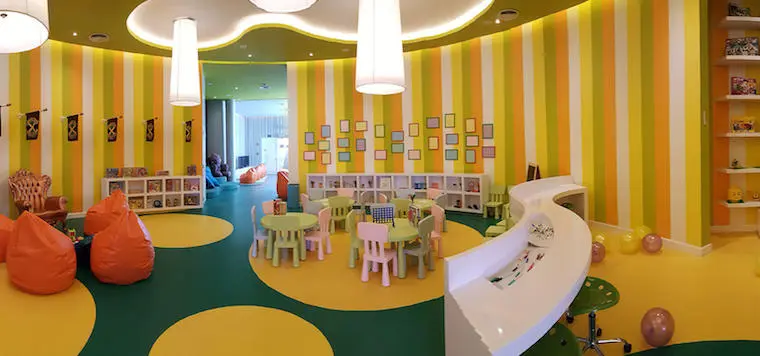 At Extreme Breeze Club teens, 13 – 17 years old have a place to play pool, watch movies, surf the internet, or play on one of the many gaming devices. A great place to get out of the sun for a bit and make some friends.
Azul Fives provides strollers, cribs, pack and plays, baby food, high chairs, and other essential baby items depending on availability.
Other sports and activities include:
Azul Fives has multiple activities and sports on site including:
4 pools, including one kid's pool
Fitness center
Snorkel
Tennis courts
Ping pong
Shuffleboard
Spanish lessons
Intro to scuba classes
Daily activities
Evening entertainment
The people of TripAdvisor have spoken:
I spend 7 week with my family at the fives azul, the food it's amazing, the cocktails are so good, I try all of them, the weather is perfect, my kids have so much fun at the activities, as well I have a lot of fun with the activities, special mention to Erick from the entertainment team.
Learn more about a stay at the Azul Fives by calling one of our expert travel specialists for this region today (888) 537-9797 .
7.  Grand Bahia Principe
★★★★★ | $$
At the Grand Bahia Principe expect world-class service, lavish accommodations, and endless entertainment activities the whole family can enjoy!
This resort is HUGE and to get the most out of the complex we recommend families stay here at least 10 nights.
This is because a stay at this resorts means you can jump on the mini-train to explore and take advantage of the facilities at the other resorts located take in the Bahia Principe Resort Complex.
Take a dip in one of the multiple pools or take the kids over to the nearby water park. It's not to be missed!
The slides here are second to none!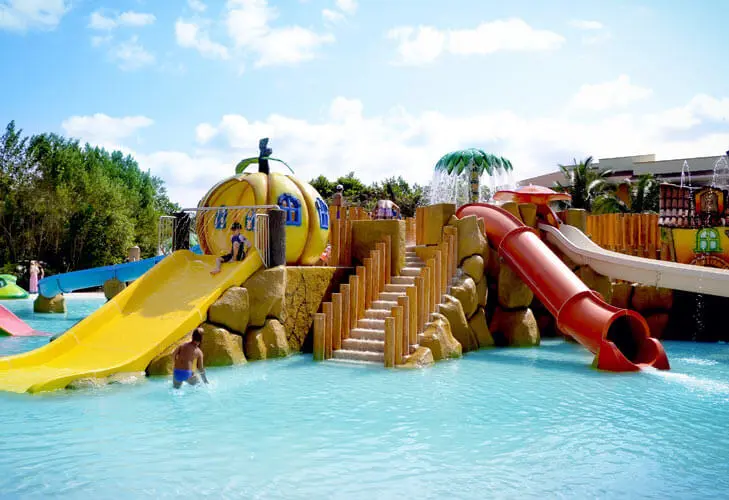 There are lots of other activities and excursions to be enjoyed together too such as…
Catamarans, kayaking, or snorkeling.
For kids ages 4-12 the Bahia Scouts mini club is a great place to hang out, have fun and make new friends.
Or head over to the Bahia Scouts Waterpark located at Gran Bahia Principe Coba for fun with the whole family.
Sports and activities at this hotel include things like:
Kayaks
Catamarans
Windsurfing and boogie boards
Snorkeling
Soccer
Basketball
Volleyball
Tennis
Table Tennis
And much more!
The people of TripAdvisor have spoken:
I had previously been to bahia principe Sian Kaan which is the adults only portion of this resort and it was great. I returned with my family this time and have to say it was even better. Everything about this resort is awesome. Decent food, lots of choice, great entertainment all day and night very kid friendly, great staff
Would definitely return.
Book your stay at  The Grand Principe in Akumal today. 
8. Sandos Caracol Eco Resort & Spa
★★★★ | $
If you want your kids to have bundles of fun, but still learn something and be surrounded by lush vegetation and wildlife this affordable family-friendly hotel is the place for you.
The Sandos Caracol is a great family resort.
With a water park, kids club, lots of restaurants, activities, and sports, the whole family will be happy!
Activities for kids of all ages are available.
Parents and babies can enjoy a soft play area several hours of the day.
The kids club for children aged 4-12 has a daily program from 10 am through until 10 pm.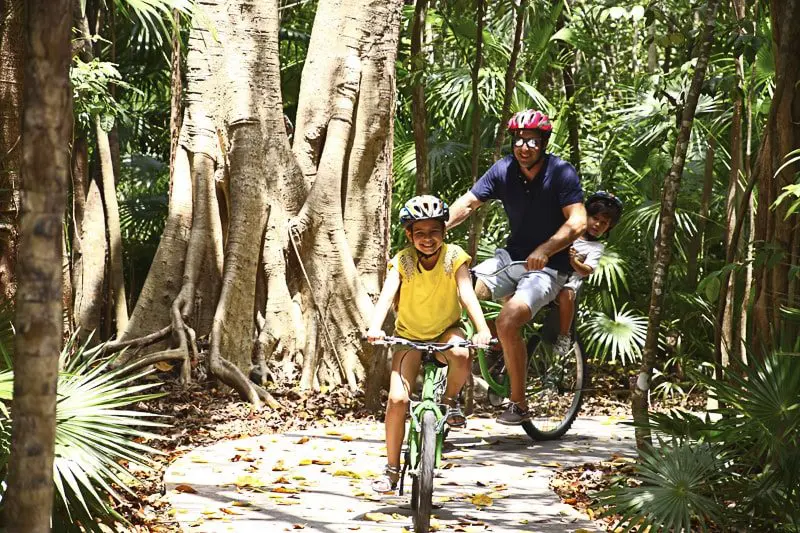 Even the teens will enjoy the program for older kids that includes pool tables, music and more.
The Sandos Caracol resort has a specific family section specially dedicated to daily activities, nightly entertainment, and sports that are readily available and include:
Fitness Center
Beach Volleyball
 Snorkeling
Kayaks
Boogie Boards
Free Scuba Demonstration
 Kids Aquapark with 17 slides
 Tennis
Theater
 Nightly Entertainment
Bike Path
 Bird Sanctuary
The people of TripAdvisor have spoken:
My family (kids 1.5 and 3 years old) were treated wonderfully while staying at the resort. Culturally significant destinations are nearby, and there's plenty of fun in the sun to be had too! Loved the daily face painting for the kiddos by Daniela and Carolina! Thanks for the awesome peacock!
Read our full in-depth review of the resort here.
9. Moon Palace Golf & Spa Resort
★★★★★ | $$
The Moon Palace Golf & Spa Resort offers luxurious accommodations, fine dining, top-shelf drinks and activities for all ages.
A huge benefit of this resort is that it offers up resort credit which means that your acquired credit can be used for room upgrades, select tours, golf, spa services, select wedding packages, romantic dinners and more.
If you stay:
3 nights you receive $500,
4 nights you receive $750
5-8 nights you receive $1500
9 -11 nights you'll receive $2000 of resort credit.
The credit is allocated per room and local taxes must be paid on the amount of credit used.
This resort was voted in the USA today's TOP 10 best all-inclusive resorts in the world. On top of being a fabulous resort, this place offers a great Kids Club and Teen Lounge.
Your kids will have a hard time choosing between the splash water park, the playground, the Kids Club, and the miniature golf.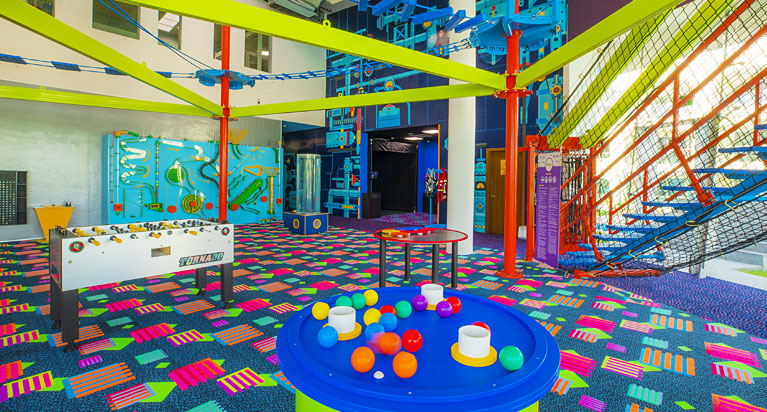 Your teens will love the Wires teens lounge, the flow rider surf simulator, the climbing tower, billiards, and daily activities.
If you're into golf, then you're in luck, this place is set on the 27-hole Jack Nicklaus Signature course, this 7,165-yard course has a par 72. Plus, depending on your credit allowance you may be able to play this course for free!
Sports and activities include:
7 outdoor pools including 2 freestyle swimming pools
6 swim-up bars and 6 Jacuzzis
Scuba diving demonstration
2 fitness centers
Yoga & Pilates
Meditation garden
 Bicycles, Billiards, ping-pong & table games
Daily activities program
 Beach soccer, beach volleyball, and pool volleyball
Flow Rider Surf Simulator
The people of TripAdvisor have spoken:
Kids loved the team at the kids club at the sunrise play room. Yancey, Geovana, Gaby, Marion, Fatima, Paolo, Mariana. Kids always wanted to go and loved the necklace making and fun games. Highly recommended for anyone with kids under 13. My guys 11 and 9.

Don't miss out on these rock bottom prices and book your stay at The Moon Palace Golf & Spa Resort today. 
10. Royalton Riviera Cancun
★★★★★ | $$
The Royalton Riviera Cancun has a family friendly area with unique activities for kids – this luxury resort is sure to impress all guests of all ages.
The kids that stay here particularly enjoy the children's water, and the gelato bar.
There are supervised activities for the children designed just for their entertainment, well you enjoy some well deserved R&R. Kids 4-12.
The Teen Lounge here goes the extra mile and is especially for kids 13-17, the teen lounge is equipped with Wi-Fi, videos games, ping-pong, billiards, and most importantly no parents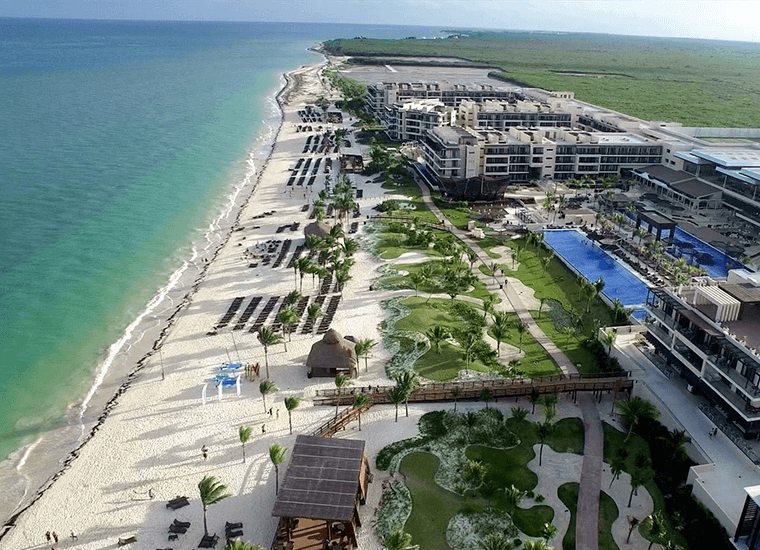 Other sports and activities include:
 11 swimming pools
 1 Splash Park for kids
Volleyball
 Introductory Scuba Lesson
Kayaks
Snorkeling Equipment
Cooking Classes
Dance Classes
 Ping-Pong
 Nightly Entertainment
Fitness Center
Weight Training
The people of TripAdvisor have spoken:
We went to the Royalton last week and had a great experience. All the staff was attentive but most of all we received the best service from our concierge Vanessa. She helped us with everything from beginning to end, and really helped us to have a great experience. We went on the presentation at the hotel, and even though we didn't buy, we continued to have good service from her. Our kids loved her right away and have already drawn pictures to give to her on our next trip down. I definitely recommend this hotel for a great family vacation.
Book your stay in paradise with the Royalton Riviera Cancun today.
Other Useful Blogs You May Like:
Book Your Hotel Today
It's time to start planning the trip of a lifetime for you and your kids.
Contact us today at customercare@playadelcarmen.com
We hope this blog helped you to make a decision but if you have any further questions please get in touch on our toll-free number 888-537-9797
Don't forget to leave your thoughts in the comments section, we would love to hear from you.
Have a great trip!
---
Trending Now