BPM Festival 2017 Line-Up, Tickets, Where to Stay & More!
---

The day has finally arrived, BPMers!
Yes, the initial BPM Festival line-up is out and tickets sales have been announced for October 20th!!!
10 days of electrifying madness from January 6 – January 15!
We've prepared a sort of mini-guide to help you better plan your trip.
We'll keep this quick and easy.
Just click on any of the links below to go to the section you would like to learn more about.
And remember, our travel specialists are available toll-free at 888-537-9797 to answer any question you may have!
BPM Festival 2017 Line-Up
The BPM Festival will celebrate its 10th anniversary in 2017.
That's a lot of people, tons of dancing, and a shitload of partying.
And if the BPM Festival has earned its fame in large part due to its incredible line-ups, this year looks to ante up the stakes.
Here's what's in store for all you beautiful party people.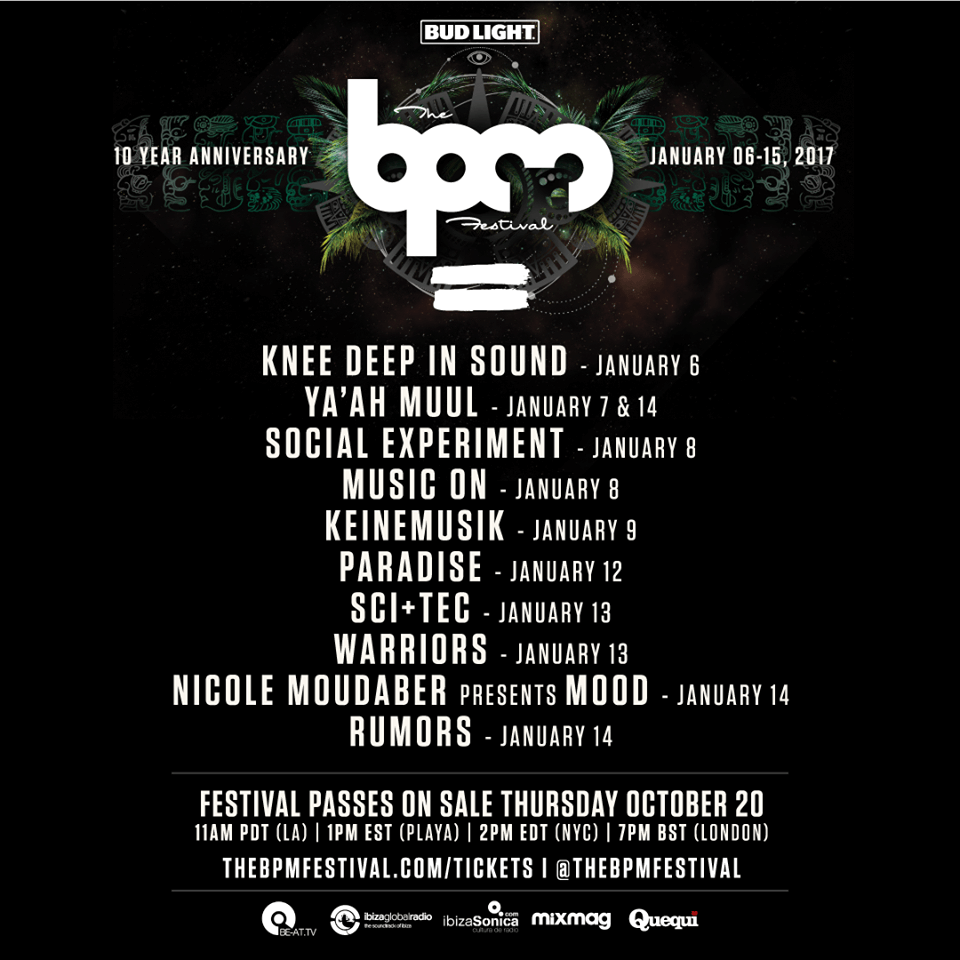 According to BPM organizers, "Fans can look forward to celebrating in style with German collective Keinemusik, Hot Since 82's Knee Deep In Sound, Marco Carola's Music On, Nicole Moudaber presents MOOD, Jamie Jones' Paradise, Guy Gerber's RUMORS, Dubfire's SCI+TEC, No.19 Music's Social Experiment, Steve Lawler's Warriors and over 70 more parties to be announced with over 400 artists."
Moreover, BPMers can rejoice at the return of BPM's signature event: YA'AH MUUL.
Introduced for the first time at the BPM Festival 2016, YA'AH MUUL is a "festival within a festival" held in the jungle.
---
BPM 2017 Tickets & Passes
It seems like it took forever, and quite a few BPMers became a little agitated about the fact that you couldn't plan your trip until all the details on line-up and costs rolled out.
Well, your day has finally come.
Almost.
BPM Festival 2017 prices for tickets and passes will be go on sale on October 20, 2016.
The BPM Festival 3-day opening weekend (January 6-8, 2017), 3-day closing weekend (January 13-15, 2017),  7-day (January 9-15, 2017) and 10-day festival passes go on sale Thursday, October 20 at 11am PDT / 1pm EST / 2pm EDT / 7pm BST exclusively on TheBPMFestival.com/tickets.
Payment plans will be available for 7-day and 10-day passes.
Festival pass perks include entry to all BPM events during the respective date range, line bypass, guaranteed entry (subject to venue's legal capacity) in addition to discounts at over 125 local stores and restaurants.
BPM Prices
10 Day Pass – $875 USD
7 Day Pass – $585 USD
3 Day Opening Pass – $395 USD
3 Day Closing Pass – $395 USD
---
Where to Stay for the BPM 2017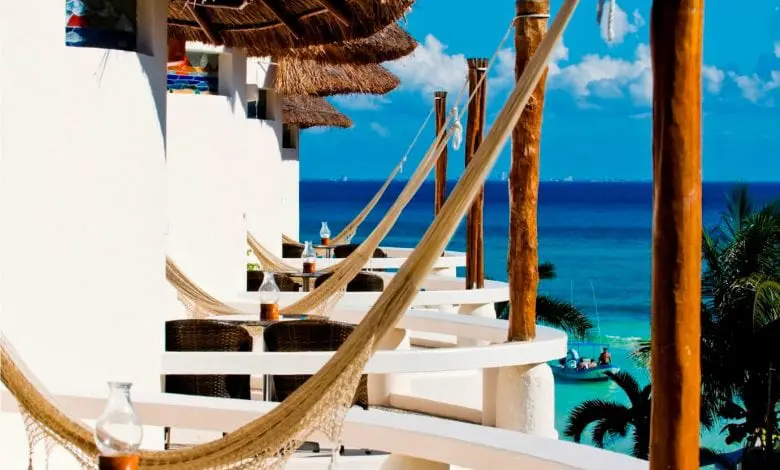 You'll have many options of where to stay at for the festival.
However, take into account that over 80,000 made the trip down south last year.
In other words, plan ahead (okay, okay, we already heard about the BPM passes going on sale so late…).
The hotels in Playa del Carmen are numerous, and most of them are top-notch.
There are also a number of vacation rentals in Playa del Carmen as well as AirBnB options, so it's really a matter of picking your poison.
In a previous post, we highlighted our recommendations for top BPM hotels and villas.
Check it out at the link above and let us know if you have any questions.
Tip: Really consider a vacation rental if you're traveling in a group; you'll be able to share a condo with all the amenities you would find back home.
Contact our travel specialists to get price quotes free of charge!
---
How to Get to Playa del Carmen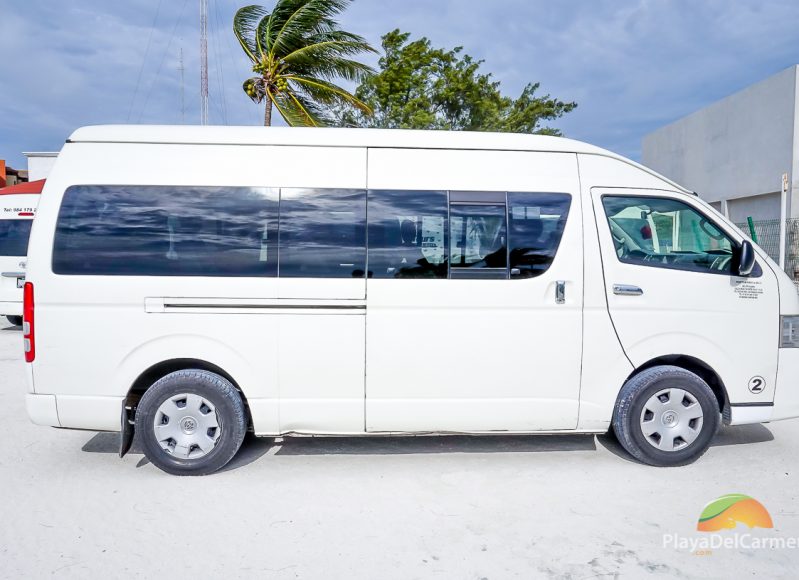 Playa del Carmen is just a 45-minute drive south of the Cancun International Airport.
Several options are available to get you from Cancun airport to Playa del Carmen.
Public transportation – the ADO bus line has a large bus that leaves for Playa del Carmen approximately every 30 minutes. The cost of a bus ticket to Playa del Carmen is $168 MXN per person (around $9 USD at the current exchange rate). For further information such as travel times, see the ADO website.
Shared transfers – Some companies do offer shared transfers to Playa del Carmen at decent rates. However, please bear in mind that you will likely need to wait until the bus fills up and they usually only make stops at major hotels.
Private transfers – You can hire a van with a private driver to pick you and your group up from the airport and take you to any destination in Playa del Carmen. The cost for a private transfer to Playa del Carmen is $145 USD round-trip for up to ten people.
Car rental – You can rent a car at the Cancun International Airport and have your own vehicle during your stay in Playa del Carmen. However, because you're more likely to be partying and staying mostly in the downtown area of Playa del Carmen, it is not recommended.
Airport taxis – Cancun airport taxis are available to take you from Cancun to Playa del Carmen. However, their service is more expensive and less reliable. Not recommended.
Über – Über Cancun began operations at the end of September 2016, causing a major ordeal due to the opposition of the local taxi union. As of this writing, the issue has still not been resolved. You can use Über within and from Cancun to wherever it is you are going, but until the dispute gets sorted out it may not be worth the stress.
---
Things to Do in Playa del Carmen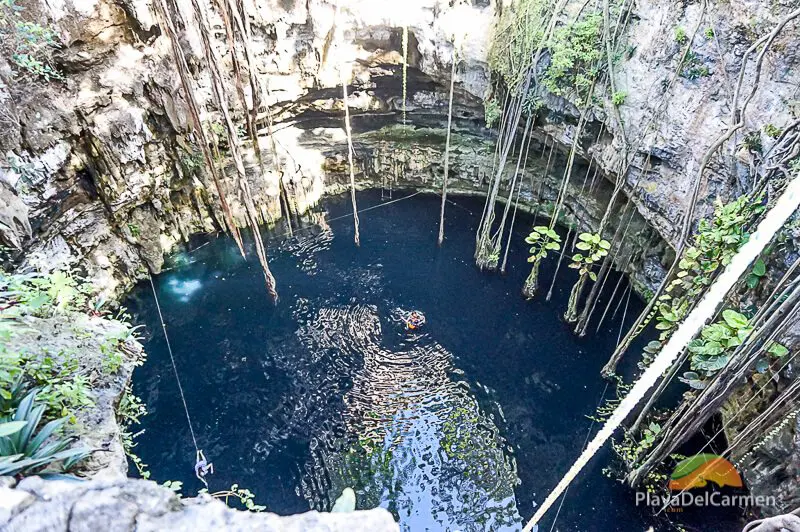 Most of you will be coming to enjoy the BPM Festival and less concerned about doing actual touristy stuff.
Understandable.
At the same time, you should take advantage of your surroundings and get in an adventure or two.
You're likely to do no more than that, so choose your activities wisely.
Here are some suggestions:
---
BPM 2017 Tips
Whether a first-timer or a hardened veteran, everyone can learn or be reminded about certain things worth keeping in mind when coming down for the BPM Festival 2017.
Follow the BPM Amigo Code. It is designed to make sure you have a safe and enjoyable experience.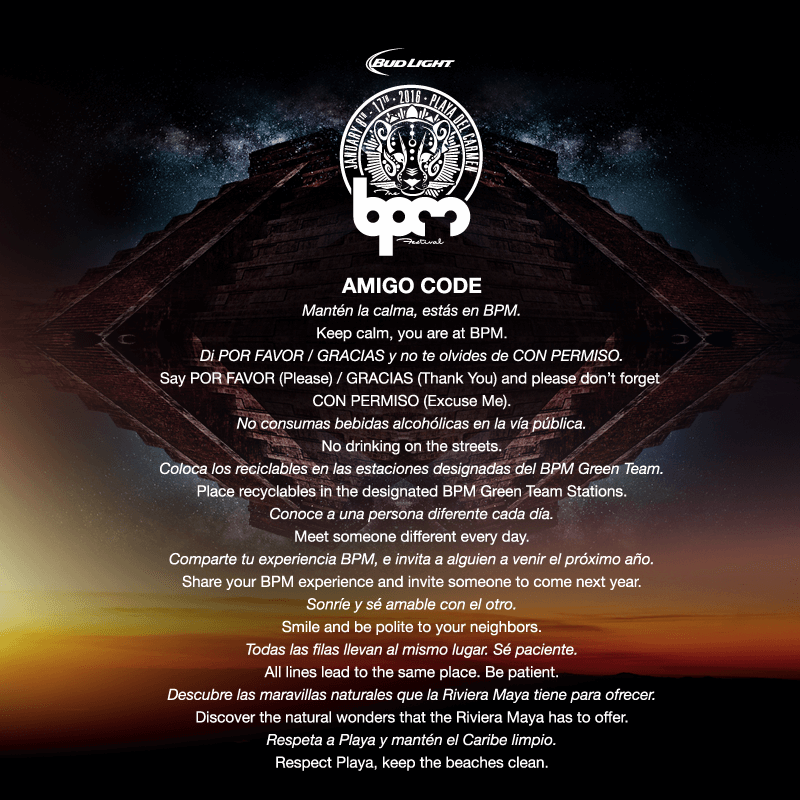 To which we would add:
Print out copies of all your travel documents and keep the originals in a safe place when out and about.
Make sure you have a place to stay before you arrive; with so many people it may be hard and expensive to find something once you're here.
Refrain from using the ATM machines on 5th Avenue, and only withdraw money from those located within banks.
Be aware of your surroundings. Playa del Carmen is actually much safer than most major U.S. cities, but you should never get so inebriated or careless that you are no longer hip to what's going on around you (think buddy system).
Don't leave your return to the airport at chance of something for the last minute. With so many people coming for the festival, there will be more traffic and longer lines.
We could give you some more tips, but we aren't your nagging mother after all…
---
The BPM Festival: 2016 DJs Sound Off
So what do the DJs think about coming down for the 10th anniversary of the BPM Festival?
Hear it from them!
Have any questions?
Our travel specialists are pure electric boogaloo.
They can be reached toll-free at 888-537-9797.
See you at the BPM Festival!
Photo credits: Unless otherwise noted with the PlayaDelCarmen.com logo, all BPM Festival images courtesy of a LIVE Coverage for TheBPMFestival.com.
---
Trending Now
You may also like