An All-Inclusive Guide to Getting from Cancun Airport to Playa del Carmen
---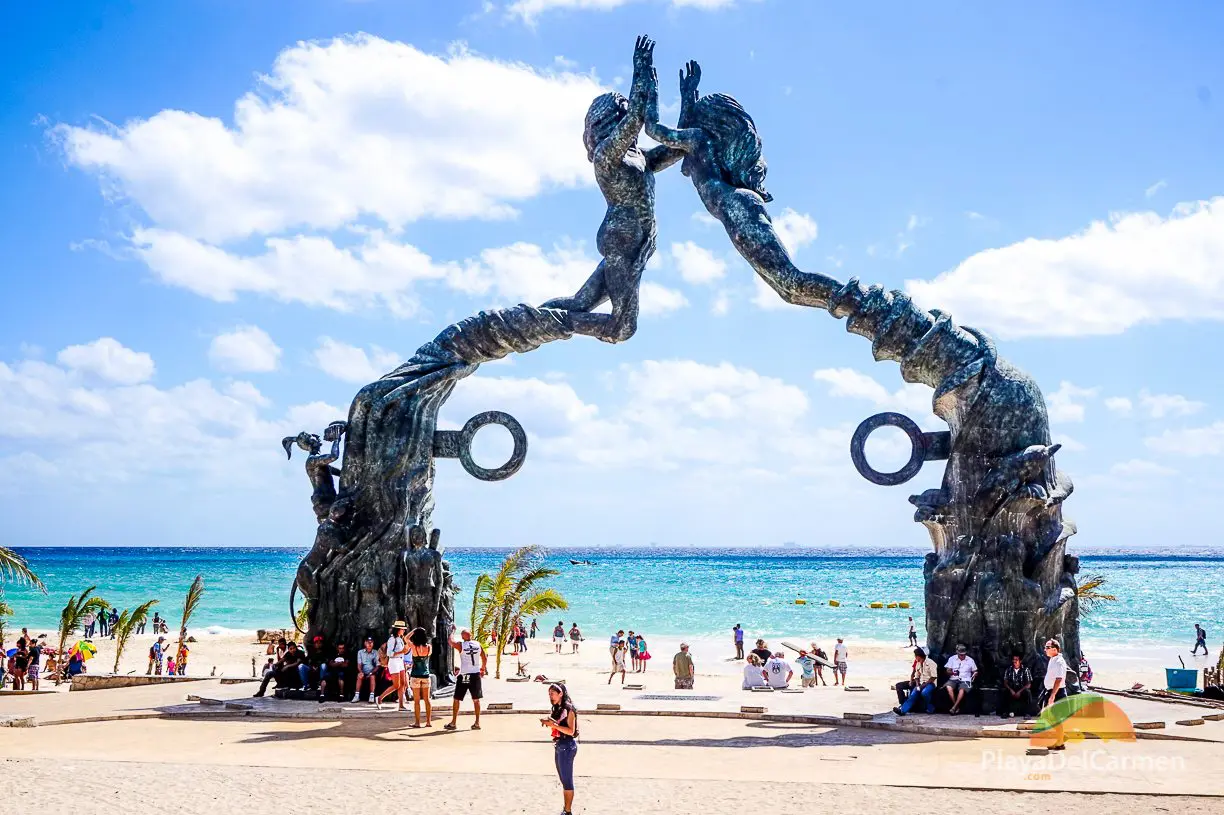 Do you find airport transfers to be a hassle?
You can buy private transfers from Cancun to Playa del Carmen for just $75. Safe, easy and fast.
Getting to and from your hotel definitely isn't the most glamorous aspect of your trip but going in a private van sure helps a lot!
However, if you've ever had to deal with airport transfers while on vacation, you probably know that something going wrong here can ruin your dream trip to paradise.
For many, getting to and from their hotel is often an afterthought… are you one of those people?
Image by I, Elemaki, CC BY-SA 2.5, https://commons.wikimedia.org/w/index.php?curid=2512610
The truth is, making sure that you get to and from the Cancun airport to Playa del Carmen or any other town in the Riviera Maya can radically affect your vacation.
When arriving at the Cancun airport, you definitely don't want to be left waiting to see whether or not your transportation provider even shows up, or in a worse case scenario having to make an uneducated and often times costly decision like who to trust to get you safely to your hotel.
You also don't miss your flight home because the airport transfer provider you paid to get you there is either late or a no-show.
So what do you do?
Check out our answers to your most frequently asked questions in our brief guide below.
Cancun Airport to Playa del Carmen: 5 Things You Need to Know
As with most things, knowing before you go will go a long way to help you make the best decision as to getting to/from Cancun airport to Playa del Carmen or anywhere else in the Riviera Maya.
So enjoy our guide, and let us know in the comment section if you have any additional questions.
5 Things You Need to Know:
Click on the links above to go directly to your question.
1. Where is Cancun Airport?
Cancun International Airport (CUN) is located in Mexico's Yucatan Peninsula, in the state of Quintana Roo.
The airport is located in the area of the Mexican Caribbean often times referred to as Riviera Cancun, which joins Cancun to the north with the Riviera Maya down to Tulum to the south.
It is about 20-25 minutes away from downtown Cancun and around 45 minutes away from Playa del Carmen.
The strategic location of the Cancun airport makes it a quick and simple journey to your destination when booking airport transfers to Playa del Carmen or any other major city or town between Cancun and Tulum.
---
2. What to expect once you arrive in Cancun – 4 Steps

Image by Tony Hisgett from Birmingham, UK – United Airlines Airbus A320-232 N401UA, CC BY 2.0, https://commons.wikimedia.org/w/index.php?curid=10829295
Cancun, or CUN, is a major international airport and continues to expand. In fact, plans are underway to add an additional fourth terminal to Mexico's second busiest airport behind Mexico.
Perhaps it has something to do with the fact that over 19 million people (!) flew into Cancun International Airport in 2015 alone.
The first thing you should know about arriving at Cancun airport is the fact that a window seat is at a prime. As the airplane slowly descends over Cancun, you'll get impressive views of the Caribbean Sea and the stunning coastline of Cancun and the Riviera Maya.
If you pay attention, you'll even catch an aerial glimpse of Holbox Island, Isla Mujeres, and Cozumel!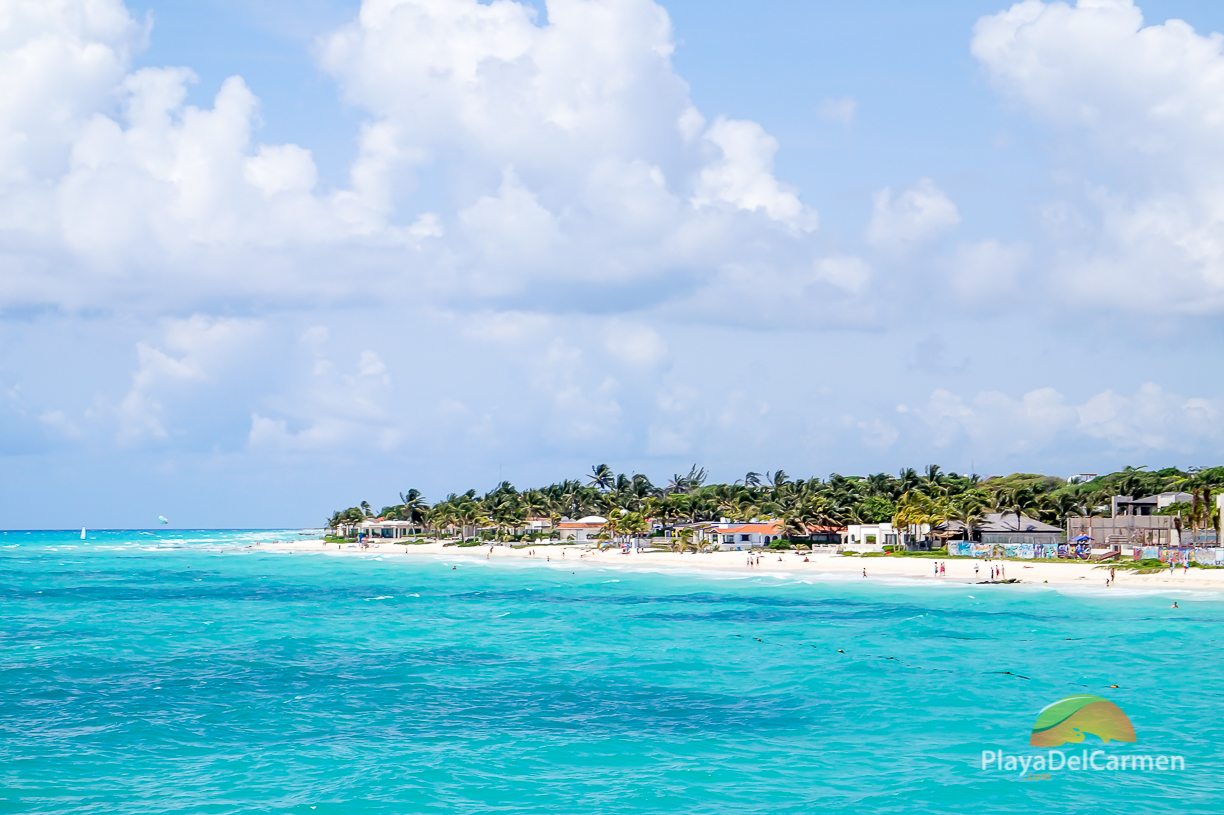 Step 1 – Once you've safely landed…
You'll proceed out of the airplane to your designated luggage carousel to pick up your bags.
As this generally occurs in a timely manner, before you know it you'll have your luggage and be proceeding to your next stop through Cancun airport: immigration.
Expect to find long lines snaking out of the large hall as passengers from several different flights converge to get their approval for entry from the immigration officials.
Have your passport and ticket in hand, answer any question they ask, and you should receive your tourist visa without a hitch.

By I, Elemaki, CC BY-SA 2.5, https://commons.wikimedia.org/w/index.php?curid=2512634
Your next stop will actually be a stoplight: customs.
Step 2 – Customs
Here you'll wait in line once again as passenger after passenger stands at a line and waits for a stoplight.
Green you're good to go, red you have to stop and let customs officials inspect your luggage.
As long as you don't have anything that's prohibited, like fresh fruit or vegetables or any type of contraband, you should be good to go and ready to head out into…
Step 3 – The Timeshare Jungle
Okay. So this is really the only uncomfortable part of the journey that stands between you and your smiling driver waiting to whisk you away to your hotel.
See, once you pass customs you step through a sliding glass door and into a short but intense area of the airport where everyone will call you, "My friend."
While not all are timeshare people, some sell rental cars and transfers, for instance, and almost every one of them is a genuinely nice person trying to make a living by selling to people who walk by in a matter of seconds, unless you are looking to purchase something then there is no need to stop and chat.
Keep your eyes ahead focused on the next set of sliding glass doors ahead of you, smile and say "Thank you," (people in Mexico generally avoid saying no so as not to come off as rude), and keep your feet moving.

Image by [email protected] – Own work, GFDL, https://commons.wikimedia.org/w/index.php?curid=4137103
Step 4 – Exiting the Airport
Now outside the air-conditioned doors of Cancun International Airport, you'll be greeted by the tropical heat and an army of transportation providers waiting for their guests to emerge unscathed from behind the timeshare-embedded doors.
Unless you've opted for public transportation, you probably got a private transfer and your driver should be waiting there for you with either a sign with your name or at least one that has their company logo on it.
That's it! You've made. Now it's off to your hotel!

Image by Luisrmb_772 (talk) (Uploads) – Own work, CC BY 3.0, https://en.wikipedia.org/w/index.php?curid=18164744
---
3. How far is Cancun airport from the major cities and hotels?
As mentioned above, the Cancun International Airport is strategically located on the southern outskirts of Cancun, making it as convenient to travel to and from the airport from Cancun as it is from the cities and towns of this regions called the Riviera Maya.
Most people will be staying at a hotel or resort between Cancun and Tulum, meaning that the longest you should have to travel between the airport and your hotel is 2 hours, and likely much less.
Distance Between Cancun and Major Towns
| | | |
| --- | --- | --- |
| Towns and Cities | Distance | Estimated Time |
| Puerto Morelos | 25.5 km | 25 minutes |
| Playa del Carmen | 55 km | 45 minutes |
| Puerto Aventuras | 77.3 km | 60 minutes |
| Akumal | 91.6 km | 75 minutes |
| Tulum | 125 km | 100 minutes |
| | | |
Distance Between Cancun and Your Hotel
| | | |
| --- | --- | --- |
| Riviera Maya Hotels & Resorts | Distance | Estimated Time |
| Moon Palace | 10.5 km | 13 minutes |
| Royalton Riviera | 18.4 km | 28 minutes |
| Secrets Silversands | 19.8 km | 17 minutes |
| Now Sapphire | 22.6 km | 18 minutes |
| Dreams Riviera | 23.1 km | 20 minutes |
| Hotel Marina El Cid | 27.5 km | 25 minutes |
| Iberostar Paraiso | 36 km | 25 minutes |
| Grand Mayan | 36 km | 27 minutes |
| Secrets Maroma | 40.1 km | 30 minutes |
| El Dorado Maroma | 42.9 km | 33 minutes |
| Hacienda Tres Rios | 44.8 km | 32 minutes |
| Secrets Capri | 46.5 km | 33 minutes |
| Mayakoba | 46.5 km | 33 minutes |
| Grand Velas | 49.1 km | 36 minutes |
| Grand Riviera Princess | 50.1 km | 41 minutes |
| Azul Fives | 50.6 km | 41 minutes |
| Sandos Caracol | 51.9 km | 43 minutes |
| Paradisus Perla & Esmeralda | 52.5 km | 44 minutes |
| The Royal Playa del Carmen | 55.4 km | 50 minutes |
| Reef Coco Beach | 54.7 km | 48 minutes |
| Thompson Playa del Carmen | 55.5 km | 50 minutes |
| Hard Rock Riviera Maya | 76 km | 65 minutes |
| Dreams Puerto Aventuras | 77.8 km | 70 minutes |
| Barceló | 78.9 km | 70 minutes |
| Secrets Akumal | 91.3 km | 75 minutes |
| Grand Bahia Principe | 95.9 km | 90 minutes |
| Dreams Tulum | 110.6 km | 100 minutes |
As can be seen in the chart above, the general rule of thumb is this: hotels in Puerto Morelos are about a 15-30 minute drive, Cancun to Playa del Carmen transfers run from 45-60 minutes, for hotels such as the Hard Rock Riviera Maya around Puerto Aventuras to Akumal around 60-80 minutes, and up to 1.5 hours to Tulum.
Please note that these times only serve as estimates, and travel to/and from the city or resort could take longer depending on traffic and/or weather conditions.
---
4. How to Get from Cancun Airport to Playa del Carmen – 4 Options
The million dollar question. And an easy one to answer. First of all, you have several options to get to/from Playa del Carmen from Cancun.
Option 1 – Public Transportation
The local bus company, called ADO, provides a good service to and from Cancun Airport.
The buses are large, kept clean (and very cold, so bring something to cover up with), and run every 30 minutes to Playa del Carmen from the airport.
The first service is at 8:30 a.m. and the last service is at 11:50 p.m. (after 9:30 p.m. they just run every 45 minutes).
The cost of a one-way ticket for one person is around $9 USD. Estimated time of travel is about one hour, but calculate more for the bus navigating the narrow city streets.
The ADO bus station is located on 5th Street and Juarez, so take into consideration the fact that you will likely need to pay for a taxi from the bus station to your hotel and back.
See our blog post on taking a taxi in Playa del Carmen for more information on the trials and tribulations of said adventurous feat.
In total, you're looking at a total round-trip cost for two people between Playa del Carmen and the Cancun airport of around $40-50 USD. For more information, check out the ADO website for details.

Option 2 – Cancun Airport Taxis
It is possible to take a taxi from the airport to Playa del Carmen or vice-versa, but it's not the most recommended of the options.
You won't save much money, if at all, then when booking with a private transportation provider, and you're more on your own in terms of quality of the service and of the vehicle.
Unless you're hell bent on adventure and are fine with this manner of exploring the Mexican Caribbean, we recommend you choose one of the other airport transfer solutions.
Likewise, Über has come to Cancun, but they are still in a dispute with the local taxi union.
Until that gets resolved, avoid the possible hassle and stress.
Option 3 – Cancun Airport Shuttle
Several transportation providers provide transfer packages from Cancun to your destination.
Some are better and more reliable than others but that's not for us to judge.
Please note, unless you choose a private shuttle, some shuttles are shared which means they normally make a few stops before dropping you off. You'll need to wait for a few minutes at the airport while all other passengers exit the airport.
Option 4 – PRIVATE Cancun Airport Shuttle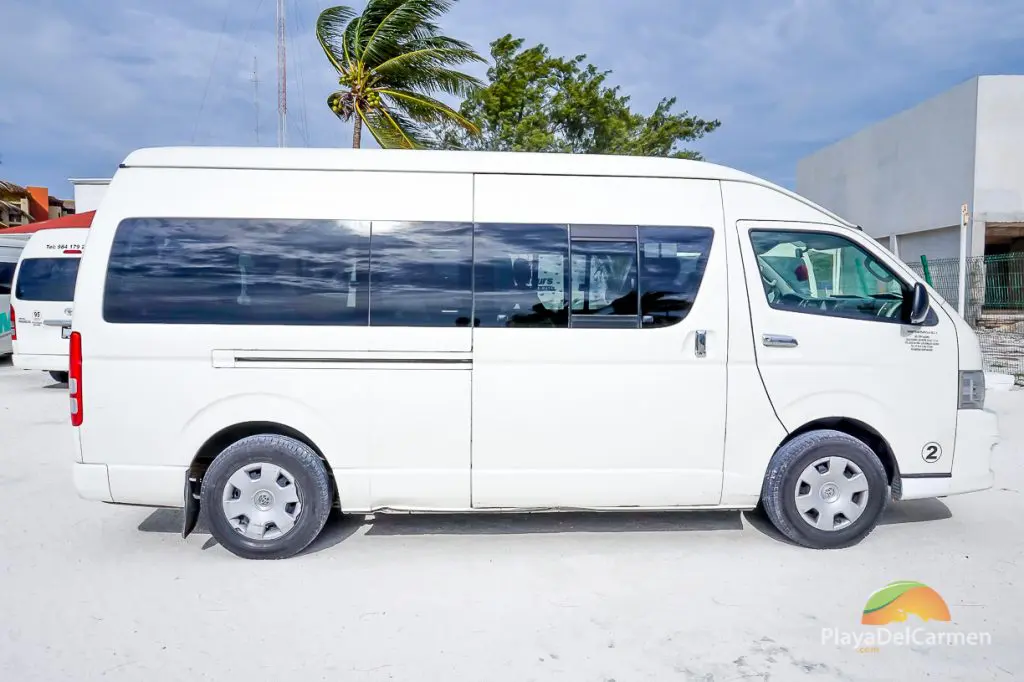 The best, most comfortable, and slightly more expensive options is to go private.
Of course, the higher price come with 1 BIG perk. No Stops!
Plus, if you have a larger group then it's a no-brainer as the additional costs are minimal or non-existent.
We, PlayaDelCarmen.com, hand-picked our transport team, so purchasing private transportation from Cancun to Playa Del Carmen here from us for only $75 is your safest bet.
You'll be guaranteed a meet-and-greet at the airport by your driver, who will be waiting for you with a sign bearing your name.
Once out of the airport, it's you and you alone on your way to your hotel.
Direct. No waits. No additional stops!!!
The same goes for your return trip to the airport, which is based on your flight schedule and your flight schedule alone.
That means more flexibility and time at the resort for you.
Prices for private airport transfers to Playa del Carmen and the Riviera Maya vary depending on the number of people and the distance from your hotel to Cancun International Airport.
We can get you preferred rates on the entire trip from flights, to hotels, activities, group travel and more.
Vacations booked directly with PlayaDelCarmen.com include your shuttle service at no additional cost. 888-537-9797.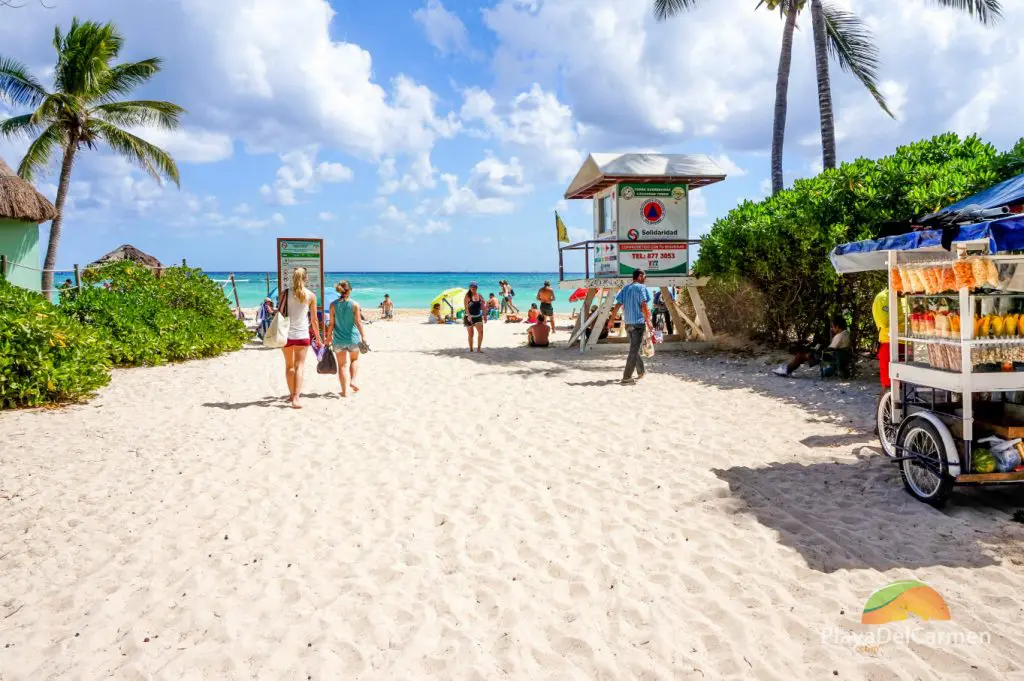 ---
5. Additional Questions About Airport Transfers to Playa del Carmen
As an added bonus to this guide, we have included a list of some of the most frequently asked questions we get about traveling to Playa del Carmen.
Where is Playa del Carmen airport?
As the smaller sister city to the larger and older Cancun, Playa del Carmen isn't home to its own international airport.
There is a local airport for smaller aircraft, but no major airlines fly into Playa del Carmen.
That's why all the information in this guide refers to getting to and from Playa del Carmen from Cancun International Airport.
Do I need a passport to travel to Cancun?
Citizens of the United States require a passport to enter into Mexican territory.
Canadian citizens may enter the country with a valid birth certificate and picture ID.
That said, however, it's better safe than sorry, so always travel to Mexico with a valid passport.
When in doubt, contact the nearest Mexican consulate.
Do I have to pay a departure tax?
A departure tax does exist, and costs around $48 USD, but most of us are completely unaware of it.
That's because almost all major airlines already include the departure tax in the price of the ticket.
When in doubt, contact your airline and double check.
Is Cancun airport safe?
Cancun is a major international airport. As such, it adheres to international protocols regarding air traffic safety.
The same goes for the entire airport grounds, which are as safe as any other major airport around the world.
And in case you're wondering, the same goes for the entire region, and not just the airport.
When is a good time to travel to Playa del Carmen?
Playa del Carmen is now a year-round destination, with just a few months of the year considered low season.
Weather may play a role in your decisions, so make sure to check out our blog posts about Riviera Maya weather.
How long before my return flight do I need to be at the airport?
International flights require that you be at the airport three hours prior to your departure time.
Even if it sometimes seems like way longer than you would like to have to be there, it's good practice to arrange airport transfers that meet those guidelines in order to ensure that you get there within the stipulated time frame.
That way, if there were inclement weather, traffic, or any other unforeseen issue, you're more likely to get to the airport on time and not miss your flight.
Can I exchange currency at the Cancun airport?
Yes, but it's not the best solution.
Your best bet is to wait until you get to your destination and withdraw money from a local ATM machine.
Please note that you should try to only use ATM's at the banks or hotels.
Did we miss anything?
Please don't hesitate to let us know in the comments section if you have any more questions or good ideas for us to include in our guide!
And remember, our travel specialists live and breath Playa del Carmen, and are local experts on everything Playa del Carmen.
You can reach out to them toll-free at 888-537-9797 for the best and most up-to-date information on everything from the best hotels to where to eat and things to do in Playa del Carmen!
---
Trending Now
You may also like