Flying Through the Jungle: My Thrilling Selvatica Review
---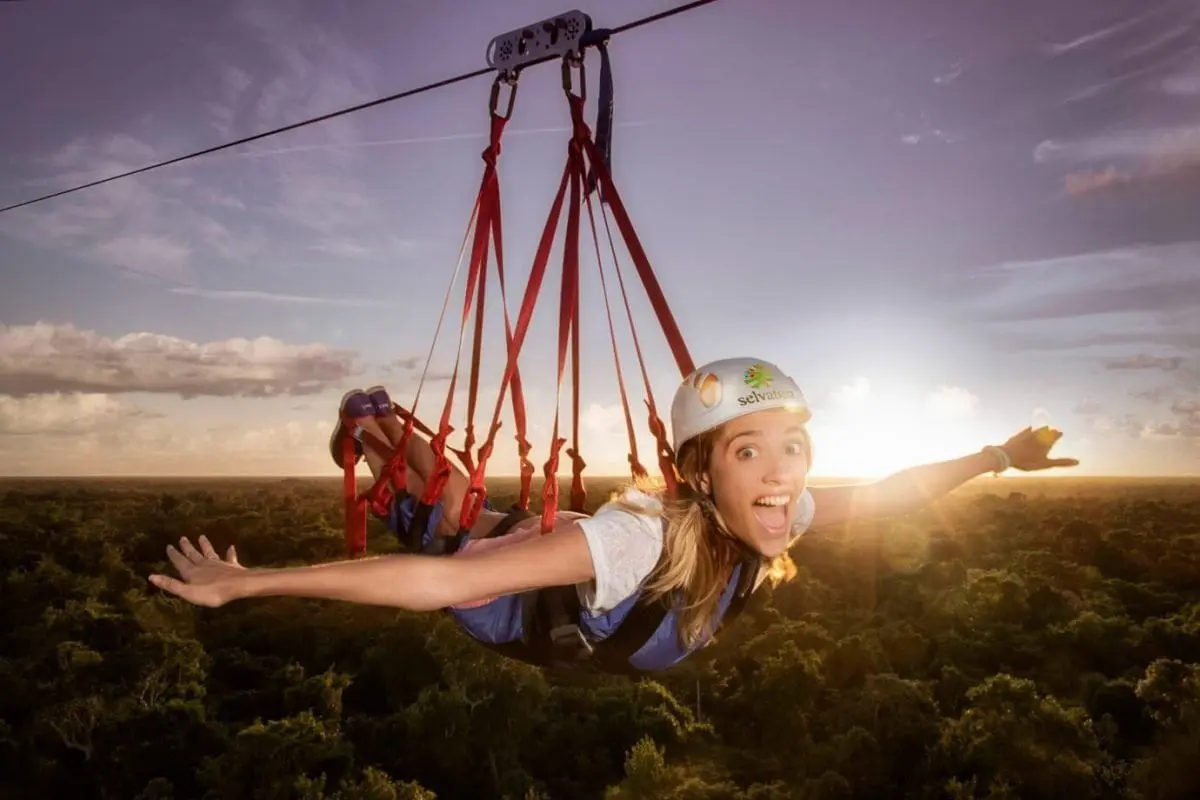 I'll be honest.
I'm not much of a theme park or tour type.
I believe the best things to see and do in the region have to do with culture and nature.
More off-the-beaten-path than mass tourism if you know what I mean.
A hidden taco stand or small cenote rather than Coco Bongo or 5th Avenue nightclubs.
The good thing is, there's really something for everyone in Playa del Carmen and the Riviera Maya.
BUT… I have to admit….this tour is pretty good.
My Selvatica Review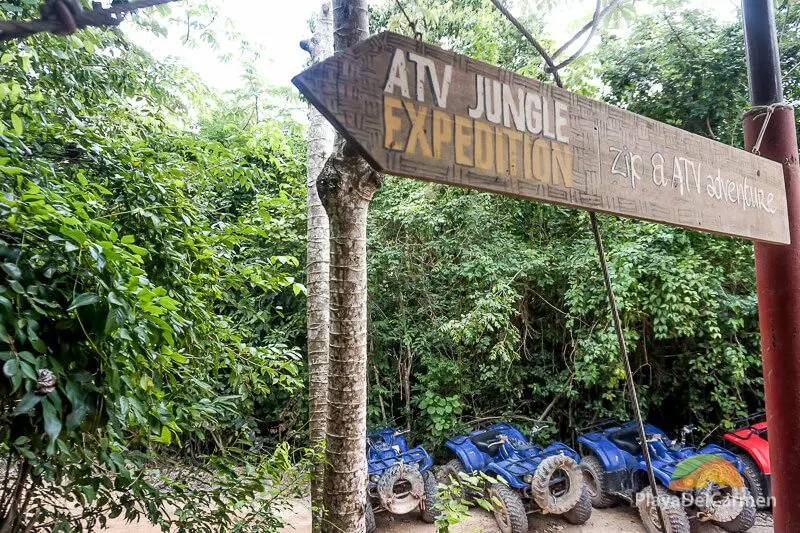 As part of my job, I get to experience all aspects of Playa del Carmen vacations. <— It's okay to feel a little envious.
From beaches to bars to attractions and activities, I need to know what I'm talking about so as not to feed you a bunch of B.S.
And so, I recently spent the day at Selvatica Park on their Gimme All excursion package.
Here are my thoughts about this eco-adventure park located in the heart of the Riviera Maya jungle.
I'll start by saying this: it's definitely one of the top Playa del Carmen activities.
Selvatica Transportation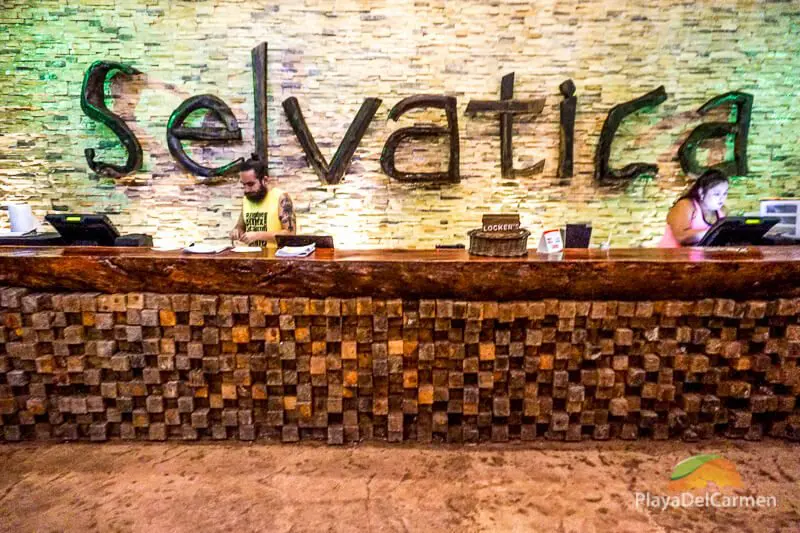 The day starts off with a pick-up at the Gran Porto Real in Playa del Carmen at 7:30 a.m.
As expected, the friendly driver showed up on time and after a few minutes wait we hit the road.
On the way to Selvatica we made one stop at Iberostar Paraiso to pick up some other guests.
From there, we turned away from the coast and headed into the jungle.
About 45 minutes later we arrived to our destination: Selvatica Park.
Selvatica Activities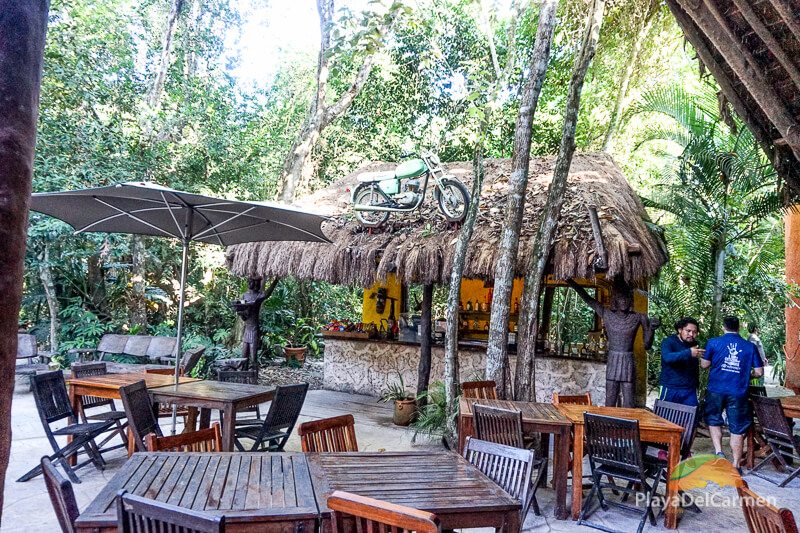 We arrived at the park around 9:00 a.m. and were immediately greeted by Gabi, who would be one of our wonderful guides for the entire adventure.
After welcoming us, she led us to check-in and showed us to the lockers.
Once finished, we received a briefing about what to expect and then…
Let the adventure begin!
Selvatica Zip Lines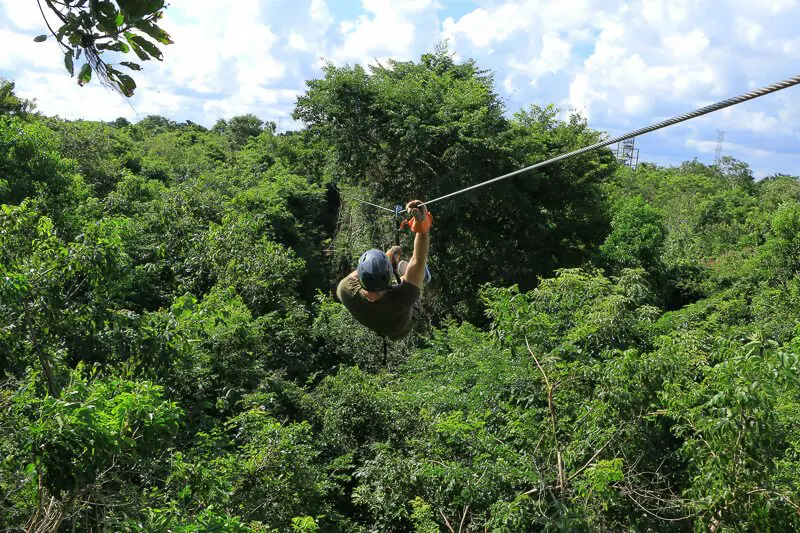 Our first stop just so happened to be treetop.
Our group of roughly 15 people had around 4-5 guides and 3 photographers accompany us high up into the canopy for our adrenaline-filled flight far above the forest floor.
Along 8 different zip line circuits, we soared over the park and felt the adrenaline of zipping through the jungle.
At every step of the way, the awesome Selvatica guides made sure that not only everyone was safe but also having a good time.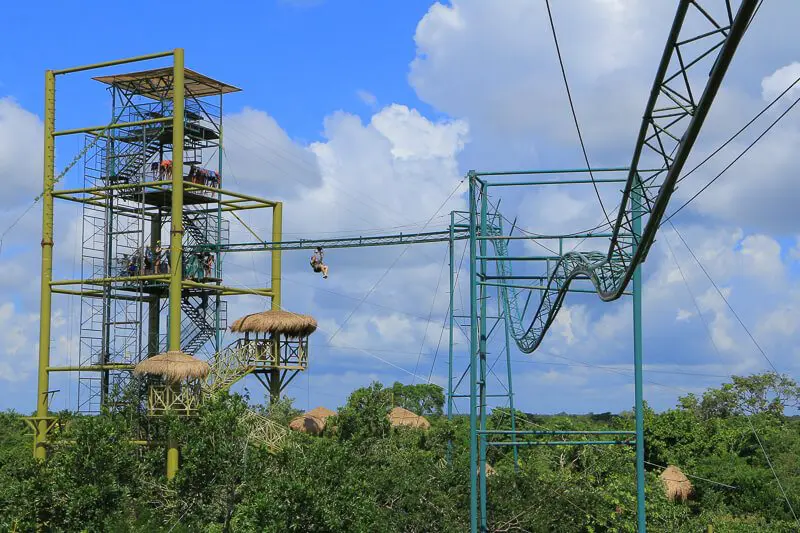 I felt that the length and speed of each circuit was better than most of the other zip lines that I have experienced in the region.
Knowing that you are so safe at all times does take away the thrill a little bit, but it was still a rush each time.
Tarzania and roller-coaster type zip line are also included in the circuits.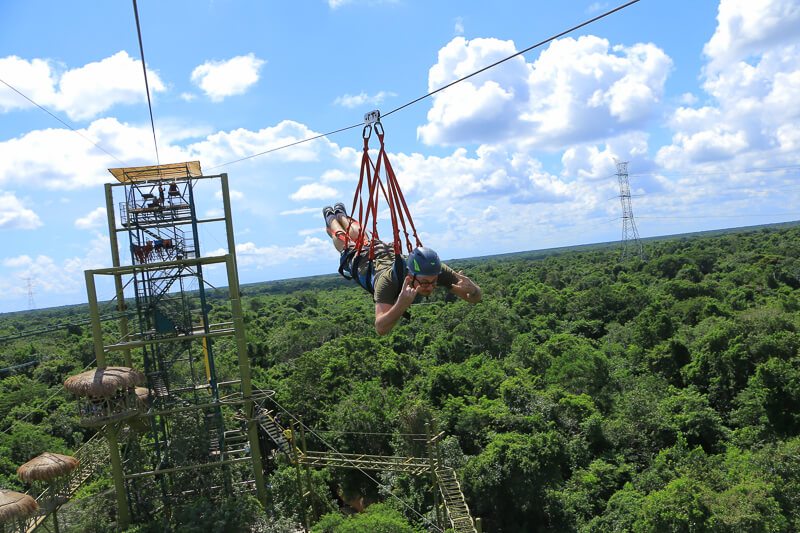 Tarzania has you spread out face down as you race over the treetops in your best Superman (or Birdman; I prefer the latter) imitation. The roller-coaster type has you hanging on to metal bars as you glide along the jarring track.
In between, we took a walk over several aerial bridges set in between the trees.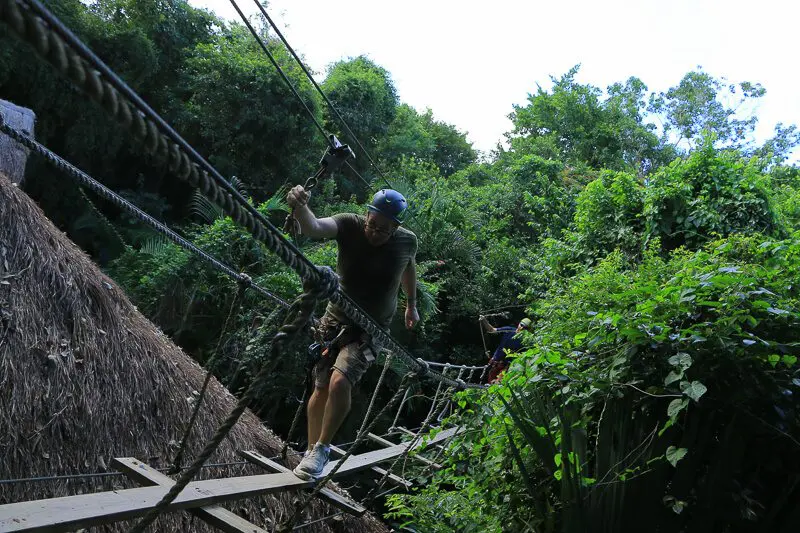 They were fun, but none too high to make you feel uncomfortable.
There is also the obligatory stop at the bungy swing (watch out for the forest gnomes below who may try to grab you).
You should really practice your best Tarzan scream before making that adrenaline-inducing jump from high up in the tree.
And if you want to place do more zip lining than anything else, be sure to check out Selvatica's Extreme Canopy tour.
Selvatica ATVs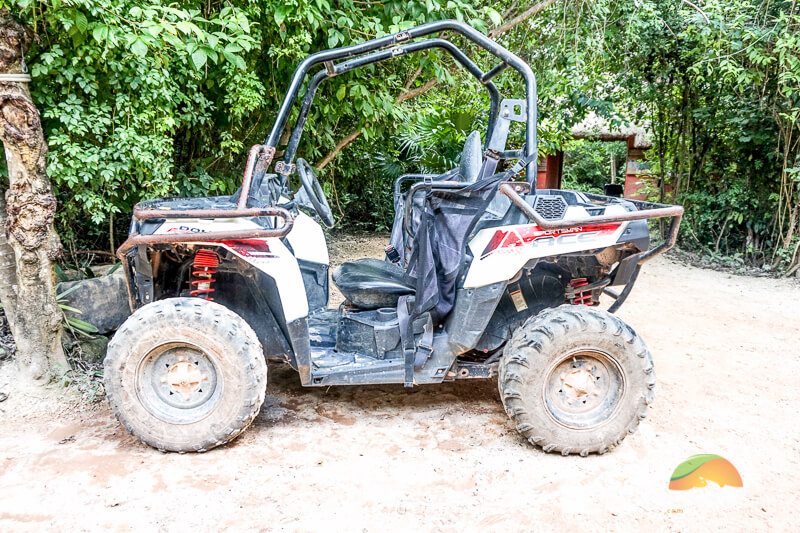 Following our aerial adventures, we took some time off for a break under Selvatica's big, welcoming palapa.
Seated at the wooden tables, we enjoyed some cold water and ice tea as well as snack bars and apples.
Then, it was time to put on the helmets and rev up the engines on Selvatica's fleet of ATV and two-seater Polaris off-road vehicles.
The ATV circuit winds through jungle roads with lots of twists and turns.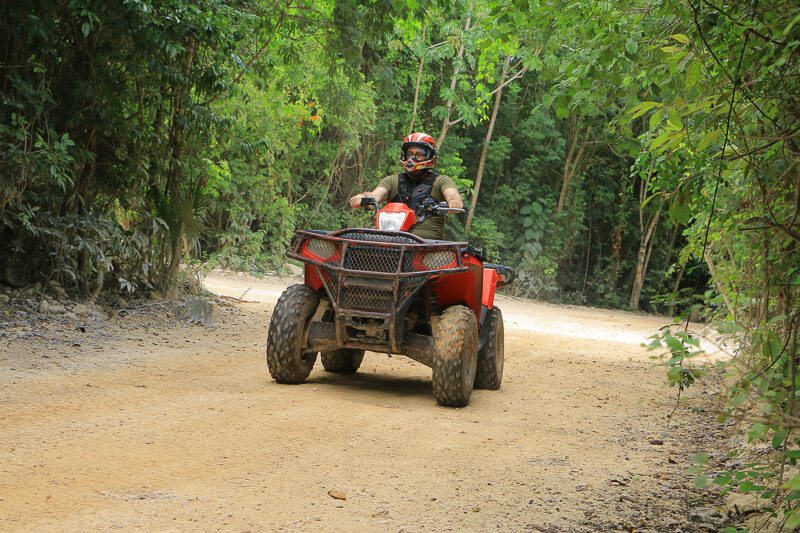 This part of the adventure only lasts about 20 minutes, so those wanting to spend more time flipping up some dirt may want to consider the Offroad Polaris Tour or the ATV expedition.
And don't expect to be racing at high speeds through the jungle; you drive in a single-file line following one of the guides.
It may not be as thrilling as going full speed into a curve, but Selvatica does ensure both your safety and that of their vehicles.
The Grand Finale: A Cenote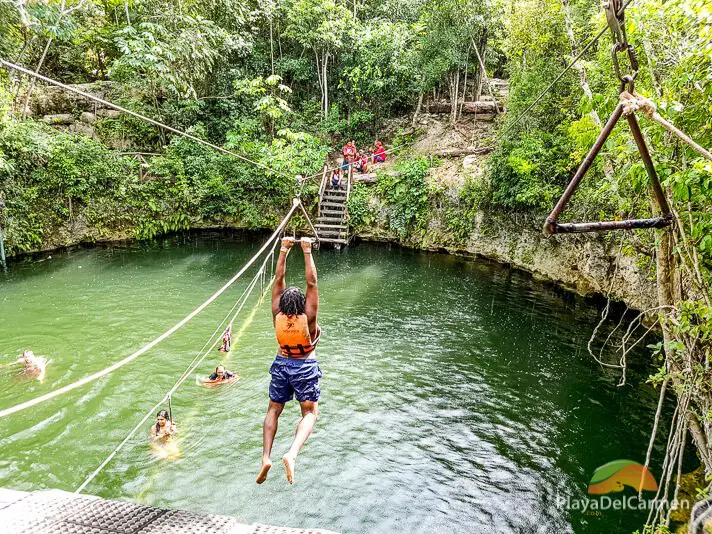 Once you've raced through the jungle canopy and along the winding dirt roads, it's time to cool off.
And that's exactly what we did.
Just steps away from the ATV garage is a beautiful emerald cenote (fresh water sinkhole).
After working up a sweat in the humid, tropical heat, a dip into a refreshing cenote is the perfect finale to an all-encompassing adventure.
You can descend down into this portal to the Netherworld via a ladder or keep up the adventure zipping into the water and diving in about ten feet above the surface.
After about a 20 minute swim, we headed back to the palapa for a surprisingly good but simple meal of chicken fajitas with beans and rice.
What I Like About Selvatica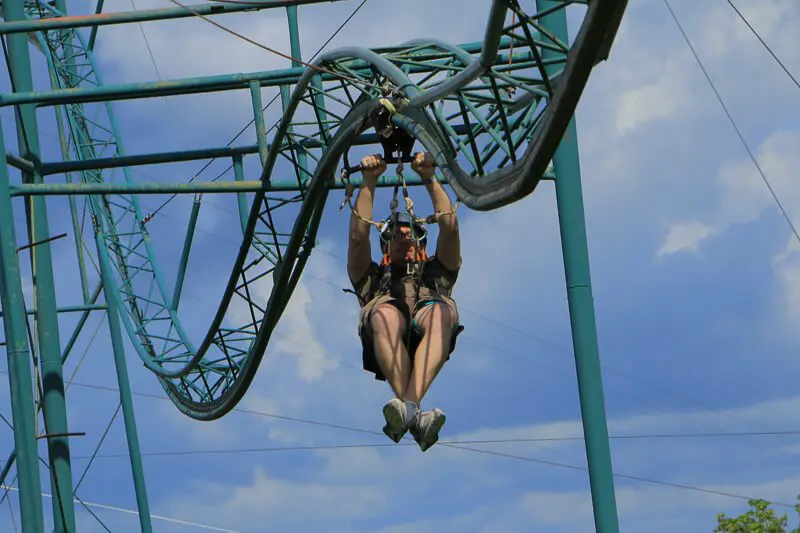 Selvatica is fun.
It's the #1 activity for Cancun tours on TripAdvisor for a good reason.
The park is well thought out, all activities feel like they were built for people to truly have a blast, and by combining a diverse array of fun adventures into one package, at least with the "Gimme All" excursion package, you definitely get your proverbial bang for your buck.
Moreover, safety is a priority in every aspect of their operations.
While that does take away some of the thrill, I don't think anyone would enjoy safety issues on a zipline racing high above the forest floor.
But the best thing about Selvatica is, without a doubt, the park's professional and entertaining staff.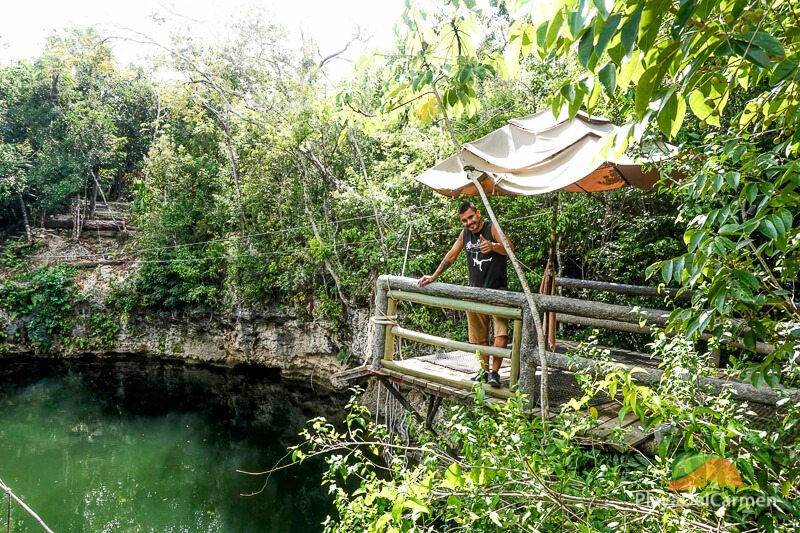 The guides and photographers bust their asses to make sure that everyone is safe and having a great time.
You never feel pressured, except to have fun.
The park is nice without them.
With them, Selvatica earns its reputation as the best adventure park in Cancun and the Riviera Maya.
And here's a tip: tip them generously.
At the end of the tour there is a subtle wooden tip box.
Show them your love and appreciation for their hard work.
Where I Think Selvatica Can Improve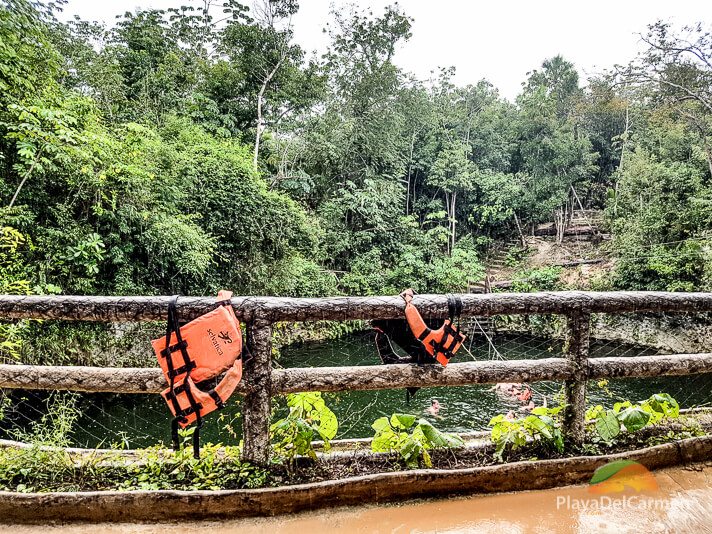 One of the things that I didn't like about Selvatica was the fact that they have captive wildlife as an attraction for tourists.
I too love animals and love to see them up close.
However, I think that more consciousness is needed about taking animals from their natural habitat just for our viewing or photo pleasure.
Thankfully, the world is moving away from these type of attractions, and TripAdvisor has announced that as of 2017 they will even stop selling tours and activities that promote interactions with wild animals.
I also find their environmental program, which is to plant a seed with guest's name written on a small wooden stick, too touristy and less about protecting the environment.
The idea is good and the intentions genuine, but I think they could do much more to encourage sustainable tourism and respect for the environment.
Selvatica Tours & Ticket Info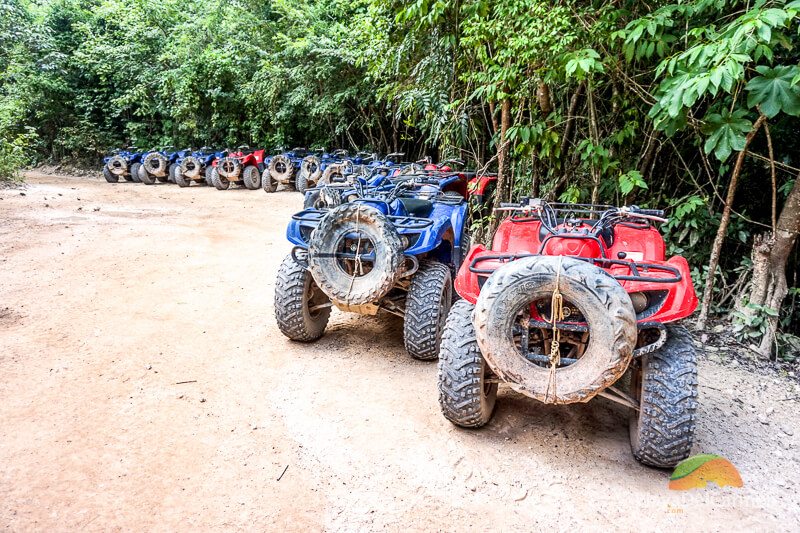 Selvatica is open 7 days a week from 9 a.m. to 5 p.m.
In addition to the "Gimme All" package, which is the excursion I went on, Selvatica also offers different combinations to give you more time doing one or the other.
Here are you tours options:
Gimme All – Everything the park has to offer and the one I definitely recommend. Gimme All Price: $179 USD adults / $89 USD children

Extreme Canopy – This one focuses on zip lines and also includes the cenote. Extreme Canopy Price: $ 89 USD adults / $44 USD children

Offroad Polaris – This one places a premium on the two and four-seater Polaris but also includes zip lines and the cenote. Offroad Polaris Price: $140 USD adults / $77 USD children
ATVs – Single rider Polaris ATVs combined with zip lines and cenote. ATVs Price: $121 USD adults
Interested? Book your Selvatica tour here!
5 Selvatica Tour Tips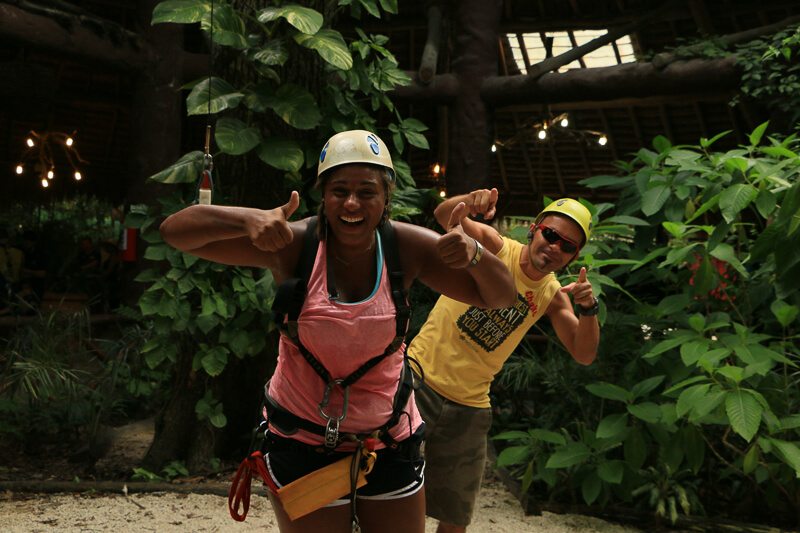 Be prepared for additional costs. Optional insurance costs $10 USD for the ATVs, and locker rental costs $5 USD plus an additional $5 USD deposit for the key. Acoholic drinks and snacks are available for purchase as well. And don't forget to tip the awesome guides!
There are some weight restrictions for the zip line circuits, in particular for Tarzania; the maximum waist length is 47″ or 120 cm for the zip lines, and Tarzania has a weight limit of 245 lbs. or 110 kg.
The Gimme All tour is an all-day excursion, so if you are prone to getting hungry and don't want to wait until the very end to eat, make sure you bring along some additional snacks. Fruit bars and apples are available about halfway through the excursion, but it may not be enough for everyone.
You must be at least 16 years old and have a valid ID to drive an ATV or Polaris.
Children must be at least 8 years old to participate in Selvatica activities.
So there you have it; my very own and honest Selvatica Park review!
Would you like assistance preparing your next Mexico adventure?
Our travel specialists are just as awesome as the Selvatica guides and can be reached toll-free at 888-537-9797!
Photo credit: Unless otherwise watermarked with the PlayaDelCarmen.com logo, all images courtesy of the talented photography crew @Selvatica!
---
Trending Now
You may also like