4 Tips for the Turtles & Cenotes Tour
---
The Riviera Maya is known for many things. Gorgeous weather, beautiful beaches, friendly people and delicious food. But one of the most unique aspects of the area is the hundreds of miles of cenotes.
The Turtles & Cenotes tour the perfect way to see the natural wonders that are available and waiting to be explored!
A cenote is a natural sinkhole, formed when the limestone bedrock collapses, exposing ground water beneath. Snorkeling a cenote is a magical experience, and combined with the chance to see green sea turtles, makes it even more amazing.
The van picked us up at 7:55am, however your pick up time depends on which hotel you are staying in. Pick up time ranges from 7:30am-9am, and times are confirmed upon booking. There were 8 people on our tour. The van was very comfortable, air conditioned, and could seat 10 people.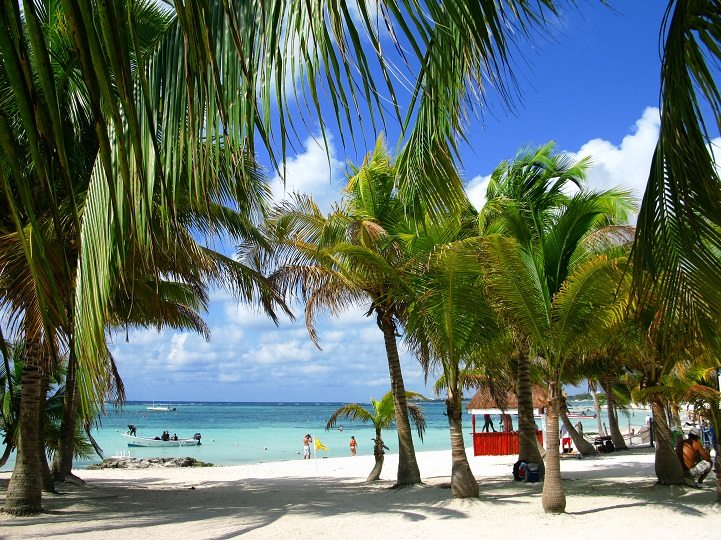 ---
Important Update: As of February 15 2017, the Mexican Environmental Protection Agency has temporarily closed Akumal Bay, where this tour normally goes, to all guided snorkel activity until further notice. In the meantime, all Akumal snorkel tours will take place in the stunning Yalku Lagoon where there is still a 50% chance of seeing the beautiful and giant sea turtles.
---
Tip #1- Biodegradable Sunscreen.
Biodegradable sunscreens are free of environmentally harmful chemicals. You'll be visiting a natural wonder, it only makes sense to leave it the way you found it. Because it's such a fragile environment, sunscreens are off limits, unless it's biodegradable. Any pharmacy will have it or you can pick up off Amazon.
A nice alternative to sunscreen is to buy a long sleeve shirt, which also makes a great souvenir and protects you from both the sun and mosquitos.
If you must wear sunscreen, apply it before getting into the van. Showers are required before entering the cenote, so unless your sunscreen has had time to soak in, it won't do you any good and will pollute the environment.
I highly recommend either bringing a long sleeve shirt, or purchasing one from Ocean Tours. Not only do you have the sun to contend with, but you also have mosquitos as well. Plus it is a really cool memento of the trip.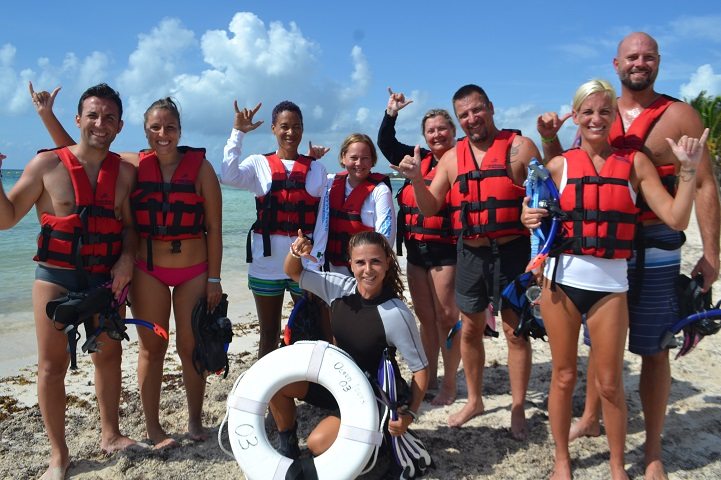 Tip #2- Eat a Good Breakfast or Bring Snacks
Lunch is provided, however only after the tours have concluded.
We started in Akumal, which is where we would snorkel to see green sea turtles.
Along the way our guide, Elisa, gave us useful information on the history of the area, instructions on snorkeling in general, tips on preserving the environment, and the rules for snorkeling. Touching or disturbing of the sea turtles is strictly prohibited.
The swimming with the turtles portion of the tour lasts about 1 hour, and your legs will get a workout. If you are like me, swimming will make you extra hungry.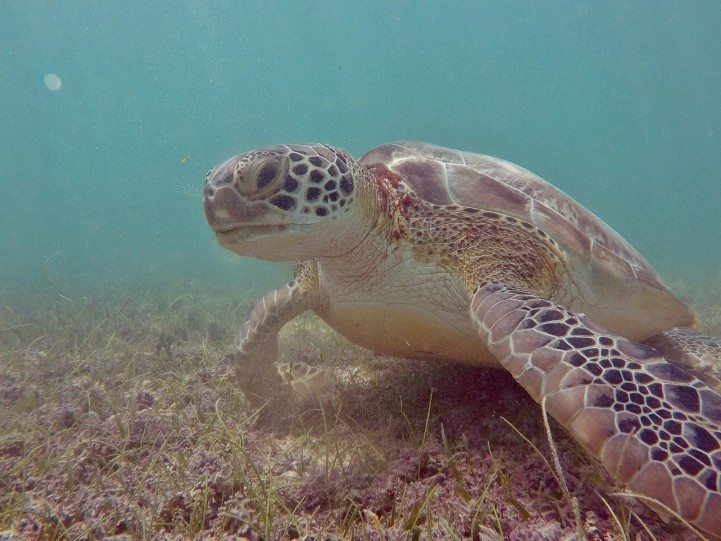 Tip #3 – New to Snorkeling Friendly
Don't worry if you have never snorkeled before, the tour guide will help you every step of the way. Once there, she made sure we were all comfortable with our masks, breathing through the snorkel, etc. The small groups allowed for more personal attention.
Life vests are mandatory. If you're a first time snorkeler and a little uncomfortable, she does have a life preserver with rope ;-).
We entered the water and started our adventure. As we were snorkeling she gave useful information about the turtles and marine life living in Akumal bay.
We saw 5 turtles, numerous fish at the reef, and a sting ray. If you have never seen a turtle in its natural environment, it is fascinating. The turtles are so graceful, and because they are used to snorkelers, they sometimes come very close when surfacing for air. It was amazing. We spent about 1 hour snorkeling, and exploring the bay, and then it was off to the cenotes.
From there, it only took us about 15 minutes to get from Akumal to Chikin Ha. Again, Elisa gave us instructions on the rules for snorkeling and swimming in the cenotes.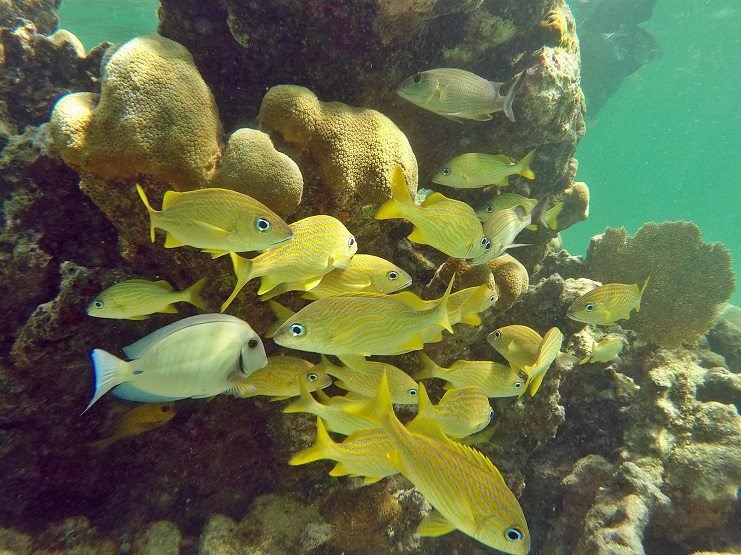 Tip #4- Wear Comfortable Shoes
You will be walking in a jungle, with uneven ground, stairs carved out of stones, and slippery rocks.
Once we arrived at the cenote, we did hike through the jungle, and Elisa gave us very interesting information about the history of the cenotes, how the Mayan's used them, and about the wildlife, plants and trees of the area.
There are mosquitos there, so that's where the long sleeve shirt comes in handy.
We entered our first cenote, and the water was cold (although once in, you do get used to the drop in temperature). I can tell you, it was the neatest thing I have ever done. Snorkeling in a cave, with natural beauty both above and below, simply awesome!
We then explored a dry cenote and an open cenote, both equally as beautiful but in different ways. When we were done, we ate at the park, which consisted of fruit, pastries and an empanada. Although it wasn't a lot, it was very tasty.
Once we were finished eating, we loaded up in the van and then headed back to Playa del Carmen.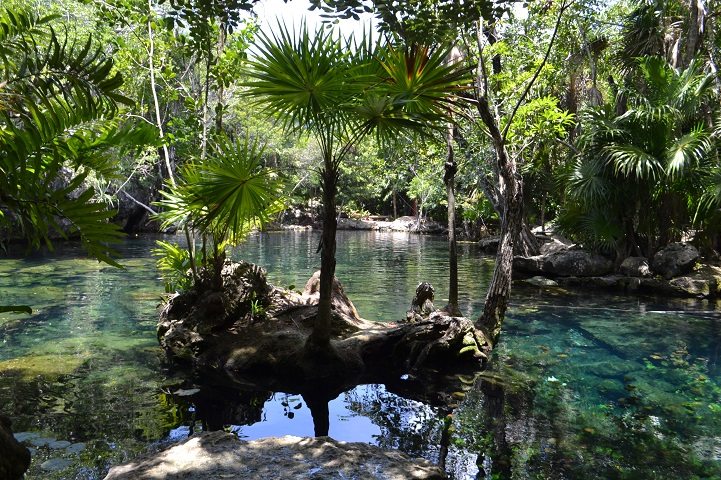 Conclusion
It was about a 7 hour tour in total. If you like to snorkel, I highly recommend this tour. Cenotes are very unique to the area, so chances are you have never experienced anything like it, and the green sea turtles are simply amazing.
To book visit our Turtles & Cenotes tour page. Have questions for me, Linda, about my experience? Email me…
Have you swam with the turtles before? Experienced a cenote? Tell us your thoughts in the comments below!
---
Trending Now
You may also like