The Most Hip & Budget Friendly Hostels in Playa del Carmen
---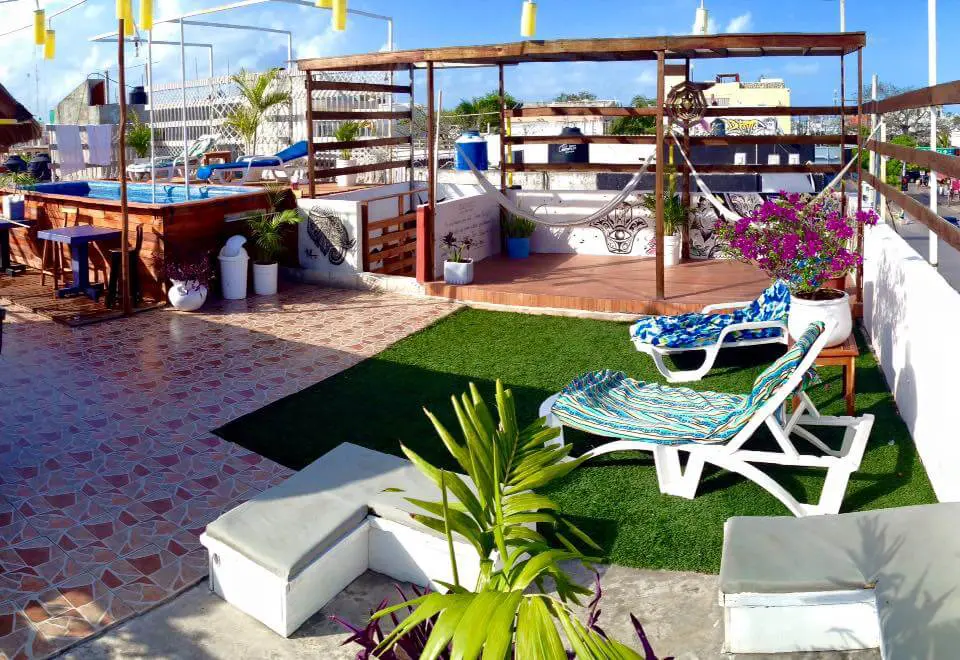 With the price of flights skyrocketing, and the big chain hotel fees doing the same, it's not always easy to budget for a stay in paradise.
However, if you're planning a visit to Playa del Carmen and don't want to pull on those purse strings quite so hard, then you're in luck.
Playa has a whole host of fabulous hostels to choose from. From relaxing, Eco-friendly boutiques, to vibrant and colorful party centers, this beach town has it all.
So, if you're looking for a cheap accommodation option, but don't want to lose out on the quality of your stay, then check out my guide to the most hip and budget friendly hostels in Playa del Carmen.
You're bound to find one that excites the traveler in you.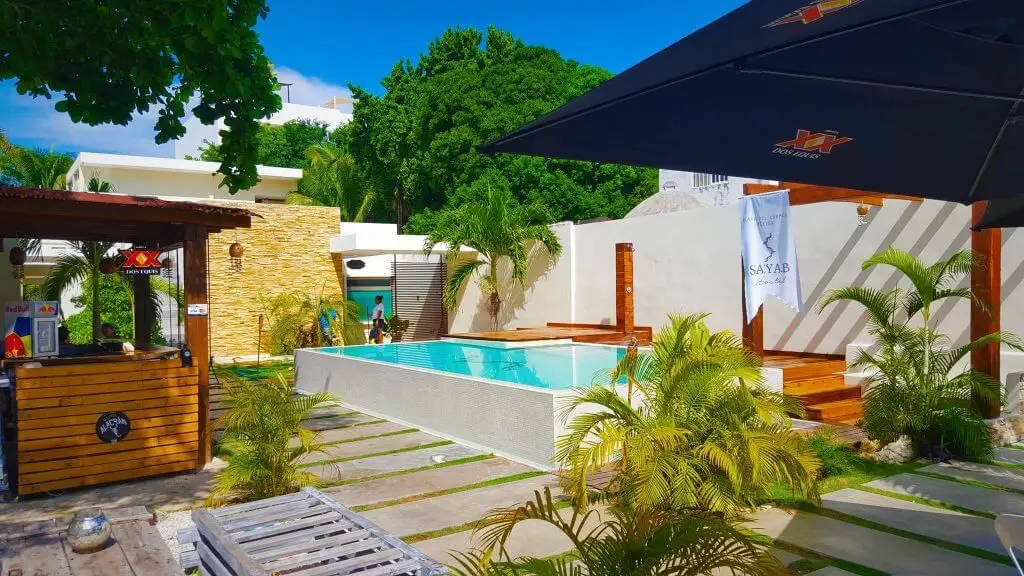 Sayab
Best Price: $200 pesos per night
Sayab is the new kid on the block… the trendy, popular and cool new kid.
Already making waves with their awesome pool parties, industrial chic decor and rocking pool area, Sayab is quickly becoming one of the must stay hostels in Playa del Carmen.
As you read this, they are fully booked for the next month.
It's no surprise when this 'too cool for school' hostel hosts daily themed nights, such as all you can eat sushi, acoustic sessions, BBQs and burger specials, all for the extremely low price of $120 per head.
These nights are open to the public,  giving it's guests a chance to meet the locals, and maybe make some new travel buddies.
Sayab offers a whole range of accommodation options. You can choose from mixed dorms, an all girls dorm, and different sized private rooms, all of which come with a free breakfast, and use of the beautiful hostel pool and sun loungers.

Humble Bumble
Best Price: $153 pesos pp/per night
This sweet hotel is 100% family run, and they pride themselves on welcoming everyone with open arms.
This extra friendly approach created a fantastic community vibe throughout the hostel, much like a well functioning beehive!
Humble Bumble gives their guests a whole host of free amenities, such as a delicious gourmet breakfast, happy hour drinks to help you meet fellow travelers and beach towels.
Although this hostel is a little further from the beach than some others, it's actually in one of the most central locations of Playa del Carmen.
Getting to the bus station, grocery stores, laundrette, bars and shopping malls is an absolute breeze from Humble Bumble.
Each of their dorms and private rooms are beehive themed, and feature modernistic honeycomb decor, making for one unique place to stay.
Humble Bumble hostel also boasts a refreshing rooftop pool, complete with mini hammock garden and sun loungers, perfect for relaxing in the afternoon sun.

Hostel Che 
Best Price: $250 pesos pp/per night
Hostel Che is still stealing the top spot on websites such as hostel.com and booking.com thanks to their amazing facilities, and even more impressive customer service.
The most important thing for the owners of Che is making their guests happy. They run a 24/7 reception, give a little welcome bundle to each guest, offer free tours and salsa classes.
There's never a dull moment at Hostel Che. From the social events at their infamous Roof Top Bar, to their pizza nights and live music specials, you are bound to meet some amazing people, and make lifelong memories in this hostel.
There are 10 newly refurbished rooms on offer at Che, all of which come with fresh linen, wi-fi, A/C and use of the modern and fully equipped kitchen.
You can choose to bunk with some friendly strangers, share a room with a group of friends, or have a little 'me time' in one of their private rooms.

Lobo del Mar
Best Price: $152 pesos pp/per night
This new hostel is the brainchild of the famous Santanera Group.
They have mixed together all the usual funky vibes found in Almirante, Canibal Royal and Diablito, and created one kickass hostel.
Lobo del Mar is located in the trendy, up and coming end of Playa del Carmen, is only 3 blocks from 5th Avenue, and 4 from the palm tree lined beaches.
This marine themed hostel offers shared dorms, private rooms, and even a luxury premium room for those feeling a little flash. With their low prices and amazing value, going premium is absolutely still an affordable option.
Lobo del Mar is all about inviting its guests to explore and learn more about the amazing Caribbean sea.
They offer 'out of the ordinary' tours, such as bull shark and whale shark experiences, spear fishing, kite surfing, and cenote exploring. All of which, you can buy in a bundle with your room, lowering the price even more!
To give this hostel added flare, they also have a rooftop Jacuzzi style pool and modern bar, which offer some of the best sea views available in Playa.

The Yak
Best Price: $250 pesos pp/per night
When my friends stay in Playa del Carmen, they stay at The Yak.
This quaint little hostel is still rated the best option on the prestigious hostelworld.com, and for a good reason.
The Yak is a vibrant, friendly and perfectly located hostel, that has its guests coming back time and time again.
They offer 'ice-breaker' activities such as happy hours, make your own guacamole and tequila tasting nights, that will have you making friends in no time.
The Yak is only 2 blocks from Wallmart and the beach, one block from the famous 5th Avenue, and is right next to all the best clubs and restaurants.
Despite its awesome location, most of the guests prefer to stay in and spend the afternoon lazing around in the courtyard hammocks or soaking up some sun on the rooftop terrace.
The Yak was proudly created for travelers, by travelers, so they know exactly what you want and need from a hostel experience.
A 24-hour reception, cheap, but well-stocked bar, and cafe offering coffee and paninis are just some of the ways The Yak makes your stay special.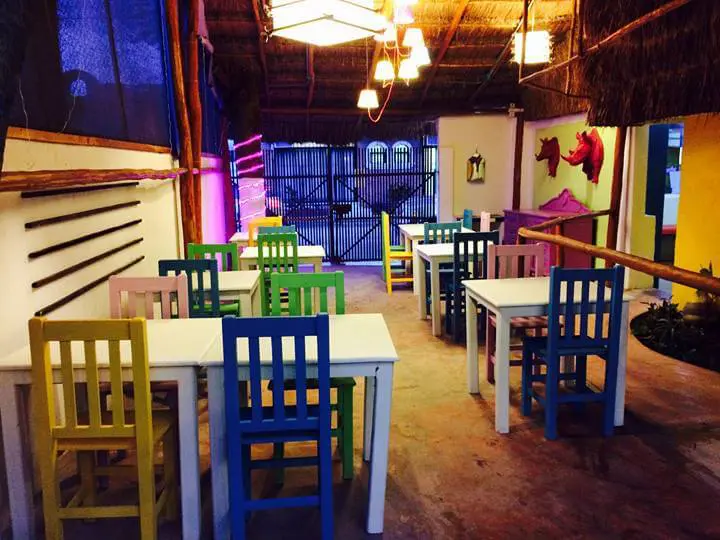 Enjoy Playa
Best Price: $228 pesos pp/per night
Stone baked pizza, a refreshing pool, friendly staff and comfy beds… what more could you want from a hostel?
Enjoy Playa is one of the lesser known hostels in Playa del Carmen, but it shouldn't be.
This bright building offers mixed dormitories, a female only dorm and private rooms, all equipped with air conditioning, free wi-fi, and use of the lockers.
Enjoy Playa also doubles up as a delicious pizza and pasta restaurant, open to the public, but offering guests first pick of the tables, and special rates on the food and drinks.
The lounge bar is also the perfect place to kick back and relax after a long day of soaking up the Caribbean sun. They offer fresh juices, delicious cocktails, and well priced, local beer.
Weekly event nights give guests an opportunity to socialize with the staff and locals, and enjoy something a little different.
Beer Pong and burgers, live acoustic sessions, all-you-can-eat pizza and Argentinean nights are just some of the activities on offer at Enjoy Playa hostel.
Have you stayed in any of these amazing hostels? Let us know what you thought in the comments below!
---
Trending Now
You may also like