20 Stunning Pictures of Playa Del Carmen That Will Take Your Breath Away
---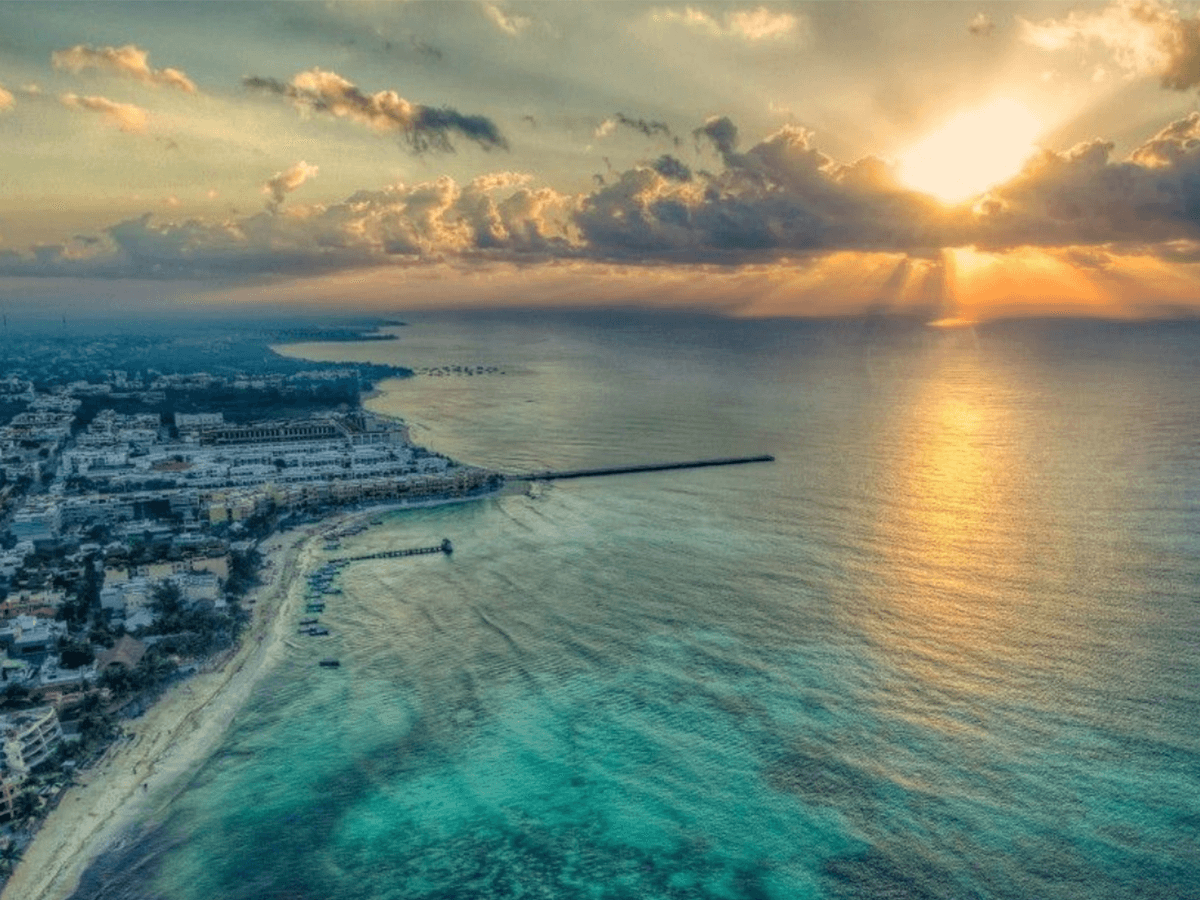 Let me guess, you've booked your next vacation and you're now looking for pictures of Playa del Carmen as the excitement builds and your countdown begins?
Maybe you're on the edge of booking, but you're still doing research to see if Playa del Carmen is really for you?
Or you've already booked and want to make sure you've definitely made the right decision?
Before I made the huge decision to uproot my entire life into one suitcase and move from England to Playa del Carmen, I did exactly the same.
Touché.
I like you already, you're smart.
I saw pictures on Instagram and said to myself 'surely, it can't be that beautiful', maybe it's the filter.
Well, I can personally vouch for Playa del Carmen now and it's not the filter!
As a gift from me to you, I've rounded up my favorite pictures of this beautiful coastal city in the hopes that it will inspire you and get you excited for your vacation.
The best bit is most of these photographs were sent in from our customers on Twitter.
Enjoy.
1. Aloha Paddle Club
This picture was taken by Aloha Paddle Club and posted to their social media channel, but we just HAD to steal it so we could show you guys!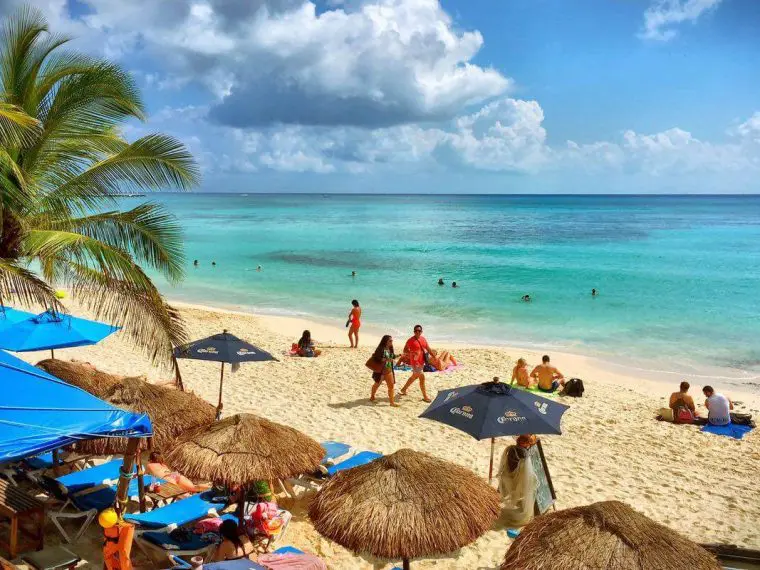 I mean, come on, who wouldn't want to spend their days lazing on the beach or doing some awesome paddle boarding?
This picture was taken in October 2017, as you can see there is absolutely zero seaweed on the beach, the waters are crystal clear.
It's located at Fusion Beach Bar on Calle 6 which is without a doubt one of Playa del Carmen's best and most laid back beach clubs.
Comfortable sunbeds, amazing food and drinks and the chance to add a well-deserved massage, not to mention live music at night and their famous fire show!
2. November Sunrise
Three boats basking in the glow of a pink sky. Does it get more magical than that?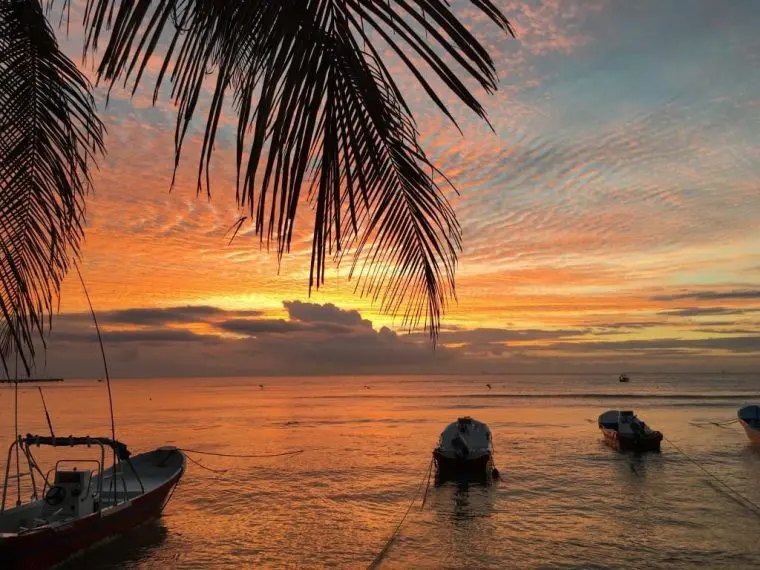 The early bird catches the worm here in Playa del Carmen, and I don't care if you're not a morning person, you will be when you get here because you DO NOT want to miss this.
Sunrises in Playa are epic. Watch in awe as you witness a spectacular color show take over the sky! 
Don't worry if it's still a little cloudy when you wake, it's still just as stunning, if not more dramatic!
3. Purple Skies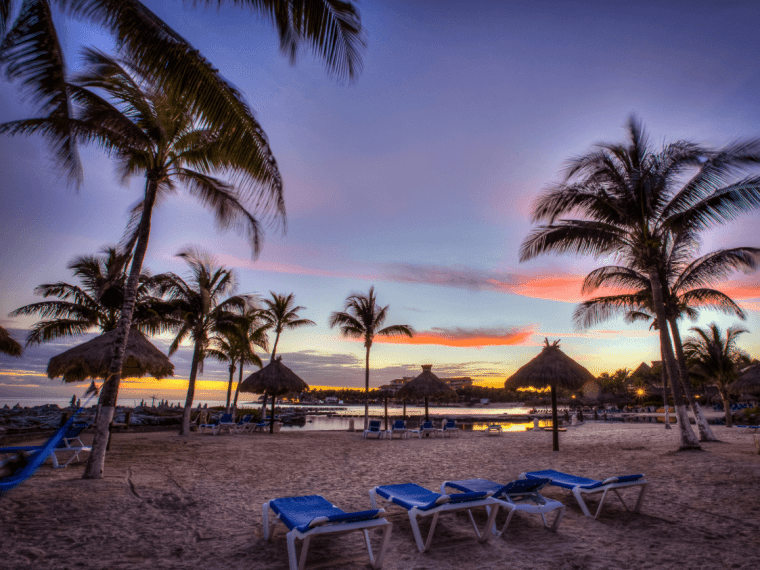 There is something deeply contenting about dipping your toes in and out the rolling tides as you walk along the beach during sunset.
I've walked across a lot of beaches in my time, and let me tell you, none of them compare to the feeling I get in Playa del Carmen.
You'll be walking across this stretch of sand soon yourself thinking 'life is good', I guarantee it!
4. Cannibal Royal by Kiyah Jade
Kiyah Jade was an Australian tourist living in Playa del Carmen for 3 months!
I spoke with her recently and she told me she can't wait to come back to this wonderful slice of paradise, and if she could she would make this place her home too!
Kiyah took this picture from the beach bar and restaurant 'Cannibal Royal'. The views from this particular location are simply stunning.
You'll witness numerous boats floating around in the ocean which seems to sparkly a thousand different shade of turquoise.
I highly recommend this place for lunch when the suns at it's highest in the sky.
Prices are a little more expensive than other beach clubs in Playa del Carmen, but the food and views are totally worth it!
5. The Royal Sunset
Perhaps one of the most celebrated hotels in the whole of Playa del Carmen is The Royal!
This adults-only 5* slice of luxury is the place to BE for your next vacation. The hotel boasts incredible services and amenities and enjoys a privileged position in downtown Playa del Carmen, just footsteps away from the famous 5th avenue.
Its beachfront location means that you are guaranteed views like this on a daily basis.
I recently stayed here (I know, lucky me right) and made a video for you guys so you could get a sneak peek for yourself, be sure to check it out below.
6. Birds Eye View
This is my favorite photo of the bunch for you guys today. I mean, WOW!
Where the jagged coastline of this beautiful city meets the Caribbean sea. I'm only 24, and I've been to over 14 countries myself, and although I've not traveled the entire world, I can confidently say that I doubt there is anywhere more relaxed, beautiful, and as cheap as Playa del Carmen.
You HAVE to visit!
It sits at the heart of the Yucatan Peninsula meaning that your at the heart of everything the Riviera Maya has to offer.
7. Golfing in Playa del Carmen
Playa del Carmen and the Riviera Maya boasts some of the most well-designed and popular golf courses this side of the globe.
You'll find the only official PGA course outside the USA and Canada, pristine courses, gorgeous weather, and world-class service.
For more information read our blog on the top 3 golfing locations in Playa del Carmen.
This picture was taken at the Mayakoba which is built around  6 miles of freshwater canals, sweet water lagoons, lush plant life, and a stunning beachfront area.
Pretty impressive, right?
8. Red Sky
I love nothing more than a dramatic sky.
Mexico is the country where I've witnessed the most magical sunrises and sunsets hand down!
Be sure to have your camera charged at the ready if you want to witness one for yourself because you are going to want to remember it forever, and the best way to do that is by capturing it on camera.
This picture was taken just a few minutes walk from The Royal Hotel.
9. Secret Beach in Playa del Carmen
This is where a cenote meets the ocean!
It's a hot spot for local because it's quiet and removed from the tourist area, and is a haven if you are looking for a quiet relaxed day.
It's open to the public and can be located between two multimillion-dollar projects. One being the Paradisus Hotel complex and the Marazul development.
This place is great to visit if you have children as the water is no deeper than a meter, so they can splash around to their heart's content as you soak up the sun.
10. Playa del Carmen's Iconic Statue
This area of the beach is great for kids.
Take a picture under Playa del Carmen's Iconic Statue, because it's totally gram-worthy! 
You'll find it close to the ferry pier that takes you over to Cozumel, and it's located just a minutes walk away from some of the most popular shops along 5th Avenue.
Lots of people congregate here to watch the sunset in the evening, it's a relaxed and friendly location. 🙂
11. Pink Skies
These ocean pictures really do never get old!
After living here a while, I still cannot get over how beautiful it is!
The cool blue waters continue to roll into the sands throughout the night, and taking a walk along the beach after a busy day is the perfect way to relax and just soak up the beauty of the Caribbean.
12. Sunrise by the Pier
This picture was sent in on Twitter by Joel Peters, thanks, Joel!
It was taken from directly outside The Royal Hotel as you walk out on to the beach.
On a clear day, you will be able to see the beautiful island of Cozumel on the horizon. The pier you see on the left there is where the boats often come in to dock before ferrying over visitors from Playa to the island.
If you have time, we highly recommend that you visit!
13. Downtown Playa del Carmen at Night
Even if you aren't staying in downtown Playa del Carmen it is absolutely vital you visit at least once during your stay.
It's quintessential to the whole Playa experience.
The streets are filled with love, life, laughter, and joy!
As you walk down the pedestrian-only treasure known as 5th Avenue, you'll notice a very cool European vibe.
Due to the large expat communities in Playa, there is a very internationalized ambiance and you're guaranteed to meet people from all over the world.
It also means there is a wide range of world-class restaurants and bars to choose from, trust me you'll be spoilt for choice along this 5 mile stretch of land.
14. The City Lit Up
WOW! I had never really seen Playa del Carmen from the air this close-up, but it has only deepened my appreciation for its beauty.
This picture was taken by Kevin Schmidt from BeSocial.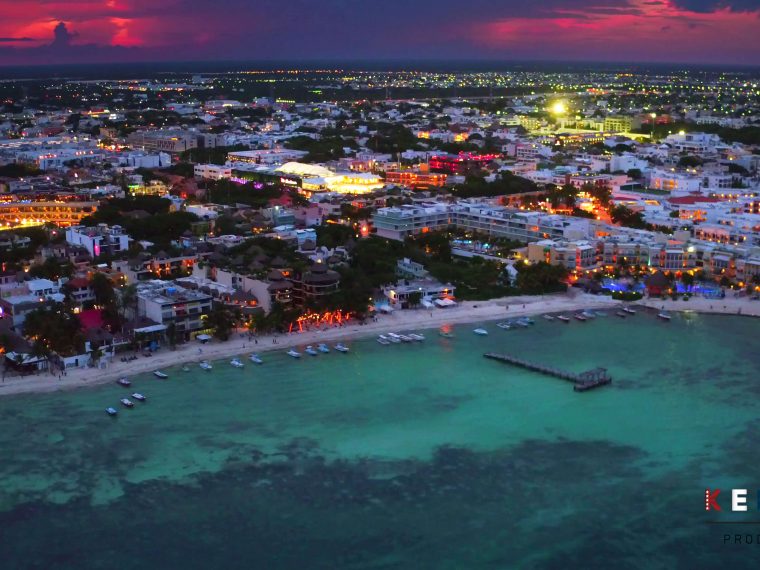 What an incredible sight.
What makes me love Playa so much more than Cancun is that it is completely walkable, you don't have to get taxis if you don't want to. Everything is in close proximity and it's easy to navigate.
This small quaint coastal town twinkles lit up beneath a dramatic sky. When the sun goes down the relaxing vacation hotspot lights up and really comes to life, there are so many things to see and do, so be sure to explore thoroughly.
15. Rooftop Pools
If I was to round up the highlights of Playa del Carmen, the rooftop pools would definitely be one of them.
Playa boasts some of the most incredible rooftop pools, one of my favorites being The Thompsom. This stunning pool curves with the exterior of the building and overlooks 5th Avenue, and also the beautiful turquoise ocean which you can clearly see in the distance.
If I'm honest it's a little pricier than other places with rooftop pools but when you add food and drink and service into the mix, none of them compare to this.
The Thompson is actually a hotel in Playa but the rooftop pool is open to the public too.
16. The Pier to Nowhere
You can actually swim out to this pier as it's not too far out and if you have a waterproof camera you should definitely get some pictures out on there, it's stunning.
Again, totally-gramworthy.
This little diamond is best experienced during sunset or sunrise when it's quiet.
It almost looks like something out of a movie scene.
17. The Royal
Behold, The Royal Hotel!
This was a photograph tweeted to us on Twitter by the hotel themselves, and we just love it!
After staying here myself I can hand on heart tell you it was an experience that will stay with me forever, it was like living in a palace and I was the princess.
At night, it looks even more beautiful as it lights up and you can truly appreciate the reflection from the pool!
We do an exclusive deal with this 5* hotel so call one of our Travel Specialists today to see how much money we could save you.
18. Cenote Azul
Cenotes are an incredible phenomenon unique to this part of the world. If you're not really sure what they are read our blog 'what are cenotes'.
For $5 and around 5 minutes in a taxi, you can journey to Cenote Azul.
This beautiful freshwater sinkhole is encapsulated by lush tropical jungle.
It is an overground cenote which boasts different depths so if you like just floating in the shallows you can do that, or if you'rea bit of an adrenaline junkie there is also an area where you can jump in from a height.
Please note to take your own drinks and snacks with you as there are no shops to buy from.
19. The Ruins at Playacar
Who said you had to journey all the way to Chichen Itza to visit some ancient ruins (although its totally worth the ride)?
Did you know that there are some ancient Mayan ruins right here in Playa del Carmen, that you can go and witness for yourself TOTALLY FOR FREE?
You can even touch them, although we would advise you to be careful as they are thousands and thousands of years old.
They can be located in the gated community of Playacar, which also boasts one of the best stretches of beach in Playa del Carmen.
Do not miss out on this, it's a MUST on your next vacation.
20. Snorkeling
The beautiful crystal clear waters that surround Playa del Carmen and islands such as Cozumel are home to some of the most vibrant marine life in the world.
Whether you are new to snorkeling or are an experienced diver there is something for everyone.
For more information on where the best locations to snorkel in and around Playa del Carmen to read our blog.
If you're really lucky you might even see a sea turtle or two!
Thanks for reading and I hope you enjoyed my round up of beautiful pictures!
Get in Touch Today
If this has inspired you to book your next vacation in Playa del Carmen or perhaps you have a question for one of our expert Travel Specialists be sure to call us on our toll-free number +1 888-537-9797 
Or
Alternatively, you can email us at customercare@playadelcarmen.com
We'd be happy to answer them for you.
Happy vacationing! 🙂
---
Trending Now