Weddings at Margaritaville Island Reserve Riviera Maya | Review
---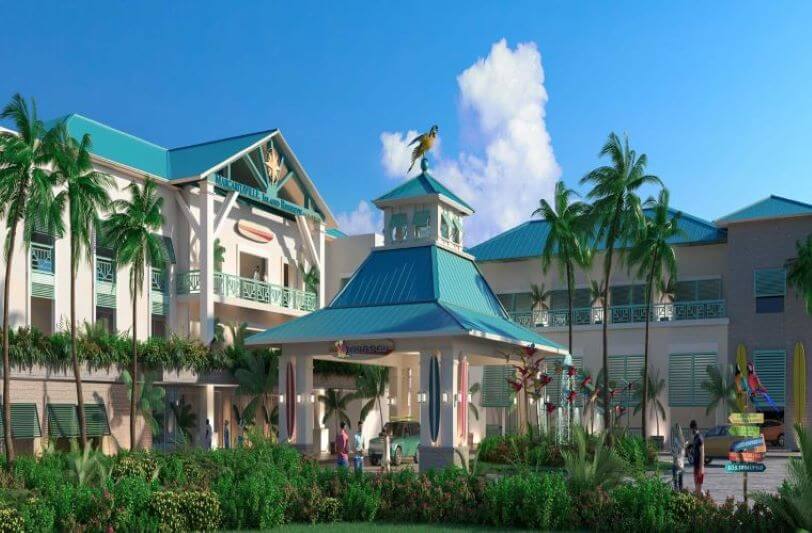 Dreaming of a wedding at the NEW Margaritaville Island Reserve Riviera Maya and looking for info?
The team at PlayaDelCarmen.Com has you covered.
We're local to this soon-to-open resort and have the inside info you need.
I'll show you what we expect from this luxury adults-only destination.
And you'll discover the wedding packages you can choose from.
Ready to get started?
Keep reading…
Weddings at Margaritaville Island Reserve Riviera Maya| Your Ultimate Guide
---
1. Hotel Overview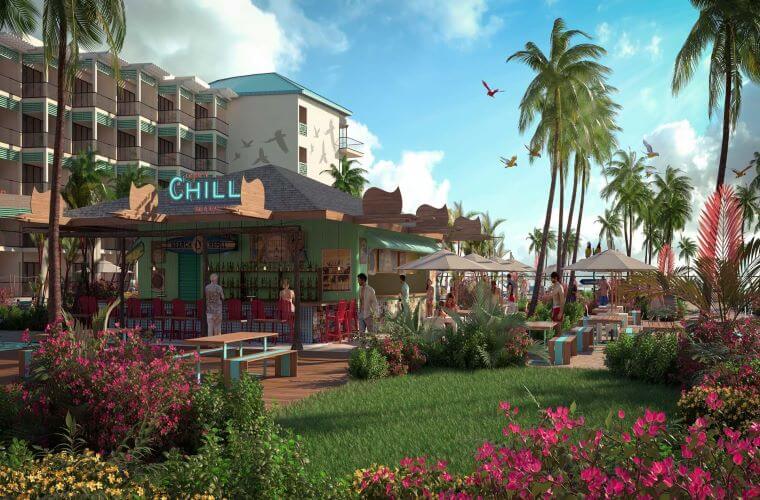 This is the first adults-only resort for the brand.
It's also the first one where you can enjoy a drink at a beachfront LandShark Brewery.
There are also nine restaurants where you and your wedding guests can dine together.
And the really exciting news is that the wedding venues at Margaritaville Island Reserve Riviera Maya have the WOW factor you need to make your big day truly special.
If you love the idea of the Margaritaville brand but want a family-friendly destination, don't worry.
Take a look at my blog post to discover a breathtaking alternative.
"Margaritaville Island Reserve Riviera Cancun Weddings | Our Honest Review 2023"
Is Margaritaville Island Reserve Riviera Maya all-inclusive?
Choose this resort for your destination wedding, and you get the Island Reserve Inclusive® Experience.
This experience features:
International dining
5

★ service 

Luxury amenities
Entertainment and activities
All of this adds up to an all-inclusive stay with some elevated Margaritaville sparkle.
How far is Margaritaville Island Reserve Riviera Maya from the airport?
This NEW resort is around 17 minutes away from Cancun International Airport.
We'll help you arrange your transfers if you'd like us to.
That way, you'll be able to sit back, relax, and enjoy the journey.
2. Package Options + Add Ons/Perks/Discounts
Looking for a wedding package that gives you a magical celebration?
Two competitively priced packages at Margaritaville Island Reserve Riviera Maya do just that.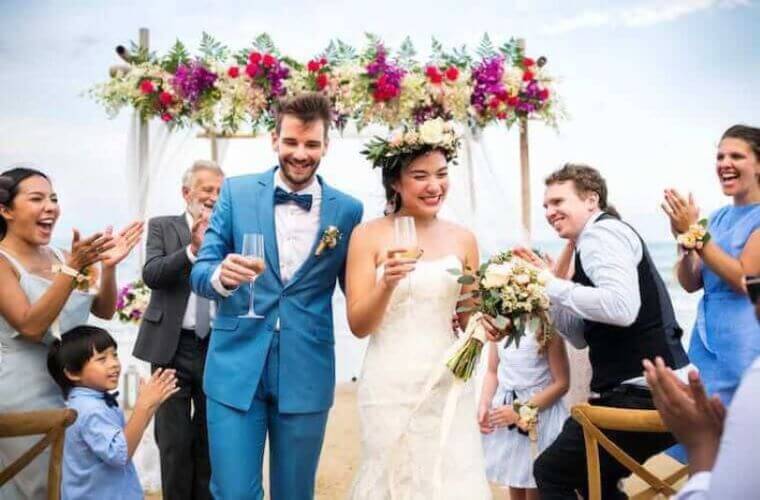 You'll love the Isle Love You Wedding for the most luxurious and memorable inclusions and perks.
This package costs $22,000 for up to 32 guests.
For this price, you can be sure that no detail is left to chance, and you get features such as:
Private wedding dress rehearsal
Services of a dedicated wedding planner
A guarantee that your wedding will be the only one on the day of your celebrations and that there will also be no weddings on the day before or after yours
Premium wedding location
Honeymoon registry
Complimentary suite upgrade
50-minute couple's massage
Grooms room on the day of the ceremony
Services of a non-denominational minister
Symbolic wedding certificate
Sky or beachfront wedding location with 32 chairs
Altar table
White linen or wooden aisle runner
Decor for the ceremony
Sound system
Private cocktail party with music by a five-piece Mariachi band
Four-hour wedding reception
DJ set for the duration of the reception
Monogrammed dance floor
Three-tier cake
Margarita popsicle cart
Farewell brunch on the beach
You also have the option to choose the Love Song Wedding, which costs $11,000 for up to 24 guests if you prefer.
3. Ceremony & Reception Options
Margaritaville Island Reserve Riviera Maya is a dream destination for a romantic wedding.
There are several stunning wedding locations to choose from within the resort.
You'll love the stunning views from the rooftop terrace.
This is the largest Sky Wedding setting at an Island Reserve resort, and it's gorgeous.
If you're having a big celebration, the ballroom is perfect with its maximum capacity of 400 people.
Call us at 888-537-9797 for more info about the wedding venues at this resort.
4. Gay Weddings at This Resort
The team of wedding experts at PlayaDelCarmen.Com love helping couples to make their wedding dreams a reality.
So we're passionate about arranging same-sex wedding celebrations.
Most of the time, couples prefer to take care of the legal details at home.
They then have a symbolic ceremony in the sun that family and friends can attend.
However, it's also possible to have a legal same-sex wedding in Mexico.
Doing this just requires a little extra paperwork and planning.
Call us at 888-537-9797, for more advice about same-sex weddings in Mexico.
5. Room Types
As you'd expect from a new 5★ star resort, Margaritaville Island Reserve Riviera Maya rooms feature modern amenities.
Each suite also has its own furnished balcony or terrace.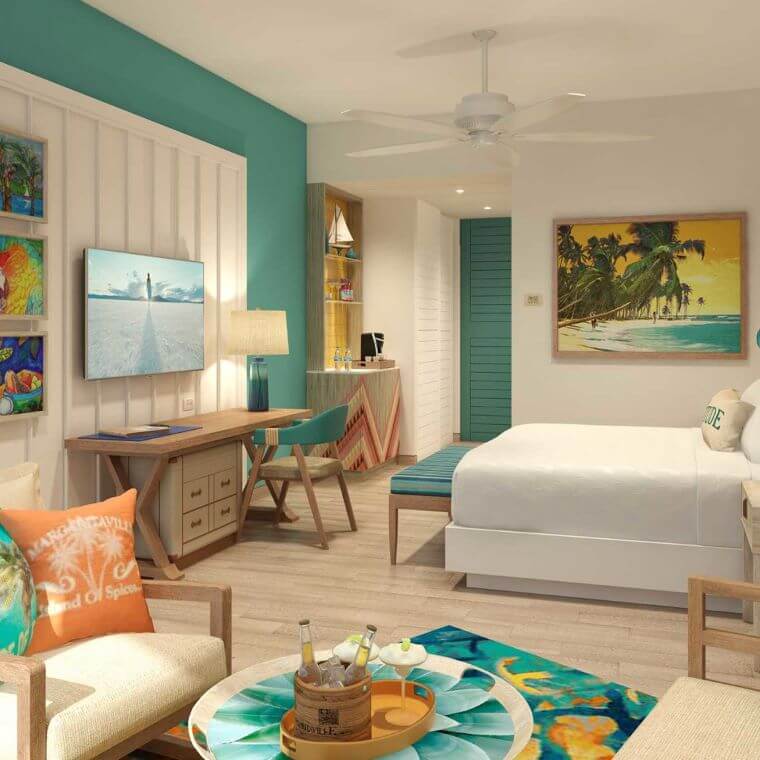 There are 13 different accommodation options to choose from, and they're all breathtaking.
You and your wedding guests can make your choice from:
Queen Paradise Room
King Paradise Room
Island Oasis Suite
King Paradise Swim-Up Suite
Luxury Paradise Suite
Luxury Paradise Swim-Up Suite
Oceanfront Chillout Suite
Oceanfront Paradise Studio
Oceanfront Infinity Pool Suite
Oceanfront Paradise Swim-Up Studio
One Particular Harbor Suite
Coral Reefer Signature Suite
And the gorgeous Oceanfront Honeymoon Suite.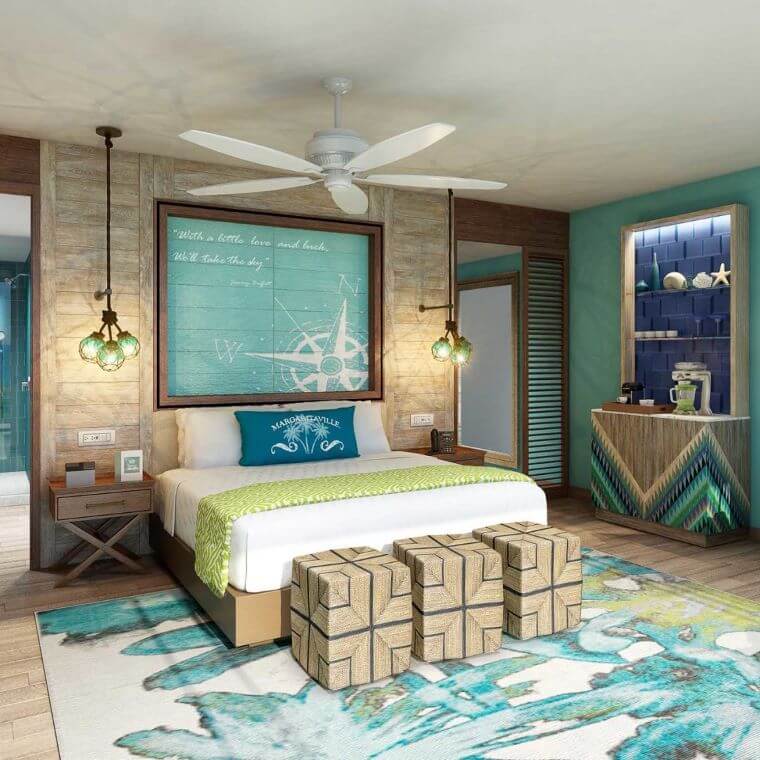 This romance-centric suite features everything you need for an unforgettable stay.
Features include a king-size bed, a living area with furnishings, a wraparound terrace, and a bathroom featuring two rainfall showers, a freestanding tub, and a walk-in closet.
What's not to love? ❤
How many rooms are there at Margaritaville Island Reserve Riviera Maya?
There are 355 luxury suites at this resort.
Each one is pristine, modern, and a fabulous place to stay.
How much does it cost to stay at Margaritaville Island Reserve Riviera Maya?
This resort is in the luxury price range.
Call us on 888-537-9797, for more info about the cost of your stay.
6. Beach
This resort has a breathtaking beachfront location.
And plenty of beach chairs are available where you can sit and take in the incredible Caribbean landscape.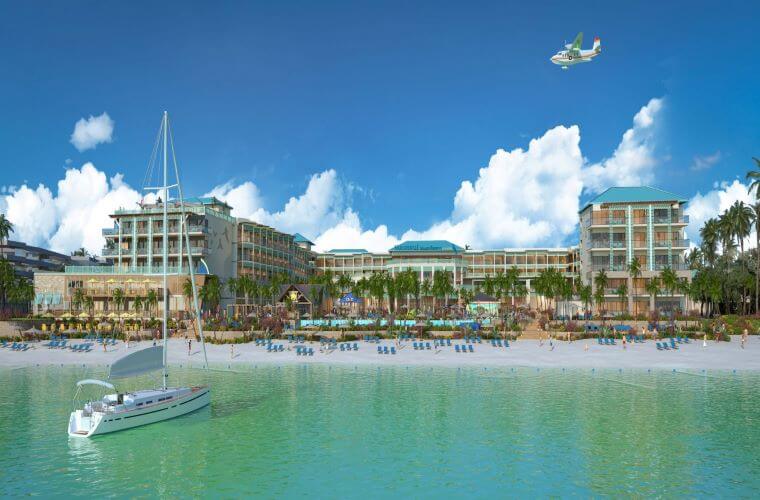 Like all beaches in this part of the world, there's a possibility of a problem with seaweed at certain times.
But the resort team is dedicated to ensuring this new arrival on the Riviera Maya landscape is a clean and beautiful location for your wedding.
7. Food & Drink
Looking for a destination wedding location with international dining options?
You won't be disappointed by the eateries at Margaritaville Island Reserve Riviera Maya.
While you're staying at the resort, you can try these impressive dining spaces:
The Boat House – For international breakfast and lunch in a casual but chic environment.
LandShark Brewery & Grill – Open every day, featuring signature LandShark lagers and live music.
JWB Steakhouse – An elegant eatery with white-tablecloth service and top-quality cuts of meat on the menu.
Frank & Lola's Italian Trattoria – The place to visit for handcrafted trattoria dishes featuring locally sourced seafood and prosciutto from Parma.
Far Side of the World – A culinary paradise featuring dishes from across the Pacific Rim.
Joe Merchant's – Coffee & Provisions – The perfect place for freshly-brewed coffee, pastries, and sandwiches.
You'll also find four signature bars at the resort serving a myriad of drinks, including lager, wine, and cocktails.
And, if you don't feel like heading out of your room for drinks and a snack, you can use the 24-hour room service available at the resort.
8. Activities & Group Entertainment
Your wedding will be the central attraction during your celebrations.
But you and your guests will also need activities and entertainment to enjoy throughout your stay.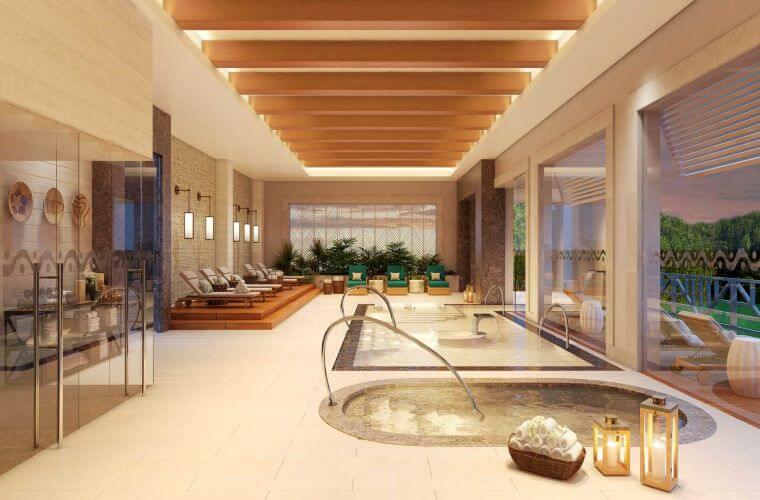 You have plenty of options to choose from at Margaritaville Island Reserve Riviera Maya including:
Aqua fit classes
Volleyball
Ping pong
Mixology classes
Free scuba demos
Pool parties
Card and table games
Caribbean parades
Tequila tastings
Live music from local bands
DJ sets
Beach bonfires
And, last but not least…
a 10,000-square-foot spa with nine relaxation rooms and a state-of-art fitness center.
How fabulous is that? 😍
Is there anything to do outside of Margaritaville Island Reserve Riviera Maya?
You can see that there's no shortage of amazing activities in the resort.
But I'd still recommend that you venture further afield.
This is a stunning part of the world, and there are loads of AMAZING things to see.
We'll book tours and activities for you and your wedding guests so everything is organized for you.
Plus, we'll put our local contacts to use to get you the best bang for your buck.
One experience I'd definitely recommend is the About Tulum Explorer Tour.
It's a magical trip that includes a guided tour of the Tulum ruins, swimming the reef, and taking a dip in a freshwater cenote.
Of course, this isn't the only tour option you have.
Take a look at my blog post for inspiration.
"Top 10 Most Memorable & Must-Do Tours in Cancun (2023)"
Call us at 888-537-9797 for more info concerning the Tulum full-day explorer tour and other tours in the area.
9. What Brides and Grooms Said
Margaritaville Island Reserve Riviera Maya opens in April 2023, so we don't have any feedback from couples yet.
I'll bring you the latest insights as soon as we have them.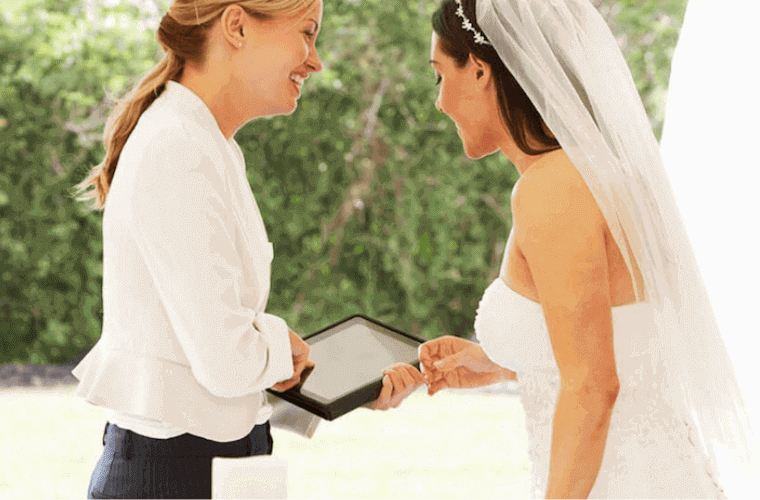 We'd also love to hear your opinions.
So, if you have experience with this resort when it opens, just let us know.
10. Why We Like It (Pros/Cons)
We're dedicated to making every couple's wedding magical and memorable.
So, we only recommend resorts and experiences that we know will deliver.
And we're always honest.
In the case of Margaritaville Island Reserve Riviera Maya, we love:
The fact that it's NEW and has pristine decor and amenities.
Activities and entertainment day and night.
Wedding packages that create a beautiful and memorable day.
International dining and drinking options.
No one has stayed at this resort yet, so we don't have any first-hand feedback from guests.
But we do have experience with the Margaritaville Island Reserve brand, and it's exceptional.
So, we're excited to book weddings for couples at this exciting new resort in the brand's portfolio.
11. Additional Resources You May Find Useful
12. Start Planning Your Dream Day
Ready to book your wedding celebrations at Margaritaville Island Reserve Riviera Maya?
That's excellent news.
Our team at PlayaDelCarmen.Com is ready to help you plan your dream occasion.
We'll use our local contacts and expertise to ensure you get the best from your wedding budget.
And we'll arrange accommodation and tours for you and your wedding guests.
We can also book flights if you're traveling from the US or Canada if you'd like us to.
Call us at 888-537-9797  or complete the contact form on the website to discuss your wedding at Margaritaville Island Reserve Riviera Maya and start planning your celebrations.
Have questions or comments about weddings at Margaritaville Island Reserve Riviera Maya?
I'd love to hear your questions and comments about weddings at this resort.
Just pop what you have to say in the comments, and I'll take a look.
And if this post was useful to you, sharing it on social media really does go a long way!
Weddings at Margaritaville Island Reserve Riviera Maya | Our Honest Review 2023
Summary
As this is a new resort opening in April 2023, we'll be sure to come back here and leave our own starred personal review once we've experienced the resort first-hand. Until then, please reach out to our award-winning destination wedding team to begin planning your special occasion at no extra charge to you.
---
Trending Now
You may also like