8 Incredible Tours in Tulum That Leave From Playa del Carmen
---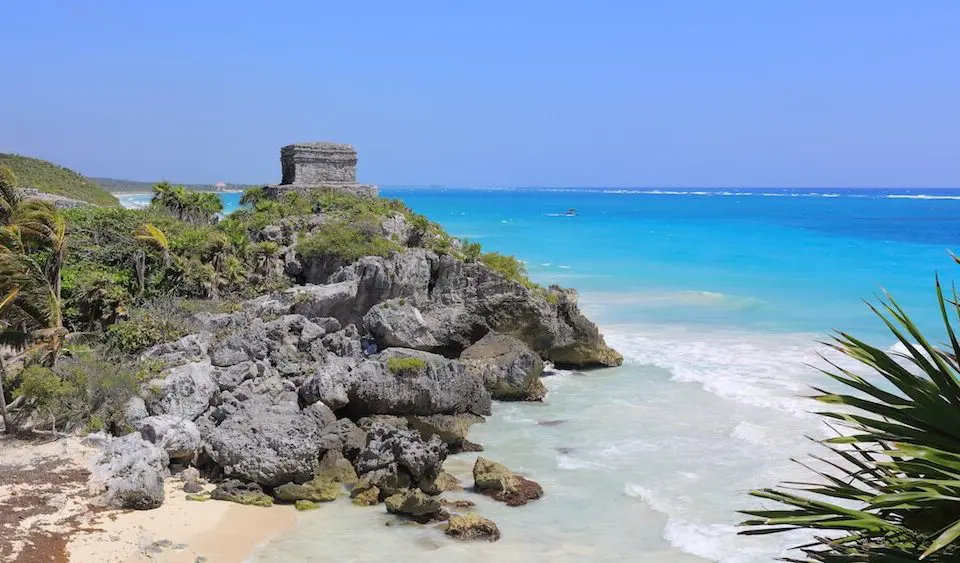 Searching for the best tours to do in Tulum?
Let me guess…
You've seen it in the magazines, you've heard about it from your friends, and you've marveled at the posts on social media!
Now it's your turn to experience the magic.
You've made a smart decision staying in Playa del Carmen because as beautiful as Tulum is…it's not best suited to everyone for longer stays.

That said…it's an absolute must for you to explore on your next trip to the Riviera Maya.
One of the biggest draws of this place is that it's still very much an untouched slice of paradise.
Top 8 Tours in Tulum:
---
Getting here from Playa del Carmen is easy.
The best news?
There are plenty of exciting tours to do that leave from Playa del Carmen and include roundtrip transportation. 
Winner!
So,  sit back and relax while we take care of all the logistics.
All you have to do is choose which tour sounds the most exciting to you…
1. Tulum Xtreme
Adrenaline junkies, rejoice!
It's time to feel ALIVE on the Tulum Xtreme tour (book online or in advance and save 15%)!
Get your fix of adrenaline and couple the experience with some cultural sightseeing and a dip in a fresh crystal clear cenote.
The day on this tour is split up into two parts.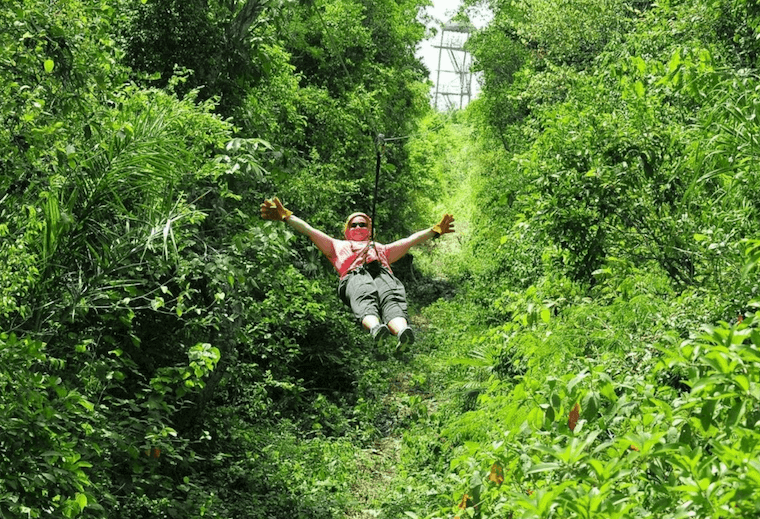 After pick up, you will head south on the highway down to Tulum where you will visit the world-famous cliff-side Mayan Ruins.
It is the most compact archeological site in the region and the ONLY one set by the sea.
Here you will be enlightened by the knowledge of your professional guide, enjoy some free time to get extra pictures and head down to the beach for a quick swim to cool off.
That's why I always recommend people go with their swimsuit underneath their clothes on this particular tour.
The beach here is stunning and shouldn't be missed.
When you're done venture into the heart of the jungle to discover a ranch designed with adventure in mind.
You will experience the thrill of the fastest zipline in the region before rappelling backward into a cenote.
All the adrenaline is sure to work up an appetite that is why this tour includes buffet lunch as well as non-alcoholic drinks when you're done.
Read Linda's (Travel Specialist at PlayaDelCarmen.Com) review of  Tulum Xtreme here. 
This tour runs Monday through Saturday and is a full-day tour.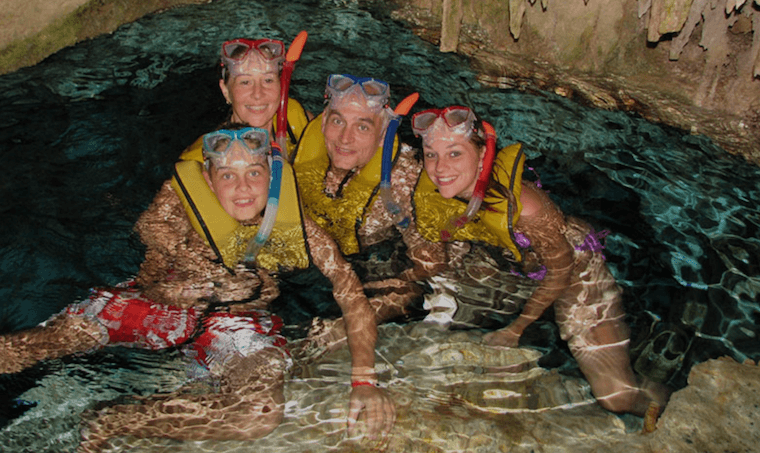 Groups size is up to 12 people to ensure personalized service.
Exact pickup times are confirmed upon booking but expect the pick up to be between 7am-8am and you will be back to your hotel around 5pm-6pm.
Pricing:
Adults – $109
Kids (aged 5-11) – $67
Tour inclusions:
 Professional Guide
 Equipment provided
 Lunch
 Bathroom & services
 Lockers
 Roundtrip transportation
 Soft drinks
2. Tulum and Beach
Prefer less adrenaline and more chill?
We've got just the tour for you.
It wouldn't surprise me if you just wanted to visit Tulum because of the beaches here.
They are world-famous and award-winning!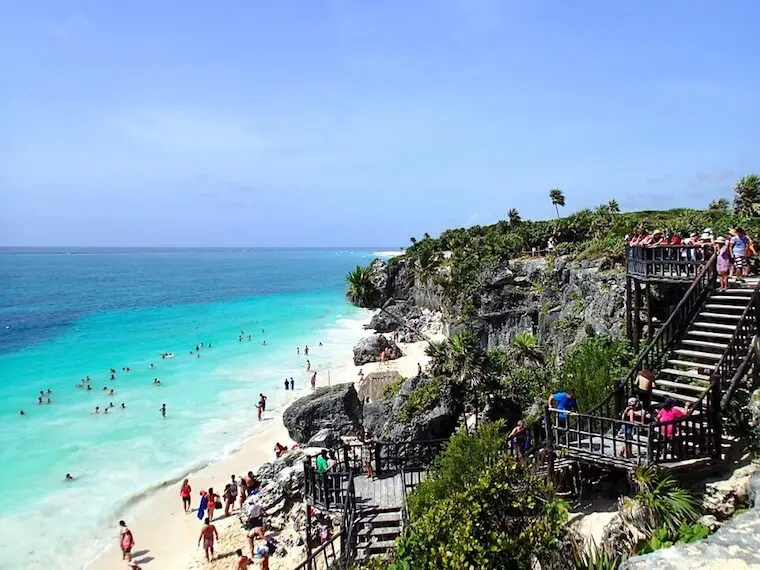 If you ask me, sometimes less is definitely more…, especially when on vacation.
If you want to experience a taste of Tulum but you're just not sure how to get there or don't feel confident going alone then fear not, we can take care of all the logistics for you.
The vibe in Tulum is simply stunning, stripped back, raw, natural, and enchanting.
Picture fine white sand that stretches on for miles and miles without any looming cityscapes. It's pure bliss for any beach lover!
From Playa del Carmen you will enjoy a guided tour of the Tulum Ruins (it would be a crime to miss this opportunity to see some of the most famous archeological ruins in the world).
The site here boasts stunning views and an impressive history,  so be sure to bring your camera.
Afterward, you will be transported to a stunning beach close to the ruins where you can swim, sunbathe, relax or simply feel the warm sand between your toes.
This tour is a half-day event and runs on Wednesday, Thursdays, and Fridays. 
Pricing: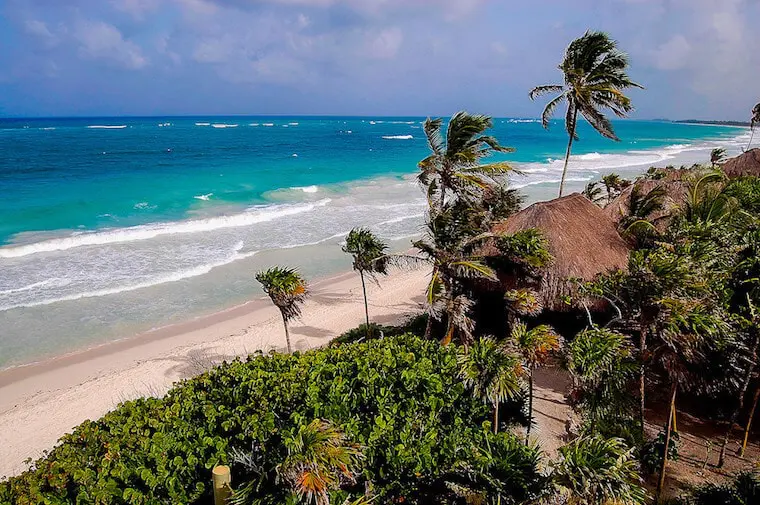 Tour inclusions:
Round-trip transportation
Entrance to the Tulum ruins
Guided tour and free time
Free time at Tulum beach
2 bottles of water
Book Tulum and Beach in advance or online and save 15%.
3. Tulum & Xel-Ha
This tour is awesome because it gives you the chance to combine the best of both worlds with 15% OFF!
Discover the Tulum Ruins and Xel-Ha (Mexico's #1 eco-park in the Riviera Maya).
The ruins in Tulum are only around 45 minutes from the town of Playa del Carmen and 1.5 hours from the Cancun Hotel Zone.
History mavens will never want to leave.
You will get to enjoy a guided tour and also have some free time to roam this ancient city by yourself.
Xel-Ha is a huge natural park with a slew of activities for all ages and even offers all-inclusive food and drink.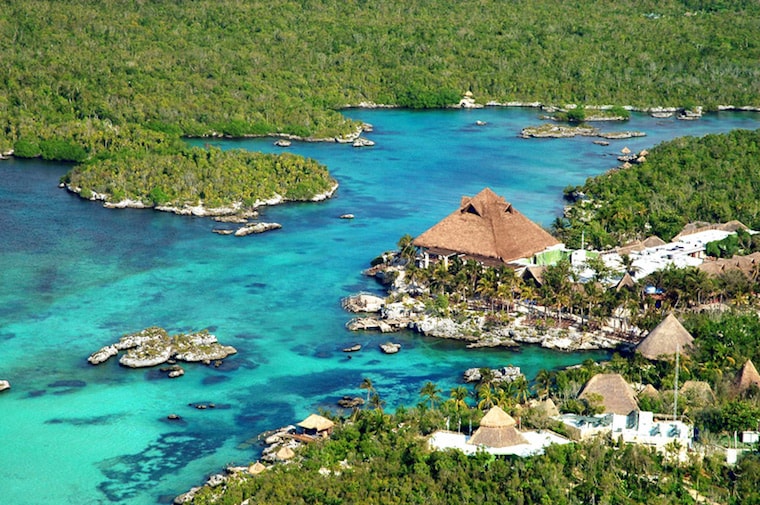 Snorkel with tropical fish, take a tube down the lazy river, try the zip lines or if you are feeling brave…the cliff of courage.
You choose which activities you would like to do and are able to take things at your own pace.
Spend your day napping in the hammock gardens if you really want to.
This tour is available every day and is a full-day tour.
Pick up will be between 8am-9am and you can expect to return to your hotel between 5:30pm-6: 30 pm.
All your food and drinks are included as well as your equipment.
Pricing:
Adults – $135
Kids (aged 5-11) – $67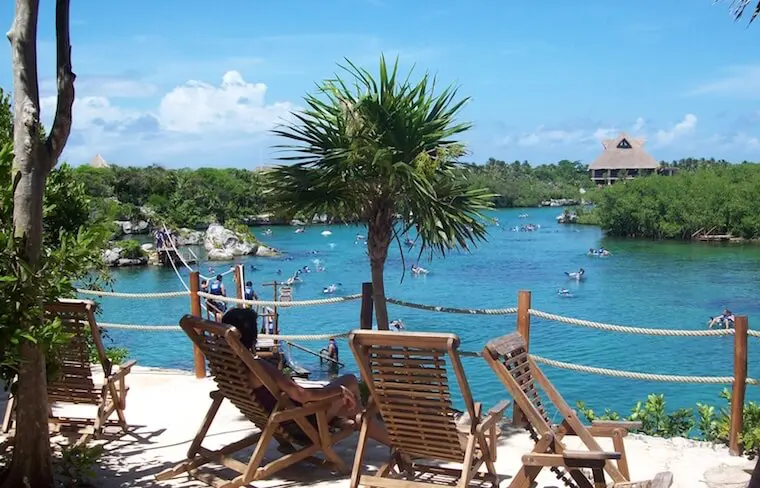 Tour inclusions:
 Wheelchair Accessible
 Lockers
 Soft drinks
 Lunch
 Professional Guide
 Roundtrip transportation
 Bathroom & services
4. Tulum & Turtle Explorer
Do you feel at home when you're in the sea enjoying the lull of the waves?
Me too!
That's why this excursion is one of my favorites.
This Tulum & ocean snorkeling tour takes you to an ancient Mayan fortress overlooking the Caribbean Sea in Mexico's stunning Riviera Maya.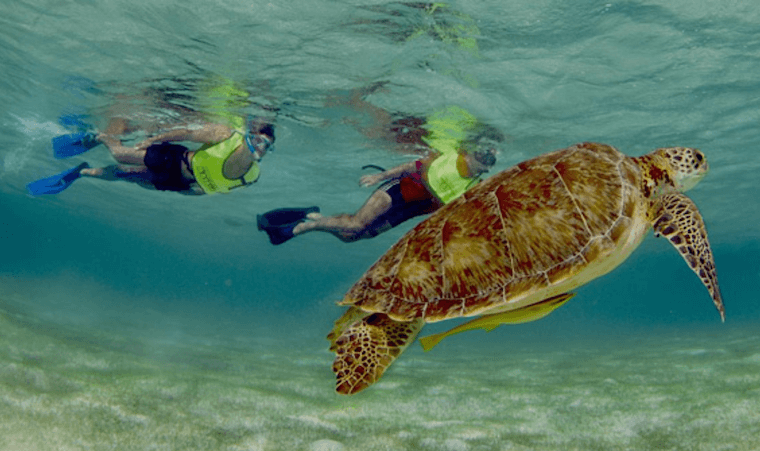 These cliffside ruins were formerly known as Zama, meaning Place of The Dawning Sun! 
When you learn of their history safe to say you will be blown away.
They were an important trading site for those traveling between land and sea.
You will have the opportunity to explore the impressive buildings and ceremonial centers of this gateway nearby to cities of Coba, Ek Balam, and Chichen Itza.
From here,  immerse yourself in the cooling waters of the Carribean ocean.
With your trained guide by your side, you will enjoy a snorkeling excursion of a lifetime as you admire the stunning coral reef systems of Tulum.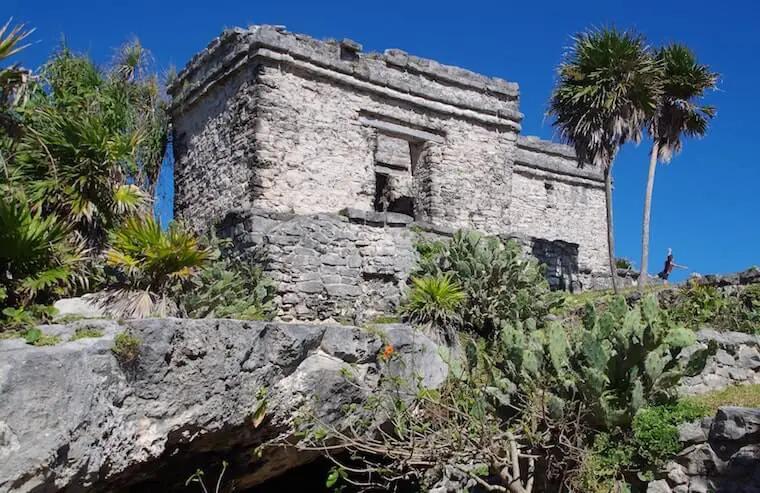 Keep your eyes peeled for Manta Rays, Starfish, and Groupers!
This tour is a half-day tour and runs on Thursdays, Saturdays, and Mondays.
Pricing:
Adults – $75
Kids (aged 5-11) – $58
Tour inclusions:
 Professional Guide
 Roundtrip transportation
 Soft drinks
 Equipment provided
 Light snacks
 Bathroom & services
Book Tulum & Turtle Explorer and save 15%! 
5. Tulum, Cenotes, Mayan Ruins & ATV Tour
As you have probably gathered by now the iconic ruins of Tulum are a staple of this small slice of paradise – and an absolute must while you are here.
But how would you like combine the ruins with cenotes and state of the art ATVs!
I thought so.
If you want to guarantee a day of action-packed adventure then look no further.
From Playa del Carmen head straight to the Tulum ruins and be amazed by fascinating histories and the Maya's highly advanced tribute to the stars.
Then, get your adrenaline pumping as you race through the jungle on your CAN-AM ATV 450cc 4X4's making your way to a gorgeous underwater river.
What you may not know about Mexico is that aside from its stunning beaches and lush jungle,  it's home to a magical underwater world created many millions of years ago;  worshiped by the ancient Maya (who considered it the portal to the Netherworld).
On this Tulum tour snorkel, a stunning cenote adorned with stunning stalagmite and stalactite formations.
After all the adventure wind down with a tasty lunch in the jungle.
This tour runs daily and it is 4 hours long.
This is a morning tour with pick-up times depending on the location of your resort.
The pick-up time will be indicated on your voucher when you reserve depending on your resort location.
Pricing:
Adults – $124
Kids (aged 5-11) – $124
Tour inclusions:
 Professional Guide
 Lunch
 Roundtrip transportation
 Equipment provided
 Bathroom & services
Book the Tulum, Cenotes, Mayan Ruins & ATV tour and save 10%! 
6. Tulum Full Day Explorer Tour
A tour that combines 3 of the region's top attractions!
A visit to the Tulum ruins
Snorkeling in the ocean
Swimming in a freshwater cenote
The perfect opportunity to tick off 3 must-do's in the Riviera Maya.
If efficiency is your thing or you are on a time constraint then this tour is the answer to all your prayers.
Explore ancient Mayan Ruins by the sea, swim the colorful reefs of Tulum while making friends with the vibrant marine life and discover incredible caves and underground rivers.
This is the best tour to swim and observe the ocean wildlife in their natural habit.
If your keen to snorkel but don't consider yourself one of the strongest swimmers in the world then fear not, the water here is still shallow enough to see the seafloor and your expert guide will be on hand to guide you around with a rubber ring if needed.
I was a little nervous on this tour as I had never really been a fan of snorkeling in the ocean but I am SO glad I did it. My fears were alleviated immediately with the help of Juan my tour guide.
Cap off the day by swimming in a freshwater cenote and mystical caves.
One of the things I loved most about this tour was the quality of the food at the end.
Enjoy a delicious Mayan Pibil dinner.
Pib is pork meat wrapped in banana leaves, marinated for 24 hours,  and cooked using heated rocks below the ground.
This is a complete day of discoveries that is sure to be memorable for everyone!
Pricing:
Tour inclusions: 
 Professional Guide
 Roundtrip transportation
 Light snacks
 Bathroom & services
 Equipment provided
 Lunch
 Soft drinks
This tour operates daily.
The total duration of the tour is approximately 7 hours, not including the time you need to get to and from your hotel. Pickup time is between 6:00am-9: 00 am and you will leave from the tour at 4:00 pm.
Read my recent review of this tour here. 
Book the Tulum Full Day Explorer tour now and save big! 
7. Private Yacht Charter  – Tulum
Lavish luxury at affordable prices?
Yes, please!
If you like to do things differently journey back in time with us and visit Tulum from a unique perspective.
Travel south down the coastline, until out of nowhere, an ancient city situated on a rocky cliff comes in to view.
That's one way to tick the Mayan Ruins off your bucket list.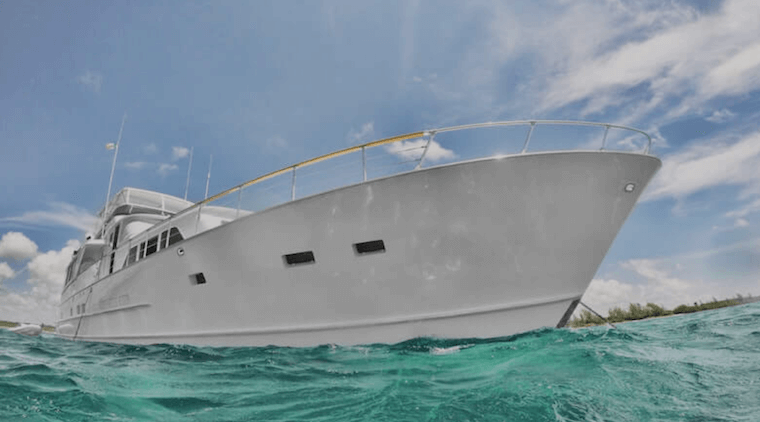 You can enjoy a majestic view of the Mayan Ruins from the ocean while learning all about their fascinating history.
Snorkel the beautiful turquoise waters and make friends with the local marine life.
If you're lucky you will have sea turtles as your swimming partners.
Custom charters are available and we can help you iron out the details but typically the open bar consists of:
Beer – Tecate Light & Regular
Rum – Bacardi White & Anejo
Coconut Rum – Malibu
Spiced Rum – Captain Morgans
Vodka – Smirnoff
Tequila – Jimador & Herradura
Wine – Malbec Trapiche, Concho el Torro Sauvignon Blanc
Soda – Coke, 7up, Soda
Juice – Orange, Pineapple, Cranberry, Lime
Water
MENU
Snacks: seasonal fresh fruit platter, fresh guacamole & chips, pico de gallo.
Fresh salad (chefs choice)
Fresh Tacos (chicken or pork)
Salsa & Fixings
Ice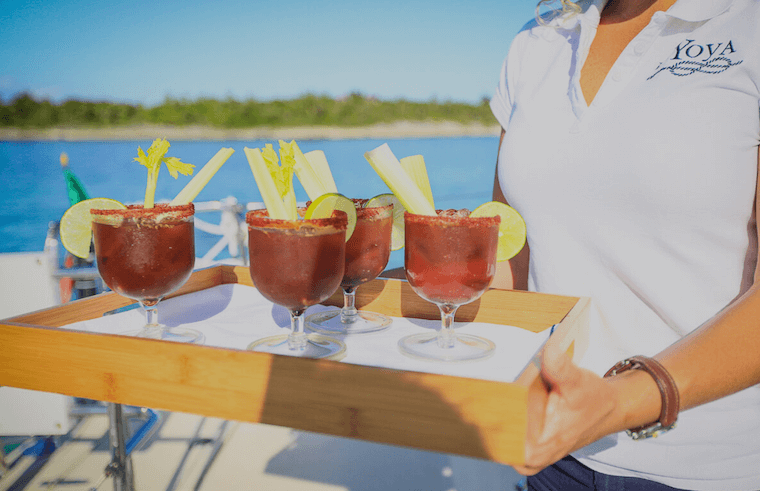 Tour inclusions:
 Professional Guide
 Lunch
 Soft drinks
 Bathroom & services
 Equipment provided
 Light snacks
 Open bar
Pricing:
$3750 split between 15 people.
Additional guests $75 pp 
Available every day of the week subject to availability.
Book your private yacht charter today! 
8. Luxury Private Catamaran – Tulum
If a private yacht isn't taking your fancy maybe a catamaran will?
See the famous Mayan Ruins from your private catamaran!
You will cruise out from Puerto Aventuras Marina and head south until you reach the best spot for the perfect view of the Tulum ruins.
Enjoy ice-cold drinks and fresh ceviche.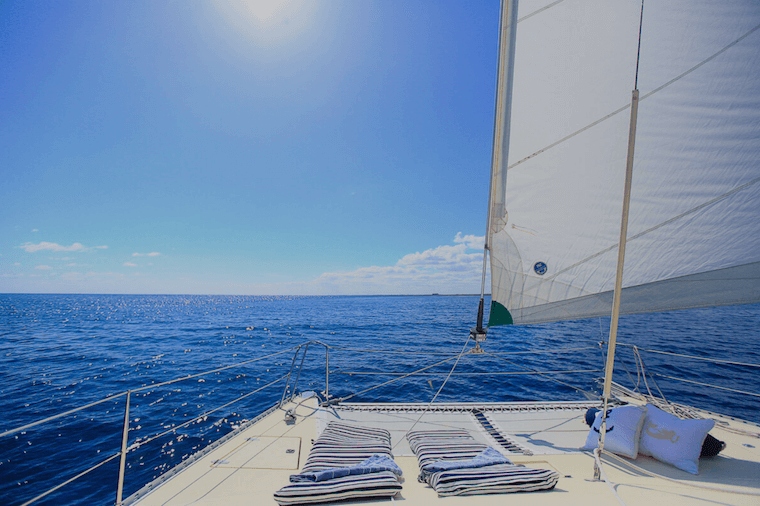 After a two-hour stop, you will head towards the beautiful La Bocana where you can swim and snorkel in crystal clear shallow waters.
Freshly grilled cheeseburgers will also be available and if you choose to fish, the crew will prepare your catch of the day!
 Professional Guide
 Lunch
 Soft drinks
 Bathroom & services
 Equipment provided
 Light snacks
 Open bar
Includes Open bar (tequila, rum, vodka, beer, bottled water, soft drinks and juice).
Snorkel gear is provided and fishing gear is included as are beach towels.
8 hours on the 44′ Catamaran for 1-15 people is $4200, and for 16-30 people is $4500.
VIP option available from $4000 – boasting a premium bar with beverages such as Grey Goose, Moet, and Don Julio, plus special menu options with choices between Japanese, Italian, Fusion, International, or Mexican Cuisine.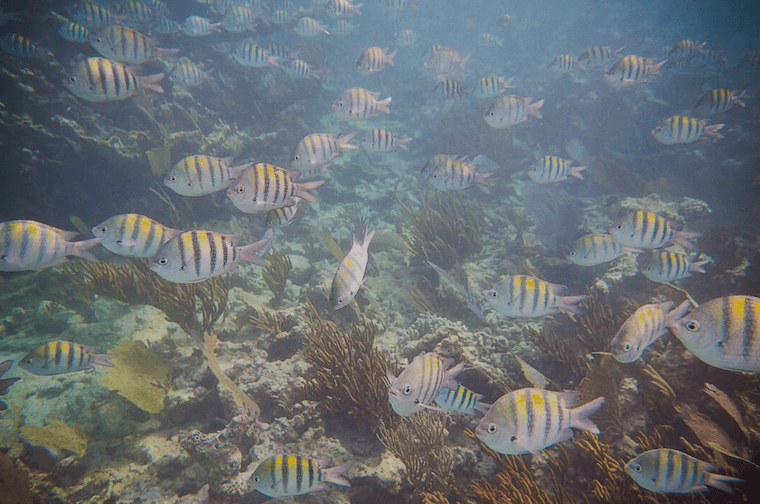 Tour inclusions: 
Open bar onboard including beer, vodka, rum, tequila, juice, soft drinks, and water.
Snacks including chips and depending on the tour ceviche and cheeseburgers.
Snorkel equipment (and fishing equipment depending on the tour).
VIP OPTIONS
Pricing is outlined above per tour. Availability can vary so please contact us.
VIP options with private chef, upgraded bar, champagne and various services like a private masseuse are also available upon request.
Available every day of the week subject to availability (8 hours).
Pricing:
$4200 split between 15 people.
For 16+ guests price is $4500
Book your private catamaran experience today. 
Additional Resources You May Find Useful
Get organized!
Get organized and visit Tulum!
Here at PlayaDelCarmen.Com, we give you honest advice because ultimately we want you to have the best trip and experience possible.
We have tried and tested all of the tours so we can make sure you choose the best ones for you and your group while saving you lots of money.
We offer incredible discounts and will ensure you get all the perks and discounts available.
A great trip starts with good organization.
Take the stress out of planning.
Are you ready to discover Tulum? Contact us today!
---
Trending Now