Top Tips for Visiting Tulum Xtreme – What to Expect (Review)
---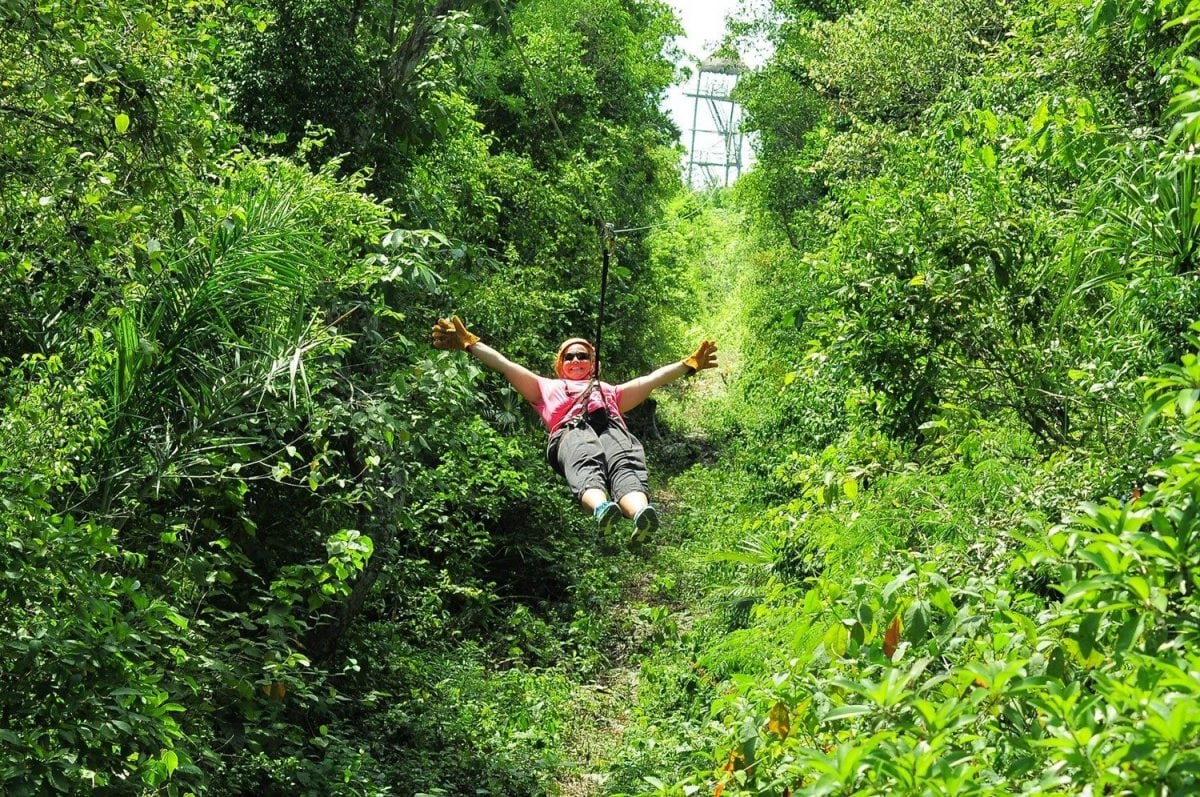 In my quest to give you the inside scoop on everything fabulous in the Riviera Maya I have lazed around on catamarans, relaxed by pools and pristine beaches, snorkeled the calm waters of Akumal bay, swam in underwater caves and explored ancient ruins.
(Hard life, I know)!
Well, future clients, my relaxation days are over (at least for today anyway).
It was time to get extreme, and in a big way. I was forced to do something so scary I almost peed my pants. Who knew paralyzing fear could be so fun!
What was so fun you ask? 2 words: Tulum Xtreme.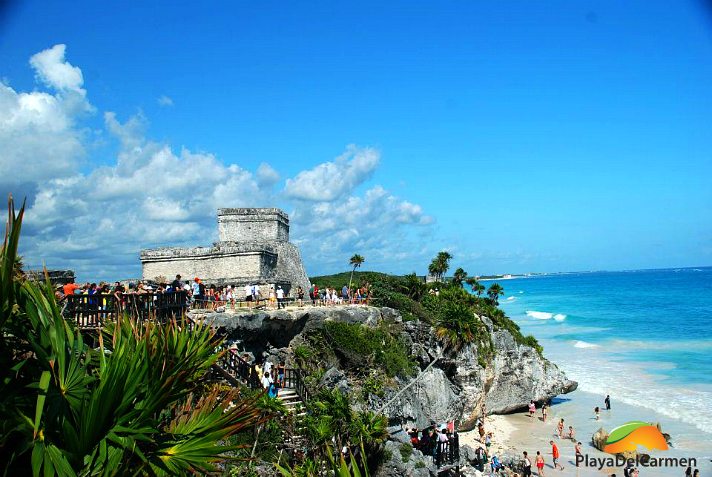 Now, I am a somewhat adventurous person by nature, but heights have never been my thing.
For as long as I can remember, my biggest fear has been heights. Even sitting in the nosebleed section at a Denver Broncos game made me feel uneasy.
So when I was told I was doing Tulum Xtreme, which would involve a 60-foot rappel and zip line tour, I was a little apprehensive. But for the good of you, reading public, I sucked it up and happily went.
The shuttle picked us up at 8 am sharp, very nice air-conditioned van that could seat 14. Edwin (our fabulous tour guide) insisted we wear our seat belts (I liked him instantly) and we were on our way.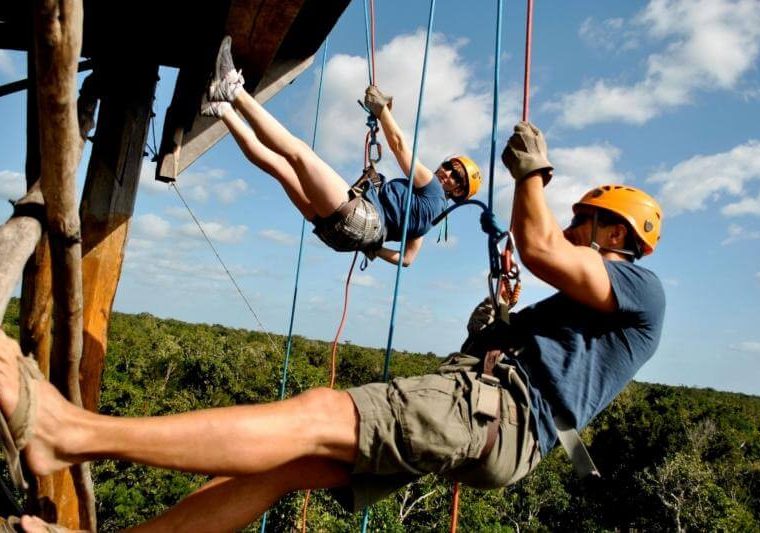 He had a few more guests to collect, and then we were headed to our first stop, which was Tulum.
I knew it was going to be a good day, as Edwin cranked up the Guns & Roses. Nothing like a little G&R to get you pumped up for the adventures of the day.
As always, your pick up time and the time it takes to reach the destination depends on how many clients have booked for the day, and at which hotels they are staying at.
It took us about an hour to get to Tulum. This tour consisted of a guided tour of the Tulum Ruins, a 60-foot rappel, a zip line tour, a swim in a cenote and lunch.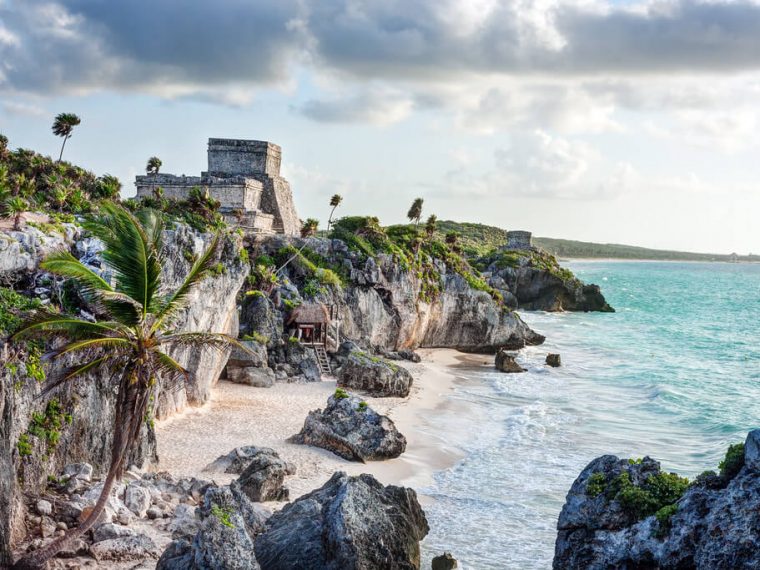 Tip #1 – Bring a Snack
If you read my blogs, this is usually the number one tip, no matter what tour you are on. Here is the reason why.
This is Mexico, people here are more relaxed, and sometimes the schedule has to be tweaked for some reason or another. Do yourself a favor and be prepared. With this tour, you don't get any breakfast, and lunch is served at the end of the festivities.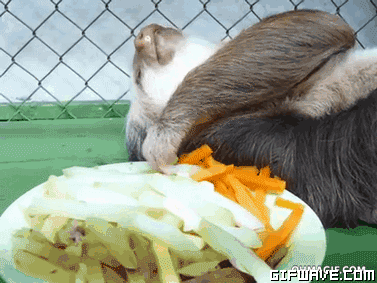 You do a lot of walking in Tulum and are climbing an endless amount of steps and doing very physical activities.
By the time we ate, it was about 1:30 pm. So if you are a grazer, like me, or have physical limitations which require you to eat often, do yourself a favor and bring a snack.
Also, water is very important, especially if you are not used to the heat and humidity here. They did provide a bottle of water before the Tulum tour, and they have water available at the park. However, you really need to drink more than one bottle of water if you can. Nothing is worse than being dehydrated, especially when doing such physical activities.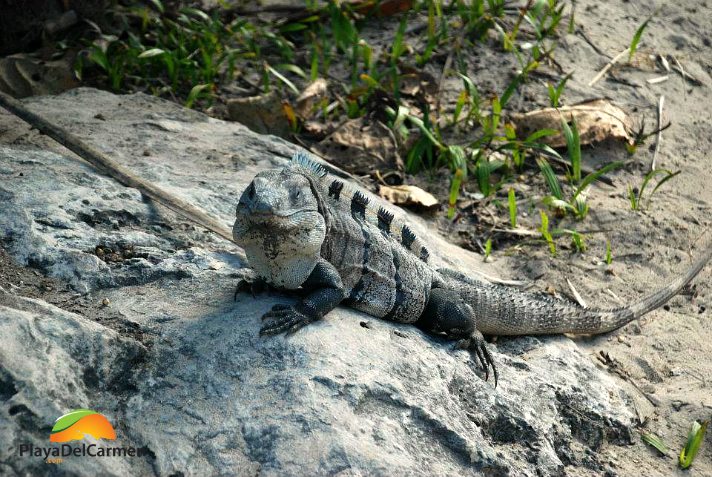 Tip #2 – Wear Comfortable Clothes and Shoes
It is hot and very humid here. This is a very physical tour and I guarantee that you will be hot and sweaty.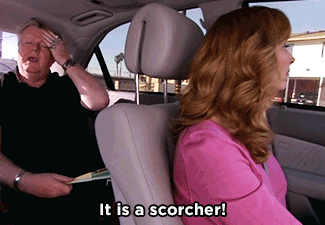 You will walk through a jungle, which means a lot of limestones and uneven ground. After that, you will climb what feels like a million steps to get to the rappel and zip line platforms wearing gear, which is a little, shall I say "compromising".
Then prepare to fly through the air on a zip line and rappel a 60-foot drop.
So keep this in mind when picking out your wardrobe and your shoes. They do provide lockers, and there are changing rooms on site.
I brought an extra bag for my sweaty and wet clothes once we were done.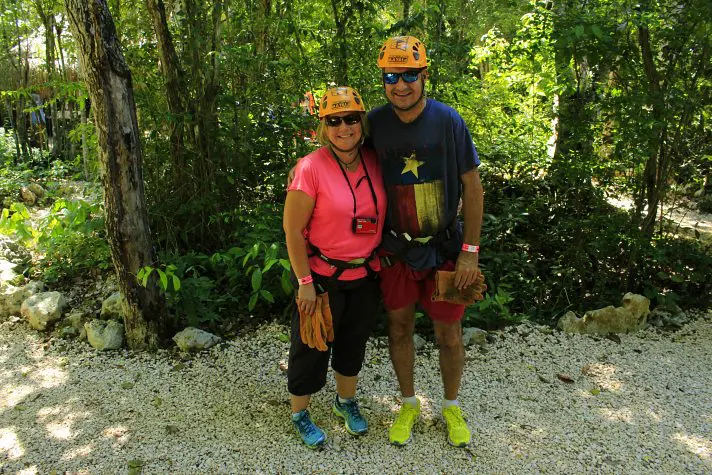 Tip #3 – Biodegradable Sunscreen & Bug Spray
You are in a jungle, there are mosquitos, and sun: lots of sun.
Protect yourself with sunscreen and bug spray. The trick here is to re-apply or make sure you get waterproof, as you will be sweating a lot. Nothing is worse than getting a sunburn on your beach vacation.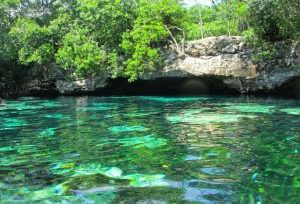 It's absolutely paramount that whatever you put on your skin is biodegradable.
On this tour you visit a beautiful cenote, with precious stalactites and stalagmites that have taken millions of years to form over time, so we do our very best to preserve and respect the nature that makes places like this so beautiful.
Tip #4 – Prepare for a Very Physical Tour
Most likely if you are booking this tour, you are a very adventurous person and used to physical activities. That being said, however, keep in mind that our climate here might be very different from yours.
Please make sure you hydrate yourself appropriately. The sun is very intense here, as is the humidity.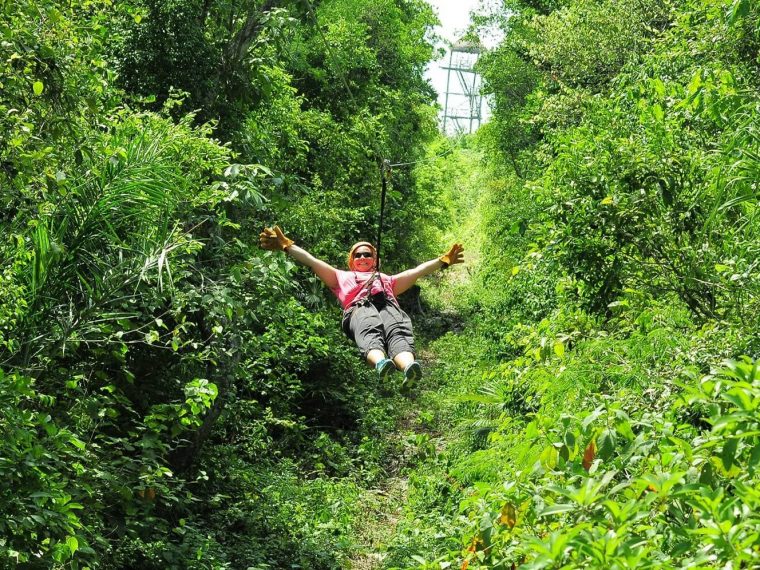 Our first stop was Tulum. There Roberto, the guide for the ruins,  gave us interesting information about the Mayan people, and the ruins that we were viewing.
Tulum Ruins
He spoke for about 30-45 minutes, and then we had an hour to explore the ruins on our own. If you want an extensive tour of Tulum, with a very detailed explanation then I would not recommend this tour. This tour is all about fun and adventure, so in my mind, the highlight was the adventure park.  It took us about 20 minutes to get there. And then this happened.
Rappelling
Wait, what? Isn't this the song that was played in Rocky?
This the song they play when you are about to do something crazy? They play this song to pump you up!
If you need a song to pump you up, wouldn't that be an activity that you might not want to do in the first place? I am starting to get a queasy feeling in my stomach right about now. Then I see it.
Off in the distance. the one thing that scares me to no end. A REALLY high platform, one in which I will be descending at breakneck speeds in about 20 minutes. What did I get myself into? As we geared up for our rappel adventure, my life flashes in front of me, and it was at that exact moment that I realized I must be crazy!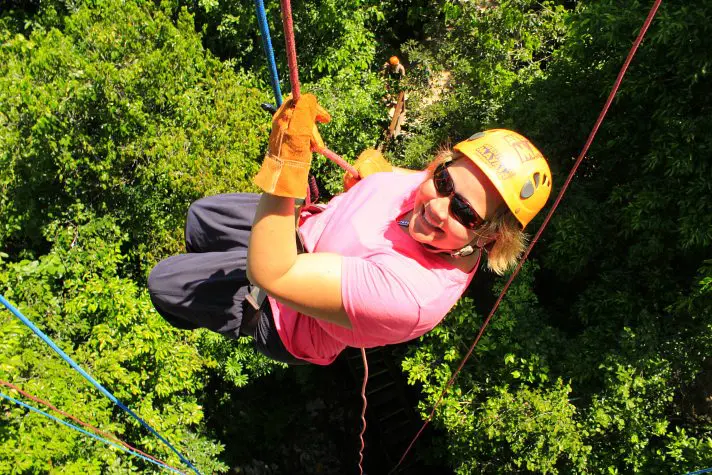 As stated, there are 3 activities in the park.
1) Rappelling
2) a zip line
3) Swim in the cenote.
Ideally, you will do the rappel and zip line first and then swim in the cenote. However, the order may be reversed, due to park capacity. In our case, we rappelled, did the zip line and then swam in the cenote.
Unless you are used to it, the gear does feel a little funny. I was self-conscious at first, but then quickly got over it. Everyone else was wearing the same gear, and honestly who really cares how you look in it?
We headed to the first tower. 60 feet high, but you are actually rappelling an extra 15 feet into a shallow cave. I was scared. Heights aren't my thing, but I committed to conquering my fear, that is until the top level. I did almost chicken out, but because the guides made me feel at ease, I didn't.
Zip-lining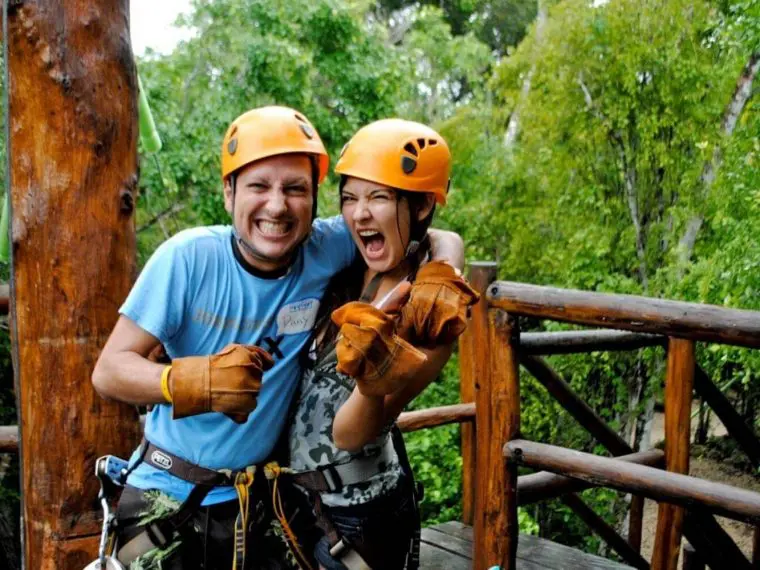 There are 3 actual guides for every person, so you won't fall.
They give very detailed instruction on exactly what you need to do. The hardest part is stepping out onto the platform backward. It was difficult, but once you step down and start the descent, it is awesome!
I liked it so much, I did it twice, and that is saying a lot because of my fear of heights. But, please enjoy this video of a fellow Tulum Xtremer. Look how fun!
From there we moved on to the zip line. Again they gave very detailed instructions on what you need to do. It is very easy; you don't even have to stop yourself, just lean back and relax.
There were 3 lines, not the most extensive amount, but enough to get your adrenaline pumping. Now here is the tough part, especially if you don't work out on a regular basis. The stairs. There are stairs and lots of them. It's just part of the experience.
You actually walk up 4 towers (or 5 if you rappel twice). Have I mentioned that they  60 feet high ;-)? If you are like me by the time you get to the top you are sucking wind. No matter, though, because what lies at the end of those stairs is well worth the effort.
We then headed to the cenote. If you have never experienced one, you really need to. They are one of the most beautiful sites in the world, and they are unique to this area.
In a nutshell, it's a cavern up above and a cavern down below the water. If you have never snorkeled before, don't worry. Life jackets are mandatory, the guides give you instruction before you enter the cenote, and they are there with a life preserver in case you need it. Words cannot describe how beautiful they are.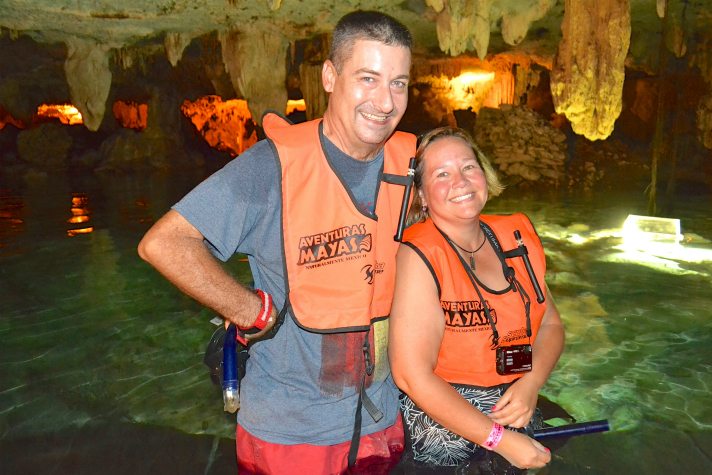 And last but not least, we ate lunch. It was a buffet, and very tasty. We ended up heading out of the park about 2:30 pm.
Tip #5 You Might be Sore the Next Day
Of course, this varies depending on your level of fitness. My legs, lower back, and my waist are a little sore. Legs and back are understandable, because of the stairs, but the waist surprised me.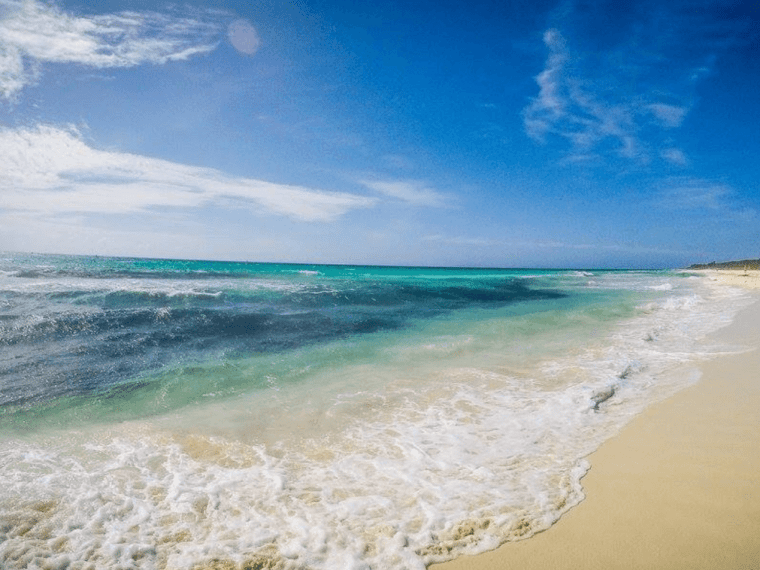 I believe it was where the harness cinched.  Just keep this in mind when planning activities for the day after. Maybe a nice relaxing day at the beach or the pool, or even better a nice massage and spa day?
Conclusion
All in all, this was an absolutely wonderful tour.
The guides were fantastic, and this activity is much different from the normal tours, such as swimming and snorkeling. If you want to try something different, and maybe challenge yourself this is a great one.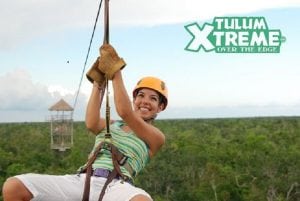 Just enough adventure to get your blood pumping, and maybe even conquer a fear or two.
---
Betcha now you want to book this tour!
Have YOU done the Tulum Xtreme? Give us your feedback in the comments below?
 Have a question for Travel Specialist Linda? Get in touch!
---
Trending Now
You may also like