Swimming with Whale Sharks in Cancun | Everything You Need to Know (My Review)
---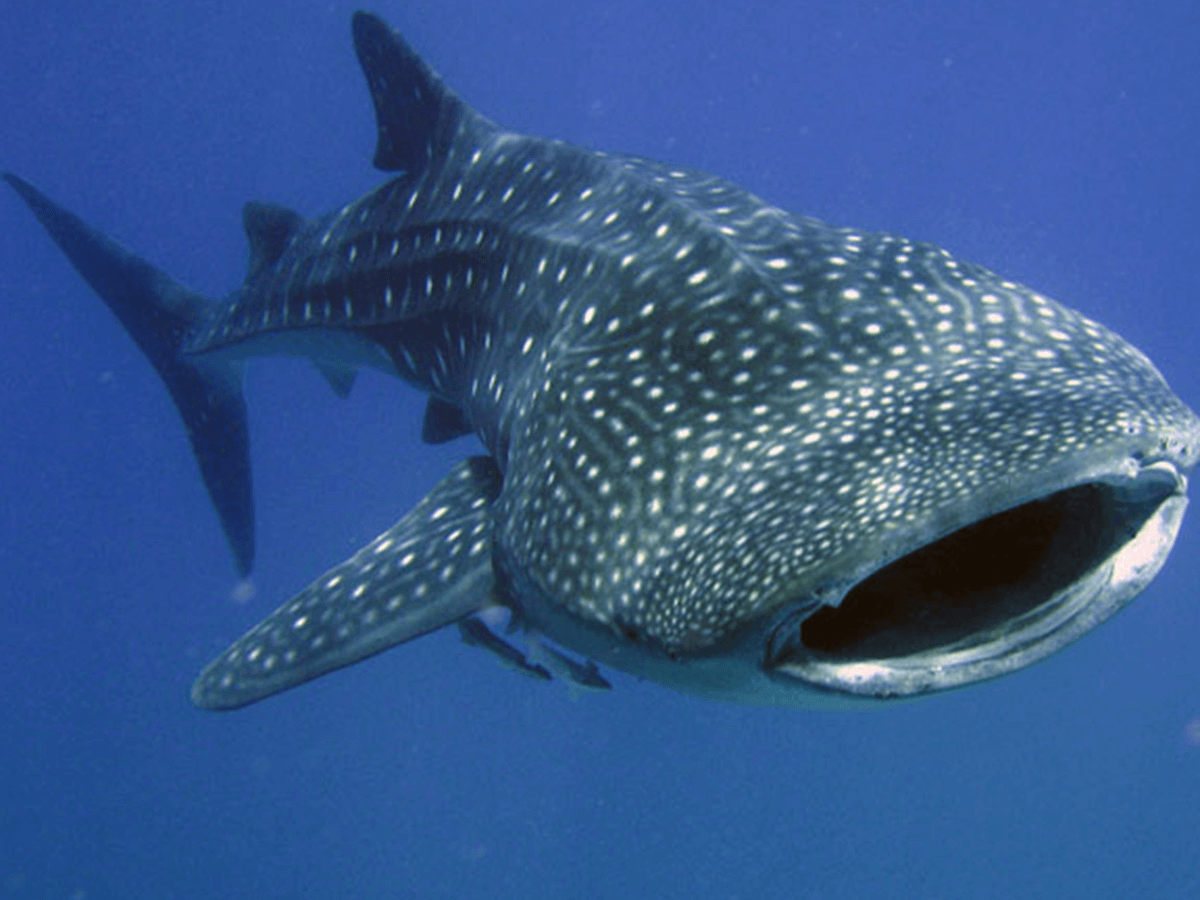 Do you want to Swim with Whale Sharks in Cancun?
The season has started for 2019, so if you were thinking about it – now is your chance!
Perhaps you're still wondering if this tour is really for you?
Need an honest review? Then look no further.
Whale Shark Tour (Cancun) – What to Expect:
---
1) Are Whale Sharks Dangerous?
Yes, Whale Sharks are considered a part of the shark family, but no, Whale Sharks are not dangerous.
These gentle giants are very docile and extremely agreeable to swimming alongside humans.
In fact, they are not very shark-like at all.
They feed on plankton, krill, fish eggs, and some deep-sea fish. With a diet limited to tiny-micro organisms, you're definitely not on the menu.
It's the largest filter feeder fish in the world and they visit this region every year due to the area being rife with plankton.
Despite their enormous size, they pose no risk to humans.
They have an average speed of 3 mph.  
Of course, when you hear of people swimming alongside Whale Sharks the immediate human response is to hear the word 'shark' and be like "uh uh, no way!"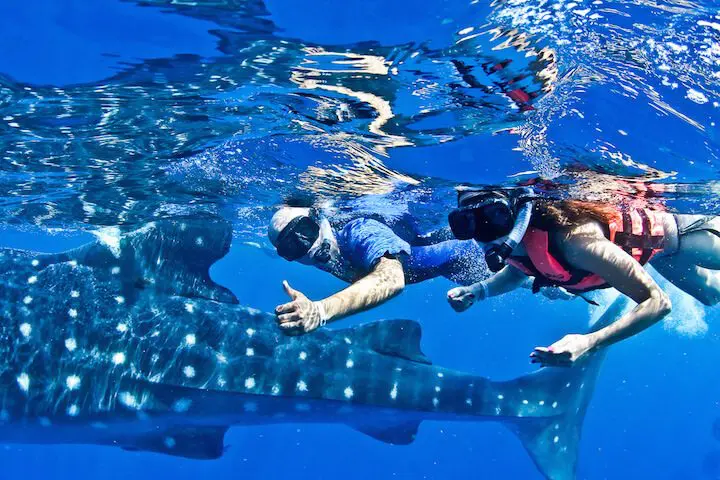 "You crayyyyyzzzzeee!"
Working as the content manager for PlayaDelCarmen.Com has certainly taken me WAY out of my comfort zone at times, one day it's zooming down the fastest ziplines in the region, the next it's swimming with Whale Sharks.
My job is to review everything there is to review.
It's pushed me to find myself in more ways than one and I couldn't be more thankful for the opportunity.
As a person, I've changed for the better, and all the experiences thus far have helped me to become the best version of myself.
That is why I am so passionate about travel and experiencing the very best of a particular region.
Especially, when the adventure takes you out of your comfort zone.
I'll be honest when I got told I was going on this tour I panicked a little. I thought to myself, "me, in the deep blue ocean, with WHALE SHARKS" –  what the F!?
But…I'm known for immersing myself into every experience wholeheartedly even if it scares the bejeebers out of me and let me tell you something the Whale Shark tour in Cancun is an experience you will treasure for the rest of your life.
2) When is Whale Shark season in Cancun?
These incredible majestic creatures grace the shores of Cancun between the months of June and September. 
You'll also find the around Isla Mujeres, Isla Holbox, and Isla Contoy.
Close to where the parting of the Carribean Sea and the Gulf of Mexico is.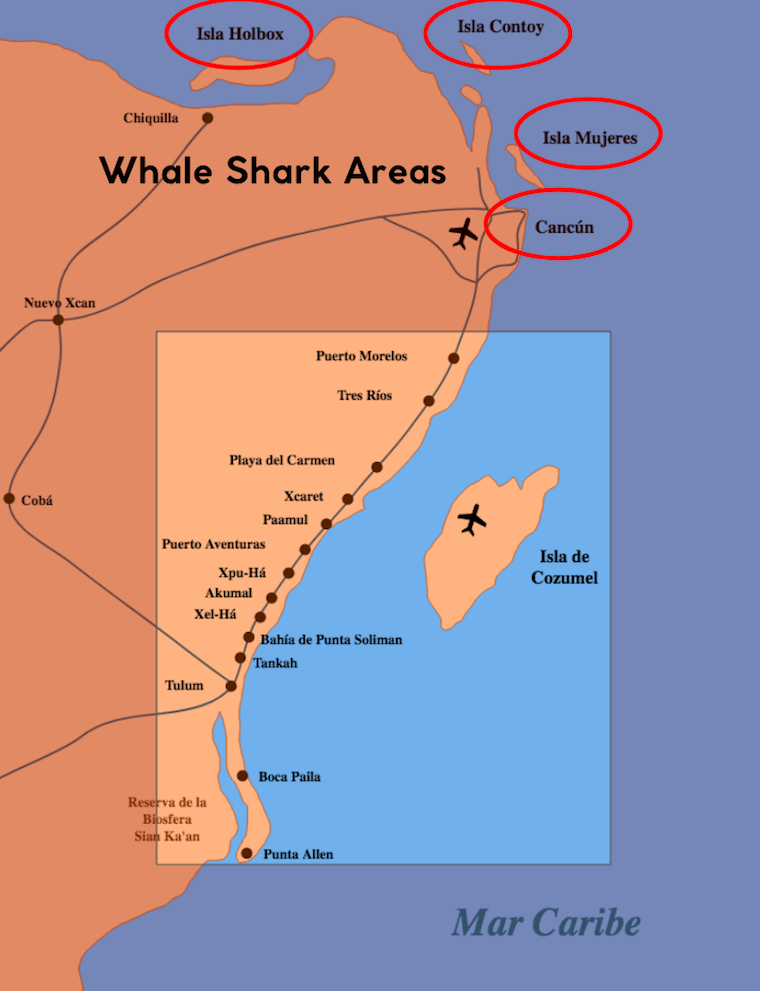 3) Who Can Go On The Whale Shark Tour?
Before getting into my Whale Shark review it is worth noting who the tour is available too.
This tour is not available for Children under 6 years old.
The guide only takes a few people at a time to swim, so there is a lot of waiting on board the boat which may not be easy for smaller children and the travel time to the marina can be 1-2 hours depending on where you get picked up from.
For children over 6, it's important that they are confident swimming as you will be out in the middle of the ocean. No seafloor insight.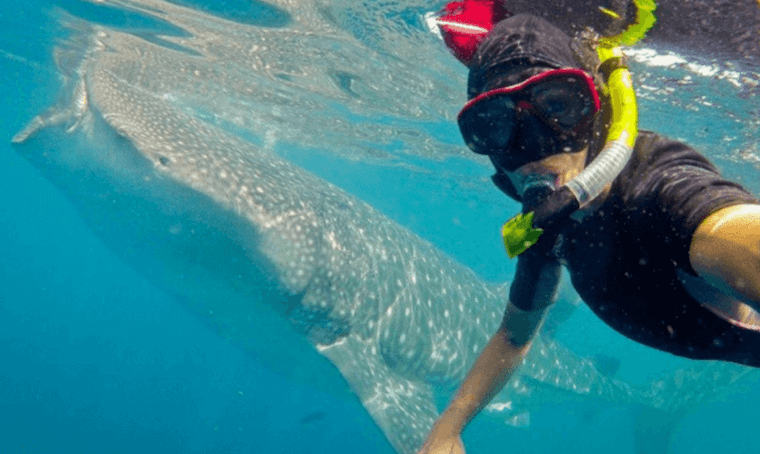 Pregnant women should also wait until they have given birth before ticking this one from their bucket list.
This particular tour is a Cancun tour which leaves by boat from Cancun.
However, that doesn't mean that if you aren't staying in Cancun you can't participate.
We also offer free transportation from Playa del Carmen and the Riviera Maya.
4) Pick up and transport
I live in Playa del Carmen so the adventure for me began around 5 am.
It was a hard wake up, but Anna, our fabulous tour guide, greeted us with a smile and so much enthusiasm, it surprisingly made the 6 am pick up enjoyable.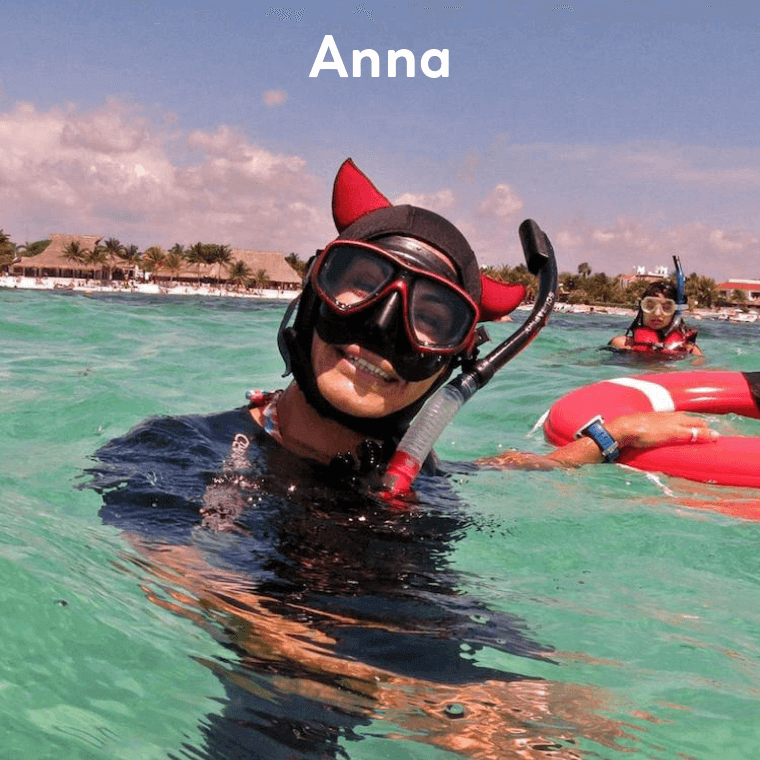 I'm not a morning person – so that is saying something!
The transportation is a small, comfortable van for up to 10 passengers. 
Although we had brought a little breakfast with us, they provided bananas, and oat cookies (gluten-free) and bottles of water.
I'd definitely recommend eating something before you leave as you have a long morning ahead of you, but nothing too heavy if you do struggle with motion sickness.
We picked up additional guests at a couple of hotels and we were on our way to Punta Sam, just south of Cancun, where the boats leave from.
Once everyone was on board, Anna gave a detailed briefing on what we should expect.
5) Clothing, Sunscreen & Seasickness
What I love about this tour is how environmentally conscious it is.
The welfare of the animals is a priority, therefore, certain measures are taken to ensure the Whale Sharks safety.
Sunscreen is not allowed as the chemicals stay in the ocean long after you leave, but there is the option to buy long-sleeved t-shirts (they are worth the $ and a great souvenir) or to rent wetsuits rather than use the mandatory life vests.
Bring clothes that are light and will cover you up. It can get hot out there in the open ocean so preferably if you have anything white this is a good option.
As sunscreen is discouraged, you will definitely need something to cover up with.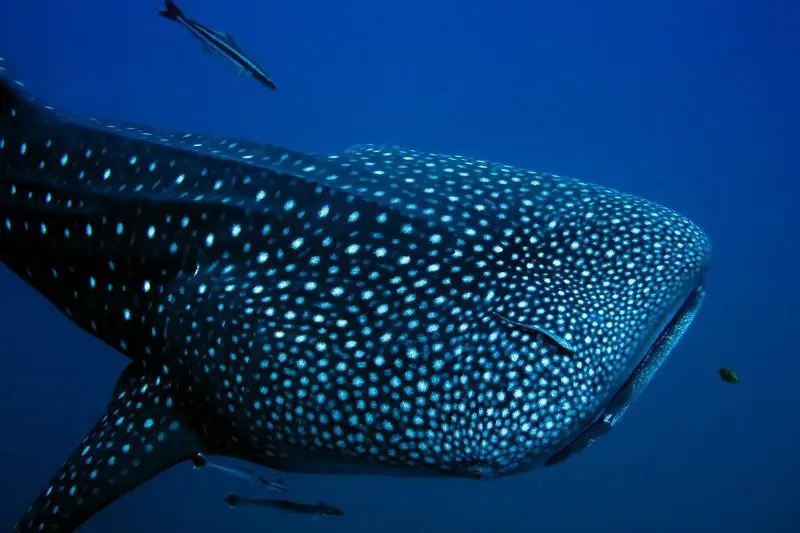 Save some cash and even bring your own long sleeve t-shirt if you wanted. Make sure it's lightweight so you can still swim.
You don't want anything that will drag you down particularly if you are not a strong swimmer.
Ana also offered everyone Dramamine, a medicine that helps prevent motion sickness.
Take it!
It can make some people a little drowsy but the excitement of the day is sure to keep you awake and it ensures you won't get sick.
I have a stomach of steel. I am normally the one holding the poor person's hair back during seasickness episodes as it never happens to me.
Well, there is a first time for everything.  You are out in the middle of the ocean, often with no land in sight, in a boat that can rock quite a bit (I refused the meds and ended up getting sick – BUT it was totally worth it)!
Don't make the same mistake as me.
6) The Tour
Once we arrived in Punta Sam (where the boats set sail from), we had time to use the toilets, grab some continental breakfast and get changed if need be. Then we were off to the boats.
The groups are limited to 10 people with 2 guides and a captain.
The staff are amazing and everyone is well taken care of.
The boats do have a little shade, so stick to the front of the boat if possible. There are no bathrooms onboard, so if you are squeamish about peeing in the ocean, you will have to hold it all day.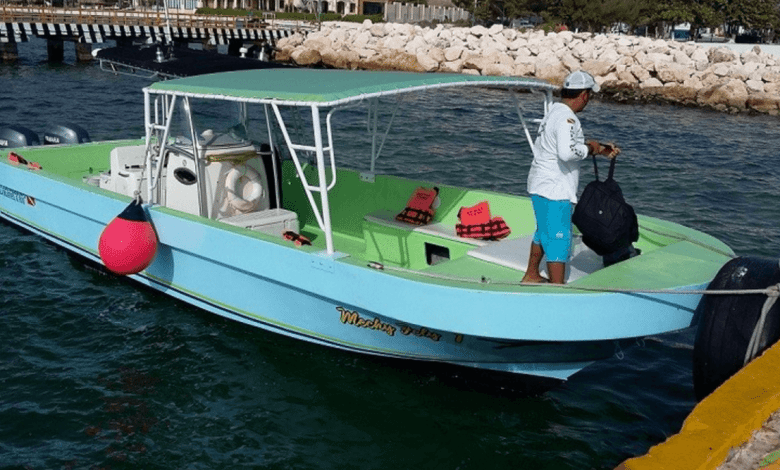 Be Patient
Take things as they come. This tour is like a safari adventure- it is up to nature and unpredictable.
We encountered giant sea turtles, wild dolphins, and a manta ray.
That being said, the whale sharks were being shy that day and we almost gave up after a few hours of searching for them.
While on the boat, Ana and the crew were great at making sure that everyone was comfortable and happy, providing drinks (they have water and soft drinks) and even a sandwich.
We were just about to give up (if you book with us and don't see the whale sharks, we do offer a full refund) when the captain received word that there was one close by. We headed over to where the whale shark was spotted and everyone got ready.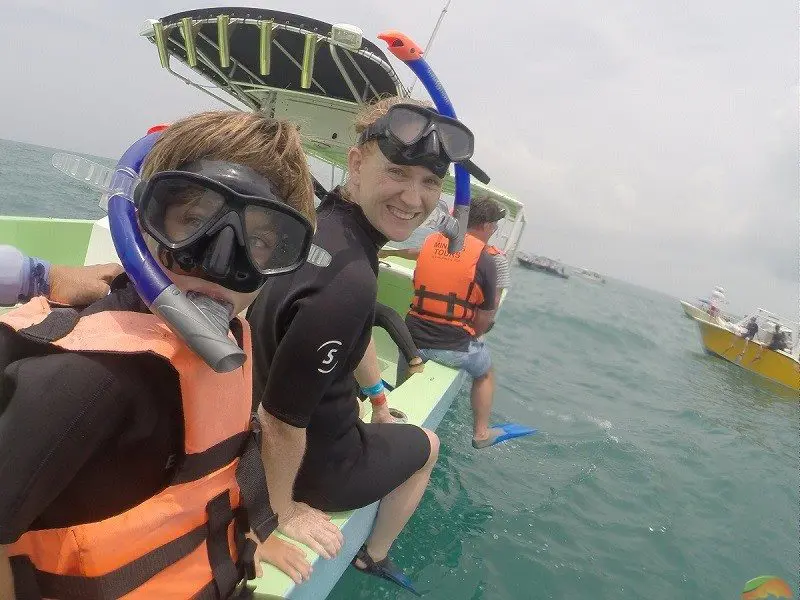 Listen Closely to Instructions
The guide takes groups of 2 at a time, and when she says go, you GO.
The whale sharks are constantly moving so you have to swim alongside them but in a certain way that you don't scare them off.
The boat of 10, along with the other boats in the area all cooperate so that everyone gets a turn to swim as unobtrusively as possible.
 So listen to the guide's instructions and follow them as closely as you can.
Again, this is nature and things may change, but generally, you will get 3 turns to swim for a few minutes each time.
The guides are equipped with go-pro cameras, so you can focus on what you need to do and not worry about getting pictures.
The guides told us to jump in the water and we jumped!
Have your equipment ready, mask on and follow the guides, you will get to swim alongside the incredible whale shark and the guide will also be there with you.
Some of the whale sharks are faster than others, but if you follow your guide, you should be good to go.
Life vests are mandatory unless you bring your own wetsuit (or they have them for rent).
Here is a brief video of our experience:

We had two turns for everyone that wanted to swim with them (since they were quite shy and we were late to find them.
There were a couple of people that were not too keen on swimming in the open ocean and decided to view them from the boat.
Bring Cash
Not only will you need it for tipping the fabulous staff – only cash is accepted if you want to purchase the USB with the images of your day, or the great souvenir t-shirts.
Once we arrived back to Punta Sam, we had a few minutes to relax (and use the bathrooms) while they were preparing the pictures and video.
A lot of tours we have been on charge insane amounts for the pictures ($100 + for a CD is not uncommon).
This tour offers you a USB with a ton of images and video for $35. Well worth the money considering this will likely be a once in a lifetime experience.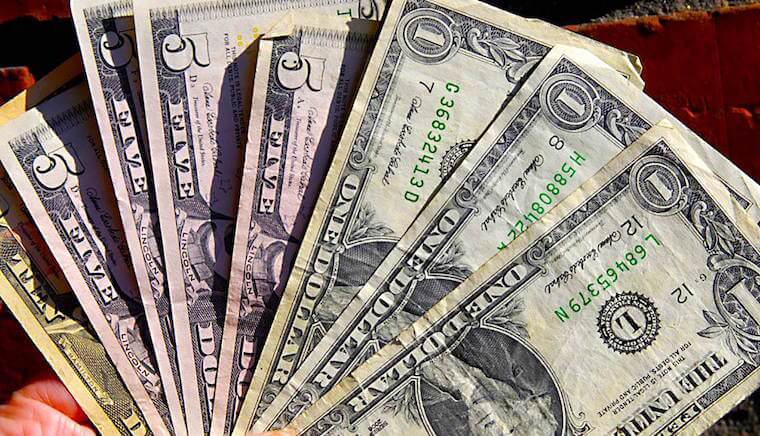 The ride back to Playa del Carmen was a quiet and sleepy one.
It was a long day, filled with adrenaline and surprises – but it was an incredible experience. I highly recommend it!
7) A Quick Stop at Isla Mujeres
Once the swimming with Whale Shark part of the adventure was finished, we headed towards Isla Mujeres, which is a small island off the coast of Cancun.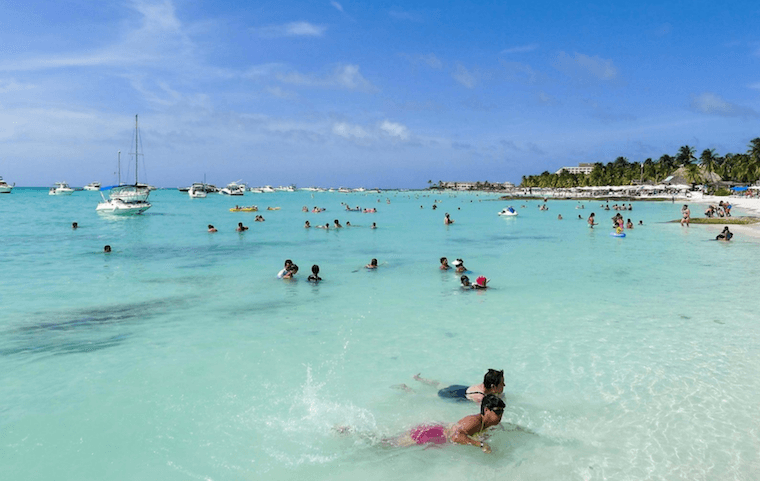 Our quest to find the whale sharks had taken us quite far out, so it did take about an hour to arrive at the island.
Although we did not actually set foot on the island, the boat anchored in a shallow area where the water was crystal clear. Here, we were able to swim and just relax with a cold beer.
8) Lunch
It was also time for lunch!
The crew served up some fresh ceviche with tortilla chips and guacamole. If you are vegetarian, please let us know at the time of booking, and they can provide a salad.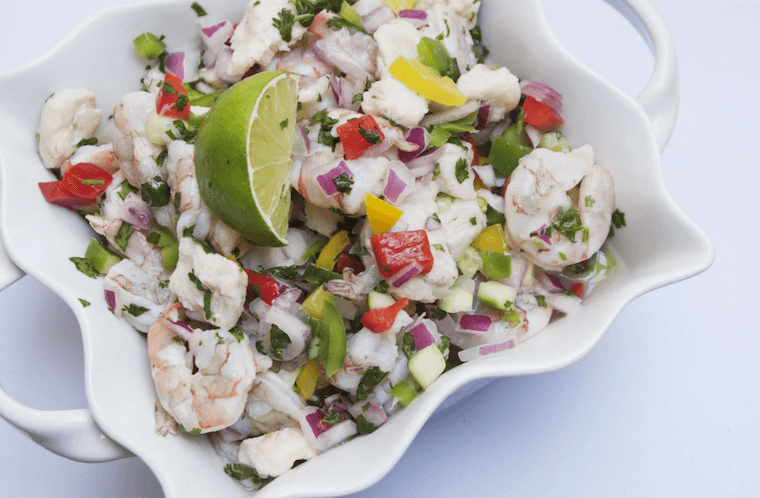 9) Best Whale Shark Tour in Cancun
At PlayaDelCarmen.Com we make it our mission to try all of the tours in the region.
You know why?
Because with so many different providers offering the 'same' tour quality can differ GREATLY.
We've handpicked only the very best to sell on our website, and offer honest reviews of them ALL.
Rest assured our Whale Shark tour is THEE very best.
How much does this whale shark tour cost?
Whal shark tours cost $199. If you book in advance you save 20% which is $40 per person or $159.

Because ultimately we want you to have the best possible experience.
Don't miss out you have from June 2019 to September 2019 to book.
10) Top Tips for Swimming With Whale Sharks in Cancun
Already booked? Yipee!
Learn how to get the most from your experience.
Read our blog on top tips for swimming with whale sharks here, to ensure you are fully prepared for this once in a lifetime event.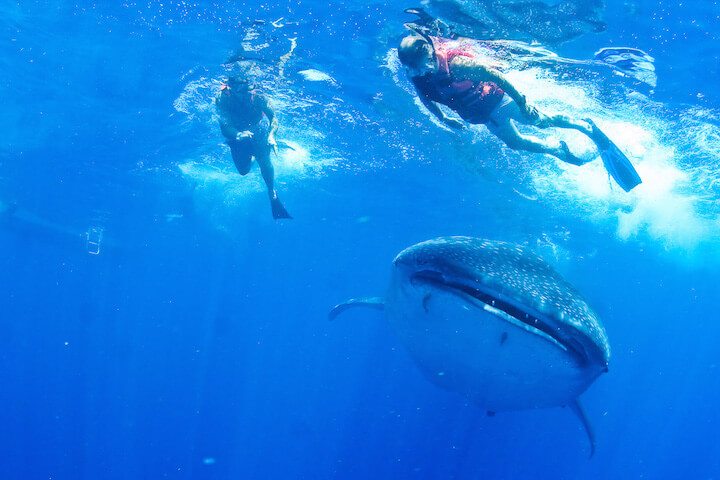 Save 20% – Book the Whale Shark in Cancun ONLINE
Book in advance and get s discount.
What are you waiting for? Book here and save 20%!
If you have any pressing questions please leave them in the comments section below and I will get back to you ASAP.
Get in touch, on  888-537-9797 and we can book this tour for you right now.
Adventure awaits…
Whale Shark Tour Review Cancun
Expert Guides

Transport

Food

Value for Money

Whale Shark Sighting

Other Marine Life That We Saw

Eco-Friendly

Safety

Isla Mujeres
---
Trending Now
You may also like