The 10 Best Hotels in Tulum (2023) – Prices to Suite Every Budget
---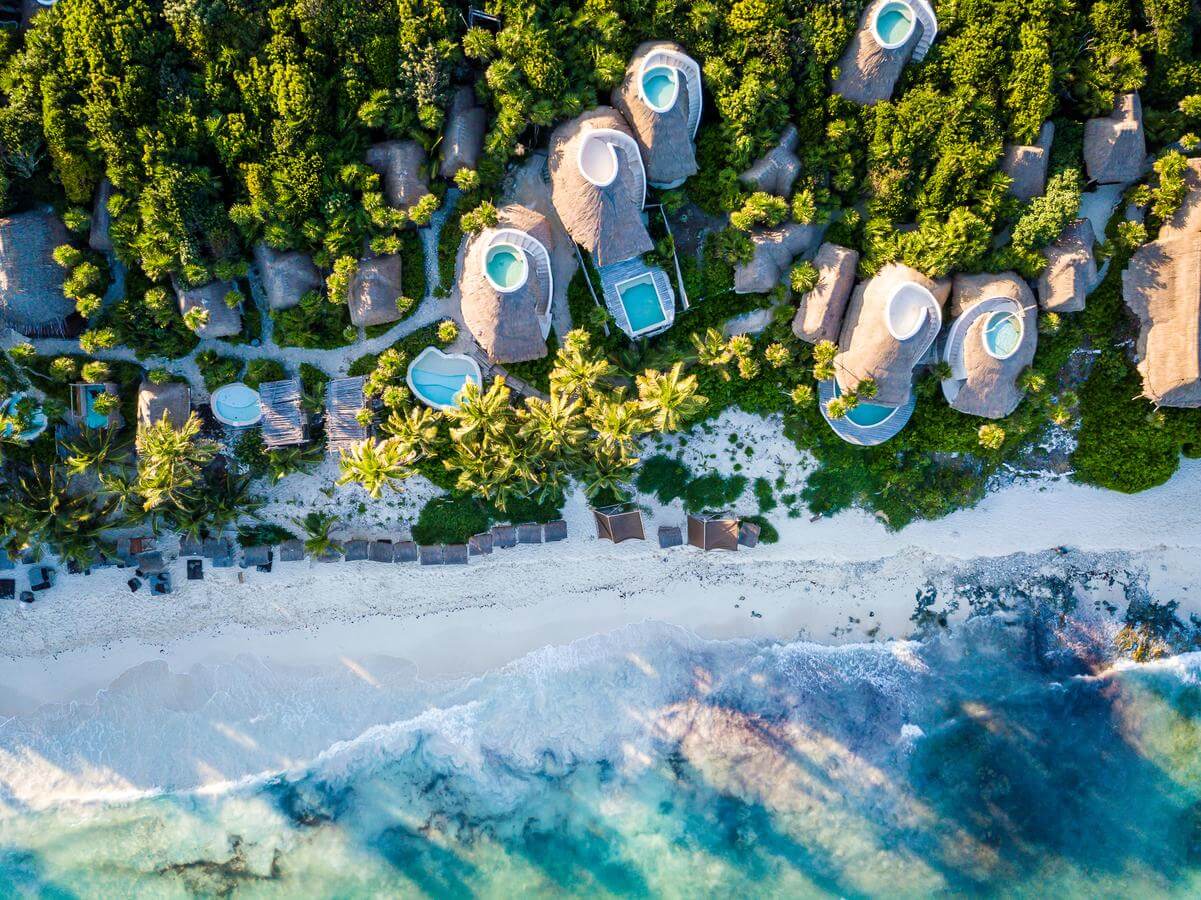 Are you on a quest to find the best hotels in
Tulum
?
Perhaps you're tittering on the edge of booking one.
BUT how do you REALLY know what you're getting yourself into?
You don't want to spend big bucks on a"hot spot" and when you arrive it doesn't live up to the hype.
Tulum is still an untouched slice of paradise.
Yes, it's hard for you to get a real sense of what to expect.
So we're here to help…
Tulum is just 3o minutes south of Playa del Carmen on the highway.
The team at PlayaDelCarmen.com and I have spent a lot of time in Tulum on weekends and days off (who can blame us, it's stunning)!
So we know the lay of the land, what to expect, and all the different hotels.
Here are 10 of my favorite hotels in Tulum, and why!
You'll find something to suit every budget…
1. Kore Tulum $$$
Looking for a boutique all-inclusive in Tulum?
The Kore Tulum Retreat & Spa Resort is the only Adults-Only All-Inclusive boutique hotel in Tulum. 
So, if you're traveling as a couple,  this beachfront option is the place for you.
I would recommend this place to travelers who are hoping to rekindle their spirit, reignite their soul, and reconnect with nature, as there is a welcome focus on the wellness of the body and mind.
The hotel boasts luxurious rooms that include a jacuzzi, a flat-screen satellite TV, air-conditioning, and a minibar. The private bathrooms also come with a hairdryer, bathrobes, and slippers.
Some of the suites overlook the sea, while others have garden views, so just bear this in mind when booking.
Free WiFi is available at the internet bar "La Galería" while WiFi connection in the rooms is at an extra cost.
The property is just a 10 minutes walk from the beach and in close proximity to the Tulum Mayan ruins approx just 2.5 miles away.
You'll be close to all of Tulum's best bars, restaurants, and shops.
Price is roughly $220-$360/night.
2. Dreams Tulum $$$
Dreams Tulum is an award-winning family-friendly AAA Four Diamond all-inclusive resort.
The perfect escape for travelers who don't like to compromise on luxuries during their vacation, but prefer to be away from the hustle and bustle of big towns.
Situated on the sugar-white sands (direct access to the beach) and encapsulated by lush tropical rainforest this property is the epitome of Caribbean bliss.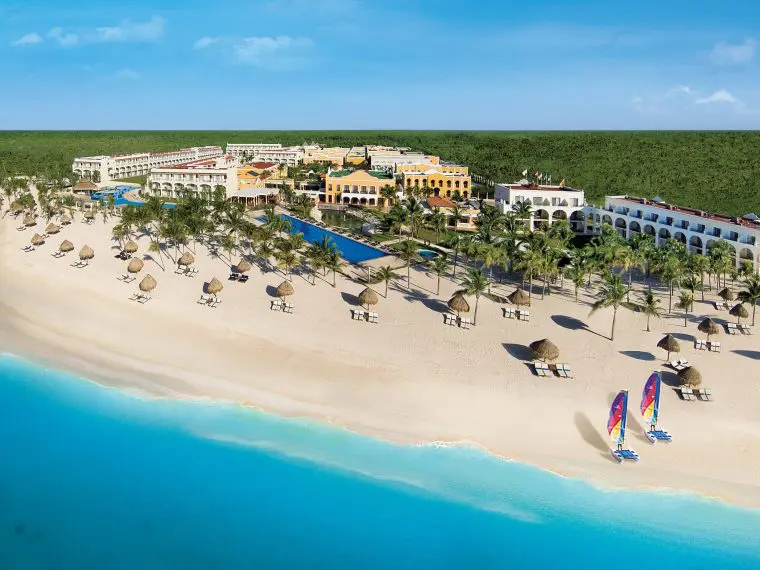 Just minutes away from the ancient Mayan Ruins and in close proximity to some of the regions best attraction such as Xel-Ha you will never be short of things to do.
The hotel is renowned for its world-class service, it's epic jungle spa and comfortable rooms.
Rooms include an iPod dock, flat-screen cable TV, and a DVD player. The complimentary minibar is restocked daily.
All rooms have a balcony overlooking either the gardens or the Caribbean Sea, and swim-up suites are available, so ask one of our Specialists about them today!
There are 9 restaurants and 6 lounges, but the Himitsu (Chinese and Thai) and El Patio (Mexican) have got to be my favorite.
24-hour room service is also available!
There are daily activities to keep everyone entertained as well as nighttime entertainment.
Price is roughly $330-$440/night.
3. Nueva Vida De Ramiro $$$
This eco-friendly beachfront property is the essence of what Tulum is really all about.
It offers one of the best locations in the area, in close proximity to everything, giving you the freedom to explore the very best of what Tulum has to offer.
These quaint wooden bungalows are great value for money and boast superior facilities.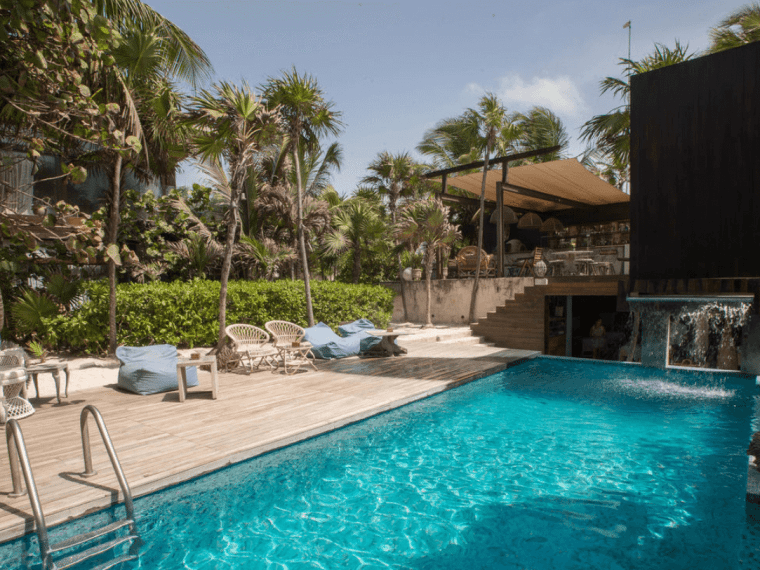 You'll find that the rooms are spacious and comfortable fitted with wardrobes, private bathrooms (with bath or shower and free toiletries), and seating areas.
Included in the price guests here can enjoy a continental breakfast. The hotel also has an Argentinian restaurant on-site should you want something to eat there later.
Expect grilled to perfection steak or freshly caught fish.
If you choose Nueva Vida De Ramiro you can enjoy the privilege of a private beach area, free Wifi, and close proximity to the ruins and Tulum's national park.
According to our customers, this property has one of the best-rated locations in Tulum and is easily accessible by bus.
Price is roughly $350/night.
4. Cabanas La Luna $
The Cabanas at La Luna are built like a tiny village.
They are private, elegant, warm and friendly with a really delicious central restaurant where you can enjoy local dishes. 
This beachfront location offers epic views of the sea and is situated right on the beach.  So why not lay back and relax on one of the sunbeds and listen to the relaxing lull of the waves?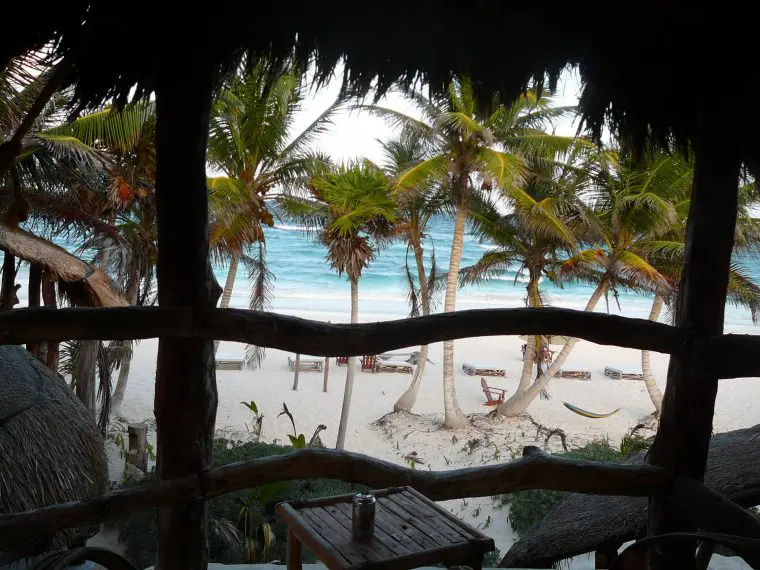 Picture yourself waking up in a morning and walking out on to your balcony see this!
All of the rooms at this hotel have either a terrace or balcony. 
It the perfect location for travelers seeking a relaxed tropical vibe from their vacation. You will be in close proximity to Tulum's main hotel zone where you will find lots of interesting shops, restaurants, and bars.
While you are here be sure to check out the ancient Mayan Ruins perched on a rocky cliff and one of the best stretches of beach in the area.
Tulum is renowned for having some of the best beaches in the world, and if you choose to stay at this hotel it won't be long until you realize why.
There are 10 cabanas, 6 with a sea view, 3 suites, and 1 villa with a pool.
Price is roughly $130-$175/night.
5. Ana y Jose $$$
This boutique hotel and spa are set in tropical gardens located on the edge of the Sian Ka'an Biosphere Reserve.
Just a 9-minute walk from the beach you can rest assured you will be in close proximity to the highlights of the area.
At this hotel, there is an outdoor pool, an amazing spa, and comfortable accommodations.
The rooms are spacious, air-conditioned, include free WiFi and views of the garden or sea.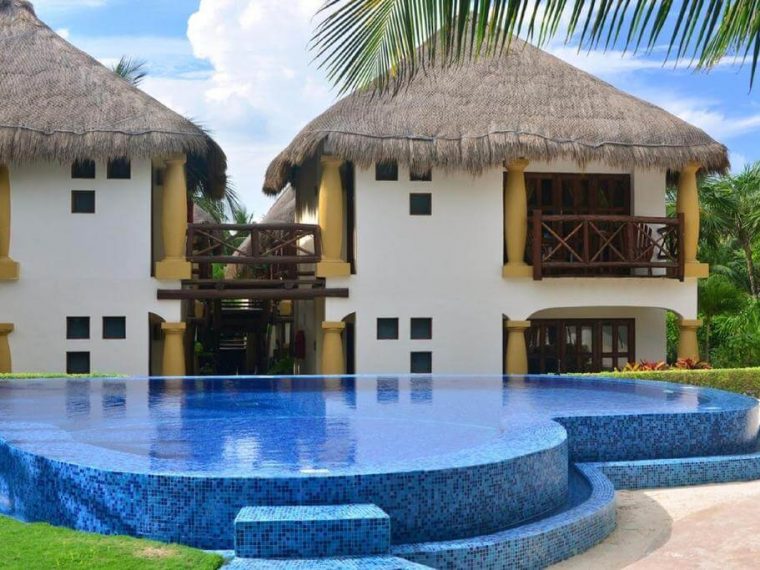 They boast a stylish Mexican decor style, furnished with a terrace, seating area, a minibar, and safety deposit box.
Bathrooms include amenities and a hairdryer.
The restaurant serves Mexican cuisine made with local produce, including freshly caught fish. Guests can also enjoy the sea views and sunsets from the terrace bar.
The staff here are extremely friendly and should you ever need anything there is a 24-hour reception.
Price is roughly $290-$340/night.
6. Dos Ciebas Eco Retreat $$
This beachfront Eco Retreat is located in a private area of Tulum close to the beautiful Sian-Ka'an Biosphere Reserve. It boasts attractions such as a Temazcal sauna, yoga classes and a range of massages.
Accommodations are thatched bungalows with fans, bathroom, and views of the gardens. The bungalows are powered by solar panels and wind energy. They feature traditional decor and come with mosquito nets.
This complex is surrounded by tropical gardens which include 2 Ceiba trees, known as the sacred trees of the ancient Mayas.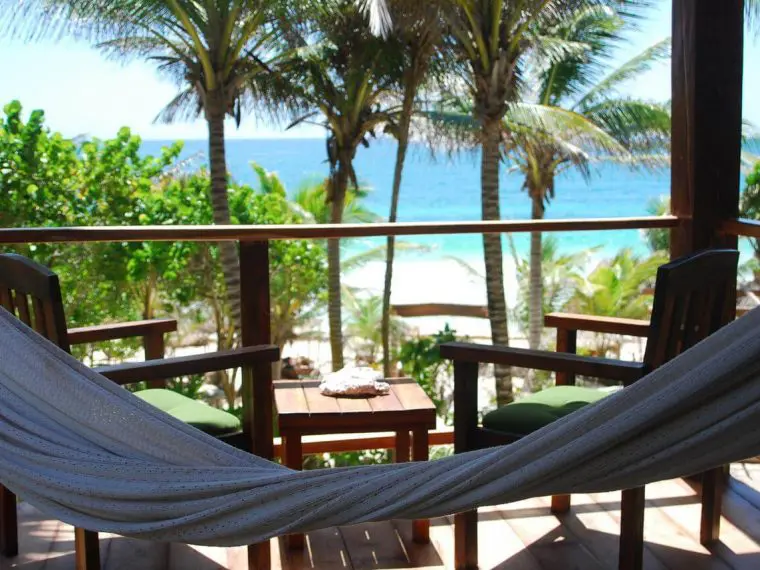 As a unique activity, the hotel actually organizes lesson of sacred dance, meditation, and full moon Mayan ceremonies.
You can access the free WiFi in the lobby, and the 24-hour receptionists will be on hand to attend to your every need.
There is an open-air restaurant on-site which serves up simple, home-cooked food. Continental breakfast is included in the price.
It is situated in one of the most sought-after locations in Tulum, so you can rest assured you will be in close proximity to all of the regions top attractions.
Price is roughly $250-$280/night.
7. Papaya Playa $$$
Papaya Playa is just a 9-minute walk from the beach. This sustainable boutique hotel complex of beachfront cabins and cottages is located on a stretch of private beach.
It offers rustic accommodations with panoramic views of the Caribbean Sea.
The eco-friendly cabins are modestly decorated, with high ceilings, a private bathroom and lots of natural light.
Papaya Playa Project is renowned for organizing full-moon parties and events that feature music from international DJs.
There is also a spa that specializes in Mayan Shaman therapies. Water sports and fishing are all available on nearby beaches.
You'll be extremely close to attractions such as the Tulum Ruins.
Price is roughly $280-$330/night.
8. Azulik $$$$$
Azulik Eco Resort and Maya Spa is an adults-only beach resort and Mayan Wellness Centre.
It features a secluded, guest-only, clothing-optional beach at the south end of the property perfect for sunbathing or swimming.
The accommodations are unlike anything you will have seen before! Each spacious wooden tree house is made from Mexican-royal-ebony Khatalosh and features floor-to-ceiling windows offering plenty of natural daylight. There are also mosquito nets and custom made in-door baths.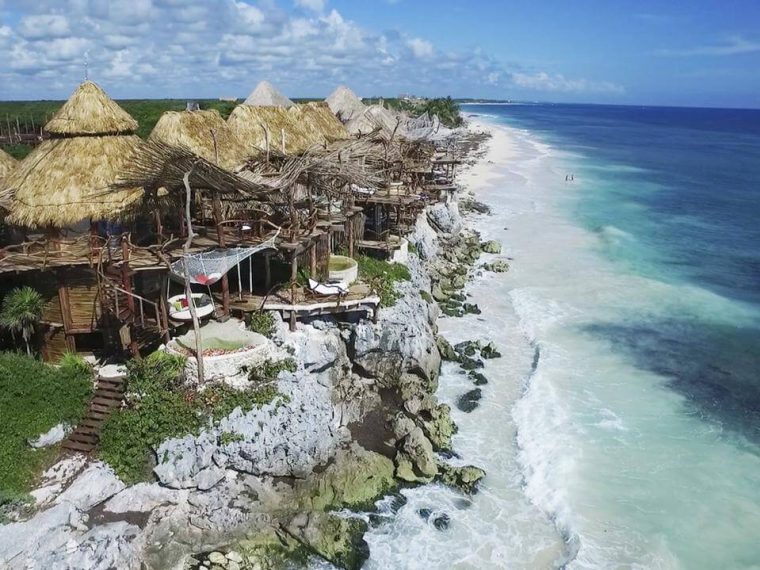 Each room has a private deck with outdoor day beds, seating areas, and views of the lush jungle and the Caribbean Sea.
None of the rooms come with TV, phone or electricity so you can relax and reconnect with nature. It's the ultimate retreat.
Here you can savor the flavors of an organic cafe which serves breakfast and lunch. There is also a beach bar and a seafront spa that utilizes traditional Mayan healing therapies, massages, medicinal herbal baths and traditional Mayan-sweat-lodge Temezcal treatments.
Price – roughly $500/night.
9. La Zebra $$$$$
La Zebra is an awesome family-friendly hotel in Tulum. This property feature free Wifi and a children's playground.
Many years ago when ships sailed from Africa towards the Americas, it is said that one of the ships carrying seeds, spices, and animals shipwrecked off the coast of Quintana Roo during a storm.
A few survivors swam to shore and thanked the gods for saving their lives. They saw a Zebra standing on this particular stretch of beach. Taking it as a sign from the Divine, they were so grateful they decided to name the place after it's spirit animal and symbol of their good fortune: La Zebra.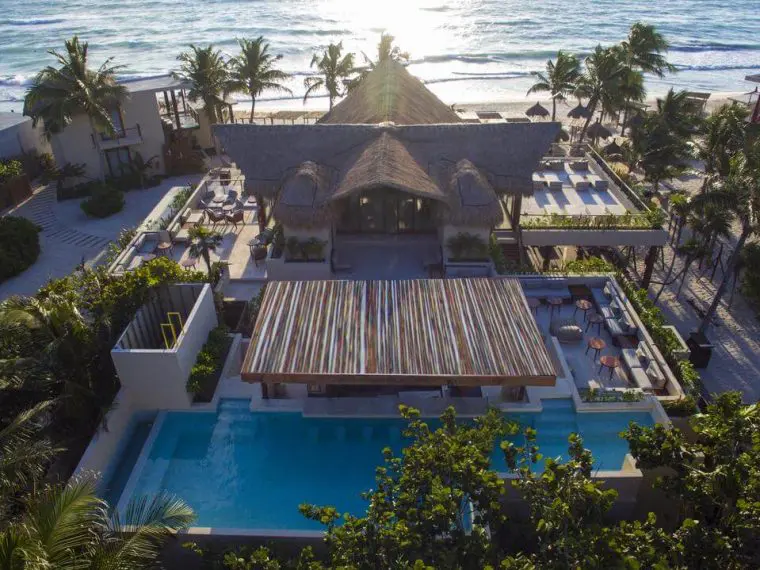 This far from the ordinary boutique hotel is vibrant and joyful. It has recently been remodeled and revamped and offers excellent service and a new pool.
Combine that with the best lunch and dining experiences, soulful drinks and amazing music, La Zebra embodies the perfect Mexican Caribbean experience for all who visit!
The rooms have a private bathroom and you will also find a cash machine on-site.
The hotel also offers bike hire and car hire.
Price – roughly $450-$650/night.
10. Diamante K $
Diamante K is just a short 4-minute walk from the beach.
This hotel boasts a restaurant and private beach area with free WiFi and free parking.
Each room features bed linen and some of the rooms feature private bathrooms, while other rooms have shared bathrooms (each has free toiletries).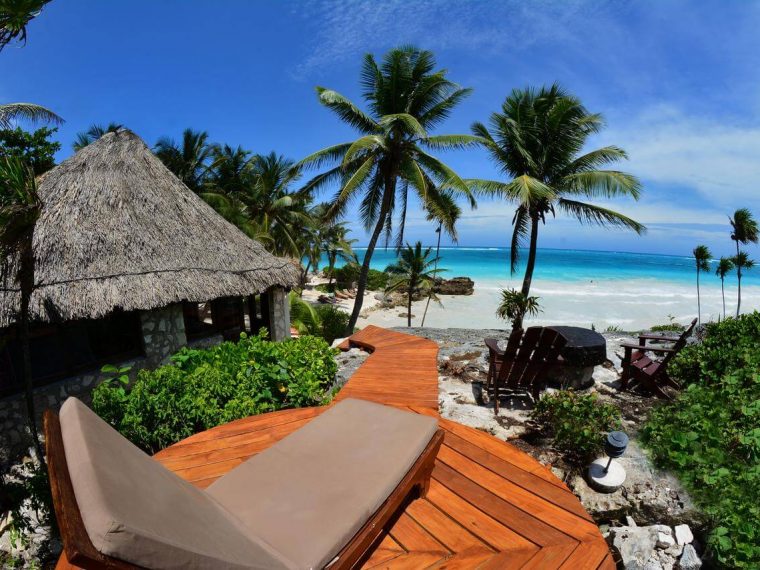 At Diamante K you will find a bar and a luggage storage service. An array of activities can be enjoyed on site or in the surroundings, including fishing, diving, and snorkeling.
There is an on-site restaurant open from 8:00 AM till 10:30 PM.
The hotel is 1.5 miles from Tulum Archeological Site, 0.9 miles from Parque Nacional Tulum and 1.7 miles from Bus station Tulum Ruins.
Price – roughly $100-$130/night.
Book Your Next Vacation in Tulum
Do you think there are any hotels in Tulum that we missed off our list? If so, get in touch! We would love to hear from you.
If you're interested in booking any of the hotels mentioned in this article give one of our expert Travel Specialists a call today to see how much money we could save you! 🙂
Alternatively, you can email us at customercare@playadelcarmen.com
---
Trending Now
You may also like