My Honest Review of The NEW Xcaret Hotel (2023)
---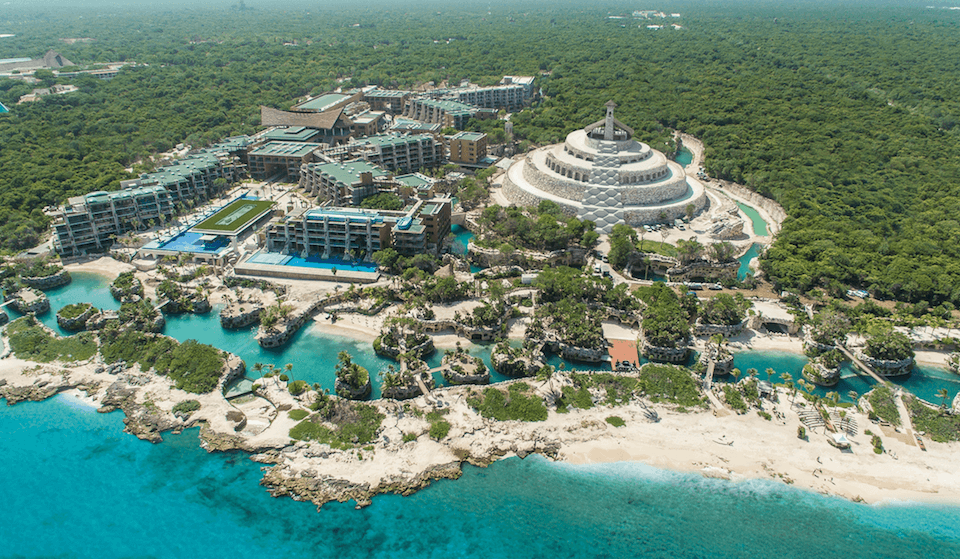 All hail the NEW Xcaret Hotel!
This is easily one of the best resorts in the Riviera Maya.
So we, at PlayaDelCarmen.com, felt it necessary to review it.
One of the biggest draws for this hotel is that it offers a unique  'All-Fun Inclusive program'.
This allows guests unlimited access to 7 of the region's top attractions:
and Xenses
as well as deluxe Tours to Xenotes and Xichen, with round-trip transportation, included.
My review of The New Xcaret Hotel:
---
1. Location
The New Xcaret Hotel is located just south of Playa del Carmen along Highway 307.
Situated approximately 75 kilometres (47 mi) south of Cancún airport.
The resort is named after the nearby archaeological site Xcaret, a settlement constructed by the pre-Columbian Maya.
Its prime location means that if you did want to explore the best of the Riviera Maya you would be in close proximity to 5th avenue, Tulum, Puerto Aventuras,  Akumal, and Puerto Morelos.
2.Decor & Layout
From an aerial perspective, it's clear to see that this particular hotel is visually very exciting. 
The resort is permeated by a luxurious but eco-friendly vibe and has been designed first and foremost with sustainability in mind.
It's unique in the way that the buildings and rooms work in harmony with the surrounding nature,  making the grounds a pleasant exploration.
You will discover coves, rivers, caves, and lots of jungle throughout the property.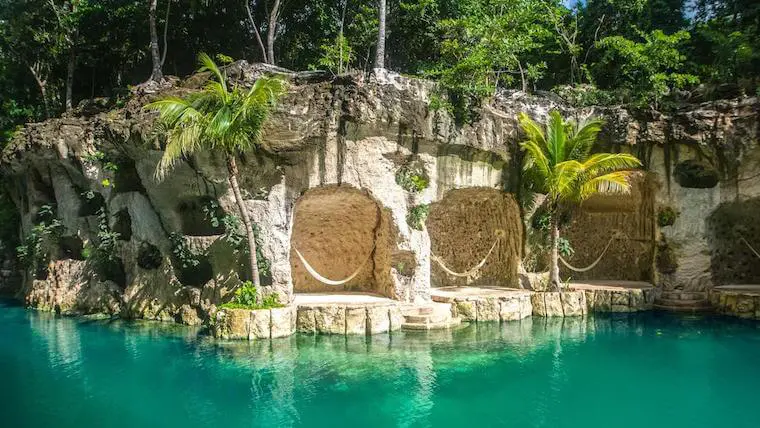 In all my years of reviewing hotels, the attention to detail and level of service here is unrivaled.
Most hotels often just have large building blocks facing the ocean with no real care or thought put into preserving the beauty on top of which they are built.
At the New Xcaret Hotel, you will find something new around every corner, swinging bridges, tunnels, restaurants carved into solid rock, waterfalls and much more.
The layout of the resort can be a little confusing at first and I'd definitely recommend anyone choosing to stay here do so for at least 7-10 days to get the most from their experience.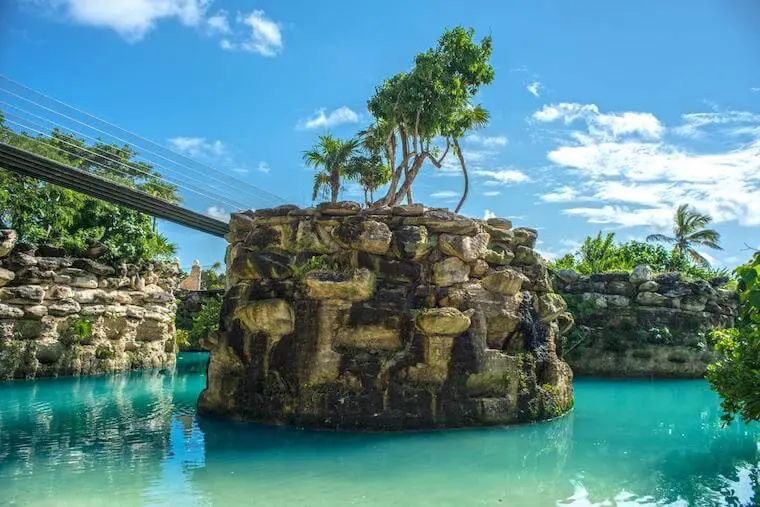 However, I will say that getting lost has never been so fun.
3.Rooms
Rooms at Hotel Xcaret come in 4 different categories:
Suites
Junior suites
Swim-ups
Master suites
All of which offer garden, ocean, river, or pool views.
The rooms feel lavish and comfortable, perfectly designed to offer a blend of nature, art, and contemporary design.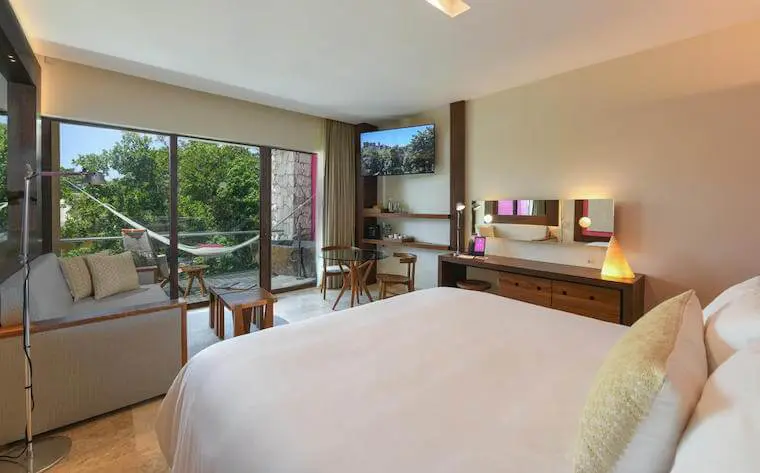 In your room, you'll find:
– a minibar
– espresso coffee machine
– hammocks on the balcony
– jacuzzis
– rain showers
– security boxes
– hairdryers
– 55′ inch flat-screen TVs
– and more
The best rooms at this resort are definitely the swim-up suites  (direct access to the pool) and master suites (direct access to the pool, living areas, and lots of space 230 m² | 2,476 sq ft).
Again, one of the things I love the most about the rooms is the attention to detail. It's clear that a lot of thought went into them.
Xcaret worked with local craftsmen from around Mexico to bring items into the room. It not only showcases their passion for interior but all the skills and traditions of the people of Mexico.
To make it feel more special be sure to watch your TV and the channel that features all the stories of the things made for your room.
You will definitely enjoy a good night sleep here whichever room category you decide on.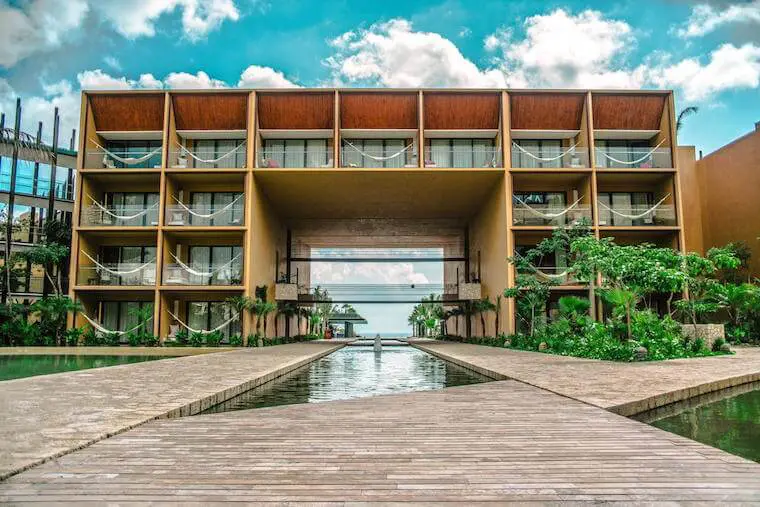 If you're not sure which room is right for you, our Travel Specialists here are PlayaDelCarmen.Com would be happy to help.
Get the best rate for the Xcaret hotel, call us at 888-537-9797.
4. Food & Drink
10 restaurants and 8 bars at Hotel Xcaret Mexico will take you on a culinary journey through global flavors, where the Mexican gastronomy leads the way.
All of the menus have been designed to surprise your palate as well as to accommodate any dietary preference your lifestyle requires.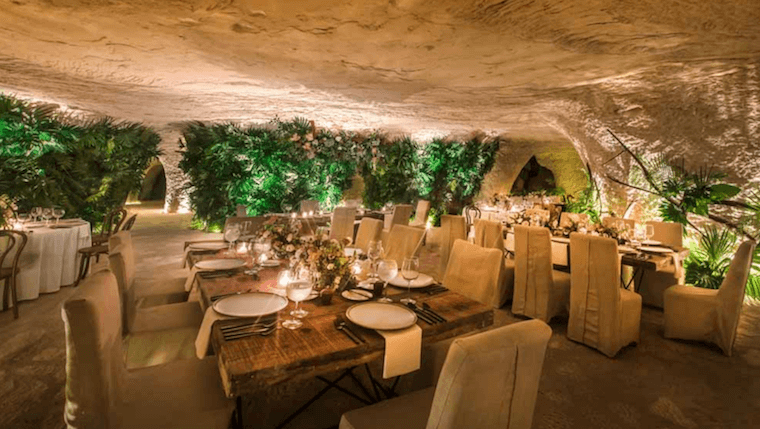 Restauraunts include:
La Trajinera – an Xochimilco inspired Buffet. Breakfast 07:00 to 11:30 h / lunch 12:30 to 17:00/ dinner 18:00 to 23:00h.
La Cantina – Mexican Steak House. Open for dinner from 18:00 to 23:00 h / after party from 00:00 to 02:00h located near the main building (Casa Grande), reservation required.
HA' (additional cost applies) – Contemporary Mexican cuisine. Open for dinner from 18:00 to 00:00h,  reservation required. Included for guests staying at junior and master suites.
Mercado 17 – continental breakfast 06:00 to 06:30 h / breakfast 07:00 to 11:30 h / lunch 12:30 to:00 h / dinner 18:00 to 23:00 h / late night 00:30 to 05:00 h
Chibali – open from 11:00 to 23:00 h Casa Viento, next to the Kids club.
Teatro Del Rio – open for dinner from 19:00 to 23:00 h Tasting Menu In front of Espiral Hill, reservation required.
Xin – Gao – Asian cuisine. Open for dinner from 18:00 to 23:00 h main building (Casa Grande), reservation required for dinner.
Fuego Restauraunt – A la carte: breakfast 07:00 to 11:30 h / lunch 12:30 to 17:00 h / dinner 18:00 to 23:00 h. Exclusive for Casa Fuego guests, reservation required for dinner.
Las Playas – open from 11:00 to 23:00 h, Coves' area. Exclusive for guests at Casa Fuego, reservation required for dinner.
Las Cuevas – open seasonally, reservation required.
From making your own ceviche to top-shelf tequila the quality of food and drink here is exactly that, QUALITY!
If you love Mexican food, many hotels in the Riviera often dumb down the recipes to accommodate the masses…not at this hotel.
At the new Xcaret hotel, you can truly savor and appreciate the local flavors of this beautiful and vibrant country.
5. Beaches
Beaches…. as in PLURAL you say?
Yes!
At the New Xcaret Hotel, there is a main beach on the ocean but there is also a secondary beach!
That's one way to outshine the market.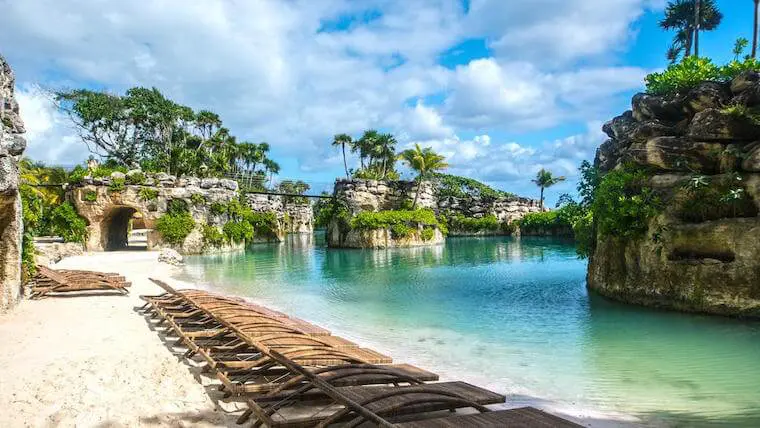 This second beach has soft and calm water.
It's particularly desirable if you have children that are young, and not strong swimmers yet.
There also beaches on the rivers that run by the hotel.
All of these areas have been carved out of the stone and give all sides of this hotel something to admire.
The threat of seaweed this year (2019) has been particularly prominent in some vacationers minds. The beaches are unpredictably tainted with smelly green stuff.
The good news?
In the last month, the state of Quintana Roo has invested in major government cleanups so beaches are finally looking like their former glory and prevention methods are in place to stop it getting like that in future.
So, you needn't worry from this day forward but it's always nice to have peace of mind. You can breathe easy at this hotel knowing that it has great beaches for its guests even when there is seaweed.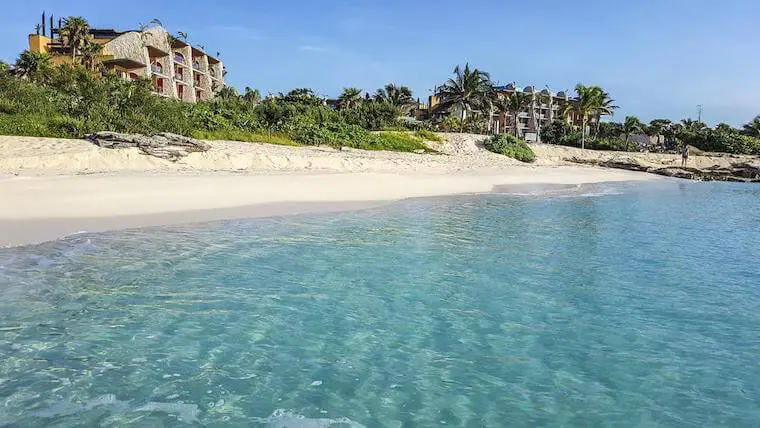 6. Activities
With one gorgeous pool after another, you could easily spend your days here just swimming, relaxing, and taking epic photos.
However, for the more adventurous and active sorts, this place will certainly not disappoint.
In addition to unlimited access to 7 of the Riviera Mayas top attractions on-site activities also include:
Paddleboarding and kayaking
Biking and Tennis
Water activities
Snorkeling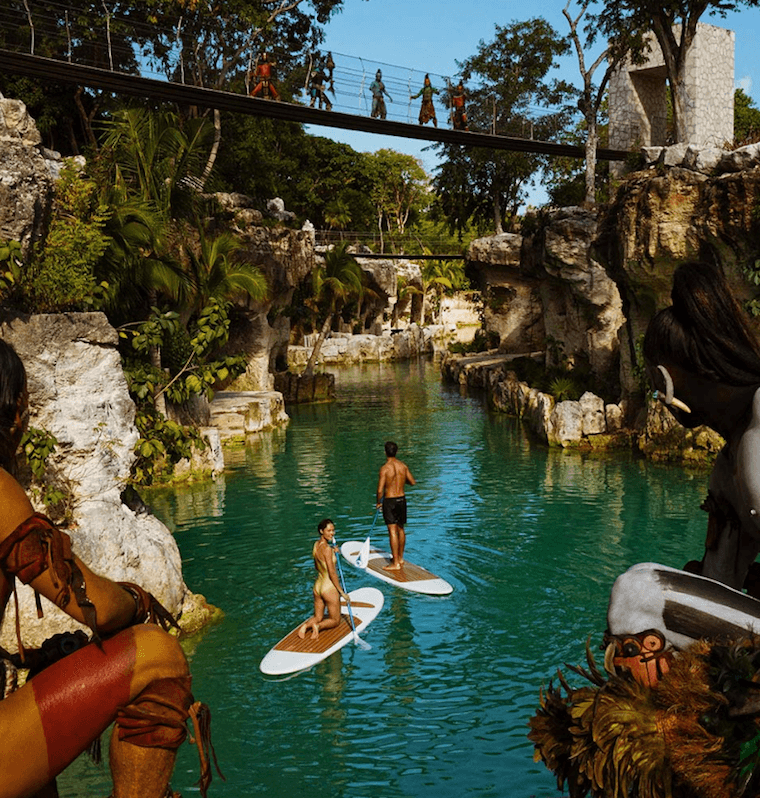 At the resort, your children will also have access to the Xiiquillos Kids Club and the Xiipaal Teens Club.
7. Gym and Fitness
Just because you're on vacation doesn't mean you can't keep your fitness goals alive.
In fact, the New Xcaret Hotel encourages you to do so in a fun and picturesque environment
The main gym is just as nice and as state of the art as any big-city gym.
There are also two other gyms with equipment for cardio, free weights, and deadlifts.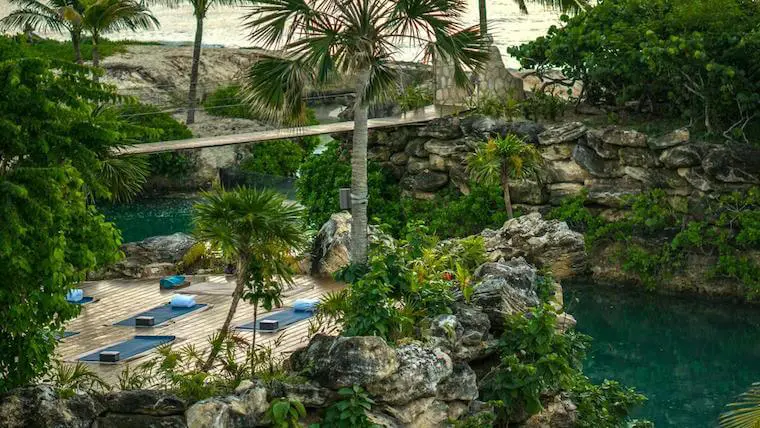 If you don't like to workout inside there is a functional training circuit within nature, as well as daily yoga classes so you can get your 'ooooooom' on, and start each day refreshed and rejuvenated.
8. Spa
Okay, picture a Grecian Palace with fountains and flowing curtains…can you see it yet?
That's what the spa at the new Xcaret hotel looks like.
It feels like a complete cultural experience carved out of limestone.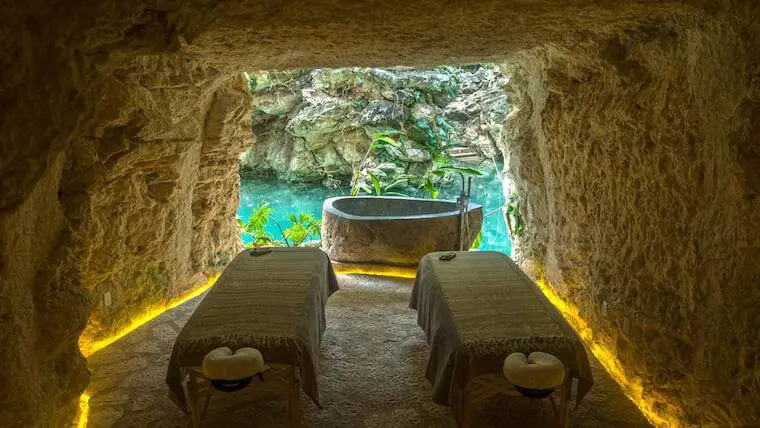 Each of the massage rooms is totally unique and some even have a personal cenote in them.
Does it get more magical than that? I think not.
9. Weddings
Destination weddings are on the rise in Mexico.
And to be honest it comes as no surprise.
I mean, who can say no to lavish luxury in paradise at an affordable price?
Weddings here in Mexico are easily 1/3 the cost than they would be at home.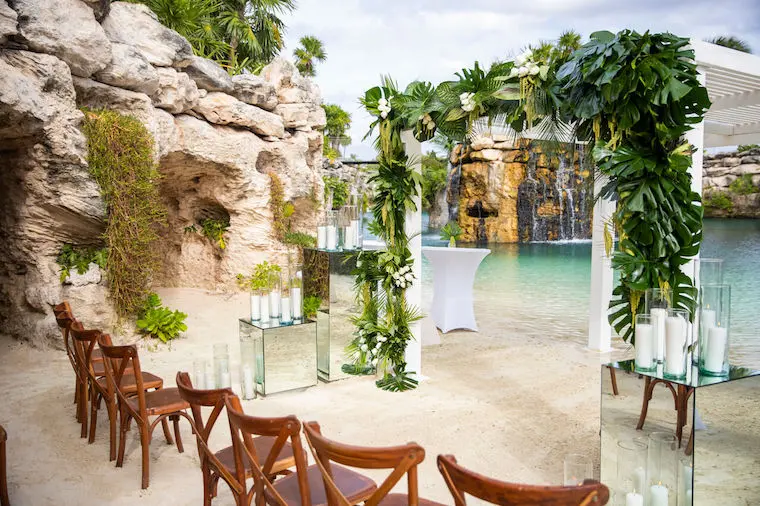 If you and your beloved are naturists then there really couldn't be a hotel more suited to you.
With an array of stunning locations to choose from at this resort, our Expert Wedding Specialists here at PlayaDelCarmen.Com will be on hand to help bring your vision to life.
Ceremony locations include:
Beach
Chapel
Cove
Cuevas Restaurant – stunning venue carved out of natural limestone.
With the option to have either a:
Legal
Symbolic
Catholic
Prehispanic
Ceremony.
The only hard job for you will be choosing from the hotel's incredible range of customizable packages that have been curated to cater to groups of all sizes and budgets.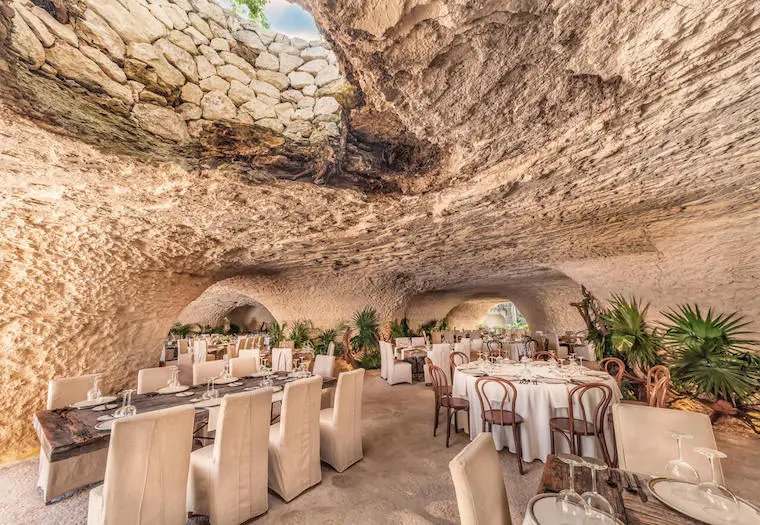 Our team of Wedding Planners at PlayaDelCarmen.Com know this hotel inside out and can take all the stress out of your planning, so you can sit back, relax, and enjoy seeing your vision come to life.
Talk to us today about planning your wedding at the New Xcaret Hotel, Mexico.
It will certainly be a day to remember for you and your guests.
10. The New Xcaret Hotel for Families
Before we dig into whether you should stay at this hotel with your family I will state that this resort is pretty perfect for most people!
Families with young children
The New Xcaret Hotel is very family-friendly.
On the hotel property, you will find play areas for young children, activities for kids, natural areas for exploration and shallow pools.
The secondary beach with no waves and soft sand is great because it means you can relax without the fear of the little ones being swept away by a big wave.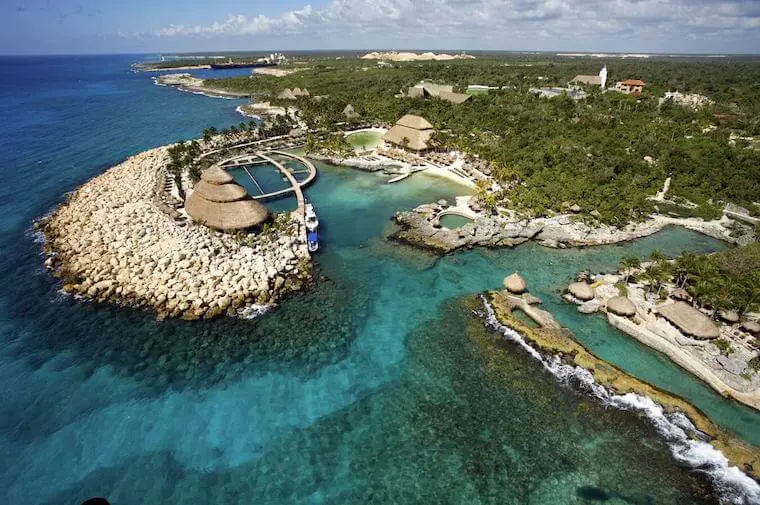 Included in your stay at this hotel is the 7 attractions I mentioned earlier:
and Xenses
as well as deluxe Tours to Xenotes and Xichen, with round-trip transportation, included.
Xcaret is the largest park of them all and has a special area for small children called  'Children's World'.
Outside of that area, there are many animals and attractions small children would also like.
Another top pick for younger children would be Xenses. It's a half-day adventure park with sense-themed activities, optical illusions, shop & cafe.
Families with teens
Teens will have the time of their life at this hotel!
The family club offers games and activities such as air hockey, billiards, ping pong, and more.
Paddleboarding or kayaking should be of interest to teens as well.
Make the most of the included attraction – Xplor should definitely be high on your list.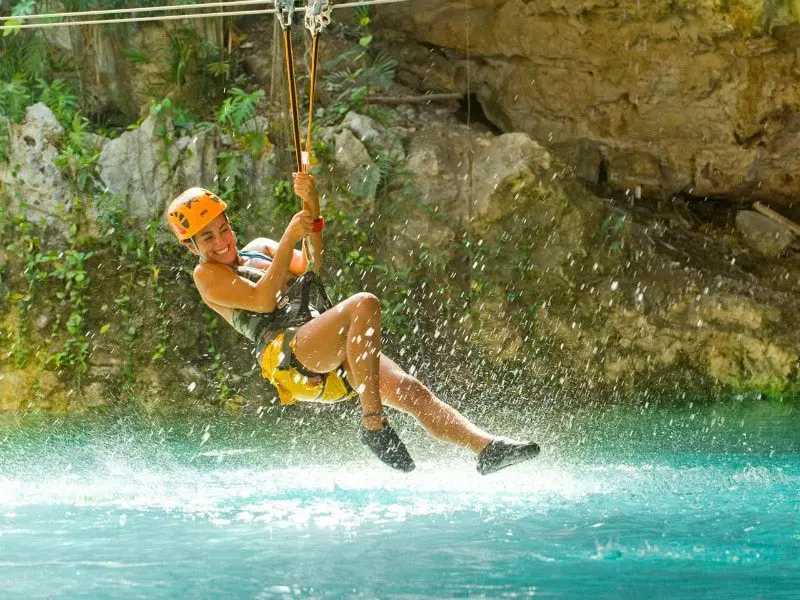 This park really appeals to teens looking for adventure. Also Xel Ha for those that like to swim and snorkel.
11. Xcaret Hotel for Adults and Romantic Getaways.
The good news?
This resort has an entire adults-only section!
Boasting its own restaurant and rooftop pool among other things.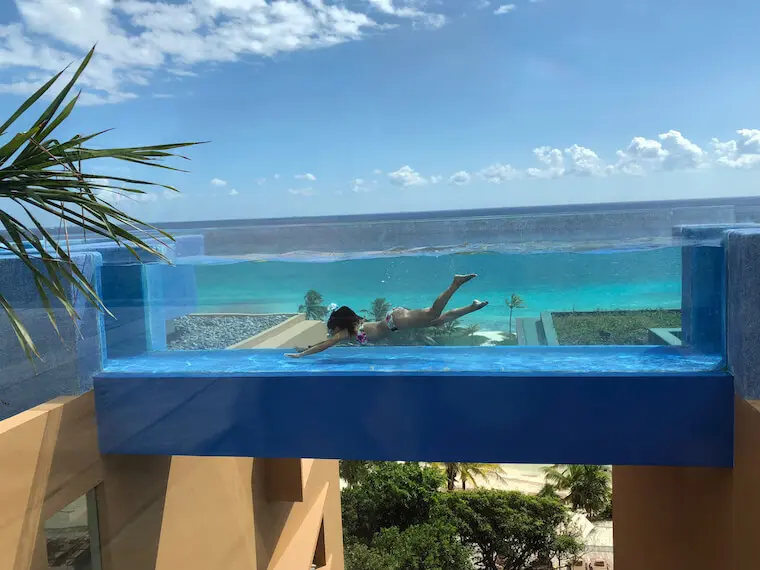 For romantic dinners definitely check out Cuevas Restaurant as it looks particularly magical lit up with candles.
During the day many families go to the parks so you practically have the hotel to yourself.
Even when the hotel is full it doesn't feel overcrowded.
12. My top reasons for choosing this hotel:
Value for money!
Live performances (in your room you will get a schedule for all the liver events – not to be missed)!
Access to all of Xcaret's Parks (with an average entrance fee of $100 USD per person you are getting a great deal when you stay here because they are all included in your stay with transport so make the most of them).
Great food & drink
Stunning property
Additional Resources You May Find Useful:
Book Your Stay at the New Xcaret Hotel Mexico
Need a vacation? Our expert travel consultants have visited this hotel and will get you the best rate! Give us a call, 888-537-9797
Or
Contact us via email at customercare@playadelcarmen.com
We will ensure you get the best price, perks, and discounts. 
Paradise awaits…
Have you stayed at this hotel before? Don't forget to leave your thoughts in the comments section below, we would love to hear from you.
My Review of the New Xcaret Hotel
Location

Decor

Rooms

Food & Drink

Activities

Gym

Spa

Weddings

Family-Friendly Section

Adults-Only Section
---
Trending Now