10 Best All-Inclusive Playa del Carmen Wedding Packages
---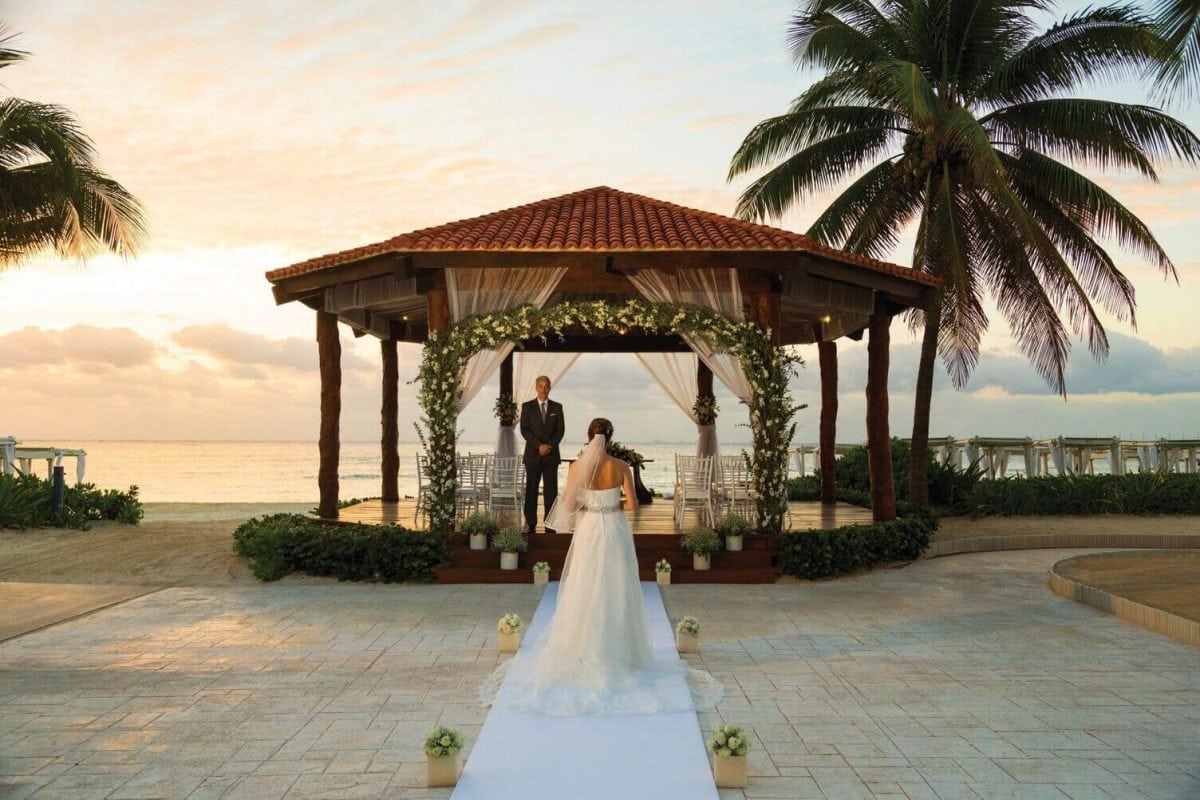 So, you're thinking of an all-inclusive wedding in Playa del Carmen?
You might be feeling overwhelmed with all the choices.
But, fear not….
Our team of wedding planners have organized 100's of weddings in the Riviera Maya.
So, you're in very good hands.👏
Ready to discover THE LIST of the best all-inclusive wedding packages for Playa del Carmen in 2023 and 2024?
Let's get started…
10 Best All-Inclusive Playa del Carmen Wedding Packages
We work with and visit all these resorts on a regular basis. (cause we're local)
So, you're getting the best of the best!
Resorts offering the best wedding package deals in Playa:
---
1. Wyndham Alltra Playa Del Carmen
Perhaps one of the most celebrated and noteworthy resorts.
It's right in the heart of downtown Playa del Carmen, just footsteps away from the famous 5th Avenue.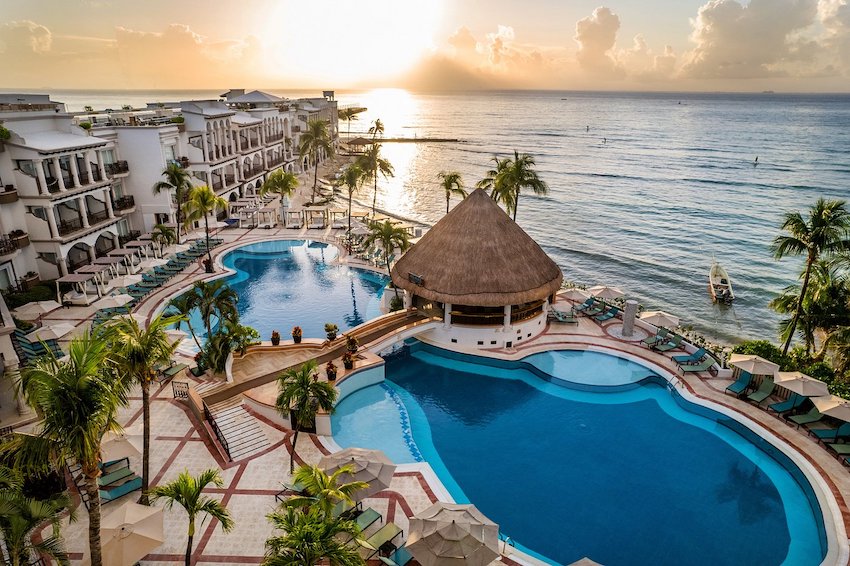 Wyndham Alltra is a chic family-friendly all-inclusive resort. (used to be called The Royal)
Wyndham Alltra was recently been renovated and offers cool and casual accommodation.
It's a smaller resort compared to its peers. Because it's smaller, it feels romantic, almost like you have the resort to yourself and your group. Smaller also means there's very little walking and it's easy to find guests.
It has a whole host of different family-friendly activities!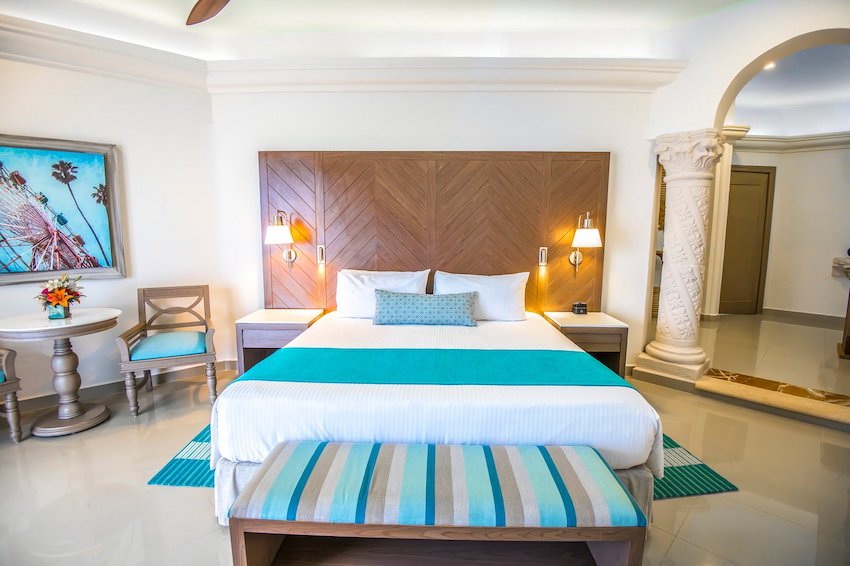 Take a sneak peek inside The Royal Hotel here, don't forget to hit SUBSCRIBE to our YouTube Channel for more videos like this: 
The Royal and Panama Jack have wedding packages that range from $490-$9236 so there is always something to suit every budget.
However, here is a breakdown of their most popular package.
The Wedding Package – 'Lavish and Opulent'
Price: $4745 USD
Inclusions:
Professional services of an onsite Wedding Specialist.
Symbolic Ceremony / Secular Officiant & certificate Included.
Wedding Location & Aisle Runner.
Tiffany or folding chairs.
Sound system for the ceremony.
Bridal bouquet, Boutonnière, a Natural floral centerpiece for the altar at the ceremony.
Champagne toast after the ceremony for the Couple & up to 20 Playa Resorts Guests.
Cocktail hour with appetizers and open bar (1 hour) for Couple & up to 20 Playa Resorts Guests.
Private wedding reception (3 hours – 3-course menu) at select locations for Couple & up to 20 Playa Resorts Guests Wedding cake.
Special decoration of the couple's suite.
One bottle of sparkling wine in the couple's suite.
"Honeymoon" (full) breakfast.
Bottle of champagne and chocolate strawberries.
Late check-out for the Couple up to 3 PM(subject to availability).
One complimentary night for the couple when celebrating their first Anniversary.
Couples Massage (by appointment at the spa).
Hairstyling and make-up for the Bride (by appointment at the spa).
Regular manicure and pedicure for the Bride (by appointment at Spa).
10% Discount on spa services for the wedding guests (Must be booked through wedding coordinator).
Are you interested in having someone help you choose which resort is a better fit?
Contact our team at Playa del Carmen Weddings.
Expected the prices to change slightly year on year.
2. Hotel Xcaret
Hotel Xcaret has raised the bar when it comes to the concept of all-inclusive luxury.
They now offer guests at their hotel unlimited access to 7 of Mexico's top attractions!
This includes, Xcaret, Xel-Ha, Xplor, Xplor Fuego, Xoximilco, and Xenses, as well as deluxe Tours to Xenotes and Xichen, with round-trip transportation, included.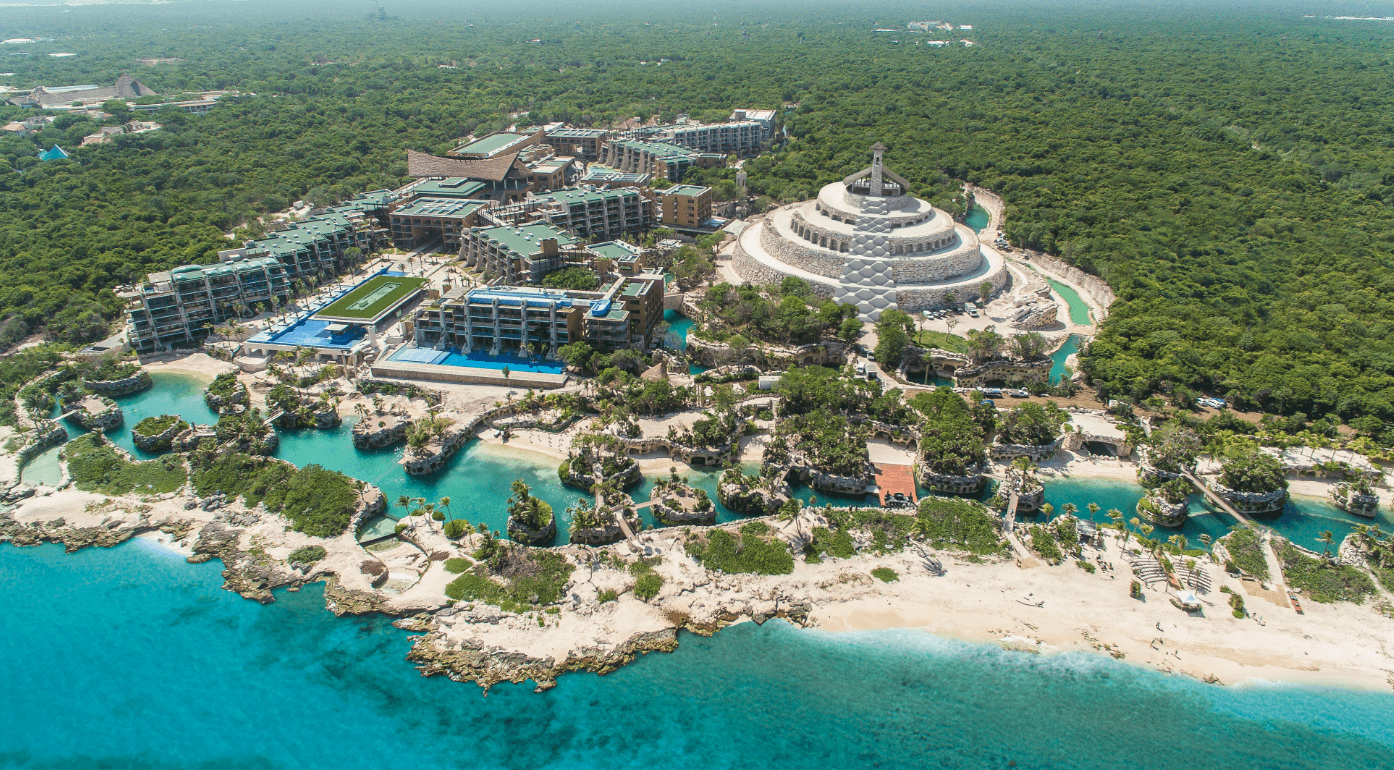 Does it really get any better than that?
The good news doesn't end there…
This luxurious resort is eco-friendly and was designed to fit in seamlessly with the picturesque surroundings.
On-site you will find coves, rivers, caves, and jungle (as well as a traditional chapel), which provides a multitude of options when it comes to choosing the location for your wedding.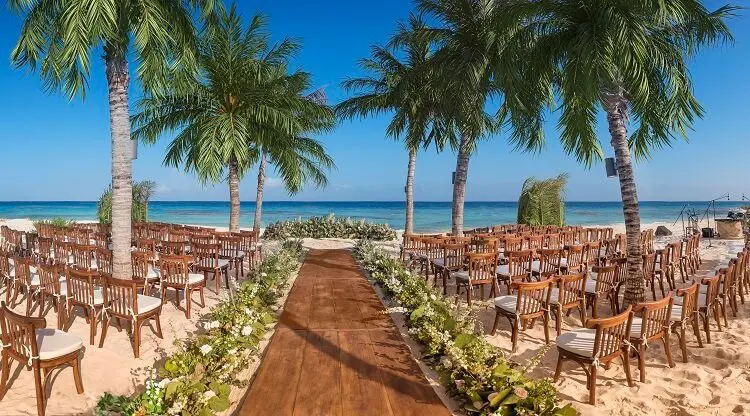 Other packages range anywhere between $0-5450 USD.
Here's a breakdown of one of their most popular:
The Wedding Package – 'Celebration'
Price: $3420 USD
Inclusions:
Location for the ceremony.
Set up with Tiffani Chairs.
Minister for the symbolic ceremony.
Wedding cake.
1 Hour of the Premium bar.
Chefs Selection of Appetizers.
Waiter service and barman.
Location for Cocktail Party.
2 Bouquet or bouquets for the bridesmaids.
2 Boutonnieres for the groomsmen.
Basic Gazebo.
Recorded music.
Toast with Sparkling Wine.
Semi-private dinner.
Makeup and hairstyle for the bride.
Wedding Coordinator.
If you're interested in learning more about weddings at Hotel Xcaret contact one of our expert Wedding Planners at PlayaDelCarmen.com.
Prices are expected to change slightly year over year.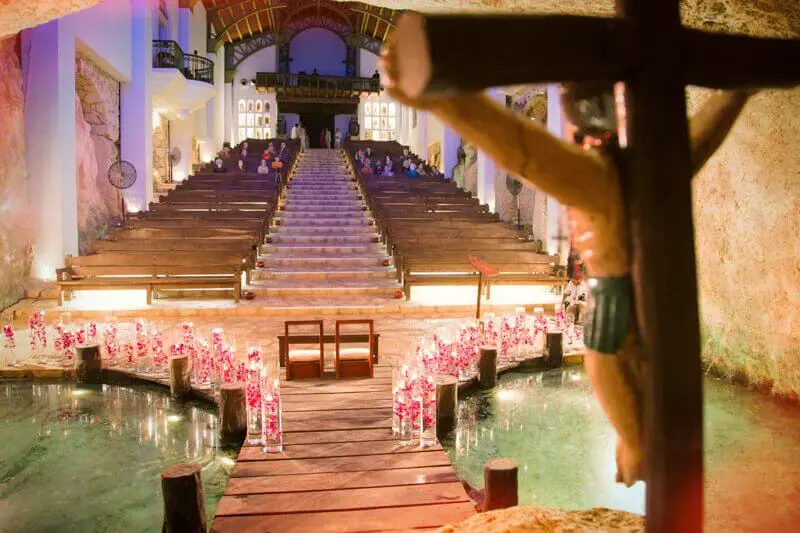 One of our team actually got married herself here, read her blog "5 Things You Should Know About Xcaret Weddings" here.
3. Allegro Playacar
The Allegro is a super-affordable family-friendly resort you'll LOVE.
It enjoys a privileged position on the sublime sands of Playacar beach.
The beautiful Allegro Playacar hotel offers comfort and relaxation in one of the most sought-after locations in the Riviera Maya.
By choosing this hotel you will be minutes away from downtown Playa del Carmen (where you will find lots of shops, restaurants, and bars).
You will be in close proximity to all of the regions top attractions such as Playacar Golf Club and Xcaret Eco Theme Park.
This stunning resort is in harmony with the natural surrounding and offers a secluded vibe without cutting you off from the heart of all the action.
The beach here is one of the best in the region. Tt's fairly wide in comparison to other + it's smooth and soft.
Rooms boast unspoiled views of the resort/sea and come fully equipped with all the luxury amenities you could ever need.
Allegro Playacar offers 3 types of wedding packages, their most popular one being:
The Wedding Package – 'Blueberry Dream'
Price: $2500 USD
Inclusions:
Symbolic ceremony conducted by a Minister of Peace (civil judge available at an extra charge).
Bamboo canopy decorated with white drapes.
Ceremony table with a white tablecloth.
White Chiavari chairs with white cushions.
Aisle beautifully decorated with red roses petals.
Small floral Centerpiece for the bride and groom's table.
Recorded music and microphone during the ceremony.
Bridal bouquet (ivory roses).
Matching groom's buttonhole.
The assistance of a wedding coordinator.
Sparkling wine for the wedding toast.
One-tiered cake (choice of vanilla or chocolate).
1 hour of Premium open bar for the cocktail party.
One set of Mexican trio music during cocktail service (45 minutes).
Special amenities for the couple.
Romantic turndown service the wedding night.
Bottle of chilled sparkling wine in room on the wedding night.
Late check-out until 3:00 pm (with prior request and subject to availability).
This price is inclusive of 16 guests including bride and groom and costs $45 pp after that.
Interested in learning more about weddings at Allegro Playacar? Call our experienced team at Playa del Carmen Weddings now at 888-537-9797.
You can expect prices to vary slightly year over year.
4. Sandos Caracol
When you think of weddings in paradise, you likely think tropical vibes and beautiful, lush scenery.
The Sandos Caracol Eco Resort is a haven for nature lovers.
Not only does it offer a sublime beach, it has its own onsite cenote, and its home to an abundance of wildlife and lush vegetation.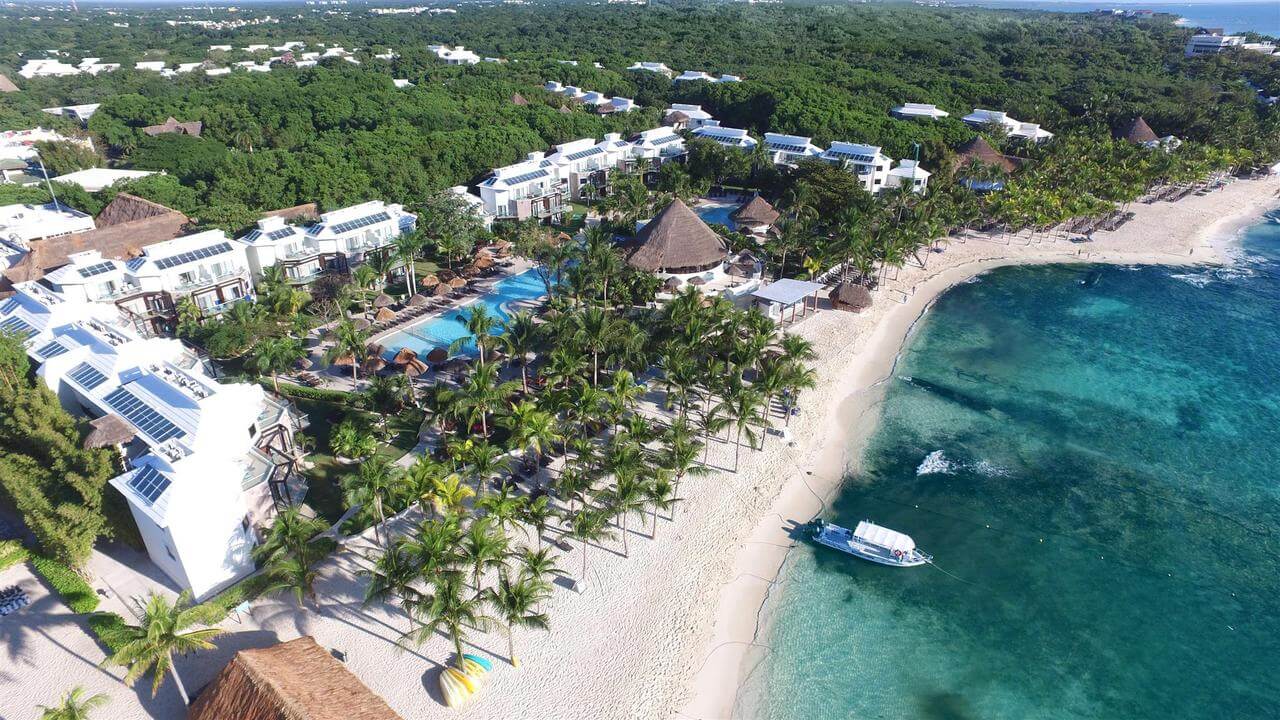 It will feel as though you will be getting married in a remote, intimate, and secluded place, when in fact you will be just 10 minutes from downtown Playa del Carmen.
This particular hotel prides itself on the sustainability of the property and boasts a variety of programs to help them do this.
It's a kid-friendly hotel, offering oodles of fun for children (never a dull day at Sandos Caracol), with lots of waterslides and activities to keep them entertained.
However, if some of your guests do prefer a more relaxing kid-free stay there is also an adults-only section too.
Wedding locations available
Intricate gazebo on beach
Sky terraces
Cenote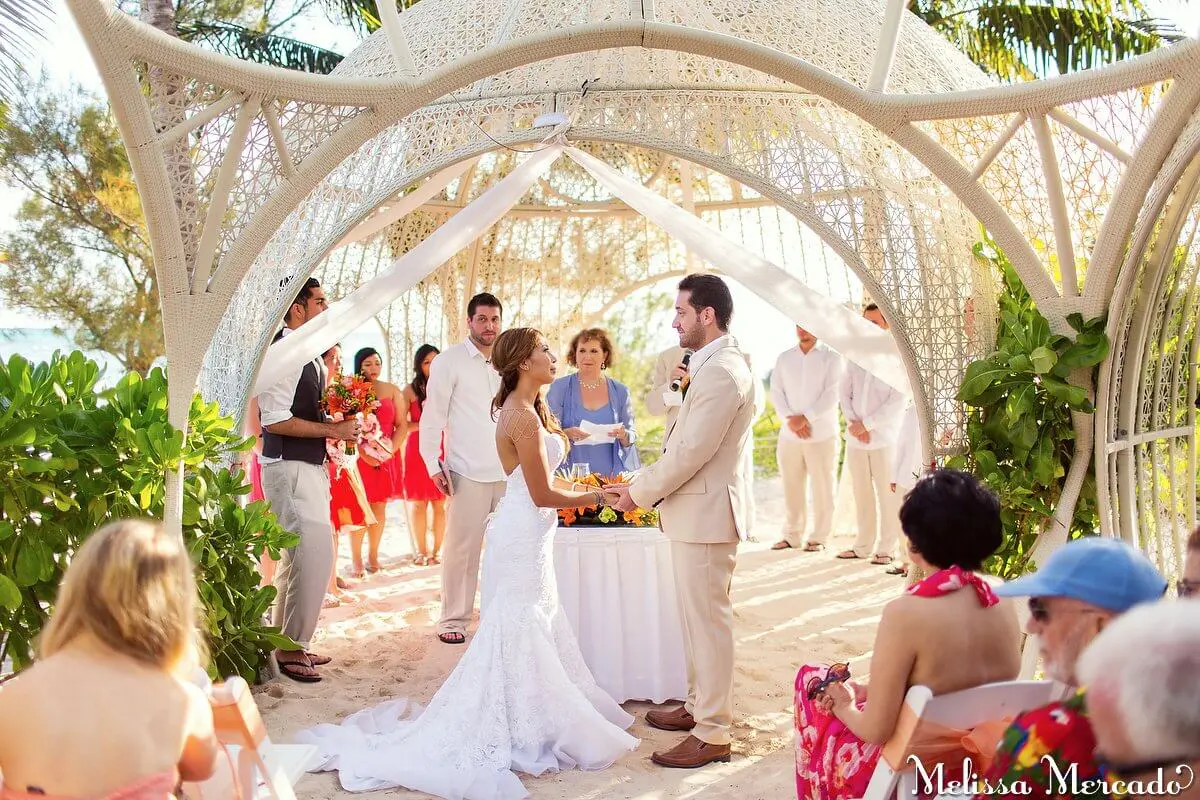 Sandos actually offer up to 14 different packages including South Asian, however, one of their most popular packages is:
The Wedding Package – 'Caribbean Fantasy'
Price: $4500 USD
Inclusions:
Symbolic Ceremony.
Spectacular set up for your ceremony in the gazebo on the beach.
Arch with natural flowers.
Rose petals for the aisle during the ceremony.
Background music during the ceremony (iPod or CD).
1 bouquet and 1 boutonniere.
A private cocktail hour with canapes (duration 1 hour).
A private dinner reception on the beach (duration 3 hours).
Sparkling wine for the wedding toast.
3 tier custom-made wedding cake.
DJ, light, and sound during dinner (3 hours).
Wedding Coordinator.
Menu tasting for two people (arrival 3 days prior required).
Steaming service for wedding outfits.
1 hair, 1 makeup at Sandos Spa.
Commemorative certificate in the form of "Sandos Tree".
Couples massage at Sandos Spa (50 minutes).
Upgrade to next available room category for the couple (dependant on availability).
Complimentary honeymoon package for the couple.
Up to $2000 USD discount of wedding package depending on how many rooms are booked.
Price is based on up to the 30 guests and is $75 pp after that.
This is just one of the many amazing packages that Sandos Eco Resort offers!
Prices can vary year over year.
5. Riu Playacar
Expect to be treated like royalty with around-the-clock all-inclusive service at the Riu Playacar.
If the quality of service is something you value highly then this is the perfect resort for you. The Riu Playacar is celebrated for its welcoming staff and high-quality customer service.
3 years ago the hotel received a total makeover and was completely rebuilt from scratch, meaning all of the amenities are modern and up to date.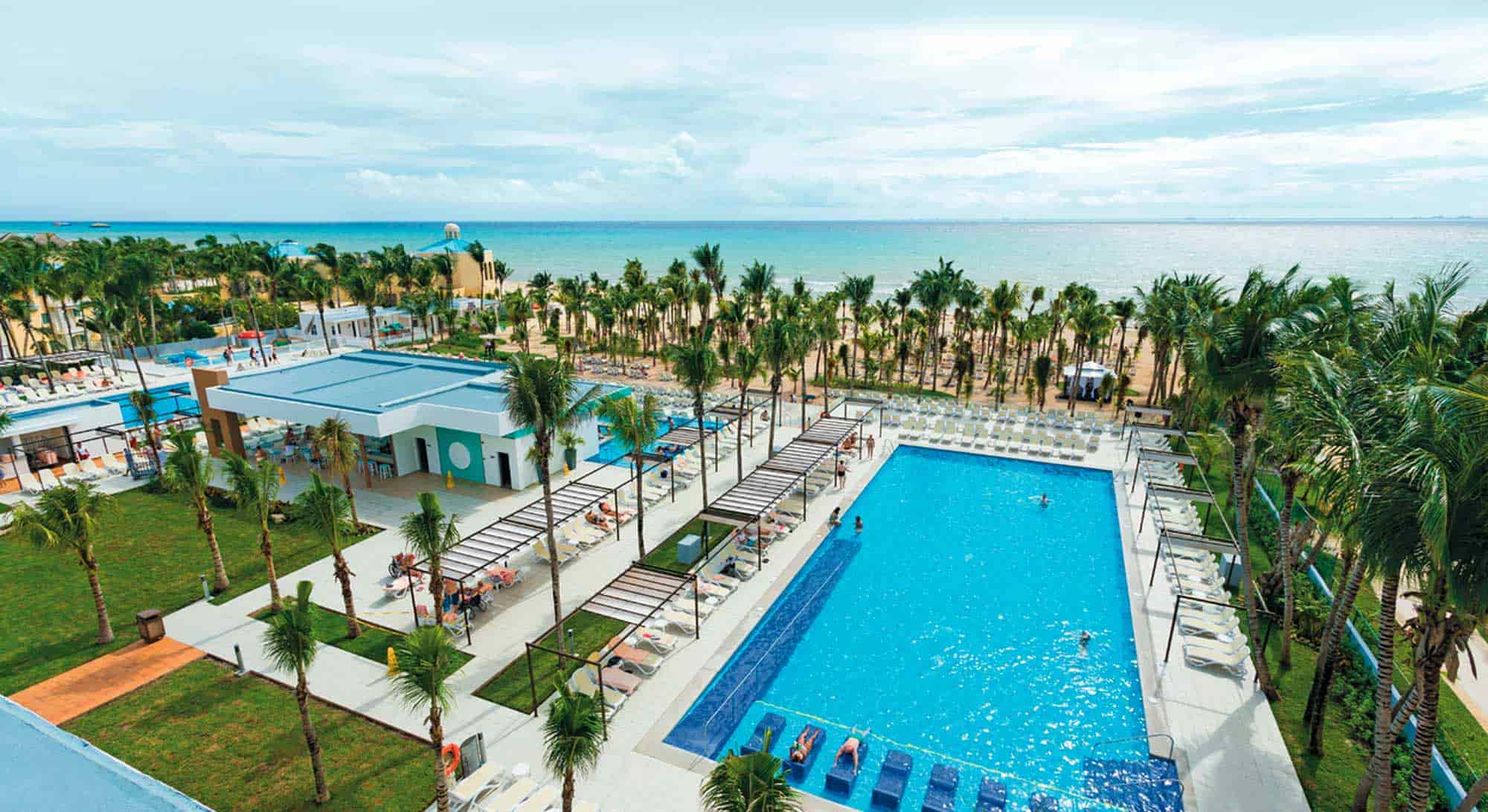 Centrally located in Playa del Carmen The Riu Resort Complex forms part of the exclusive gated community of Playacar, where adults and children can enjoy one of the beaches in the region.
The weddings here at Riu are very flexible and boast options to customize every detail of your big day for great prices. To give you an example, I've listed one of their package options below, enjoy:
The Riu Hotel Wedding Package
Price: $2165 USD
Inclusions:
Wedding organization services from your wedding coordinator.
The symbolic ceremony including essential set up, 1 bouquet and 1 boutonniere.
Recorded music during the ceremony.
Wedding cake and sparkling wine.
Semi-private dinner at one of the specialty restaurants.
Option extras (at additional cost): Cocktail hour, Private Reception, Dance floor, photography/videography.
Price is for up to 18 guests.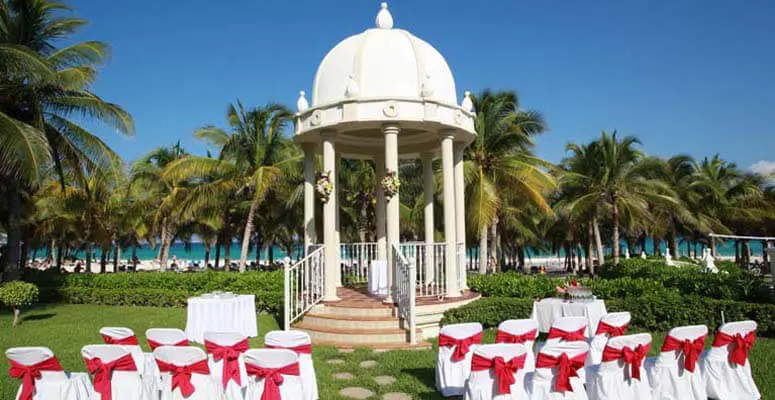 One of our expert Wedding Specialists here at PlayaDelCarmen.Com will be able to discuss the best options for you based on your budget, the number of guests, and your different preferences, so what are you waiting for? Contact her today.
6. Paradisus
The Paradisus resort in Playa del Carmen is made up of La Perla (kid-friendly) and Esmerelda (adults-only).
Both are fairly new resorts opening back in November 2012 and are located in the north end of Playa del Carmen town on a stunning stretch of beach.
If you are seeking impeccable service in a modern and lush surrounding then look no further.
Here you will be able to enjoy 11 restaurants, including Japanese, Mediterranean, and Mexican.
Rooms come equipped with deep soak tubs, rainfalls showers, 24-hour room service, stocked minibars, free WiFi and more!
Not only that you can enjoy the incredible 20,000 square feet spa that offers everything you could ever need for the perfect rest and relaxation before the big day.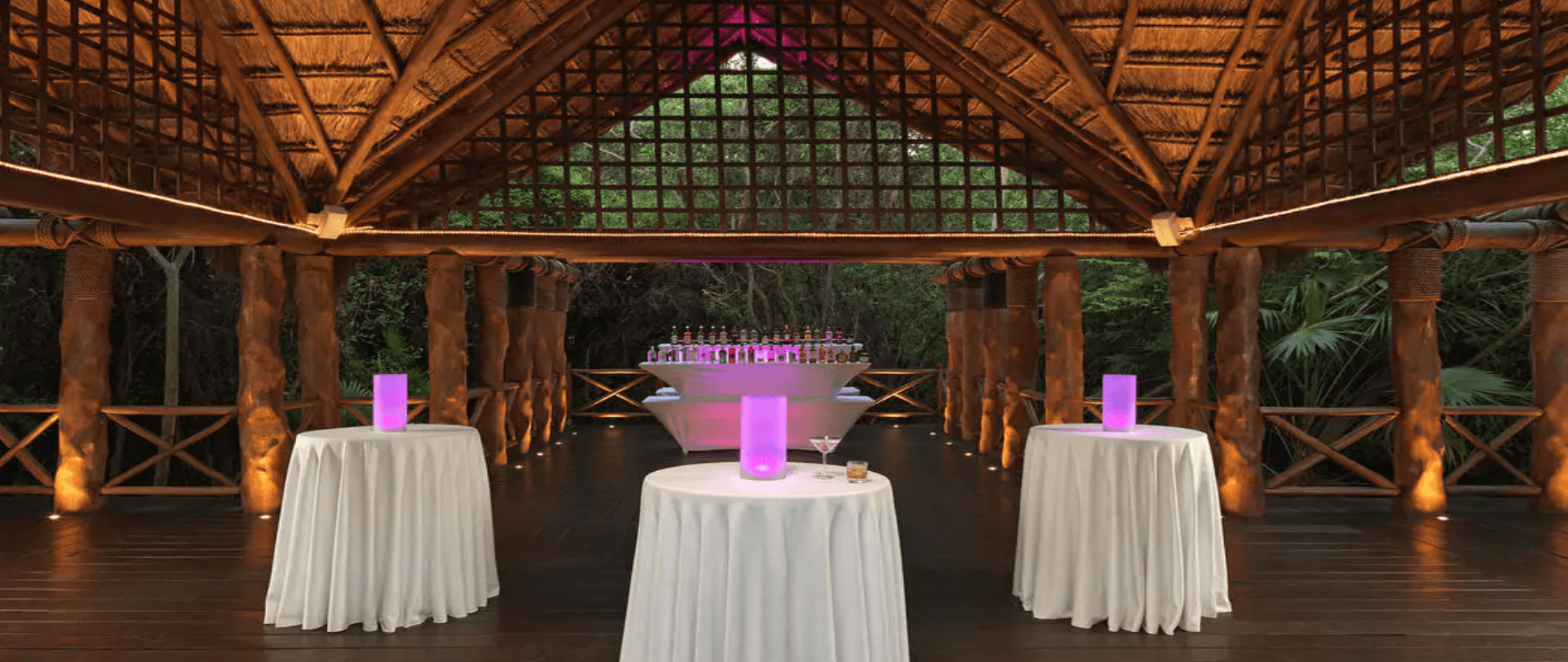 Paradisus La Perla is also minutes from the Grand Coral Golf Club.
Located next door, is the Paradisus La Esmeralda, offering the same impeccable service, but in a family-friendly atmosphere.
The Paradisus resorts offer a stunning range of packages, but to list them all would make this a painfully long post so here is one of their most popular for your reference.
The Wedding Package – 'Aqua'
Price: $5970 USD
Inclusions:
Symbolic Weddings
Wood canopy draped in two-tone, blue, turquoise veils.
Aisle decor inspired by the ocean waters, consisting of 6 Sheppard's hooks and wind chimes.
Your choice of white tiffany chairs or white garden chairs
A colored aqua sash to complement, tied around the first 6 aisle chairs.
Ceremony table draped in colored linen to harmonize your vision.
Recorded music played during the ceremony.
Floral bouquet made of a dozen ivory roses and coordinating boutonniere, each delicately wrapped in your choice of white or ivory ribbon.
3 high-boy tables covered with aqua linen.
Chef inspired the selection of 3 hor oeuvres and open bar.
Chilled sparkling wine for the wedding toast.
3 tables set for 8 guests and finished with aqua linen & aqua place setting.
Your choice of tiffany chairs or white garden chairs.
Cake table to display your two tier wedding cake.
3 course plated dinner not available at all location ask your romance coordinator for details.
Open bar for the entire reception.
Ladies hairstyling.
15% discount on Yih Spa.
Complimentary room upgrade (depending on availability).
Wedding night in-room set up with chilled wine, scented rose petals and bubble bath.
Late check-out (depending on availability).
Complimentary anniversary night / unforgettable gift.
What are you waiting for? Start discussing your wedding at the Paradisus with one of our Wedding Planners here at PlayaDelCarmen.Com today. 
7. Iberostar Tucan or Quetzal
The Iberostar Tucan and Quetzal are located in Playa del Carmen right next to one another, both are kid-friendly.
The only difference between the two is that the Quetzal offers a more premium level of service.
Quetzal is a 5 Star all-inclusive resort and the Tucan is a 3.5 Star.
If you enjoy high energy activities on vacation, you've found your perfect resort complex.
Iberostar offers daily water sports and activities for all ages.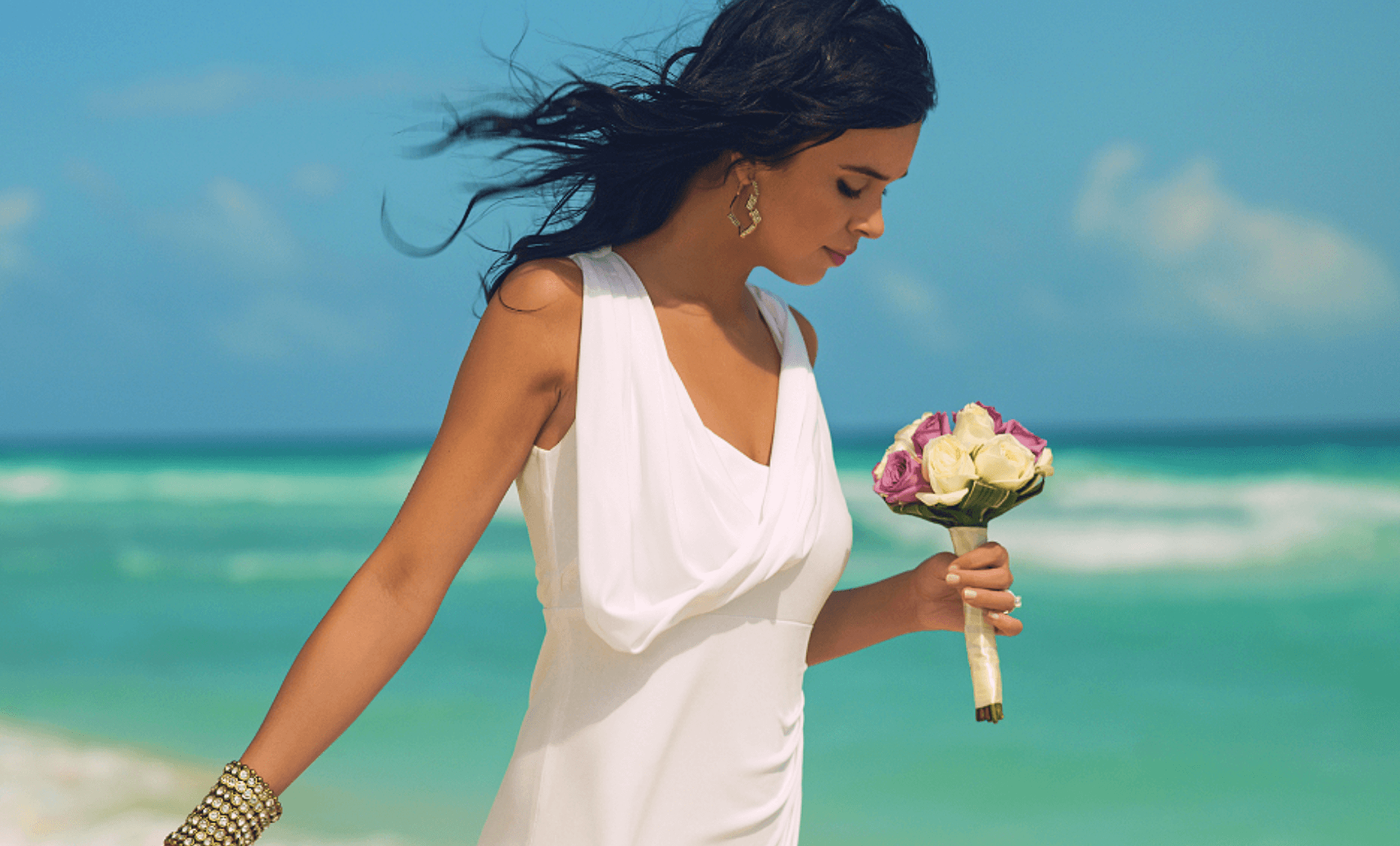 This particular complex is dedicated to looking after the natural surroundings and has developed a Rainforest Refuge which embraces the natural ecosystem and guests can wander along the paths admiring the abundance of wildlife such as Pelicans and Flamingos if you're lucky you may even see a monkey or two.
The complex is just a few minutes south of Playa del Carmen.
Both resorts offer a multitude of locations to choose from for your ceremonies such as the beach, gardens, and indoor function rooms.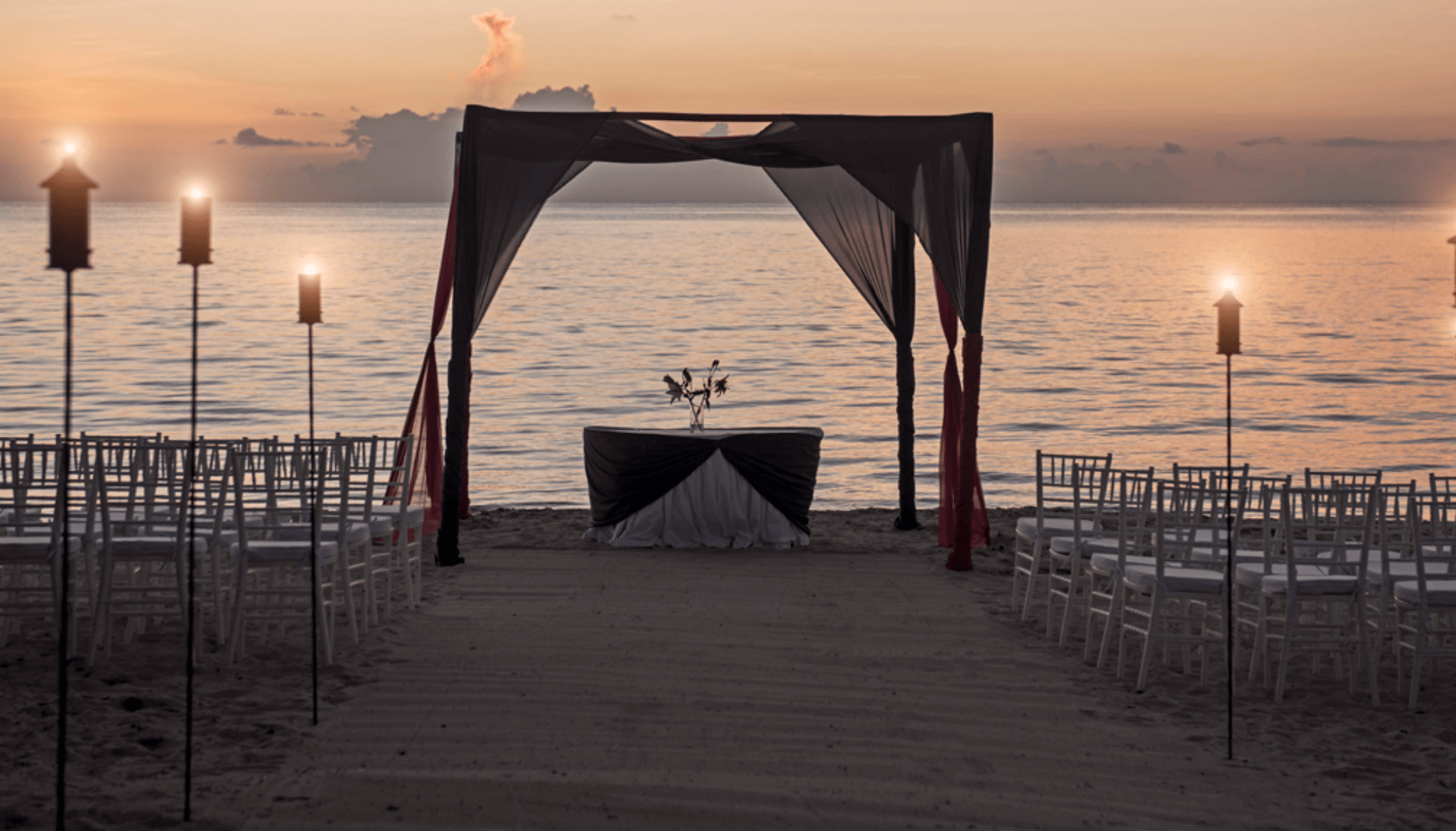 Discuss your best options with one of our expert wedding planners today.
The Wedding Package – 'Silver Star'
Price: $1999 USD
Price is based on up to 20 guests.
Read my recent review of the Iberostar Quetzal here.
Inclusions:
Wedding Service.
Professional services of an on-site wedding specialist.
Minister, judge or priest.
Witnesses (if required).
Venue Set Up & Ceremony Items.
 Setup of wedding venue (canopy, chairs, and table with white linen).
Champagne toast after the ceremony.
Flowers.
Bride's fresh floral bouquet and matching groom's boutonnière.
A fresh floral centerpiece for the head wedding table during the ceremony.
Music.
Sound system and CD player for the ceremony.
Live music (45 minutes)*.
Reception Dinner.
Traditional white frosting cake decorated with a fresh flower.
Wedding dinner in a specialty restaurant (one hour and a half).
10% discount on spa services for wedding guests (boutique purchases excluded).
Interested? Mention the Iberostar to one of our Wedding Planners at PlayaDelCarmen.Com.
8. Barcelo Resort Complex
The Barcelo complex is made up of 5 separate resorts.
Tropical
Caribe
It's absolutely impossible to miss this resort driving along the highway this huge complex is called the Barcel Maya Grand.
Wherever you stay in the resort you will be allowed access to 3 other resorts in the complex, making it extremely popular for destination weddings.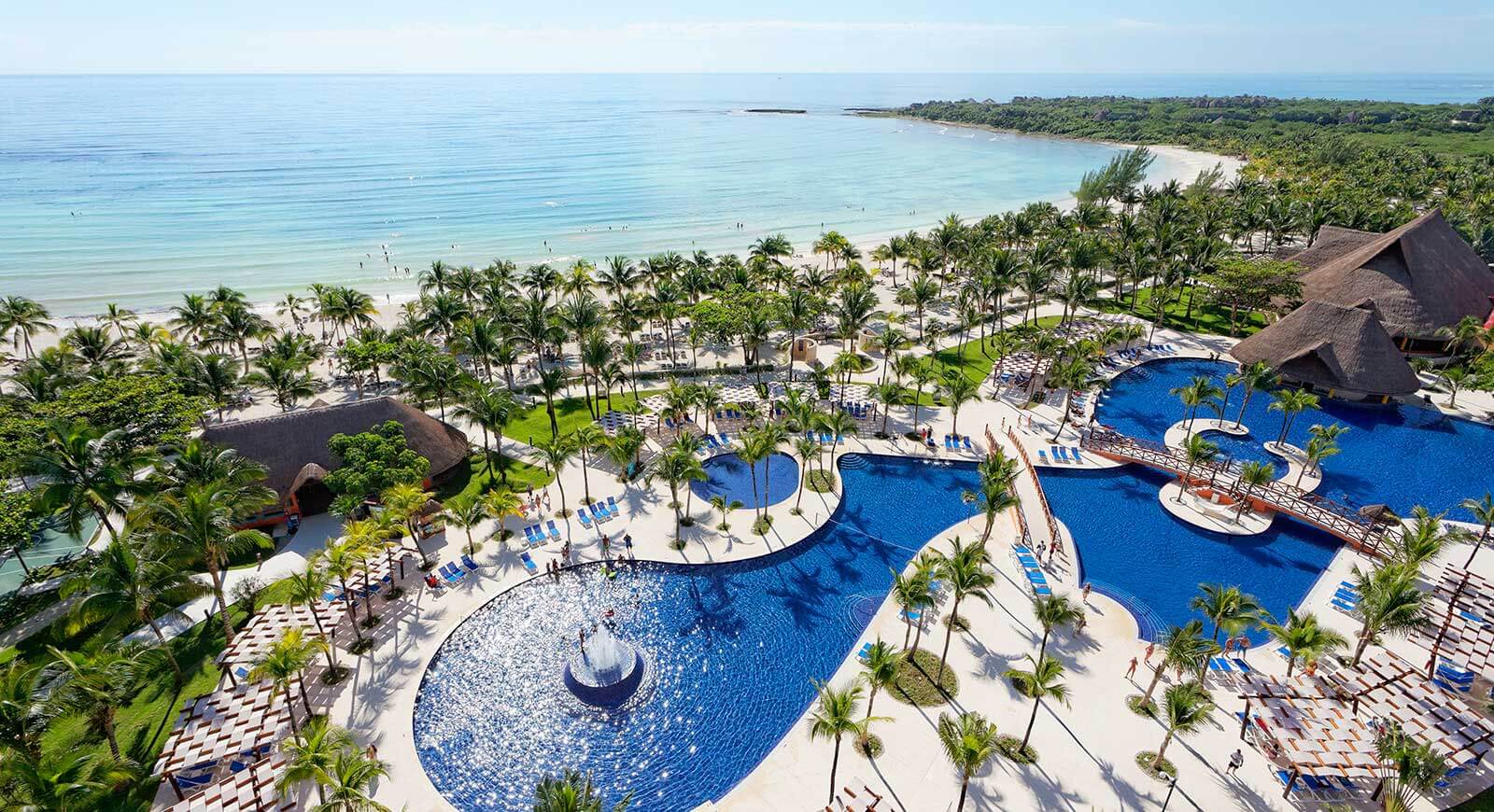 If you stay at the Palace, you have the freedom to choose between all 4 as this is the most premium accommodation here. If you choose to stay at the Maya Grand hotels (Tropical, Colonial, Beach, Caribe) the only you won't have access to is the Palace.
It means you can enjoy an endless array of activities, food, drink, and more.
You may be wondering how you can get around all 4 resorts without being exhausted in the heat? But luckily, a double-decker bus is also always on hand to take you to wherever you need to go.
With so many locations to choose from you will definitely need our help to advise you best.
Here's an example of a wedding package at Barcelo:
Wedding Package
Price: $4000 USD
Price is inclusive of up to 15 guests and guests after that are $70 pp.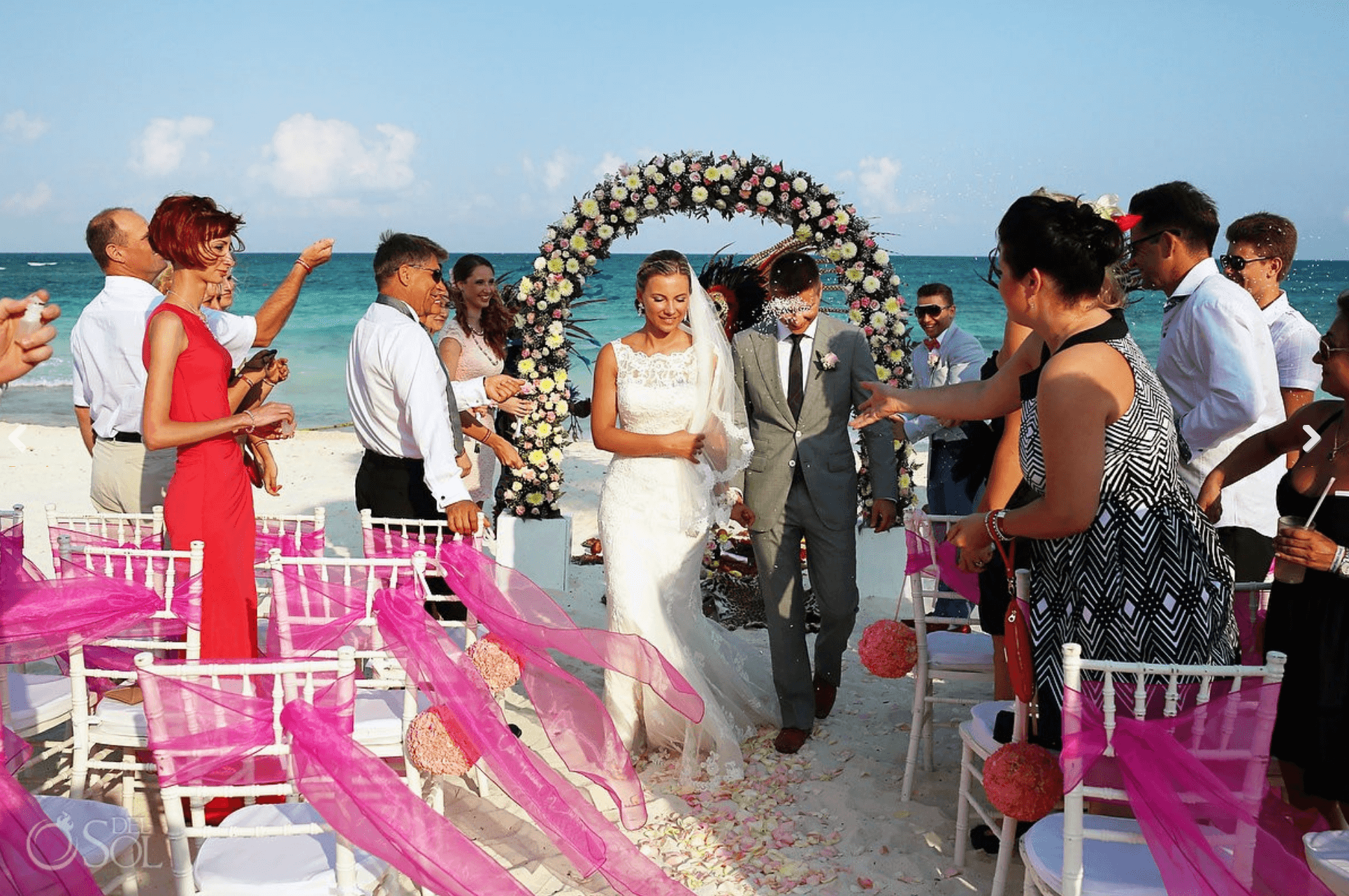 Inclusions:
Wedding organization services from your wedding coordinator.
The symbolic ceremony including essential set up, 1 bouquet and 1 boutonniere.
Live music during the ceremony.
Private reception dinner with open bar (3 hours) for 15 people or more on the beach.
One table top flower arrangement.
Wedding cake for 10 people.
3 bottles of sparkling wine.
Couples massage.
1 manicure/pedicure.
Bridal make-up and hairstyle.
Extras such as dancefloor and DJ, photography/or videography can be added for an extra cost.
Talk about the Barcelo Complex Resort with one of our  Expert Wedding Specialists at PlayaDelCarmen.Com today. 
9. The Blue Diamond
One of my all-time favorite all-inclusive resorts in Playa del Carmen (if not, THE WORLD). Expect intimate, luxurious, adults-only heaven!
The Blue Diamond Resort is extremely upscale and fabulous, boasting some of the best all-inclusive food you will ever taste! Chefs use the finest ingredients and the most innovative techniques, you will not be disappointed.
Not only, that the private beach here is one of Playa del Carmen's best.
You will never want to leave.
It's the perfect setting for a relaxing, secluded, and tropical wedding. You will adore the serene atmosphere built along peaceful river waterways.
Reach my recent review of the Blue Diamond Hotel here. 
I've listed a gorgeous example of one of their wedding packages below:
The Wedding Package – 'Blue Hope'
Price: $4445 USD
Inclusions:
In-room champagne check-in.
Wedding organization by a wedding specialist.
Room upgrade for bride and groom depending on availability.
Room upgrade for parents of the couple based on availability.
Personal dressing assistant.
Preparation and ironing of wedding dress and groom's tuxedo.
2 Wedding Menu tasting for the bride and groom.
Rehearsal Dinner at one of the A la Carte Restaurant for 12 guests.
Complimentary room for the groom the night before the wedding.
30 min relaxing couples massage.
Makeup and hairdo for the bride.
Legal or symbolic ceremony.
Beach Ceremony location.
Gazebo Decor with Tiffany or bamboo chairs.
Brides bouquet and groom's boutonniere.
Toast for 24 guests after the ceremony.
1hr cocktail reception with Hor'Doeuvres for 24 guests.
A 2hr dinner reception for 24 guests.
3 centerpieces for the reception.
Audio equipment for 2hrs.
Wedding Cake for 24 guests.
10% discount on Spa Serves for all the group.
Turndown service the night of the wedding.
Strawberry tuxedos the night of the wedding.
You & Me Honeymoon package.
Late check-out for bride and groom.
Discuss this luxurious hotel with one of our expert Wedding Planners at PlayaDelCarmen.Com today.
10. The Fives
TheFives is a divine slice of paradise offering customizable vacations and weddings.
With luxury and romantic accommodations boasting rooftop terraces and stunning views, you will never want to leave!
Enjoy an all-inclusive stay or choose from a flexible meal plan if you want to explore and enjoy the amazing restaurants and nightlife options in downtown Playa del Carmen.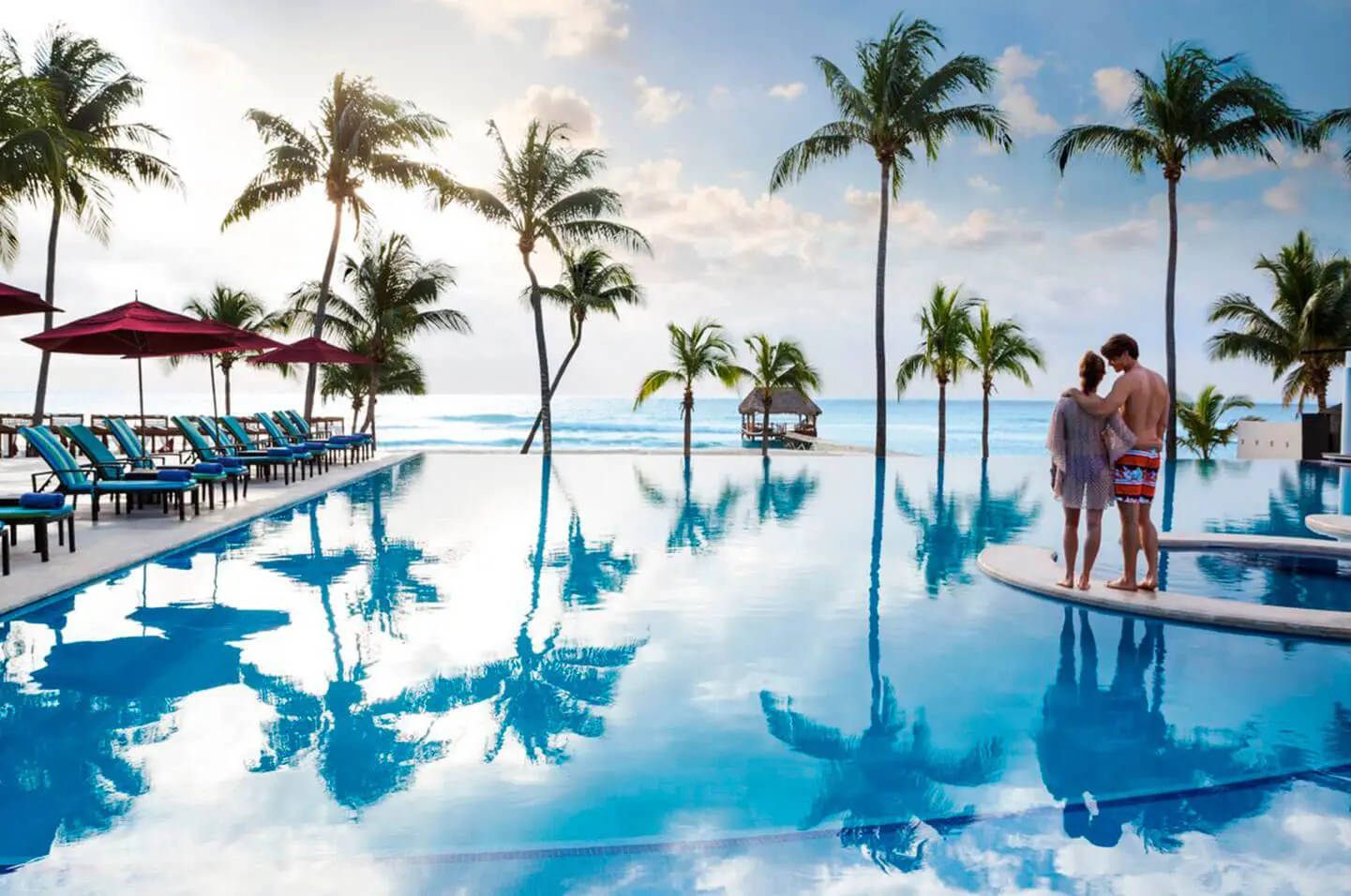 Relax at the world-class spa or take an intro to scuba class in one of the resort's many pools.
The Fives offers extraordinary options to hold your destination wedding including over the water in an intimate bungalow or high up on a luxury sky terrace with amazing views of the water.
Here is an example of what a wedding on their gorgeous Sky Terrace would include:
The 'Our Dream' Package
Price: $2,950 USD
Accommodates up to 40 guests.
Inclusions:
Nondenominational minister
Translation of ceremony
Wedding certificate
Romantic ceremony location
Altar decorations
24 décor chairs
Designer floral arrangements
Bouquet & Boutonniere from Signature Wedding Collection
Sound system with speakers and microphone
And more!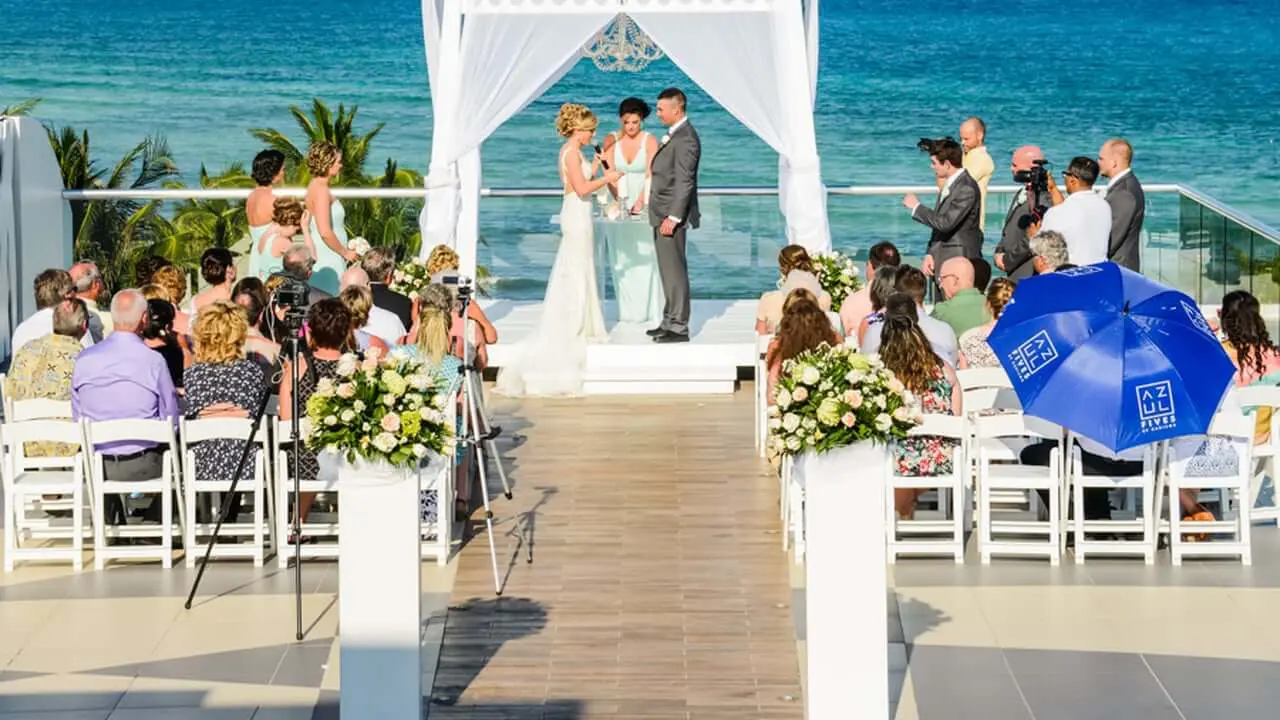 Ready to get married yet?
Don't know which hotel to choose? Here at PlayaDelCarmen.com, we are remarkably skilled at organizing destination weddings. 
We'll make sure you choose the right one for you!
Plus, get you and your group the best package price and perks available.
Call our destination wedding experts at 888-537-9797, weddings@playadelcarmen.com, or get more info on our destination wedding services.
Time to Comment
What did you think of our top 10? How could it be better?
Leave your questions or comments below.
---
Trending Now
You may also like