Ultimate Guide to Planning Your Destination Wedding in Mexico!
---
So,  you're thinking of having a Destination Wedding in Mexico? Congratulations!
I've helped organize 100's of destination weddings, so YES, I know how overwhelming it can get.

It's very normal that you have a lot of questions.
Luckily for you, I'm going to help you out with the essentials!
You need to start with some basics.
Let me walk you through how to plan a destination wedding in Mexico.
We'll cover:
---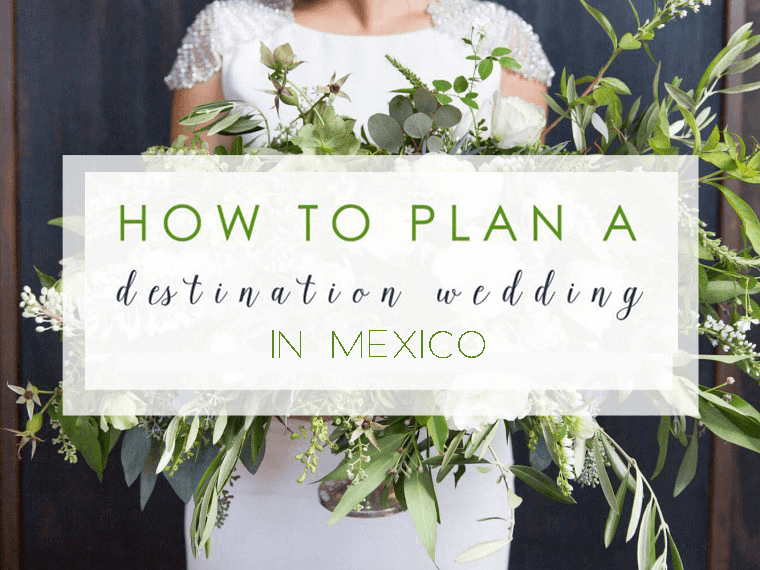 Why Mexico?
You're guaranteed a wedding to remember!
Mexico is the epitome of paradise and a direct flight from most U.S. cities 😉
You'll experience a gorgeous, lush environment with to-die-for beaches and luxurious hotels.
It's a location everyone (you and your guests) will be excited to visit and it won't break the bank!
Plus…
It's home to many fantastic locations for destination weddings.
The Riviera Maya, just south of Cancun, prides itself on its glistening turquoise waters, state-of-the-art resorts, and world-class service.
Your destination wedding in Mexico will likely be held on the beach by the water so you're guaranteed those perfect tropical shots, stunning weather, in a dreamy atmosphere.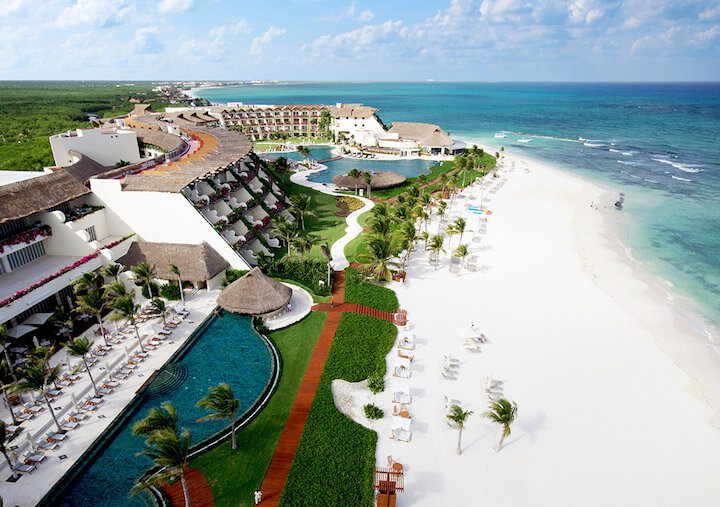 Beach weddings aren't your only choice…
Many hotels and resorts boast stunning locations on-site such as sky terraces, chapels, cenotes, and even Mayan ruins.
Your Caribbean wedding will feel tropical BUT it's just a few short hours away from your home in the U.S. making it the ideal location for your celebration.
Where to Get Married in Mexico?
So, you want to get married near a beach? You'll have to choose between East or West coast.
3 Main Cities on WEST Coast
3 Main Cities on EAST Coast
Why Choose West Coast?
While the Pacific Ocean may not be as pretty as the Caribbean (east coast), the West does have its perks.
The West could be a shorter and cheaper flight for you and your guests.
Cabo is like a U.S. city in Mexico…so you can expect everyone to speak English very well.
Cabo San Lucas
Cabo San Lucas is located at the tip of Baja California Sur, right where the Sea of Cortez meets the Pacific Ocean.
It has become a popular destination for tourists like you and more people are having their destination weddings here thanks to its sublime beaches, dramatic coastal landscapes,  excellent fishing and an outstanding array of upscale resorts and spas.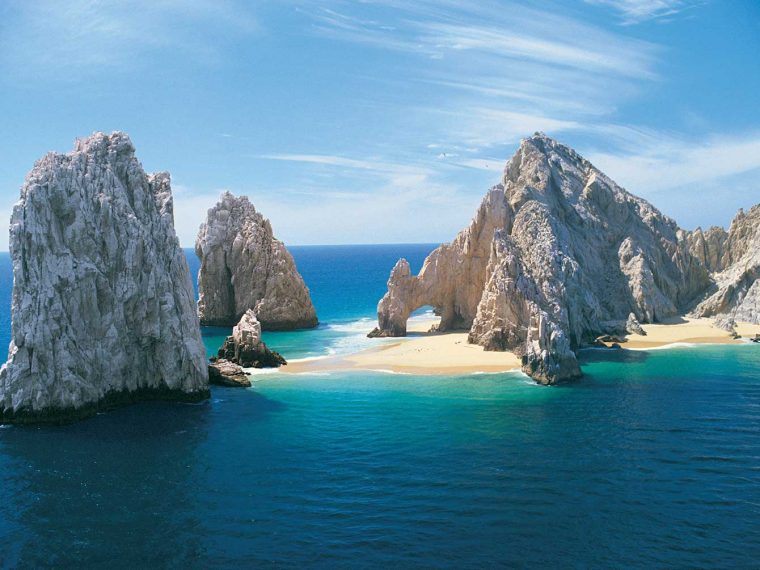 If you're into surfing the small town of Todos Santos is just 1 hour drive away from Cabo and is the perfect location for those travelers wanting to experience Cabo without the hustle and bustle of the big resort city.
Huatulco
Located 140 km from the city of Oaxaca, Huatulco is one of the youngest cities in Mexico.
If you had your wedding here you can choose from 9 beautiful bays, 36 beaches, and lots of lush vegetation, making it the perfect location for a scenic wedding.
Huatulco has a great hotel infrastructure that includes a variety of all-inclusive luxury resorts, boasting different backdrop for your celebration.
This location also offers a wide range of cultural and recreational activities to keep both you and your guests entertained.
Puerto Vallarta
Puerto Vallarta is situated on the western coast of Mexico against the Pacific Ocean and Mexico's largest natural bay.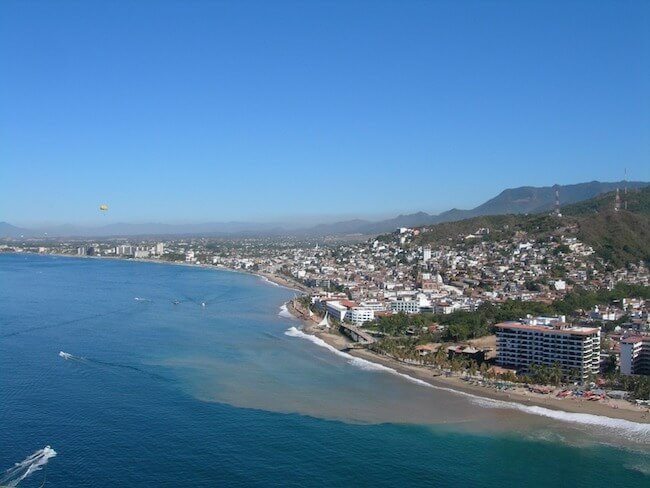 If you are a nature lover this place is your haven, the ocean here is beautiful and there are plenty of water excursions for you to enjoy as well as jungle adventures such as zip lining and bungee jumping.
At this destination, you have the best of both worlds with views of both water and mountains.
The perfect backdrop for any destination wedding.
Why Choose East Coast?
The region, referred to as the Riviera Maya, is along the pristine waters of the Caribbean Sea.
You'll likely choose between Cancun, Playa del Carmen & Tulum.
The airport for all 3 cities would be Cancun which is usually a very inexpensive flight and very often direct from all major cities.
I'm sure you agree, non-stop flights are always better 😉
Cancun
Your destination wedding location!
Cancun is situated in the Yucatan Peninsula, just north of the Caribbean coast resort region known as the Riviera Maya.
This idyllic destination is famous for its white powdery sand beaches, ancient Mayan Ruins, and thrilling nightlife.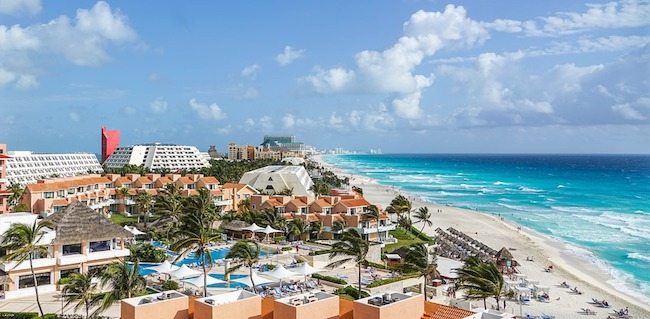 If you're looking for the perfect blend of scenery, culture, and nightlife, look no further.
Choosing to have your destination wedding in Cancun means your guests will enjoy easy access due to Cancun international airport just a short journey away from the Hotel Zone.
Plus, you'll get the most bang for your buck since the hotels and resorts in Cancun offer incredible wedding packages.
Playa del Carmen
If you prefer a more low key homely vibe, Playa del Carmen is the perfect setting for your wedding.
The expat community of the city (Americans, Europeans, Canadians etc) along with the quirky boho vibe makes for a unique experience.
Playa del Carmen wedding packages have something for everyone, whether you want a beach, chapel, cenote, or Mayan ruins wedding,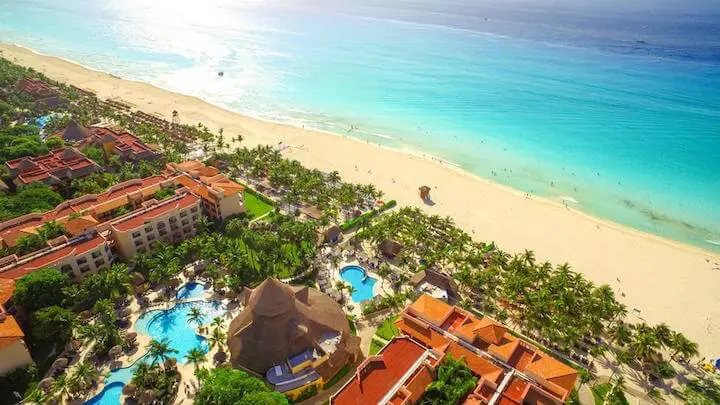 There are resorts to choose from in the heart of town, quieter areas such as Playacar, or along the highway
Your guests can enjoy a wonderful location, that boasts great shopping, fantastic restaurant, and bar options.
You'll also be in a privileged position in the heart of all the action in close proximity to attractions such as Chichen Itza, Tulum & Xel Ha, and Xcaret.
Tulum
For a much more exclusive and eco-chic vibe, Tulum is definitely the option for you.
There are pros and cons to this destination depending on what you and your guests are looking for.
Pros….
Tulum is still very much an untouched slice of paradise and that is what makes it so great!
10 years ago there was barely anything here. Now the hotel zone has chic, eco-friendly, hippy accommodations and eateries/bars.
The beaches in Tulum are exceptionally stunning. You can expect them to be untouched, super blue, with fine powdery white sand.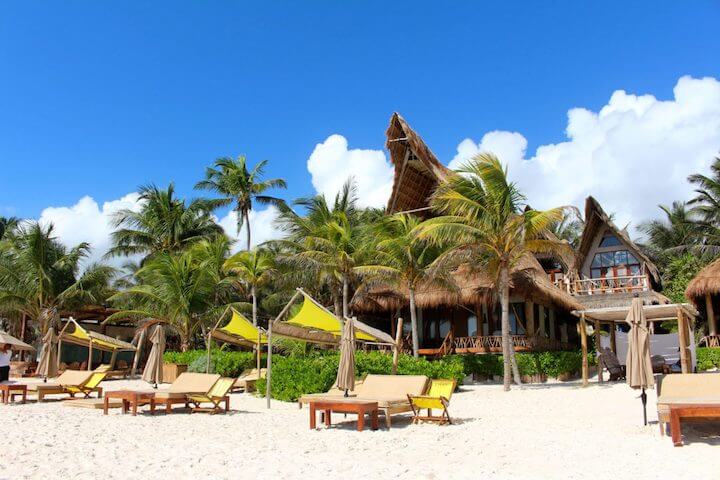 Cons…
Tulum is remote. It's a 2hr drive south of Cancun airport.
1 week in Tulum is an escape from reality!
That said, you can fill up your time with tours and excursions as well as shopping and lazing in the sun with a good book.
Best Time of Year to Get Married in Mexico?
You're lucky! The great thing about Mexico is that beachside towns have pleasant, warm weather all year around.

The rainy "hurricane season" typically lasts from June until October.
Traveling at this time of year can put many people off but you can also save money!
Rainy season often just means that it will rain heavily for an hour or two before returning to glorious sunshine.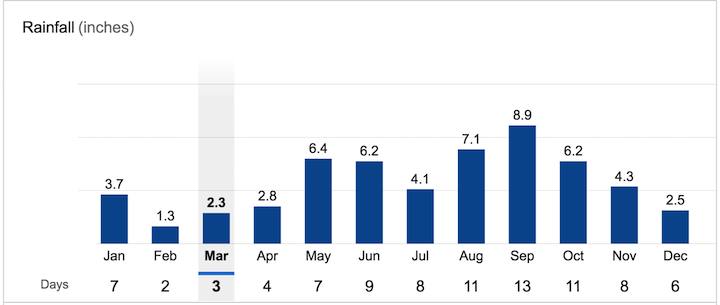 Prices do tend to go up in high season.
High season includes Christmas, Easter, and the spring and summer months when children are not in school.
If your goal is to have the picturesque beach wedding with clear blue skies, even clearer turquoise water, and white sandy beaches, the best time to go would be between November and April, when there is not much rain.
Do You Need a Wedding Planner?
In short, the answer is yes. Here's why…
Imagine planning a wedding in your home country. Stressful enough right?
Now try choosing between 80+ hotels or venues from another country.
You've never seen these hotels
Can't trust the photoshopped pictures
Don't know how qualified the hotel staff is
Don't know the lay of the land or the requirements
Each hotel has pros and cons. Will the hotel staff be honest with you? Doubtful.
It becomes 'risky business' to choose without some help.
Luckily for you, many destination wedding planners don't charge.
Yes, FREE help.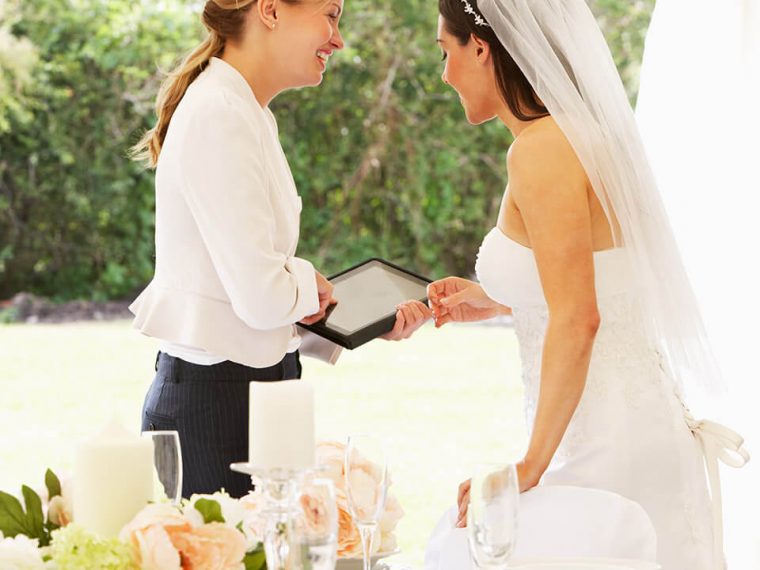 Why? Because they're just happy to help. They're travel agents after all.
What is a Destination Wedding Planner?
DWP's are travel agents that specialize in destination weddings.
That's all they do; morning, noon and night.
It's like having a personal wedding assistant… for free.
Don't try "The Hope & Pray Approach"
The Hope & Pray Approach is when you reach out to 5-10 hotels that "you think" might be good for your wedding.
You interact with the hotel reps in a failed and frustrating attempt to whittle down your choices.
Hope is not a plan.
We get the remains of these poor girls every day.
It's the DWP's job to help you narrow it down from 80+ hotels to the perfect one.
Destination Wedding Planners Help You:
choose the perfect hotel
understand the wedding package in detail
arrange & book flights
book and plan fun activities
arrange transportation & logistics
stay organized
They offer advice, suggestions, and are there every step of the way so your big day runs smoothly.
Our experienced wedding planners have helped organize over 100's of destination weddings and never charged a dime. We're also local. Our advantage is that we know these hotels much better than agents based in the U.S., Canada, or Europe.
Have questions?
We can help.
Our destination wedding planners can be reached at weddings@playadelcarmen.com or toll-free at 888-537-9797.
What to Expect for your Wedding in Mexico?
Mexico can be your dream location.
With its blue sky's, crystal clear sea and warm sunshine, Mexico is the perfect place for couples to start their new adventure together.
The Riviera Maya is one of Mexico's most popular locations. A Playa del Carmen Wedding is right at its heart.
People choose Playa because of its gorgeous beaches, facilities, location, and vibe.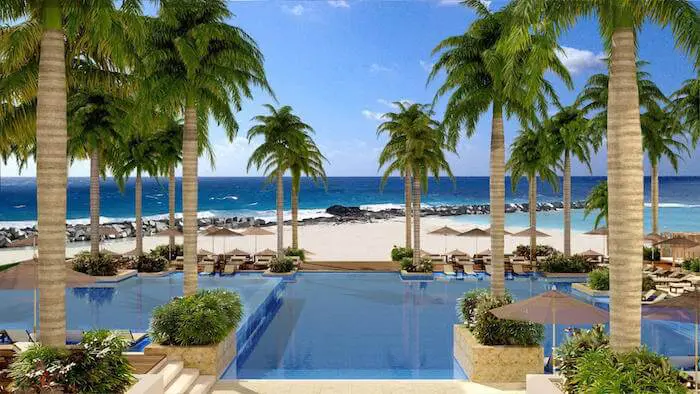 You get more bang for your buck in Mexico for sure.
Destination Weddings in Mexico tend to be much more economical than in countries such as USA or UK.
The average cost of a wedding in the U.S.A for 2016 was $32,000.
Your going to spend 1/2 that for a destination wedding in Mexico and have a backdrop like this!
Get more info on the cost of a destination wedding.
Here's the deal:
Having organized 100+ weddings in Mexico, I personally think that the standards and quality of most wedding related services in Mexico are absolutely fantastic.
Another thing to remember is that most professionals in the Wedding industry here have been working for years doing what they love. Their goal is to make your wedding as unique as possible and to create memorable moments that will last a lifetime.
That's why services like Playa del Carmen Weddings, based in Playa, do so well.
Destination Wedding Planning Timeline
Planning is everything.
Here is a typical timeline we would recommend to help you stay on track.
You probably think it takes a year or less to plan a wedding (which can be done) but we are seeing more and more people book two years in advance because of how quickly popular hotels tend to fill up.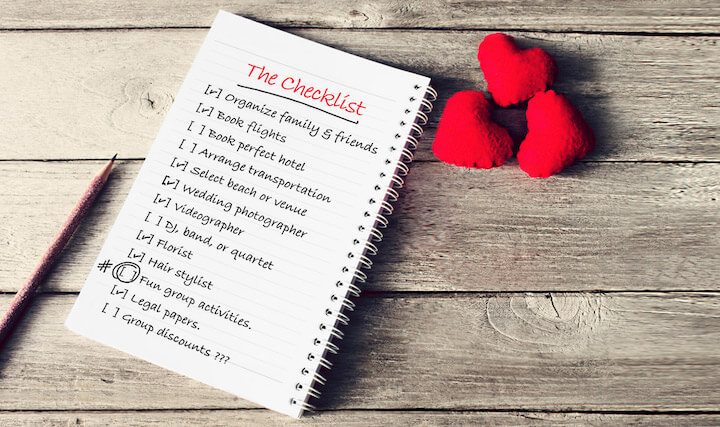 16 months before your wedding day:
You and your partner (+ family members if they are helping) should determine your wedding budget.
Contact us, and reach out to one of the weddings team so we can assign you your personal planner.
Start thinking about your guest list. Buy a notebook dedicated to your planning.
Access your options carefully,  and choose a location and hotel (our planners can assist you with this).
Get inspiration and start thinking about color schemes, décor, flowers, and attire.
10 – 8 months before your wedding day:
Finalize your guest list and send out Save The Date cards (EXCITING)!
Decide on a dress, shoes, and other accessories.
Work with our planners and the hotel to book vendors or any extras that you require.
Consult your planner regarding guest accommodations, you need to work out who wants to stay where.
Think about wedding gifts and get some inspiration.
Place an order for invites and send them out!
8 to 6 months before your wedding day:
Make final alterations to the guest list and booking arrangements, everything should be fairly in place by now.
Purchase dress, shoes, accessories.
Purchase your wedding rings.
If you can, schedule menu and cake tasting with your venue and visit the hotel for a few nights before your wedding day.
3 to 2 months before your wedding day:
Place an order for any extra decor and favors you need.
Gather all necessary paperwork and documents be sure to double check everything with our planners.
Plan your seating arrangements.
Schedule a final dress fitting and a trial hair and makeup run.
The week of your wedding:
Finalize itineraries and other details with your planner.
Pack everything you need, make lists, and double check you don't want to forget anything.
Prepare your outfit and other necessary items.
Pamper yourself! You're getting married!
When and How to Send Invitations
It's important you send out Save The Dates earlier when planning a destination wedding
Although you know your nearest and dearest will almost definitely attend, they'll probably need to clear out a few extra days in their schedule compared to your average traditional wedding.
Plus, it gives them time to save for the cost of the flight and the hotel etc. Not everyone has lots of money to spare so it's important you keep this in mind.
You may want to remind your guests to check their passports' validity at this time so that they have ample time to renew their passports if needed.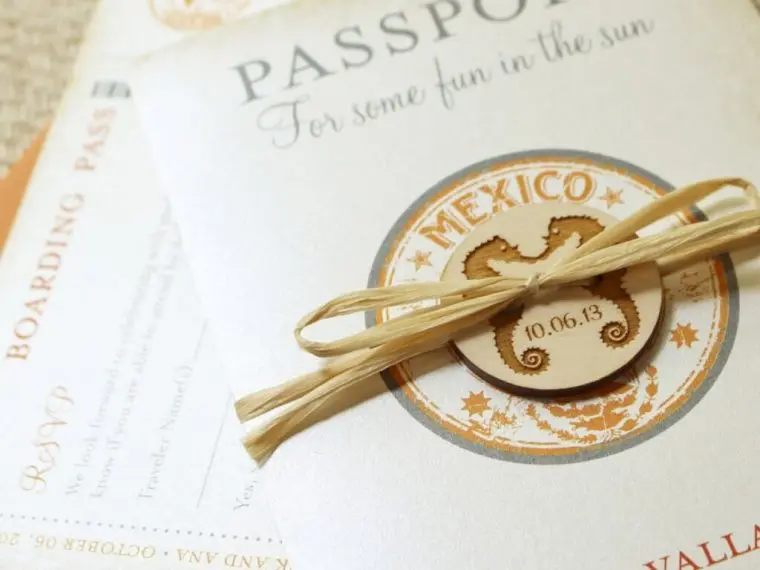 Have fun with your invitations because you can really let your wedding's personality shine, get creative and inspire them to come along and join you.
It should scream Caribbean fun!
Destination Wedding Venue Options
I've coordinated weddings in this region for years so this is what I'll be covering.
In Playa del Carmen there are a ton of wedding venues but 4 main venue options which I'm sure is the case in all cities listed above.
Whether you're looking for a tranquil beach or exotic garden, you will be sure to find the perfect spot for your special moment.
Say "I do" on the beach, or in the heart of nature wrapped by the Mayan culture. Or even in a beautiful chapel on top of a hill with unforgettable views.
Here are 4 main venue ideas for the ultimate destination wedding in Mexico.
1. All-Inclusive Hotels & Resorts
Many couples choose all-inclusive resorts for their wedding.
This is because everything is generally much simpler to book and get organized with your family and friends.
You can find Riviera Maya wedding packages and Playa del Carmen wedding packages.
Wedding packages include all the essentials:
 ceremony
officiant
flowers
buffet
sparkling wine
and sometimes even a semi-private dinner.
All of these details get confirmed prior to arrival. We can help with that.
This is done with us and the on-site wedding coordinator, so when the bride and groom arrive everything is already taken care of. They even help out with documentation if you are planning a civil wedding.
Most resorts have beach wedding locations and sometimes other locations such as gardens and rooftop terraces.
2. Wedding in a Private Villa
More and more couples are looking for private locations for their Wedding.
Private Villas work well because events can be completely customized, and there aren't as many restrictions.
Hiring a local Wedding Planner is a must for weddings in private villas. They will be in charge of all the details from suppliers and logistics to the setup and coordination.
Having a wedding in a private villa can also make the wedding day a lot less stressful, as everything is in one place and you won't need to go anywhere.
From private chefs, makeup artists to florists, everyone will come to you so you can sit back and watch the magic happen!
3. Cenotes Weddings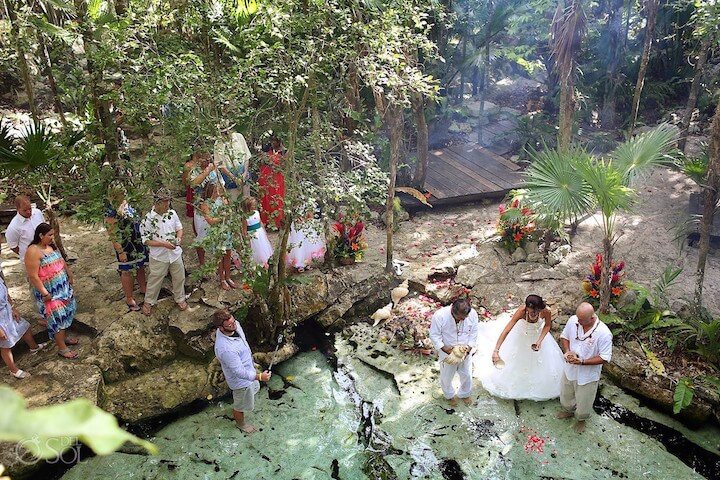 Cenotes are magnificent locations to have a special ceremony in the heart of nature.
In the middle of the jungle and with crystal clear freshwater sinkholes as your backdrop, this is a romantic setting that is unique to Mexico.
Mayan ceremonies are a great choice for cenote locations. Performed by a Shaman, Mayan ceremonies are profoundly spiritual and furthermore extremely beautiful!
They are also a great location for incredible wedding photos. The majority of professional photographers have a lot of experience catching the perfect moment in these beautiful surroundings.
4. Chapel Weddings
Following the Spanish influence, there a lot of beautiful chapels where you can have a Catholic wedding.
Catholic destination weddings have become so popular, many of the all-inclusive resorts have chapels too.
In Playa del Carmen there is a beautiful chapel "Our Lady of Carmen" right on 5th Ave!
Couples must check with their local parish all the details and requirements for a Catholic Destination Wedding.
Learn more about how to have a Catholic wedding in Mexico.
Recommended Destination Wedding Packages in Mexico
If I was to create a list of all the wedding packages in Mexico it would be extremely long and tedious to scroll through, but because of my knowledge and expertise, I've decided to list my personal top three.
None of these three may be what you're looking for and that's fine, but at least you can get a rough of idea of the range of prices and what's included.
Often you will find that many of the packages are customizable so you can add or take things away for an extra cost or reduction.
1. AM RESORTS WEDDINGS
(Dreams Wedding Packages, Now and Sunscape)
AM resorts deliver such high-quality experiences with an exclusive feel.
Often when people plan a destination wedding they worry that their ceremony or reception won't feel exclusive or private, at AM resorts (particularly Dreams) there are many locations on site that provide this sort of vibe that people crave.
The family-friendly resorts in the AM chain are:
We are fortunate enough to have several AM Resorts in the Riviera Maya.
NOW: Now Sapphire and Now Jade
DREAMS: Dreams Riviera Cancun, Dreams Puerto Aventuras, and Dreams Tulum.
SUNSCAPE is Cozumel is located on Cozumel island, just a quick ferry trip from Playa del Carmen.
AM Resort Wedding Package
Package Cost:  (starting at) $3199
Guests Included: 20 (extra guests are $105 per person)
Package Inclusions:
Wedding organization services from your wedding coordinator
Symbolic ceremony including essential set up, 1 bouquet and 1 boutonniere
Two boutonnieres and two corsages for the wedding party
Preparation and ironing of the couple's wedding day attire
Wedding cake and sparkling wine
Cocktail hour with hors-d'oeuvres
Private wedding reception
Floral centerpiece for the sweetheart table
Hairstyle and make-up for one person
24 full-color photos and wedding album (taken during the ceremony)
Complimentary Honeymoon Package
Optional extras: DJ, Dance floor, extra photography / videography
Types of wedding packages available: Symbolic, Legal, Shaadi, Same Sex and renewal of vows
2. Royalton Riviera Cancun
If you're into new, contemporary style hotels with modern facilities and large rooms, the Royalton Riviera Cancun is just that.
It's great if you or your guests will be traveling with large families as they have rooms that can accommodate up to 5 people.
Their buffet restaurant is the best I've ever experienced and trust me, I do this for a living ;-). You will find something to suit all tastes. They also 9 restaurants on site.
Your guests with kids will like that they have a kids club, teen club and nightly entertainment with live music.
Prefer an adults-only experience? Wedding guests can opt for the Hideaway section, which guarantees that not only the room area is kid-free, but also the beach club and certain pools are too.
Royalton Riviera Cancun Wedding Package
Package Cost: (starting from) $2999
Guests Included: 20 (extra guests are $20 per person)
Package Inclusions:
Wedding organization services from your wedding coordinator
Pressing / steaming service for wedding couple's attire
Bridal spa morning (manicure, pedicure & hairstyle)
Symbolic ceremony including basic set up, 1 bouquet and 1 boutonniere
Solo musician for 45 minutes (can be used for ceremony or cocktail)
One-hour cocktail party
2-tier Wedding cake and sparkling wine
Rehearsal dinner for the group (or can be used as bon voyage brunch) in specialty restaurant
Semi-Private wedding reception
30 minutes of photography with the onsite photographer and 30 printed photos
Romantic dinner for two
Optional extras: DJ, Dance floor, extra photography / videography
Types of wedding packages available: Symbolic, Legal, Hindu, Jewish, Same Sex and Renewal of vows.
3. Hard Rock Riviera Maya
If you want a hotel with a rocking ambiance, look no further!
You'll like the Hard Rock for a ton of reasons there are both family-friendly and adults only areas. Perfect for all guests!
This hotel is vibrant, from the décor to the atmosphere. A wedding here would be unforgettable.
I like the food and drink options, connecting rooms for larger families as well as a kids club and teen lounge. It's a great fit for families with kids of all ages.
We all know that keeping them entertained is often no easy feat.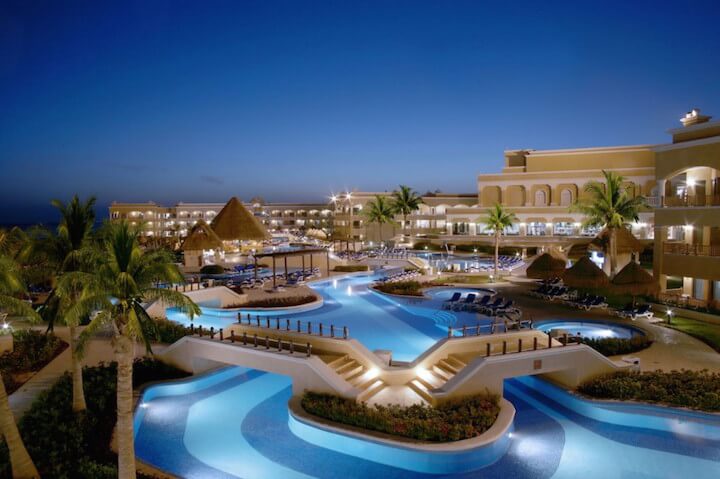 Hard Rock Riviera Maya Wedding Package
Package Cost: (starting from) $4000
Guests Included:  32
Package Inclusions:
Wedding organization services from your wedding coordinator
Symbolic ceremony including décor options with themes, 1 bouquet, and 1 boutonniere
Soloist for the wedding ceremony
Wedding cake and sparkling wine
Ground fireworks after ceremony
Complimentary honeymoon package
Optional extras: Cocktail hour starting at $400 for 10-20 guests, Private wedding function starting at $50 per person for 2 hours and includes standard décor, event space, menu and open bar. DJ, Dance floor, photography/videography
Types of wedding packages available: Symbolic, Legal, Catholic, Hindu, Jewish, Same Sex and Renewal of vows.
For more information on different hotels check out our Top 10 All-Inclusive Riviera Maya Wedding Packages.
Destination Wedding Etiquette
Many people think that just because you decide to have a destination wedding instead of a traditional one that all the same rules don't apply.
The most common question we get is who pays for what?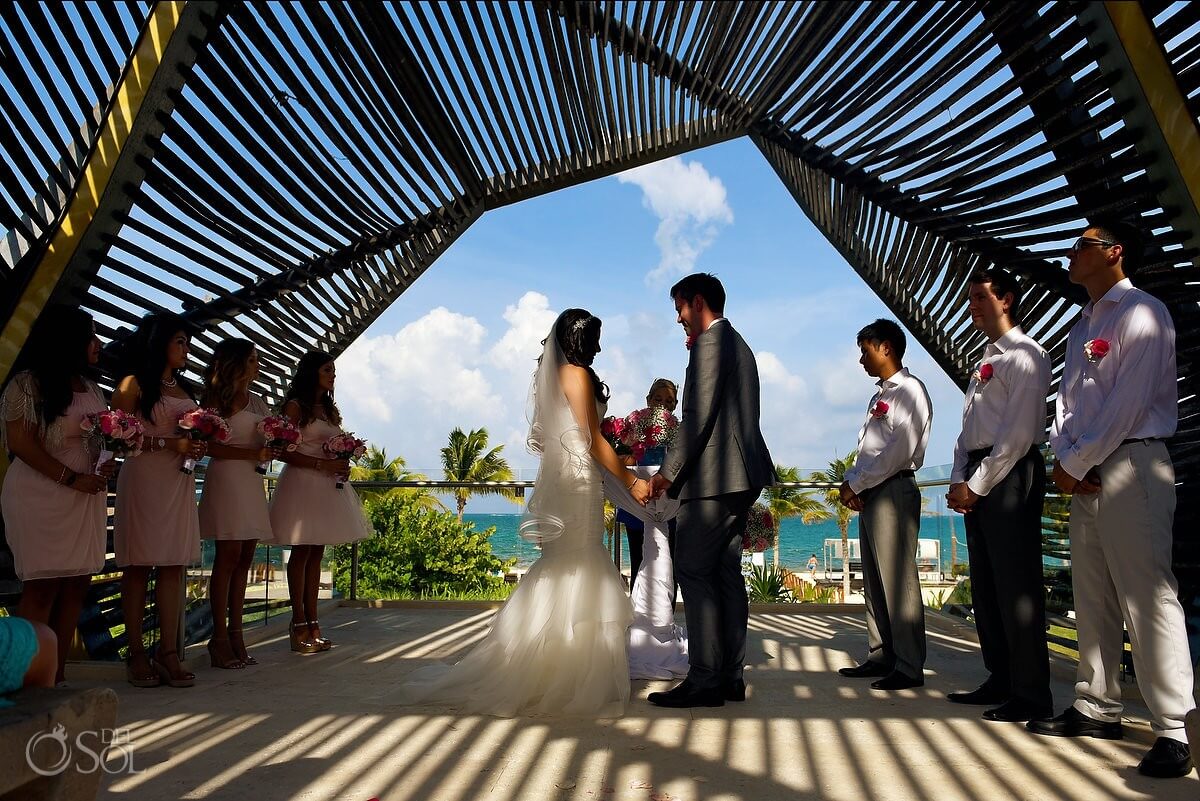 Typically guests pay for their own travel and hotel arrangements.
The bride pays for her bridal party's hotel rooms, while the groom pays for this groomsmen's rooms.
However, if this is too much for your expected wedding budget, you can ask your wedding party to consider their travel costs to be a wedding gift to you.
It is up to the bride and groom and their families for paying for the reception, rehearsal dinner, welcome party and a morning-after brunch.
Packing List
Regardless of where you are having your destination wedding in Mexico, the weather is generally warm and balmy year-round.
Be sure that when choosing your dress and attire you take the Caribbean weather into consideration. We recommend something airy and flowy. 
For more destination wedding dress inspiration see our inspired looks here.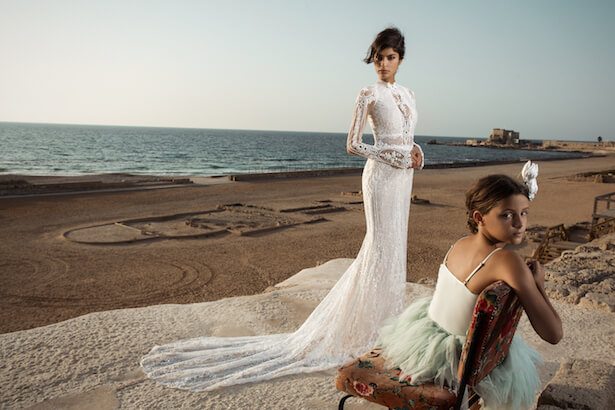 Other things to pack include:
A valid passport (up-to-date / not going to expire soon)
Wedding attire, dresses, shoes, hairpieces.
Bathing suits, pack light it's going to be HOT.
Beach cover-ups, you don't want to risk sunburn close to the big day.
Sunglasses
Hats
Sunscreen
Sandals and flip flops
Bug spray
For more information check our full packing guide out here.
There are some things that you cannot bring into Mexico including fresh produce, meats, seeds, soils or anything agricultural.
You should advise your guests in case you suspect their wedding gifts may involve these items. Back to top
What to Do After the Wedding
If you are planning on having a civil wedding (as opposed to symbolic) there are a few things you need to do after the wedding.
Marriage is a legal union between two people, and if you are not citizens of Mexico, you will need to make sure that your marriage is legally recognized in your home country.
A civil marriage ceremony (as opposed to a symbolic one) requires you to have the following:
Completed marriage request form
Original and copy of birth certificates translated into Spanish by a certified translator
Valid passports
Prenuptial certificate with proof of HIV-negative and blood type
Divorce or death certificate (if applicable)
Valid tourist cards
Original and copy of official IDs of 4 witnesses
Read more about how to legally get married in Mexico.
An official marriage license will be given to you after the ceremony once you've celebrated your ceremony with loved ones.
The official translated license that is recognized as valid internationally will be mailed to you within four months of the wedding.  
So you can sit back, relax, and enjoy married life.
If you want to legally change your name on all your admin and accounts, you will need to do this in your home country.
You'll need your original marriage license with the new last name on it.
Conclusion
As you can see, Mexico has so much to offer for couples who want an amazing Destination Wedding experience.
With so many options to suit all types of tastes and styles, you won't just be creating a moment that you will look back on in your wedding photos, it will be a feeling that will last forever.
Other articles we've published that you may find useful:
Need Some Help Planning?
Want to work with experienced wedding coordinators like us?
Call our wedding planners, actually living in sunny Playa del Carmen at toll-free 888-537-9797.
or email us at weddings@playadelcarmen.com
---
Trending Now
You may also like