Your Ultimate Guide On How To Get Married in Mexico (2023)
---
First off, CONGRATULATIONS on the forthcoming nuptials!
Want to have a destination wedding but unsure how to get legally married?
You might think getting legally married in Mexico is very complicated and not worth the extra hassle?
Well, the truth is that, YES, there are extra steps to follow and hoops to jump through.
BUT it can be made simple and we can help!
How to get married in Mexico:
---
1. Types of weddings available in Mexico?
In Mexico, there are 3 types of weddings available:
Legal / Civil
Catholic (can also be legal)
Symbolic
Since 2015 same-sex marriage is also legal in Mexico too! 🙂
Civil weddings are the only legally recognized weddings in Mexico.
Religious weddings and other symbolic blessing ceremonies are common, but they're not legally recognized without having a civil component (which requires a few extra fees and a little extra planning – more on this later).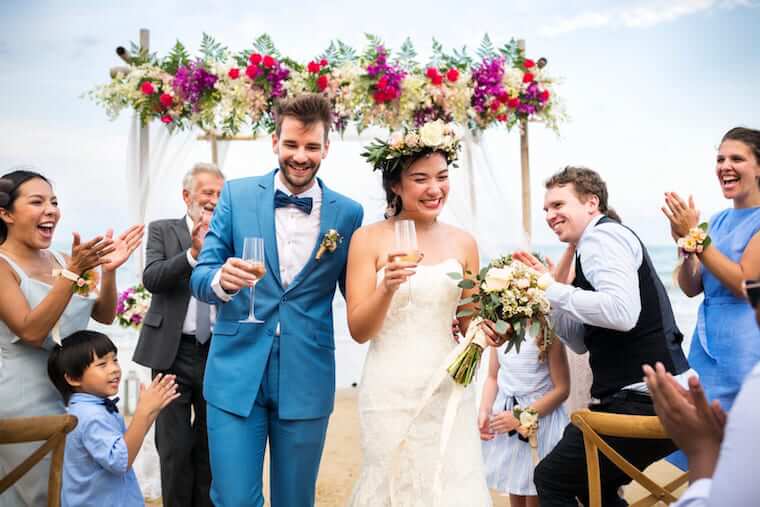 Most tourists get legally married back home and come to sunny Mexico to celebrate the event with a symbolic ceremony.
This is by far the most popular option as it's the option that is the most straightforward.
That said, with our professional help legal/civil weddings can also be arranged…
So, if you have your heart set on getting legally married IN Mexico continue reading…
Read our guide to Catholic, Symbolic, and Legal weddings here. 
2. What are the legal requirements to get married in Mexico?
So, what are the requirements you need to meet in order to get legally married in Mexico?
1. You can not get married under the age of 18 in Mexico without parental consent.
With parental consent boys as young as 16 and girls as young as 14 can wed.
2. During the legal ceremony, you will need four witnesses present, with valid identification.
3. Foreigners can get married in Mexico with:
a passport
tourist visa
and the required documentation
However, if you plan on marrying a Mexican resident you may need to apply for a foreign marriage permit.
Certain municipalities will require it, while others have done away with this traditional law. Our wedding specialist can help you take care of all the details.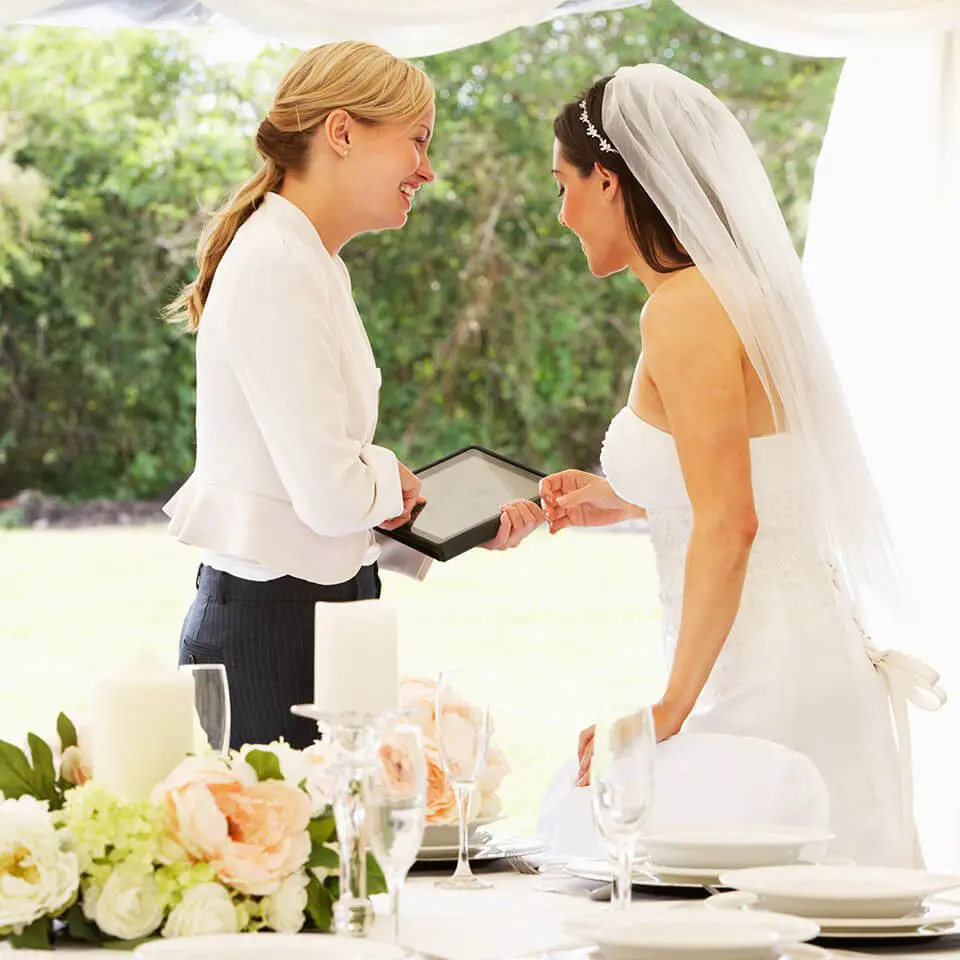 In the case that you need to apply, you can request a permit from Mexico's Interior Ministry for the state where you plan to marry (this would be Quintana Roo if you plan on having your wedding in Cancun or the Riviera Maya).
4, For resort Civil / Catholic ceremony weddings you must arrive at the resort 3 business days (mon-fri) prior to the ceremony.
You must arrive by 12 pm in order for the day of arrival to count towards a business working day.
For symbolic ceremonies it is required you arrived 2 business working days prior to the ceremony. You must also arrive by 12:00 PM in order for the day of arrival to count towards a business day.
3. What do you need (Paperwork & Documentation)?
If you want to get legally married in Mexico you and your fiance should expect to gather and provide the following (fear not, our wedding specialist will be here to help):
Marriage application forms – which can be obtained from the local registry office
Valid passports –  as well as one copy of each person's passport
Birth certificates
Your visitor's permit – obtained at your port of entry (usually airport) or, if you're resident in Mexico, a copy of your resident permit.
Divorce Decree / Death Certificate, if applicable
Chest X-Ray Plates –  done in Mexico, if applicable
Blood Test Results –  done in Mexico no more than 14 days before the date of application
Foreign Marriage Permit – if required by your municipality
I should note that requirements do vary from state to state depending on what type of wedding you would like to have.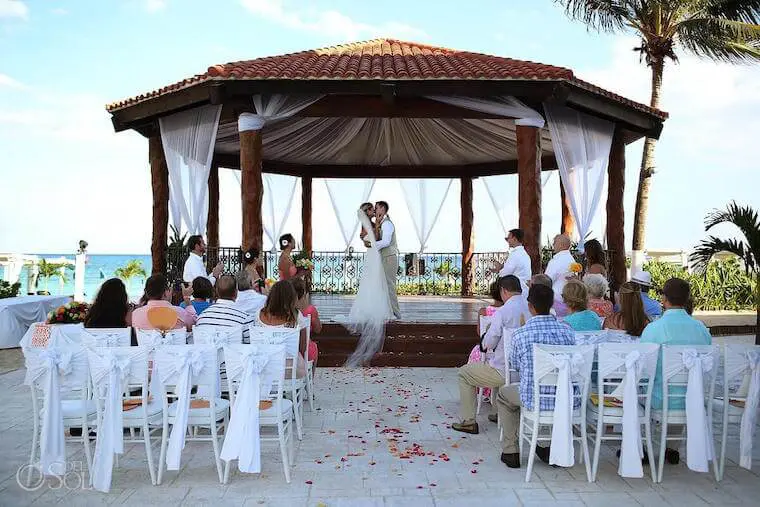 Different religions will also require different paperwork – our wedding planners here at PlayaDelCarmen.Com will be able to advise you better.
They will help you inquire with the local municipality and your minister, if applicable.
You should also plan to have all of your documents translated into Spanish, and notarised by the Mexican consulate in your home country.
This will prevent any confusion or re-verification that can add time to your waiting period.
4. The Process
1. For legal weddings, the first step is to visit the local registry office to attain the forms you need to get the application started.
All foreign documents must be accompanied by a Spanish translation and notarized by the Mexican government.
 They must also have an Apostille stamp, which authenticates them.
The process for this stamp can vary depending on your home country; check your government's regulations for confirmation.
2. Every state in Mexico requires a blood test before marriage, and SOME also require chest x-ray too.
Why?
These tests are for the purpose of detecting syphilis and HIV.
You must pass these test with the all-clear in order to be allowed to get married in Mexico.
These tests will also have to be conducted and carried out in Mexico.
Our wedding planners here at PlayaDelCarmen.Com can help you find a clinic.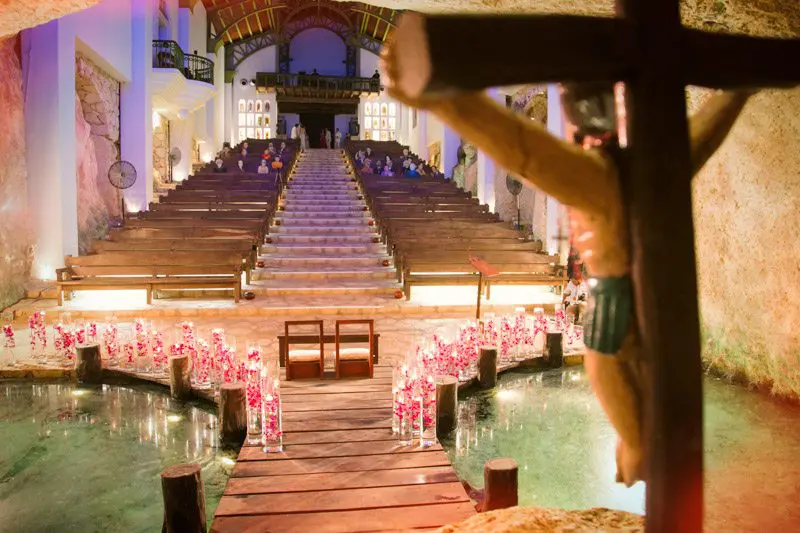 Then…
3. When your paperwork is gathered and ready to be filed, you'll pay your marriage license fee.
The waiting period for your application to be processed depends on the state; it could be anywhere from 30 minutes to a few days.
If you are marrying a Mexican national, don't forget you will have to apply for a foreign marriage permit and request it from the same jurisdiction where your marriage will take place.
This process may take up to two weeks but your wedding planner will help you take care of the details.
4. Finally, it's time to get legally married!
If you really wanted to, you can get married at your local registry office, which does not cost anything. But for a fee, you can have the ceremony of your dreams and have it take place at another venue, such as a resort, hotel or on a beach.
5. After your ceremony, you'll need to get a certified copy of the marriage certificate from your registry office (acta de matrimonio). 
Then it's official, you will be husband and wife!
5. Fees Involved
How much is a legal wedding going to cost you I hear you say?
The Mexican marriage license fee is approximately $27 USD. You should also expect to incur fees obtaining the paperwork. For example, the Apostille stamp in the US is about $7 USD per document.
If you're marrying in a state that requires a national marriage permit to wed, the permit will cost around $180 USD.
On top of this you will need to factor in:
The cost of your x-ray
The cost of your blood tests
Flights
Accommodation
Ceremony packages and customizations
Spending money
Honeymoon tours and activities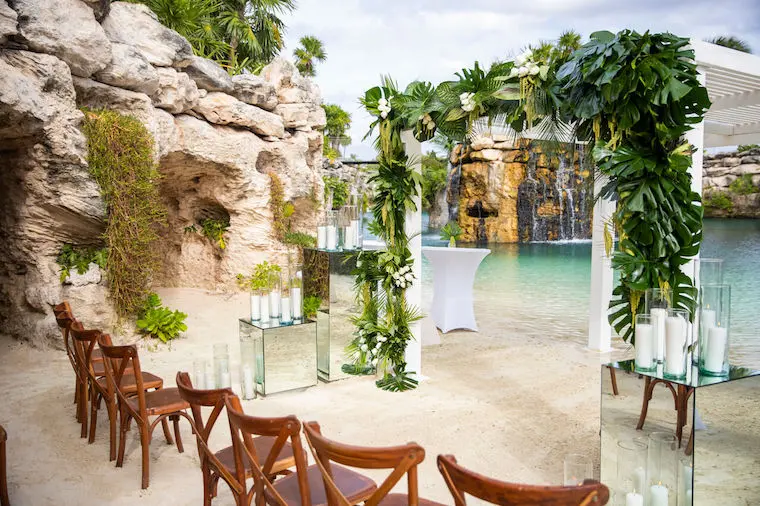 6. What should I know about ceremonies in Mexico?
Once you've got all the legal jargon out the way it's time for the fun stuff.
Planning your wedding ceremony!!!
Whoooosh, this is everything you've been working towards, so it's important you plan it right.
There are so many stunning locations Mexico has to offer for your ceremony which include:
Beach locations
Sky terraces
Cenotes
Jungle havens
Lush gardens
Stunning outdoor gazebos
Function / Conference rooms
Just think of the pictures! Increíble!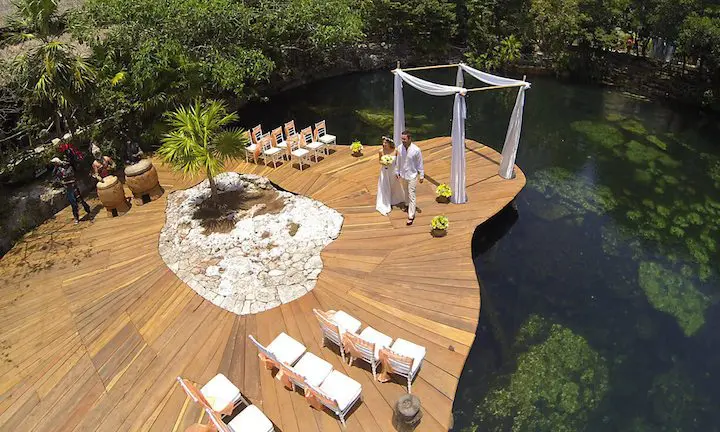 Hotels and resorts here give you the option to customize every detail of your big day! 
You'll discover a range of amazing packages and add ons.
Your wedding day in Mexico will look a little something like this…
1. Cocktail hour
2. Ceremony
3. Your reception and dinner.
7. The average cost of a wedding in Mexico
Here in Mexico, one of the biggest draws is that you can have the lavish luxury for a fraction of what it would cost you back home.
The average cost of an all-inclusive wedding in Mexico is:
$5000 to $7000
$5000 wedding with 30 guests (4.5★ resort)
$7000 wedding with 60 guests (4.5★ resort)
$10,000 wedding with 100 guests (4.5★ resort)
$15,000 wedding with 200 guests (4.5★ resort)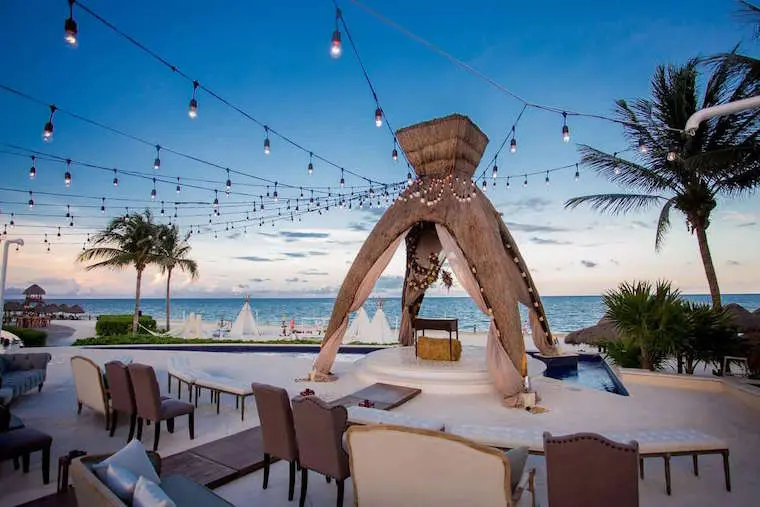 8. Top locations and hotels in Cancun and the Riviera Maya
With 1000s of hotels and location to choose getting started when planning a legal wedding can be a minefield.
That's where we come in.
Our blog has a dedicated weddings section to break down everything you need to know in a fun and easy manner.
For the purpose of this article here are some of the most popular location and hotels in Cancun and the Riviera Maya.
Sandos Playacar
If you're looking for a fabulously family-orientated resort then put Sandos Playacar on your list!
I love their amenities, wide range of activities, sports, and options for kids and adults of all ages.
When you look at the cost of destinations weddings, they are one of the cheapest all-inclusive resorts around and the bang for your buck is incredible.
This also applies to their wedding packages!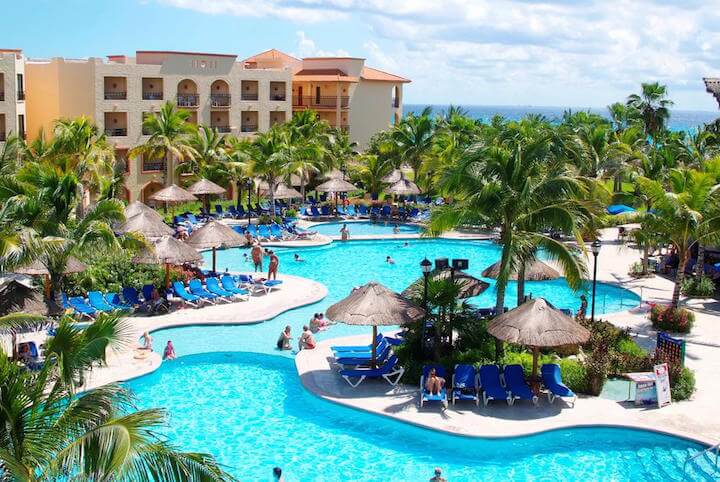 You'll be thrilled to know that it's located on one of the best beaches in Playa del Carmen, aka Playacar beach.
I'm a fan of Playacar because it is a gated community, adjacent to the town. It has a stunning stretch of beachfront as well as varied activities, entertainment, and sports for the whole family.
And of course, the room categories are great for weddings with some accepting families with 3+ kids. They also offer the Select Club Adults-Only area for those guests wanting a kid-free zone.
AM RESORTS WEDDINGS: Dreams, Now and Sunscape
We find the AM resorts a hit for destination weddings because they deliver such high-quality experiences.
The family-friendly resorts in the AM chain are:
We are fortunate enough to have several AM Resorts in the Riviera Maya.
The hotel chain prides itself on what they call 'unlimited luxury', which includes top-shelf spirits, no reservations at the a la carte restaurants, 24 room service, free wi-fi and no pesky plastic bracelets (just to name a few).
The kid's clubs are open during extended hours so an evening kid-free meal is always a possibility. They offer many options for sports, activities and have a wide variety of entertainment options.
The Royalton Riviera Cancun
If you're into new, contemporary style hotels with modern facilities and large rooms, the Royalton Riviera Cancun is just that.
Certain room categories can accommodate families of 5. Multiple pools, activities, and sports ensure fun throughout the day.
Their buffet restaurant is the best I've ever experienced and I do this for a living ;-). They also 9 restaurants on site. That's not a typo… 9 specialty restaurants!!
Your guests with kids will like that they have a kids club, teen club and nightly entertainment with live music.
Prefer an adults-only experience? Wedding guests can opt for the Hideaway section, which guarantees that not only the room area is kid-free, but also the beach club and certain pools are too.
For more information, you can also check out our review of the Royalton Riviera Cancun. 
Discover more top locations and hotels for your legal wedding in Mexico:
9.Wedding traditions in Mexico
Are you so in love with this beautiful country that you want to incorporate some of their beautiful wedding traditions into your big day?
Great idea!
Here are some of the most common wedding traditions you will see in Mexico:
The lasso – the lazo, or lasso, is a ribbon adorned with flowers or pearls placed around the necks of the bride and groom after they've exchanged vows, symbolically (and physically) joining them together.
The mentors – the couple selects madrinas y padrinos, or mentors to guide them, act as official witnesses and take part in the service
The money dance: during the reception, guests are invited to pay for a special dance with either the bride or groom by pinning money on them.
The sea snake – la vibora de la mar, or the sea snake, takes place during the reception. The bride and groom are seated on chairs and held up, and guests sing and dance around them, holding hands forming a snake shape
The cake – A type of traditional Mexican wedding cake is one soaked in fruits and rum and filled with pineapple, nuts, and coconut.
When it comes to planning destination weddings, Mexico should be at the very top of your list.
The incredible all-inclusive hotels here boast world-class service and have made it easier than ever to plan every little detail from abroad.
Plus, it will be a day that no one ever forgets for you and your loved ones. Your wedding will go down in history!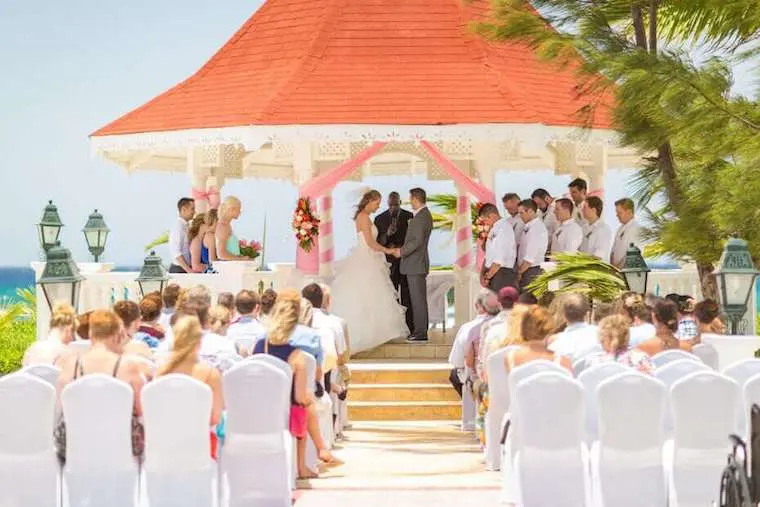 Warm tropical beaches, exotic jungles,  breathtaking scenery, and charming traditions – what's not to love?
This country has got it all.
Make your wedding dreams come true. Contact us today to start planning. 
Additional Resources You May Find Useful
I think we've covered everything you need to know, but in this section, you will find extra nuggets of info you may find useful regarding the legal requirements for weddings in Mexico.
Preparing the necessary documentation for a civil ceremony can be overwhelming especially for foreign couples.
That's why it's highly recommended you hire wedding planners such as ourselves to help you make sure you get everything right.
1. The links below will help you gain a deeper understanding of what is required of you in your home country to get married LEGALLY in Mexico.
Australia:
Canada:
Ireland:
United Kingdom:
United States:
More resources…
2. Best 10 hotels for gay marriages
3. How to plan your destination wedding in Cancun
4. Bag yourself a FREE destination wedding in Mexico
10. Start Planning Your Legal Wedding in Mexico Today!
We, PlayaDelCarmen.com, are remarkably skilled at organizing destination weddings.
You want us on your team ;-).
We'll help you find a perfect resort to fit your budget.
You and your group will get the best service, prices, and perks available.
Call our destination wedding experts at 888-537-9797, weddings@playadelcarmen.com, or get more info on our destination wedding services.
---
Trending Now