Cozumel Vs Playa Del Carmen
---
Cozumel or Playa del Carmen? It's a question many tourists exploring this part of paradise will ask themselves when planning their trip.
People are beginning to realize there is a lot more to Mexico than simply Cancun.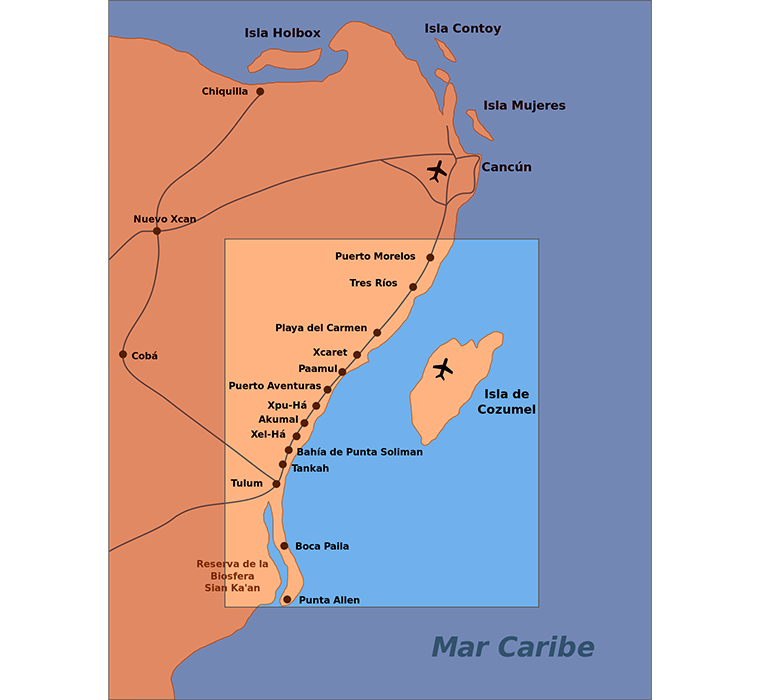 10 years ago, Cancun was the hotspot for tourists, but these days it's become somewhat overcrowded.
If you're looking for a more relaxing vacation, a quaint coastal town, with a great beach and lots of things to see and do, then take a 40-minute drive in a southerly direction and BOOM you've arrived at your destination.
Playa del Carmen sits at the heart of the stunning Riviera Maya and directly opposite, floating beautifully on the horizon you will see the island of Cozumel.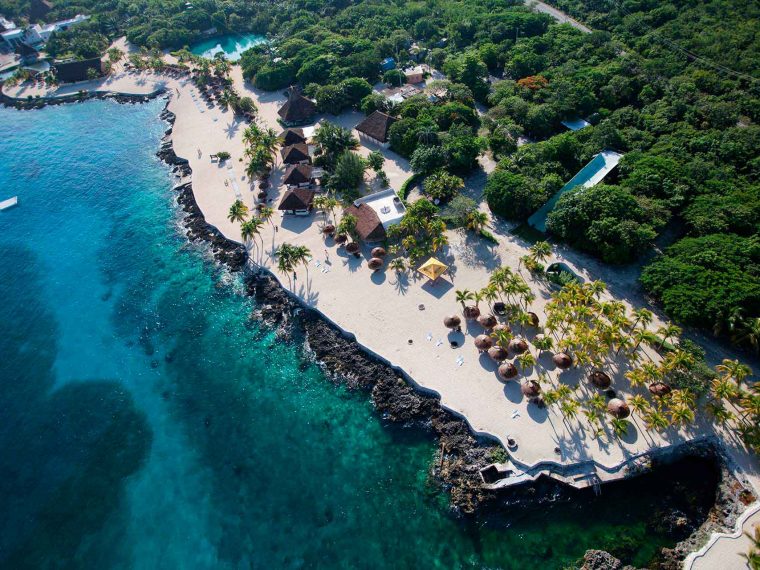 Cozumel is a mostly undeveloped island, famous for its world-class diving opportunities.
With more and more inquiries pouring in about this beautiful island, we thought we'd break it down for you and explain what there is to see and do and how you can enjoy both.
If you're hoping to tick Playa del Carmen or Cozumel (heck, why not even both) off your bucket list and you're feeling a little torn, you've come to the right place.
---
Cozumel
Cozumel is an enchanting island that receives a daily dose of tourists while maintaining it's Caribbean charm.
The ancient Mayan people called the island Ah-Cuzamil-Peten, 'Place of Swallows,' and it was part of an important pilgrimage for women honoring Ixchel, the goddess of fertility and the moon.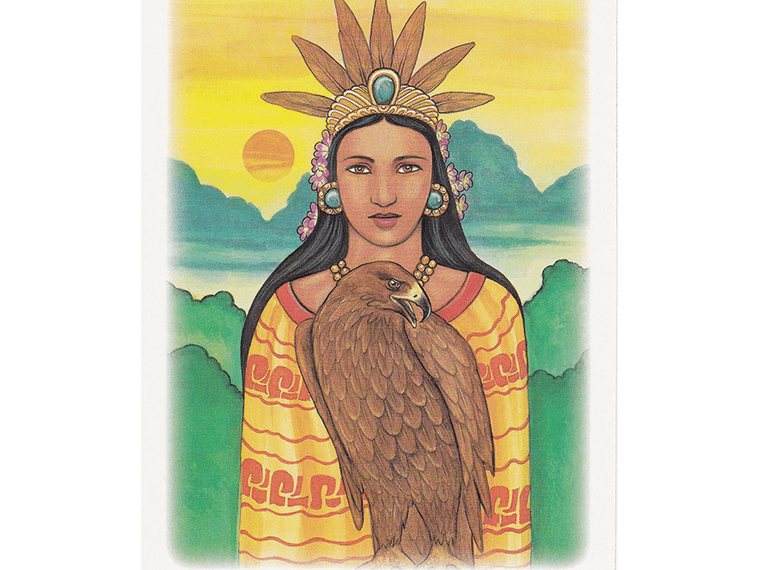 In 1518, Hernan Cortez landed on the island on an expedition that developed into the subsequent conquest of the continent.
The Europeans brought diseases with them that decimated the Maya population, and the island was virtually abandoned except by pirates such as Jean Lafitte, who used its shelter of as a base to attack cargo ships. Refugees from the Caste War repopulated the island in the 1800s.
Many years later, after Jacques Cousteau explored the islands famous coral reefs in 1950 it quickly became a port of call for Caribbean cruise ships.  Now, an average of 600 cruise ships visits the island annually.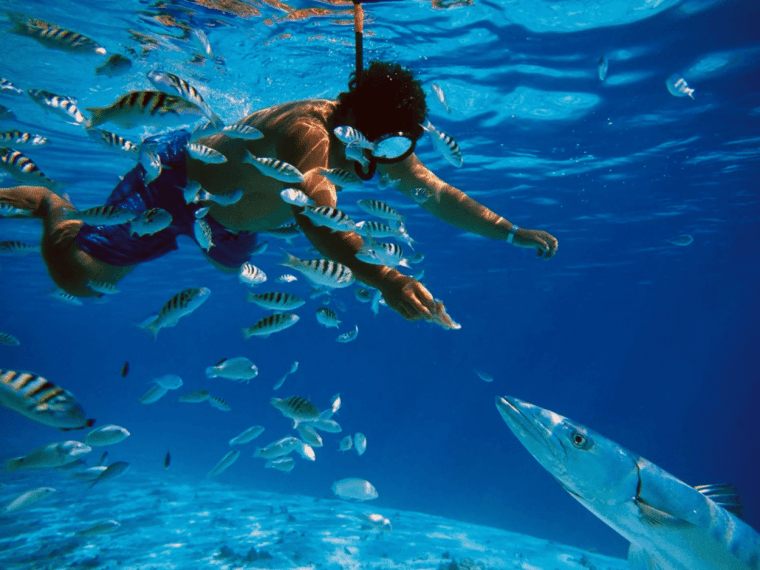 How to get to Cozumel?
The ferry for Cozumel leaves from Playa del Carmen (even more reason to visit both). There are two companies that do the crossing.
View the updated ferry schedule here. 
All the boats are pretty much the same, and they each have a kiosk near the ferry pier which is located here…

There's no need to prebook, people just show up and take whichever boat is leaving next.
How much does it cost to get the ferry to Cozumel?
The ferries cost around 135-167 pesos each way.
Children aged 2-12 get a 50% discount.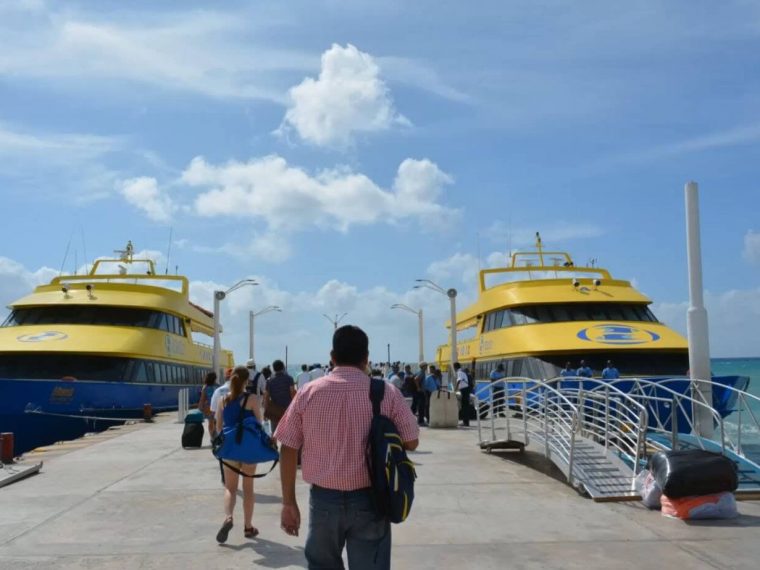 Overview: Why Cozumel?
If untouched beaches, diving, and beautiful scenery are what you want from your vacation, then there is no doubt that Cozumel is the location for you!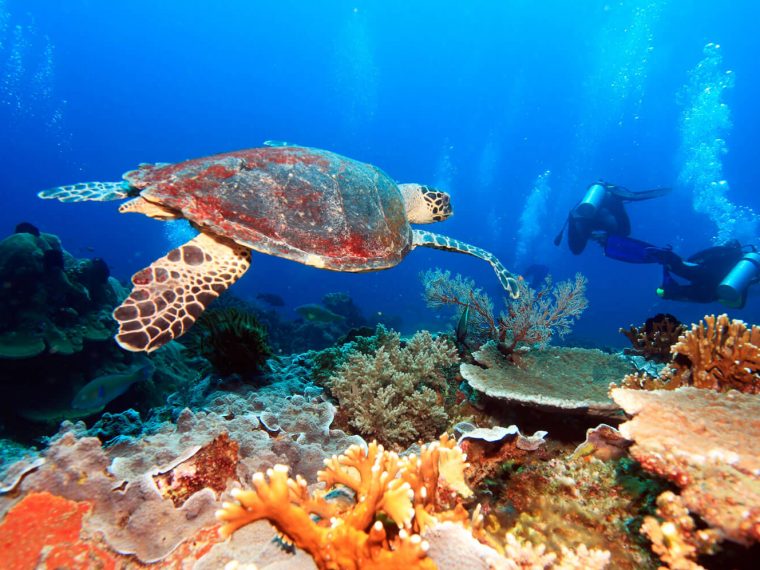 It is for the travelers who prefer a more raw experience. Those of you who are quite happy relaxing in your hotel, embracing nature, or lazing in a hammock all day.
Unlike Playa del Carmen, there aren't many built up areas where you can walk freely.
Cozumel Tours vs Playa Del Carmen
Safe to say there are far more tours available from the mainland of Playa del Carmen, largely because of its desirable location, it's in between everything there is to see.
However, the island of Cozumel does boast a range of tours of its own.  Besides cenote diving there is…
*Please note these tours can also be done as a one day trip to Cozumel, and the ferry price is included in the cost.
For a taste of what Playa Mia has to offer, watch the video below:
Cozumel Hotels vs Playa Del Carmen
Each area offers outstanding all-inclusive hotels. Generally, most of the hotels in this region of Mexico are impeccable and extremely impressive.
However, the resorts on the island of Cozumel possess a much more laid back and tropical vibe.
When staying on an island facilities can be limited, but by picking the right hotel you can ensure there's never a dull day on your trip.
If you're traveling without children we would highly recommend choosing Secrets Aura Cozumel, this 4-star luxury adults-only all-inclusive hotel has all the amenities you could ever need for a tropical getaway in a paradise.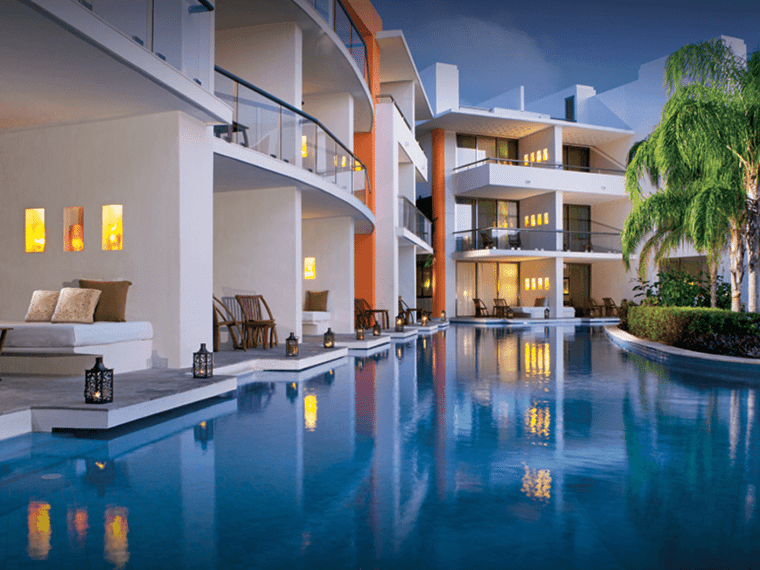 Situated on one of the most desirable stretches of beach on the island, there is no better place to unwind with your favorite cocktail.
Other than the hotels in downtown Playa most of the resorts are dotted along the highway secluded by the lush tropical greenery that surrounds them, which means you still have to take a taxi into town.
The island of Cozumel is much the same, getting around via taxis is common as a lot of the hotels are spread out along the coastlines.
Cozumel Beaches vs Playa Del Carmen Beaches
Undoubtedly, the beaches on Cozumel are far more breathtaking than those in Playa del Carmen.
The waters are pristine, colored with a thousand different shades of blue. Over by Cozumel, you will likely see marine life swimming around by your feet. In Playa this is pretty much unheard of, the water transparency really depends on the weather, and you very rarely notice any marine life around.
The beaches are a much more tropical feel to them in Cozumel as the coastline has not been transformed by buildings and hotels.
Cozumel vs. Playa del Carmen for Foodies
There are great places to eat in both areas, however, you will find that prices are much more expensive over on Cozumel. If you're planning to visit Cozumel and you want to eat out a lot, be sure to take plenty of extra money with you.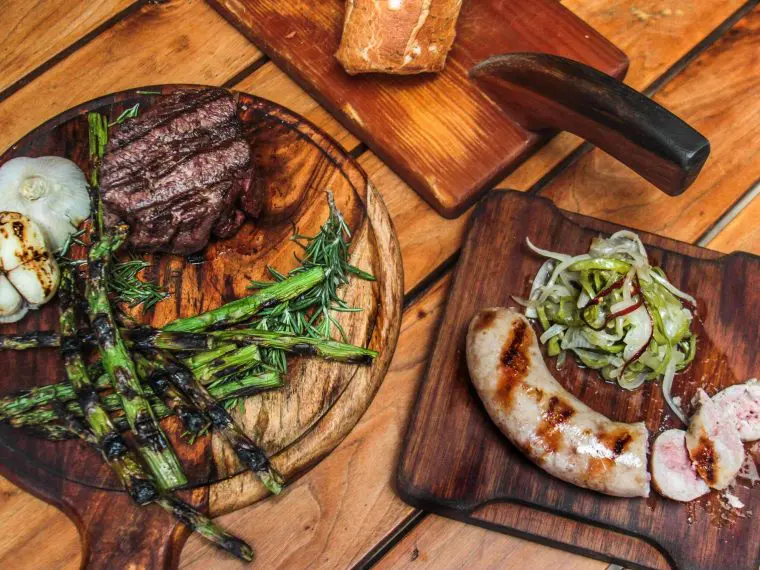 Playa del Carmen definitely wins at having the best food for the best prices.
There are so many options to choose from, it doesn't matter what you're craving you are guaranteed to find it in Playa. Which isn't the case over on Cozumel. In Playa expect to find 5-star dishes for 2-star prices.
Cozumel vs Playa Del Carmen Snorkeling
Cozumel wins this one hand down! Famous all over the world for its first-class snorkeling experiences, the reefs, and lush marine life are incomparable.
People from all over the world flock to Cozumel every year to go diving or snorkel the reefs that surround it. Trust me, it's an experience not to be missed. Even if you don't choose to stay here you should definitely take a day trip to see what all the fuss is about for yourself.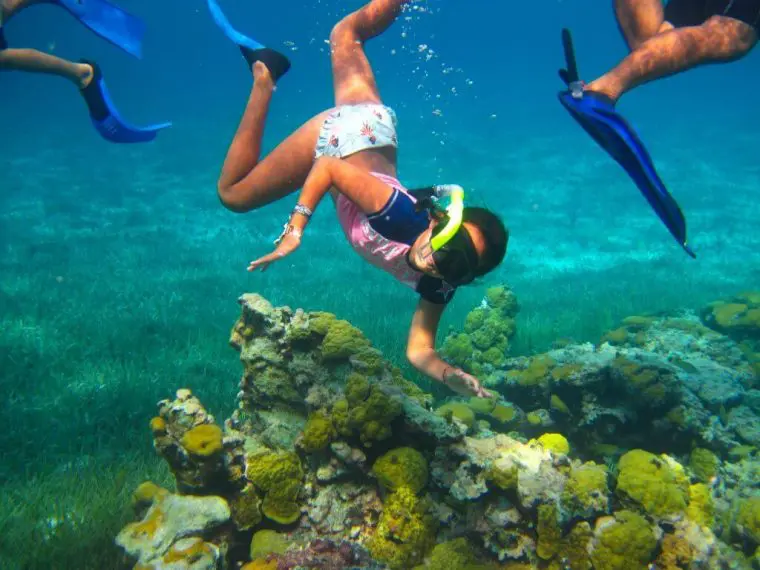 In Playa, there are places close by such as Akumal where you can snorkel and expect to see a sea turtle if you're lucky.
Cozumel Nightlife vs Playa Del Carmen
The nightlife in Cozumel is largely made up of beach clubs so it's a much more chilled out hangouts.
Many of the hotels also have bars that stay open into the late hours of the night, but if you're looking for clubbing experience, Playa del Carmen is the way to go.
Take a look at our guide to nightlife in Playa del Carmen to see just how many options there truly are. Whether you prefer live music events, full-on dance clubs, or low key bars by the sea, there is something for everyone.
---
Playa del Carmen
What gives Playa del Carmen so much flavor is not just the bustling downtown area, but the surrounding landscape. It sits right at the heart of the Yucatan Peninsula sandwiched between Cancun and Tulum.
It's a vacationers and expats paradise, boasting just the right blend of tropical Carribean bliss and civilization.
Famous for its Quinta Avenida (or 5th Avenue in English) the pedestrian thoroughfare runs parallel to the beach, with blocks of shops, restaurants, bars, and dance clubs.

Besides the downtown area, Playa del Carmen is the perfect base if you want to explore all the archeological treasures, and natural wonders unique to this part of the world.
Plus, it's in close proximity to some of the touristic hotspots such a Xel-Ha and Xcaret.
Over the years this small fisherman's village has evolved and diversified into a beautiful quirky coastal town home to an array of Europeans, Americans, and Mexicans.
In Playa there is something for everyone, it's a small city that caters to solo travelers, families, couples, and groups of friends.
How to get to Playa del Carmen?
Here's everything you need to know about getting to Playa del Carmen from Cancun airport.
It's roughly around a 40-minute drive.
The cheapest way to get here is to use the ADO bus services, which are comfy and air-conditioned. They pick you up right outside the airport terminal and drop you at the bus station on 5th avenue.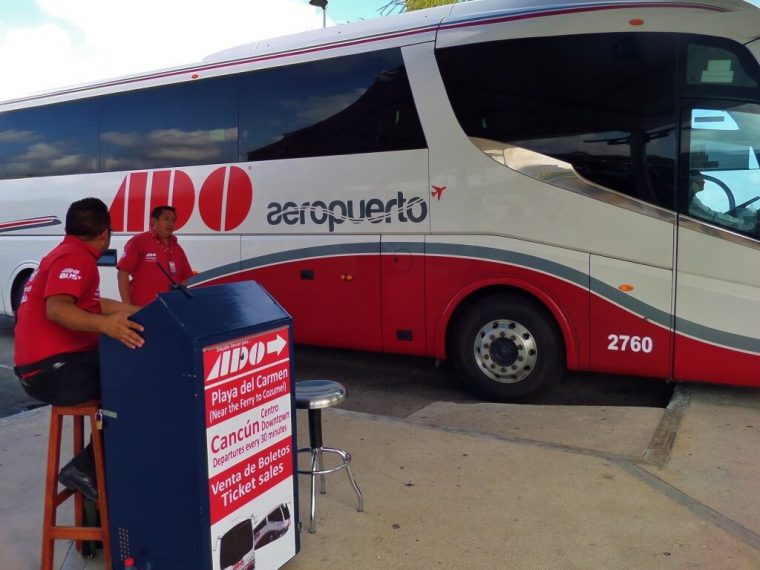 Alternatively, you can arrange a private transfer or take a taxi.
Why Playa del Carmen?
If you're looking for an escape to paradise but still enjoy the hustle and bustle of a busy town then look no further!
Playa del Carmen feels like a tropical haven coupled with a slice of your home comforts at the same time. Whether you want to do some shopping, laze on the beach, or explore the natural wonders such as cenotes, this small city has it all.
There is a fascinating cultural mix within the city, home to thousands of Europeans, the food here is simply to die for. No matter what you're craving, you're guaranteed to find it.
What to do in Playa del Carmen?
Here at PlayaDelCarmen.com we only sell and promote the tours in the area that have been tried and tested by our expert travel specialists and have gained the seal of approval.
We don't feel right selling stuff we don't believe deserves your attention, so why not have a scroll through our list of things to do in Playa del Carmen on our website to see what we've been loving lately!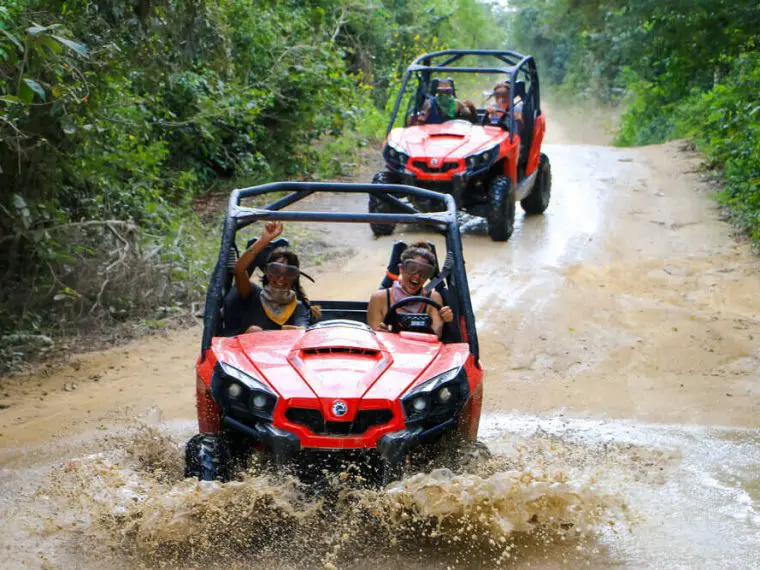 My top 3 things to do got to be:
Where to stay in Playa del Carmen?
There are many all-inclusive hotels in Playa to choose from.
But just footsteps away from the famous 5th avenue, The Royal hotel enjoys a privileged position in downtown Playa del Carmen.
You may have noticed (if you have ever visited this part of paradise before), that many of the resorts here in the Riviera Maya are spread out and often secluded.
This hotel is different.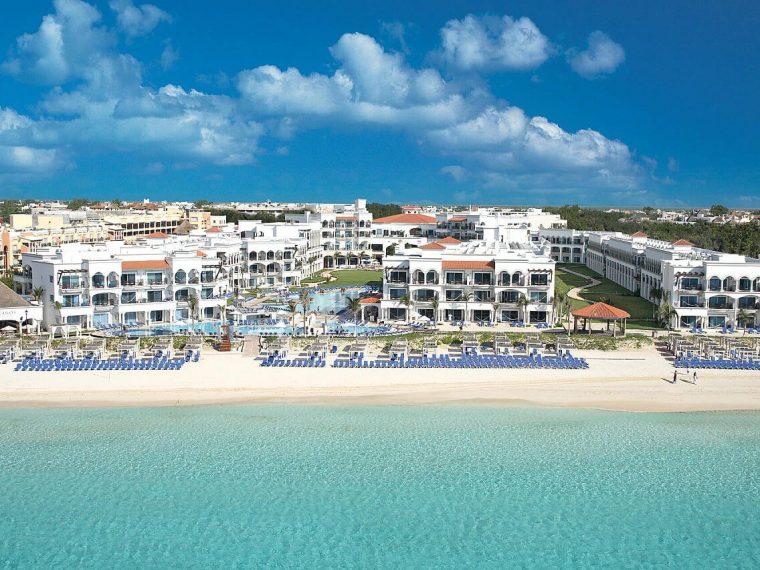 The Royal is a renowned 5*, all-suite, all-inclusive adults-only hotel in the heart of town. 
I don't know about you, but if I am stuck in the same place for a prolonged period of time, I get cabin fever. I like to roam free.
A lot of the grand, and impressive structures that dominate the coastline of Quintana Roo, are encapsulated by lush tropical greenery, which is beautiful, however, it means you can't go anywhere without getting a taxi or booking a tour.
Rather than feeling like a captive in your hotel, The Royal offers you the option to explore the vibrant streets of Playa del Carmen.
Read my full review of The Royal Hotel here.

Interested in booking?
If you would like to discuss anything mentioned in this blog with one of our expert travel consultants here at PlayaDelCarmen.com be sure to give us a call on our toll-free number 1 888-537-9797 or if you're from the U.K +44 20 3880 9797
Or
Alternatively, contact us via email at customercare@playadelcarmen.com
If you have any further questions be sure to let us know in the comments section, we would be happy to answer them for you.
---
Trending Now