Discover the Creepy Underwater World That Lurks Beneath the Waters of Isla Mujeres
---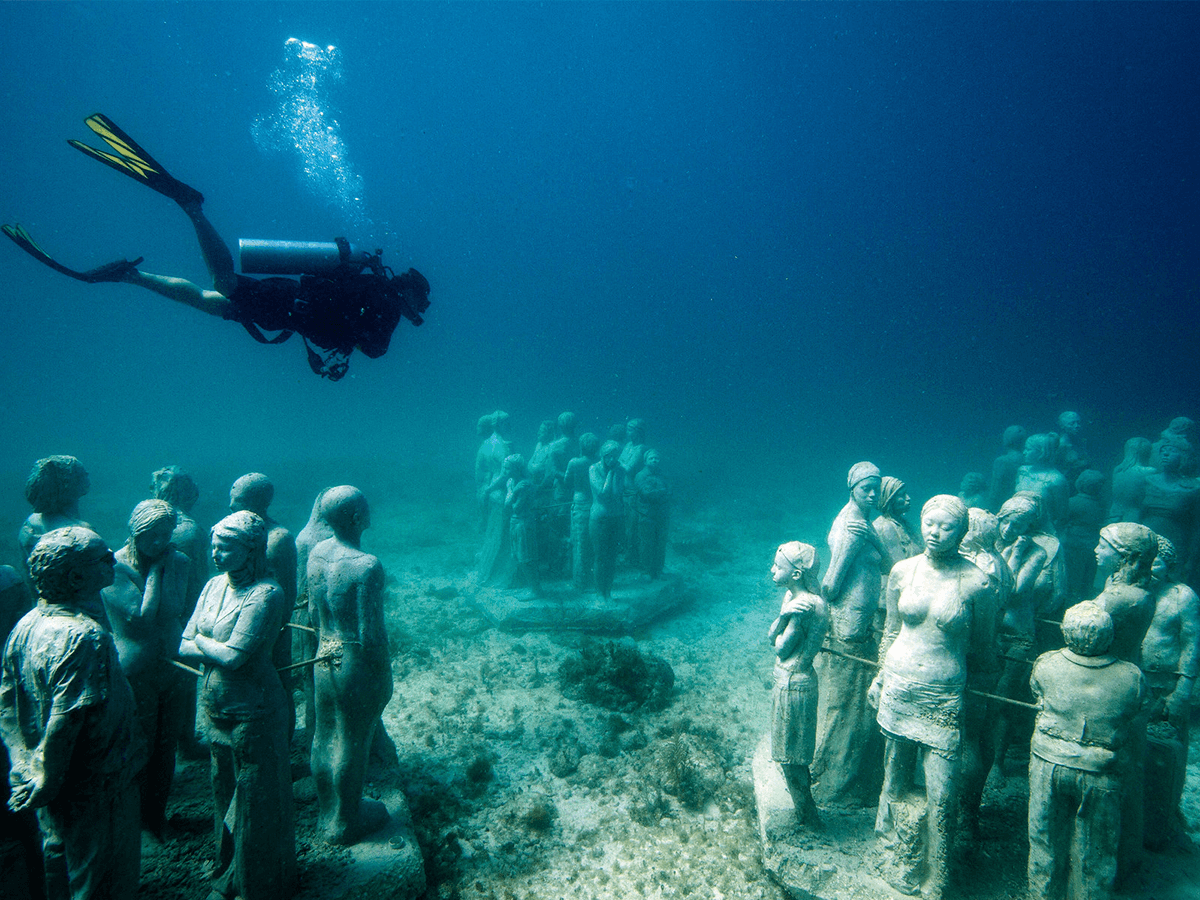 8 years ago, in 2009 a monumental underwater contemporary museum of art called MUSA (Museo Subacuático de Arte) was formed.
On land, Mexico is widely regarded as a country shrouded in the magic and mystery of ancient Mayan histories and traditions.
But the big blue ocean that surrounds this remarkable part of paradise houses many secrets of its own…
Prepare to be enchanted by a little-known spectacle awaiting to be discovered on the ocean bed floor.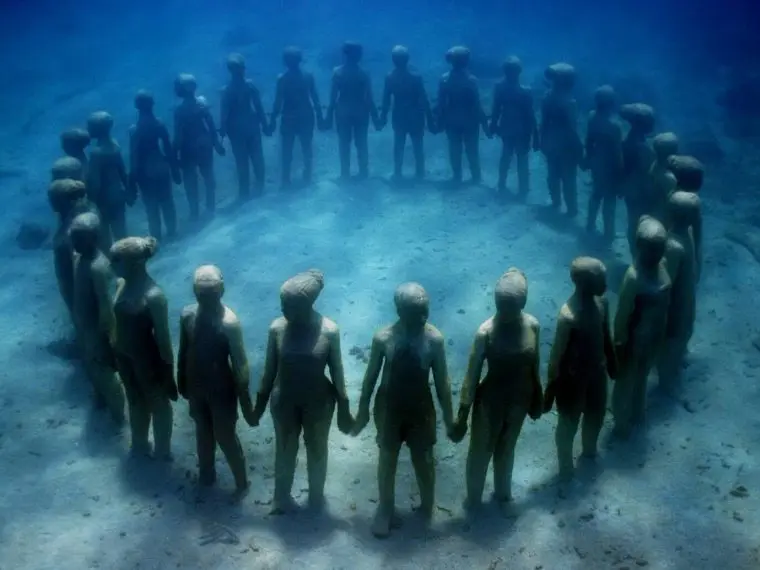 There is an underwater world that lies beneath the crystal clear waters of Cancun, Isla Mujeres, and Punta Nizuc.
Inhabited by over 500 eerie structures it is a sight not to be missed!
What is the Underwater Museum of Art?
Roberto Díaz Abraham (former President of the Cancun Nautical Association) and Jaime González Cano (Director of the National Marine Park) founded the project in an attempt to save, protect, and promote the vibrant coral reefs that surround Quintana Roo.
Together they hired an English Sculptor Jason de Caires Taylor to create the intricate and striking structures that would later be submerged in the water.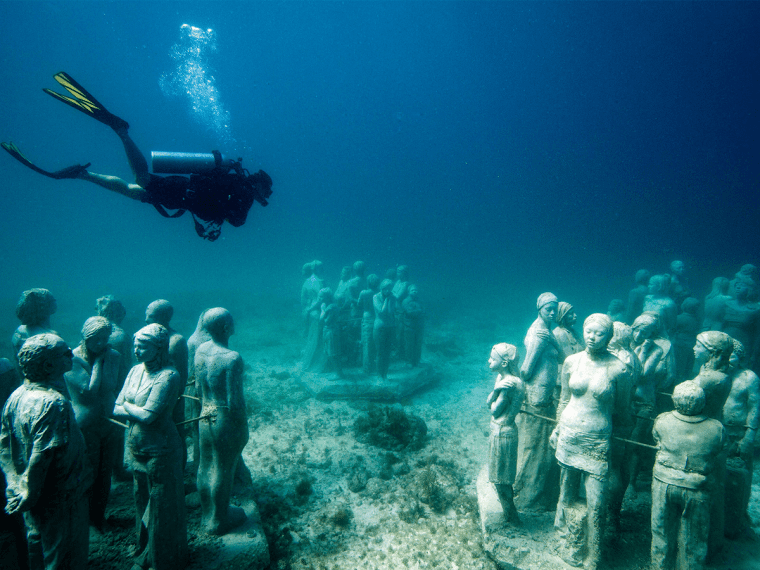 Today, in MUSA there are now over 500 permanent life-sized structures and it is one of the largest and most ambitious underwater attractions in the world.
Unlike conventional museums there are no walls, the only thing separating it from the rest of the world is the big blue ocean. Are you ready to dive in?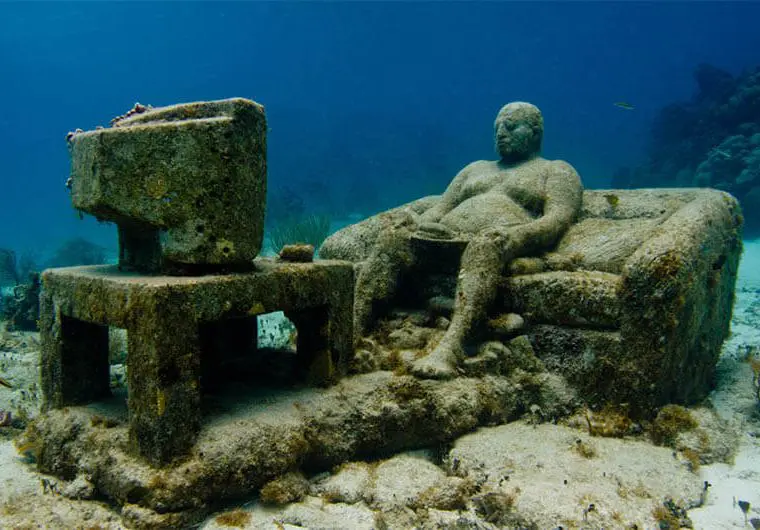 Why did they build the Underwater Museum of Art?
This genius idea aims to demonstrate a conscious interaction between art and environmental science.
The structures, over time, will hopefully form part of a complex reef structure for marine life to colonize and inhabit.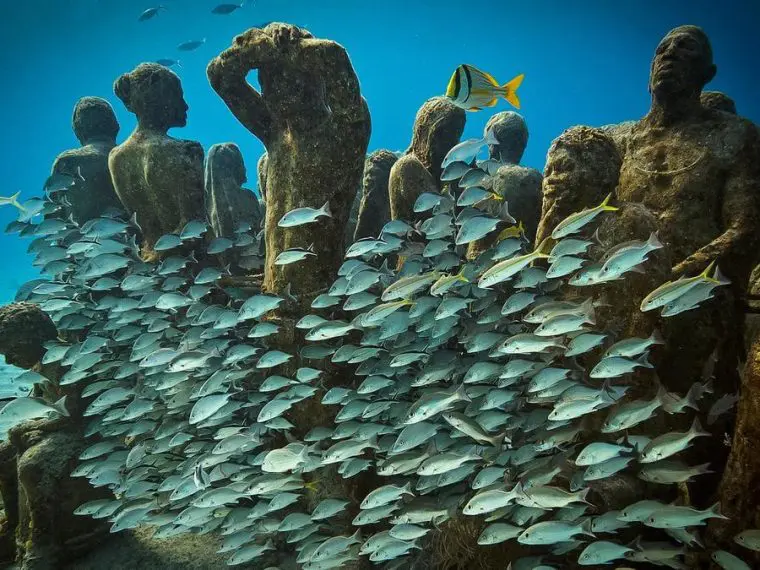 All of the sculptures are fixed to the seabed and made out of specialized materials. The marine grade cement consists of a PH-neutral surface that promotes coral growth.
Taylor allowed the plaster to dry before removing it and filling in the remainder of the sculptures.
Since they were submerged the statues have become covered in algae and coral, they sure are a stunning sight to behold!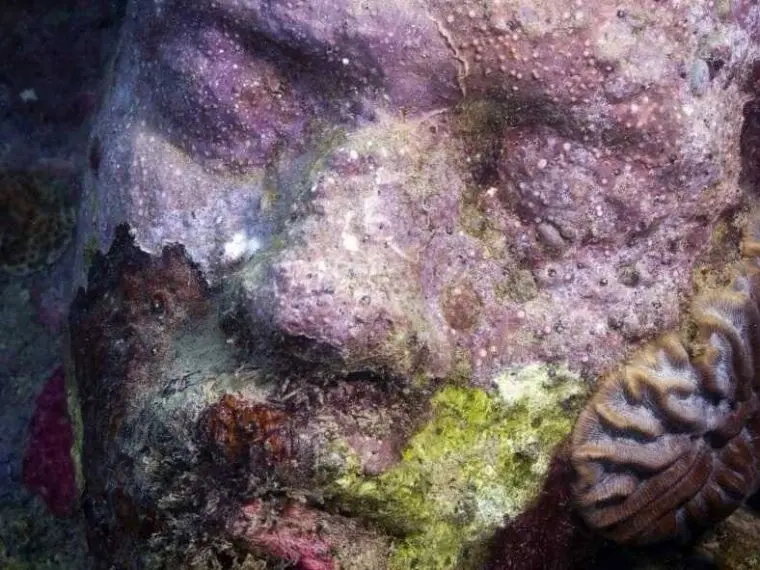 If you visit you may notice that some of the structures look like people you would meet in your everyday life.
Taylor did this on purpose as a satirical commentary on humanity. He created "The Banker", a series of men in business suits who have their heads buried in the sand.
He got the idea after visiting a climate-change conference in Cancun.
"It represents the loud acknowledgment made about the issue, but when it comes to taking action nobody wants to stick their neck out and do something about it," Taylor said about the work.
His masterpieces are scattered across the ocean bed floor occupying an area of over 420sq meters.  In total, the sculptures weigh in at over 200 tons.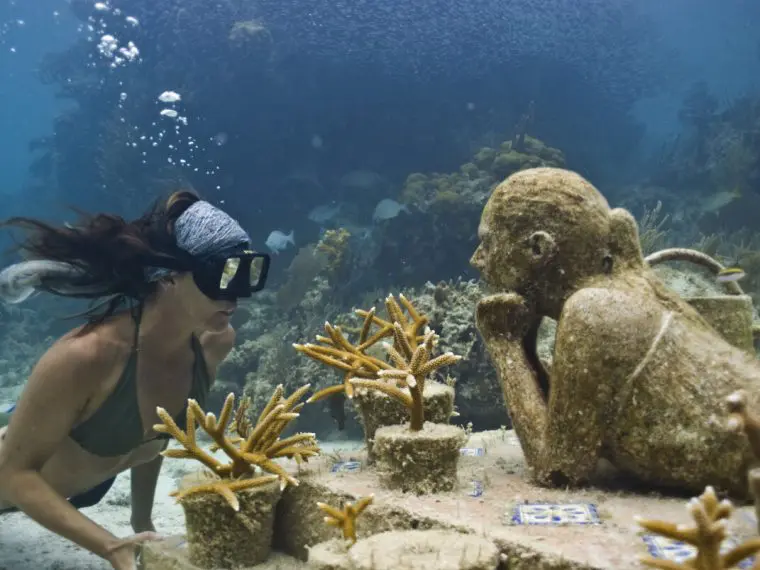 How do you visit MUSA?
There are several ways to see MUSA for yourself:
Scuba Diving
The most popular option is to scuba dive, if you're into diving we would highly recommend this option, as you can get up close and personal with the lifelike structures.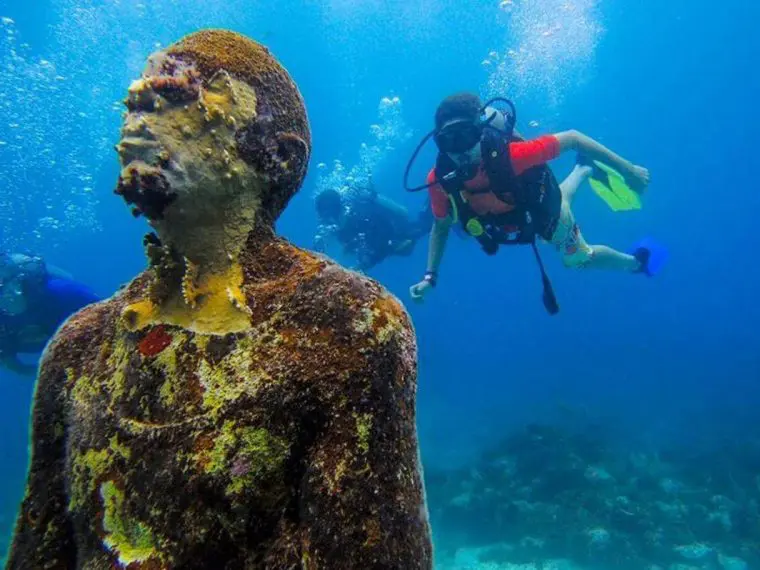 Abyss Dive Center is a Canadian owned and operated dive center in Playa del Carmen.
They offer opportunities to do cenote diving, ocean diving, or are if you are looking for dive training, the professional staff here have got you covered!
There dives and dive packages can be scheduled from Playa del Carmen, Riviera Maya, and Tulum.
Snorkeling
On our Isla Contoy & Isla Mujeres and Cancun Catamaran to Isla Mujeres tours there is the opportunity to snorkel areas of the Underwater Museum of Art, however, visibility can sometimes be limited dependant on the weather.
On a beautiful day, it is likely you will see them, but some of the structures are situated 8 meters deep.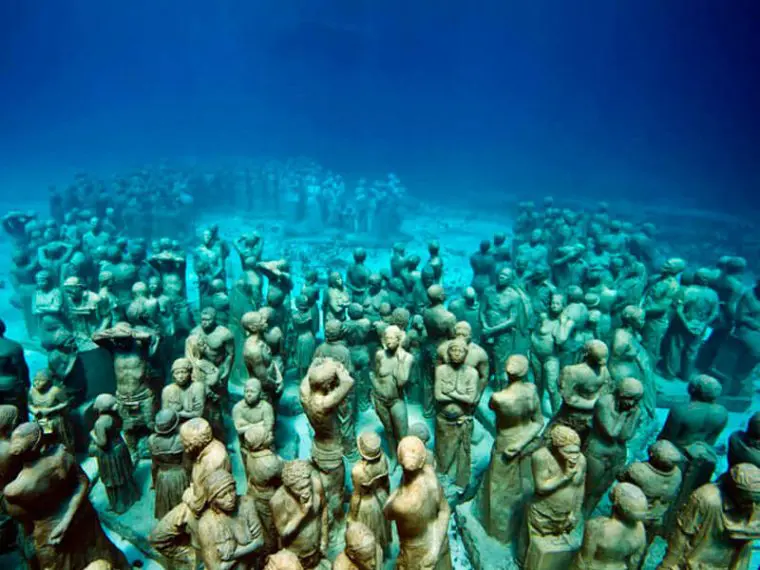 This is the perfect choice for people who still want to witness the amazing museum, but aren't comfortable going fully underwater.
The water surrounding Isla Mujeres is often shallow and you are guaranteed to see some vibrant marine life.
Glass Bottom Boats
Unfortunately, we don't offer this option here at PlayaDelCarmen.Com, however, for people not comfortable being in the ocean, there are tours that offer to take you in a glass bottom boat.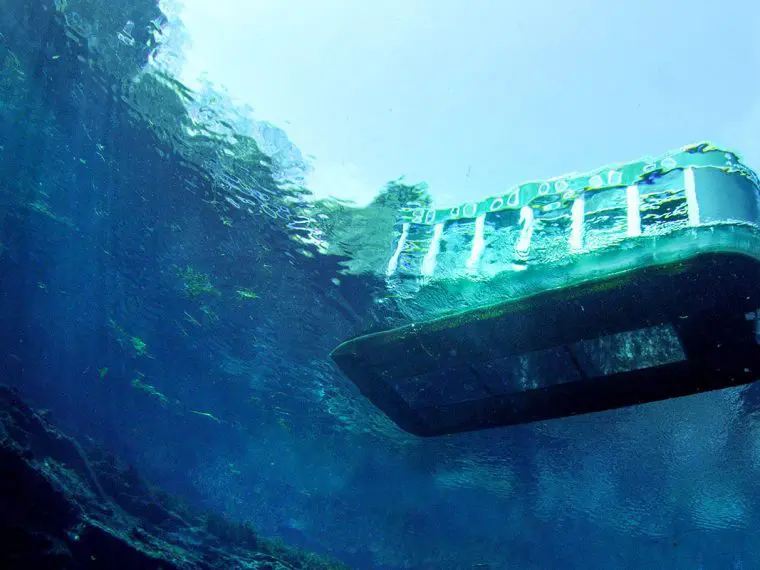 You can inquire about this option from tour stands in Playa del Carmen, Tulum, or Cancun. It's an activity for all ages, and you'll be able to view the depths of the ocean without getting wet at all.
Are you ready to explore this underwater world frozen in time beneath the depths of the ocean?
Need a little more convincing?
Take a sneak peek for yourself:
Interested in visiting Isla Mujeres?
If you're interested in visiting the beautiful just off the coast of Cancun be sure to give one of our expert Travel Specialists a call on our toll-free number +1 888-537-9797
Alternatively, contact us via email at customercare@playadelcarmen.com
If you liked this post don't forget to SHARE it with your friends on social media or feel free to tag them in the comments section.
---
Trending Now