10 Magical Venues to Get Married in Mexico (with Pictures)
---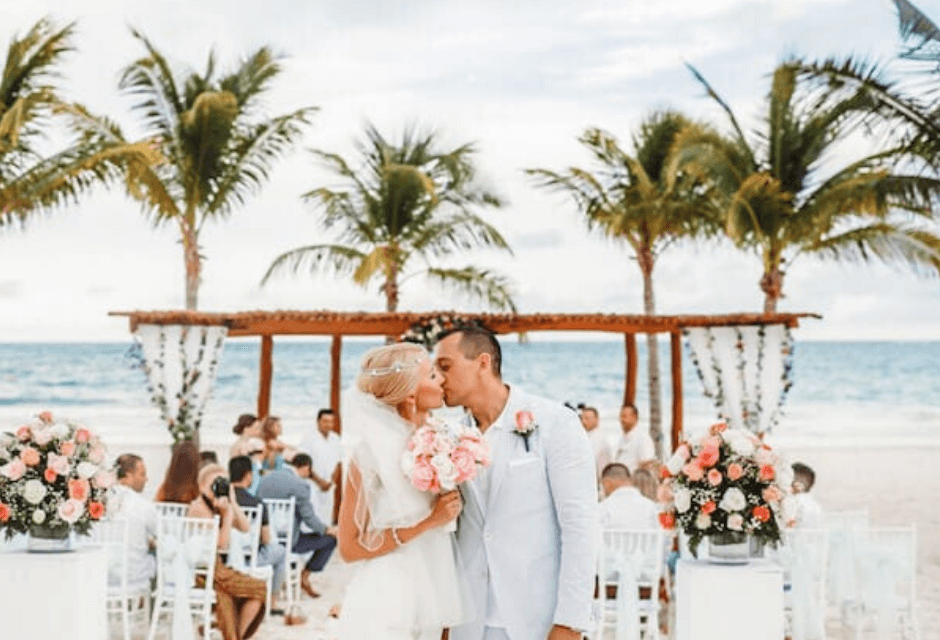 Are you thinking about getting married in Mexico?
If you've dreamed of having the fairytale wedding EVERYONE will remember, you've definitely landed in the right place.
First off, CONGRATULATIONS on your forthcoming nuptials!
I can hear the clinking of glasses already.
My name is Sarah!
I'm part of a local travel agency based right here in Mexico's magnificent Riviera Maya.
Our wedding team have organized over 100 weddings in this region.
This is our list of the top 10 best venues to get married in Mexico.
Enjoy!
Best Venues to Get Married in Mexico
---
Getting Married in Mexico – 10 Magical Locations
Mexico is the dream location for every couple, whether you want:
A same-sex friendly wedding
A symbolic wedding
A legal wedding
Or a Catholic wedding
We've got you covered.
1. Dreams Riviera Cancun
Family-Friendly | ★★★★★
Location: Puerto Morelos, Quintana Roo
First up we have the Dreams Riviera Cancun!
This hotel hosts destination weddings that you need to see to believe!
Envision elegant accommodations and outstanding food.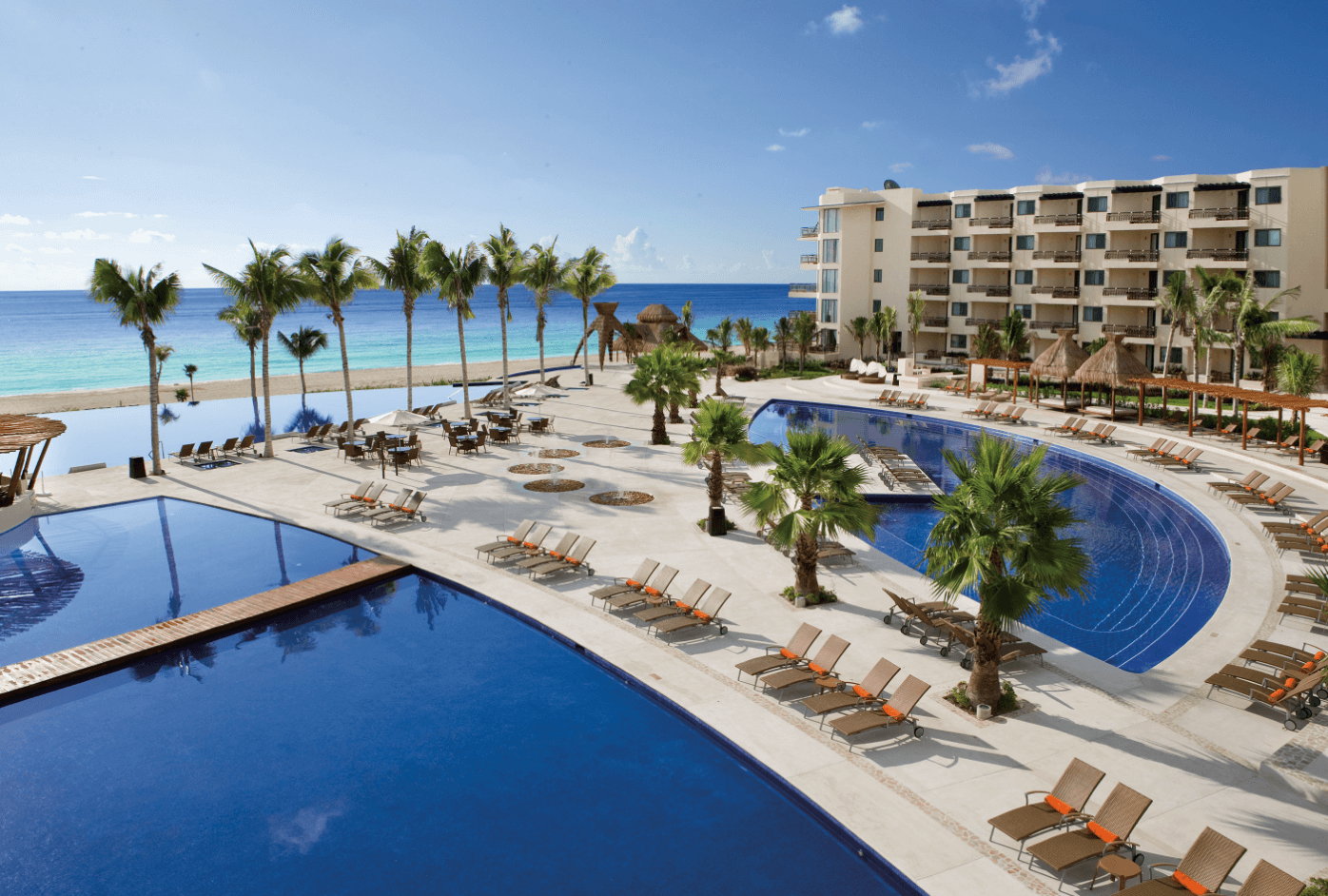 When choosing locations within the resort you will be spoilt for choice this hotel has 4 ceremony options, 4 cocktail hour options, and 7 different reception locations ranging from tropical gardens to palm-studded beach.
If you're a wine lover, we have some GREAT news for you!
You can even host a rehearsal dinner in the atmospheric wine cellar!
Or why not reserve one of the unique shaped octagonal rooms with a plunge pool to add a little extra pizzazz to the whole experience?
Unlimited top-shelf spirits, unlimited a la carte dining, and 24-hour room service are just some of the many amenities the hotel offers.
Dreams Riviera Cancun is family-friendly. Kids are always welcome and you can guarantee they will always be entertained with endless activities, sports and games.
To top it all off unwind in the hotel's world-class spa, choose from a  list of exciting services such as body treatments, facials, and massages.
Ensuring you are all relaxed and pampered for your big day.
2. Secrets Aura Cozumel
Adults-Only | ★★★★★
Location: Cozumel, Quintana Roo
Escape the hustle and bustle of the mainland! You're on island time now.
If you love nothing more than to be by the ocean and encapsulated by the color blue then look no further.
Secrets Aura Cozumel is the ONLY adult-only hotel on the island.
From Playa del Carmen you can see Cozumel floating on the horizon in the distance. It takes around 30 minutes to get there by boat.
Time seems to slow down as soon as you step foot on the powdery white sands.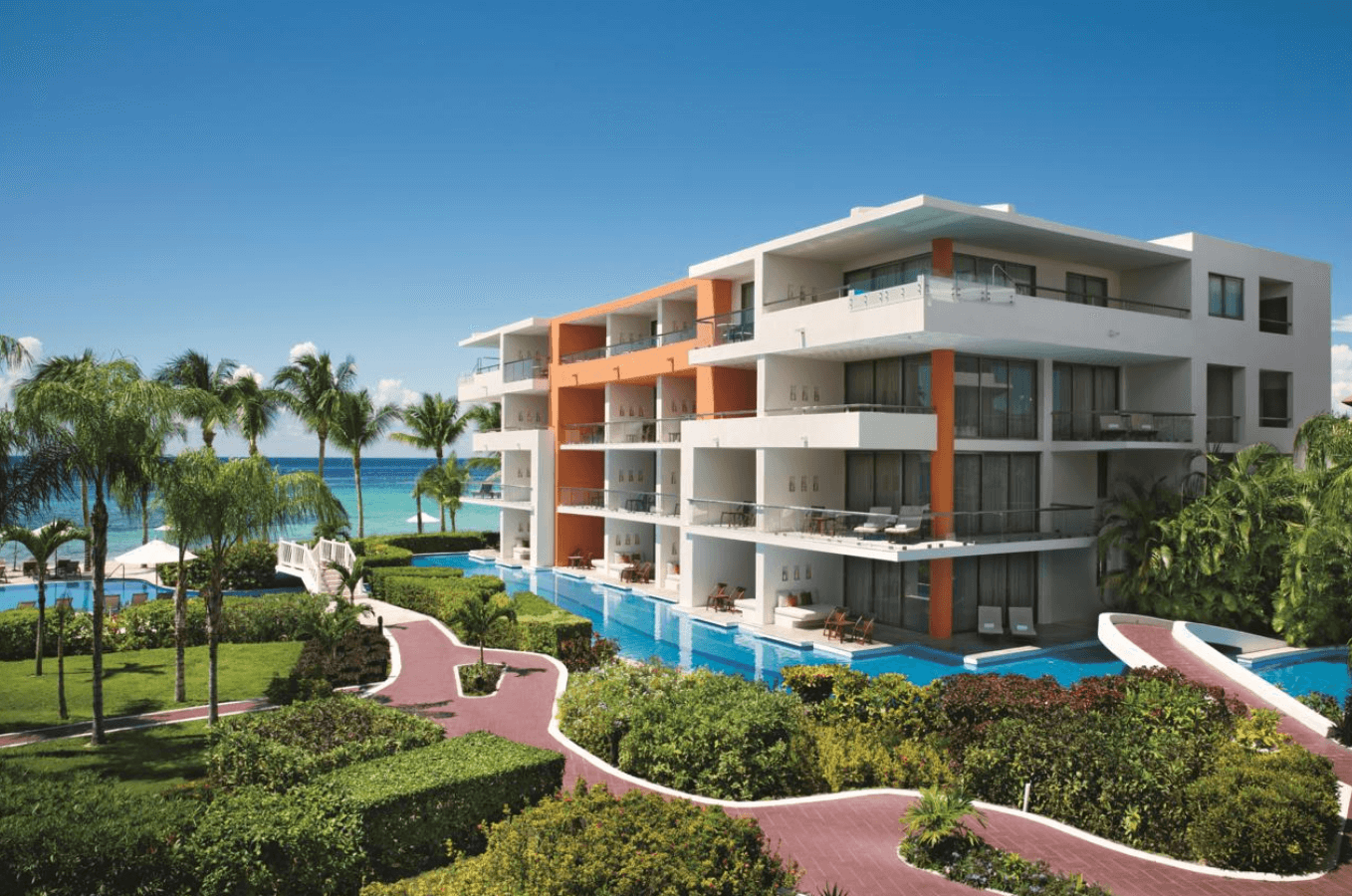 The island is celebrated for its vibrant marine life and lush coral systems.
It's a diver's paradise s0 if you were looking to tick that off from your bucket list while you were here it would be a good place to do it.
For more information about this Caribbean island read our guide to Cozumel here.
There are multiple locations to choose from for your wedding including a pier for up to 10 guests, or if you have a larger group you may find the beach waterfront locations more suitable (up to as many as 200 guests).
Read our recent hotel review of the Secrets Aura Cozumel here!
3. Secrets Akumal Riviera Maya
Adults-Only | ★★★★★
Location: Tulum, Quintana Roo
Ahhhhhh Akumal! Every snorkelers paradise.
Secrets Akumal is one of the newest hotels in the area.
The grand opening was unveiled in November of 2015 and boasts an adults-only all-inclusive, luxurious environment.
Leading up to and after your wedding, you can plan plenty of exciting activities in this area.
It's never a dull day in Akumal.
Be sure to pack your snorkeling gear if you want to get up close and personal with the green sea turtles in this area.
Did you know that Akumal means "place of the turtles" in Mayan?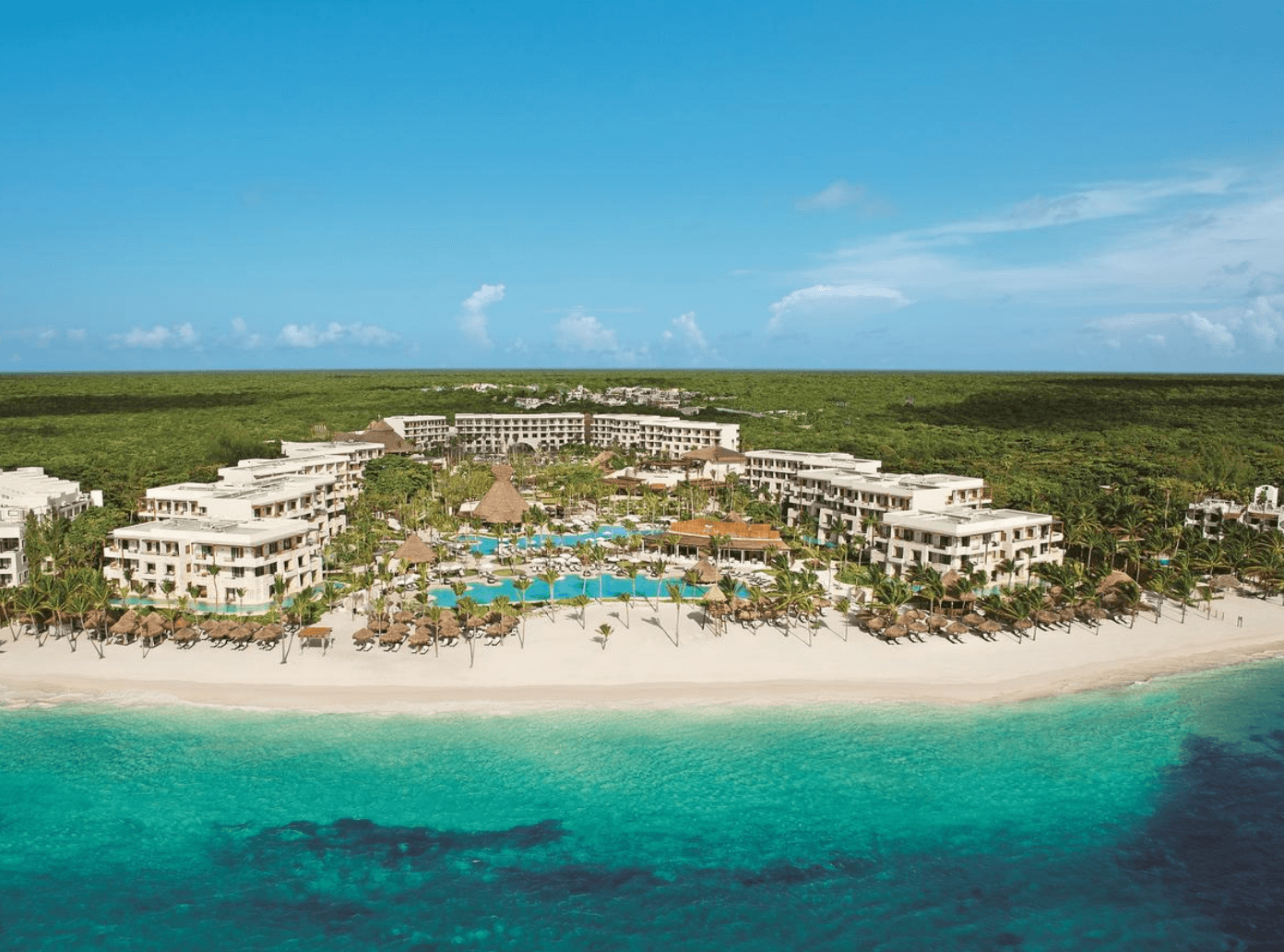 Our favorite intimate spot for exchanging vows at this hotel?
Underneath an arch facade overlooking the lagoon.
MAGICAL!
Three words to describe this hotel?
Idyllic. Striking. Nature. 
Ask us anything about this hotel in the comments section below, we'd be happy to help. 🙂
4. Dreams Playa Mujeres Golf & Spa Resort
Family-Friendly | ★★★★★
Location: Isla Mujeres
There is something enchanting about jetting off by boat from the mainland to a lush island surrounded by the Caribbean sea.
Situated on the island of Isla Mujeres this hotel is extremely accessible and affordable to get to from Cancun.
This resort definitely oozes a sense of seclusion. It's child-friendly meaning all your guests with kids can come along to join the fun.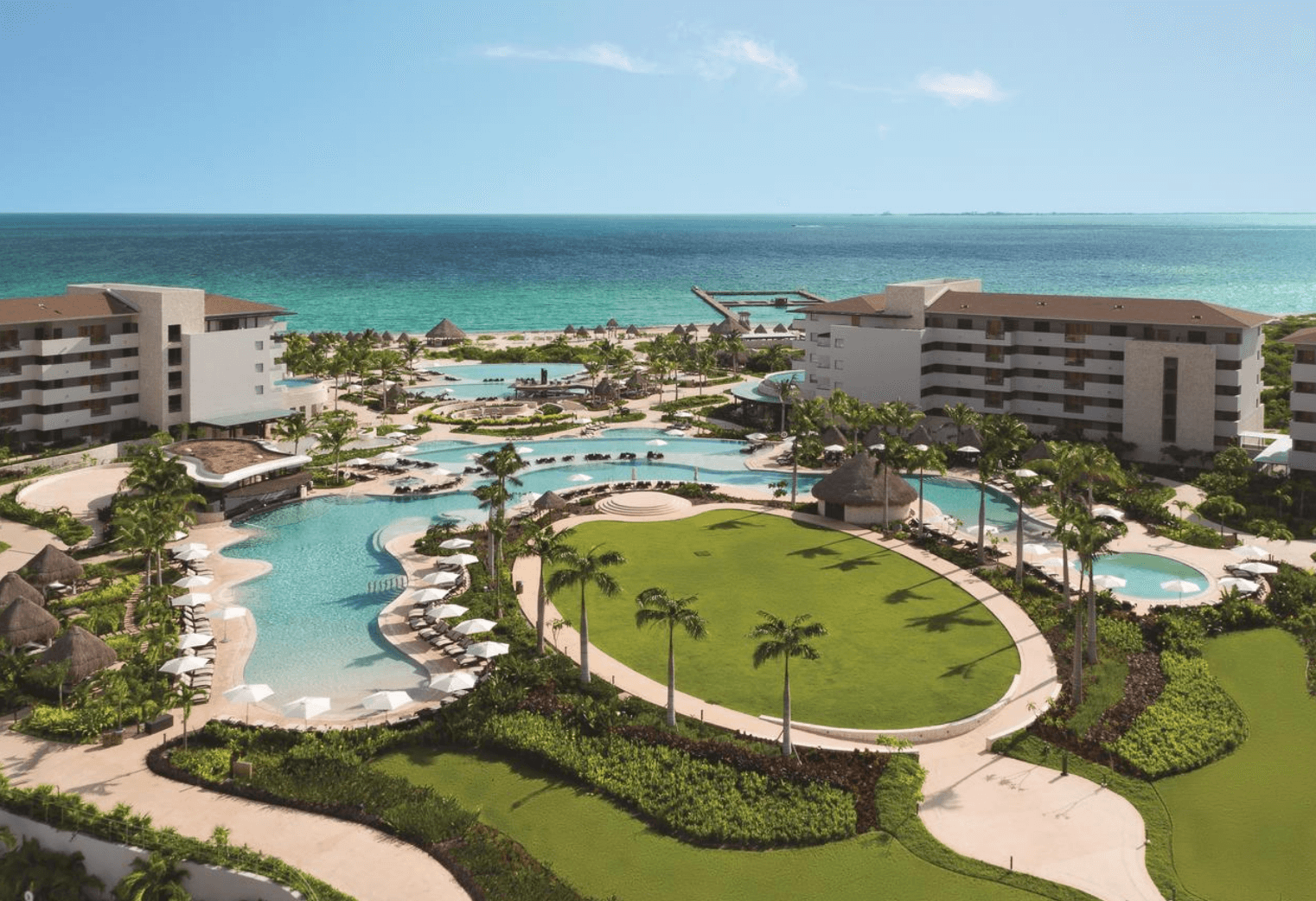 You can top up your tan before the wedding on your own private stretch of beach, splash around at the on-site water park, or hit the links at the Greg Norman signature golf course.
If you want to feel like a VIP at this resort we recommend the Paramount Wedding Package, which includes seating for 30 people on the Paramount Suite's exclusive ocean-view terrace!
Discuss these stunning options with one of our expert wedding planners today.
5. Secrets Maroma Beach Riviera Cancun
Adults-Only | ★★★★★
Location: Playa del Carmen
Convincing your friends and family to come and help you celebrate your nuptials in paradise will be easy when you ask them to join you at Secrets Maroma!
It will be hard for them to resist.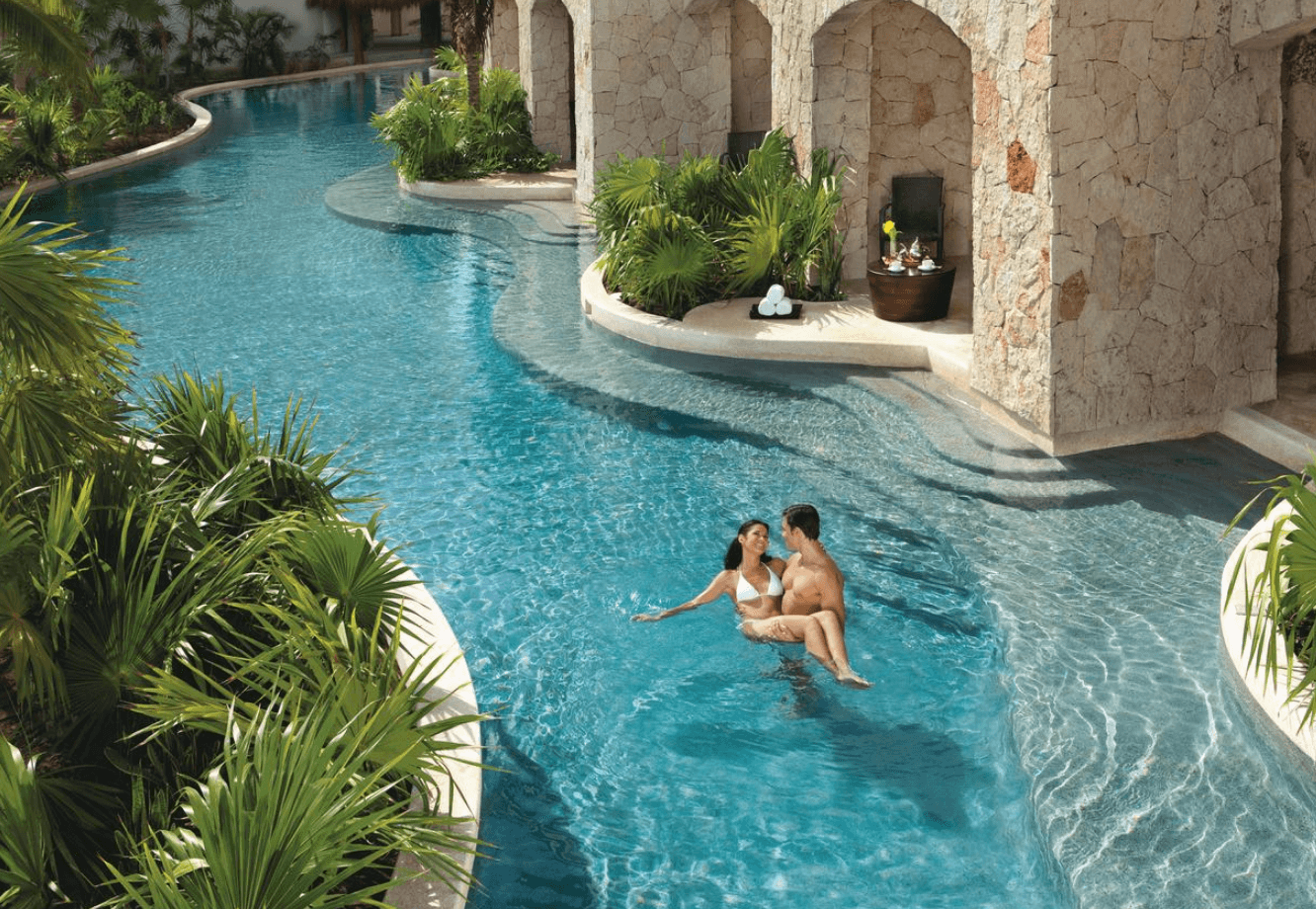 This expansive 412-room resort is situated on a beautiful stretch of sand that is regularly voted one of the world's BEST beaches.
The wooden gazebo at this hotel looks particularly stunning when it is decorated with colorful local flowers.
There are also plenty of exciting reception options with a range of restaurants and lounges to choose from.
Party under the stars with your guests, and enjoy a night to remember!
6. Dreams Tulum Resort and Spa
Family-Friendly | ★★★★★
Location: Tulum
Dreams hotels are renowned in this region for consistently organizing some of the best destination weddings, period.
This particular resort offers a dynamic range of settings.
If you want a destination wedding but still want a semi-traditional setting, this hotel is also the perfect choice for you.
Aside from the stunning beach and tropical locations, at Dreams Tulum you will find a charming, intimate chapel.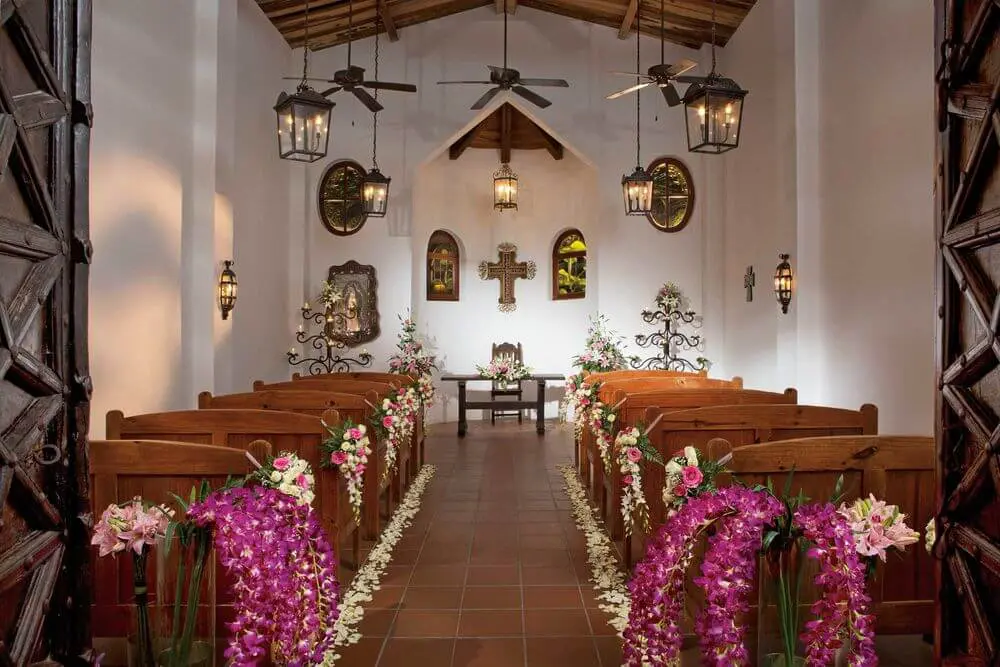 Its intricately carved doors, wood-beamed ceiling, and hanging lanterns are just a few of the details that make this chapel so special.
Afterward, you can indulge in more tropical vibes with a cocktail hour or reception in the jungle garden or on the pristine white sands of the beach.
Staying at Dreams Tulum means you will be in a privileged position. Conveniently located near fun cultural excursions such as the Tulum Mayan ruins.
7. Secrets Silversands Riviera Cancun
Adults-Only | ★★★★★
Location: Puerto Morelos
Forget the worries of your every day!
The only tough decision you will have to make when you stay at the Secrets Silversands is which of the 8 pools you will want to swim in each day.
The customizable packages at this resort mean that we can help you plan the wedding of your dreams with ease.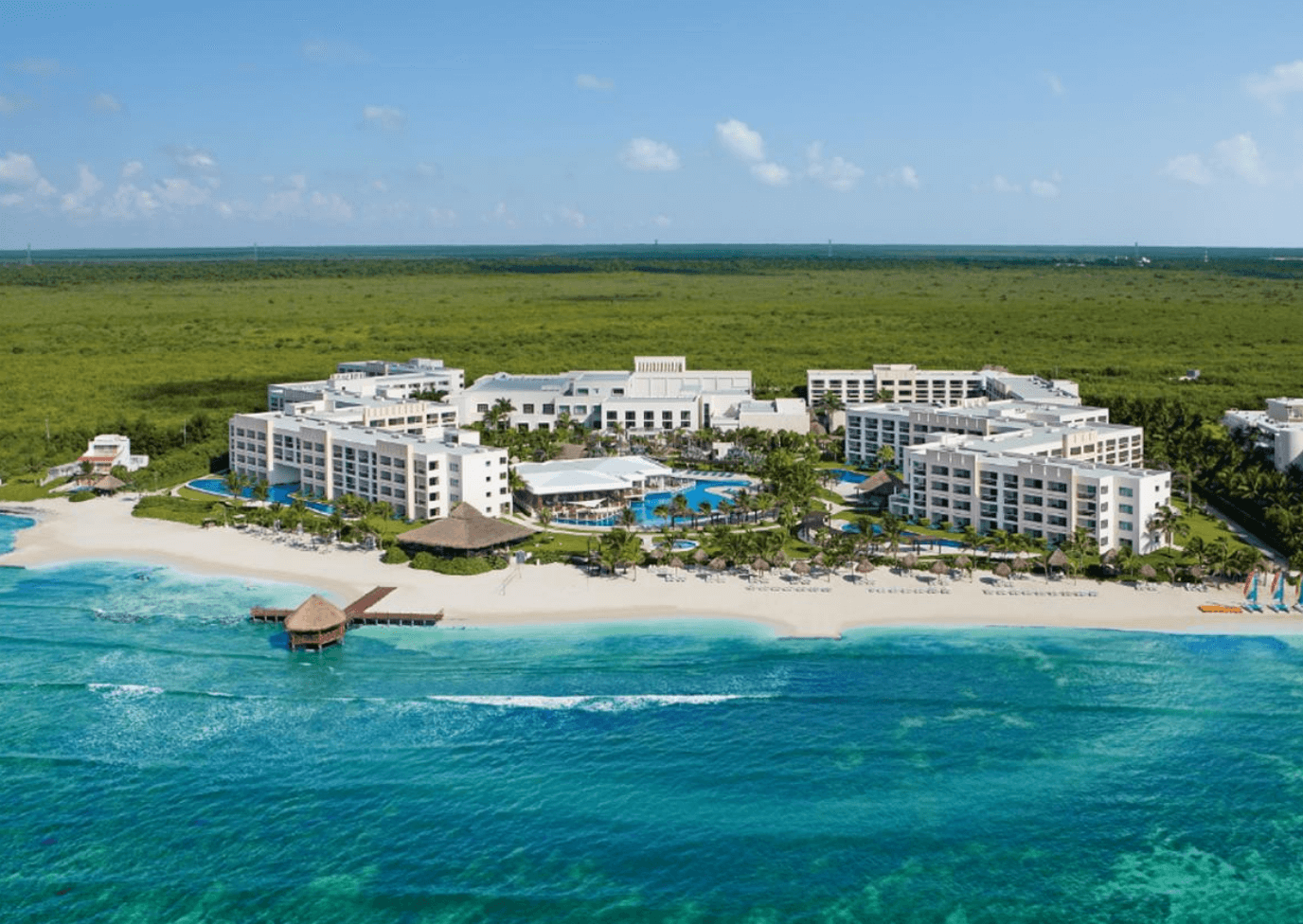 Not only that, but they also specialize in South Asian celebrations.
Countdown the hours to becoming newlyweds in an over-the-water gazebo or at another scenic location.
Enjoy the moment in your thatched-roof honeymoon bungalow while simultaneously making the most of all the resorts incredible amenities such as 24-hour room and concierge service.
If that's not enough to convince you maybe the private terrace with a plunge pool will?
Come and see what all the fuss is about.
Puerto Morelos is Cancun's little-known neighbor and is not to be missed. It offers a serene and peaceful escape.
It's time to go beyond the clusters of resorts, big cities, and shopping malls to discover the 'REAL' Mexico, a country permeated by an old-world ambiance. 
Read my ultimate guide to Puerto Morelos here. 
8. Dreams Puerto Aventuras Resort and Spa
Family-Friendly | ★★★★★
Location: Puerto Aventuras
Dreams Puerto Aventuras is located in one of the prettiest residential areas in the Riviera Maya.
The impressive marina is teeming with beautiful marine life.
The hotel is located in a protected beach area in a small bay, meaning kids will be able to play in the gentle waves and will be able to snorkel safely right offshore.
One of the biggest draws or withdraws to this hotel is the fact it has its own dolphinarium.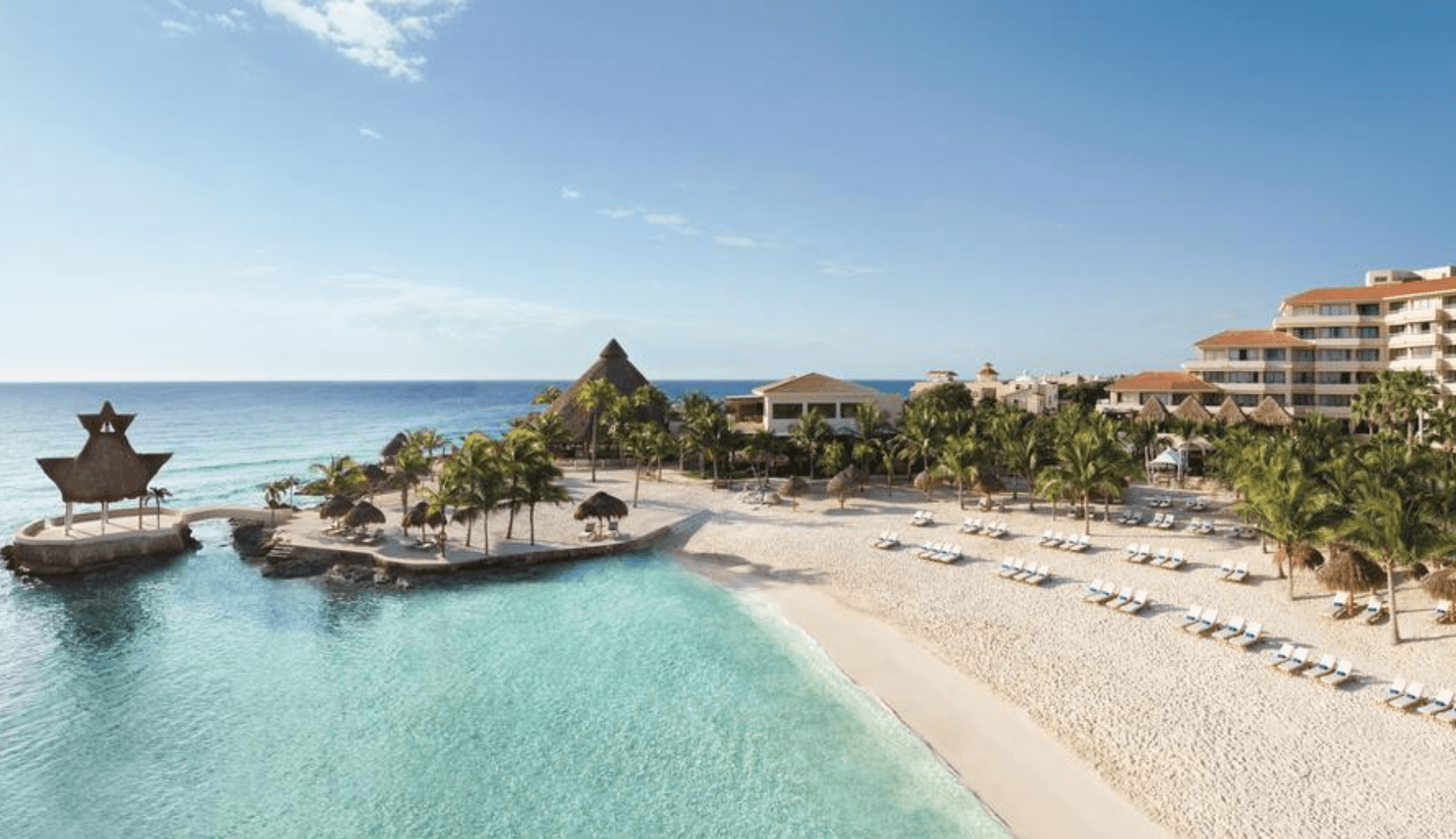 So while here in paradise, you can tick two dreams from your bucket list. Get married AND swim with dolphins.
Golfers can also enjoy preferential golf rates at the Grand Coral Riviera Maya Golf Club when choosing to stay at this hotel.
The world-class spa is the perfect place to pamper before the big day.
Indulge in a range of treatments including massages, facials, body treatments, salon services and more. Treatments are even available for kids and teens as well.
9. Secrets Capri Riviera Cancun
Adults-Only | ★★★★★
Location: Playa del Carmen
Secrets Capri is the home from home while on vacation.
It's sunny yellow buildings scream Meditteranean vibes!
This intimate resort is the perfect place to host a small ceremony with your loved ones.
You can expect personalized service and an array of stunning wedding locations.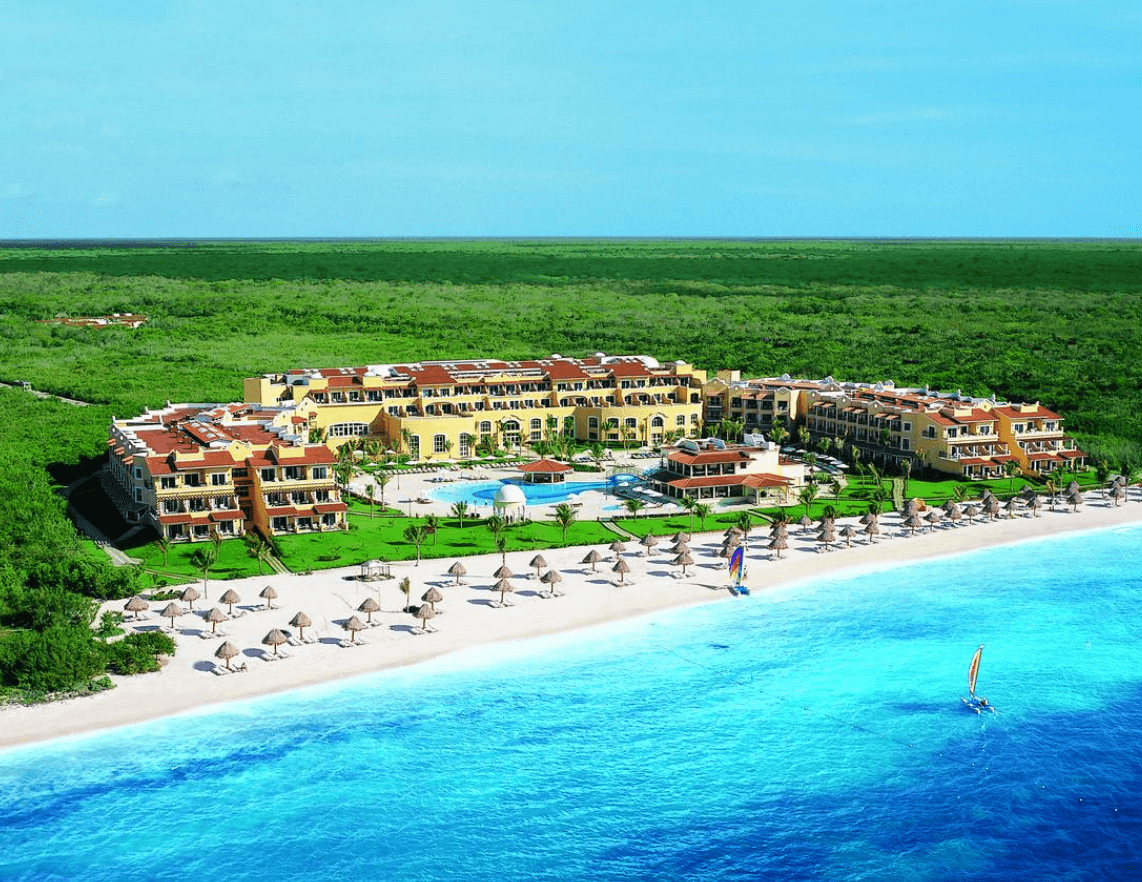 Get married by the pool that's dotted with fountains and studded with palm trees for those incredible photo shots.
After the wedding enjoys a toast around a crackling bonfire!
Conveniently located only 15 minutes from Playa del Carmen, this hotel allows you to get out and explore everything the Riviera Maya has to offer.
Three words used to describe this hotel?
Rejuvenate. Inspire. Enrich
They offer a variety of amazing packages at this hotel which can be customized to your tastes.
Guests with children can even stay at the sister resort across the street and will be allowed access to the Royal for the wedding ceremony.
Enjoy our virtual tour of this hotel, and don't forget to subscribe to our YouTube channel for more videos like this.
And there we have it.
My name is Sarah!
I'm part of a local travel agency whose dedicated weddings team is based right here in Mexico's magnificent Riviera Maya. 
Mexico is home to an endless number of whimsical wedding locations, stunning resorts, and breathtaking beaches.
I understand that planning your wedding is a big deal, especially when you are planning things away from home.
Every woman dreams of her wedding day, it's important you get it right!
PlayaDelCarmen.Com Weddings Team Reviews
Here at PlayaDelCarmen.Com we've been helping couples like you plan weddings for years.
(And might I add) we're pretty darn good at it too.
Like us on Facebook
Our mantra?
Helping people make memories that last a lifetime.
Let us help you!
We know the hotels and locations better than anyone…
Ready to get married in paradise?
Get in touch with our experienced team of wedding planners today for FREE!
Depending on your hearts desires we can whittle down the overwhelming search for you to ensure you choose a hotel and package that is right for you and your group.
We offer honest advice and make the planning process easy.
We'll be with you every step of the way.
Call us toll-free 888-537-9797
Or
Contact us via email at weddings@playadelcarmen.com
Time to Comment
What did you think of our top 10? Is it what you were expecting???
If you have any questions or comments, add them below.
We're here to help. Ask away…
---
Trending Now
You may also like