Why You Should Choose Playa del Carmen – 10 Great Reasons To Visit
---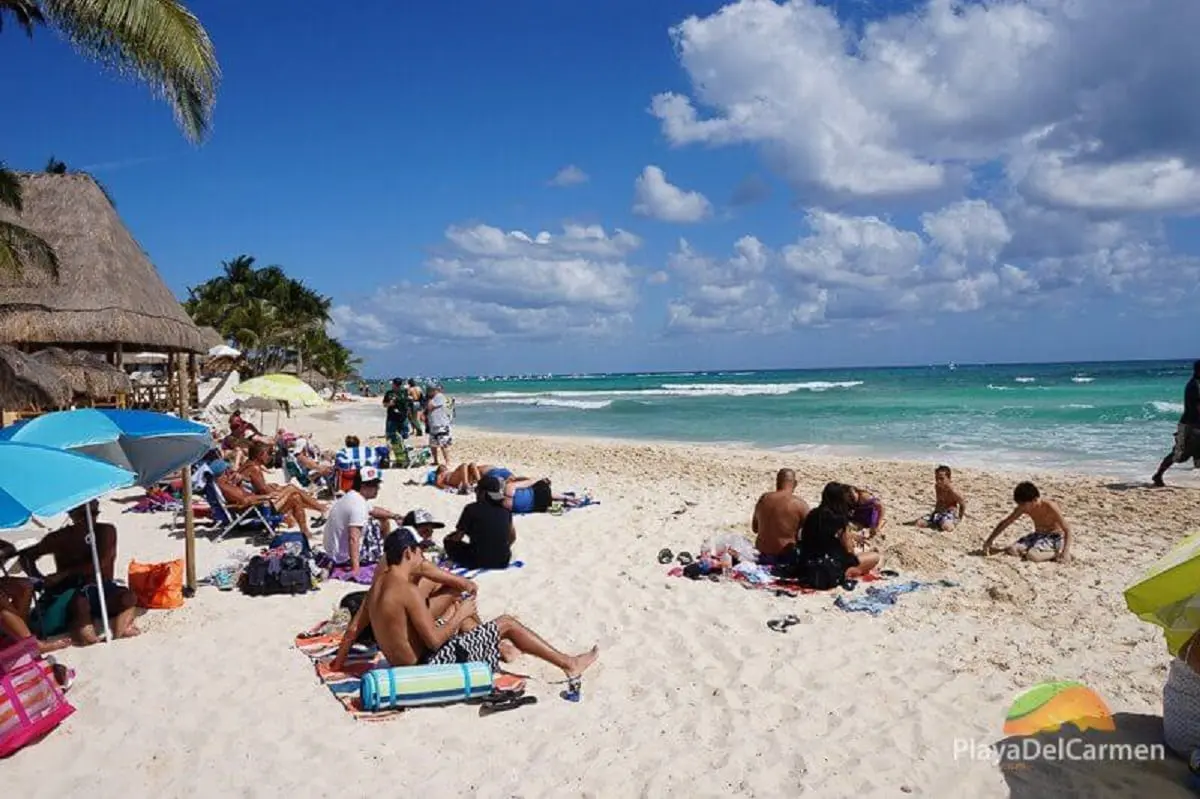 Where is Playa del Carmen?
Playa del Carmen is a popular tourist destination located along the eastern shoreline of  Mexico's Yucatan Peninsula.
With one of the fastest growing populations in Latin America, the beachfront town is situated along the northwestern portion of the Caribbean Sea just 45 minutes south of Cancun International Airport and one hour north of Tulum.
Simple, right?
It may seem that way, but context is key.
Why?
Because Playa del Carmen's location is what graces the town with those special characteristics that make it such a popular destination for tourists and emigrants the world over.
Yes, it's all that.
So Where Is Playa del Carmen Anyway?!
For starters, Playa del Carmen is located in Mexico.
You know, that country south of the U.S. border along which a certain orange-haired, vitriolic man-child would like to build a wall…
Second, Playa del Carmen forms part of the region of the world know as the Caribbean, occupying the northwestern corner of this body of water which converges with the Gulf of Mexico just north of Cancun.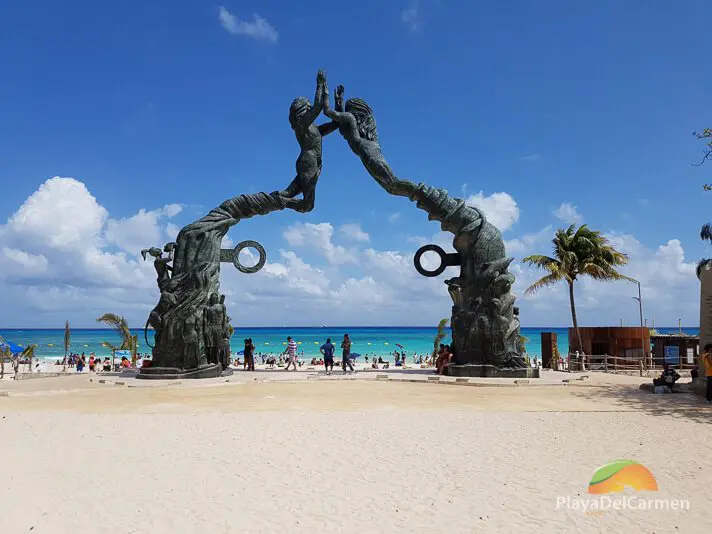 Playa del Carmen is considered to be part of Mexico's Riviera Maya, a prime stretch of land that runs south from Cancun down to the town of Tulum.
This town on the Caribbean is the epitome of sun-kissed destination, with over 300 days a year of sunshine.
Yes, you heard that right, people of the north.
(By the way, winter is coming and it will be here long before the next season of Game of Thrones).
In addition, temperatures average from about 73° F to 83° F year round.
Check out these five things you need to know about Playa del Carmen weather as well as our blog post on Riviera Maya weather for more details about our delicious tropical climate.
And if that doesn't clear up where Playa del Carmen is located, then have a look at this nifty Playa del Carmen map by Google!
10 Reasons Why You Should Visit Playa del Carmen
All that is well and good, but what makes Playa del Carmen so special?
After all, there are many beach destinations with lots of sunshine and large, colorful sombreros.
Okay, maybe not the sombreros but definitely sunshine and margaritas.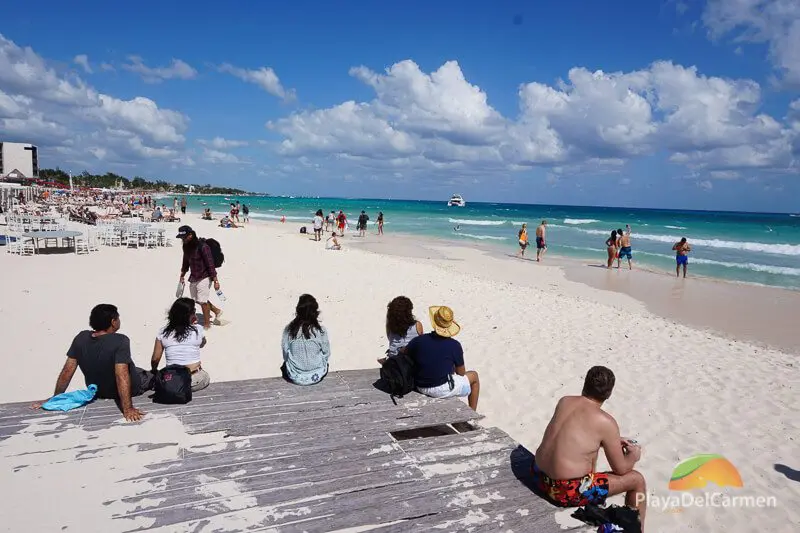 Well, glad that you asked.
Here are just a few reasons why you should make your next vacation a Playa del Carmen vacation.
#1 You Can Eat Stew-Filled Tacos at El Gran Taco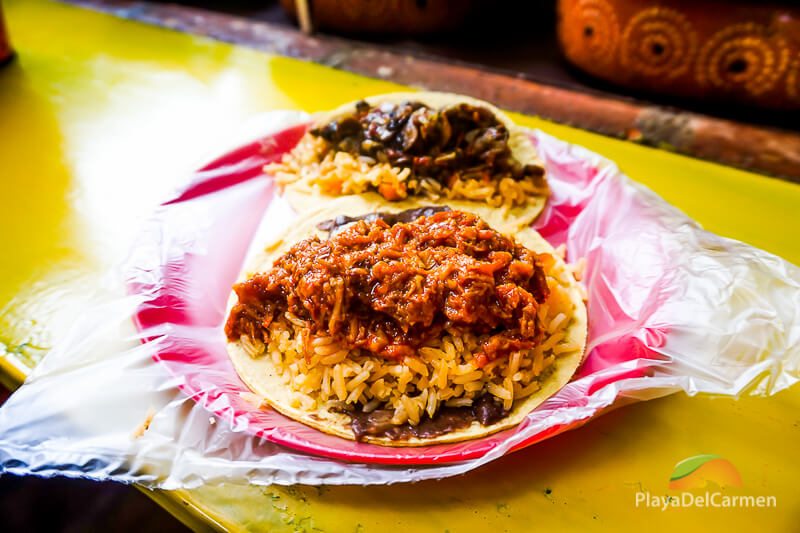 Bob Marley once said that a hungry man is an angry man.
We all know that to be true.
In Mexico, there's another saying: "belly full, satisfied heart."
That's why the first reason I recommend you visit Playa del Carmen is to eat some of the best damn tacos this side of, well, anywhere.
Stew-filled tacos, Mexico City-style, brimming with succulent and perfectly spiced stews.
Whenever I eat there it makes me believe in a higher being and that he in all likelihood is actually Mexican and really likes spicy food.
Gran Taco is located right smack dab in front of the Centro Maya shopping mall.
Oh, and they have flautas, carnitas, barbacoa and more!
#2 You Can Get the Blues Without Being All Depressed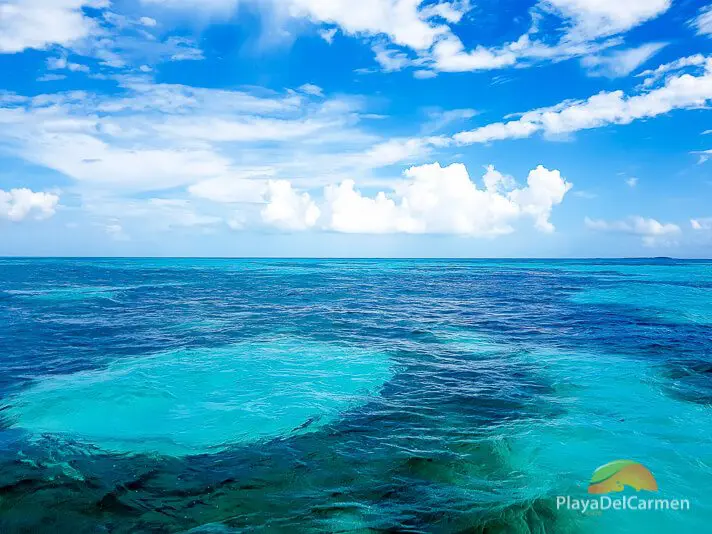 Getting the blues is a good thing if you find yourself in the Caribbean.
The sea is a stunning array of beautiful blue hues.
It's mesmerizing.
And inspiring.
In fact, you may be even inspired to reach over to the small wooden table set upon a white sand beach and grab that refreshing tropical cocktail that has your name written all over it.
#3 You Can Strut Your Stuff on 5th Avenue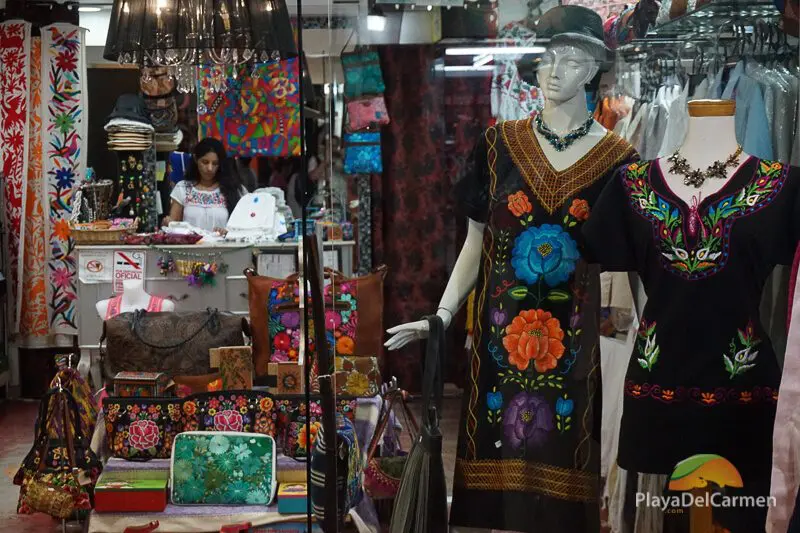 Playa del Carmen's 5th Avenue is a true hip strip.
Over twenty pedestrian blocks lined with shops, boutiques, stands, bars, restaurants, and nightclubs run north to south through the city parallel to that beautiful coastline.
From large international chains such as Starbucks, Victoria Secrets & H&M to rock star bars such as Kitxen or cool art galleries like the Gaston Charó gallery, the Quinta Avenida (Fifth Avenue) has a little something for everyone.
At night the street really comes alive, with the sunbathers of the day dressed to kill at night, strutting their stuff up and down the avenue as they peruse, shop, drink, and eat their way merry through the numerous quality establishments located on this hip strip.
For some good ideas, be sure to check out our post on Playa del Carmen shopping tips as well as our live music guide.
#4 You Can Swim in a Portal to the Netherworld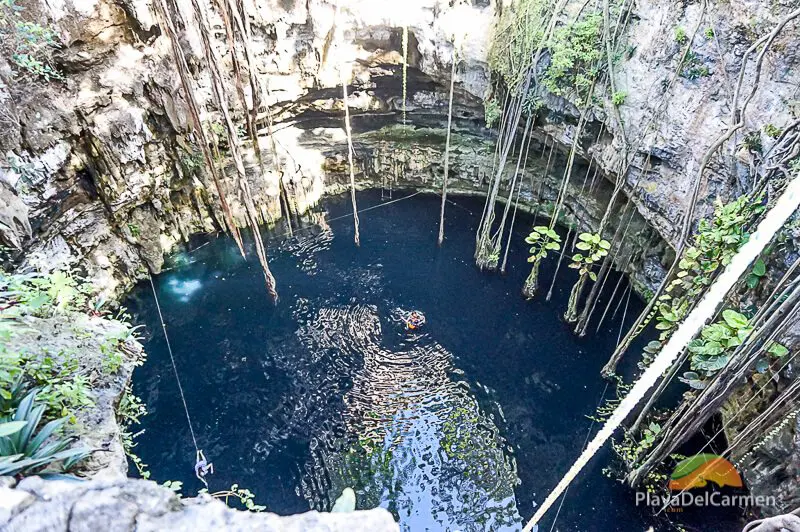 Have you ever heard of a cenote?
A few months back we wrote an article about what are cenotes.
They're basically just the portal to the Netherworld.
At least to the ancient Maya.
And sinkholes.
In fact, the entire Yucatan Peninsula has almost no above-ground rivers.
All the water that flows through the region does so via a system of underground sinkholes.
Of which there are thousands, by the way (and still counting).
Over the course of time, the limestone covering these cenotes eroded, leaving them exposed.
Some more than others.
That's why you have different types of cenotes, such as open, closed, bottleneck, etc.
And you can swim in these celestial bodies of water that the ancient Maya believed connected us mortals to those otherworldly deities of death.
#5 You Can Taste the Elixir That Is Xtabentun
Having survived the Netherworld, you may just be about ready for a drink.
Or two.
Try Xtabentun (pronounced ISHTA-ben-TUN).
Bees have been essential to the region for centuries.
And if Jesus made water into wine, Jesús made honey into liquor.
Yes, Jesús one-upped our lord and savior.
And he did a very good job.
Xtabentun is a product only found locally.
Honey liquor.
Quite tasty and a wonderful aperitif.
Or so I've heard.
Can I get a hallelujah?
#6 You Can Visit a New Seven Wonder of the World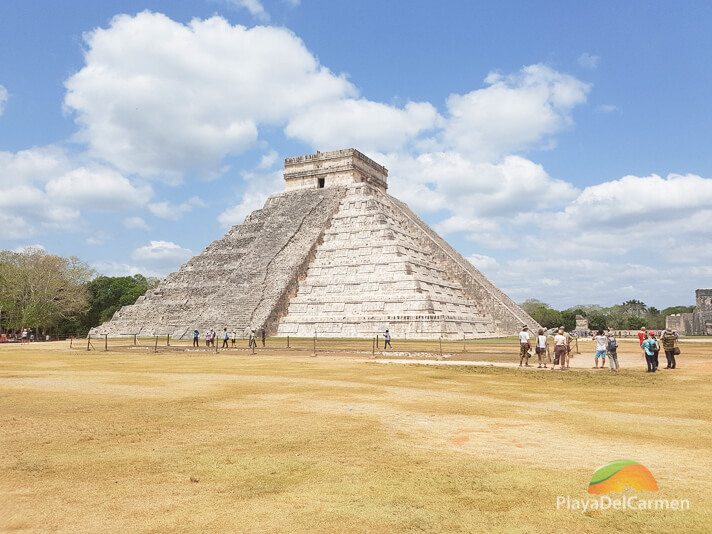 There are 196 countries in the world.
Think about it.
And there are only Seven New Wonders of the World.
One of those testaments to our common humanity just happens to be a two-hour drive from Playa del Carmen.
Not bad.
A great place for selfies but an even better place to learn about the rich and storied history of Mexico and the Mayan people, Chichen Itza is well worth a visit.
Yes, it's a long day.
Plus, there are quite a few vendors, some of whom are amazingly persistent.
And it can get hell-like hot.
But.
And there had to be a but to this story, Chichen Itza is amazing.
Don't go without a guide.
Learn about this fascinating place and the level of knowledge and wisdom that it represents.
Just do it right.
Check out our Chichen Itza tour tips and be sure to plan a trip to this or some of the other Mayan ruins of the Yucatan Peninsula.
#7 You Can Experience Yet Another UNESCO World Heritage Site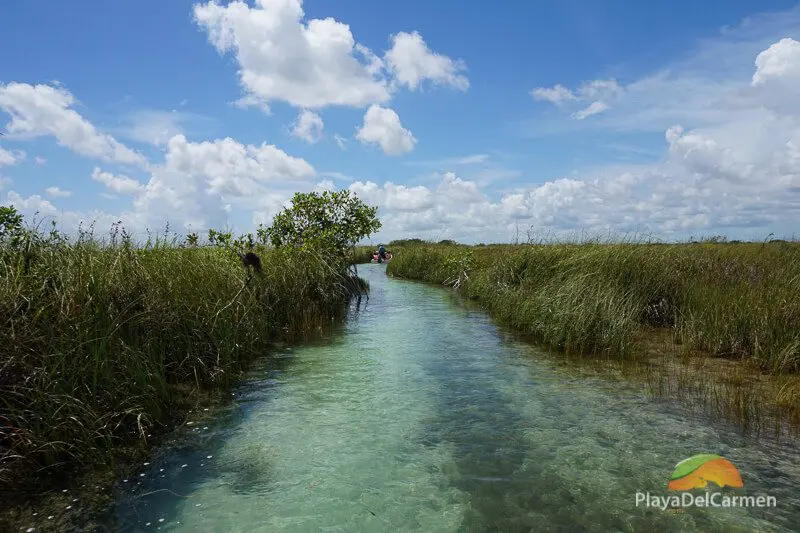 Have you ever heard of Sian Ka'an?
Like its cultural kin, Chichen Itza, Sian Ka'an is a UNESCO World Heritage Site.
Meaning place where the sky is born in Maya, this place is as beautiful as its name suggests.
Type it in on Google and be amazed at the images.
I've said it before and I'll say it again: this nature reserve is about as close as you get to pristine.
The only other place even close is the protected island of Isla Contoy (also worth a visit by the way).
This massive biosphere south of Tulum is a great place to explore the beauty of the region's flora and fauna.
Just be sure to be as generous to her as she is to you.
It is, after all, the place where the sky was born.
You can visit the biosphere on the Sian Kaan tour.
#8 You Can Swim with Whale Sharks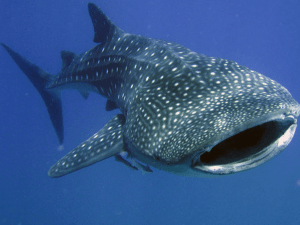 I would have put this higher up on the list if it weren't for the fact that it's such a seasonal activity.
You see, the whale sharks migrate once a year to this part of the Caribbean to feed on micro-organisms such as plankton and krill.
And you can swim with whale sharks departing from Cancun, Playa del Carmen or basically anywhere in the Riviera Maya.
The area where they migrate basically runs from the area of Cabo Catoche of Holbox Island in the Gulf of Mexico to the waters just east of Isla Contoy.
The latter region is where, if you're lucky (this is nature after all), you can see the largest whale shark congregation in the entire world.
Yes, that's right.
And whale sharks are basically present in all sub-tropical and tropical waters.
Why do they come?
To chow down.
You can witness this feast of ocean giants each year from June through September.
Just be sure to be generous to them as well.
These gracious creatures are now considered an endangered species.
To learn more about whale sharks, be sure to read our tips on swimming with whale sharks written by our very own travel guru and former whale shark guide, Elizabeth Urraza!
#9 You Can Treat Yourself to a Soul-Pampering Spa Treatment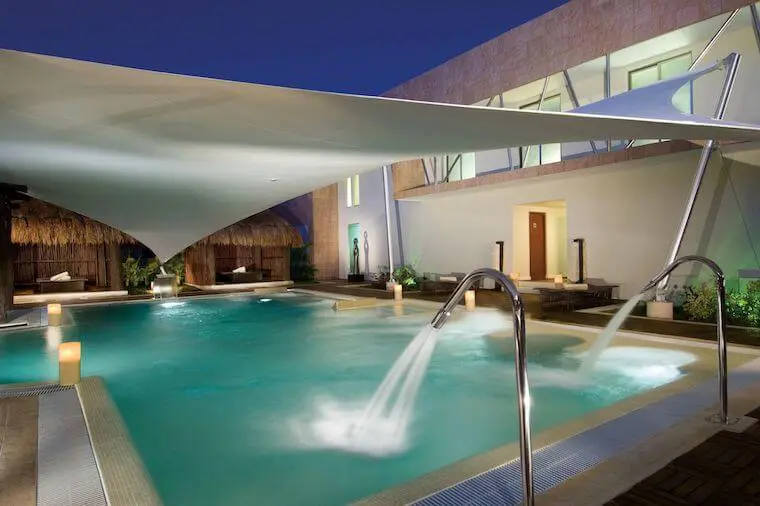 Ommmmmm.
Breathe in deeply.
Hold it.
Playa del Carmen spas have done a great job of pooling all that international talent that has chosen Playa del Carmen as their place of therapeutic residence to offer a wide array of incredible treatments for mind, body, and soul.
You might not save a lot of money getting a treatment here instead of doing so back home, but the quality and variety of spa treatments in Playa del Carmen is, shall we say, soothing.
For more information check out our suggestions for spas in Playa del Carmen and be sure to see our post on the hidden gem that is Bric Spa.
Now slowly exhale and feel the tension leaving your body.
#10 You Can Even Have a Playa del Carmen Wedding
It's fitting that this be the last point of this long and convincing list of reasons to visit this paradise be Playa del Carmen weddings.
After all, the end (and the beginning) of a romantic journey that evolves, expands and transforms following that magical moment of saying "I do" represents a full circle in the love cycle of life.
First, there's the flirting, the butterflies in the stomach, and the process of getting to know one another.
Then comes the divorce.
No!
That's not what I meant to say!
Then comes the marriage and the funny-looking kids!
Which is just the beginning of something truly special (or what the great Jim Morrison once proclaimed to be the end, my friend).
Whatever the outcome, there's no better place to say I do, renew those vows or simply enjoy a romantic getaway with that special someone than on a love-filled trip to beautiful Playa del Carmen.
Did I mention the white sand beaches?
I do!
Veni, vidi, vici.
Need some more of that travel-inducing goodness that is Playa del Carmen?
Our travel specialists have your fix.
Give 'em a holler toll-free at 888-537-9797!
---
Trending Now
You may also like