Isla Contoy Tour Review | Day Trips from Cancun & the Riviera Maya (2023)
---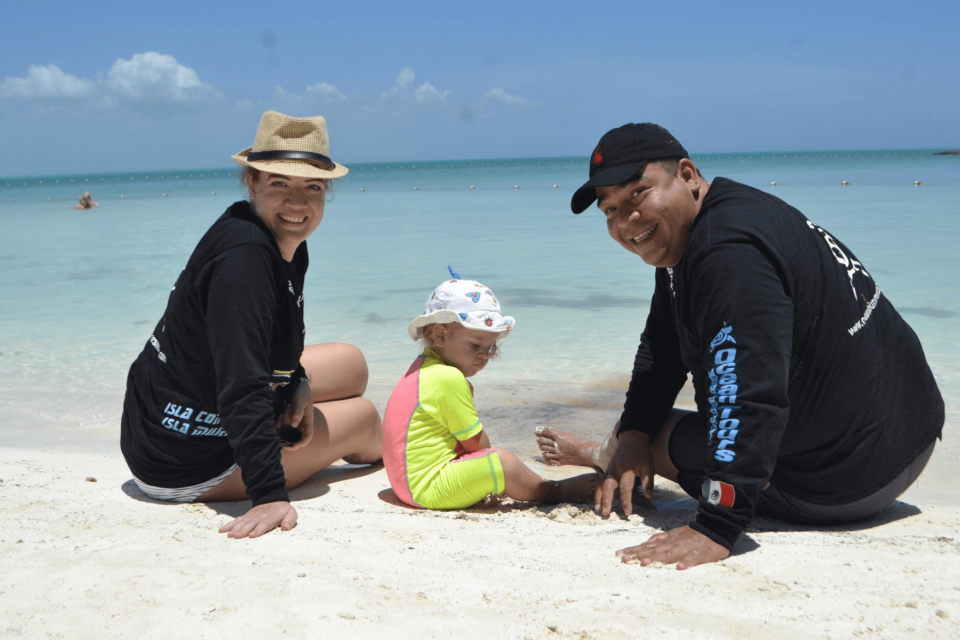 Have you ever heard of Isla Contoy?
A few members of our team recently had the opportunity to visit the island on the Isla Contoy tour.
Below is a picture of Nadiya (a travel consultant here at PlayaDelCarmen.Com) enjoying the day trip from Playa del Carmen with her family.
Here are her honest two cents on what she made of it… 🙂
Our Isla Contoy Review Includes:
---
1. Location and History of Isla Contoy
Wow!
What an island! Of all the places I've seen in this region, few compare in terms of pristine beauty. And I don't use the word lightly. Pristine is something that you can hardly find anymore. Anywhere.
Isla Contoy, however, is another story.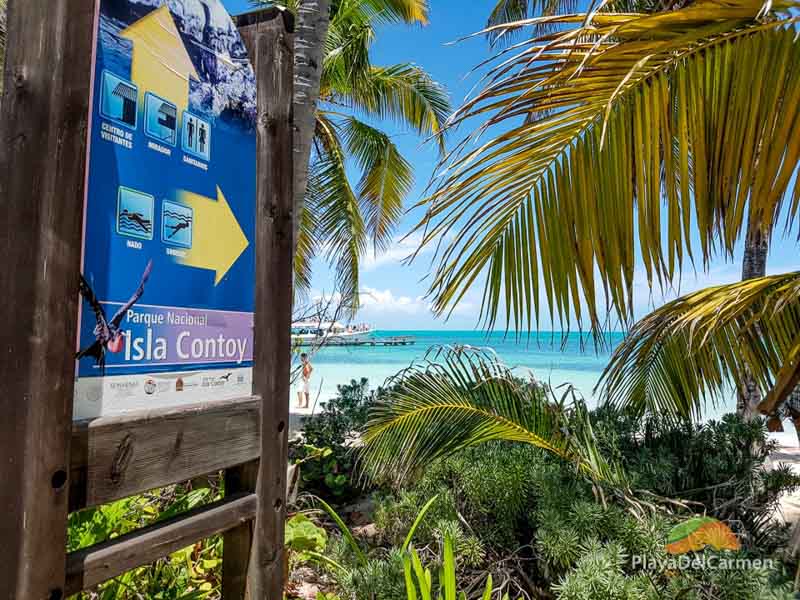 Protected as a nature reserve and inhabited only by biologists who continually monitor and study the ecosystem of the island, you won't find any trash, any hotels, any mass tourism.
In fact, only 200 people are allowed on the island per day. The low-impact of tourism and the beauty of this captivating island make it easily one of the top eco-tours in our list of Playa del Carmen Tours.
Fortunately, the other day I got to be one of those 200 people who got to visit the island. Here's what I can tell you.
Location
Like Playa del Carmen, Contoy Island is located in the Yucatan Peninsula and pertains to the state of Quintana Roo. The island lies about 17 miles north of Isla Mujeres and 22 miles north of Cancun, where the Caribbean Sea converges with the Gulf of Mexico.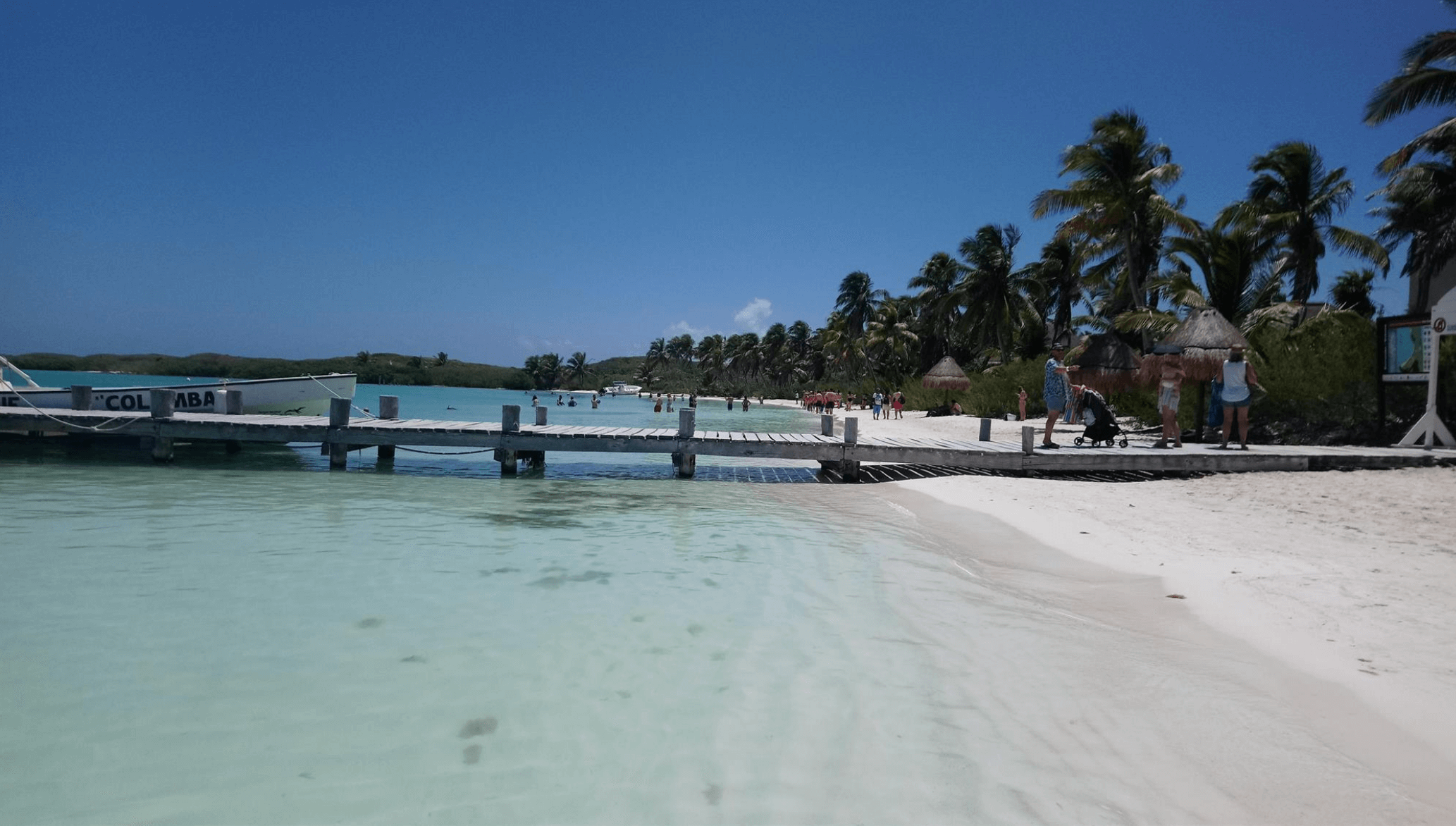 History of Isla Contoy
The Mexican government declared Isla Contoy to be protected in 1961, and in 1998 it became a national park.
The national park covers 568 acres of land and over 12,000 acres of sea.
5,000 years ago, the island formed part of the mainland, from which it was separated by marsh and mangroves. The end of the Ice Age brought a sea level rise of three meters, creating the islands of Isla Contoy and Isla Mujeres.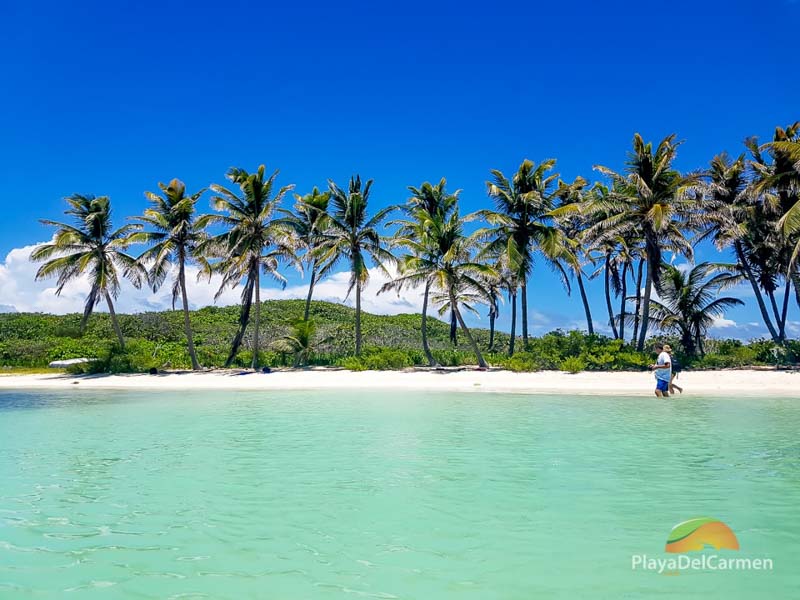 173 species of birds call the island their home, and their numbers can reach over 10,000 during the winter months.
Hawksbill, white, and loggerhead turtles all visit the island during the summer months to spawn.
Mangrove forests cover 70% of the entire island and provide shelter for many species of birds, reptiles, crustaceans, and fish.
The southern part of the island is home to a small coral reef known as Ixlache. It is the start of the Mesoamerican Reef, which is the second longest barrier reef in the world.
2. What time is pick up?
We were picked up for the day tour in the center of Playa del Carmen around 7.20 am. However, timings can vary depending on where you are staying but this will be confirmed with you after you book.
From here we traveled to Cancun Port.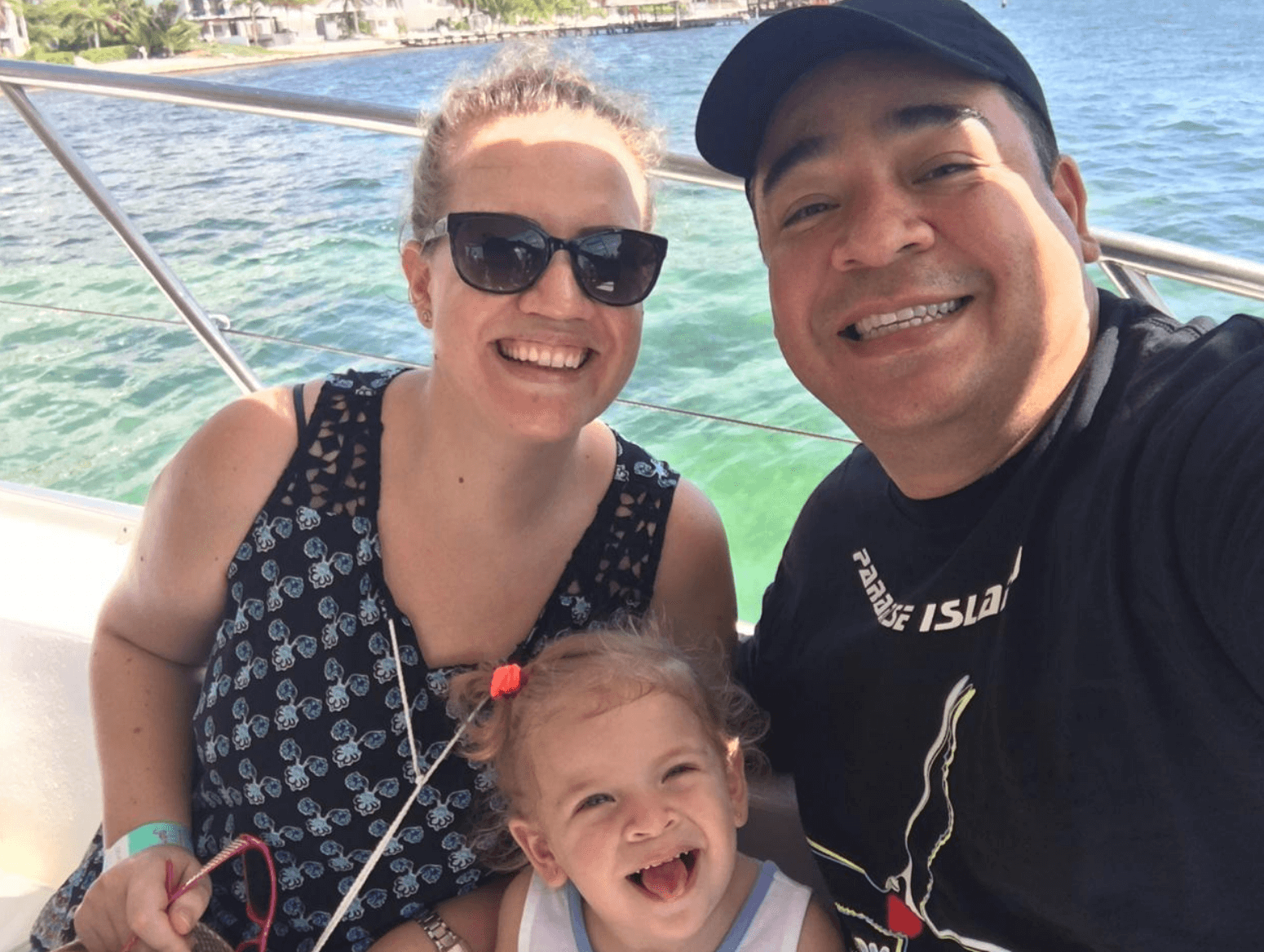 The excursion to Isla Contoy, which also pays a short visit to Isla Mujeres, is a day trip. In other words, expect to leave early and return in the late afternoon.
We arrived early and expected to wait, but the friendly driver and guide were already there waiting for me. We were back at the same point at about 5:45 p.m. It would have been earlier except for the traffic.
Our guide JP was super nice, what I loved – all the company is very Eco, they explained to us multiple times, that Contoy Island is a national park where it is not allowed to use sunblock or any other creams because they ruin the reef. They recommend buying long sleeved shirts ($20), and they also sell caps ($15).
3. Breakfast in Cancun
The transportation from Playa del Carmen dropped us off about 1 hour later at the pier. This is where the excursions leave for Isla Contoy as well as for the whale shark tour.
While waiting for the others to arrive, we had coffee, water, juice, fruit, and bread. After about a half-hour it was time to go, so we got boarded our boat which seats about 25 people, put on our life jackets, and headed out to sea.
4. Snorkeling at the Isla Contoy Reef
The boat ride out to the reef takes about 40 minutes. Because the boat goes skims fast over the Caribbean Sea, there really isn't much to see until you get close to the reef. Once the boat slows down, however, you get a glimpse of the stunning display of colors beneath you.
The guide, in our case the wonderful Cora, gave us a brief review of how to use the snorkel equipment and general safety information, and then it was flippers on and into the water.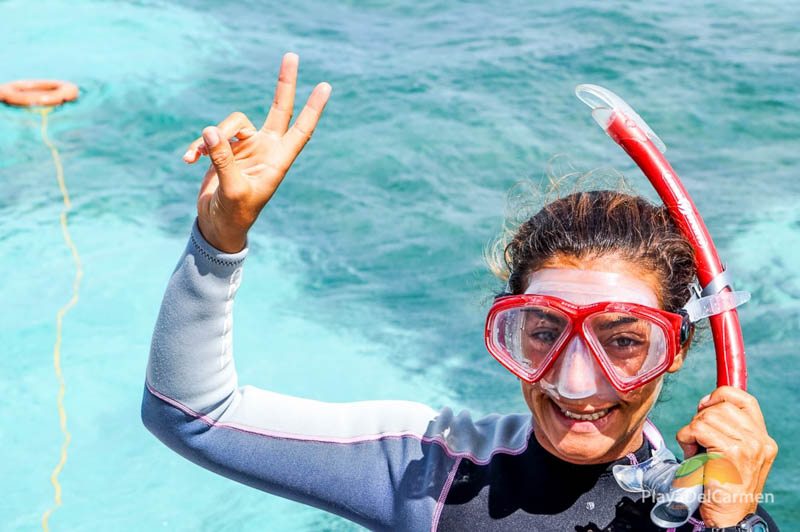 I assume most of you have had the experience of snorkeling somewhere before, but for those of you who haven't know this: it's an amazing experience. Floating above the water, face down, eyes open, you come into contact with the amazing underwater world of the Caribbean Sea. Coral reefs, colorful tropical fish darting in and out among the rocks and plants, and even the occasional sea turtle make for a spectacular 30 minutes.
5. Lunch on Isla Contoy
Perhaps you wouldn't normally expect a culinary treat from a tour, but… Surprise!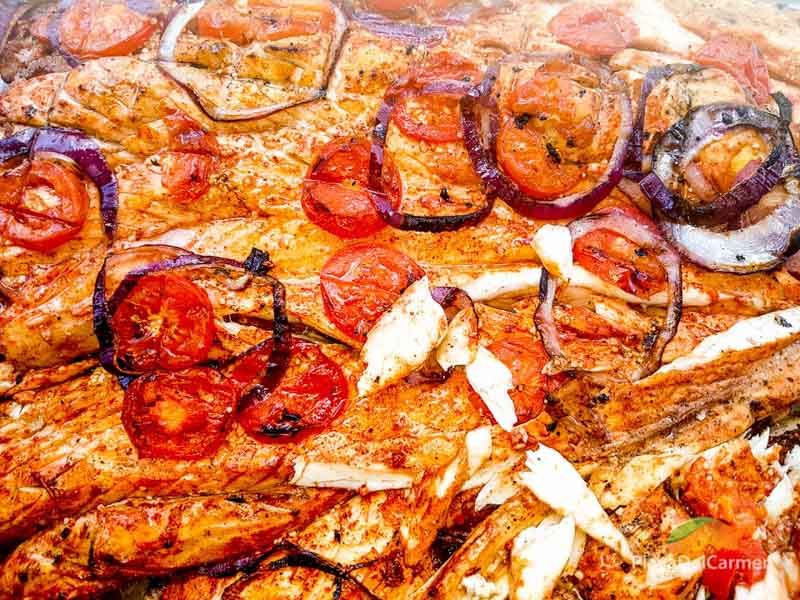 See, the excursion to Isla Contoy includes a lunch of fish, chicken, salad, and guacamole as you sit under a thatched palapa and take in the views. But this isn't any fish. This is Tikin Xic (pronounced teekeen sheek).
Meaning dry fish in Yucatec Maya, Tikin Xic is a whole fish split in two, marinated in a delicious mixture of Achiote and sour oranges, then covered in onions and tomatoes, and fire-cooked over a charcoal grill. Not many places serve fish in this style, and those that do often get the flavor wrong. Here they don't, which will have you going back for seconds.
6. A Quick Visit to Isla Mujeres
Following lunch, you'll have about 1 hour of free time to walk around the island or hang out at the beach (make sure you head up to the tower for some amazing shots).
Speaking of shots, afterward, you'll say goodbye to the beautiful Isla Contoy as you head out over the waves to Isla Mujeres. The trip is about 40 minutes long, but thankfully in our case, Cora had a time machine which seemed to make the time go by that much faster!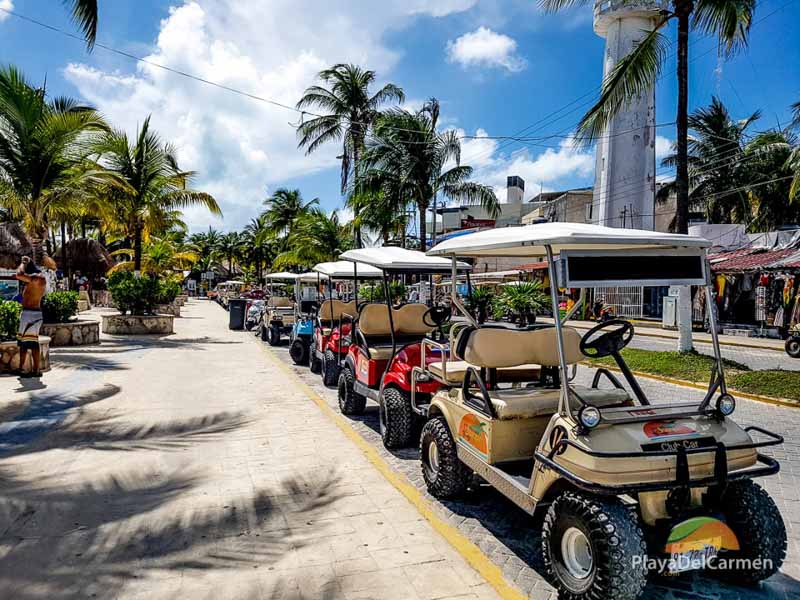 Upon arriving at Isla Mujeres, you'll have 1 hour to walk around the island's downtown area. 1 hour is not much time, but it is enough to check out the charming town and grab an ice cream or something to eat. In my case, I made it to North Beach in Isla Mujeres, which is rightly considered to be one of the most beautiful beaches in the Caribbean.
From there I continued down the street of the market (which is a great place for a well-priced meal on another trip), passing by a store that caught my eye due to its original artwork and handicrafts. If you're interested in buying some souvenirs while in Mexico, this store has some beautiful creations. Like most of the artwork at the store, the artist himself is from Oaxaca.
7. Is this an eco-friendly tour?
Yes.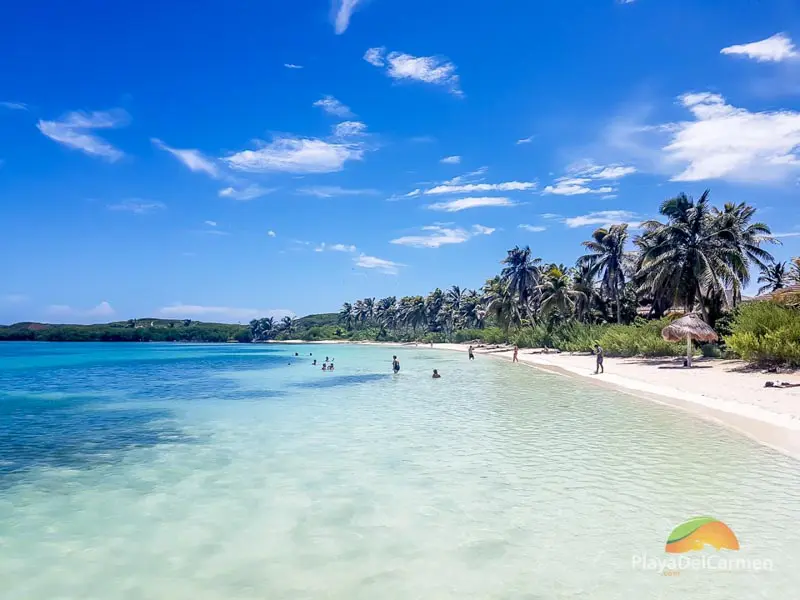 I know I already mentioned it, but it's such an important part of this island and the tour itself. The fact that only 200 people can visit Isla Contoy on any one given day means that there is no negative impact on the ecosystem from tourism.
Arriving at the island and you're already presented with spectacular views of the coastline, so make sure you have your camera ready when you arrive. As you slowly make your way to the pier, you make think your eyes are even deceiving you. In fact, the view is so idyllic and postcard-perfect that it seems like a dream.
But it isn't. It's Isla Contoy.
Once you step off the boat you walk down the wooden pier to the white sand beach. From there, your guide will begin explaining about the island as you slowly begin your tour. As you walk along the paths and island trails, your guide will provide you with detailed information about the flora and the fauna.
Part of the tour also includes a small museum as well as a walk through the mangrove forest to the freshwater lagoon that so many birds and reptiles call their home.
Once you've walked around the island with your guide, you'll have a few minutes to go for a swim, sit under a palm tree, or have another look at the museum before having a bite to eat.
8. Is this a kid-friendly tour?
They actually are super kids friendly, the operator warned me twice that it's not the best tour for a baby, but everybody there during the tour treated my baby like a princess.
There also some people on the tour with children younger than mine with strollers and they have well looked after.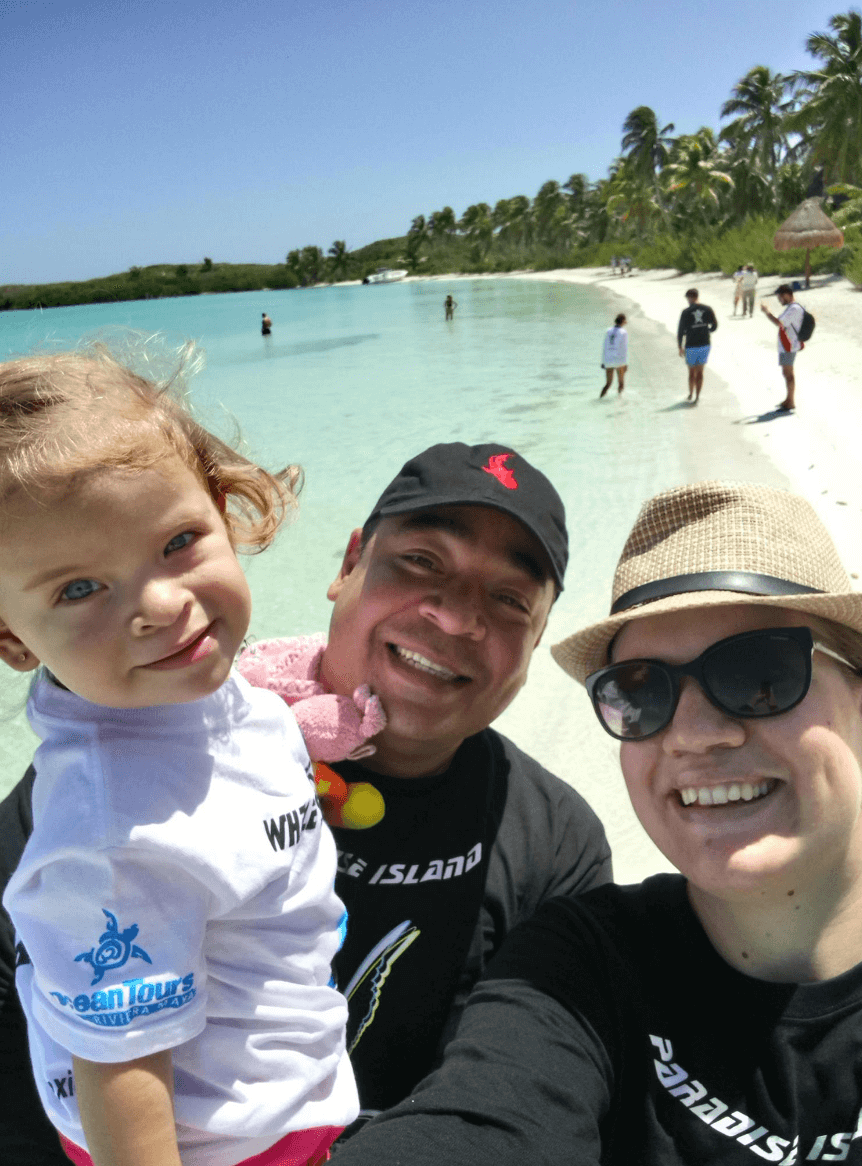 Contoy itself – I think it should be more enjoyable during the fall and winter.
There is a photographer on the boat and later on the beach taking photos, and later you can get the package for $45.
Quality is not fancy, but the price is also much lower than at other sites. We got nice family photos – for once not a selfie hahaha.
9. Isla Contoy Tips
Here are 7 tips to make sure you have the best possible experience on your Isla Contoy tour.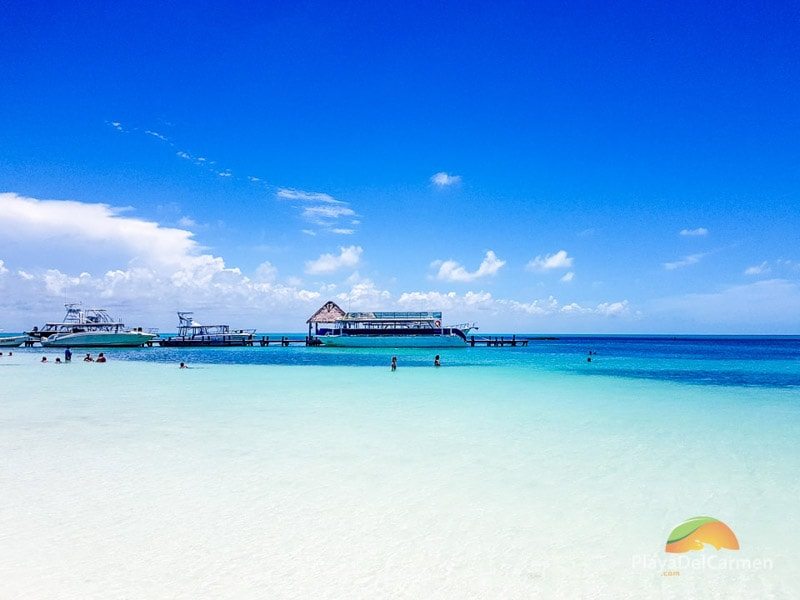 Make sure you bring a hat, something to cover your skin from the constant, pounding rays of the sun, and sunglasses.
Only bring biodegradable sunscreen. The oils from normal sunscreens are harmful to both the coral reefs as well as the local marine life such as sea turtles.
Go with the best attitude knowing that it is going to be a long day (but one that is well worth it).
Take extra money for tips, souvenirs, pictures, or whatever you might want to purchase on Isla Mujeres.
If there is any possibility that you might get seasick, however remote it may be, take some Dramamine or any natural remedy before you go and avoid feeding the fish; they prefer their food to be organic.
Don't drink the night before you go out on this tour. See the previous point if you have any doubt as to why.
If you like taking pictures, this place is the tropical eye candy par excellence!
10. Returning back to the Mainland
The trip back to Cancun is only about a ten to 15-minute boat ride out. Luckily for me, I was able to catch a picture of a sailboat heading back to Cancun with a dark wall cloud in the background.
Returning to the same pier from which you parted, you'll have a few minutes to use the restroom or purchase one of the cool t-shirts that Ocean Tour has on sale. Then, buckle your seatbelts for the ride back to your Playa del Carmen resort.
And what do you think? Of course, I forgot my hat in the van, they contacted me on the same night and said they will reach out to give it back to me.
Overall, nice and friendly people, and that what makes your trip great.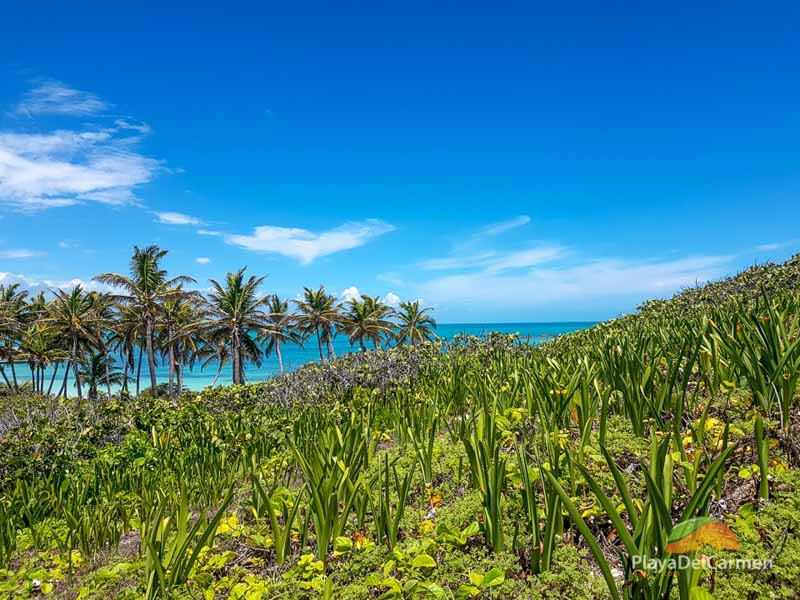 I know there are a lot of things to do in the Riviera Maya, so choosing which tours to go on can be a difficult decision. This tour is well run, the staff was friendly and attentive, Cora was an awesome guide, and you won't find any better picture-perfect moments than you will on Contoy.
Speaking of which, our provider, Ocean Tours, always has a photographer to accompany each group and offers photo sessions for all. It's a good way to get some professional pics of this spectacular place without having to look stupid taking a selfie every step of the way.
How to Book the Isla Contoy Tour
The Isla Contoy Tour costs $129 USD per person.
Booking in advance can save you up to 15%, so if you do plan to visit the island, book soon.
Book online and save 15% on Isla Contoy here.
Our friendly and knowledgeable travel specialists at PlayaDelCarmen.com are also available Monday through Sunday.
Get answers to your questions. call us toll-free at 888-537-9797.
Interested in learning about other Playa del Carmen excursions? Check out our list of the top Playa del Carmen tours!
Have any questions?
Contact our awesome travel specialists who tailor-make your tour itineraries based on what you want, not what sells. These beautiful people can be reached via our contact us page, through our social media channels, or toll-free at 888-537-9797!
Isla Contoy Tour Review
Kid-Friendly

Location

Lunch

Snorkeling

Tour Guides

Transport

Value For Money
Summary
I know there are a lot of things to do in the Riviera Maya, so choosing which tours to go on can be a difficult decision. This tour is well run, the staff was friendly and attentive, Cora was an awesome guide, and you won't find any better picture-perfect moments than you will on Contoy.
Speaking of which, our provider, Ocean Tours, always has a photographer to accompany each group and offers photo sessions for all. It's a good way to get some professional pics of this spectacular place without having to look stupid taking a selfie every step of the way.
---
Trending Now
You may also like