5 Stunning Luxury Hotels in Playa del Carmen
---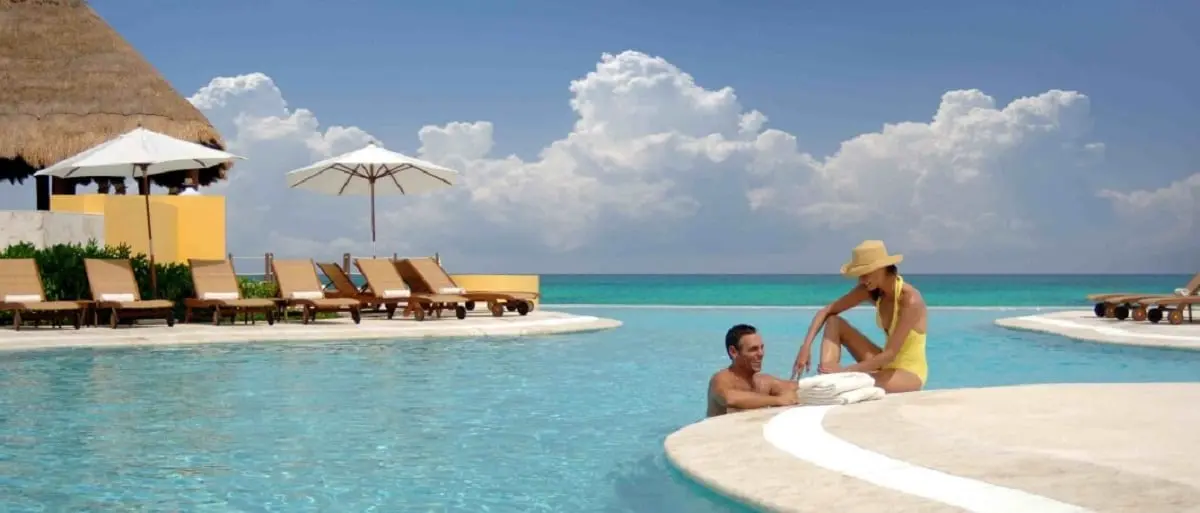 If you appreciate indulging in a luxurious hotel from time-to-time as much as I do, you'll like this post.
As you could expect, there are quite a few luxury hotels in Playa del Carmen.
Elegant, discreet, and impeccable, these hotels stand out for their stunning installations and superior service.
But what makes a luxury hotel a luxury hotel?
What amenities and services have to be included for a resort or hotel to receive such a lofty title?
Rating Luxury Hotels Using 7 Criteria
A stay at a luxury hotel is not cheap.
Similar to purchasing expensive jewelry or a luxury car, you pay more money and do so with the full expectation of getting an elite product.
The bar is set high.
7 Criteria We Consider When Rating Luxury Hotels.
The awe factor – What makes the hotel special? Its location? Certain amenities or characteristics? Every luxury hotel should come with a special awe factor.
Restaurants/Food – A luxury hotel with premier installations and a stellar location without 5-star cuisine cannot be considered a luxury hotel. It's quality over quantity.
Wellness & Spa – You stay at a luxury hotel and you want to be pampered. It's like being royalty for a week and you expect to be treated as such. Any luxury hotel worth its grain in gold has top-notch spa and wellness options.
Room size – You're not shelling out all that money to be put in some cramped room. Your vacation crib better be big and beautiful.
Room amenities – From the bedding and the furniture to the views and mattress quality, every single detail and amenity of your room should represent utmost quality.
Bathroom amenities – There's a reason why the throne is located in the bathroom. As such, a luxury hotel better have amenities fit for a king or queen. Toiletries, water pressure, and aesthetic all should feel like heaven.
Customer service – A luxury hotel will not only have the highest possible level of customer service, said service will be discreet, personalized, and immediately available whenever required.
5 Luxury Hotels in Playa del Carmen
All that glitters isn't gold.
While there are actually a large number of hotels that are considered (or consider themselves) to be five-star, the truth is only a handful can honestly be described as luxury hotels.
So where do the other hotels go wrong?
It's easy.
They either fail in one or more of the categories mentioned above or simply don't meet the same level of standards and qualities as their competition.
Here are the Playa del Carmen luxury hotels that we consider to be worthy of their title.
To make it more digestible, we are dividing the hotels into luxury resorts and all-inclusive luxury resorts.
We will talk about the latter in a follow-up post.
---
#1 Fairmont Mayakoba
The Mayakoba eco-complex is home to some of the most outstanding, high-end hotels in Playa del Carmen.
Fairmont Mayakoba stands out among them. This award-winning resort takes the concept of luxury to an elite level.
Set in a gated community amid a set of gorgeous man-made channels, Fairmont Mayakoba is the epitome of understated excellence.
With 401 rooms, this is no small resort.
However, Fairmont's layout and service quality allow for an unrivaled level of intimacy and privacy.
As an added amenity, Fairmont is home the only Latin American golf course on the PGA circuit: El Camaleon.
---
#2 Banyan Tree Mayakoba
If you ever wonder just where it is that luxury and nature fusion into an otherworldly level of opulence, welcome to Banyan Tree Mayakoba.
Combining the finest aspects of Asian and Mexican hospitality, this gorgeous eco-resort seems like out of some kind of delightful Caribbean dream.
With 10 different villa types to choose from and just 191 rooms, guests at Banyan Tree Mayakoba enjoy the perfect mix of exclusivity and tropical immersion that ensure a relaxing calm amidst the natural beauty of the Mexican Caribbean.
Each villa boasts a spacious garden that includes a pool, outdoor bathtub and outdoor living and dining areas.  Perhaps the creme de la creme of this fantastic piece of Riviera Maya excellence is the resort's award-winning Banyan Tree Mayakoba Spa. Wow.
---
#3 Thompson Hotel Playa Del Carmen
Thompson Hotel claims to be, "decidedly luxurious," and everything about their Playa del Carmen hotel fulfills that lofty, self-described moniker.
In spite of being set along one of Playa's most pedestrian-heavy, party-friendly streets, once you step inside the elegant installations you'll be taken away and awed by the relaxing Thompson experience.
With 92 modern guestrooms and suites, Thompson Hotel is easily one of the hippest, most luxurious hotels in Playa del Carmen.
Mexico City designers Niz + Chauvet fuse contemporary urban aesthetic with mid-century Mexican accents using natural wood, tile and stone throughout the rooms and suites.
Topping it off is the stunning rooftop entertainment area featuring two high-end restaurants, a stunning infinity pool overlooking the Caribbean Sea, and some of the most amazing views in all of Playa del Carmen.
On the downside, Thompson Playa del Carmen has no spa facilities.
---
#4 Belmond Maroma
We recently featured Belmond Maroma in our post on boutique hotels.
This beautiful hotel also deserves to be in the list of top luxury hotels in and around Playa del Carmen.
We consider Belmond Maroma to be a haven for well-being and of going to the essence of what a vacation is supposed to be all about: rest & relaxation.
This luxurious hotel boasts not only an award-winning spa and arguably the best beach in the entire Riviera Maya, but also superb installations and gourmet cuisine.
---
#5 Viceroy Riviera Maya
41 luxury villas await you at this celestial piece of paradise that is Viceroy Riviera Maya Resort.
A jungle vibe complements the elegant décor to create an upscale version of Bohemian chic that is simply breathtaking.
The style and quality of the villas are more than worthy of their high price tag, and this adults-only, all-inclusive Caribbean mecca is also a great place to celebrate weddings.
With 7 different types of villas to choose from, at Viceroy Riviera Maya you'll encounter high-end pampering at its finest.
Serenity, tranquility and privacy are guaranteed at the adults-only luxurious Viceroy Riviera Maya.
Stay tuned for our second piece on all-inclusive luxury resorts in and around Playa del Carmen!
Have any questions?
Our über-luxurious travel specialists are experts in elegance.
Call them today at 888-537-9797!
---
Trending Now
You may also like