Weddings at The Fives Oceanfront Puerto Morelos | Our Honest Review (2023)
---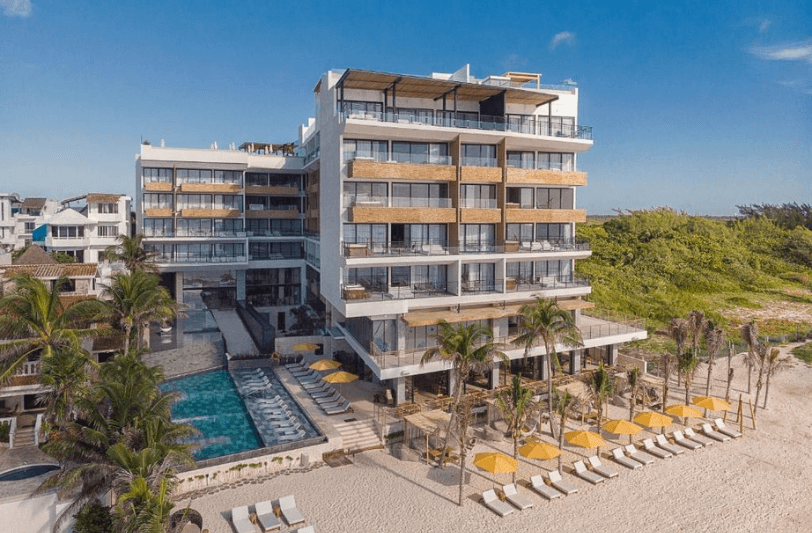 Thinking of saying "I do" at The Fives Oceanfront Puerto Morelos and looking for some inside info?
I've got your back.
Our team of destination wedding experts at PlayaDelCarmen.Com helps couples arrange celebrations at the resort.
So, we know what you can expect when you marry at The Fives Oceanfront Puerto Morelos, and I'm excited to share our insights with you.
Keep reading for the lowdown on wedding packages, activities, and luxury accommodations at this 5★ resort.
Weddings at The Fives Oceanfront Puerto Morelos| Your Ultimate Guide
---
1. Hotel Overview
At this point, it's worth mentioning that this resort isn't too quiet.
There are live music events and DJs to listen to, especially at the weekend.
This isn't a large resort, so you're not surrounded by crowds of people.
It's the ideal choice if you're hosting an intimate celebration and you want to relax and share your love with the ones who are closest to you rather than hosting a massive event.
Away from your wedding celebrations, you and your wedding guests can enjoy the two pools, including an infinity pool with stunning Caribbean views.
There are also opportunities to socialize in one of the resort's restaurants and bars.
Is The Fives Oceanfront Puerto Morelos all-inclusive?
The Fives Oceanfront is not a solely all-inclusive resort, but you can choose an all-inclusive package that includes food and drink during your stay.
I also love the fact that all your reservations are taken care of when you stay at the resort.
You just tell the team what you want to experience, and they arrange everything for you.
Plus, you have an ambassador at the resort to help you with everything from food choices to activities.
How far is The Fives Oceanfront Puerto Morelos from the airport?
The resort is about a 25-minute drive from the airport.
If you'd like us to, we'll book your transfers, so you can relax and enjoy the journey.
2. Package Options + Add Ons/Perks/Discounts
Looking for a wedding package that delivers the magic you're dreaming of without busting your budget?
There are two competitively priced wedding packages to choose from at The Fives Oceanfront.
I love the "Our Dream Wedding Package" for up to 40 guests.
This package costs $2,950 and includes features such as:
Symbolic ceremony
Romantic ceremony location
Decor for the altar
Floral arrangements
Bouquet for the bride and boutonniere for the groom
Semi-private reception dinner at a resort restaurant
Wedding guest concierge
Complimentary spa bridal suite
Groom's room, including snacks, for the wedding day
Witnesses if needed
Signature ceremony wedding drink
The other option you have if you choose to exchange vows at this resort is the "Sweet Love Wedding Package," which costs $1,250 for 40 guests.
3. Ceremony & Reception Options
The five wedding ceremony and reception venues at this resort give you the best of everything, from soft sand beneath your feet to breathtaking views of the Caribbean Sea.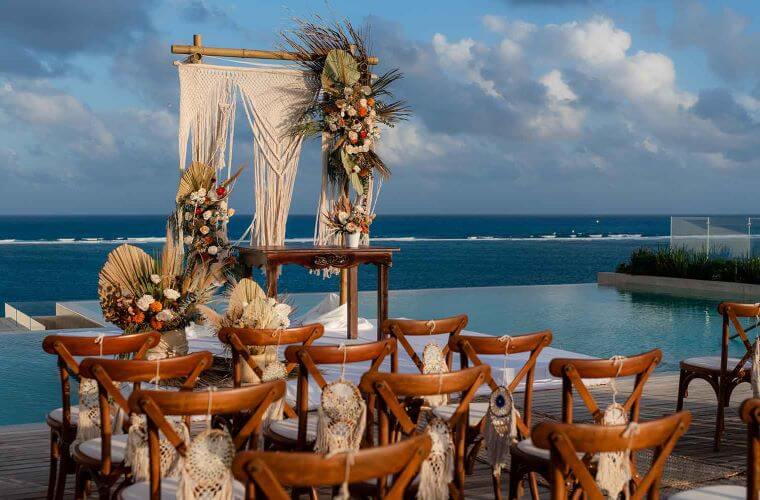 When you book your wedding celebrations at The Fives Oceanfront, you can choose the venue that most reflects your dreams.
The locations available are:
The Main Beach (maximum capacity 120 guests), where you can host your ceremony and add a dancefloor for your reception if you choose to.
Oceanview Rooftop (maximum capacity of 120 guests), a private space where you can host your ceremony, cocktail hour, and reception.
Al Mare Side Terrace (maximum capacity of 100 guests), part of the Al Mare Restaurant, is perfect for wedding ceremonies.
Al Mare Restaurant (maximum capacity of 40 guests), a space where you can host your reception dinner that's available up until midnight.
Salon Epic (maximum capacity of 200 guests), also known as the ballroom, this space is perfect for ceremonies, cocktail hours, and receptions.
Call us at 888-537-9797 for more info about the wedding venues at this resort.
4. Gay Weddings at This Resort
At PlayaDelCarmen.Com, we're excited to help every couple plan the wedding of their dreams.
So we love arranging same-sex wedding celebrations.
In most cases, couples prefer to arrange their legal marriage at home and host a symbolic ceremony at the resort.
Doing this means there's less paperwork to deal with before celebrating in Mexico.
However, legal same-sex weddings in Mexico are possible.
They just require extra paperwork and planning to organize.
Call us at 888-537-9797, for more advice about same-sex weddings in Mexico.
5. Room Types
This may be a boutique resort, but the suites are far from small.
Each accommodation is spacious with contemporary decor.
The resort refers to its suites as "residences," and there are four options to choose from, singular rooms, one-bedroom residences, two-bedroom residences, and three-bedroom residences.
Each one has chic modern decor, as you can see…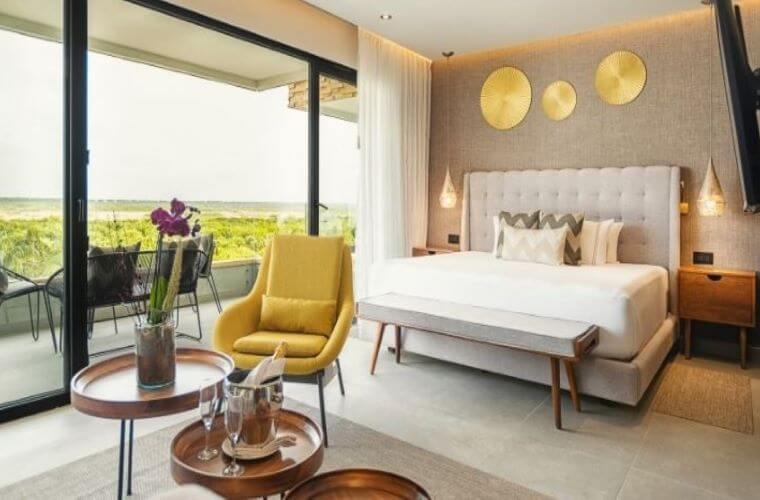 Amenities you and your wedding guests can expect when staying at the resort include:
Complimentary laundry service
Breakfast in the room upon request
Premium bath amenities
Pillow menu
The residences available for you to choose from are:
Epic Junior Suite
Junior Suite
One-Bedroom Partial Oceanview Residence
One-Bedroom Oceanview Residence
Residencia Epic Oceanview Resort De Una Habitacion
Epic Two-Bedroom Oceanfront Presidential Residence
Epic Two-Bedroom Oceanfront Resort Residence
Two-Bedroom Oceanview Resort Residence
Epic Three-Bedroom Oceanfront Presidential Residence
Epic Three-Bedroom Oceanfront Resort Residence
And my personal favorite for a romantic place for couples to stay in…
The One-Bedroom Epic Penthouse Oceanview Residence.
It's gorgeous 😍.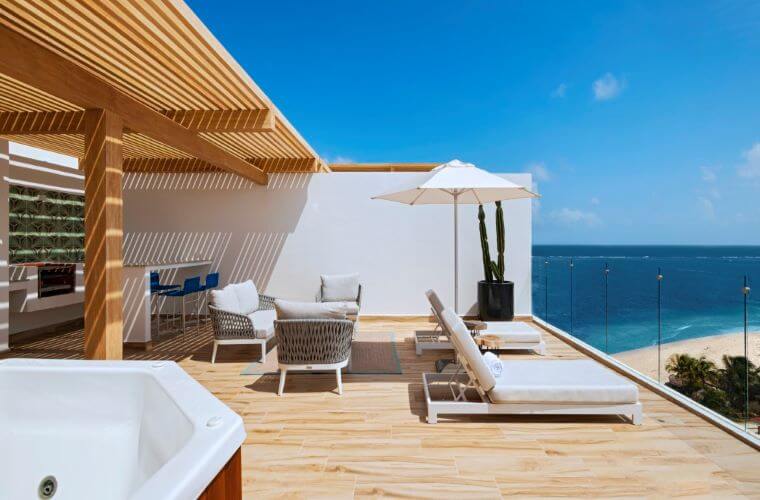 Stay in this penthouse accommodation, and you get incredible Caribbean views as well as:
King-size bed
Spacious bathroom with a rainfall shower
Double sofa bed
Fully-equipped kitchen
Rooftop terrace with gazebo
How many rooms are there at The Fives Oceanfront Puerto Morelos?
There are 93 suites at this resort.
Each one is a luxurious and modern accommodation space.
How much does it cost to stay at The Fives Oceanfront Puerto Morelos?
The cost of staying at this resort is, on average, around $380 – $530 per night.
The actual cost depends on when you stay and which accommodation you choose.
6. Beach
The beach at The Fives Oceanfront is breathtaking.
The sand is soft and white, and the water is inviting.
As with other beaches in this part of the Caribbean, there are sometimes issues with seaweed.
But the resort team works hard to clear it away and keep the sand clean.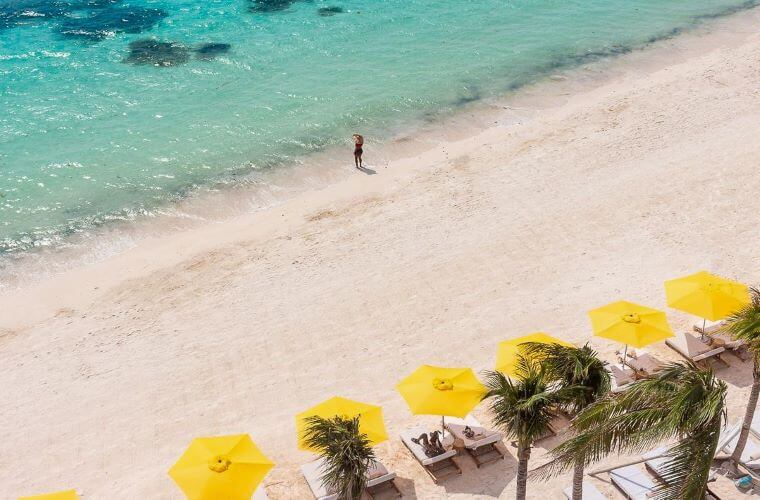 I really love the large number of beach chairs at this resort.
There are plenty to go around, and they're super comfortable.
Heads up…
There's often music on the beach, so don't expect it to be quiet all the time.
7. Food & Drink
Every eatery at The Fives Oceanfront is dedicated to providing the best possible dining experience.
The food tastes amazing, and the ingredients are fresh.
There are three restaurants to visit at the resort.
They provide an array of interesting dining experiences.
You and your wedding guests can choose to eat at:
Al Mare for traditional Italian cuisine with a contemporary edge.
K'iin for omakase-style Japanese cuisine.
Romarley Beach House for delicious food and great music.
If you're socializing with your partner or wedding guests, you'll want to check out the bars at the resort too.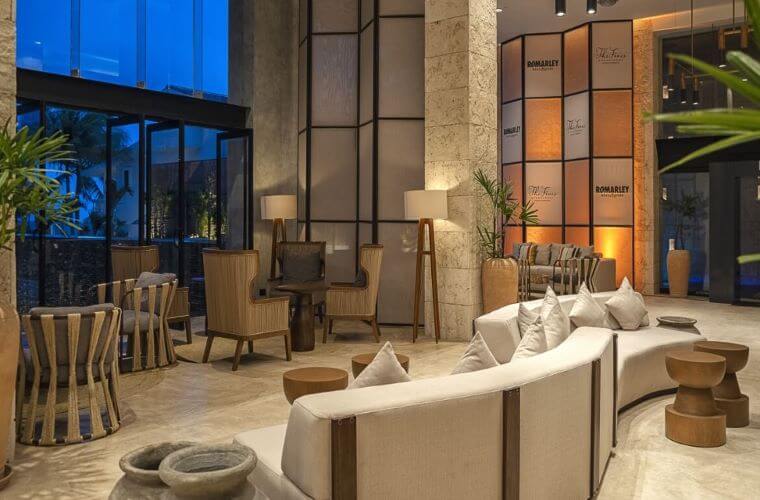 There are two locations where you can relax with a drink:
The Manglar Lobby Bar is the perfect meeting place for your wedding party.
The Romarley Pool Bar gives you the opportunity to sip a cocktail while enjoying some poolside fun.
8. Activities & Group Entertainment
Concerned that you and your wedding guests won't have enough to do outside of your celebrations?
You don't need to worry if you choose The Fives Oceanfront as your destination wedding resort.
You can book some spa time or try some fitness activities or dance classes.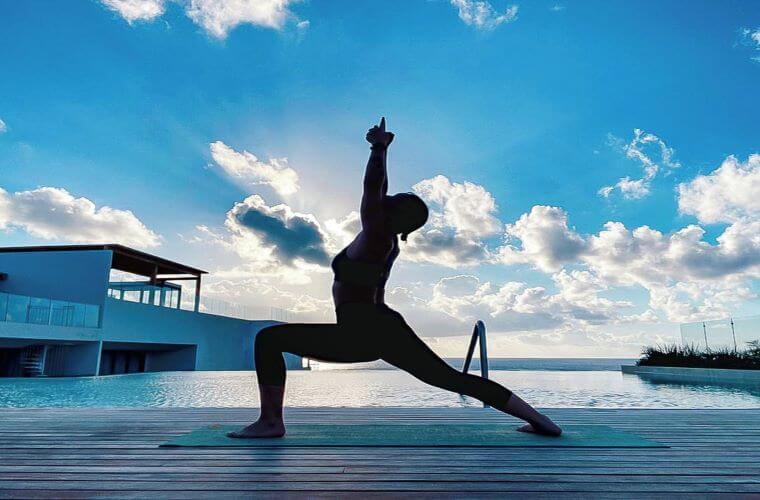 Other activities to keep you and your wedding party entertained at this resort include:
Snorkeling
Bike rides
Boat tours
Wine tasting
Live music performances
Is there anything to do outside of The Fives Oceanfront Puerto Morelos?
Aside from the array of activities in the resort itself, you may want to take a walk around Puerto Morelos.
It's so pretty, and the vibe is relaxed.
We can also help you explore further afield by booking tours and activities for you.
I'd recommend the Chichen Itza Tour for an opportunity to see the beautiful tropical landscape and visit the most famous archaeological ruin in Mexico.
On this excursion, you get get a guided tour of Chichen Itza and can also spend some time exploring on your own.
You'll also have the chance to swim in a freshwater cenote.
For more inspiration about what to see during your stay, check out my blog post.
"Top 10 Most Memorable & Must-Do Tours in Cancun (2023)"
Call us at 888-537-9797 for more info concerning the Chichen Itza tour and other tours in the area.
9. What Brides and Grooms Said
Here's the point of view of a bride who got married at the resort…
"After rescheduling our wedding multiple times, my husband and I decided to elope and do it at this resort as it was highly recommended to us. Although it was just me and my husband (no guests), the general manager, Carlos, quickly helped us organize a small intimate ceremony on the beach within a day! He fulfilled all our wishes and even arranged for the amazing front desk associates Pedro and Armando to help. Pedro even streamed the whole wedding for us on my social media for our guests to watch at home. They even had a beautiful private dinner set up for us on the beach after the ceremony."
beverlyortencio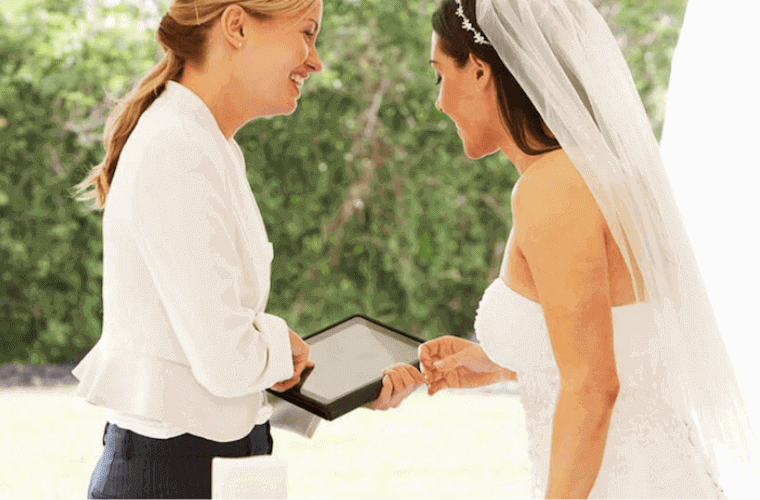 And some insights from a wedding guest at the resort…
"We attended a wedding and were pleasantly surprised at the upscale quality at this boutique hotel. The staff were outstanding at treating us like royalty. We had an ocean-view room that we thought was very well-priced. The food was delicious. Not every eating venue is open at this point in the world of Covid, but we certainly didn't lack for delicious food that was again very well priced, particularly when compared to other resorts' food. The beach is lovely."
akmps
10. Why We Like It (Pros/Cons)
Our team loves making sure every couple has the destination wedding of their dreams.
So, we only ever recommend resorts and experiences that we know will deliver.
And we're always completely honest.
At The Fives Oceanfront, we love:
The relaxed yet chic vibe.
Rooftop views and the stunning infinity pool.
Breathtaking location in a quieter area of this part of Mexico.
Excellent service and attention to detail.
Keeping it real, prices at this resort can be on the high side, although you do get dedicated service.
You also need to take into account that there are only a handful of bars and restaurants at the resort, although if you're looking to spend some time exploring the area, this may not be a problem.
Overall, we think this is an amazing location for intimate and medium-sized weddings but isn't a good choice if you're having a huge celebration.
Take a look at my blog post if you're looking for venues for a large destination wedding.
"10 Best Wedding Resorts for 200+ Guests in Mexico (2023)"
11. Additional Resources You May Find Useful
12. Start Planning Your Dream Day
Ready to arrange your wedding at The Fives Oceanfront?
That's fabulous news.
Our team at PlayaDelCarmen.Com is excited to help you get started.
We have all the local expertise and contacts needed to ensure you get the wedding of your dreams.
And we'll make sure you the best possible value for your dollars.
If you're traveling from the US or Canada, we can also book your flights if you'd like us to.
Call us at 888-537-9797  or complete the contact form on the website to talk about your wedding at The Fives Oceanfront and start planning your celebrations.
Have questions or comments about weddings at The Fives Oceanfront?
I'd like to hear what you have to say about weddings at this resort, including any questions you may have.
Just pop something in the comments, and I'll take a look ASAP.
And if you found this post useful, I'd love for you to share it on social media.
---
Trending Now
You may also like