5 Sustainable Tours for The Conscious Traveler (Riviera Maya)
---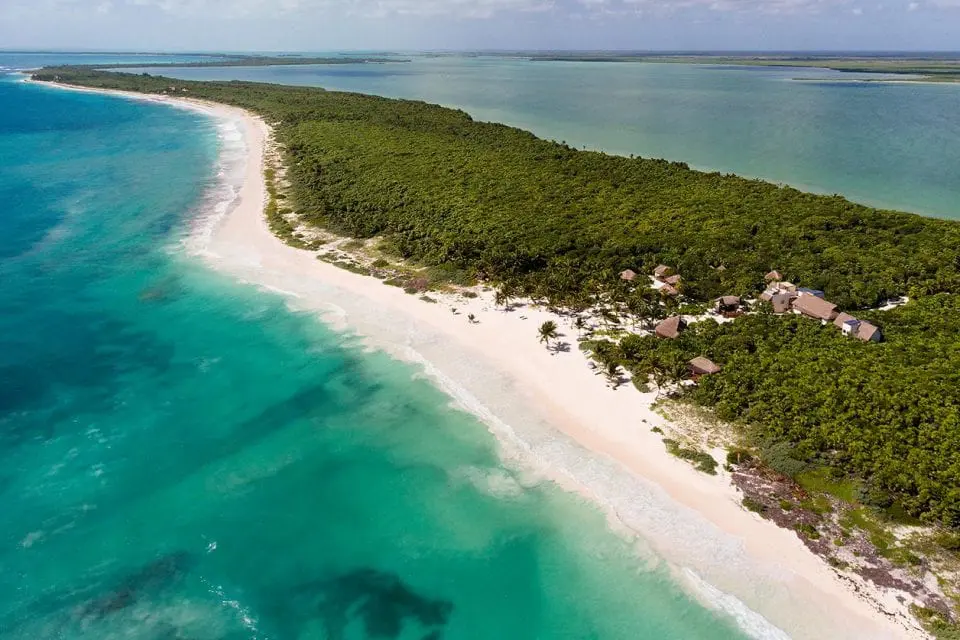 Some of my favorite things to do in the Riviera are what we, at PlayaDelCarmen.Com,  define as sustainable tours.
Sustainable tourism brings welfare to the locals and doesn't impact the nature that characterizes this beautiful region.
If you ask me,  sustainable tours are the way forward, not only will they be all the rage when the coronavirus pandemic is over, the smaller group sizes allow for a more personalized experience.
Aside from being incredibly fun and culturally rich,  they also bring that extra sense of purpose to your visit.  It makes you feel good to know that you truly made a difference!

By choosing any of the 5 tours I've listed in this blog you will be creating a positive impact on the environment, society, and economy here in Mexico.
I'd say it's time we all started making more earth-friendly decisions, don't you?
Top 5 Sustainable Tours in The Riviera Maya:
---
1. Immerse Yourself in Mayan Culture On Hanal Pixan
First up, it's Hanal Pixan.
This sustainable tour is one of my favorite things I've done since being in the Riviera Maya.

The Day Of The Dead is perhaps the biggest and most significant holiday in Mexican culture…and it's a lot less grim than it sounds. 🙂
For Mexicans, it is a celebration of life! Remembering the lives of our loved ones who have already passed.
It is a special and unique event because it offers a more authentic celebration than say just visiting Xcaret – which is a popular option for the average tourist, but you're not average.
This tour has been put together by locals in an incredible act to rescue the tradition which was almost left in the past for the new generations in these communities.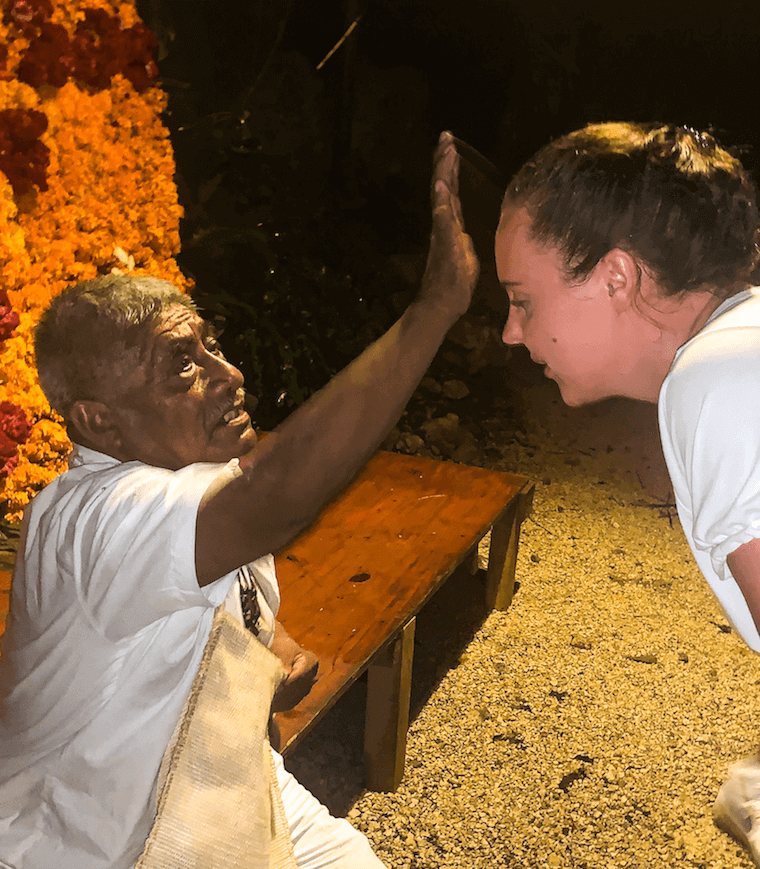 You will be welcomed into the community's own homes where the Mayans will explain the symbolism of their altars and share their customs, food, and rites.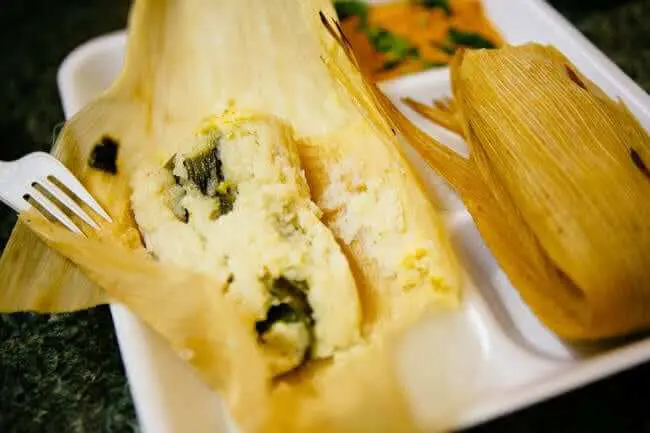 Mayan Priests
The Mayan Priests from the community gather together with the visitors in Cenote de la Vida to perform the blessing ceremony and pray for the souls with music and hundreds of candles.
Not only that but you will be taken on a tour of the small community visiting their town square, cemetery, and shamans.
Before heading home back to your hotel will enjoy a delicious dinner full of typical dishes typically served at Hanal Pixan. It was YUM!
This celebration only occurs on select days at the end of October through to early November. It is not recommended for visitors with mobility issues (there's a lot of steps).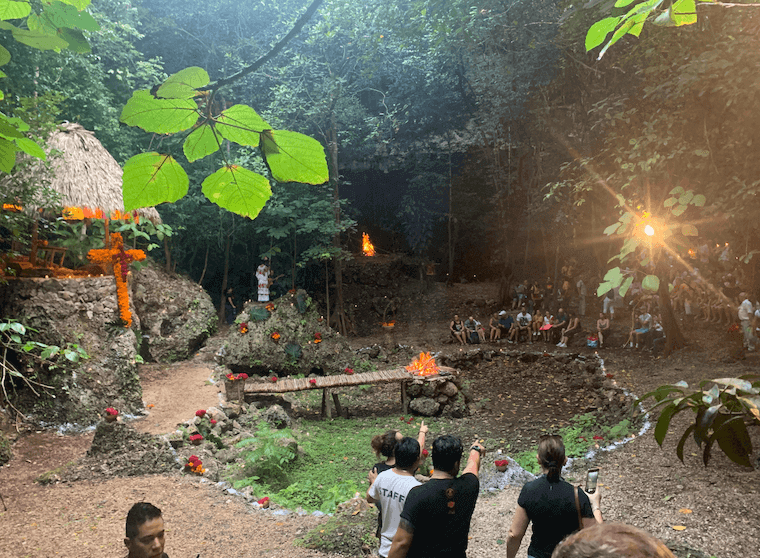 It is an extraordinary experience that opens your senses to the richness of the Mayan cultural heritage.
I did it last year, and it was awesome! You can read my full in-depth honest review of Hanal Pixan here. Spots fill up fast for this so I recommend booking in advance. Save your spot and call us on our toll-free number 888-537-9797. Book Online and save 10%!
2. Go Wild With The Crocodiles On The Pantera Eco Tour
Are you ready for the ultimate island experience? The Pantera Eco Tour is the perfect way to spend half a day on the stunning island of Cozumel!
Buckle up and get ready to put the pedal to the metal in Pantera's impressive Jeeps and Hummers as you explore every inch of this sacred paradise.
Snorkel the world-famous reefs of Cozumel, sample the island's finest blends of tequila, and marvel at stunning wildlife in its natural habitat.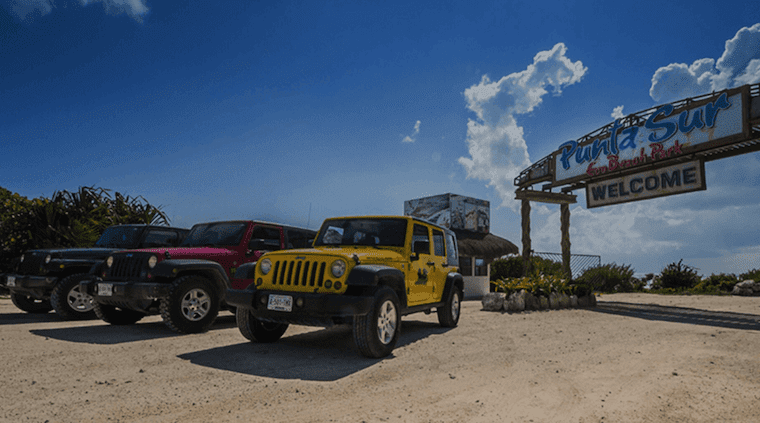 Nature lovers will never want to leave!
The beach which you visit on this tour is called Playa San Martin and it's far removed from the built-up tourist areas of the island.
It's one of my favorite beaches I've ever had the blessing of walking on.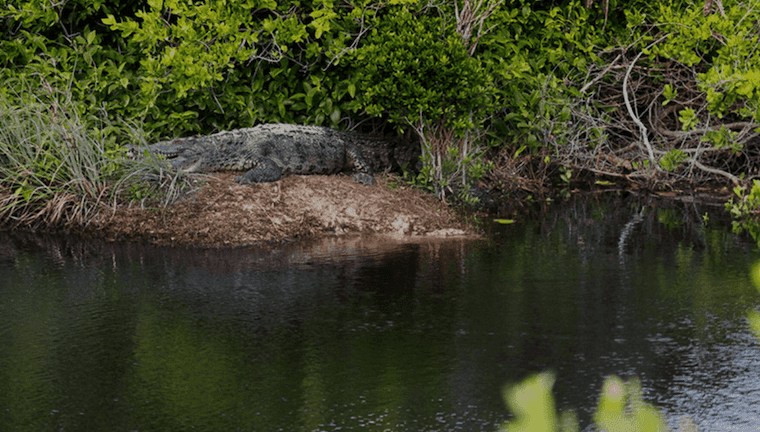 Celarain Lighthouse
From there you will discover one of the most ancient sites on the whole Cozumel.
You'll be able to admire all kinds of different wildlife in its natural habitats such as crocodiles and different species of birds.
At the south end of the site, you can also climb to the top of the Celarain Lighthouse to take photographs of the impressive view.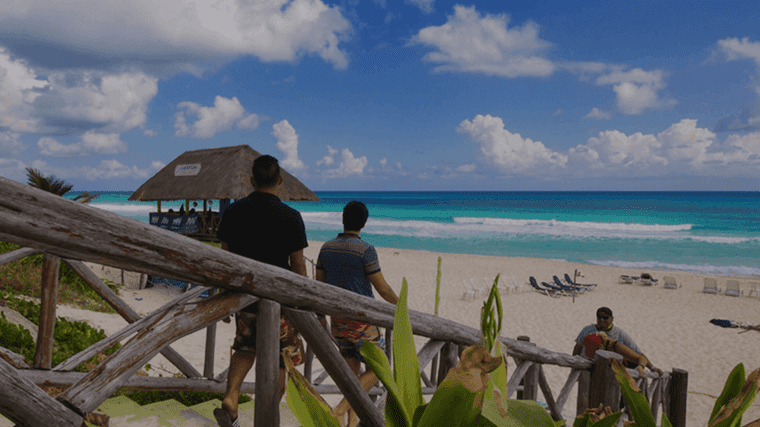 Cap off the end of the tour with an unforgettable snorkeling experience (gear will be provided).
Under the dazzling blue surface of the ocean, you will find colorful reefs and vibrant marine life.
Be sure to take a waterproof camera to show your friends at home what you saw.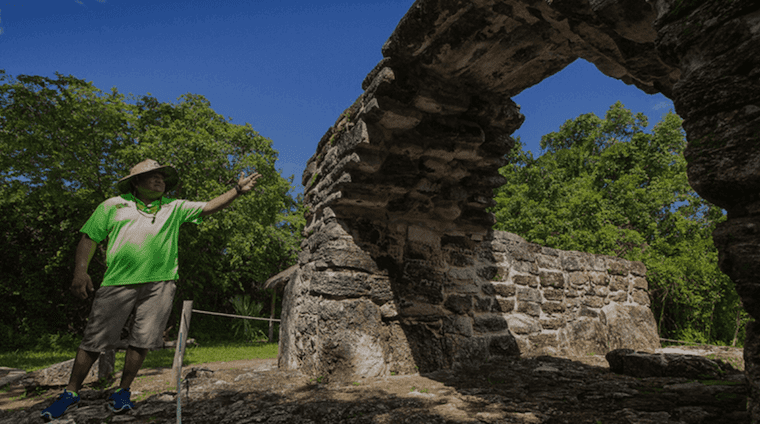 At Sky Reef, you can also enjoy food such as chicken fajitas, accompanied by guacamole, pico de gallo, sauces, tortillas, and tortilla chips. We can save you up to 20% on this tour when you book online or in advance.
Please note that in order to protect the incredible ecosystem of the coral reefs regular sunscreen is not allowed. You must wear biodegradable sunscreen or wear something to cover the skin and protect it from the sun. 
3. Do That Thing That Scares You At Selvatica
Selvatica is every adrenaline junkies paradise…
Not only does it boast awesome aerial adventures over the treetops of the Mayan jungle and state-of-art ATVS  Selvatica is on a mission to help save the planet through their Seed Of Life Program.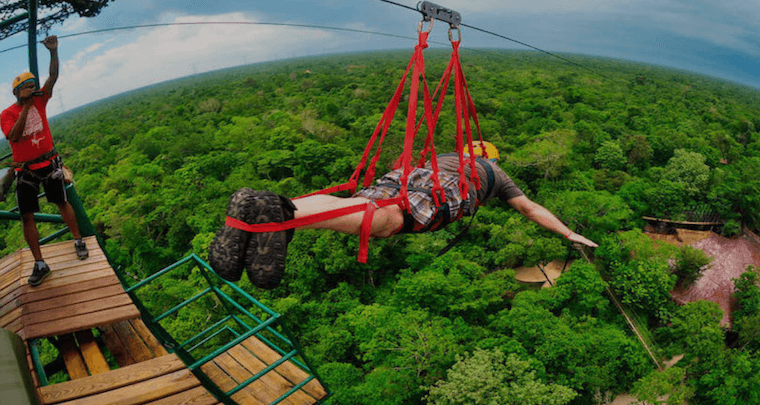 The Seed of Life Program
Our planet's sustainability is increasingly under threat. With growing populations and economies the earth is struggling to regenerate the biosphere faster than we are destroying it.
Added to that our natural resources are dwindling. All you have to do is do a quick search of Selvatica on TripAdvisor to see that it's considered by everyone who has been the number one outdoor adventure park in Latin America.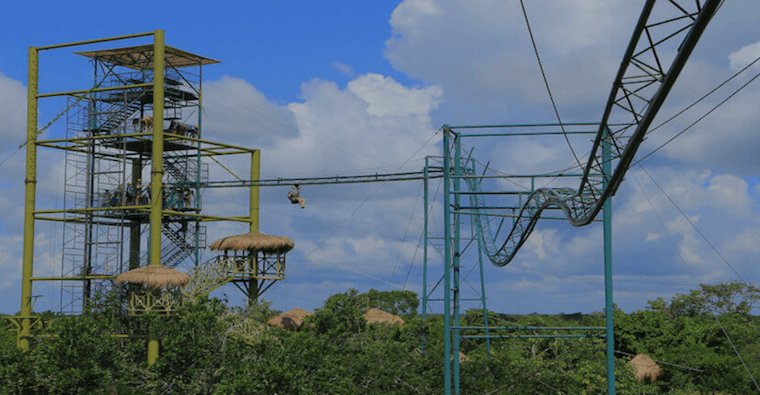 The amazing staff working at Selvatica go above and beyond to look after the small group sizes, even getting to know every visitor on a first name basis.
Through the Seed of Life Program, the company plants a tree in expired helmets puts them in the ground and lets nature take care of the rest.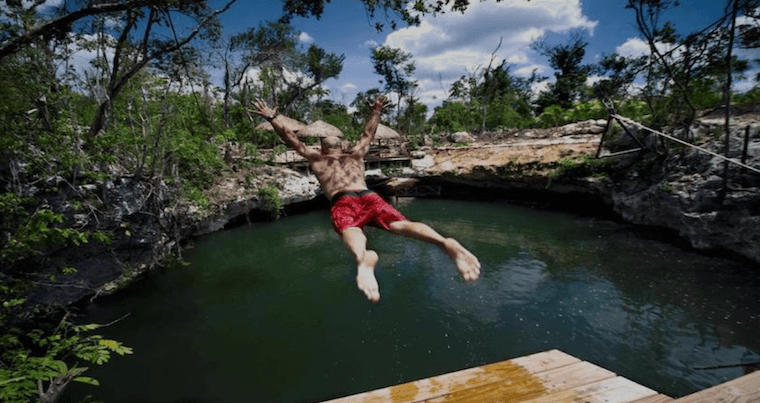 It started as a simple project that has since ballooned into a major movement. Today, Selvatica's seed of life tree-planting program has planted over 300,000 oxygen-releasing trees!
Altogether Selvatica's sustainable tour has shrunk the carbon footprint by an eye-popping 7.8 million tons!
Wouldn't you rather be a tourist who is part of the solution and not part of the problem?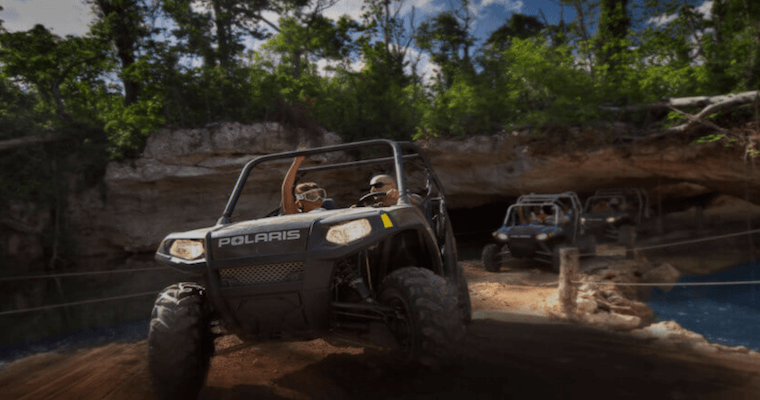 There is an array of Selvatica options to choose from but if you want the best of everything there's no doubt about it…The Gimmie All Tour is the one for you! We can save you up to 20% on this tour when you book online or in advance.
Please note that in order to protect the incredible ecosystem of the cenote regular sunscreen is not allowed. You must wear biodegradable sunscreen or wear something to cover the skin and protect it from the sun. 
4. Protect The Miracle Of Life On The Turtle Night Watch
You can do your part to protect the miracle of life on Mexico's beach of Xpu-Ha!
How? Partake in a Turtle Night Watch conservation project that will both wow you and inspire you.
Discover Xpu-Ha Bay and learn about the journey these turtles have been making for over a millennium.
Due to environmental damage, more and more of the world's sea turtles are becoming critically endangered. 7 different species of turtle can be found right here in Mexico, where they live and nest.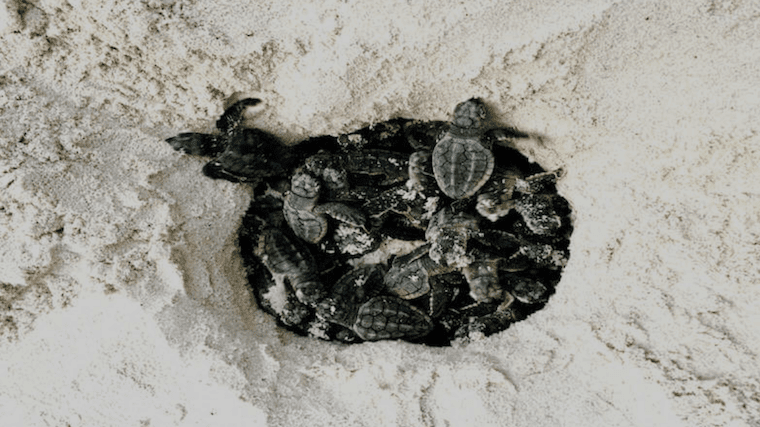 This eco-tour was born and inspired out of the love of nature and wildlife, it is an absolute priority that every member of the team is either an expert or a professional (marine biologists and certified guides) who is qualified to deliver a fun and safe experience, without exploiting natural environment.
When the turtles do their thing and come to land to lay their eggs it takes 60 days for mother nature to work her magic.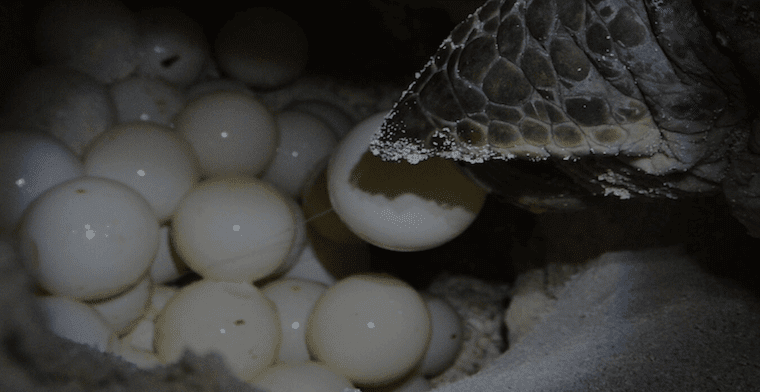 After this time the baby turtles are born! You may even get the chance to observe turtles hatch from their eggs and fight their way into the ocean for the first time (not guaranteed, but a possibility).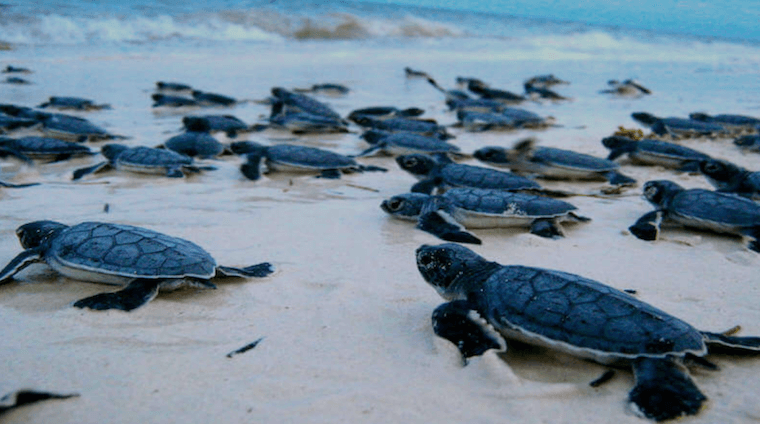 Simply partaking on this tour and helping to patrol these sands makes a huge difference in the preservation of these wondrous creatures.
You can leave feeling amazing about your efforts to help protect the wildlife in this area.
These tours run for approximately 3-4 hours. The estimated return time is 00:30 am.
Turtle sightings are not guaranteed. But even if you don't see turtles, rest assured that strolling this incredible area under the moonlight will be well worth your while.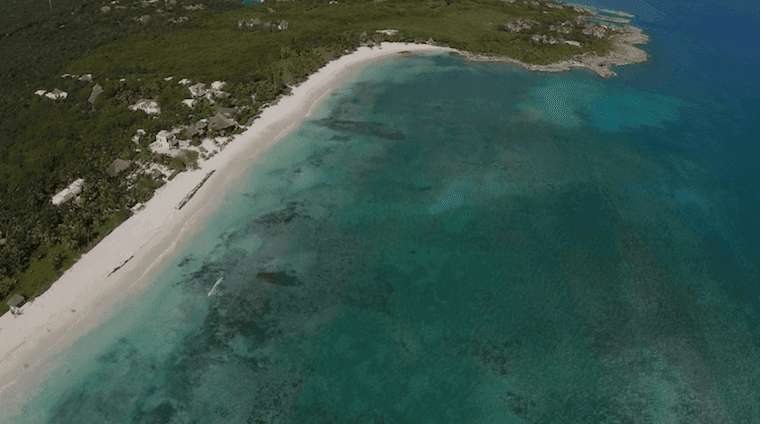 THE PROJECT ENTAILS: 
You will help by relocating eggs or building new nests to put eggs in.
Monitoring nests and the baby turtles that are found inside.
You will collect biometric data on the beach that will help with different studies and research efforts.
Help the baby turtles to reach the ocean safely.
Nest excavation (exhumations).
Maintenance of the beach area and camp facilities.
Please note turtle season only runs from June – September. We can save you up to 20% on this tour when you book online or in advance.
5. Be At One With Nature In The Sian Ka'an Biosphere
Bask in the stunning haven that is the Sian Ka'an reserve, a UNESCO World Heritage site, through this amazing Sian Ka'an Expedition tour.
This tour is designed for the conscious and environmentally aware traveler; who seeks to find a more authentic way for their travels and excursions in the Riviera Maya and Tulum; away from the crowds and hectic mass group tours.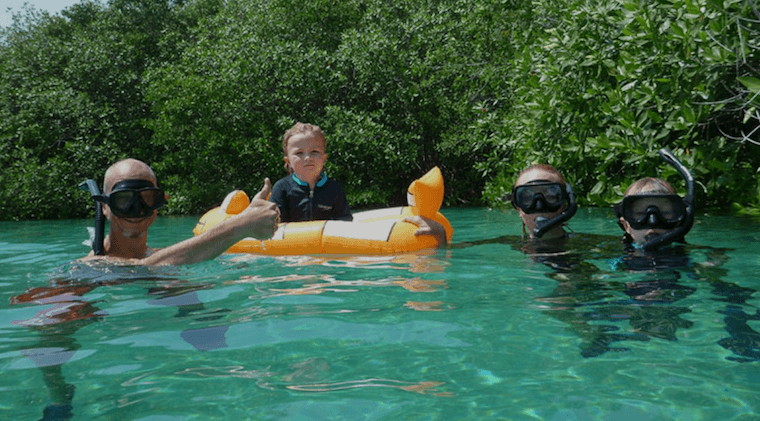 It's  6 persons per tour. In case of special requests for families or private groups, the group size can take up to 12 people per tour.
The Biosphere Reserve of Sian Ka'an is renowned for its natural beauty. Taking in the coastal wetlands and shimmering lagoons, the tours provide rare access to the region's spectacular wildlife and awe-inspiring Mayan ruins.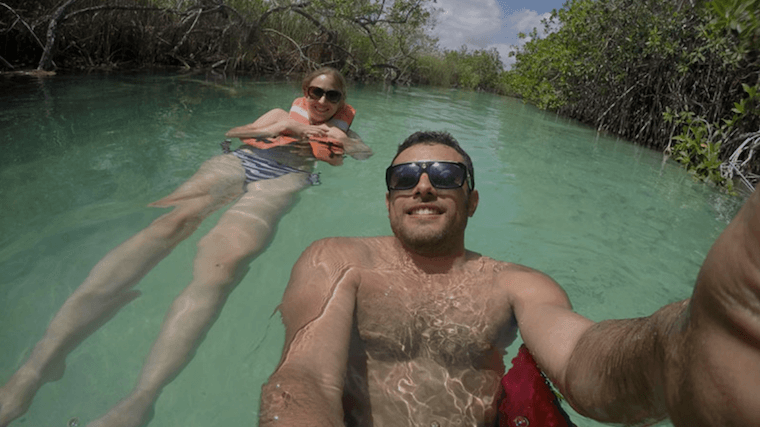 Take a walk through the jungle and explore the magical ancient Mayan city of Muyil before jumping on a motorboat and heading across the Chunyacxche Lagoon.
After cruising down the intricate network of canals made by the Mayans, you will find yourself in a mystical mangrove river, right in the very heart of Sian Ka'an.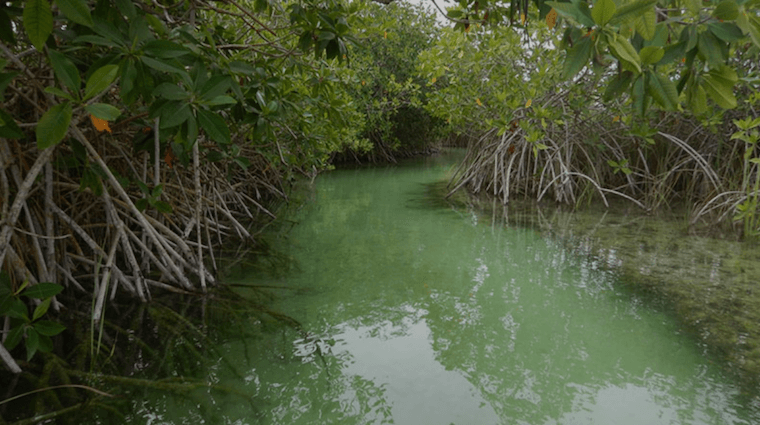 This is where you can hop out of the boat and gently float down the river, as you admire the unique flora and fauna that decorates the river's bank.
Finish up your day with a beachside lunch and some refreshing soft drinks.
With the participation of scientists, technicians, students, fishermen, farmers, rural promoters and administrators, together with regional and international partners, there have been more than 200 conservation projects successfully carried out within the reserve, to date.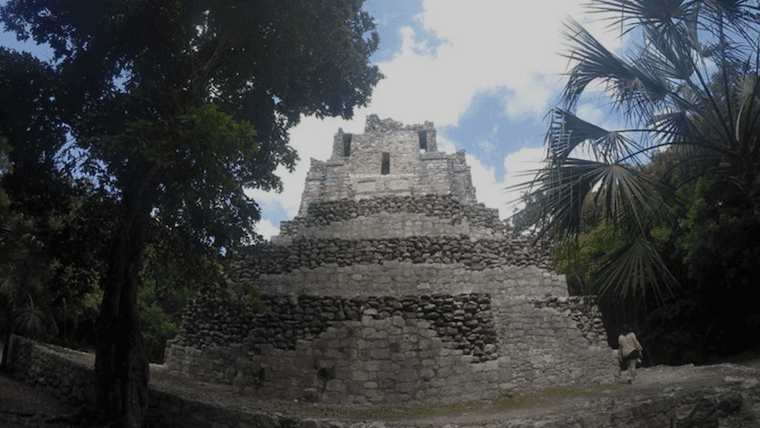 We can save you up to 20% on this tour when you book online or in advance.
Please note that in order to protect the incredible ecosystems here regular sunscreen is not allowed. You must wear biodegradable sunscreen or wear something to cover the skin and protect it from the sun. 
Make Memories, Leave No Tracks
Start planning your next trip today and get the best deals on hotels and tours available anywhere online. We can save you up to 20% on all of the tours listed in this blog.
Our international team here at PlayaDelCarmen.Com live right here in the Riviera Maya so we know this landscape better than anyone and can offer you honest advice.
Call us on our toll-free number 888-537-9797
OR
Email us directly at customercare@playadelcarmen.com where we will get back to you within 24 hours.
Go ahead and leave your comments and questions down below, I'll be here to answer them for you. 🙂 Adventure awaits…
---
Trending Now