My Honest Review of The Secrets Maroma Beach Resort in Playa del Carmen (2023)
---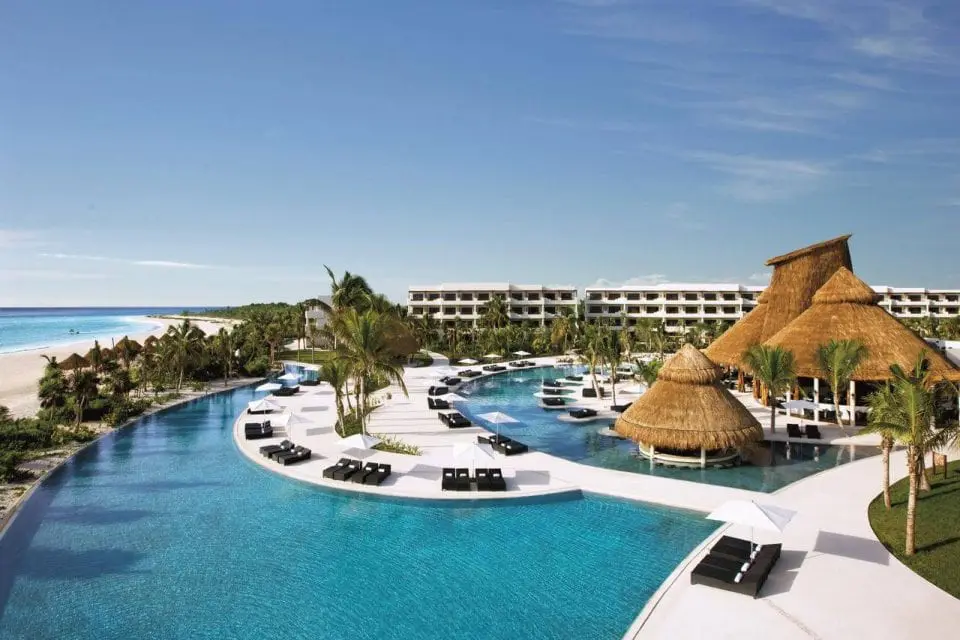 Are you doing your homework on the 5* adults-only Secrets Maroma Beach Resort for your next vacay in sunny Mexico?
I like your style. 😉
If you're anything like me, you never book a place without obsessing over the TripAdvisor reviews first.
I mean, c'mon,  accommodation is a big deal, right?! In my ripening age, I'm a sucker for comfort.  If I'm not comfortable,  I'm not having a good time.
Safe to say my hosteling days are behind me.
While TripAdvisor is a good place to start unless you get someone as thorough as me, its user reviews rarely cover all bases.
Because I visited Secrets Maroma in Playa del Carmen just last week so this review is hot off the press, and if you're an avid reader of my blog you should know, I leave no stone unturned.
My Review of The Secrets Maroma Resort includes:
---
1. Location
Secrets Maroma Beach Resort is located exactly halfway between Playa del Carmen and Puerto Morelos along Mexico's Riviera Maya.
When people tell me they are coming to Mexico to visit Cancun, I won't lie, a piece of my soul dies (*cough cough* – drama queen).
While Cancun is 'nice, in my opinion, ' it's basically an Americanized city by the beach.
For me, the Riviera Maya has so much more to offer!
If you're coming to the Caribbean, you want to feel like you're in the Caribbean, right?
Think coconuts and wooden beach bars.

So, what is Playa del Carmen and Puerto Morelos like?
Well, although in close proximity to each other the two are very different. 
Playa del Carmen (where I live)  is far more developed than Puerto Morelos…that said, it's nothing like Cancun.
Playa, as it's locally referred to, is a quaint coastal town with just the right amount of creature comforts along 5th Avenue (a 5-mile pedestrian-only walkway dedicated to all of your touristic needs).
You can actually walk the entire downtown area in under an hour if you wanted to.
There are endless options for bars, coffee shops, restaurants, live music venues and more.
Puerto Morelos is what I like to call Cancun's almost-forgotten neighbor.
Once a small fishing village this place is home to a lot of locals and still possesses a charming old-world ambiance. It's much less developed than Playa and definitely worth a visit if you crave a laid back beach day in a new setting.
A stay at the Secrets Maroma Beach Resort provides you with all the seclusion you could ever want from a tropical vacation without being out in the sticks.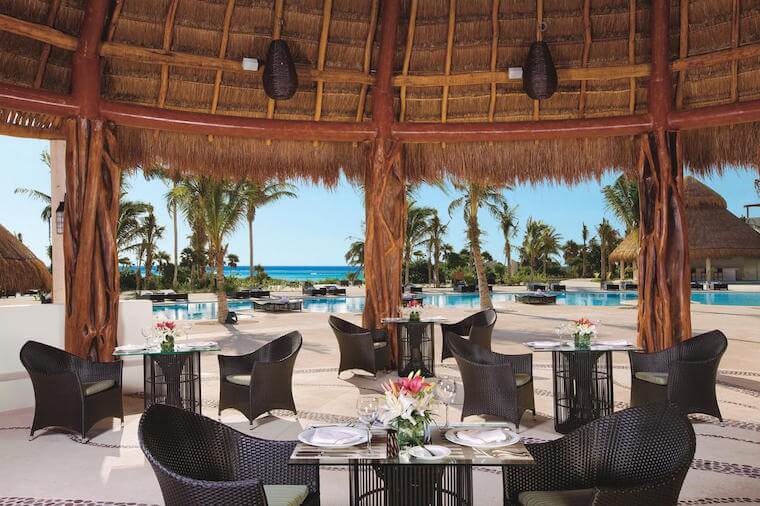 The hotel is nestled neatly on the heavenly Maroma Beach which was voted the World's Best Beach by the Travel Channel four years in a row (more on that later).
2. Decor and Layout
Everything about this hotel screams luxury retreat for adults.
If you're looking to relax and rejuvenate this is the place for you.
From the moment I stepped foot into the hotel with my boyfriend, I felt a sense of calm wash over me.
I'm not sure if it was the trickling fountains,  cool limestone, or cold towels that were provided upon arrival but this hotel certainly knows how to greet its guests and make a great first impression.
As I roamed the grounds what struck me as quite unusual for the region's norm was the hotel's layout.
The resort is made up of 1 large lobby and  15 smaller buildings for accommodation, spas, and preferred clubs.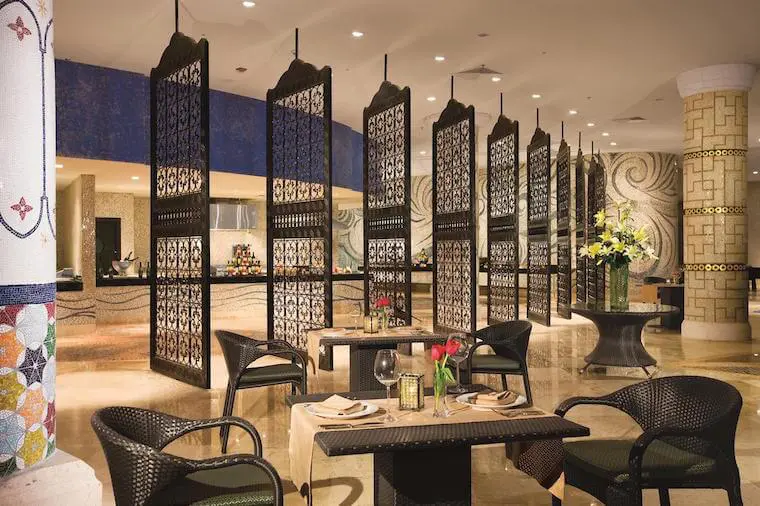 Surprisingly,  I really enjoyed this approach as the grounds didn't feel overstated.  I absolutely hate getting lost in one gargantuan resort, and this resort avoided that problem altogether by breaking the structures up.
It also meant that the hotel was in perfect harmony with the natural surroundings. No looming skyscrapers can be found here.
While there were many buildings the hotel was tied together beautifully and felt like one.
A Spa Hotel
Everything about the experience was designed to help you relax from the aromas diffusing in the air to the infused flavored water dotted around the place.
The closer you get to the beach the more lively the hotel becomes.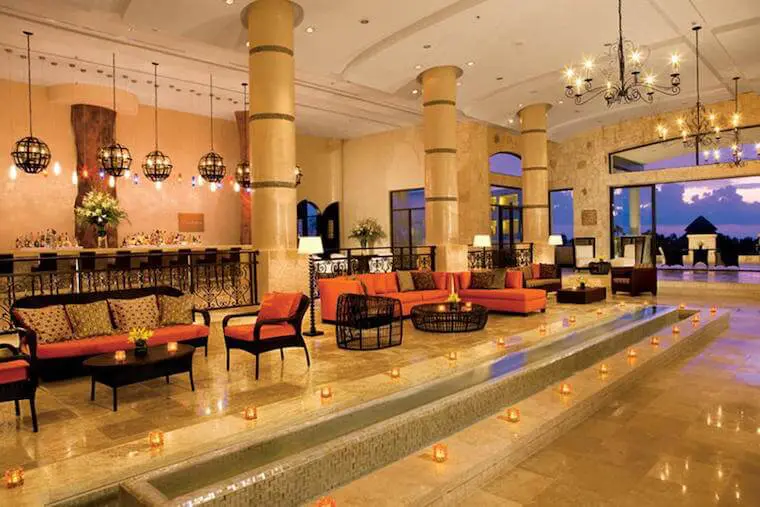 I appreciated how the zen holistic aspect of the resort was far removed from beach bars and pools – it was the best of both worlds really.
The decor in most open areas is very minimalistic and beige, outlined with ornate black iron railings.
Throughout the hotel, you will notice pops of color such as oranges and blues which is nice. The gardens and walkways were all stunning and very well maintained.
You'll find shallow pools run through the middle of the walkways and guide you down to the main beach area, these areas are the perfect place to wet your ankles, cool off, and enjoy a game of ping pong! 
3. Rooms
As I previously stated in my intro I'm a sucker for comfort and what inspires comfort more than the place you rest your head?
I expected the rooms to be as minimalistic as the rest of the hotel but I was pleasantly surprised.
When you walk into your abode you are sure to be impressed, I know I was!
They possess an entirely different feel to the rest of the hotel. Ultra-modern, with bright pops of color, dark wooden finishings, and the funkiest of lamps!
I was in heaven.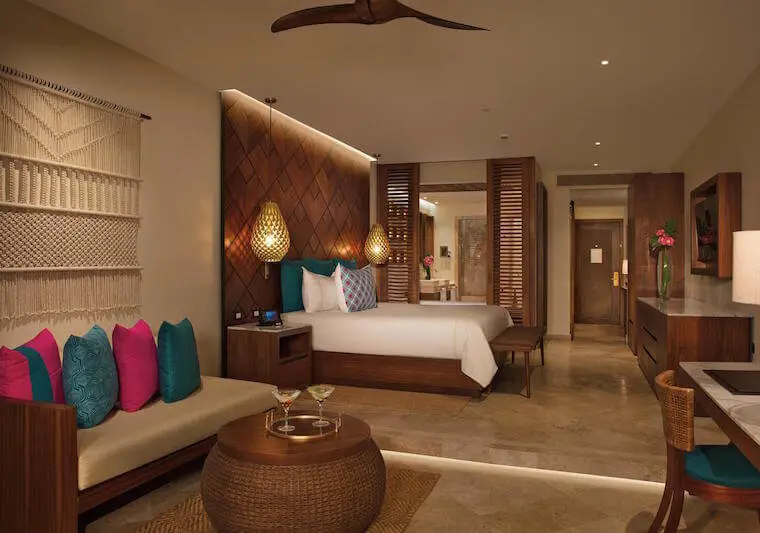 The rooms at Secrets Maroma are some of the nicest – if not thee nicest rooms – I've seen in my years since being here.
The interior designer for this hotel gets a thumbs up of approval from me! Touche.
In total there are 412 rooms.
Select an over-sized standard or swim-up suite and enjoy 24-hour room service, WiFi, a mini-bar, furnished terrace or balcony, and in-room jacuzzi, sofa, laptop-size safe, iron, hairdryer, satellite television with DVD player, coffee and tea maker and an iPod docking station.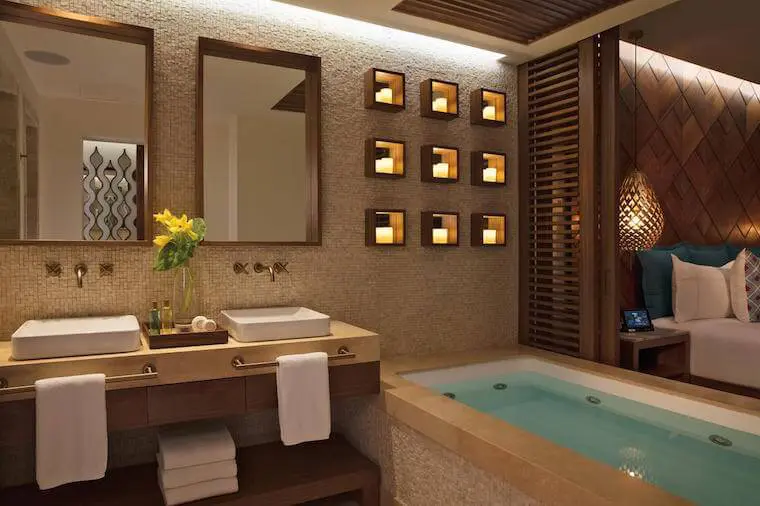 Upgrade to a Preferred Club room and you'll also receive access to a private lounge, a pillow menu and an upgraded mini-bar and bath amenities.
I enjoyed the swim-up suite which felt almost private because of the lush flora that surrounded the rooms. It was the epitome of luxury getting up in the morning and cooling off in the water just a stone's throw from our bed.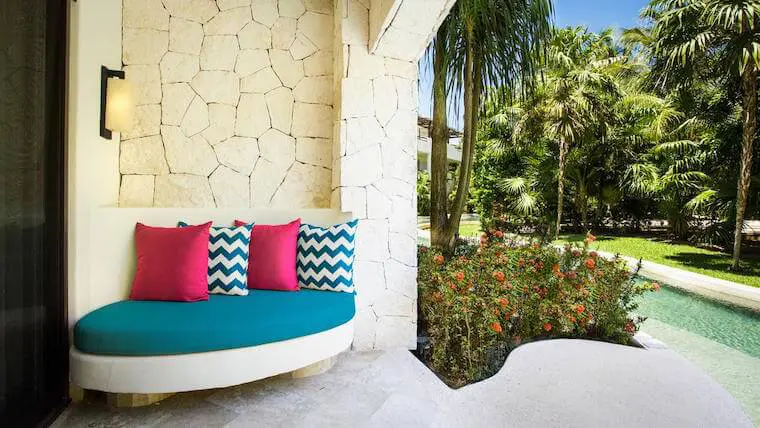 4. Beach
Secrets Maroma Beach Riviera Cancun is tucked away on secluded Maroma Beach, voted the World's Best Beach by the Travel Channel four years in a row.
It's perhaps the widest stretch of sand I've yet to see here in the Riviera Maya.
The hotel does a great job of maintaining it. During my visit, it was perfect…cool shallow waters, powdery white sand, and no seaweed. Hallelujah!
You really couldn't really ask for much more on a Caribbean getaway.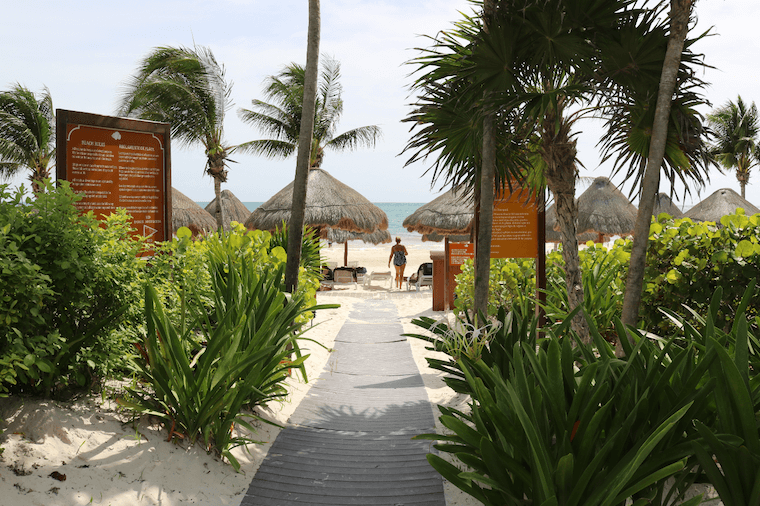 I loved that the beach had wooden walkways so you could navigate from one end to the other easily. It's surprisingly hard work walking on a beach this big in the sand,  not to mention the heat.
At the top end, you'll find lazy cabanas where beach waiters will be ready to whip you up the finest cocktails on offer! I'd highly recommend the pineapple mojito! It was yum.
Towards the bottom end, you'll find beach volleyball nets.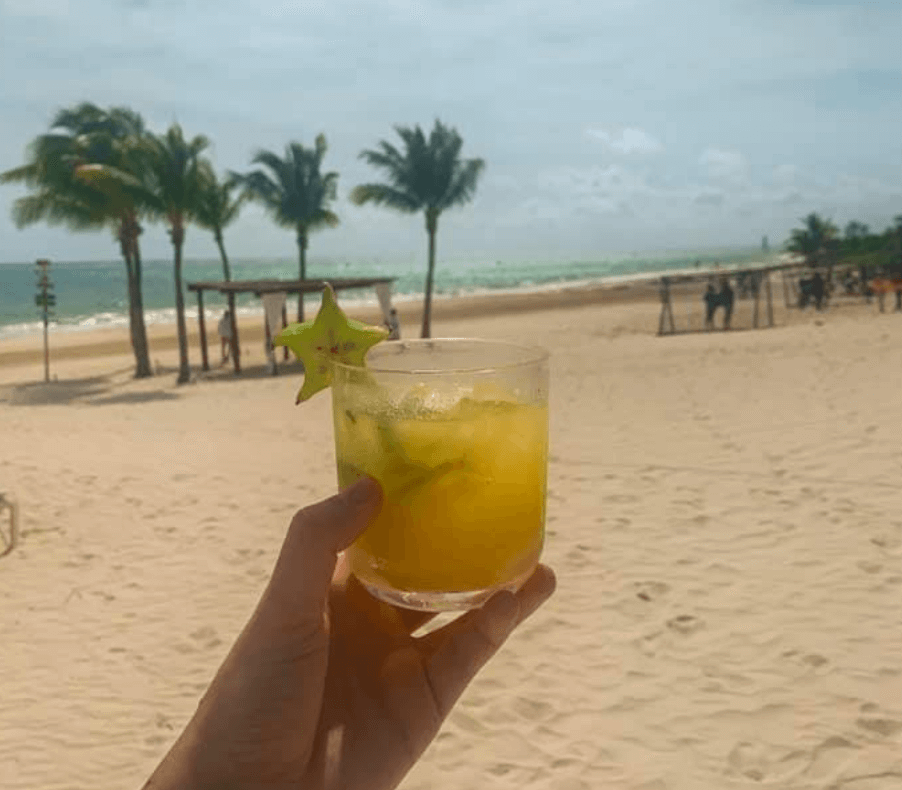 This resort offers a great range of beach activities to be enjoyed such as kayaking and even windsurfing!
5. Food & Drink
Although the hotel is largely minimal and simplistic in nature Secrets Maroma didn't hold back when it came to theming their restaurants.
Seriously, they went to town!
An international buffet, cafe, 7 a la carte restaurants and 24-hour room service equal round-the-clock gourmet dining.
Fresh seafood, sushi, French and Italian cuisine are all available.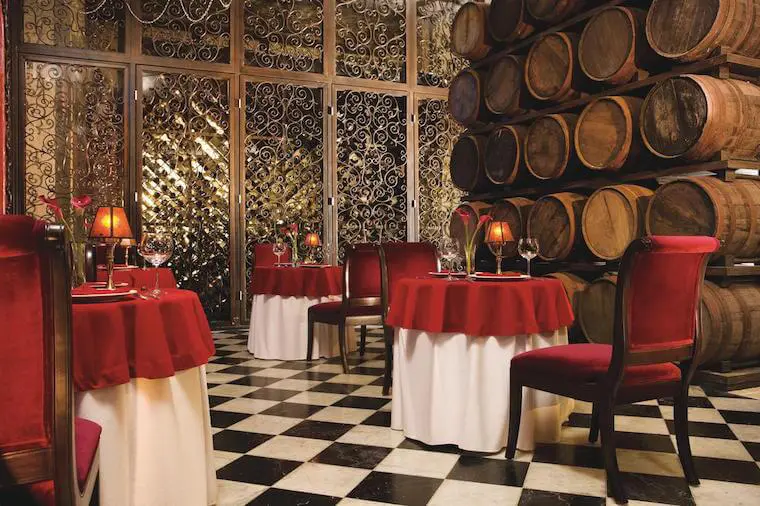 Premium wines, beers, and cocktails can be enjoyed on the beach, at the swim-up bar or any of the 5 other bars and lounges located around the resort.
Or, if you're looking for a night out, arrangements can be made for dinner and drinks at 10 other participating resorts along the Riviera Maya.
The resort does ask that guests comply with the dress code specified in each restaurant.
However, fear not if your man has forgotten his long pants for his tropical vacay the hotel actually has a range on hand to lend.
I'll be honest, I found this all a bit strange.  I'm not big on dress codes and reservations when it comes to staying at a hotel but hey ho every resort has its flaw and for me,  this was mine.
I've got to say the French restaurant was definitely my favorite.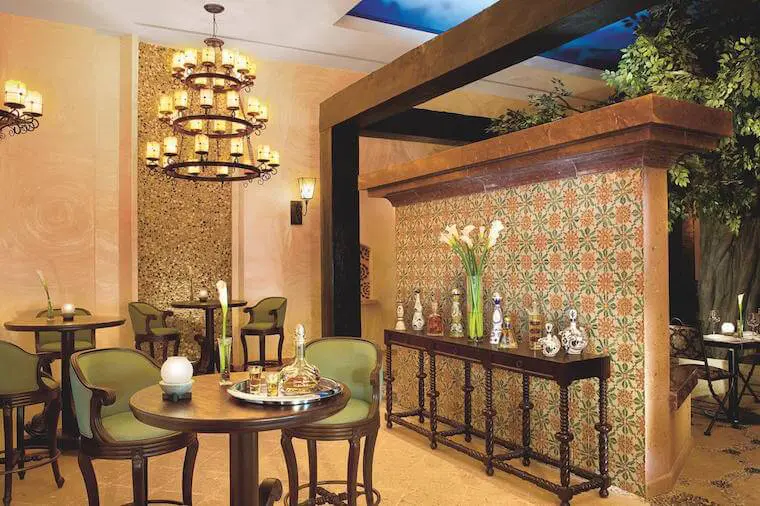 It's a cozy and intimate setting featuring barrel walls and a throne-like table and chairs. Definitely a feast for your senses so be sure to check that one out, however, don't forget guys you will need your long pants, but don't worry the place is air-conditioned! Thank goodness!
6. Pools & Activities
In total, there are actually 13 pools at this hotel, pretty crazy, right? But before you get overwhelmed most of them are swim-up suites or belong to the spa.
There's actually only one large pool area (split into two) for everyone to enjoy, it's what ties the hotel together and is located centrally in the middle of the hotel's layout.
I feel like this is how every hotel should be…You head out from your room, towards the beach to find the pool areas. Voila – bliss!
I hate it when the pool is located randomly up on a rooftop or in some hidden gardens somewhere where there are mosquitos. No thanks.
You get it, I enjoyed Secrets Maroma layout a lot.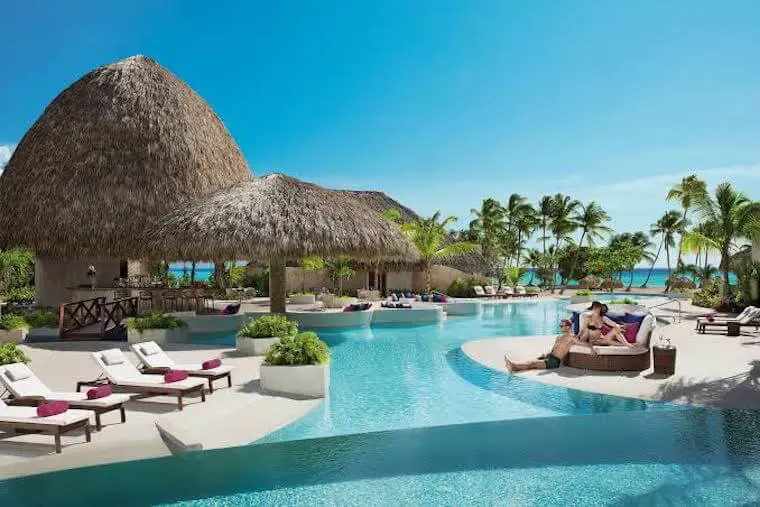 The pool overlooks the turquoise blue and white powdery sands of the beach  – it's pretty freakin' amazing.
Whoever built this gorgeous resort really capitalized on having the best stretch of beach in the Riviera Maya. Who wouldn't want to have their pool by the beach here?
Pool areas are outlined with gorgeous and comfy poolside beds. Don't worry there is room for everyone! There's nothing I hate more than 2138482  rooms and only 3234 beds.
Although this is an adults-only resort there are plenty of activities to keep you busy.
Some of which include:
Scuba diving* and snorkeling
Mini-golf, tennis and football
Beach and pool volleyball
Non-motorized watersports
Euro-bungee
Archery
Yoga
Water aerobics and water polo
Cocktail classes and dance lessons
Deep-sea fishing
Complimentary green fees at two nearby golf resorts.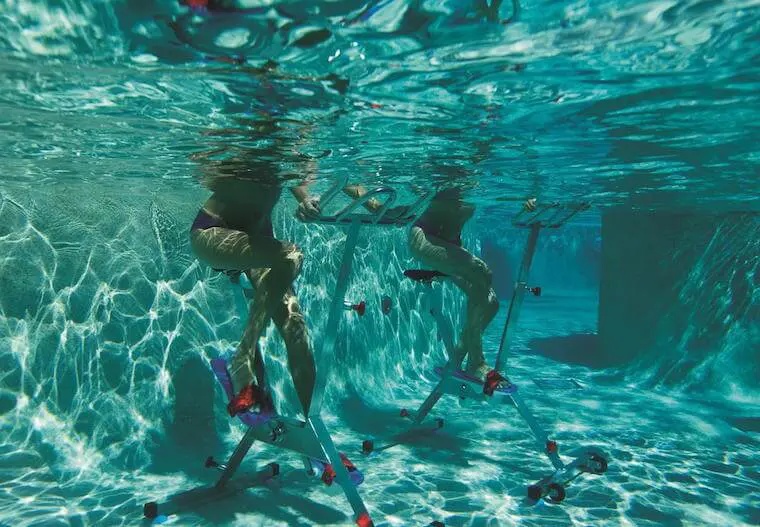 7. Nightlife
This isn't a hardcore party kind of place, however, there is enough stimulation here to keep you up until at least 2 am.
As I mentioned earlier it's zen more than anything else.
But there is a dance club on-site that you can enjoy till 2 am and there are always people at the lobby bar until at least midnight.
If you enjoy sports there is a little sports bar towards the pool that always had people in it late after the Elvis show in the theatre had finished.
It's nothing wild but it's enough. 🙂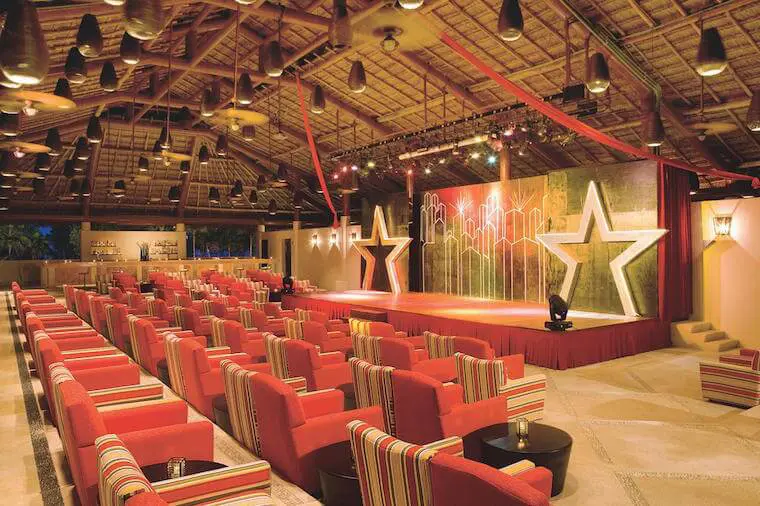 Like every 5* hotel and resort in the region, you can expect nightly entertainment, shows, and performances.
If you do fancy a blowout on vacation (why the hell not) you do have options.
Secrets Maroma is located in close proximity to downtown Playa so it would be a cheap taxi ride.
Playa is great for live music, has lots of bars, and one street solely dedicated to clubbing if that's what you wanted to do (12th street).
I've actually already written a full in-depth guide to nightlife in Playa del Carmen already – check it out here.
8. Spa
The first thing that will strike you about Secrets Maroma Spa is the sheer size of it.
Spanning over 13,000 square feet, the magnificent Secrets Spa by Pevonia treats you with dozens of pampering choices.
From the moment you step inside you will be greeted with welcoming faces, cold towels, gorgeous aromas, and infused water to rehydrate at every turn.
It oozes relaxation.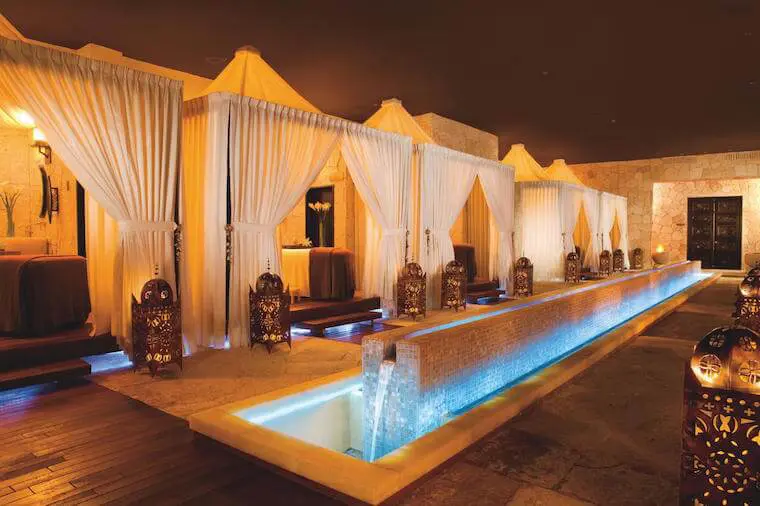 From the cabana beds where you can enjoy a private message to the trickling waterways that run through you can't help but feel a sense of relaxation wash over you.
Experience pure indulgence through a combination of the latest hydrotherapy and a wide variety of treatments including:
Seaweed Wrap
Swedish Massage
Secrets Exclusive Facial
Aromatherapy Salt Glow
Aromatherapy Massage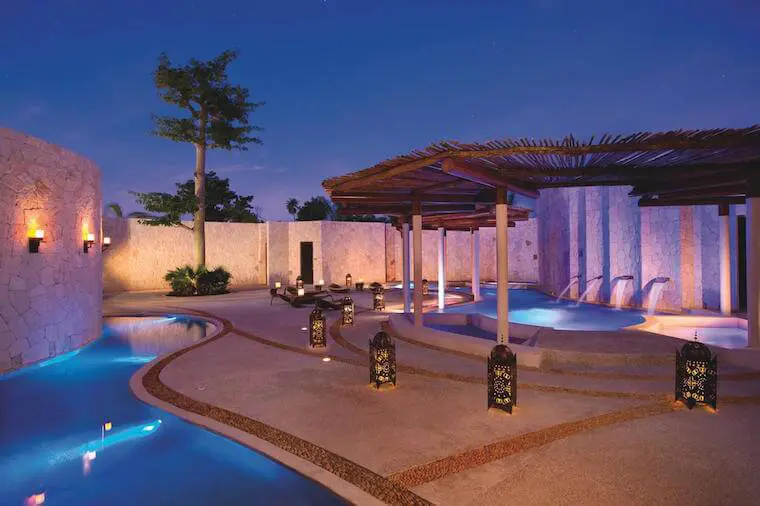 Luminous "C" and Sea Facial
Spa Pedicure or Spa Manicure
Hot Stone Massage
Secrets Exclusive Facial
Spa Manicure and Spa Pedicure
Spend at least one day relaxing at the Secrets Spa while you're here and return home rejuvenated and ready for anything!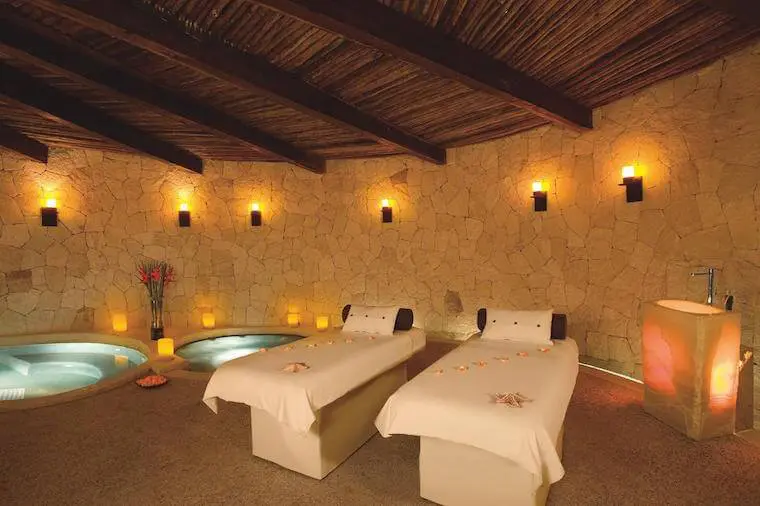 9. Weddings
Secrets Maroma offers an exciting range of wedding, honeymoon, newlywed, and anniversary packages starting at around $3399 USD.
Obviously, if you had your heart set on a beach wedding this would be the perfect place to have it.
I mean, it doesn't get much better than this in all honesty. To reiterate the beach here is wide, super big, and stunning.
The size of it would mean that the ceremony would be semi-private as our wedding coordinators can help you section it off.
Another location would be the gazebo, which is beautiful,  but it's not to my liking as it's far too busy around this area next to the pool, it means the wedding wouldn't be as private as I (personally) would want it to be.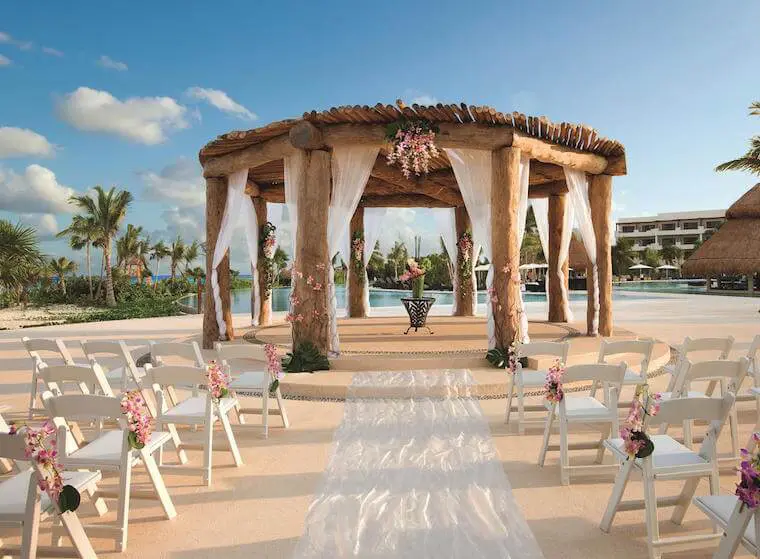 The gazebo would make a great cocktail hour location or reception area.
Restaurants at this hotel are extremely decadent and can cater to all sizes so I would definitely look into hosting your dinner party in one of those, particularly if you plan on getting wed in the dry season as eating outside can be particularly hot and humid at that time of year.
Start Planning Today
Our wedding co-ordinators here at PlayaDelCarmen.com plan 100s of amazing events in the region all year round.
You are going to want to have us on your team when it comes to planning your big day from afar, best of all it comes at no extra cost to you.
We simply work hand in hand with the hotels to ensure that everything runs smoothly with no detail overlooked.
Plus, we can help take care of the logistics for you and your group.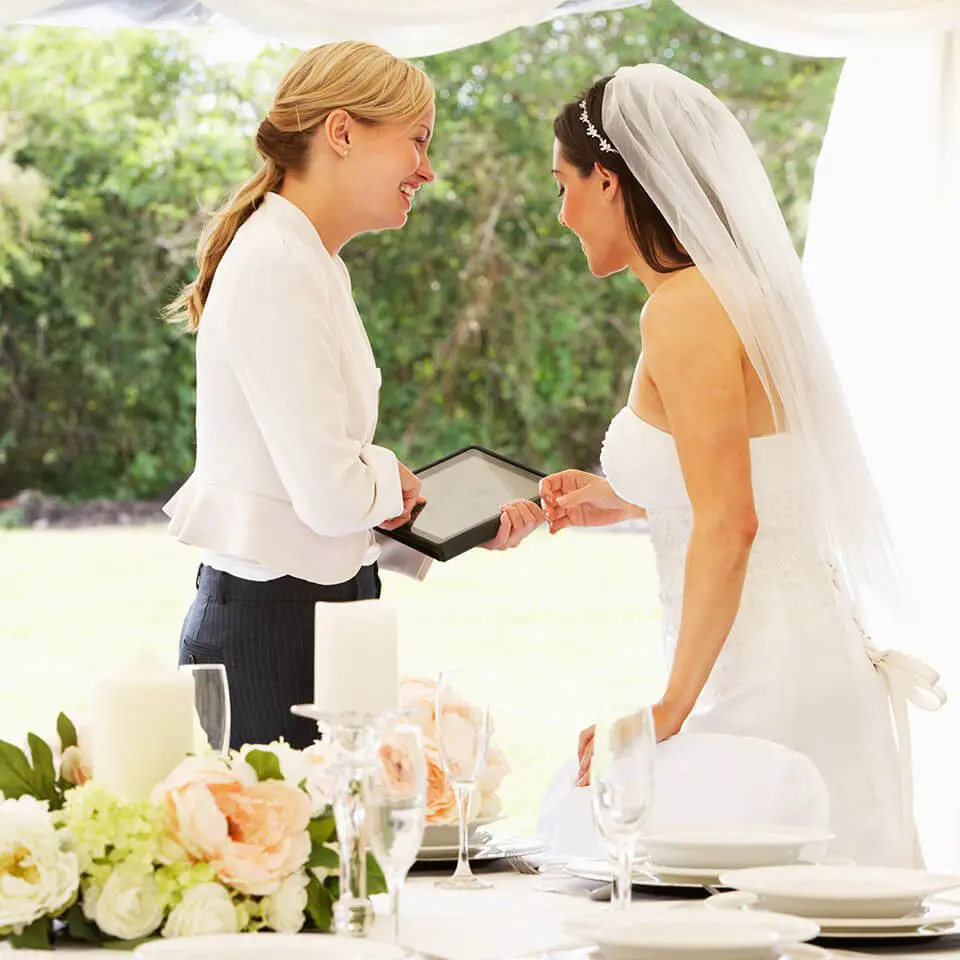 Taking the stress out of planning is what we do best and our 100s of reviews do attest to that.
We can breathe life into your vision, based on your budget and the size of your group we will make sure you choose the right hotel, package, and get all the perks and discounts you are entitled to.
Talk to us today
Start planning your big day email us at weddings@playadelcarmen.com  or alternatively you can call us directly on our toll-free number 888-537-9797. 
10. Save on Secrets Maroma Beach Playa del Carmen
As a local agency based in Playa, we offer exclusive rates at this hotel!
Discuss your next vacay with one of our expert travel consultants here at PlayaDelCarmen.com.
We know these hotels like the back of our hand and will only ever provide you with honest and unbias advice.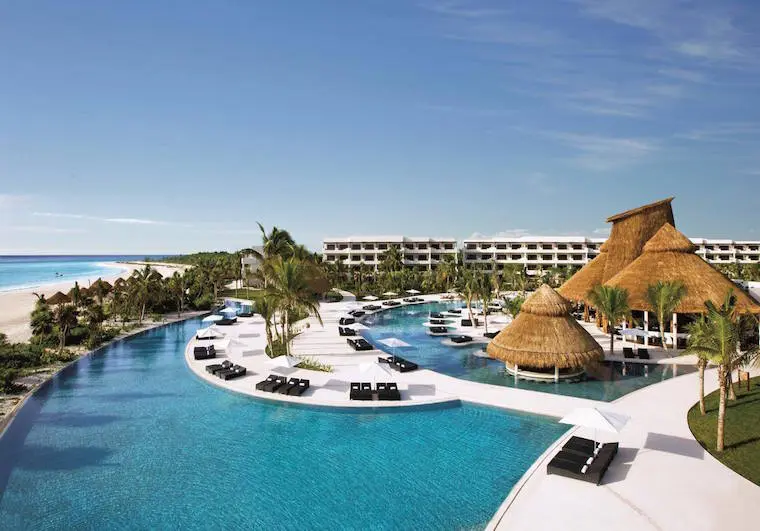 Give us a call on our toll-free number 888-537-9797
Or
Alternatively, contact us via email at customercare@playadelcarmen.com
Have you stayed at this hotel before? Don't forget to leave your thoughts in the comments section, we would love to hear from you. 🙂 Tell us what you thought of Secrets Maroma Beach.
Paradise awaits…
My Honest Review Of The Secrets Maroma Beach Resort Playa del Carmen
Location

Layout and Decor

Rooms

Beach

Food & Drink

Pools and Activities

Nightlife

Spa

Weddings

Beach
Summary
An incredible luxury resort perfect for couples, weddings, and honeymoons. This place oozes romance and relaxation boasting one of the best beaches in the world.
---
Trending Now