My Top 4 Tips for the Fat Cat Catamaran
---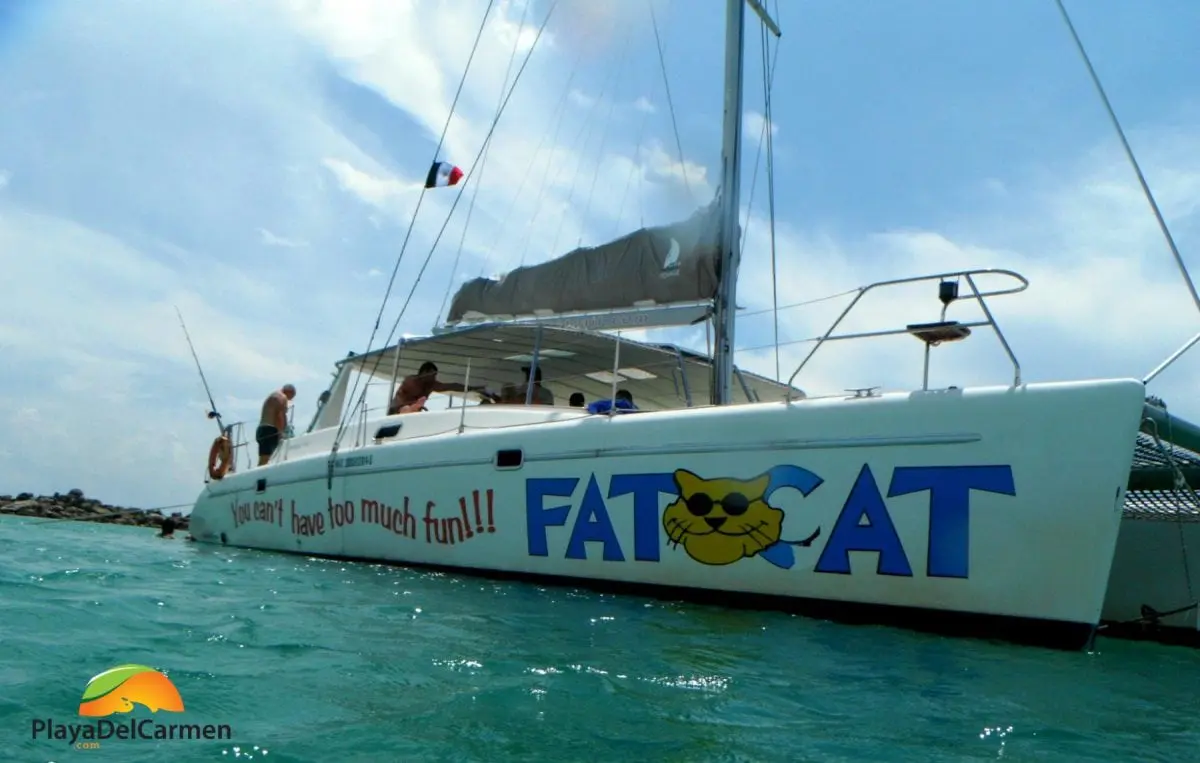 Heaven.
The one word I would use to describe the beautiful place in which I live. How do I find my heaven? On a catamaran.
You see, my heaven isn't what the normal person would think heaven would be. Instead of being northward, in the sky, my heaven is southward, in the depths of the Caribbean Sea.
As the Little River Band sang, "I was born in the sign of water, and it's there that I feel the best" (yes, I know I am a huge nerd, but I really was born in the sign of water), a day on the ocean is more therapeutic than anything else I know and a lot more fun.
What better way to explore my heaven, than on a Fat Cat Catamaran tour?
This tour is one of our most popular among all the Playa del Carmen tours, and for good reason. It's a great way to explore the beauty and majesty known as the Caribbean Sea.
This tour does offer transportation, and the time it takes to arrive to Puerto Aventuras depends on how many people they have to pick up, and where the hotel is located.
We opted to just drive ourselves. Once we arrived, we made our way to the office, and were greeted by Arlene and Archie, their 4 legged helper.
After receiving our wrist bands (which are super cool by the way) we made the short walk to the actual catamaran. I was impressed, this boat was really nice! We took off our shoes (they store them for you, which is a good thing) and boarded the vessel.
The crew then gave us safety instructions, where we would be traveling, where the seasick bucket was located, and most importantly they showed us where the bathrooms were! 😀 After that we were off on our sea faring adventure.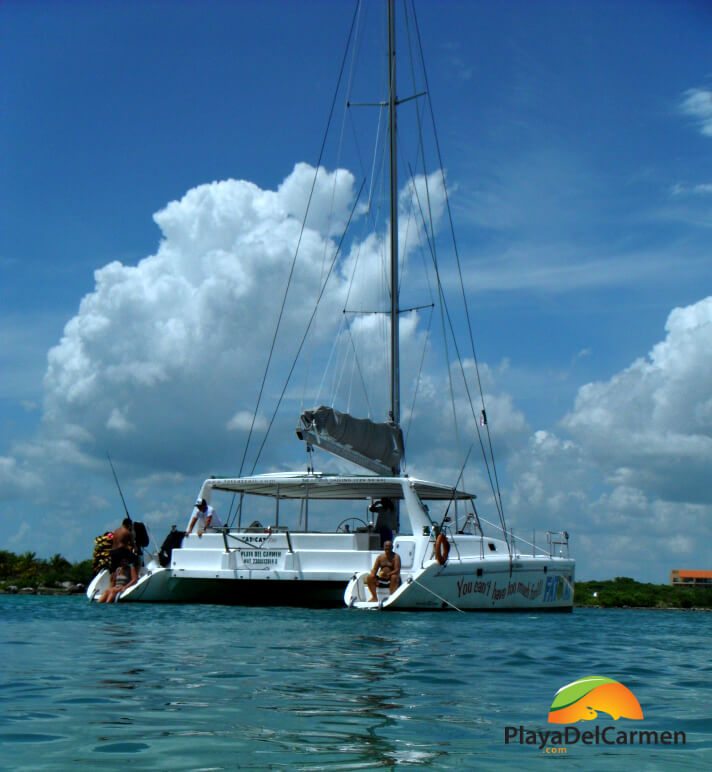 Tip #1 – If You are Prone to Motion or Sea Sickness, Take Medication
This seems like a no-brainer, but you would be surprised by the amount of people who get sea sick…
Sometimes you may not know, if you haven't been on a boat before. If you are in doubt, take the steps to prevent sea sickness, because trust me, it's no fun! If you don't want to take a pill, I believe there are patches that help with motion sickness.
Nothing is worse than being out on the ocean and sick, especially when you have a few hours left on the tour. So be proactive. I have gotten sea sick on cruise lines, but never on a catamaran.
Tip #2 – Biodegradable Sunscreen
Again, seems like a no-brainer. You want to protect yourself, especially since you will be out for half of the day.
If possible, use biodegradable sunscreen, as we want to protect our oceans, and the marine life that live in them. With so many people visiting on a daily basis, Mother Nature needs all of the help she can get.
Biodegradable sunscreen is a safer alternative than regular sunscreen. Also don't forget to re-apply, this is what gets me every time. However, the catamaran does have ample seating under a canopy.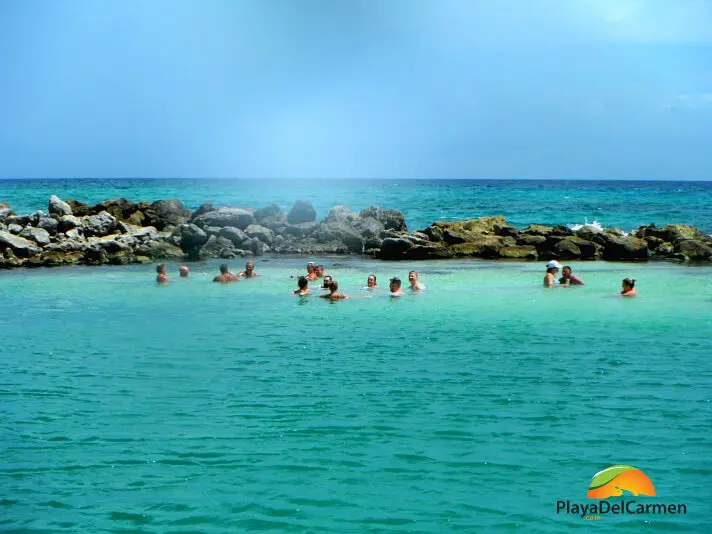 Tip #3 – New to Snorkeling Friendly
If you have never snorkeled before, don't worry. Life jackets are mandatory, and the crew makes sure you know how to use your snorkel and mask before you leave the boat. They also carry a life preserver, so if you feel uncomfortable you may swim with them.
If at any time you need help, there are 3 crew members to assist you. So relax and enjoy the natural beauty that awaits you.
We anchored near the reef for our snorkel excursion. You may also just swim near the boat, or relax on board. The crew is there to serve you, no matter what you decide. Anyway, we headed out on our snorkel tour.
I saw multiple fish, a sea turtle, and a stingray, although I did get started a little later than the rest. My traveling companion saw multiple fish, a crab, multiple starfish, a stingray and an eel (I am actually glad I didn't see that). Also, a sea turtle swam towards the back of the boat, and the crew members threw fish out to draw it to the surface. Simply amazing.
Lunch is included, as are drinks. On our tour, lunch was served right after we were done snorkeling. They offered an assortment of sandwiches chips and cookies. A word to the wise, if you want a particular sandwich, hang out by the bar area when they tell you the snorkeling portion of the tour is over, because if you snooze you lose. The lunch was actually very good, and suitable for eating on the boat. Be careful, though, as you don't want trash blowing into the ocean.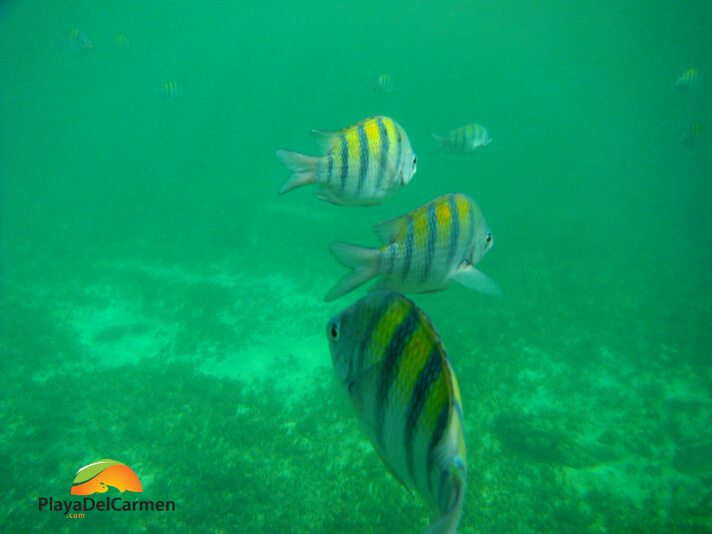 Tip #4 – Be Very Careful When Walking
You are on the ocean, sometimes it's calm, sometimes it's not. In either case, be very careful when walking, especially on the edge. There is a guardrail there, but still be aware that you need to be extra careful.
If you are not used to sailing, it can be a little scary. Just take your time. If you feel uncomfortable about walking on the edge, you can always stay in the middle of the boat.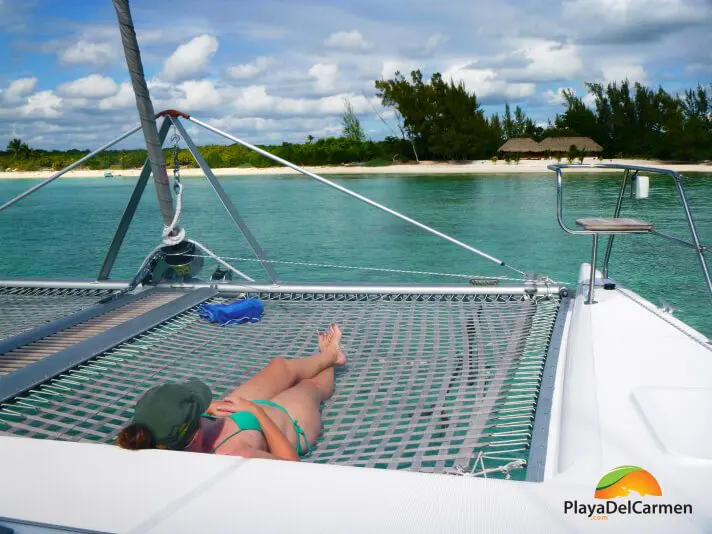 Conclusion
This was an absolutely awesome tour. The crew was fantastic, drinks were great (I had a sip of the rum punch, yummy!), the food was good and the atmosphere was amazing.
We loved the music they played while we were sailing, and we had a great time with the group of Scottish tourists that were on board.
The ocean was beautiful, a gorgeous sapphire blue color in the deeper sections, sparkling turquoise in the shallow sections. The snorkeling was great, and swimming in the protected cove was a treat.
Everyone at Fat Cat did an amazing job to make our tour very relaxing and enjoyable.
So as we waved goodbye to our compadres for the last 4 hours, I thought to myself "this is so much better than spending an hour talking about Mommy issues on a couch, and much more therapeutic." It was at that moment that I decided I need a lot more therapy!
If you're interested in experiencing this tour, book the Fat Cat Catamaran and enjoy! Have a question for Linda about her Fat Cat experience? Just get in touch!
Have you done the Fat Cat Catamaran? Give us your feedback in the comments below!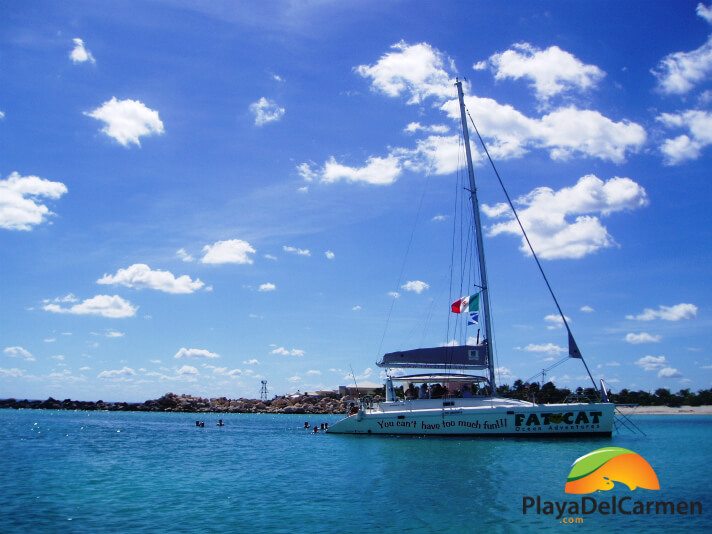 ---
Trending Now
You may also like