The Ultimate Single Ladies Guide To Playa del Carmen
---
Cue Beyonce, 'all the single ladies, all the single ladies, now put your hands up!'
I'd personally like to welcome you to hot guy heaven. As a single lady living in these parts for almost 4 months now, I'm here to dish the dirt on the sexier side of paradise.
If you're single and ready to mingle then Playa del Carmen is the place for you.
Whether you're into Americans, Italians, Argentinians, Mexicans, Israelis, Spaniards, Brazilians…you get the picture, rest assured you won't be in short supply of international men here.
When I first decided to uproot my life to this side of the world, naturally, all sorts of things began to run through my mind, 'what if I don't make any friends', and 'what if it's hard to meet people', little did I know what a social haven this place is.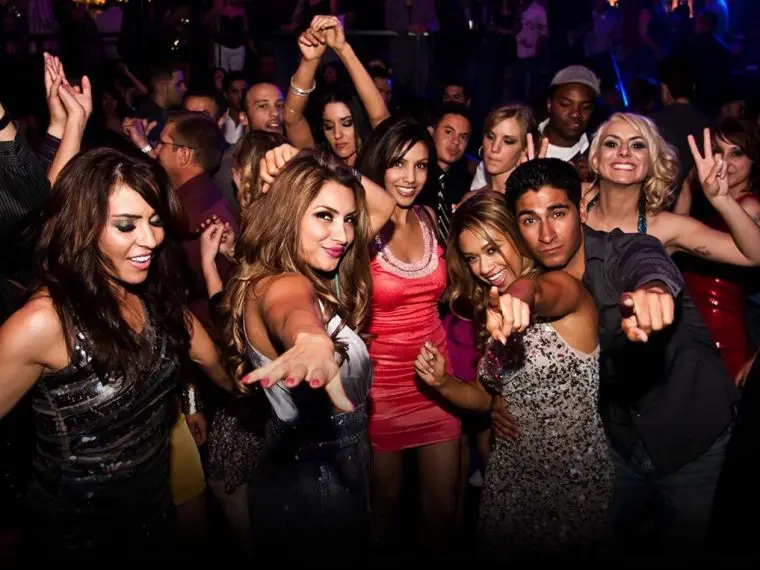 So regardless of whether you're a solo traveler, traveling with a small group of friends, or there's a large group, you're guaranteed to have the vacation of a lifetime in Playa del Carmen.
Where to stay if you're single?
The last thing you want when you're single is to be stuck in an adults-only hotel FULL of couples. Trust me, I've been there. Not fun.
You end up hitting on the bar staff or vice-versa and it gets weird real quick. Spooning your pillow while people get freaky in the room next door is definitely not desirable.
Or equally as horrendous, is staying in a family-friendly hotel surrounded by screaming children all week. Not ideal.
DO NOT overlook the importance of booking the right hotel. Big mistake.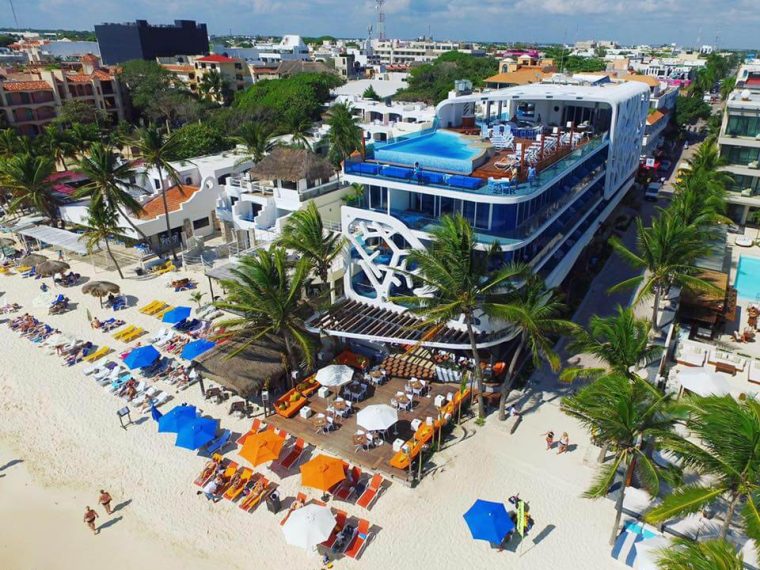 A lot of people assume you have to stay in a hostel to meet other like-minded singles. That's not the case here in Playa del Carmen.
Whether you're looking for luxury, a beachfront location, great nightlife or a ton of activities, I've rounded up the best single resorts and hotels for you.
To name a few hotels for singles:
The Carmen
Playa Maya
Discover our Top 5 hotels for singles here.
You're welcome.
Things for Single Ladies to Do
1. Ladies night is a must!
There aren't many places in the world to my knowledge where women can drink for FREE every night!
In Playa del Carmen, dreams really do come true.
You can drink for free every night of the week with our guide to ladies night in Playa del Carmen.
Plus, with so many women hanging around, these bars have become somewhat of a hot spot for attracting hot single men.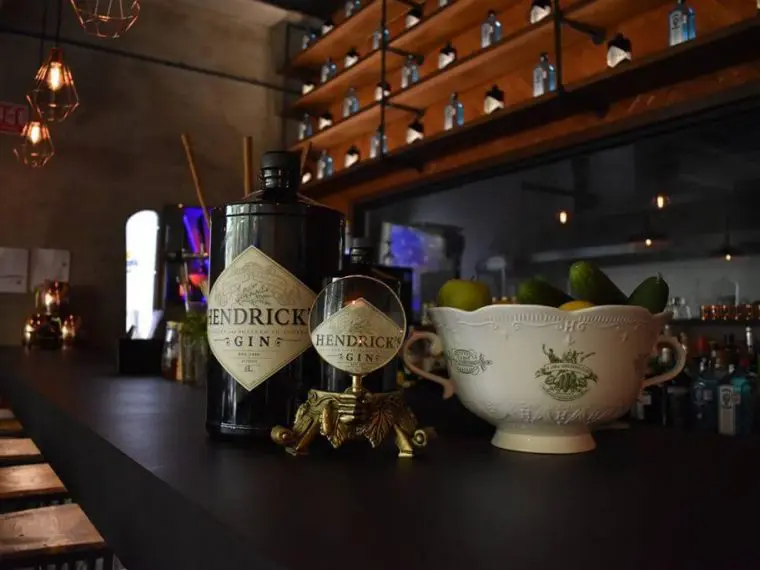 One of my personal favorites is 'Bronze' on a Friday night from 8 pm – 11 pm.
2. Take a Boat Trip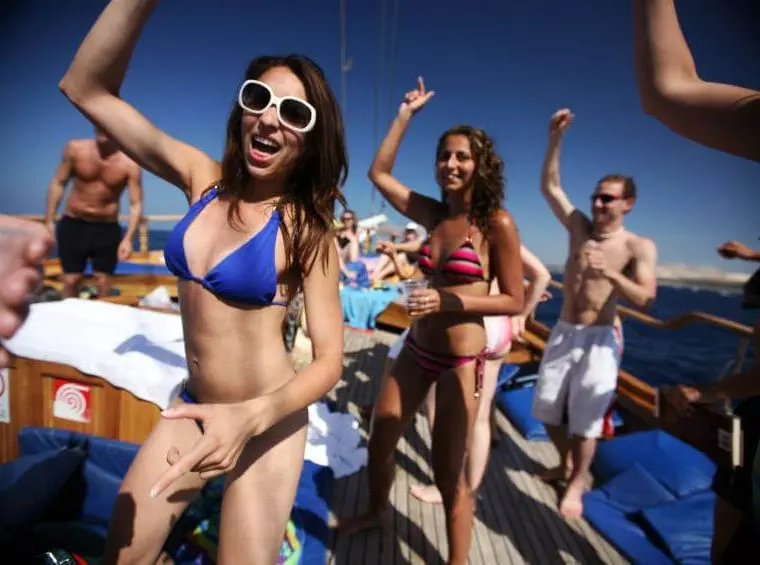 Girls just want to have fun! For me, one of the most memorable tours that I did with a bunch of my friends was the Fat Cat Catamaran!
We got to cruise the Caribbean coastline and marvel at the spectacular view while sipping on drinks from the open bar and having a dance on deck.
Here we met a number of hot single guys just hanging out with their friends. What better way to mingle than being on the same boat for a few hours!
We offer a range of different boat tours here at PlayaDelCarmen.Com but the Fat Cat Catamaran is definitely my favorite, however, if you need help choosing, be sure to give one of our expert Travel Specialists a call on our toll-free number +1 888-537-9797
3.  Head to the Islands
It would be criminal not to journey to one of the neighboring islands during your stay in Mexico. There's no better way to relax and let loose with your friends.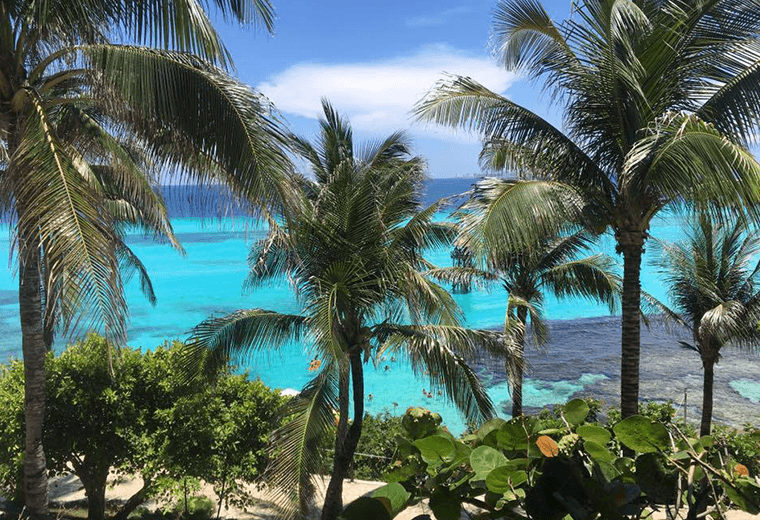 When you visit Isla Mujeres and Isla Contoy time seems to slow down the minute you step off the boat.
Here you will snorkel on one of the best-preserved snorkel reefs in the area amongst a multitude of multi-colored tropical fish.
An ecological tour of Isla Contoy awaits, where you will discover this island that is a nature reserve for over a hundred species of birds and other wildlife.
Then head to Isla Mujeres, a tiny island near Cancun where you can buy some souvenirs and take a stroll in the quaint downtown area.
For more information be sure to give one of our Travel Specialists a call on our toll-free number +1 888-537-9797
Places to Eat
If you like food then come to Mexico! It's hands down the most delicious cuisine I've ever tasted, and if you can't have a cheat day on vacation then, when can you?
1. Los Hijos Del Mar. Tostaderia Mazatleca

If you want the best seafood tacos or tostadas around, then look no further.
As if their food wasn't tasty enough the waiters only add to the mix. 😉 They are warm, friendly, cheeky,  and not to mention cute!
Trust me, if service with a smile is what you're looking for then dining here is a must. They use the finest ingredients and all of their dishes are reasonably priced. This place gets a massive 10 out of 10 from me.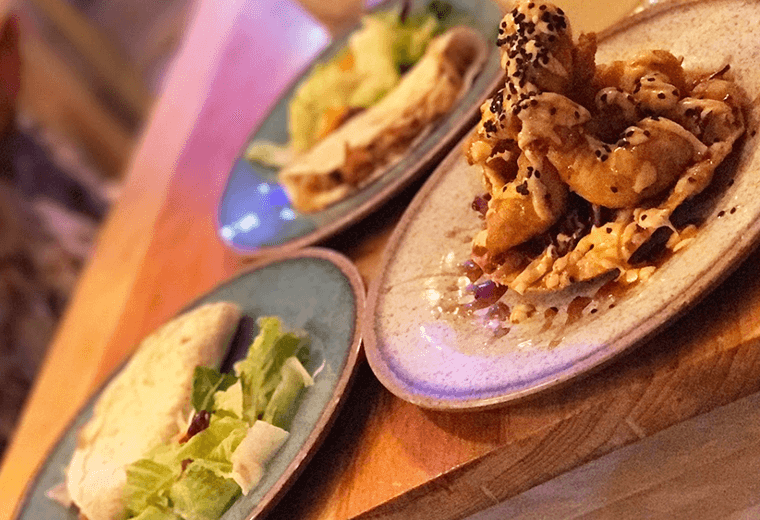 You have to try the fried shrimp with chipotle (pictured above),  yummy!
2. Wings Factory
Okay ladies, bear with me.

You're probably thinking that wings wouldn't be your first option, however, this place is a hot spot for all the single men who love sports in Playa del Carmen. So if you can grin and bare your way through a game of soccer, you may be in luck.
I was pleasantly surprised when I saw the menu. They do all kinds of wings (boneless ones too), in a variety of delicious flavors! If you're feeling a little worse for wear the day after drinking then this place is sure to cure you of all your sins.
3. Rey David
Love italian? I mean the food, not just the men!

Rey David is a hidden gem, tucked away just one street behind 5th, here you can tickle your taste buds with some tantalizing pasta and pizza dishes.
Thanks to the large Italian community here, Playa del Carmen boasts some world-class Italian restaurants, Rey David being one of them.
Not only are the dishes exquisite, they are reasonably priced and the service is second to none.
If you are a sweet tooth there are a number of tasty desserts to choose from.
Places to Drink
Whether you prefer cute bars, live music, or full on clubs I've got you covered sister!
1. Bronze
Bronze is a super chic hangout, with awesome food and premium brand liquors.
If you're a gin lover, rejoice!  The ladies night on Fridays is dedicated to people like you, from 8 pm to 11 pm they serve up free Bombay Saphire and Hendricks for every one of the female gender.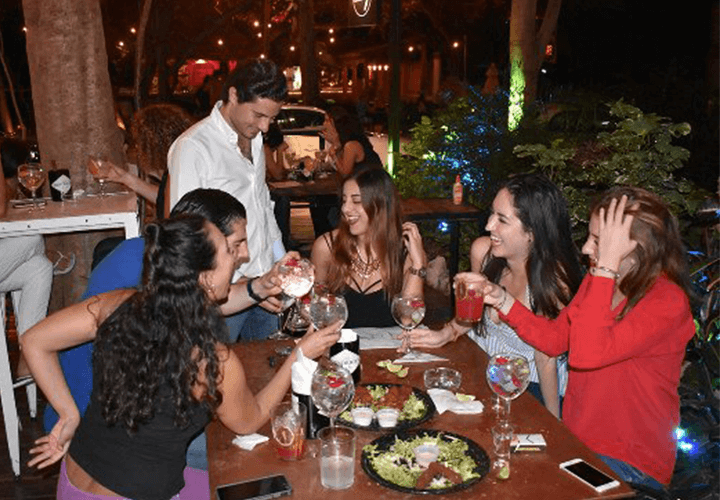 If you don't feel like drinking, the food here is delicious, especially the burgers!
2. Caiman
If you like live music and good vibes then look no further.
At Caiman there is live music pretty much every night,  and if this sounds like your get up then I would suggest getting here a little early as tables go quickly.
At this cute and quirky bar, you're guaranteed a great chatty atmosphere with cheap drinks and good food. The shrimp burger is to die for. The staff that work here are extremely pleasant and it's not far away from the hustle and bustle of 5th avenue.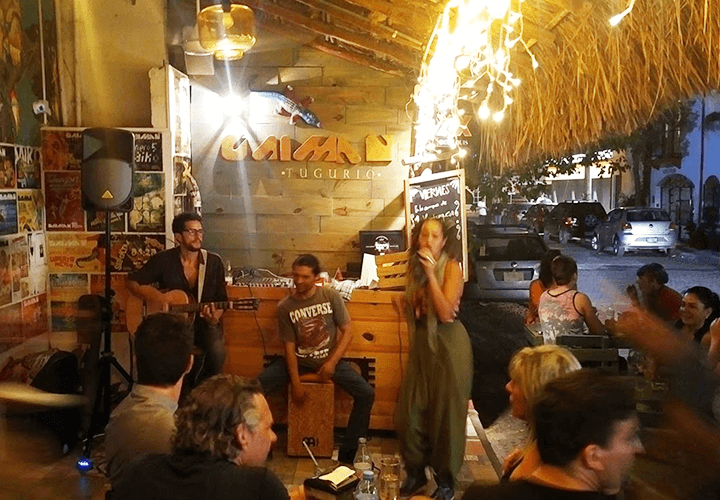 3. Palazzo

For party addicts! This club is where it is at if you want to party and dance the night away.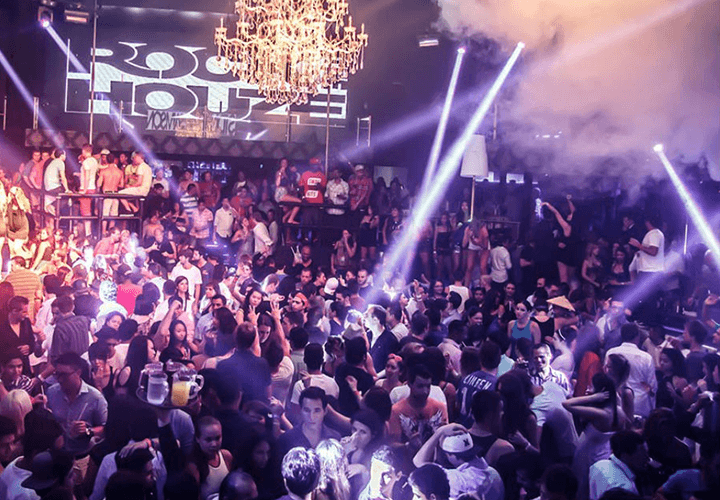 If clubbing is your thing then you are going to want to head to 12th street.
My favorite club in these parts is hands down Palazzo. This place plays great music and goes the extra mile when it comes to making sure you're having a good time.
Getting sprayed with water or foam is nothing out of the ordinary on a night out here. Sometimes the club will even showcase dancers or live events.
Nightlife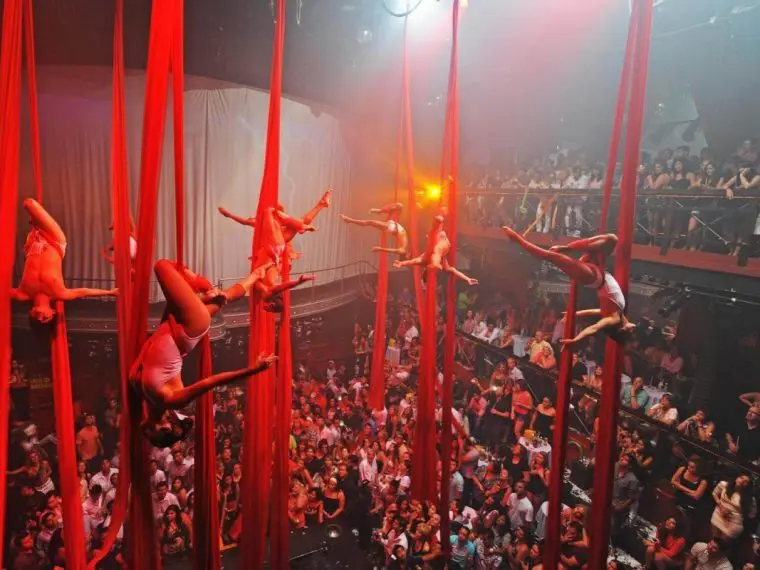 You won't be short on nightlife in Playa del Carmen. Every night is a Friday night here.
If you want to party, a good place to start would be on 12th. This particular street is filled with all the best clubs and bars.
Coco Bongo is a must while you are here. You have got to experience the show that everyone raves about at least once.
It is more than just your average nightclub – it is a Las Vegas-style show in a disco-like environment. Prepare for extravagant visuals on giant screens, the latest music, as well as the favorites from the 60's, 70's and more.
Confetti, bubbles, and balloons also add to the incredible ambiance. See what Coco Bongo is like.
 Other bars/clubs where you're guaranteed to have a great time including: 
For more pointers, read our 6 Awesome Spots to Find Good, Single Men in Playa del Carmen. We hope you enjoyed reading, until next time! 😉
Ready To Book?
We, PlayaDelCarmen.com, can help you with hotels or tours mentioned in this article.
Give one of our Travel Specialists a call on our toll-free number +1 888-537-9797 they will make sure you get the best deals and rates.
Or
Alternatively, send us an email via customercare@playadelcarmen.com
We hope this guide helped you find what you were looking for! ?
If you have any other questions let us know in the comments section, we would be happy to answer them.
---
Trending Now