8 Delicious Breakfast Places In Playa del Carmen Guaranteed To Get Your Day Off To A Great Start
---
So, you've arrived in paradise.
You slept like a baby in your comfy hotel bed… but now you're hungry!
Well, worry not, I've got you covered.
Thanks to the unique cultural mix in Playa del Carmen, they have some of the most amazing breakfast and brunch spots to suit every taste.
Whether you want to enjoy a traditional Mexican breakfast, sample some of the finer things in life, check out what other countries eat for breakfast, or scoff down a quick snack, we have an option for you.
Even the little ones will be happy with some of these fantastic breakfast spots.
So, without further ado… here are my picks for the most delicious breakfast restaurants in Playa del Carmen. 
Mexican
1) Nativo
This tropical style restaurant is an absolute favorite amongst the locals.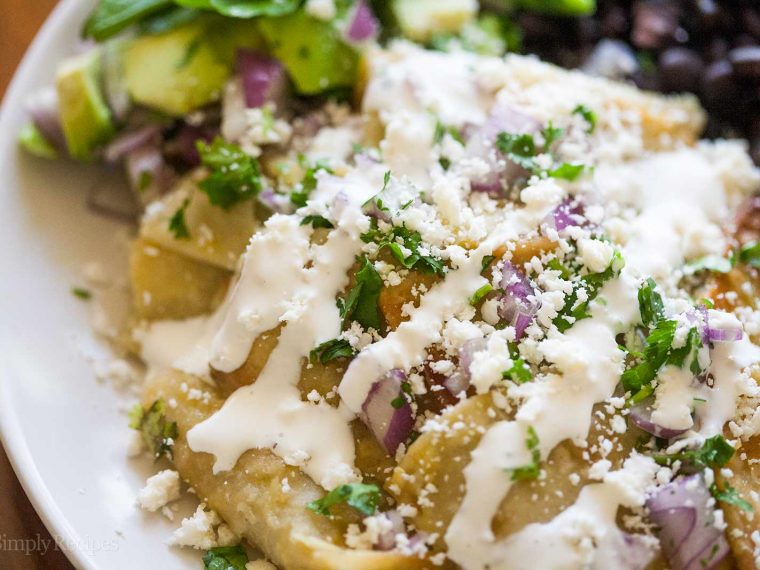 Their freshly made juices, extremely varied breakfast menu and unbelievably great prices will have you coming back every morning.
Try their famous Chilaquiles Rojos, dig into their fluffy hotcakes, or get in touch with Mexico with their traditional Huevos Motuleños.
Whatever you choose for breakfast at Nativo, be sure to top it off with one of their signature, freshly blended 'litre' juices.
2) La Cueva del Chango
Have you ever wanted to picnic in the middle of a tropical jungle?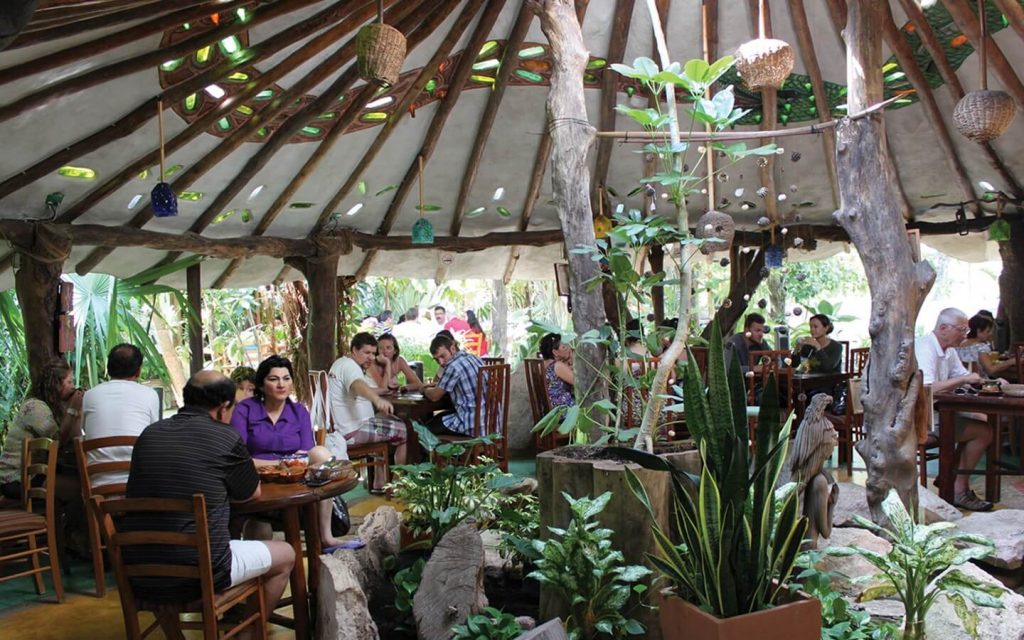 Well, now you can!
Dining in La Cueva del Chango truly feels like you're in a beautifully secluded jungle, whereas in reality, you're just steps away from the famous 5th avenue.
From their classic Huevos Rancheros and empanadas to their sweet crepes and toast, the food in this cute little restaurant is sure to delight.
La Cueva del Chango also offers vegan and vegetarian options of most of their menu items, so be sure to ask your waiter if you'd like to make a change.
Continental
3) Imprevist
If you're looking for simple elegance for your breakfast, then Imprevist is the place!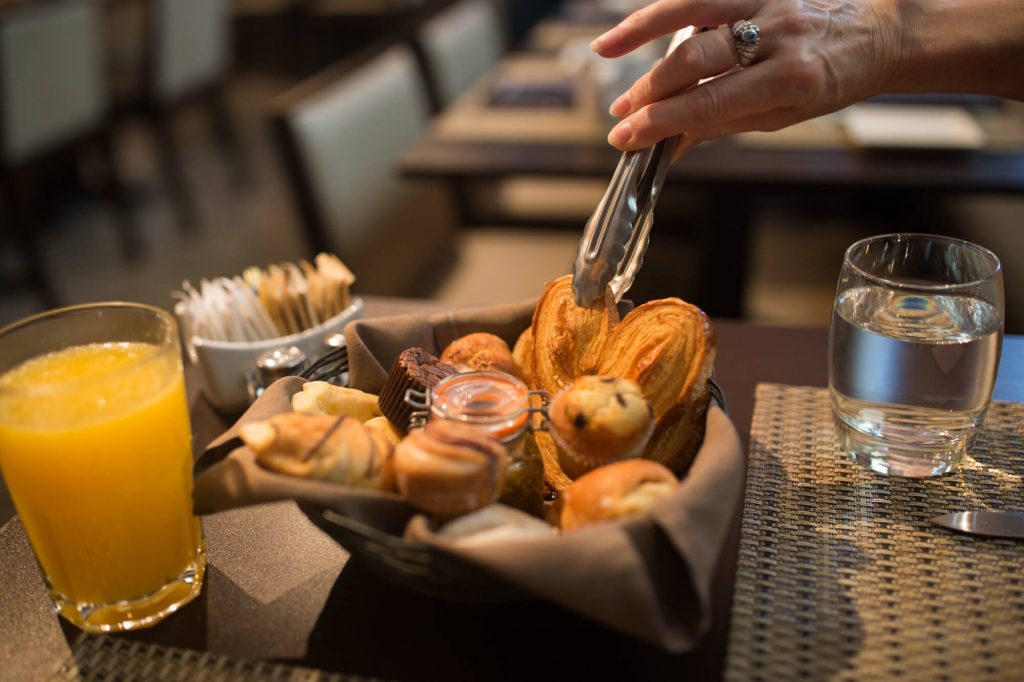 This intimate restaurant is the perfect place to enjoy a light continental breakfast with flare.
Although they offer a full breakfast and brunch menu of both International and Mexican delights, their continental breakfast just can't be beaten.
People absolutely rave about their sweet bread basket, their freshly ground coffee, colorful fruit platter and unbelievable service.
What makes this place even more special, is that they offer a children's menu, specifically designed with little bellies in mind.
For a light breakfast before a busy day of sunbathing, Imprevist's continental menu is sure to hit the spot.
4) Como Como
The stunning Mediterranean restaurant is an absolute favorite amongst returning tourists.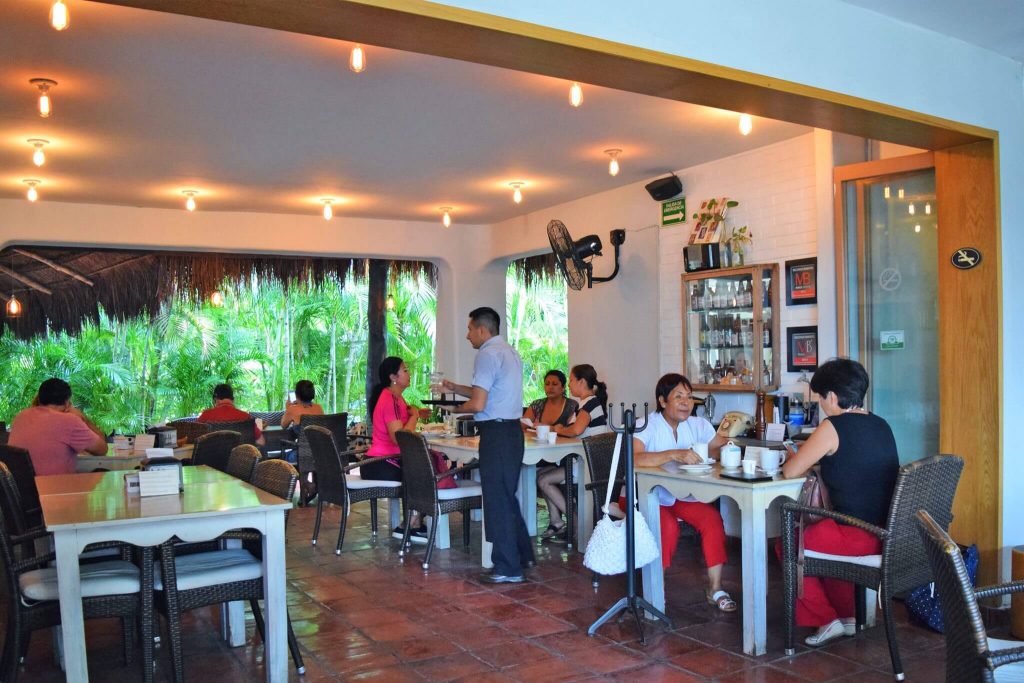 Como Como offers a very full and varied breakfast menu, but for those of you looking for a lighter, continental style meal, then this is the spot.
You can enjoy their fresh fruit, strong coffee, and an assortment of bread whilst watching the world go by on the bustling 10th Avenue.
Their prices are a little higher than some of the other options on this list, but their luxury establishment more than makes up for it.
International
5) Indigo Beach
What could be better than breakfast on the beach?!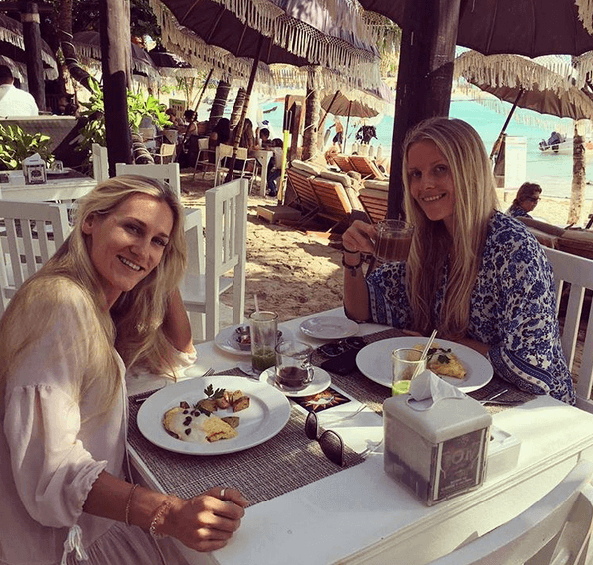 Nothing… absolutely nothing!
That's why Indigo Beach is one of our favorite breakfast spots.
You can enjoy some of the best coffee in Playa, dig into their perfect eggs Benedict, and listen to the relaxing sounds of the ocean.
If this image couldn't get any better, Indigo Beach also offers an amazing $99 MXN buffet menu every Monday if you quote the hashtag featured on their Facebook page!
Salmon bagel, Croque Madam, and traditional French toast are just a few of the amazing International breakfast options available at this beachfront spot.
6) Chez Celine
Enjoy a French style breakfast in the middle of the Riviera Maya!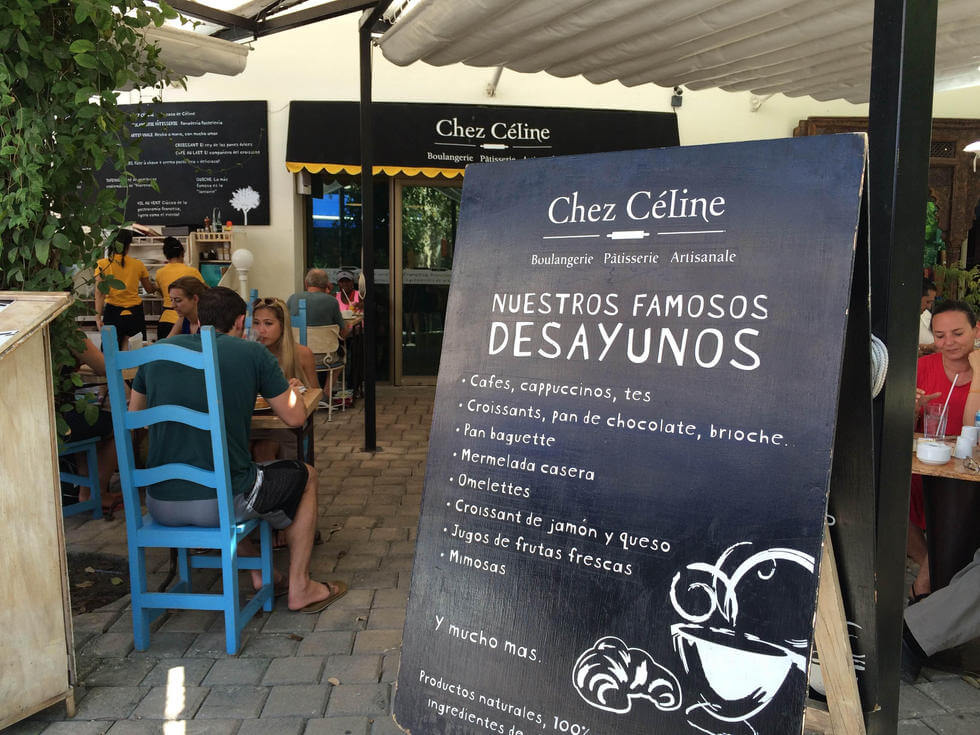 Chez Celine is one of the most popular breakfast and brunch spots in all of Playa del Carmen.
People literally queue down the street waiting to get a taste of their flaky pastry, sweet tarts, and delicious freshly baked bread.
Their freshly roasted coffee, healthy juices, and sinfully delicious milkshakes aren't bad either…
If you're looking for an indulgent breakfast spot right off the famous 5th Avenue, then Chez Celine is most definitely the place for you.
Extravagant
7) Plank
Live music, breakfast buffet, skilled bartenders and a huge menu… what more could you ask for a breakfast spot?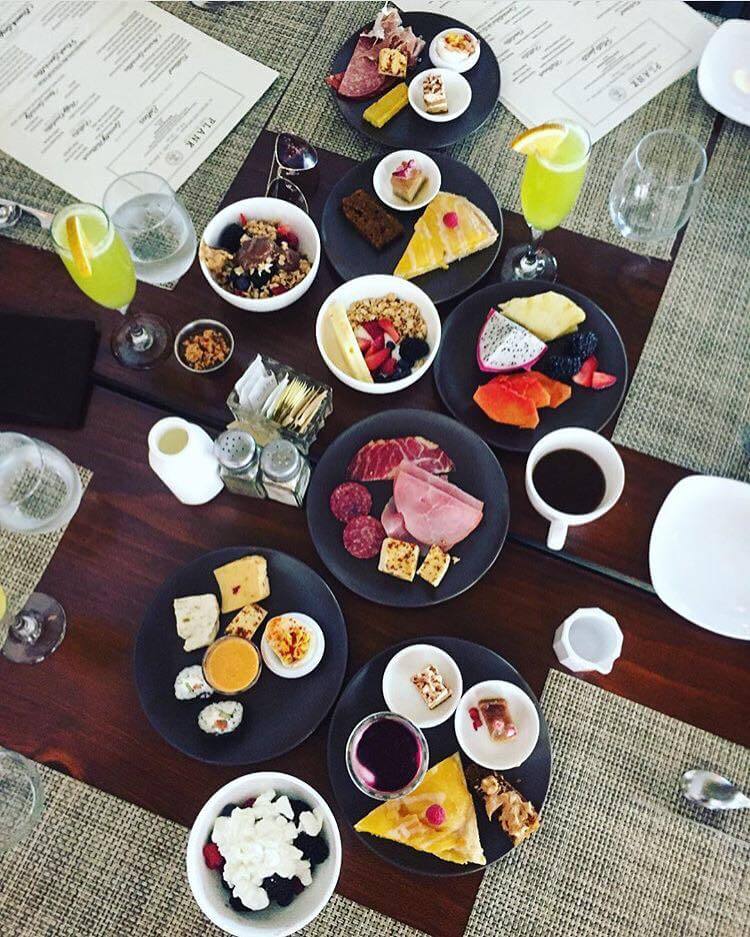 Every Saturday and Sunday, Plank Gourmet Grill & Patio Bar opens its doors early and serves one hall of a breakfast.
You can enjoy the colorful buffet spread, complete with fresh fruit, meats, and sweetbreads, or choose from the delicious dishes on the set menu.
If the live acoustic sessions have got you in the mood to be a little adventurous, you can also have a cheeky Mimosa or one of their house specialty Bloody Marys.
For an extravagant breakfast with a bang, Plank is definitely the place to go.
8) Thompson Hotel
Cinnamon roll pancakes, sparkling mimosas, panoramic ocean views and the most exclusive rooftop atmosphere in all of Playa? It must be the Thompson Hotel.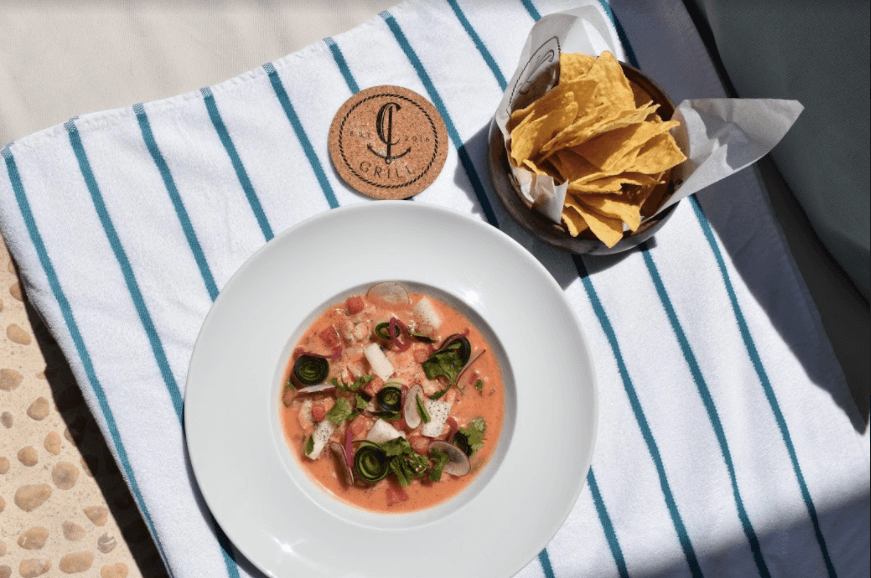 The fabulous rooftop restaurant Catch has finally started serving breakfast and we are over the moon.
They take all of your usual International breakfast and brunch dishes and give them some of that Thompson sparkle.
Mango and habanero Bloody Marys, eggs Benedict, Lobster Croque Madam and spectacular waffle towers are just a few of the amazing treats on their exclusive menu.
If you're looking for a stunning place to enjoy breakfast, then head on over to the Thompson hotel where they will be serving up breakfast with style every Saturday.
Have you been to any of these breakfast spots? Let me know what you thought in the comments below!
---
Trending Now
You may also like