HERE'S How YOU Can Enjoy All the Luxury Amenities of a 5* All-Inclusive Hotel, for a Fraction of the Cost of Staying There.
---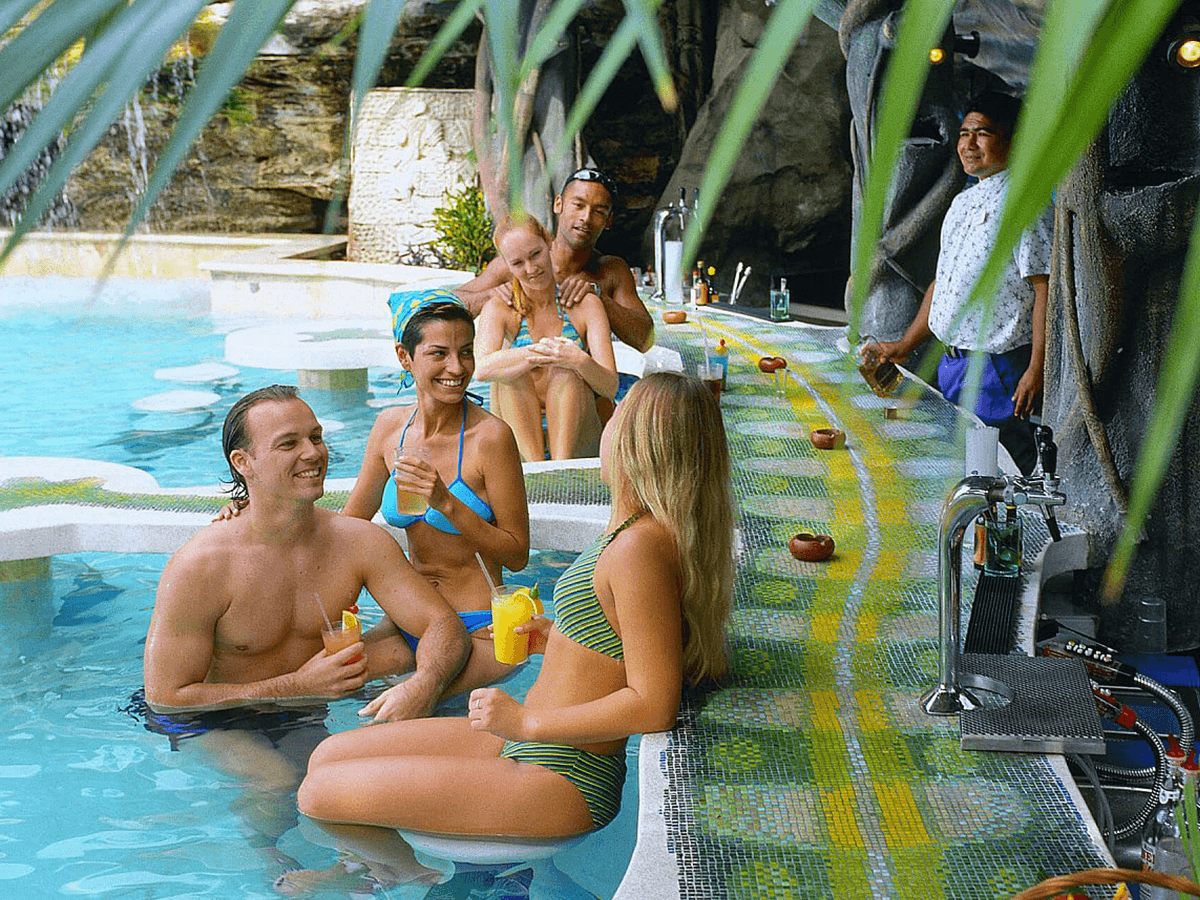 Whether you're staying in a condo building in the center, renting a small Airbnb or living in Playa del Carmen, having a day pass for a luxury resort is always a good idea!
For one day you will be treated like royalty and have access to all the food, drink, amenities and activities of a 5* all-inclusive hotel, but for a fraction of the cost of staying there.
Playa del Carmen has many amazing hotels and resorts that offer a day pass just like this for a small fee.
Prices generally start at $1,000 pesos to around $2,000 pesos for the day. That's just $56 – $113 USD to spend an entire day relaxing, drinking and eating, all with the amazing service of a big resort.
It's worth mentioning that most day passes only cover the morning and afternoon, requiring you to purchase a separate pass if you wish to stay for dinner and the night's entertainment.
So, are you ready to spend a day in complete luxury, with someone waiting on your every need? Then check out our guide to the very best hotels for day passes in Playa del Carmen.
1. Riu Palace Riviera Maya
9am to 5pm – $1800 pesos = approx $100
5pm to 11pm – $1350 pesos = approx $75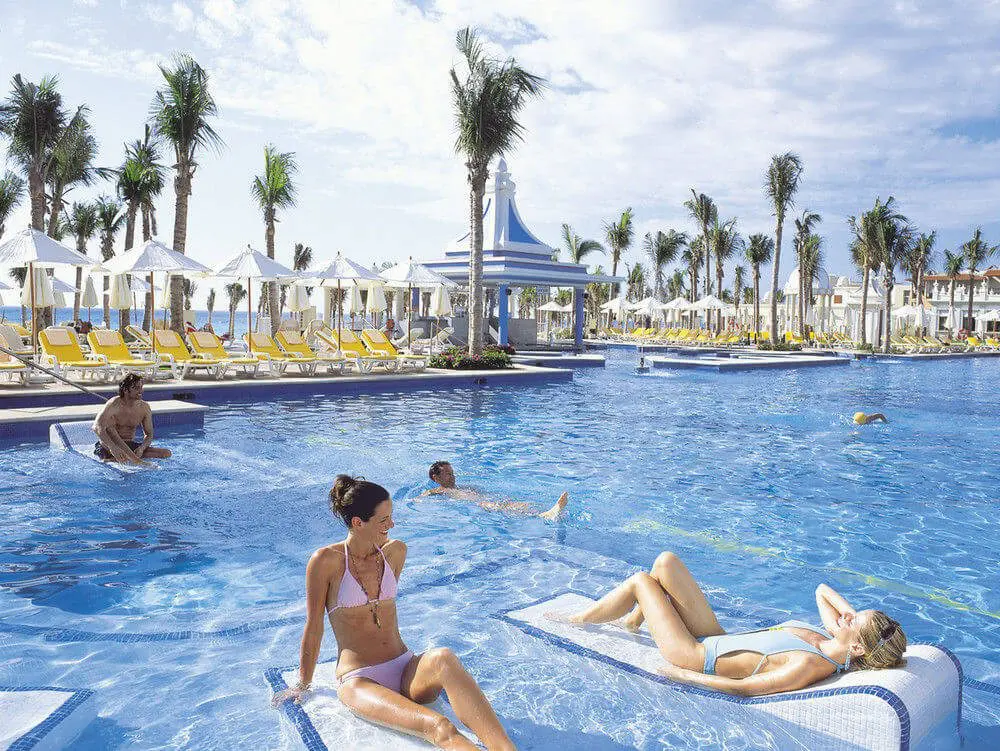 This famous Playa del Carmen hotel offers a fantastic day pass, so you can enjoy all of the Riu chain luxuries from 9 am until 5 pm.
If you wish to stay and enjoy the festivities and amazing amenities a little longer, you can also purchase an evening pass which runs from 5 pm until 11 pm.
With the evening pass, you can watch the live entertainment, enjoy a delicious cocktail at one of the many bars, and dig into a fantastic evening meal.
The Riu Palace Riviera Maya offers a wide range of entertainment and activities for both adults and children alike.
The little ones will absolutely love all the games in the RiuLand entertainment program, and the adults can also get involved with the daily activity program, exclusively for the over 18s.
Poolside games, Zumba on the beach, Horseshoe toss competitions and Volleyball tournaments are just a few of the adult friendly games.
If you want to make the most of your day pass and pack your day full of activities, then the Riu Palace is definitely the place to do so.
With their tennis courts, volleyball courts, windsurfing, catamaran outings, beach football courts, body boarding and snorkel gear, you'll be spoilt for choice.
When you first arrive, you can enjoy a delicious full American breakfast buffet with live cooking stations, continental options, fresh fruit and even a cheeky Cava.
2. Gran Porto
9am to 5pm – $1326 pesos = approx $74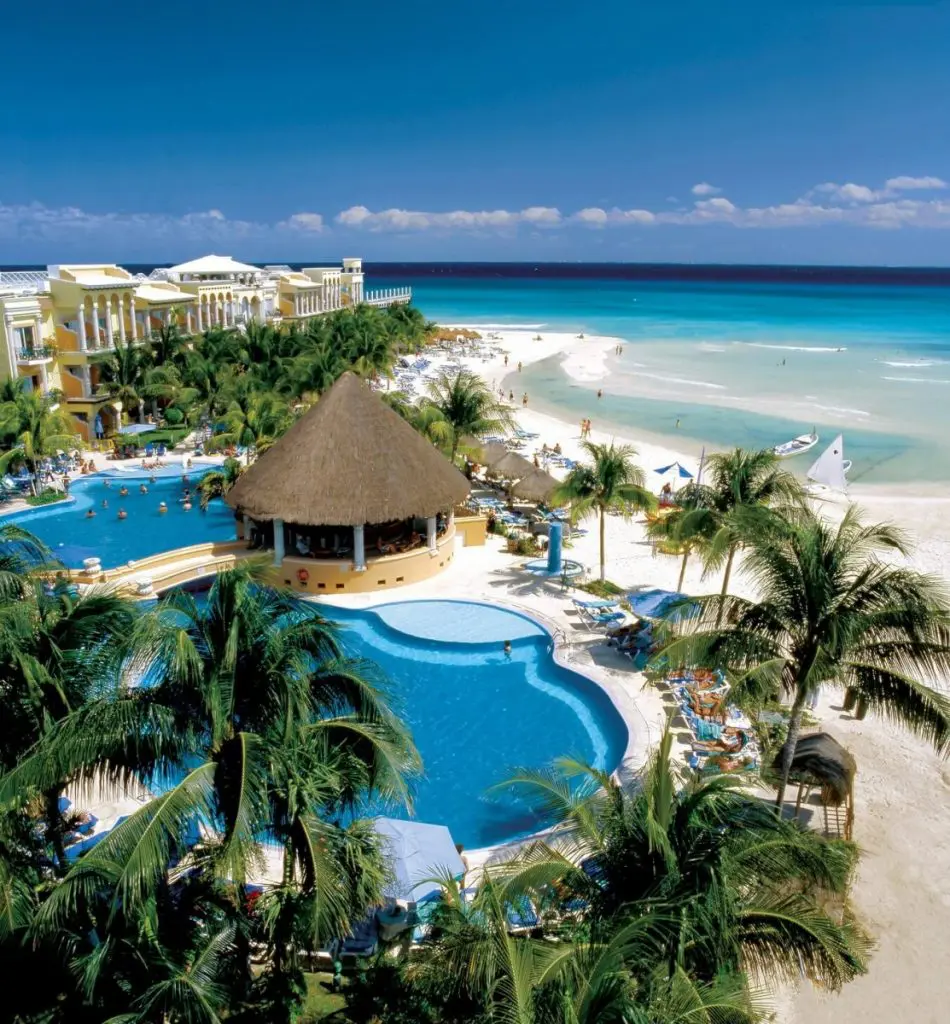 Located in the very heart of Playa del Carmen, Gran Porto is one of the easiest day pass resorts to access.
This stunning resort prides themselves on their luxurious and exclusive feel, and with activities for all the family, this is a great place for families to take a day pass.
Your little ones will absolutely adore the Oki Fun World kids club with their face painting, balloon games, hula-hooping and playground activities.
Plus, the Oki Fun World will keep the kiddies out of your hair while you enjoy the zesty tequila tasting sessions, kayak outings, yoga classes on the beach and fantastic fitness activities.
Gran Porto also boasts a fun-filled mini golf course, a wide range of snorkel gear and exciting cooking lessons, so you can make the most of your day.
When it's time to cool off, there are three fantastic pools to choose from.
The Largest pool is the freshwater lagoon in the center of the property, you can also relax in the wonderfully quiet rooftop pool or soothe your muscles in the relaxing hot tub pool.
Take advantage of the many bars and restaurants at Gran Porto, including the popular Trade Winds Beach Bar which serves cocktails ocean-side all day long.
Whether you want authentic Mexican, a beachside grill or a classy rooftop sushi bar, you'll find it all at this amazing resort.
3. Iberostar Tucan 
8am to 6pm – $1226 pesos = approx $56
6pm to 3am – $756 pesos = approx $42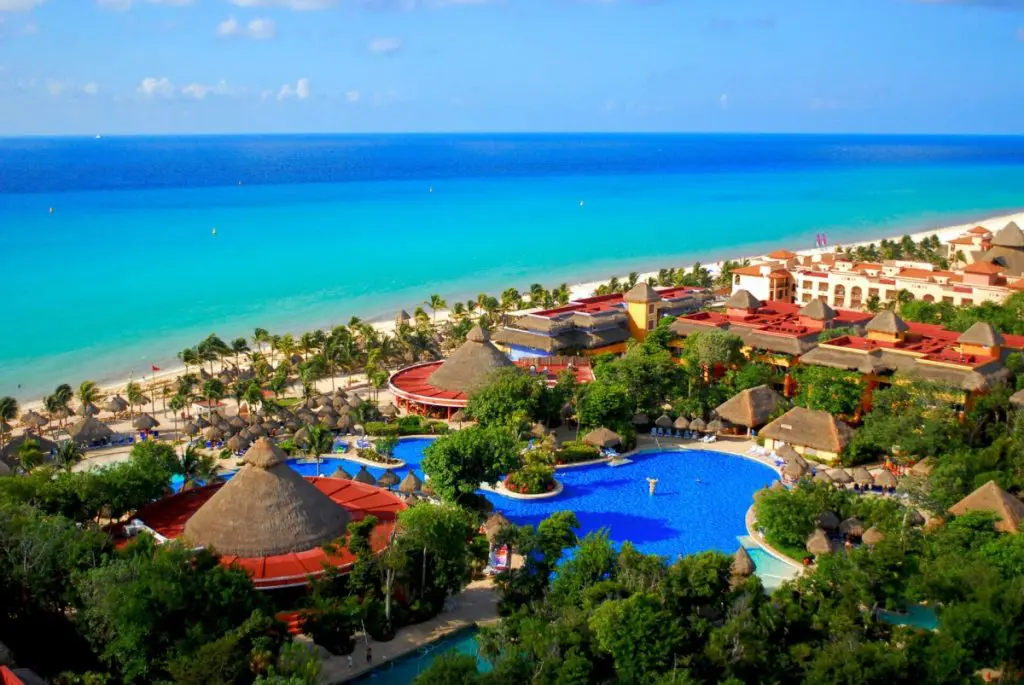 Iberostar Tucan is the best option for those of you looking to enjoy a more natural experience with your day pass.
This stunning resort is located in the protected area of Playacar and is surrounded by thick Mayan jungle.
You can walk the winding paths of their Rainforest Refuge and admire the many beautiful plant species, meet some of the local monkeys, and listen to the countless tropical birds.
If you prefer nature of a more sandy variety, then you're in luck.
Iberostar Tucan is located on one of the most beautiful private strips of beach in Playa del Carmen, which gives this resort a very exclusive feel.
This Eco-friendly resort is also a sports lovers paradise.
With your day pass, you can enjoy a wide range of activities, including beach football, archery, yoga, Zumba, snorkeling, kayaking, and windsurfing.
When it comes to food, you won't be disappointed.
Iberostar Tucan has a great selection of restaurants including Japanese, Mexican, international buffet and Mediterranean.
If you just don't want the fun to stop, you can purchase an evening pass, which gives you access from 6 pm all the way through to 3 am.
With the evening pass, you can watch the live shows, enjoy a fantastic evening meal, and drink in the many bars all night long.
Have you purchased a day pass from any of these fabulous hotels? Let me know what you thought and which was your favorite in the comments below!
* Day pass prices correct as of August 2017
Interested In Hearing More?
Be sure to give one of our Travel Specialists a call on our toll-free number +1 888-537-9797
Or
Alternatively, send us an email via customercare@playadelcarmen.com
We would be happy to help! 🙂
Have a great day.
---
Trending Now
You may also like