The Ultimate Guide to Spring Break for Singles (2023)
---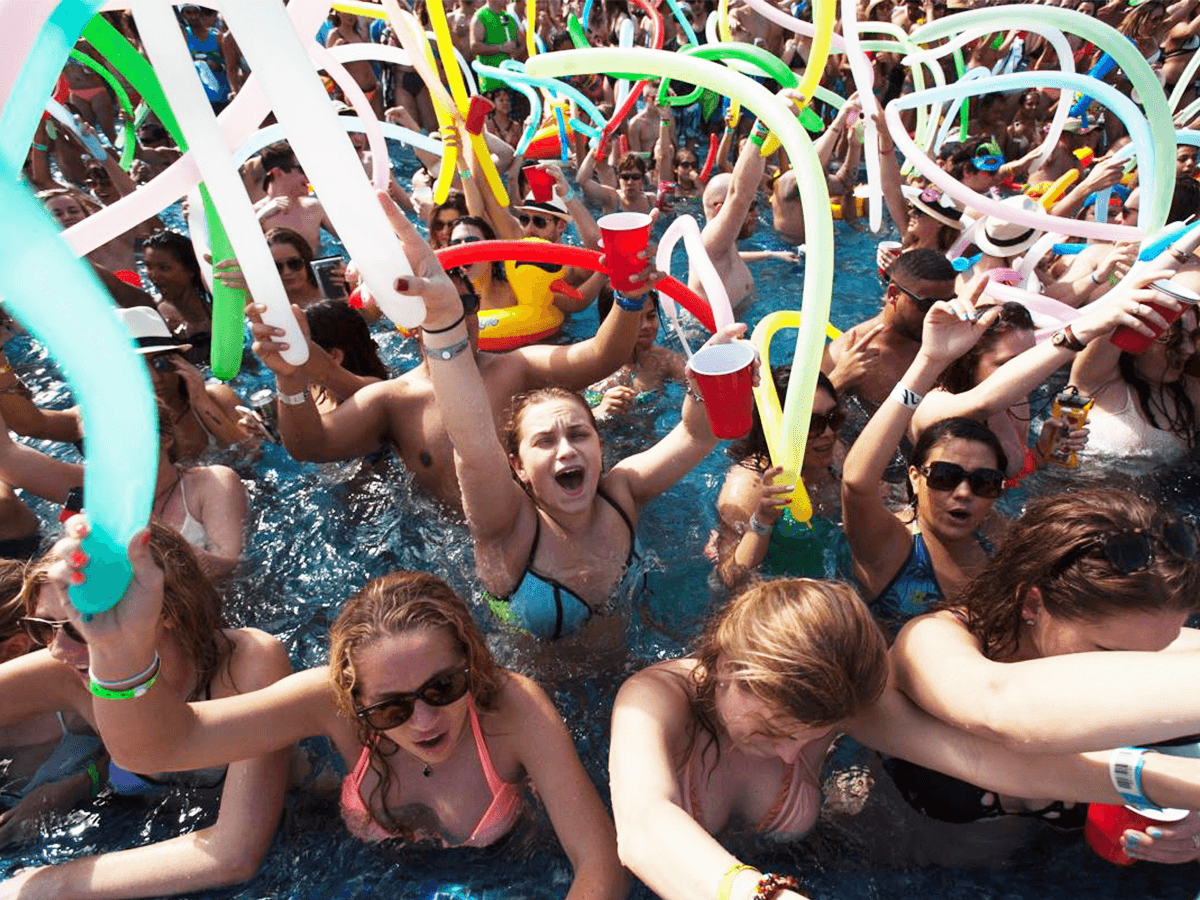 If you're single, spring break is the perfect time of year to let loose!
You know that Mexico is synonymous with spring break.
You know that the legal drinking age is 18 (and if you didn't, you do now).
You're guaranteed sunshine, great parties, and to meet new people.
So, what the heck are you waiting for?
It's a no-brainer.
You only live once.
My Spring Break guide for singles will cover: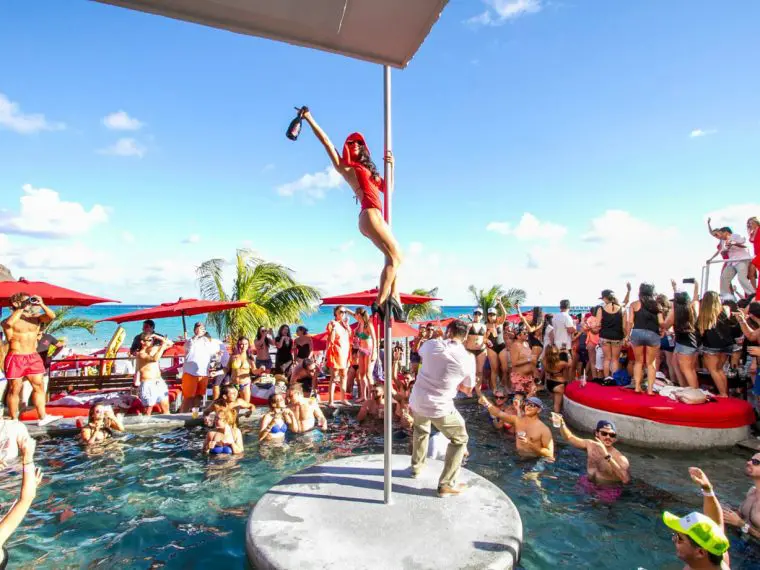 ---
Cancun VS Playa del Carmen for Spring Break 2023
Are you 'umming and arring' between Cancun and Playa del Carmen 2023?
I'm not going to lie to you, traditionally, Cancun has always been hailed as the hot spot for spring breakers.
But, since when were you one to follow the crowd?
Over the past decade, Cancun has become somewhat overcrowded and subsequently, the vibe has started to change.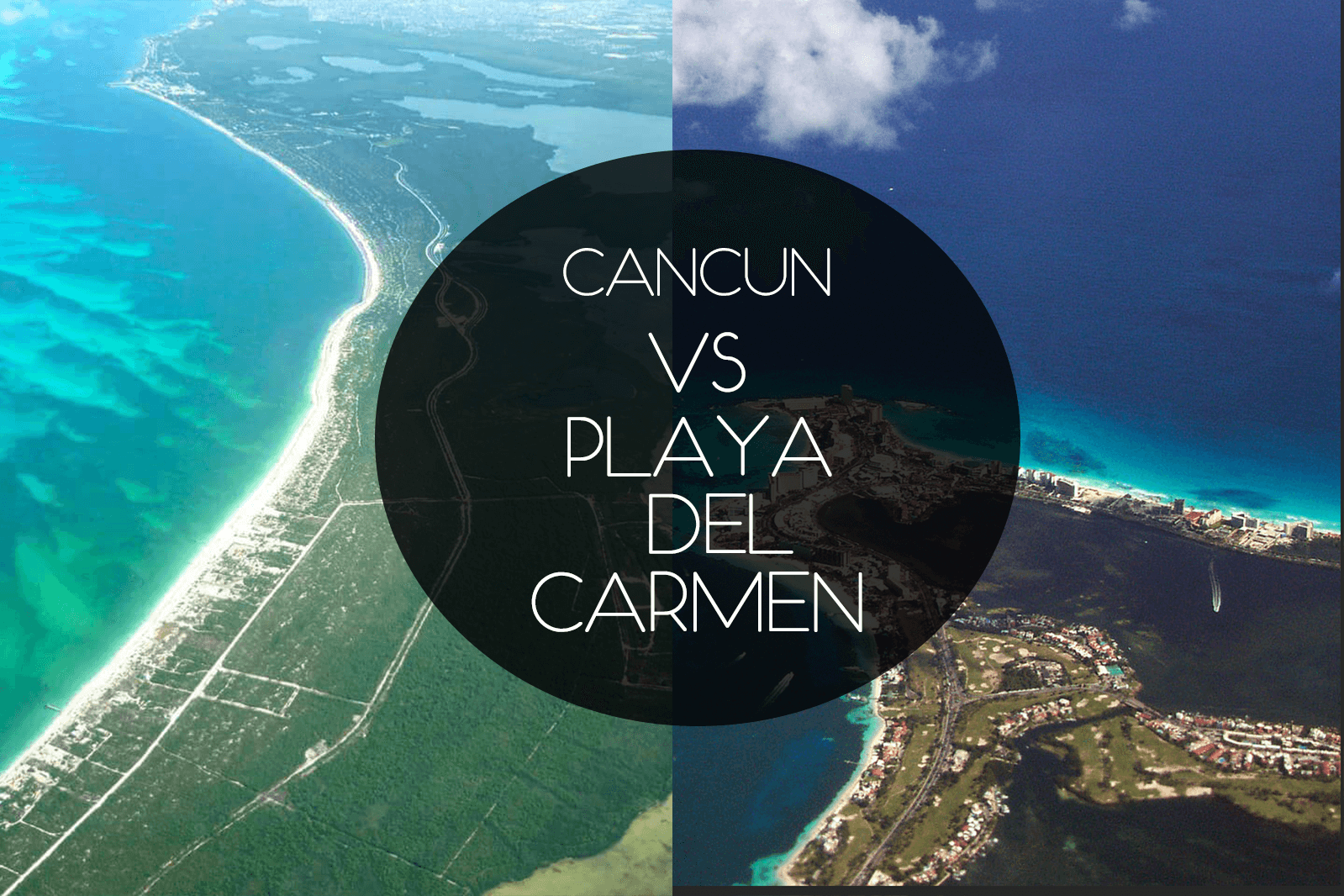 Just 40 minutes down the highway from the airport you will find Playa del Carmen.
Now one of fastest growing cities in Latin America I wouldn't be surprised if it knocked Cancun off the top spot in the very near future.
Why choose Playa del Carmen VS Cancun for Spring Break?
The downtown area is completely walkable, so you don't have to get taxis and transport everywhere. Whereas,  Cancun is a sprawling metropolis, often difficult to navigate.
Many of the world-class clubs in the area are all located on the same strip (12th street),  VS in Cancun clubs are located randomly around the city.
5th Avenue boasts some fantastic bars with live music,  VS Cancun doesn't just have one 5 mile pedestrian walkway dedicated to catering to all your touristic needs.
There are plenty of beach clubs, restaurants, and shops to suit all budgets, VS Cancun is often overpriced for food and drink.
It's a popular destination for Europeans, so you're guaranteed to meet new and interesting people.
The list goes on. For more help deciding read our ultimate guide to Cancun vs Playa.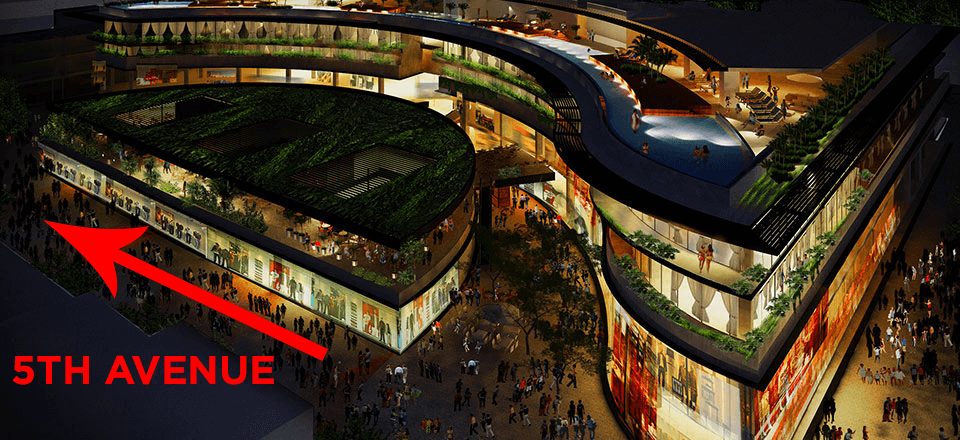 You can easily escape to the Riviera Maya.
Flights are cheap so all you really have to worry about is where to stay, what to do, and of course…WHERE TO PARTY! 
That's what we are here for.
What Dates to Avoid Spring Breakers?
We totally understand that many of you planning your next vacay here may want to avoid Spring Break all together, in which case…
In North America "Spring Break" will fall on:
March 7th – March 18th with 3.8 million students on break during those dates.
Here are the numbers:
Feb 21-25 (334,196)
Feb 28-Mar 4 (156,026)
Mar 7-11 (1.7 million)
Mar 14-18 (2.1 million)
Mar 21-25 (886,043)
Mar 28-April 1 (295,922)
Spring Break for Singles: Where to Stay?
Get ready for lavish pool parties, awesome music, great weather, and hot Europeans!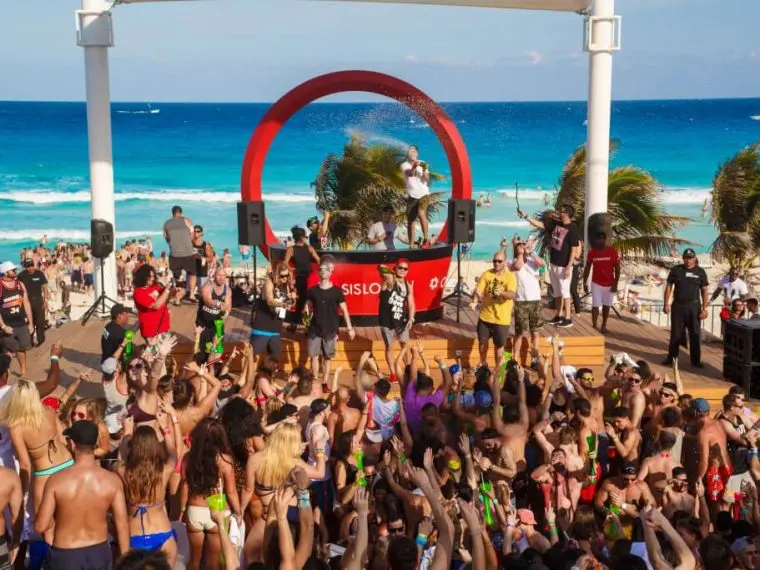 I know how hard choosing a hotel can be. Especially for Spring Break!
Let me point you in the right direction of the top choices for Playa del Carmen.
1. The Thompson Hotel
★★★★★ | Adults-Only
The Thompson Hotel is situated in downtown Playa del Carmen, along (and overlooking) the famous 5th avenue.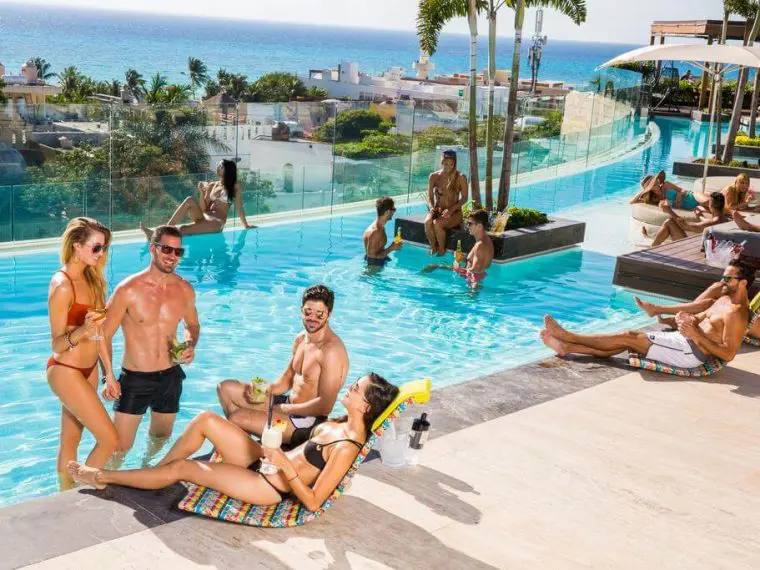 Its privileged location means you have all the bars and restaurants you could ever wish on your doorstep and it's literally footsteps away from the 12th street, where all the world-class clubs in Playa del Carmen can be located.
The hotel boasts high spec interiors and has a chic, young, modern vibe.
Get ready to soak up the spectacular view from the rooftop party pool! For New Years Eve 2022 they hosted artists such as Fetty Wap, so you can only imagine the kind of parties that occur up here.
Not only do they regularly host well-known DJs, but they also have their own beach house venue for those who do like to be by the ocean.
This hotel is not all-inclusive and is a more upscale option for those of you wanting to go all out this year!
2. The Carmen Hotel
★★★★★ | Adults Only
The Carmen sits proudly at the shores of Playa del Carmen's beautiful beach.
Located in the heart of the city just a stone's throw away from the famous 5th avenue this hotel is popular with young tourists.
Each room has its own unique vibe and is equipped with only the very best of modern amenities and technology.
The crown jewel of this hotel has got to be the Deck 5 Skybar!
As you make your way on to the roof you will find a stunning pool that overlooks the beach and the ocean, and a chic bar serving up a range of delicious drinks at affordable prices.
They regularly host world-class DJs and the parties at this hotel are definitely something you will remember forever.
This hotel is not all-inclusive. 
3. Illusion Boutique Hotel
★★★  | Kid-Friendly
Illusion Boutique Hotel is an understated gem situated on the shores of the pristine white sands, just minutes away from 5th avenue.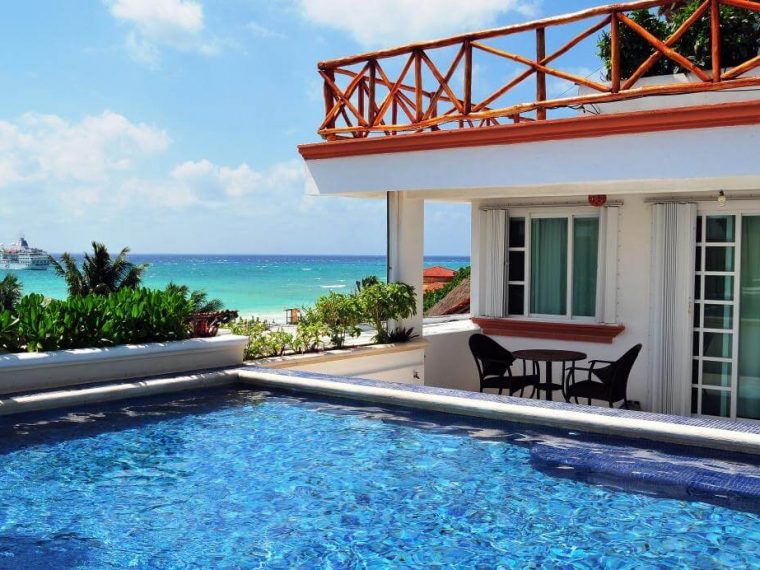 This chic hotel is a very quaint and beautiful property, with just 41 rooms.
It's a great choice for Spring Breakers on a budget, or those who would rather spend their money on going out.
Illusion Boutique Hotel is the perfect retreat after a night out partying. After all, we all need our rest, right?
I mean you get in at 5 am, sleep till 1, soak up some sun by the pool and repeat. Am I right?
This hotel offers the perfect balance for you and your friends and will provide you with somewhere comfortable and relaxing where you can rejuvenate for the next event.
4. Platinum Yucatan Princess
★★★★★ | Adults Only
The Platinum Yucatan Princess is the perfect property for those Spring Breakers who are seeking some 5* all-inclusive luxury.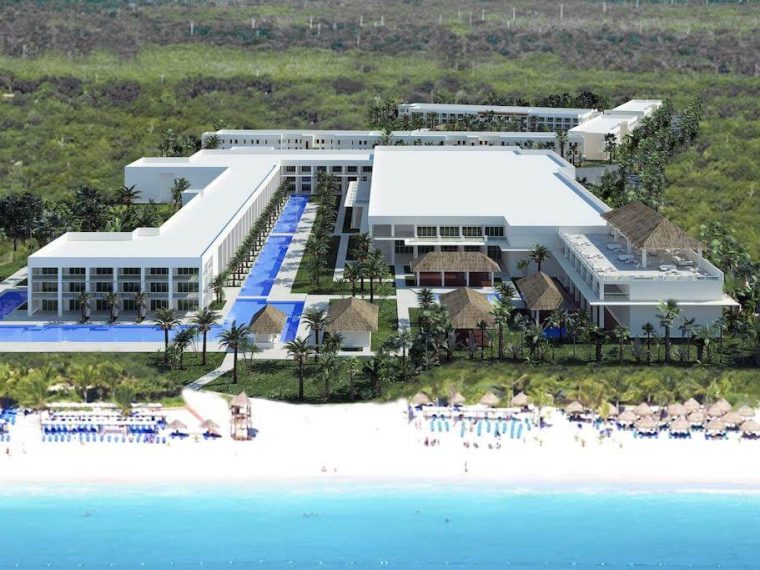 Located just a 10-minute drive from downtown Playa del Carmen, it's the perfect resort for visitors who want to escape the hustle and bustle of the city.
During the day you'll be secluded by jungle and plunged into the true rhythm of the tropics, you'll reap all the benefits of a relaxing vacation in paradise, while simultaneously still getting involved in the carnage going down on 12th street at night.
All of the rooms at this hotel are suites with a separate sleeping and living areas. They have been carefully designed to possess a sophisticated and contemporary style that promotes all the conveniences and comforts of home.
You will never want to leave.
According to reviews the pool parties at this hotel are not to be missed!
5. The Hilton
★★★★★ | Adults Only
Please note: Yes, a few of you may previously know this hotel as 'The Royal', but in late 2018 this luxurious hotel was bought and took over by the wonderful Hilton Resorts. Fear not, the amenities, concept, and even staff are all the same! Nothing has changed but the name (and branding).
The Hilton Hotel is possibly the most celebrated hotel in downtown Playa del Carmen.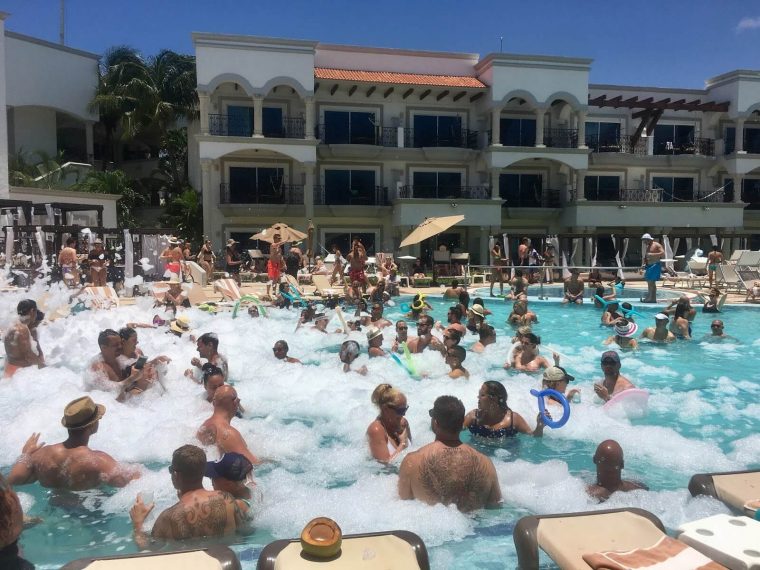 Why?
Because it's the epitome of 5* luxury and you're guaranteed a royal service.
This fabulous all-inclusive adults-only hotel boasts premium brand drinks and fine-dining experience. Situated on the same stretch of beach as Mamitas beach club you will be at the heart of all the action taking place over Spring Break.
The Hilton is well-known for hosting the best foam pool parties in Playa del Carmen, so you can only imagine what goes on here over Spring Break. Things might get a little crazy.
But you're okay with that right?
For a sneak peek inside the hotel watch our video below. Enjoy!
6. Aldea Thai
★★★★ | Adults Only
Enjoy astonishing views at the Aldea Thai hotel located in the center of downtown Playa del Carmen.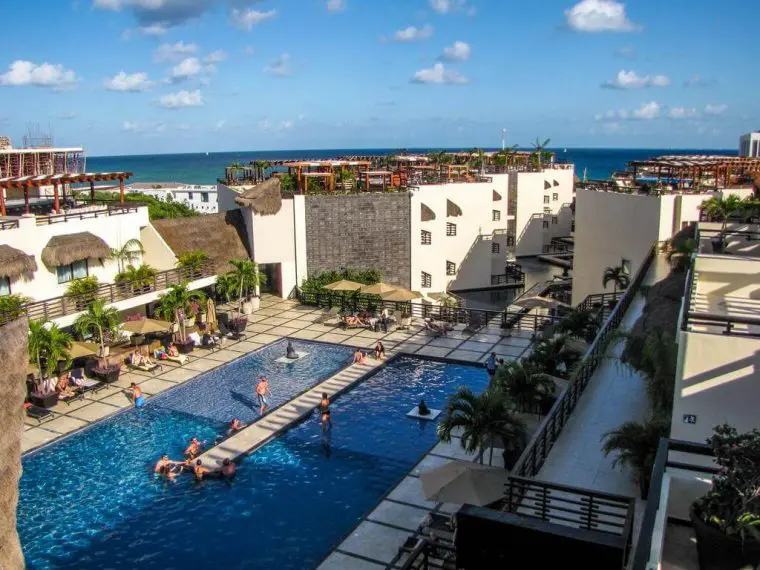 Many of the rooms at this hotel boast their own private pool on the rooftop. So, when the parties end you an continue to your heart's content.
According to people who have stayed at this hotel, the rooms are beautifully furnished, very clean, and well maintained.
You have your own personal ambassador on call throughout your stay.
This resort feels tropical, understated, while simultaneously blending in all of the luxury amenities of an upscale resort in the Riviera Maya.
Staff are friendly and knowledgeable.
Great for spring breakers on a budget.
Need more information on any of the hotels listed here?
Reach out to our Travel Agents at 888-537-9797 and we'll do the digging and get everything organized for you!
You can also contact us via email at customercare@playadelcarmen.com
The hotels are booking up quickly! It's time to start reserving your spots!
Spring Break for Singles: Where to party?
You've reached the good bit! Now, you've sorted out where to stay, it's time to find out where the fun is happening.
For a full breakdown of most popular clubs and bar read our guide to nightlife in Playa del Carmen.
Things move fast in Playa del Carmen so do check online before visiting a place to make sure it's still open and in business.
For now, we'll just fill you in on the hottest places to be.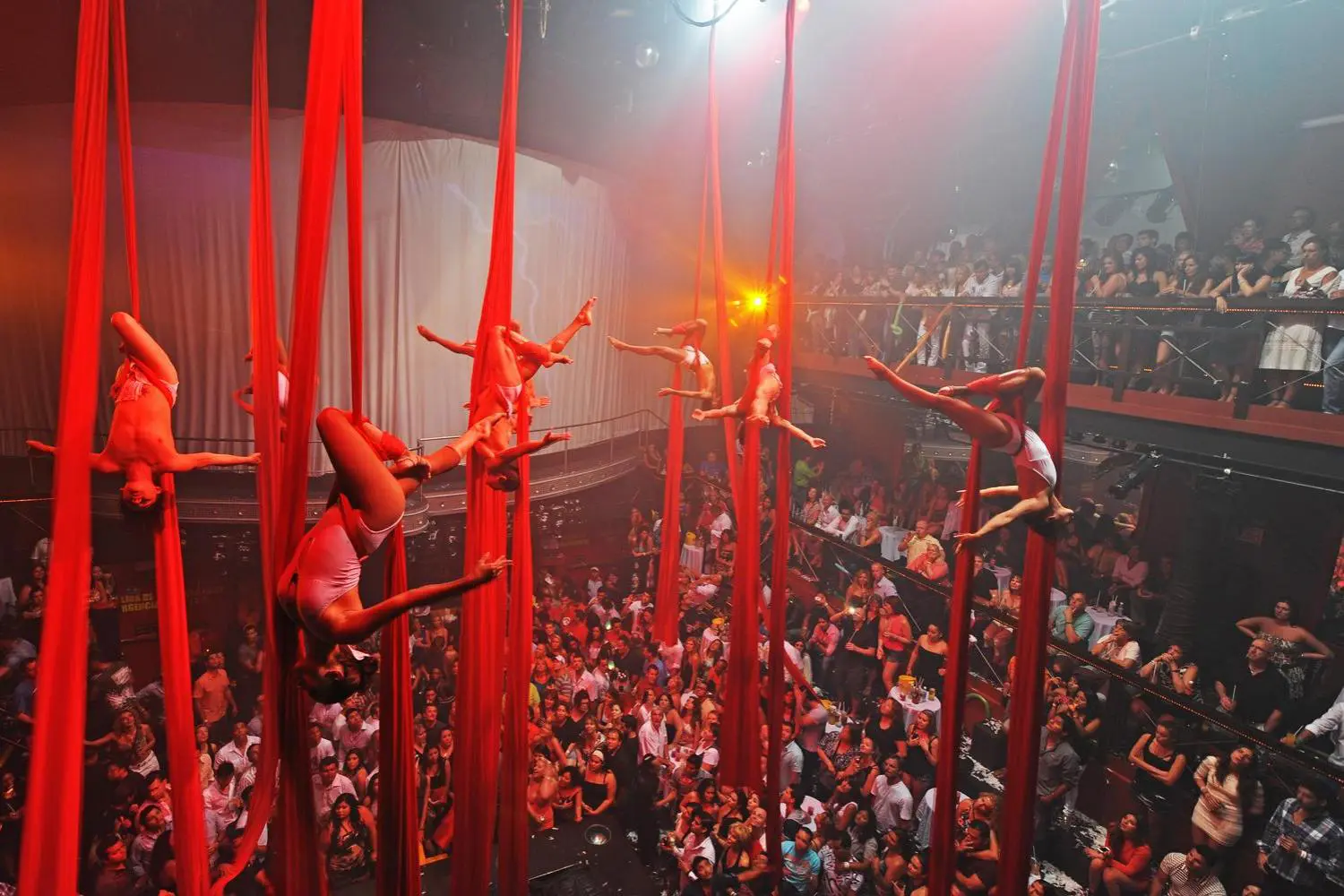 1. Palazzo Disco
My all-time favorite go-to club where you're guaranteed a great night whatever the weather. Unlike many clubs here in Playa Palazzo is fully indoors, but before you start sweating do not worry it's fully air-conditioned.
The club is on the upper level of a building and you can't see much of it from the street other than the security outside, and a glittering chandelier at the entrance. Hence, why it's easily missed.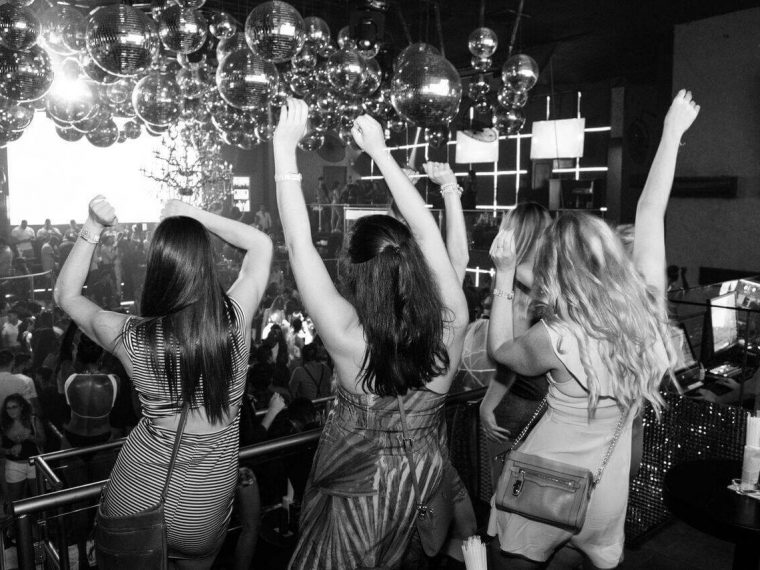 Palazzo (in my opinion) is one of the best nightclubs here, it's large, spacious, and has a great dancefloor often boasting live acts or dancers. Things can get a little wild when it starts getting into the early hours of the morning.
It's open Thursday, Friday, and Saturday nights starting at 10.30pm. It's right next door to Coco Bongo on 12th street, and they play a range of music from Old School RnB to current songs. Expect to leave covered in confetti.
Table service is available.
2. Mandala
Mandala is always lively and busy, you can be sure of that! If you're looking to party hard at a full-on dance club, then look no further. Just expect loud music and good drinks.
You can't miss Mandala, the decor is Asian themed with lots of deep reds and pinks.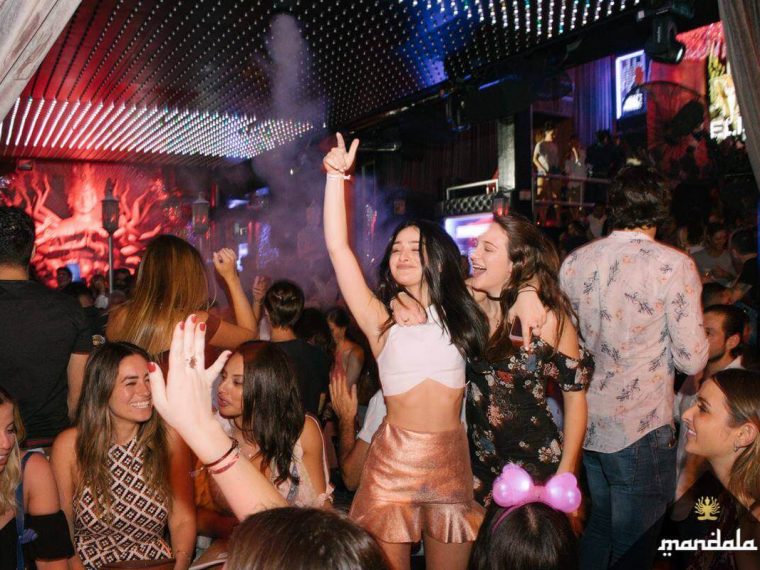 Mandala doesn't have any exterior walls so you can see directly into it from the street, which is nice when you're in there because it's breezy and boasts a nice atmosphere.
This club opens daily at 9.30pm, bottle service is available.
3. La Vaquita
La Vaquita is a spring breakers paradise! It's a young crowd and the perfect place if you like to dance. I'll admit their music selection can sometimes be a little random, but they make sure there is something for everyone.
You will find La Vaquita right at the bottom of the 12th street, and it's guaranteed to always be booming!
Much like Mandala, it's an open club, so you can see into it from the street.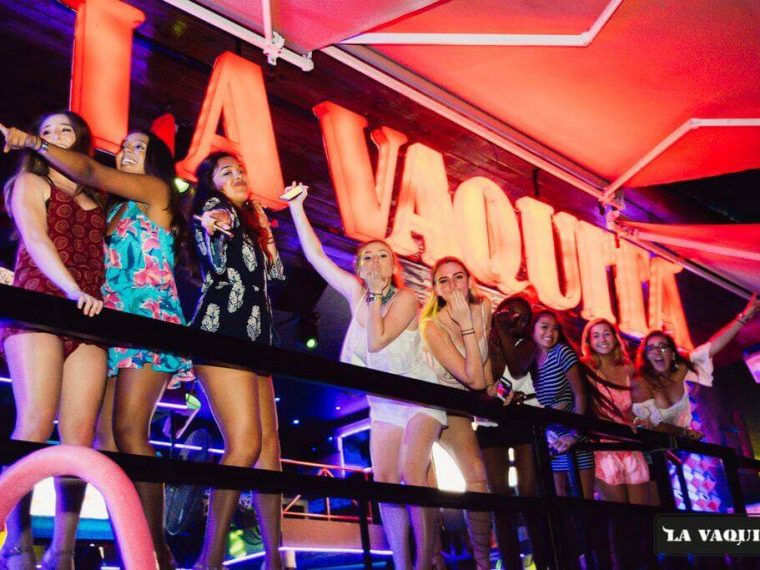 You can't miss it! Just look out for Vaquitas trademark plastic large cows.
Spring Break for Singles: What tours can you do?
It would be utterly criminal if you were to come to the Riviera Maya and not experience at least one of the magical tours this place has to offer.
Some tours can be a great place to meet new people, you'll create memories that last a lifetime, and drinking all day every day really takes it out of you.  Have a day off and enjoy one of the suggested tours below!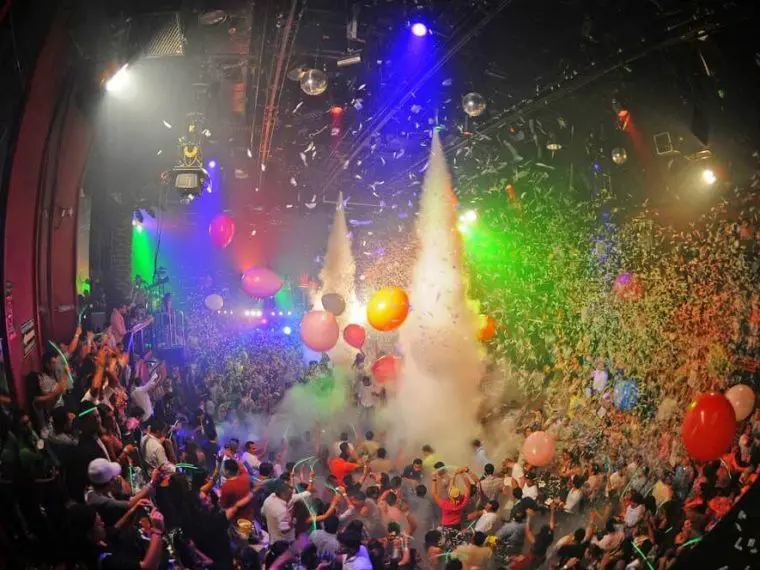 1. Take a boat trip
Spring breakers just want to have fun! For me, one of the most memorable tours that I did with a bunch of my friends was the Fat Cat Catamaran!
We got to cruise the Caribbean coastline and marvel at the spectacular view while sipping on drinks from the open bar and having a dance on deck. The tunes were awesome, and it really was a great day!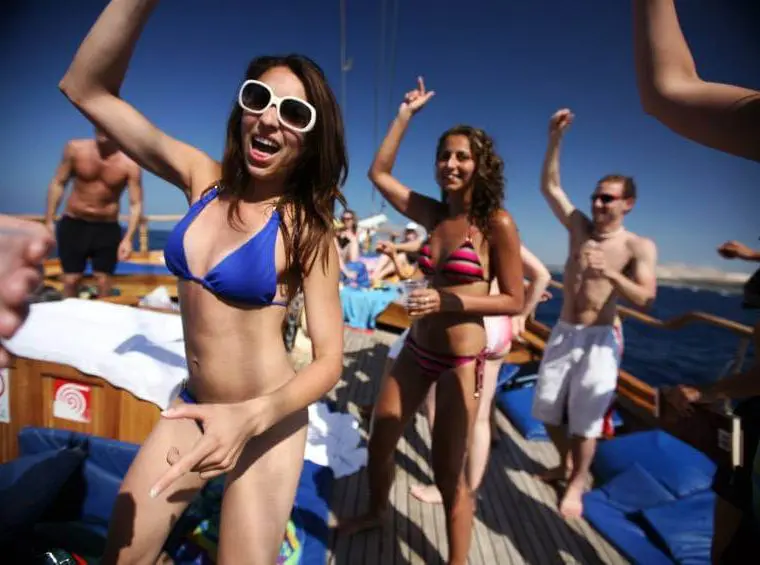 We met a number of hot single guys here just hanging out with their friends. I mean, come one, what better way to mingle than having a great time on a boat for 4 hours?
Read my Fat Cat Catamaran Review – here's what to expect.
2. Head to the Islands
All that partying will take it out of you, trust me!  My advice would be to take a day out and visit one of the neighboring islands during your stay in Mexico.
Island life has a whole new vibe of its own.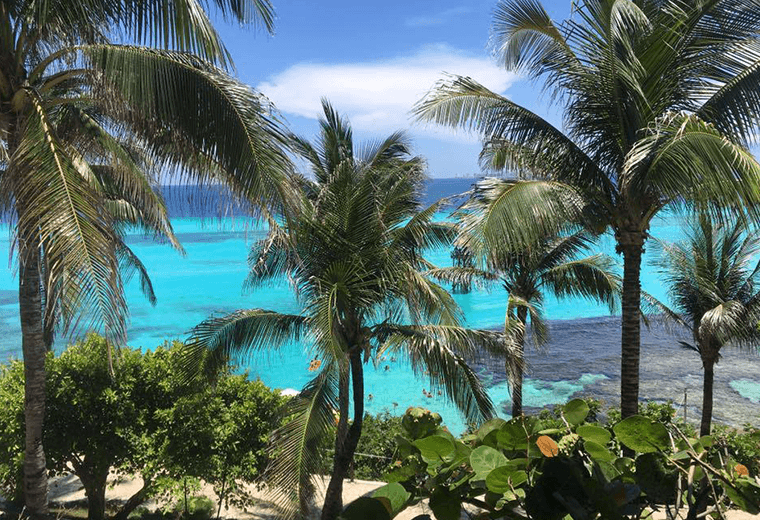 When you visit Isla Mujeres and Isla Contoy time seems to slow down the minute you step off the boat.
Here you will snorkel on one of the best-preserved snorkel reefs in the area amongst a multitude of multi-colored tropical fish.
When you visit Isla Contoy you will discover a nature reserve home to over a hundred species of birds and other wildlife.
From there you will head to Isla Mujeres, a tiny island near Cancun where you can buy some souvenirs and take a stroll in the quaint downtown area.
3. Jungle Buggy
The Jungle Buggy Adventure is one of our most popular tours here at PlayaDelCarmen.Com. 
Unlike other tours, this one is a half day one, which mean you can have an action-packed morning, and you would still have the afternoon and evening to do what you want.
Race your way through the jungle, before arriving at a stunning cenote where you will explore the magical underwater world of Mexico!
Be enchanted by the series of caverns and learn about the fascinating history of how they came to be.
Enjoy a small bite to eat, before finally heading to an extremely poor Mayan Village to see how the other side live. This tour is a real eye-opener and is an opportunity to give something back by providing a small food donation to someone in need.
The children often make bracelets to say thank you and show you the appreciation for your generosity.
Even though this tour is approx about 4-5 hours long the experience will stay with you for the rest of your life.
Read my latest jungle buggy review from 2017 here.
4. Coco Bongo
Coco Bongo is a must while you are here. You have got to experience the show that everyone raves about at least once.
It's one hell of an experience!
It's the perfect event to kick off or round up your trip to Playa del Carmen!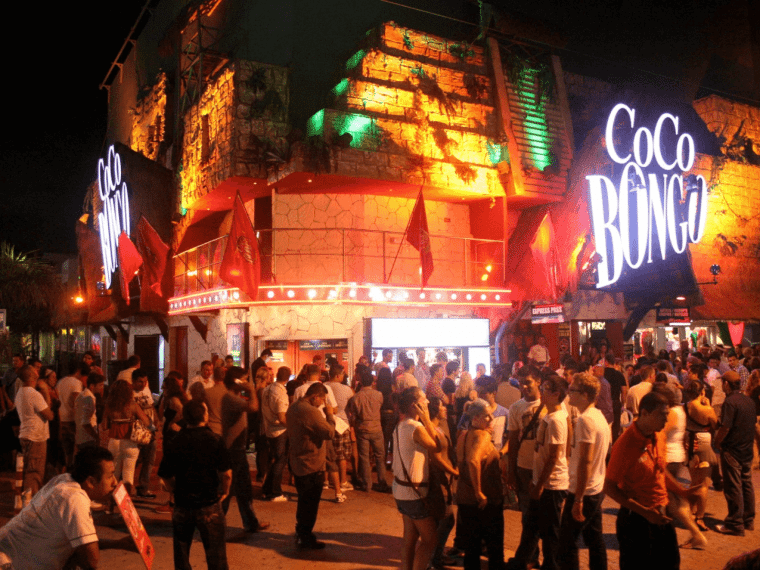 It is more than just your average nightclub – it is a Las Vegas-style show in a disco-like environment.
Prepare for extravagant visuals on giant screens, the latest music, as well as the favorites from the '60s, '70s and more.
Spring Break for Singles: Where to eat?
Playa del Carmen is home to some incredible food, but with so many different places to choose from where do you start?
To help you out a little bit I've picked out some of my all-time favorites, these places are guaranteed to make you feel better after a heavy night out, all for a great price!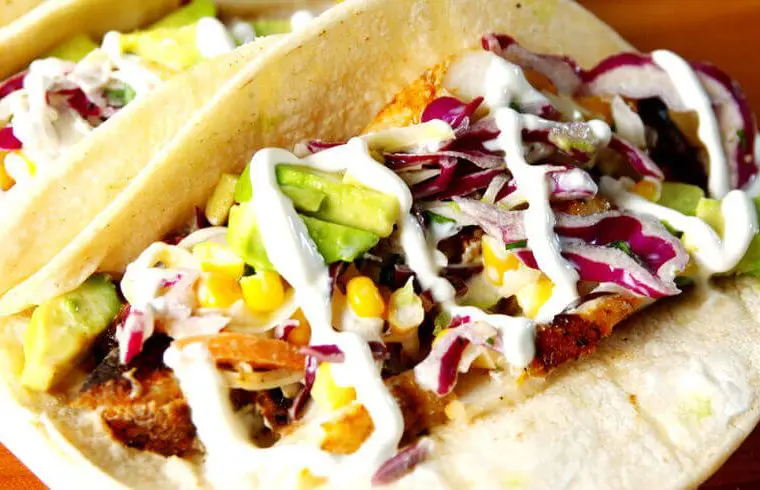 1. Los Hijos Del Mar. Tostaderia Mazatleca
Prepare for a taste sensation! You can't come to Mexico and not try some authentic Mexican tacos and tostadas.
Their food is super tasty, their prices are great, and even the staff are yummy too! 😉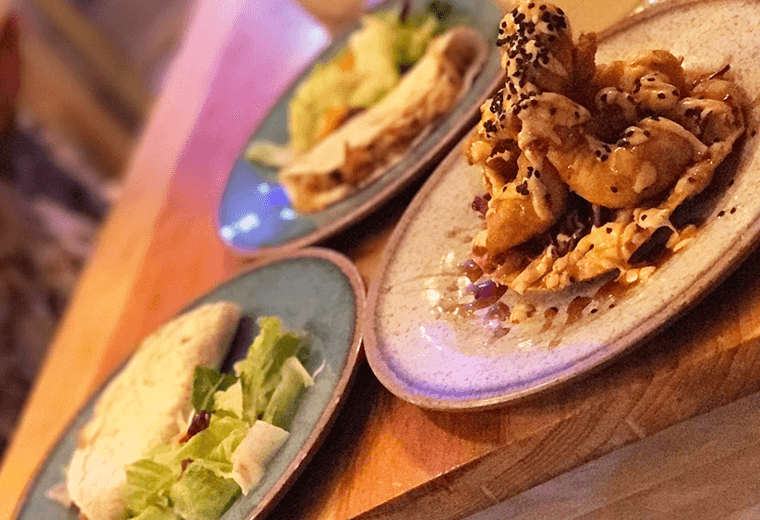 They are warm, friendly, cheeky, and not to mention cute!
Trust me, if service with a smile is what you're looking for then dining here is a must.
It's one of my favorite eateries in the whole of Playa!
You have got to try the fried shrimp tostada with chipotle sauce, it's my favorite dish!
2. Wings Factory
Wings Factory serves up some delicious chicken in over 8 different flavors for a super affordable price.
Plus,  it's a sports bar showcasing all the latest games, which means it's a magnet for the hottest guys in town!
They do all kinds of different chicken (boneless too) with a good range of sides.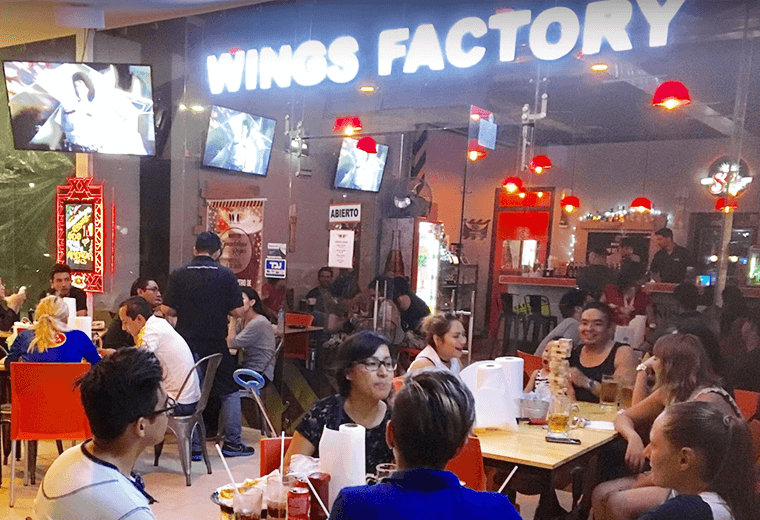 If you're feeling a little worse for wear the day after drinking then this place is sure to cure you of all your sins.
Trust me on this one! I've been there.
3. Rey David
Love Italian? I mean the food, not just the men and women?
Luckily for you, Playa del Carmen has a huge Italian community meaning the eateries they own are nothing short of spectacular.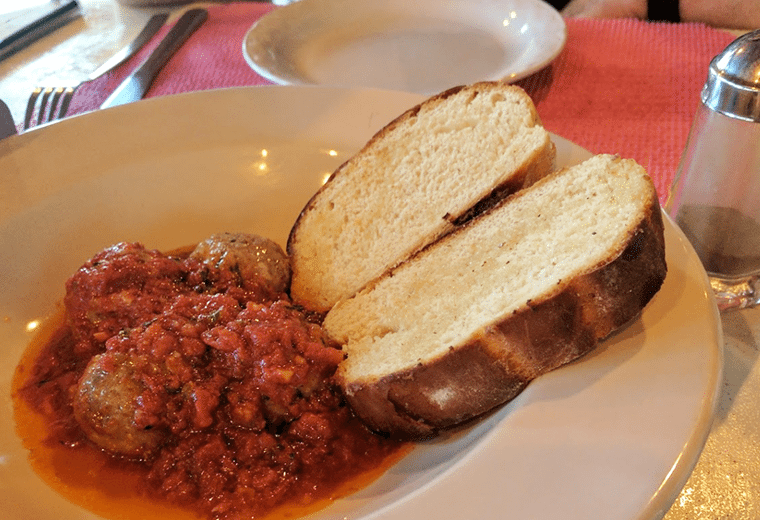 Rey David is a hidden gem, tucked away just on street behind 5th, here you can tickle your taste buds with some tantalizing pasta and pizza dishes.
Not only are the dishes exquisite, but they are also reasonably priced and the service is second to none.
If you are a sweet tooth there are a number of tasty desserts to choose from too!
Get Spring Break Deals Here
We, PlayaDelCarmen.com, get the best Spring Break deals hands-down.
Reach out to our Travel Agents at 888-537-9797 and we'll do the digging and get everything organized for you!
You can also contact us via email at customercare@playadelcarmen.com
The hotels are booking up quickly! It's time to start reserving your spots!
---
Trending Now