Selvatica VS Xplor (2023) Which Zip Lining Experience Should You Choose?
---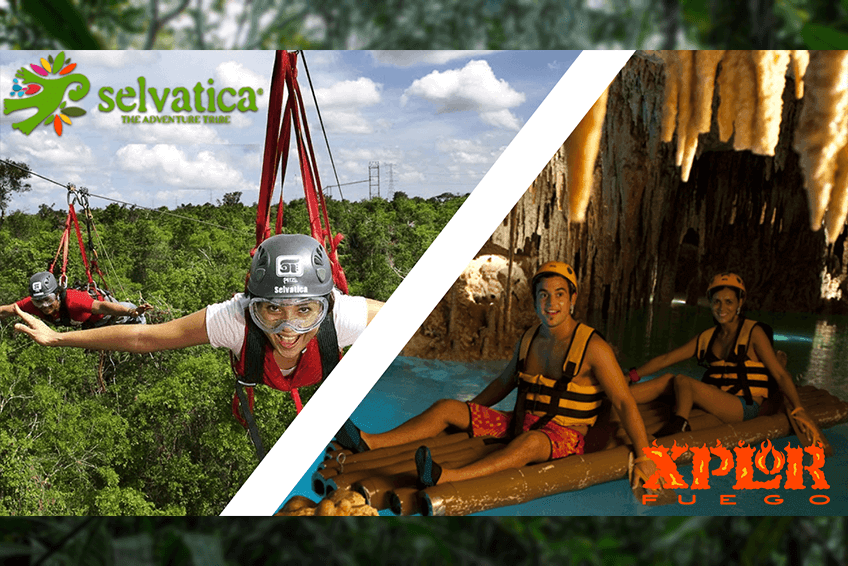 Selvatica VS Xplor – two of the regions top zip lining adventure GIANTS but which one deserves your hard-earned dollar?
That is the question!
By the end of this article, I am going to make you a bold promise:
You will be able to book with confidence!
Knowing you chose exactly right for you or your group.
The topics up for discussion include: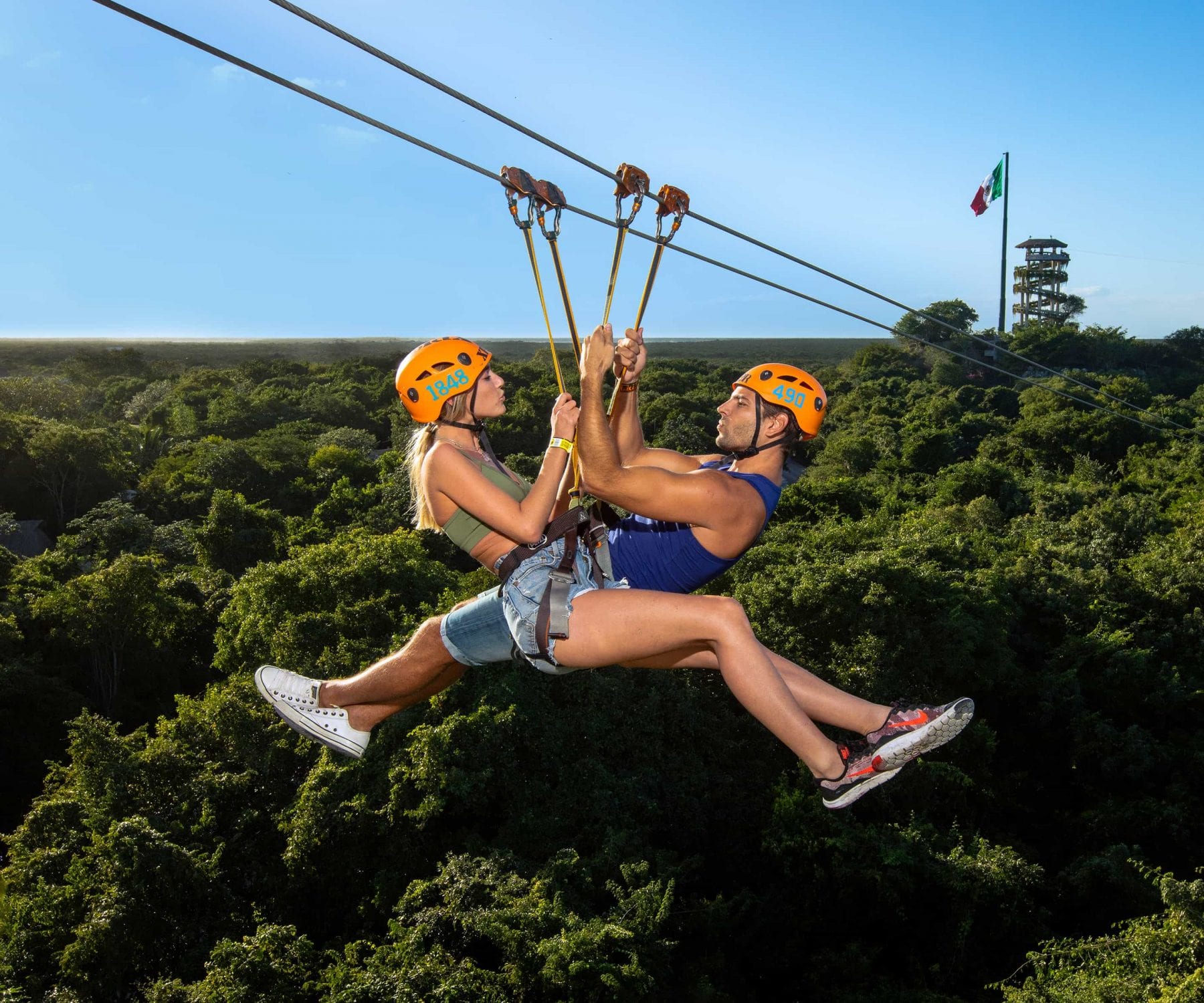 ---
Selvatica VS Xplor
To the majority of newcomers, yes, Selvatica and Xplor appear to be two similar concepts.
Don't be fooled!
They are two very different experiences!
Not all zip lining aerial adventures were created equal.
That's especially true here in Cancun and the Riviera Maya.
You see, we've been hailed around the globe as being home to some of the best aerial adventures in the world! 
(You're about to find out why…)
But with the competition heating up and more and more attractions like this popping up varying drastically in style, how do you decide which one you would most enjoy?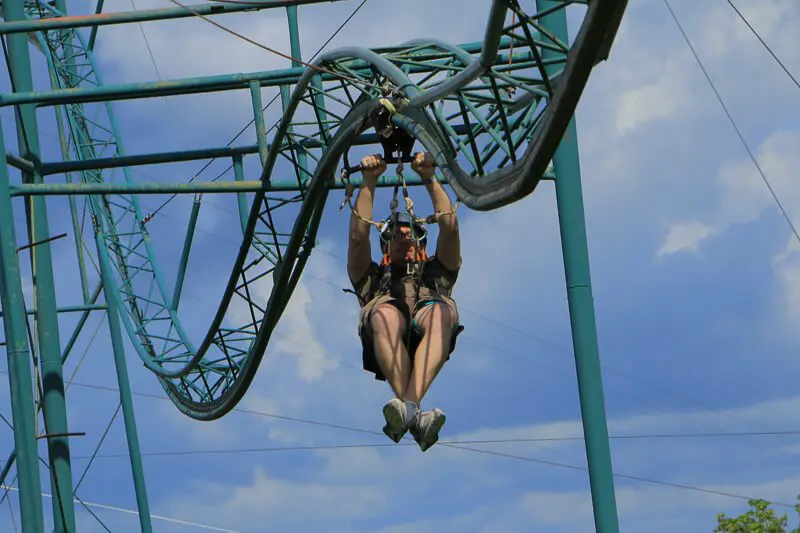 Pricing at Selvatica and Xplor
Selvatica and Xplor both operate with dynamic pricing. 
What does this mean?
Their prices can fluctuate depending on:
The season in which you book (peak or low)
The time of day
The size of your group
Fear not!
Here at PlayaDelCarmen.Com we will ensure you get the best deal!
You'll even get an exclusive discount  (our way of saying thank you).
Selvatica Prices
For the purpose of this article, here's the average price range for Selvatica throughout the year.
At this attraction, you have 3 tailored program attractions to choose from.
This is great because once you know a little more about them you can choose the best one suited for you.
There may be certain types of activities you do or do not want to participate in.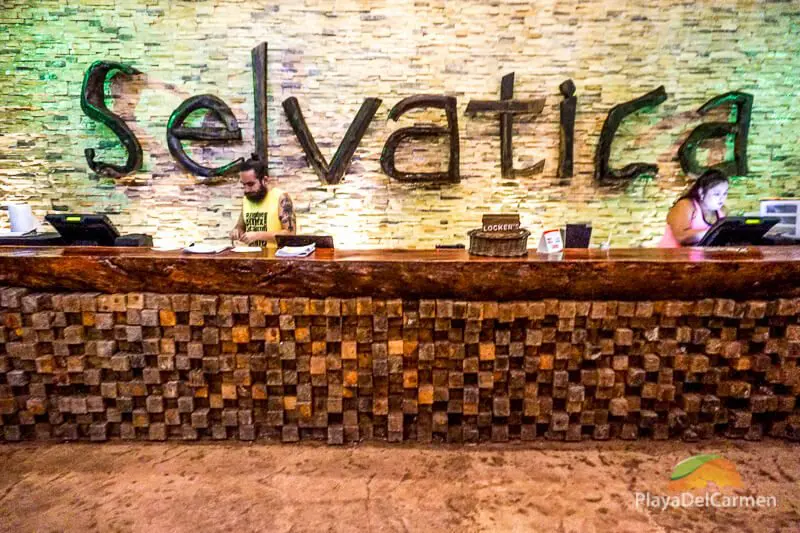 Selvatica Adult Prices:
Extreme Canopy = $70-80 USD
Gimmie All = $140 – $170 USD
Offroad Polaris = $117 – $132 USD
Selvatica Child ( aged 8-15) Prices:
Extreme Canopy = $42-50 USD
Gimmie All = $84 – $100 USD
Offroad Polaris = $60- $72 USD
Please note: children must be 8 years or older to participate in Selvatica excursions.
The Selvatica tour breakdown:
The cheapest of the bunch…
Don't necessarily want to spend all-day swinging through the treetops of the Mexican jungle but DO want to experience the very best of Selvatica in a short period of time…try Extreme Canopy!
This half-day tour includes: 
Roundtrip transportation
10 zip line circuit (with 4 different TYPES of zip lines – more on this later)
A swim in a beautiful cenote
TARZANIA – AKA the human-coaster (think zip lining on a whole new level)
Light lunch and refreshments
Duration = 3 to 4 hours approx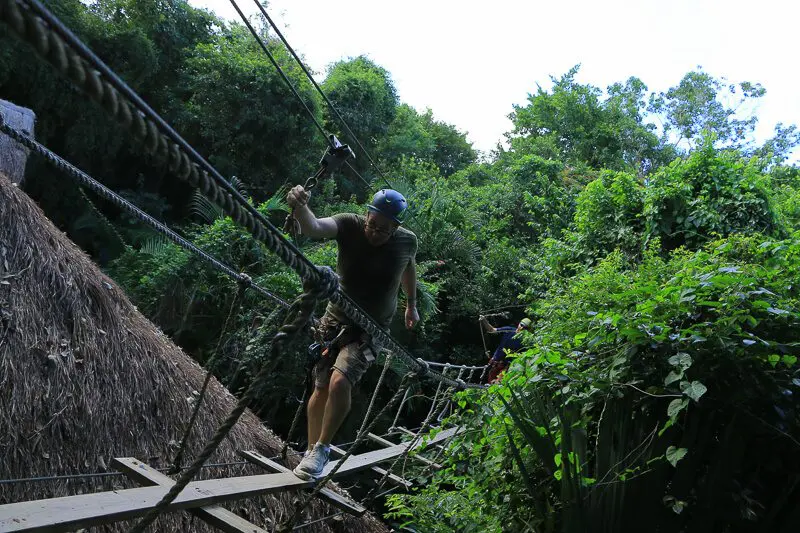 The program Selvatica is most famous for – the gimmie all tour! If you have an abundance of time and a day to spare during your vacation this is the tour for you!
It's the longest of all 3 programs and is very well organized.
You're guaranteed a full-day of thrills and excitement. 
This full-day tour includes: 
Roundtrip transportation
A ride through the jungle aboard a state of the art ATV
10 zip line circuit
Traverse aerial bridges
Epic bungee jump
Tarzania (human -roller coaster zip-line)
Superflight
A swim in a Cenote
JUNGLE COASTER (NEW)
Light lunch and refreshments
Duration =  7 to 8 hours approx
Petrol heads, rejoice! If you possess a need for speed look no further.
Enjoy aerial views as you soar through the Mexican jungle and get down and dirty on the ground aboard your state-of-the-art Polaris RZR buggy.
This half-day tour includes: 
Roundtrip transportation
10 zip line circuit
Skywalk 4 aerial bridges
Polaris RZR BUGGY (jungle circuit)
Swim in a cenote
Tarzania – AKA the human roller coaster
Parachute jump
Light lunch and water
It lasts between 3 to 4 hours approx
To drive you must be 16+ and show a valid ID.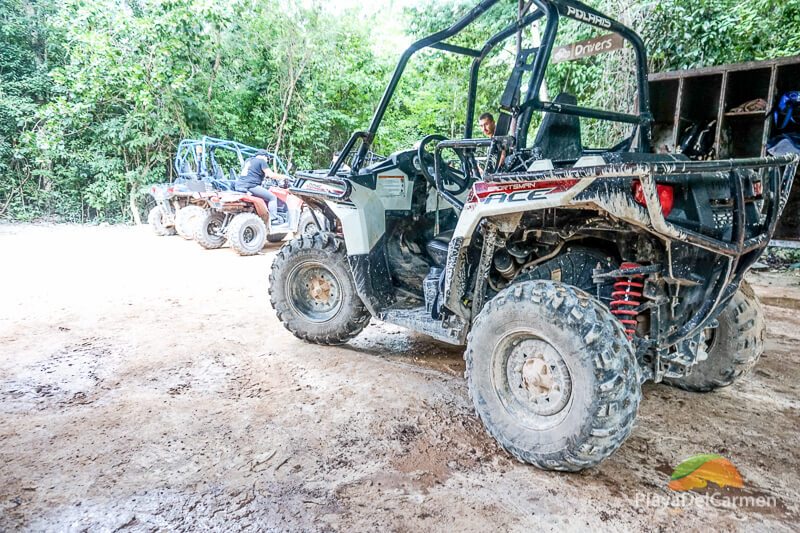 Xplor Prices
At Xplor there two program options to choose from:
Adult prices for Xplor:
Xplor = $108 -$140 USD
Xplor Fuego = $129-$116 USD
Child Prices (aged 5-11) for Xplor:
Xplor = $69-$63 USD
Xplor Fuego = $69-$63 USD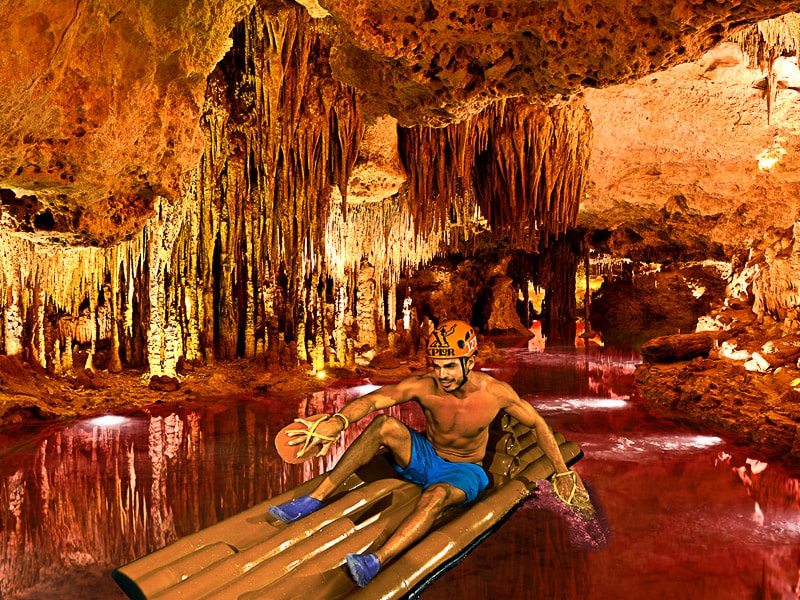 Please note: minimum weight for zip lines at xplor is 40kg or 1 meter 40 in height.
For Xplor Fuego the minimum age is 7 years of age. 
Feel the wind on your face as you soar over the jungle on the highest zip line in the region plus admire the beautiful stalactites and stalagmites of the underground rivers as you raft and swim through the breathtaking channels.
The amphibious vehicles at Xplor will let you drive in and out of the caves through water and on land.
Xplor tours include:
Full access to the park
All safety equipment
Access to lockers and changing rooms
Unlimited food and drinks at the buffet as of 11 am
Unlimited smoothie and snacks the bar
Transportation is optional but can be included in the price of your ticket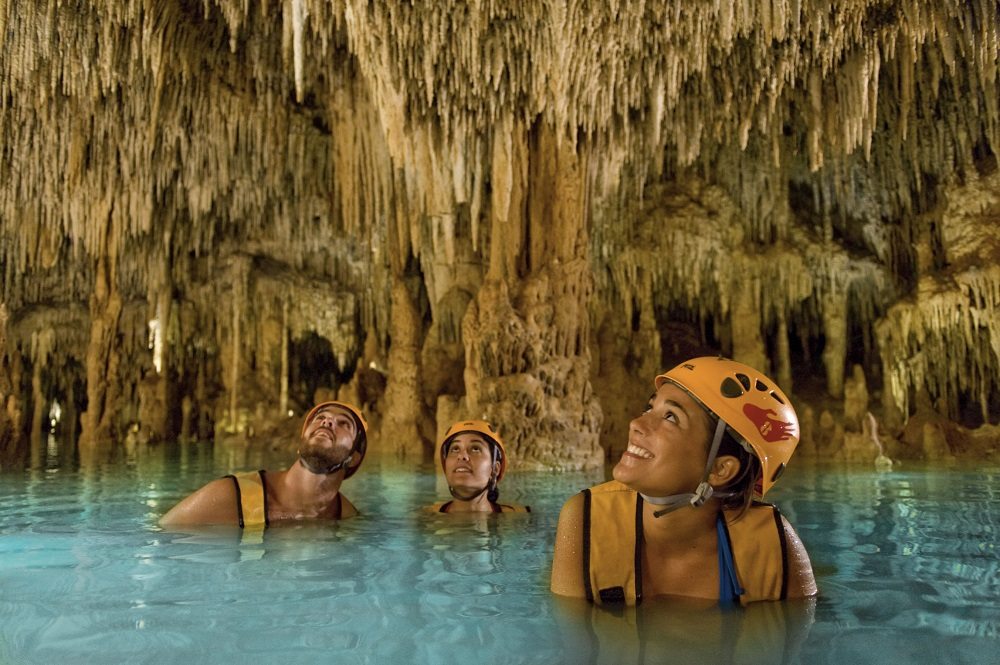 An adrenaline-pumping adventure is one thing by day but it's something completely different by night! Xplor Fuego translating as Xplor Fire takes you deep into the jungle for an otherworldly excursion in the air and below the earth.
Let the torches guide the way as you conquer the night and enjoy the bubbling river that heats up with a lava-like experience.
Xplor tours include: 
Admission to the Xplor park
Roundtrip transportation (optional)
580 yards of underground caves to paddle on a raft
A nine zip line circuit
3.4-mile circuit to drive with Amphibious Vehicles (only people 18 or older may drive)
Hammock splash
Spelunking
Swim along 430 yards of crystal-clear water in the Stalactite River Swim
Lunch buffet and unlimited beverages (no alcoholic beverages)
Locker for two
Resting areas, dressing rooms, and bathrooms
Equipment (Zip-Lines: helmet and harness, Rafts: helmet and paddles, Stalactite River Swim: helmet and life jacket, Amphibious Vehicles: helmet and vehicle for two)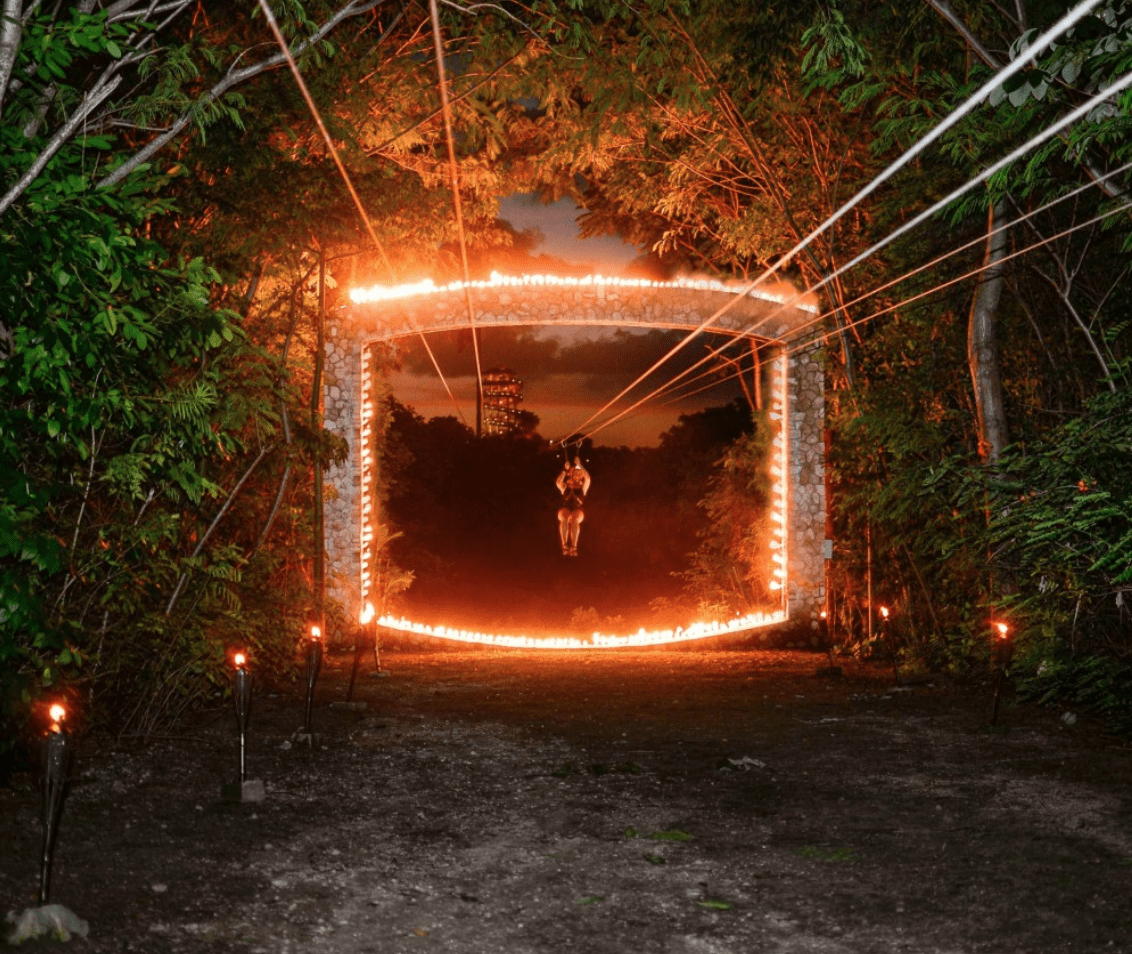 Location & Transportation
It's important you learn the location of each attraction before you book.
Why?
Because its a huge factor when it comes to deciding which one is best for you.
You don't want to waste precious hours of your vacation traveling, but you also want the trip to be worthwhile, right?
Selvatica's Location
Selvatica is conveniently located halfway between Cancun and Playa del Carmen. 
So regardless of whether you are staying at either, you won't be more than a 30-minute journey away from all the action.
Remember, your tickets include round-trip transportation.
You will be picked up on time in a small, comfortable, clean, air-conditioned van operated by a safe driver.
Xplor's Location
Xplor is located on the south side of Playa del Carmen. 
Much more convenient if you're staying in nearby destinations such as Tulum, Akumal, or Puerto Aventuras if you don't want to spend too long on the road.
Transport can be included in the price of your ticket for an additional cost.
They will pick you up from your hotel in a large style school bus.
You'll find Xplor picks up way more visitors than Selvatica, so it's important you keep in mind as it could add a solid hour to your journey depending on busy the park is.
Zip Lines
Both parks are celebrated for their epic aerial adventures!
There's no doubt both Xplor and Selvatica will get the adrenaline flowing around your body.
However,  there are a few MAJOR differences between the two…
Selvatica Ziplines
Selvatica reinvented the modest zip line 5 times already and continues to do so.
What do I mean by this?
They didn't just stop at the generic zip line adventure where you ride sat upright in a downwards direction, oh no, Selvatic truly believes variety is the spice of life.
This attraction prides itself on variation and personalization.
At Selvatica you will discover 5 different TYPES of zip lines PLUS their new Jungle Coaster. 
1. Tanzania AKA "The Human Roller-Coaster"
They don't call this thing the 'Human Roller Coaster' for nothing.
It's super innovative and completely unique.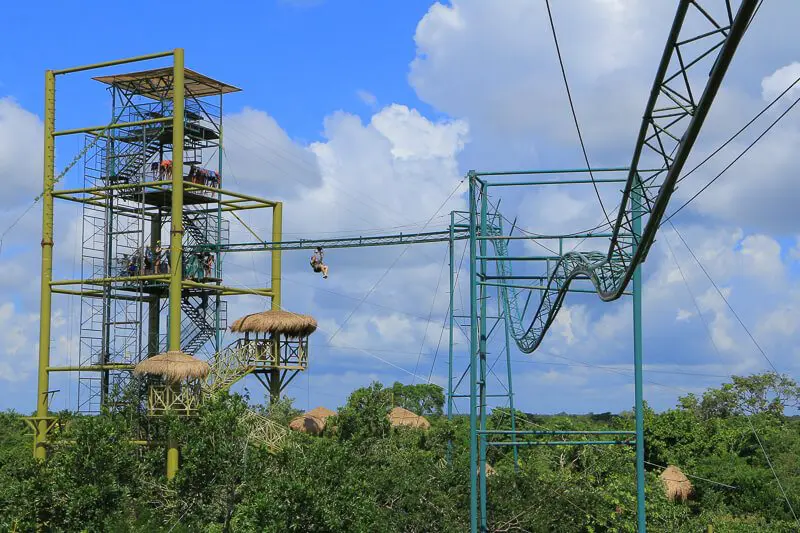 I don't want to give too much away but hold on tight as you zoom through the jungle twisting and turning as you go.
 2. Superflight  "The Superman Zipline"
If you ever grew up wondering what it would feel like to be Superman for the day, it's time you found out.
Summon your imaginary cape, embrace your newly given superpower and soar through the air as if you were a real superhero flying face-first through the jungle.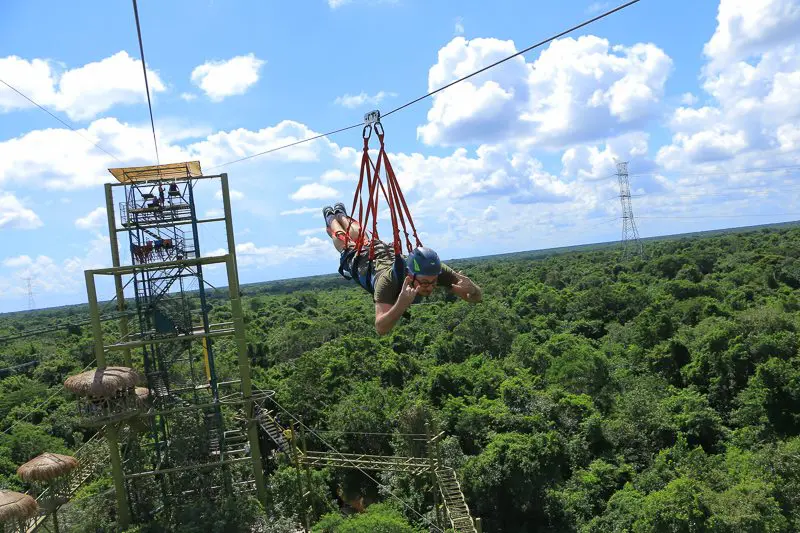 3. Glove Control Zipline
For nervous flyers keep a tight grip for a more controlled experience, or for the daredevils reading this release your grip for full velocity.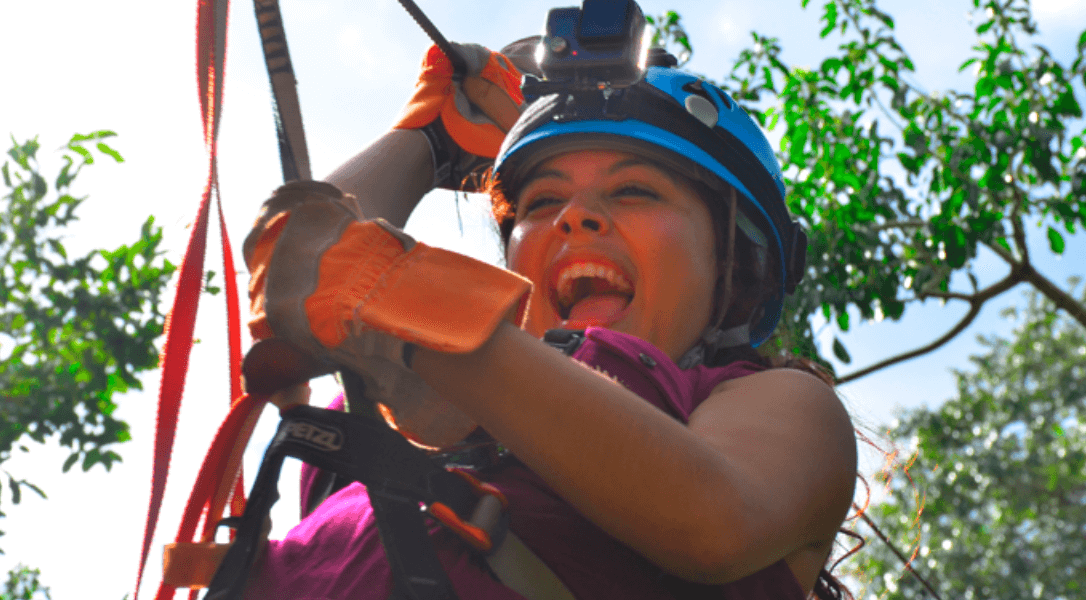 4. Upside Down Zipline
Gain a completely new perspective on the jungle and see it from all angles…including upside down. Taking the extreme to a whole new level!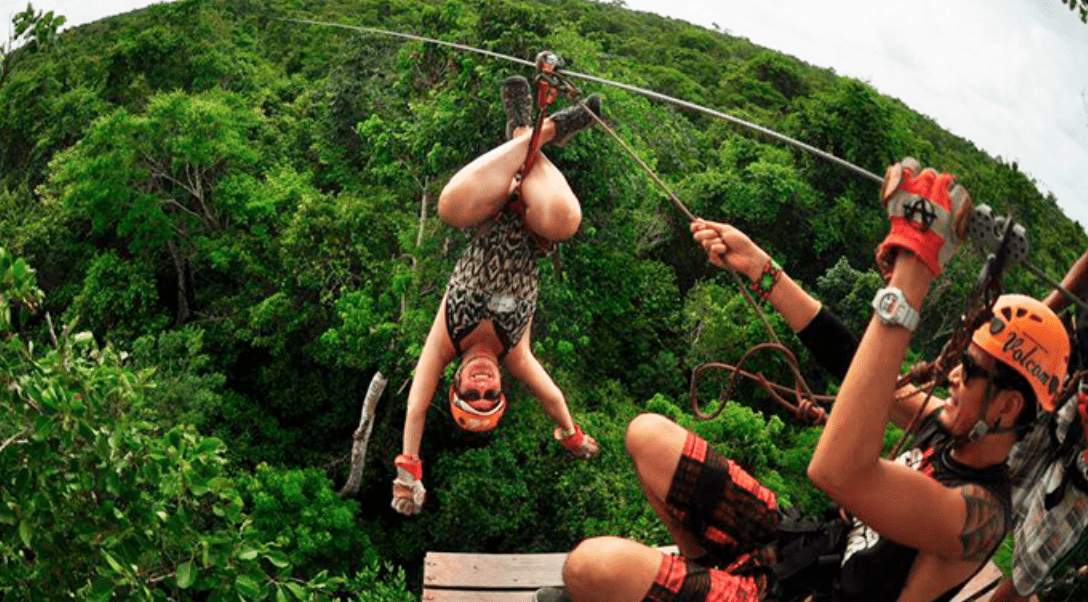 5. Cenote Splash Zipline
There's no doubt you will work up a sweat in the Mexican jungle, the cenote splash zip line is the perfect way to cool off!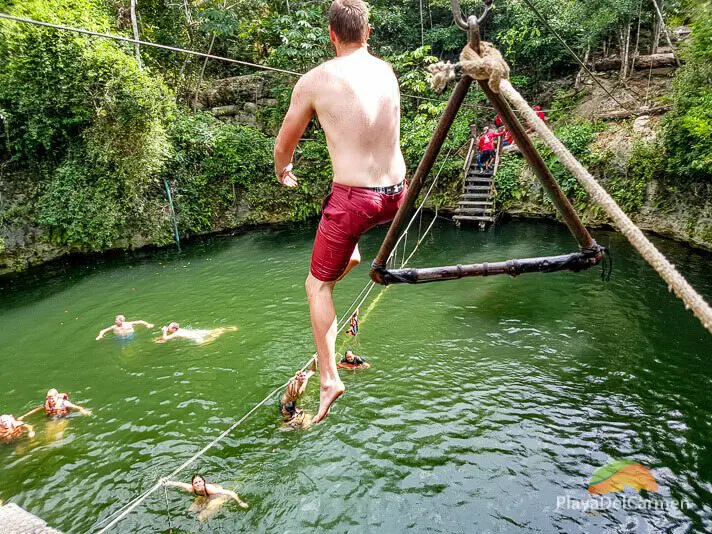 Jungle Coaster
Selvatica continues to add to its list of exciting attractions at the park.
The latest?
The Jungle Coaster! An exhilarating rollercoaster ride nestled neatly between the treetops of the Mexican jungle.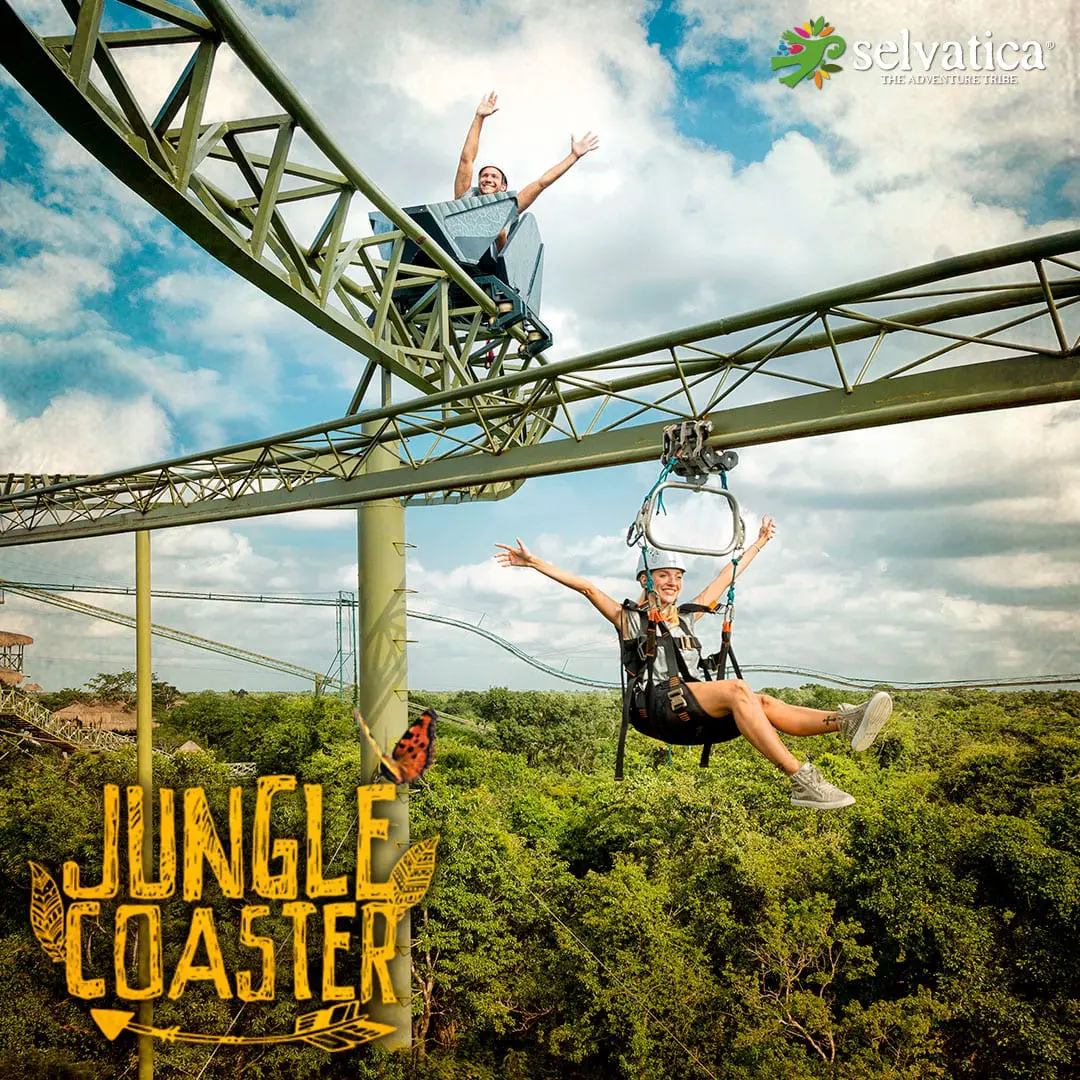 Xplor Ziplines
Xplor does have some variation in their zip lines but not as much!
However, this attraction does boast the highest zip line between the two. They all differ in length and the zip lines at this attraction often incorporate water into the mix.
So yes, you can expect to get wet.
Although Xplor doesn't offer more zip line variation out of the two parks I would definitely say that Xplor is a much more beautiful attraction than Selvatica.
The scenery is lush and the underwater caves are simply stunning (more on that later).
It really does depend on what you desire most, exhilaration or beautiful scenery?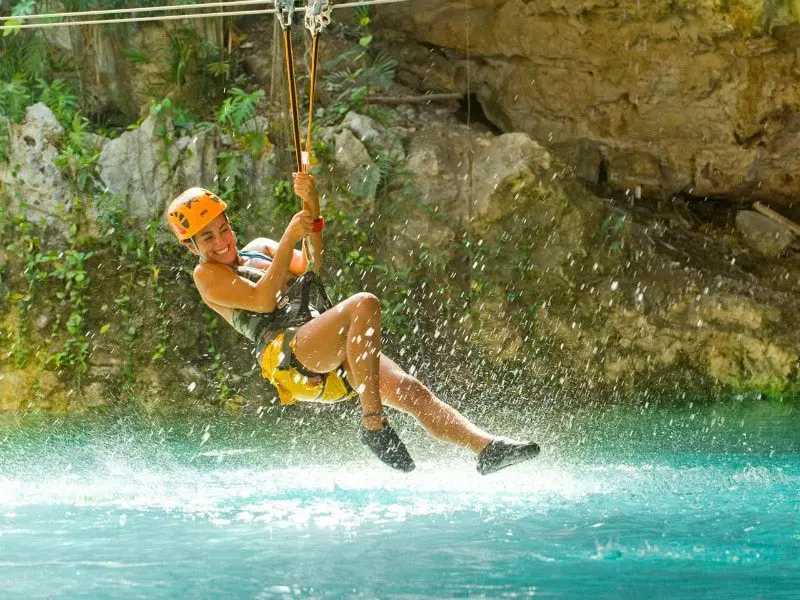 Safety
At both parks, you will find that safety is their first and foremost priority. 
Selvatica and Xplor have the most up-to-date technology, regularly check and approved by the ACCT (Association for Challenge Course Technology).
You will notice that at Xplor there are two cables on the zip lines as opposed to just one at Selvatica.
When I looked into why this was a representative at Selvatica added on TripAdvisor that…
Why do we use single cable vs 2 cables? The answer is simple. The cruise industry requires the use of a second cable, which doesn't really add any value or safety feature to a zip line circuit, Xplor caters to the cruise industry, whereas we don't; According to the ACCT, zip lines do not require double cables for safety. One of the biggest differences between the Xplor zip line circuit and ours is that in Selvatica is immersed in nature, trees are respected and our structures surround them only, whereas our competitor zip lines are next to the highway!
So, there you have it!
Both parks have their own restrictions in terms of ages, height, and weight.
Selvatica Safety Restrictions: 
Drivers must be 16 years or older and have a valid drivers license to drive a Polaris.
For zip lines, the maximum waist length is 47″ or 120 cm.
The weight limit for the Tarzania rollercoaster is 245lbs or 110kg.
Children must be 8 years or older to participate in Selvatica excursions.
Selvatica is not accessible for people with limited mobility.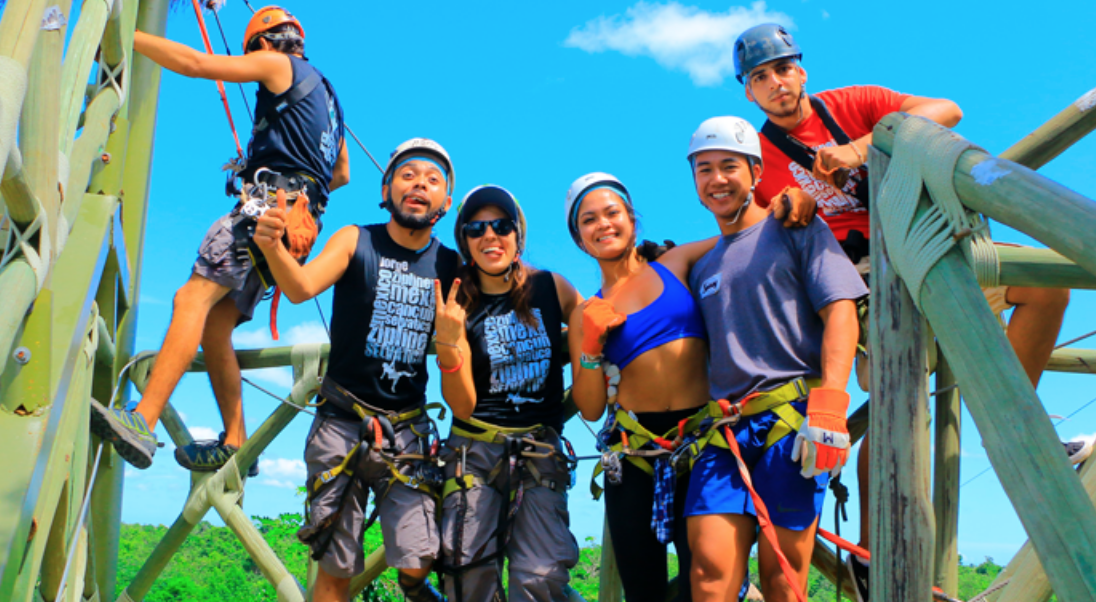 Xplor Safety Restrictions:
Bring a valid driver's license to use amphibious vehicles.
You must be 18 to drive the vehicle.
Zipline use requires a minimum weight of 40kg (88lbs) and a maximum weight of 136kgs (300lbs).
Children must be aged 5 to gain access to the park.
 Minimum weight for ziplines is 40kg or 1m40 in height.
Please note that for Xplor Fire (nighttime) the minimum age is 7 years of age.
This tour is not accessible for people with limited mobility.
ATV VS Polaris
Which automotive experience you will prefer most depends on your need for speed, you see…
Selvatica ATV's
At Selvatica you get the real deal, not a glorified golf-buggy but a 4-seater Polaris RZR speed demon!
These are state-of-the-art vehicles, and if you were to buy one back home in the states it would put a dent in your bank account lets just put it that way.
If you're a petrol head you'll love driving these things.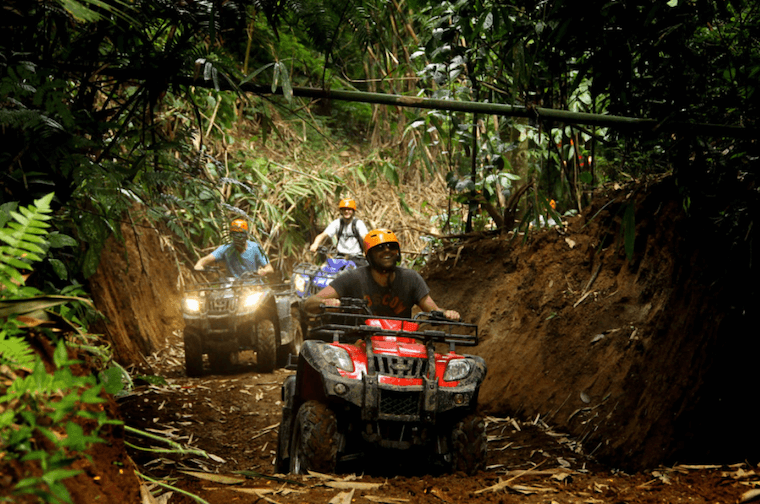 However, you have to pay a small fee of around $15 dollars to breathe easy knowing that you are insured if anything at all was to happen to the vehicle.
Xplor Polaris
If you prefer to take it easy and just enjoy the ride while soaking up the magnificent scenery Xplor uses amphibious vehicles that max out at around 12mph.
It's still super fun to drive and gives you the chance to soak up the sights of the caves, bridges, and different terrains.
Xplor definitely offers the more child and family friendly option in this case.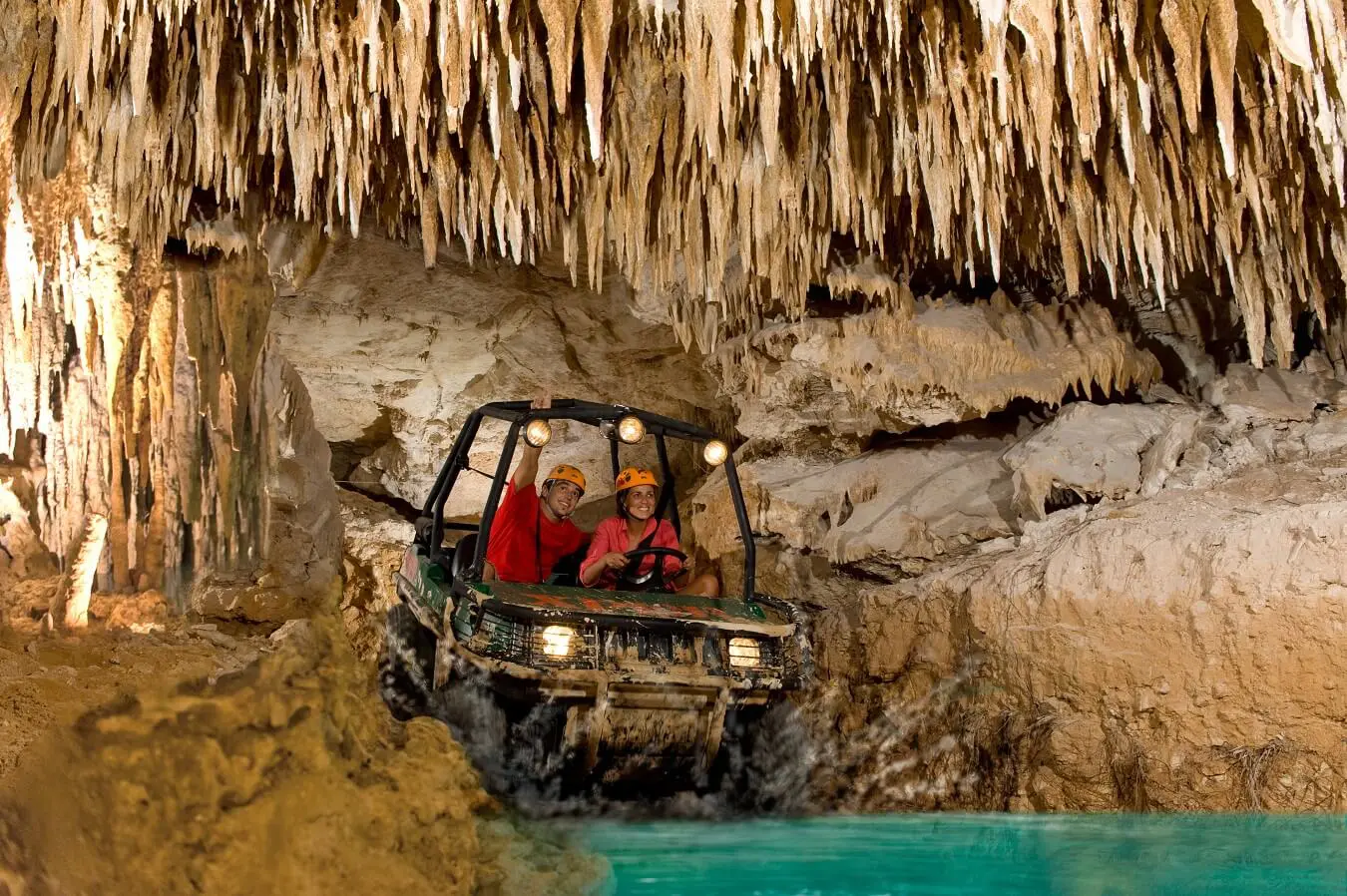 Swimming / Cenote
Coming to the Riviera Maya means that you're about to be surrounded by natural beauty!
It's often easy to overlook the stunning jungle and all the wondrous secrets it houses…tourists quickly become mesmerized by the twinkling turquoise glimmers of the ocean and impressive resorts that edge the coastlines.
But the jungle also deserves your attention, here's why:
Selvatica – Swimming & Cenotes
In the tropical heat, it won't take you long to work up a sweat. It's always nice to refresh yourself.
At Selvatica you can cool off in Cenote Selvatica.
These stunning freshwater swimming areas feel holistic to your skin.
You get around 40 minutes here to soak up the sights, relax, and enjoy the water.
Not only that, but you can also zip line into the water.
CUE CANNONBALL!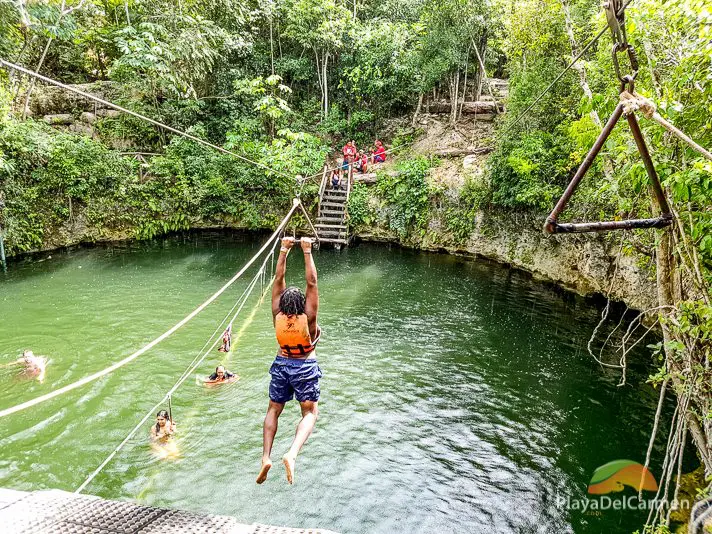 Xplor – Swimming & Cenotes
At Xplor there won't be too much sweating as a lot of the activities involve water throughout the day!
So you will be sure to stay fairly cool.
The cenote and swimming opportunities at this attraction are way more beautiful than Selvatica.
Visually it's pretty spectacular! It will definitely take your breath away.
That being said it's important to remember that you will be underground for quite some time, and even in high tropical temperatures, it can get cool down there sometimes.
However, if you are interested in learning about the incredible stalactites and stalagmites that have formed over millions of years this is the best opportunity for you to do so.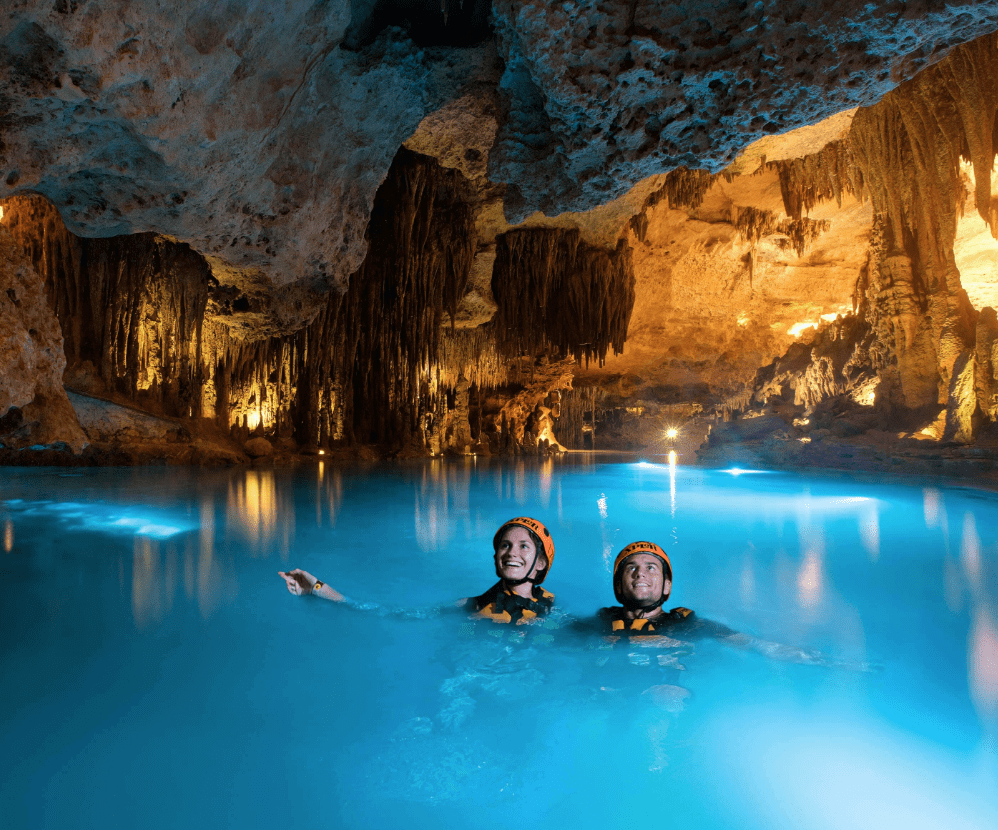 Food
All that adventure will definitely give you an appetite!
So, what can you eat at both attractions?
Food is provided at both parks but I would still recommend eating before you leave for the tour if possible to fuel you up for the day ahead.
Selvatica Food
One of Selvatica's core values is to keep things as eco-friendly as possible, and they do a lot of work to reduce the carbon footprint.
That is why you won't find any bottled water at Selvatica, but instead, they offer fresh, cool, water in cone cups that are made from recycled materials.
Because of how the day is run at Selvatica you are never left to your own devices which means that food is served at a precise time and isn't simply available to you around the clock.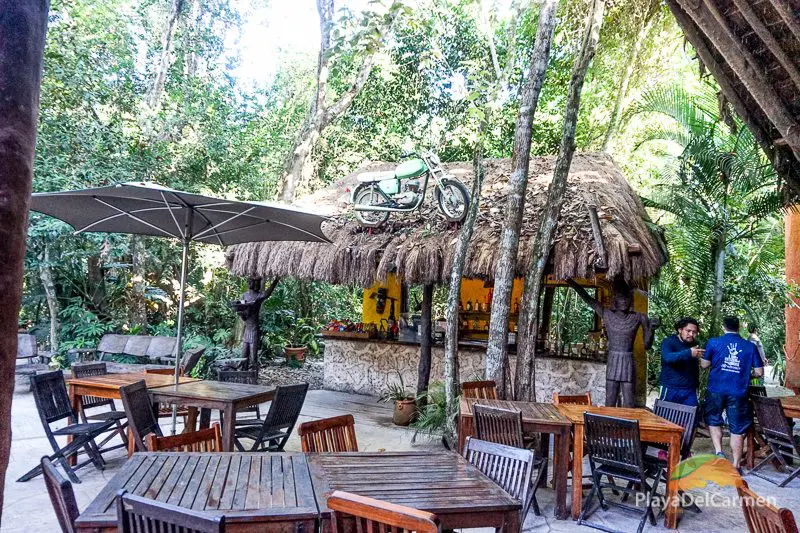 The meals at Selvatica are very tasty and you can expect to find things like chicken, guacamole,  beans, chips, salad, and rice, with lots of fruit on offer too.
Xplor Food
At Xplor food and non-alcoholic beverages are UNLIMITED!
They provide delicious smoothies, snacks, and offer a varied buffet (open at 11 am onwards).
So, if you don't like something, simply go back up and choose something else. Winner.
Xplor is an attraction where you are left to your devices, there is no guide to take you around, so if you are hungry you can go and grab something from the buffet whenever you please.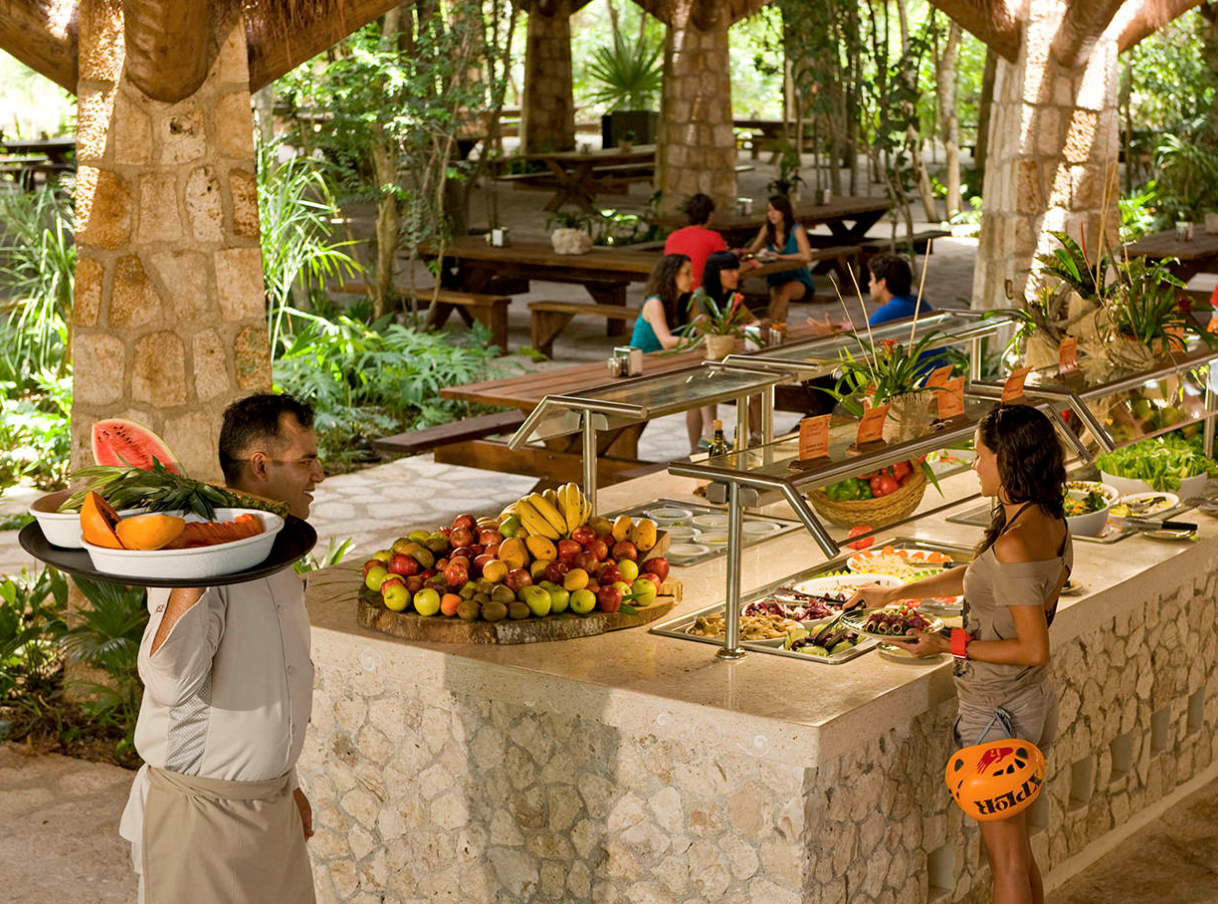 Organization and Efficiency
The way both parks are organized and operate are very different…Here's the DL.
Selvatica
With so many people attending parks like Selvatica, the company likes to keep things efficient and organized in groups.
It also prides itself on keeping the experience personal and intimate.
While here you will part of a small 'tribe,  and your guide will take the time to get to know your name and make you laugh.
Don't take my word for it the TripAdvisor reviews speak wonders for the staff at Selvatica, they are VERY good at what they do!
Super friendly, enthusiastic, and love what they do.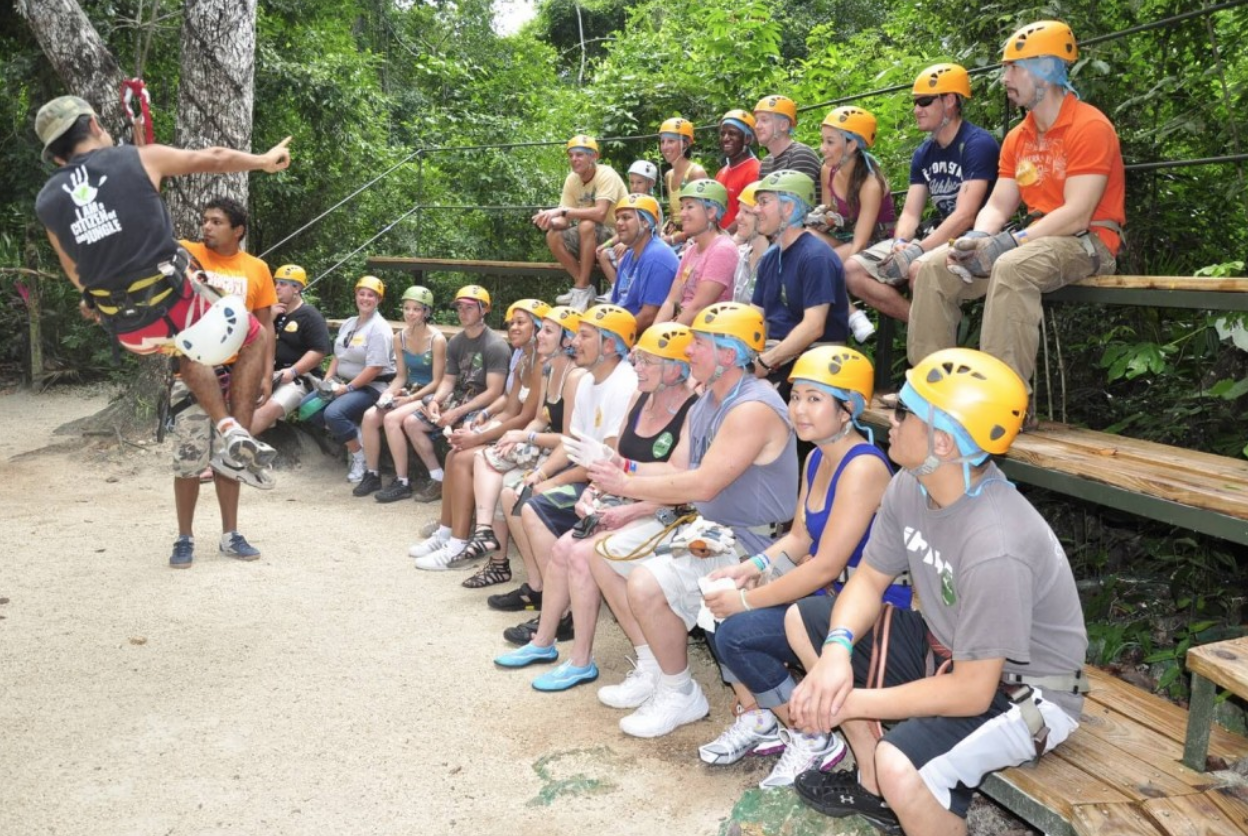 Tours here run like clockwork, they never overbook and you never have to wait to get on to a particular attraction.
You will notice the guides are in constant communication with one another, so you will never be stood around waiting for the next thing to happen.
Xplor
Xplor is more a 'free for all', suited to those who like to go at their own pace.
It's much more leisurely, and you can opt in and out of the things you want to do and the things you don't.
However, during peak times and seasons this can get a little chaotic.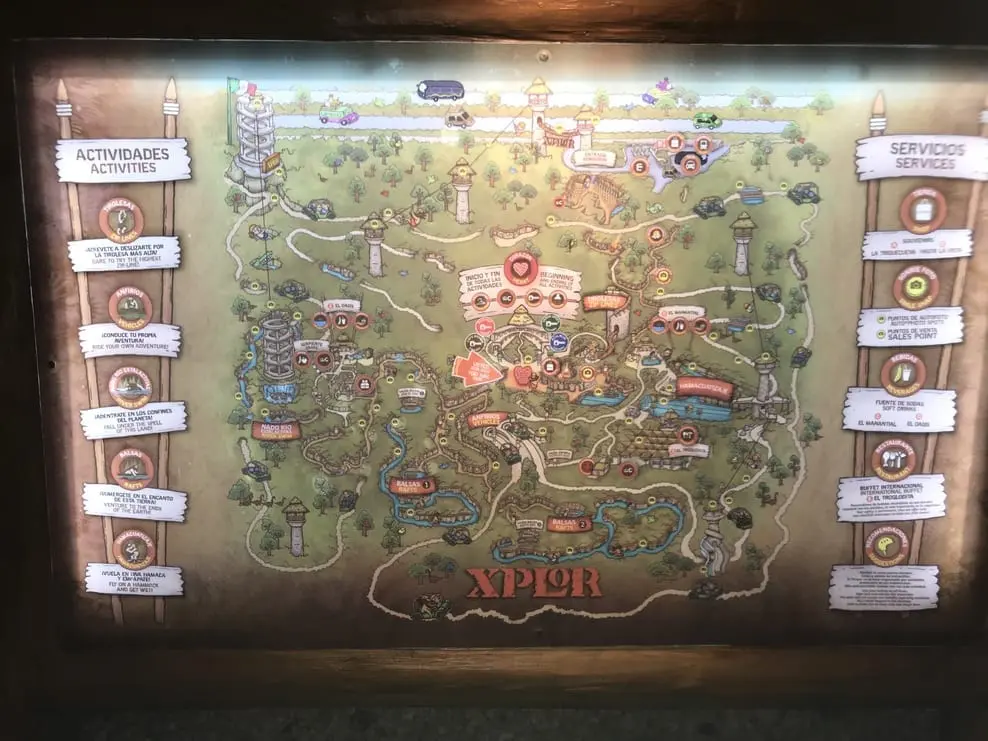 Being left to your own devices also means that there is a chance you will miss out on something because you didn't know it was there.
There are guides to help you around the park but they wait for you ar different podiums and areas of the attraction.
I recommend staying the whole day at Xplor to get the best out of the park.
Conclusion
For me, it's very clear which parks are more suited to different visitors.
If you are visiting as a family and your children are under the age of 8, Xplor is a clear choice.
Why?
It allows you to go at a much more leisurely pace, offers unlimited food and drink for your family, and is more suited to younger children. There is nothing too 'extreme' for them to enjoy.
It's also the more beautiful of the parks, it boasts lush scenery, impressive underground rivers and more!
Selvatica, on the other hand, is the by FAR the more exhilarating of the two. If you want adrenaline-inducing fun, there is no question about it!
The variety of zip lines and the seamless organization makes it more suited to older visitors.
It's also the more eco-friendly of the tour, albeit, it is not as 'beautiful' as Xplor it really offers you the chance to give something back to the environment through their 'seed of life' program and encapsulates you wholly in the jungle, as opposed as being located next to the highway.
Save Money on Selvatica and Xplor
Still stuck?
Here at PlayaDelCarmen.Com, we'll make sure you get the best deal on either Selvatica or Xplor, heck, maybe even both!
Contact one of our expert local travel planners today.
Email us online via customercare@playadelcarmen.com 
Or call us on our toll-free number at 888-537-9797
We'd be happy to assist you in getting the best deal and will be here to answer any questions you may have about the two attractions.
Don't forget to SHARE this with friends and family on social media.
We hope you found this review to be helpful, if you have any questions be sure to comment below, we would be happy to answer them.
Have a great day!
---
Trending Now