My Honest Review of The Secrets Capri Riviera Cancun Resort (2021)
---
Updated 27th September 2021: THIS HOTEL IS CLOSED UNTIL FURTHER NOTICE AND WILL NOT BE OPERATING FOR BUSINESS. 
Have you been looking at The Secrets Capri Riviera Cancun Resort for your next Mexican vacay?
Good timing!
In my quest to be your go-to Riviera Maya reviewer I visited this hotel last week so I could bring you the inside scoop.
I know from my own experience how hard it is to find a decent review online.
Booking a hotel is a big deal!
You deserve an honest opinion that touches on all bases before parting ways with your hard-earned cash.
Find out if this 4* all-inclusive adults-only hotel really lives up to its own slogan of 'Unlimited-Luxury'.
My Review of The Secrets Capri includes:
---
1. Location
Secrets Capri is located north of downtown Playa del Carmen around 35 minutes from Cancun International Airport.
Tucked into 71 acres of tropical gardens bordered by powdery white sands and turquoise water this Mediterranean style resort offers an intimate and relaxing stay in the Riviera Maya.
If you're seeking a semi-secluded getaway but don't want to be too out in the sticks and still in close proximity to all of the region's top attractions then this place is one to watch.
Generally speaking, Playa del Carmen is much more family-orientated than Cancun.
It's at the heart of the Riviera Maya and offers a lush, tropical, natural vacation away from the hustle and bustle of big cities.
Playa (as it's referred to locally) is a walkable coastal town and the staple of the city, 5th Avenue, is a 5-mile pedestrian-only highway dedicated to all of your touristic needs.
You'll find an endless array of bars, shops, restaurants, hotels, hostels, artwork, and souvenirs.
It really is worth a visit for the day/evening. Be sure to check that out.
2. Decor and Layout
If you're anything like me you want to gain a bigger picture of the hotel before booking.
No one likes surprises unless of course, they are the kind of surprises that exceed your expectations. 😉
The best way to summarise the decor of this resort?  …Think Mexican hacienda meets the Meditarraean!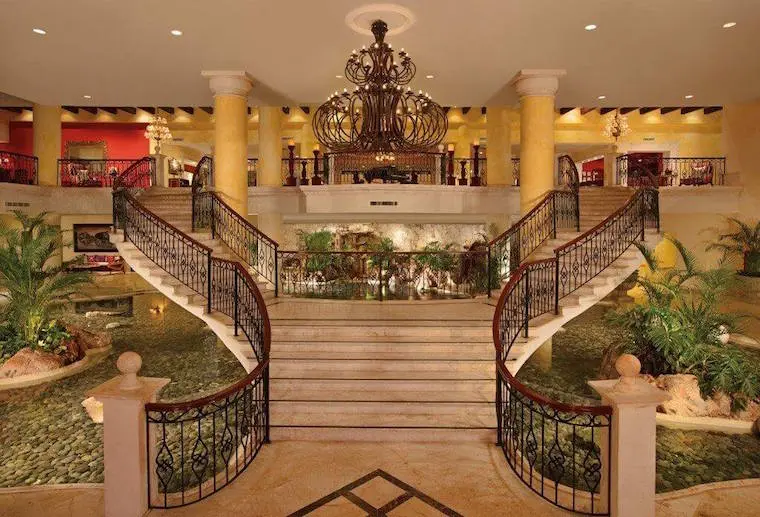 If you're into ultra-modern spaces with clean lines and a minimalistic approach to decor then this place is 100% not for you.
There's a lot going on for the senses at this hotel, bright colors, plants, and lots and lots of patterns!
I've got to say, I absolutely loved the lobby.
The sound of trickling water as you make your way down the main staircase was divine.
I was very excited to see the turtles/tortoises (not sure which) in the water surrounding the staircase.
They were so cute and provided an irresistible photo-op.
Overall, the resort is very small in comparison to others in the region.
Service feels personalized and there's no chance of you getting lost as you explore the grounds.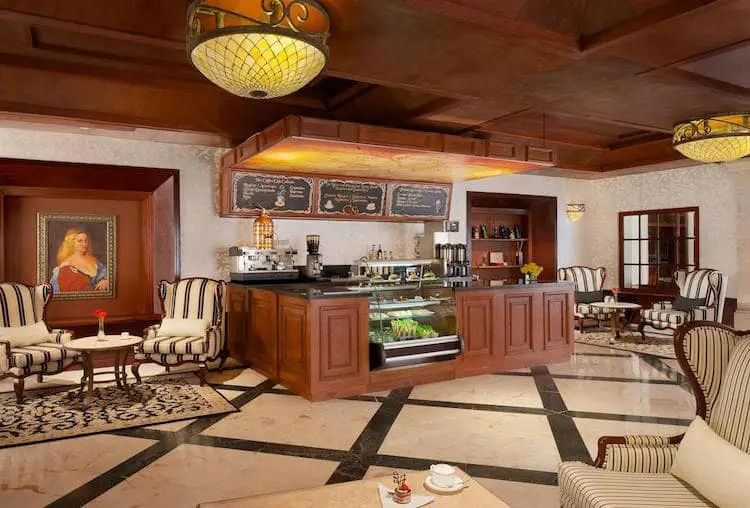 That said, if you were staying here longer than a week or two it could get very samey, very quickly.
3. Rooms
The 271 rooms and suites at the Secrets Capri will be your home away from home but better!
If you are used to super modern furnishings the accommodation at Secrets Capri feels like it needs a major facelift, that said, it's a very comforting and cozy place to rest your head.
24-hour concierge assistance means a swift checking in and checking out process.
I should note that this resort is a non-smoking hotel.
It offers luxurious accommodations that have either 1 four-poster king bed or two double beds.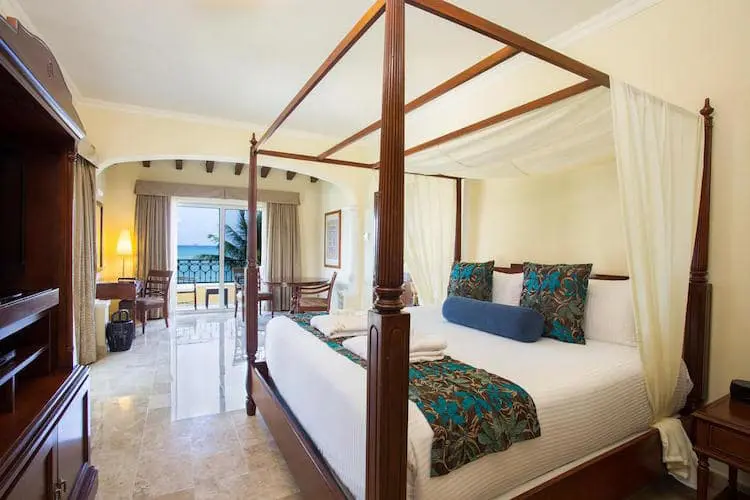 Every room has a furnished terrace or balcony and you can book a tropical view or ocean view.
The bathrooms have separate showers and a jetted bathtub big enough for two.
So, crack the champagne after a nice day on the beach and get in there!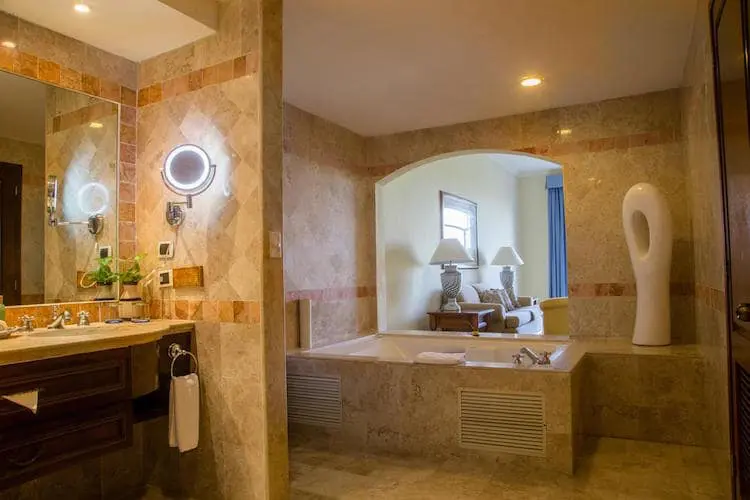 Your mini-bar will be refreshed daily with top-shelf spirits and 24 room service is available.
What's not to love about that?
4. Beach
The crux of any good tropical vacation?
The beach of course.
Seeing the effects of seaweed plague the region this year I always do my best to inform travelers of the current situation at the time of their travel.
At the Secrets Capri resort Nov (2020)  I am very pleased to be able to report it was spotless and everything you would dream a beach to look like in this part of the world.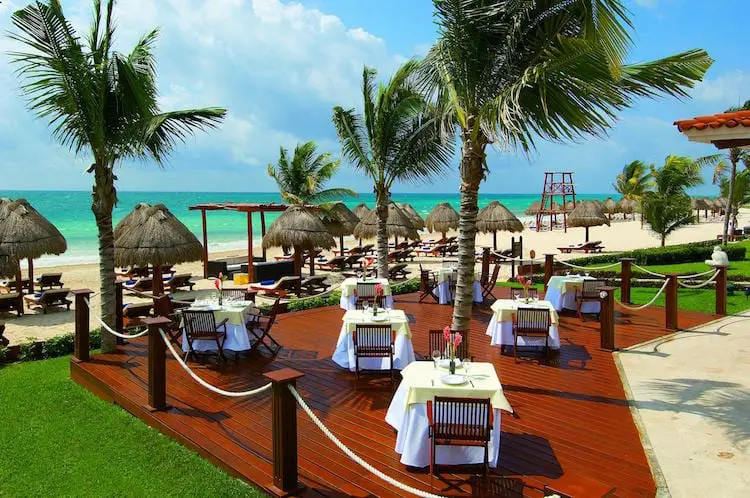 White sands and 50 shades of turquoise!
I really enjoyed the green lawn and decking next to the sand as it really opened the beach area up to feel spacious and breezy.
…Picture yourself sitting at one of these tables sippin' on an ice-cold Pinot Grigio under the swaying palm trees.
Ahhh – sign me up (again)!
5. Food & Drink
My favorite thing about this hotel?
The fact that you can dine at ANY of the restaurants without the need for reservations.
Say what!? That's a pretty rare notion at any hotel in the Riviera Maya.
In this respect, the hotel really did live up to the concept of 'Unlimited-Luxury'. If you have read any of my hotel reviews before you will know I hate nothing more than having to plan ahead on vacay, and not being able to act spontaneously.
Most people worry that this means you might have to queue to get into an eatery, I never found this to be the case here.
It seems the hotel was extremely well-versed in its dining experiences and handled it all seamlessly.
Enjoy meals at the main buffet restaurants or at one of the many specialty restaurants that include Asian, Italian, Mexican, and Seafood.
Restaurants rotate throughout the week allowing you to try a variety of gourmet options.
The Asian restaurant does have a small number of tables that surround the chefs doing fancy things and tricks, and these do have to be booked in advance.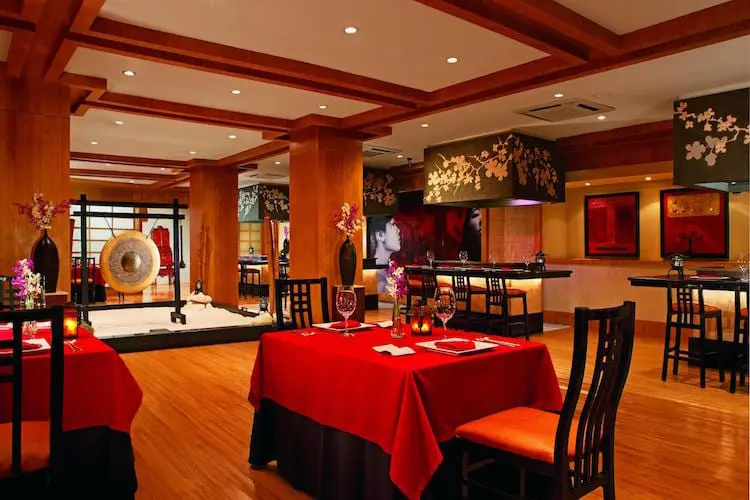 An extra bonus at the Secrets Capri is the options available for nutritional and dietary preferences.
Menus include gluten-free, organic, low-carb, vegetarian and high-protein options.
They even have an on-site nutritionist to assist and advise you. This kind of dedication to food preferences in the Riviera Maya is unrivaled!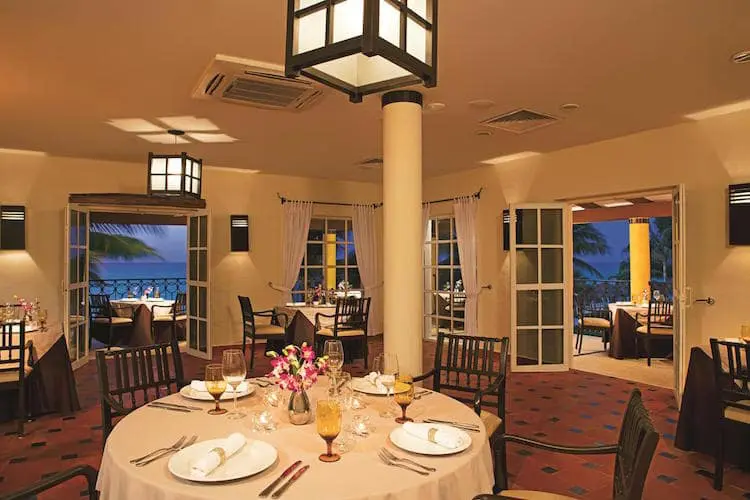 The decor is a little dated in parts but hey, it's almost like going back in time which is kind of cool and the food definitely makes up for appearances.
Mmmm I'm hungry again just thinking about it.
6. Pools & Activities
The pool was large and the focal point of the open area outside.
Unlike most hotels, there is only 1 pool for everyone to swim in at the Secrets Capri.
This area is a little tired-looking and in desperate need of an update.
On the plus side, it is wheelchair accessible and the pool bar staff are simply the stars of the show – especially Juan!
I'll remember that guy forever.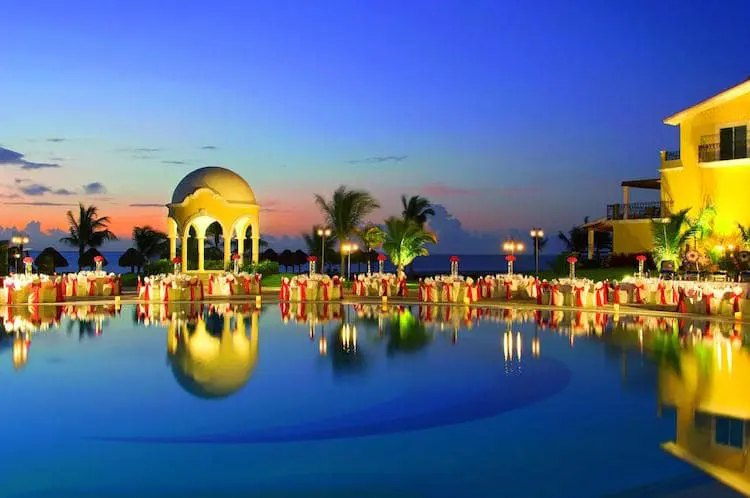 There are plenty of  exciting activities to be enjoyed at the Secrets Capri resort including:
Windsurfing
Kayaks
Snorkeling

S

ailing
Volleyball
Tennis
Archery
Cooking Classes
Photography Classes
Jogging Path
Tai Chi
Yoga
Pilates
Beachfront Spin Classes
The games room reminded me of an old American film.
It was painted a deep red color and was a little dingy to my tastes, however, it did inspire a good old English pub ambiance for a game of pool or drink with your friends or partner.
As a Brit, I could appreciate it on some level.
7. Nightlife
Secrets Capri does an incredible job of entertaining guests of all ages.
Expect hypnotists (such as Danny Doyle), Queen tributes, El Divo, The Beatles and more!
Nightlife at this resort goes on till at least 1 am so you won't be bored for things to do in an evening.
Although, I recommend taking at least one evening out of your stay to visit downtown Playa del Carmen and walk along 5th avenue.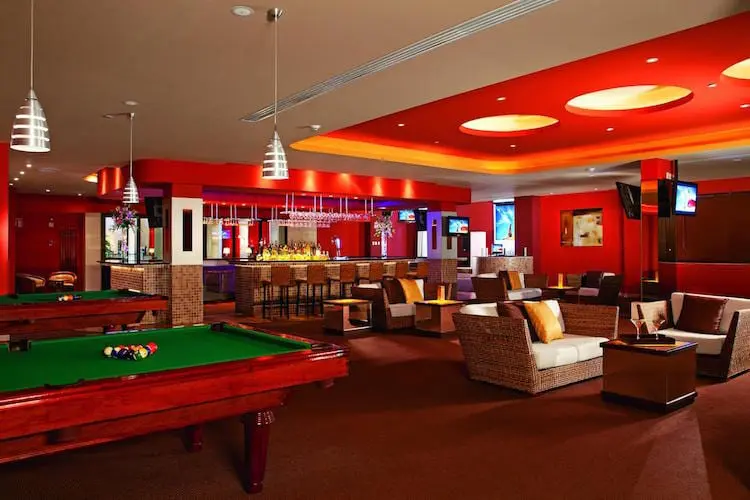 With any adults-only resort, of course, it's a magnet for couples, however, I did notice it was more of an older crowd here so I would definitely bear that in mind when booking.
If you're a young couple in your late 20s this place probably isn't for you.
Desires Bar is the place to go for dancing and music.
8. Spa
Secrets resorts, in general, are hailed for their world-famous Spas by Pevonia. It doesn't matter which one you visit the service at these spas does not falter.
With more than 1,200 m2  the magnificent Spa at Secrets Capri Riviera Cancun offers several incredible options to pamper yourself.
This place is a hidden jewel in my opinion and I would make a point to visit at least once during your trip.
Choose from treatments such as:
Seaweed body wrap.
Swedish massage
Exclusive facial Secrets.
Aromatherapy with salts.
Massage with aromatherapy.
Luminous Facial "C" and Sea.
Spa Pedicure or Spa Manicure.
Hot stone massage.
Exclusive facial Secrets.
Spa Pedicure or Spa Manicure.
Spa pedicure and Spa manicure.
Hair treatments
Couple massage in a private and relaxing setting.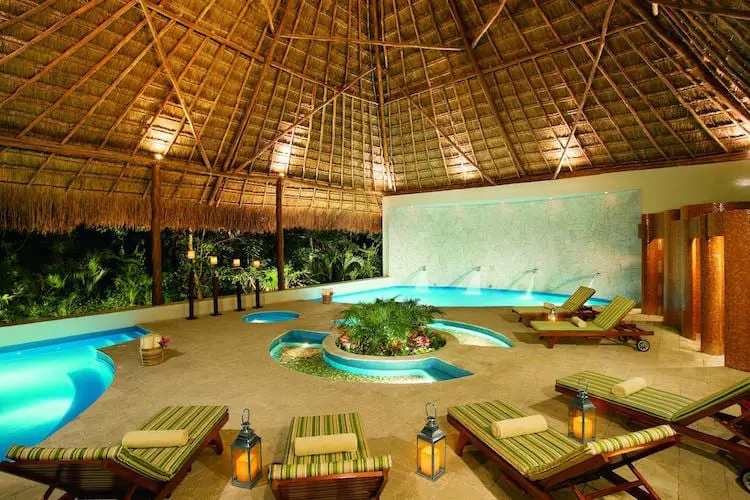 The only thing that nags me about Secrets Spas is that they can get a little pricey so I would recommend budgeting for this.
When you pay good bucks for a luxury all-inclusive I always feel like I'm deserving of at least some pampering for free.
Maybe that's just me?
Hopefully, a hotel owner somewhere in the world sees this and takes note because I'll be the first person to stay there if that's the case. 😉
9. Weddings at Secrets Capri Riviera Cancun
I can hear the clinking of glasses already!
Have you ever dreamed about having a destination wedding as opposed to a traditional one?
Do you see yourself in your wedding photographs stood on powdery white sands with your love under a swaying palm tree?
Look no further.
Here at PlayaDelCarmen.Com we have our own dedicated weddings team and plan 100s of unforgettable events each year – our 100s of reviews do attest to that.
With so many hotel locations and packages to choose from in the region, we make sure you choose the right one for you and your group, and, of course, within your budget.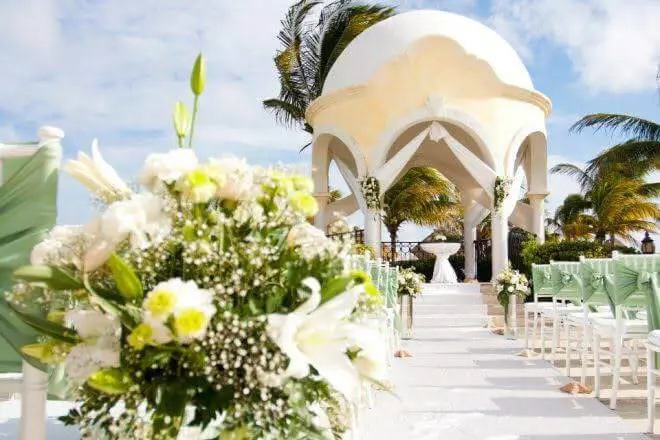 At the Secrets Capri, there are a number of ceremony and reception locations available.
However, my favorite for the ceremony has to be the white Gazebo pictured above. When it's decorated it looks simply stunning!
Our wedding planners will be able to show you pictures of all the locations and explain the details of each package at this resort in detail.
There are also great options for anniversaries, renewals, and honeymooners too.
Start Planning Today
Planning something from afar doesn't have to be stressful with an expert on your side.
We will be with you every step of the way and best of all it comes at no extra cost to you.
Our team simply works hand in hand with the hotels to ensure that everything runs smoothly with no detail overlooked.
Not only that, but we can help take care of the logistics for your group helping them with accommodation, transport, and more!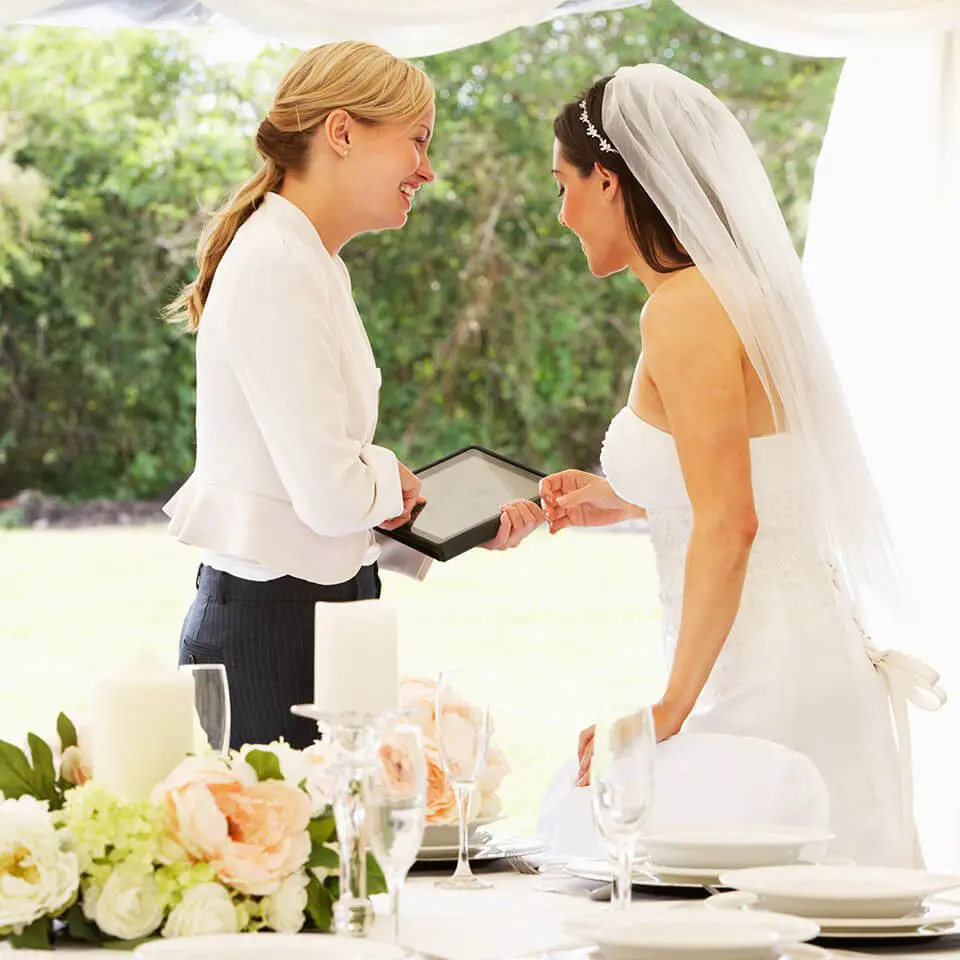 Talk to us today
Start planning your big day email us at weddings@playadelcarmen.com  or alternatively you can call us directly on our toll-free number 888-537-9797. 
10. Save on Secrets Capri Riviera Cancun
As a local agency based in Playa, we offer exclusive rates at this hotel!
Discuss your next vacay with one of our expert travel consultants here at PlayaDelCarmen.com.
We know these hotels like the back of our hand and will only ever provide you with honest and unbias advice.
Give us a call on our toll-free number 888-537-9797
Or
Alternatively, contact us via email at customercare@playadelcarmen.com
Have you stayed at this hotel before?
Don't forget to leave your thoughts in the comments section, we would love to hear from you. 🙂 Tell us what you thought of Secrets Capri Riviera Cancun.
Paradise awaits…
My Secrets Capri Riviera Cancun Review
Layout & Decor

Location

Rooms

Beach

Food & Drink

Pool & Activities

Nightlife

Weddings

Spa
Summary
Dated furnishing and decor.  Definitely more suited to the older couple who enjoy that kind of thing, but overall an extremely homey place. Great food, exceptional service and value for money. A solid contender for your next trip to the Riviera Maya.
---
Trending Now