My Honest Review of The 'Secrets Akumal' Resort 2023
---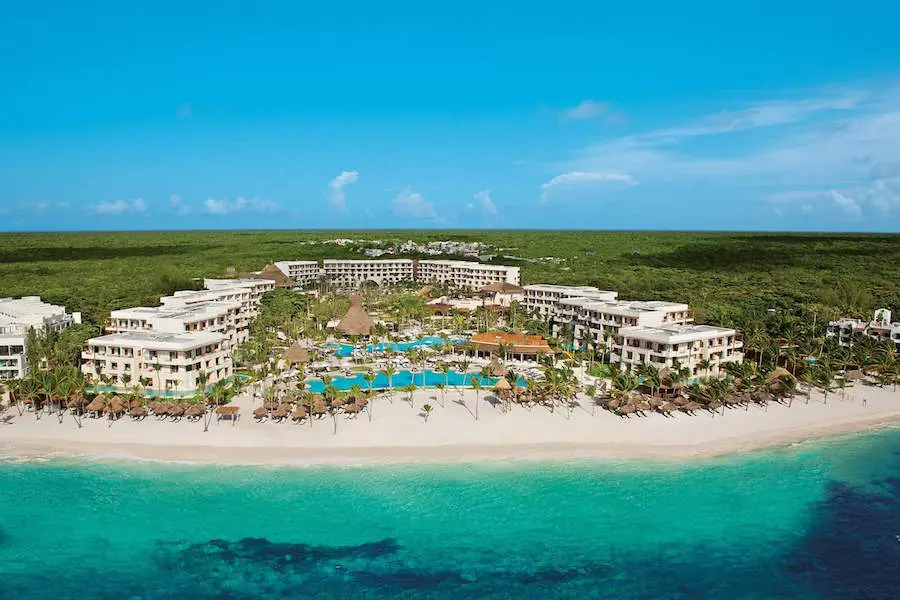 Introducing the  Secrets Akumal resort and spa!
Have you found yourself in desperate need of a vacay?
Hell yes! Live a little.
Crystal clear waters, powdery white sands…the tropical breeze brushing through the palm trees. It's time!
You deserve this.
Around a month or so ago my other half treated me to a night in the Secrets Akumal Hotel for my birthday.
(He's a keeper ;)) 
After soaking up the lavish luxury and ambiance, here's my review of this hotel.
My Secrets Akumal Resort Review
Get ready… I'm about to lay it all on the table.
---
1. Location of Secrets Akumal
At first, I had no idea where we headed on this little adventure.
He had kept it a surprise.
But as we traveled down the highway it became apparent from the signs we were headed for Akumal!
Yipppee!
For those of you that aren't local or don't know, Akumal is home to one of the most beautiful beaches on the Riviera Maya.
It was actually voted one of the top 10 beaches in Mexico on TripAdvisor not so long ago.
It's the perfect place to enjoy powdery white sands (seaweed permitting) and snorkel with giant sea turtles.
After traveling around 30 minutes south of Playa del Carmen we arrived at the Adults-Only Resort – Secrets Akumal!!!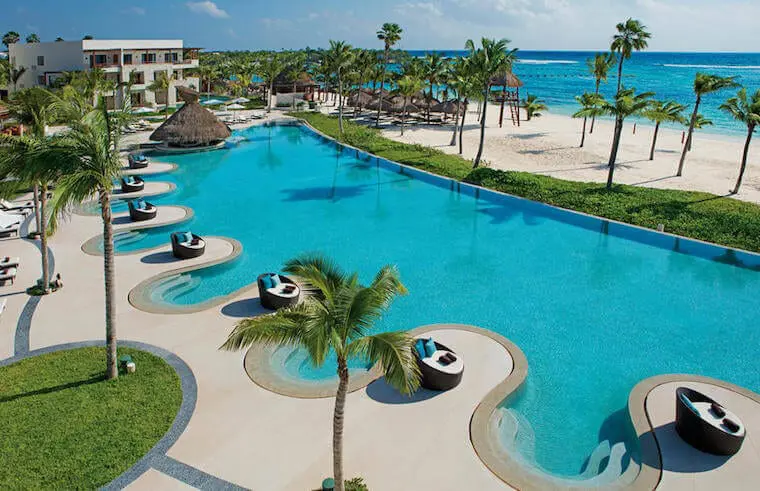 *big cheesy grins*
We were greeted on arrival with champagne (felt like a total ROCKSTAR) and were offered a homemade cookie (which was delicious).
This area was exactly what I was craving.
You see, Akumal is removed from the hustle of Playa and is very luxurious, quiet, and relaxing.
A prime spot for refined travelers seeking excellent service in a sophisticated environment.
2. Hotel Overview
Before I dive right into our experience here's the hotel overview:
434 suites
 3 swimming pools
9 restaurants
6 bars and lounges
Spa
Fitness Center
Group Events

D

estination Weddings
Secrets Akumal has been open for just 4 years and offers an adults-only all-inclusive stay.
It's one of the newer hotels in the region.
The grounds are incredibly beautiful and it's not TOO big.
Which I love…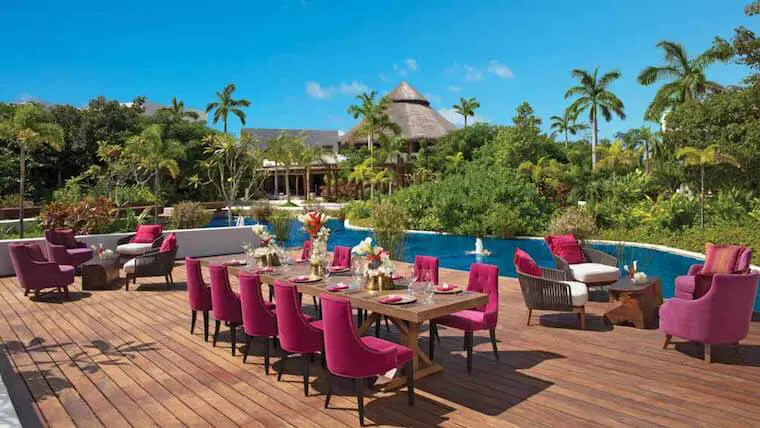 I'm not a huge fan of ridiculously sized resorts (that take you a week to explore) they're pretty exhausting and getting lost all the time isn't my idea of fun.
That said the hotel is roomy enough it feels spacious and uncramped.
3. Rooms & Suites
Each of 434 guest suites comes with a furnished balcony or terrace.
Swim-up suites are also available so if you have extra cash to splash I would definitely recommend!
They are stunning.
One king bed or two double beds are available, plus a double jacuzzi. There's nothing better than a good soak after a hard day on the beach. 😉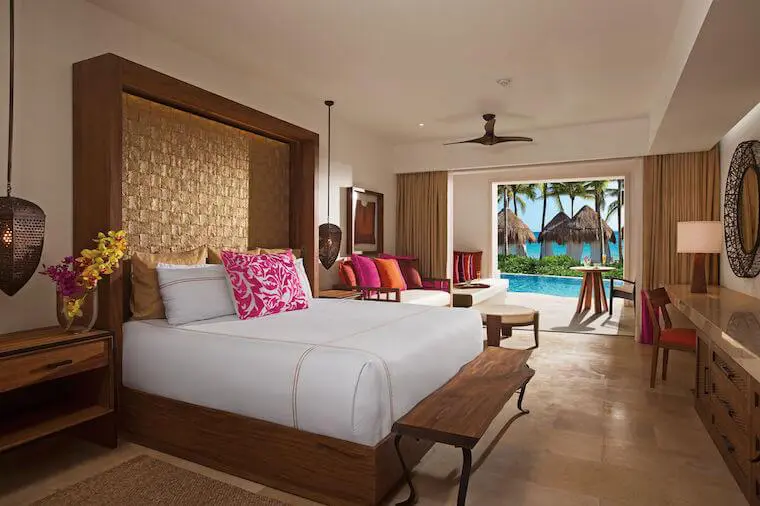 The rooms have a minibar which is stocked daily and even come with a REAL coffee machine (espresso pods) – it's all included,  so go nuts!
You can even order room service via the in-room iPad!
Not to sound like a total grandma but "TECHNOLOGY THESE DAYS"!
In the morning, we decided to live the dream and get breakfast in bed before we checked out.
The best part?
You don't even have to speak to anyone, you order by iPad and its delivered to your room via a secret hatch!
We used this stay as an opportunity to disconnect and spend some quality time together but there is free wireless internet through the hotel's connectivity program.
The view varies depending on the category you book.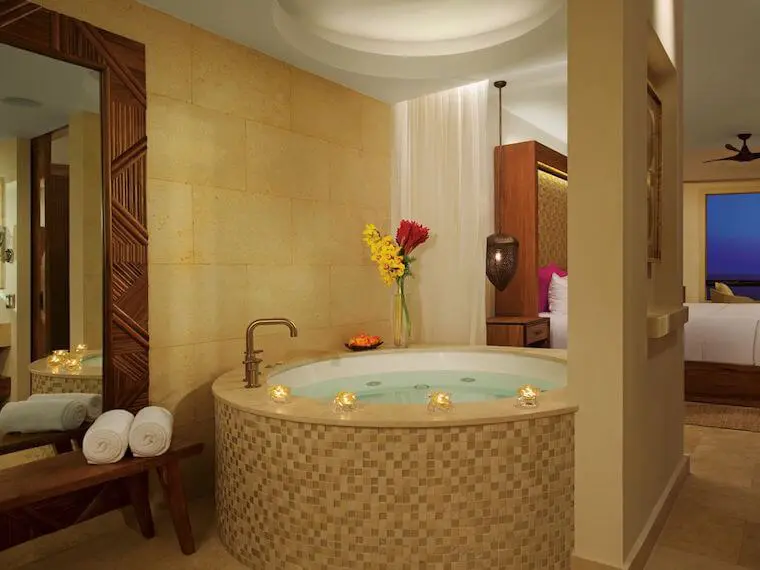 Your options include:
Tropical view
Oceanview
Oceanfront or even a swim-up suite with a semi-private pool right off your terrace
Choose the preferred club for a little extra pampering
Private check-in and check-out
Access to the preferred club lounge which offers continental breakfast hors d'oeuvres, exquisite desserts and fine liquors
Upgraded room amenities
Preferred Club Suites in Premium Locations
4.The Beach
A resort in the Caribbean without a great beach is like pizza without the cheese.
This hotel definitely did not disappoint, the beach at Secrets Akumal is gorgeous, wide, and breathtaking.
We were in luck because recently the seaweed in this region has been a little bit of a problem, albeit it's getting much much better (but can change from day-to-day).
During our visit, there was only a tiny slither of seaweed.
It was very clam and the turtles were right there! 
You could see them clearly if you went out far enough you can see them!!
It was magical.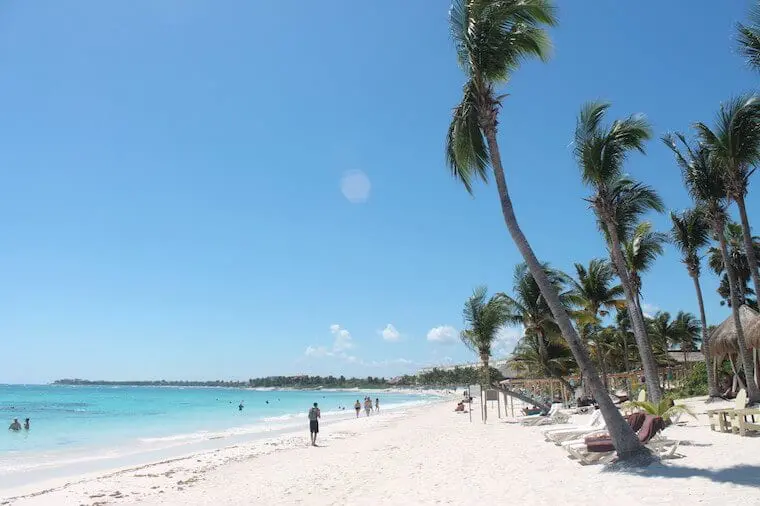 Secrets Akumal has snorkel equipment you can hire but it is also cheap to buy some locally if you want your own.
A lot of people were using the full face snorkels but these are not for hire you would have to purchase them in Akumal at a shop.
Well worth it!
The water was crystal and it was a lot of fun swimming around exploring the wonders beneath the surface.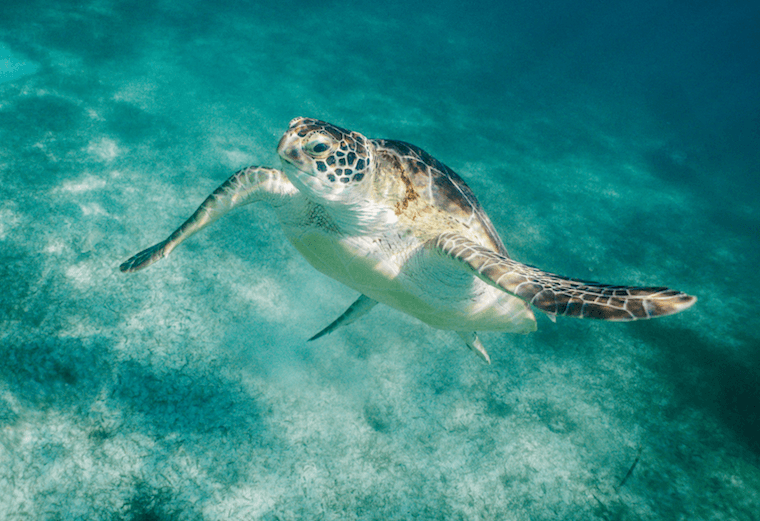 5.Food & Drink
I'm a real foodie so this section of the blog is probably my favorite!
The drinks by the pool are waiter-served and they never leave you long without a drink in hand.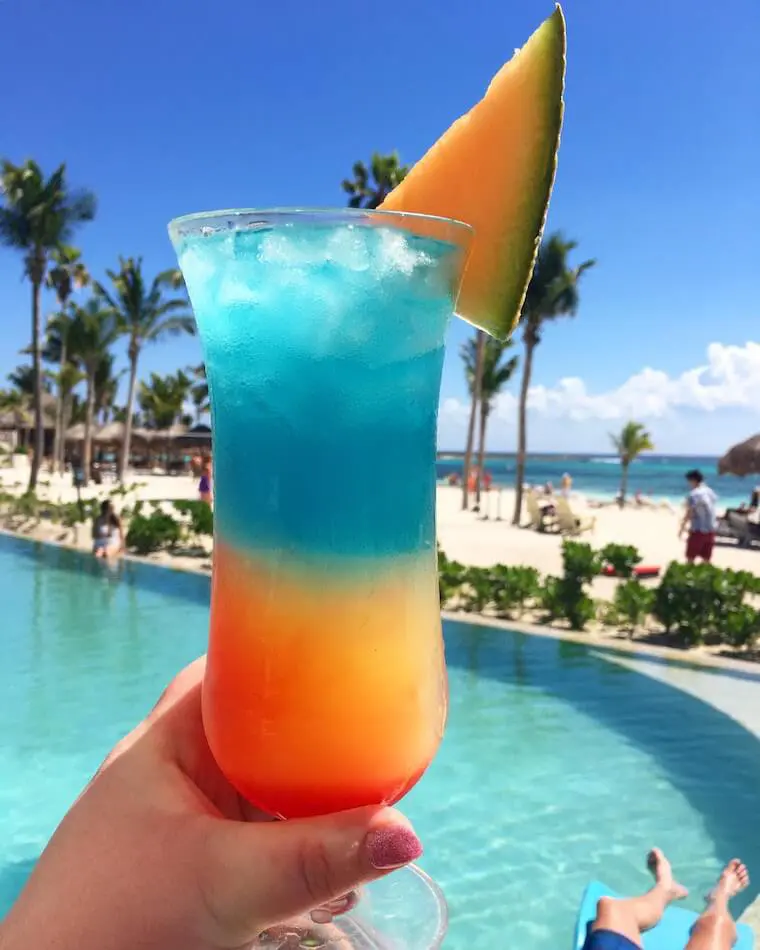 Service was impressive, and always with a smile.
As soon as you are getting low on your beverage they are there offering to get you another, you literally don't have to move if you don't want to.
Relaxation at its finest! I felt like a Caribbean goddess. Best. Birthday. Ever.
The snacks by the pool are also waiter-served if you want them to be.
However, you have the option for a la carte lunch or buffet style if you wish.
The food is amazing, I ate in the main buffet for breakfast, it was super yummy, and a huge choice but really high quality and even a chocolate fountain!
For the first evening, we are in Italian and this was a la carte.
You must have long trousers for the men in the a la cartes however if you don't have them they will allow you to sit outside instead of inside the restaurant but obviously that was super hot with the weather.
They had premium alcohol which was a bonus.
The last evening we just ate at the buffet for the evening and it was equally as nice, they had beef wellington and a huge range of food to choose from, although there wasn't a huge range of desserts.
I'd have loved to have more time there to try all the restaurants because the culinary techniques and skills used to create dishes were exquisite.
The unlimited luxury concept available at the Secrets Akumal removes any need for reservations at any of their 9 restaurants.
Choose the following options:
Market Cafe (buffet)
Seaside Grill – poolside grill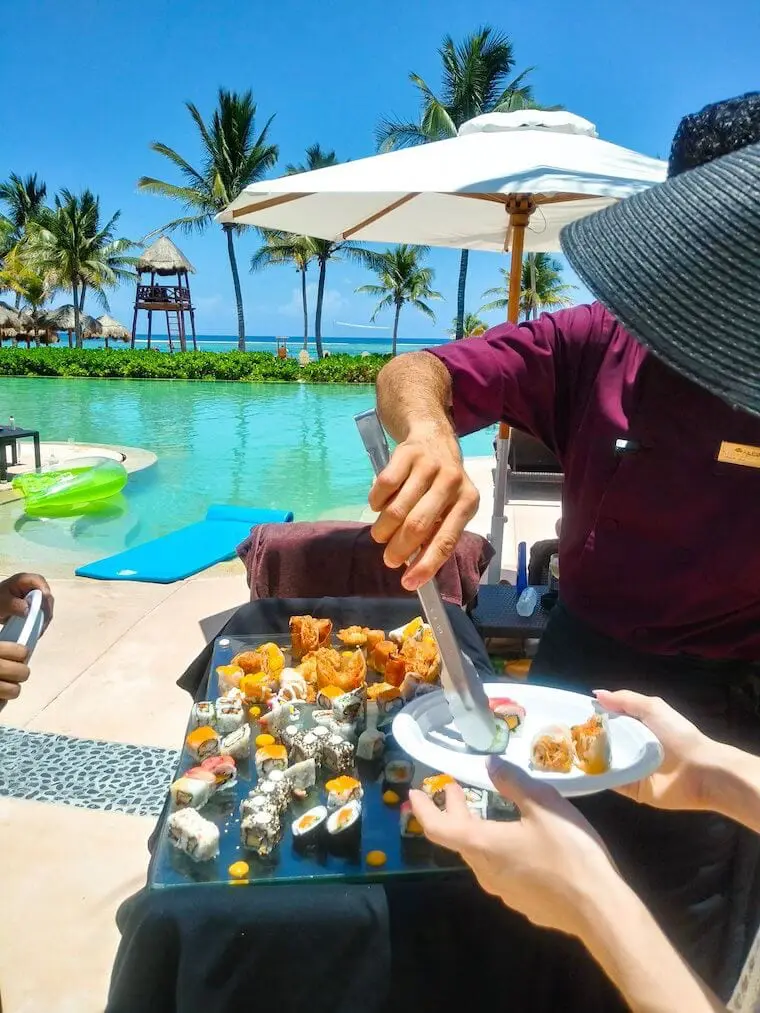 Barefoot Grill – light lunch specialties
Himitsu – Asian
Portofino – Italian
Bordeaux – French
Coco Cafe – fresh coffees, pastries and desserts
El Patio – Traditional Mexican
Oceana – Seafood
There are 5 bars throughout the resort offering unique cocktails, cold beer, and fresh drinks.
Choose the swim-up bar, lobby bar, lounge music bar, or a beach bar.
Waiter service in the pool and beach areas make it even easier to indulge in a drink or two.
Good to know…
A stay at this resort also means you can enjoy meals and entertainment at 6 other resorts.
Yup,  from 6 pm through until 1 am you can visit a range of other resorts to enjoy a meal and nightly entertainment.
You can make a reservation with the concierge for any Dreams, Secrets or Now resort in the area.
Transportation is extra and certain conditions apply.
6.Sports & Activities
At Secrets Akumal, I loved the fact that there was more than one pool.
One of them was dedicated to activities such as water polo and aqua aerobics, etc, and the other was for relaxing and basking in the sun.
They even have the floating lilo things included as part of the hotel no extra charge so you can see one and grab one and go floating away in the pool.
Just be careful not to fall asleep, or if you do lather yourself in sunscreen first.
The sun loungers have huge cushions on and headrests, so they are super comfy and unlimited towels are included,  you just help yourself to them as and when you need them.
You can be as active as you want to be at the Secrets Akumal.
Daily activities, games, sports and nightly entertainment is available.
This includes:
Nightly entertainment with live shows
Special Events
Tennis Courts
Bike Tour
Ping-Pong
Yoga
Paddle Boarding
Zayak Boarding
Hobie Cats
Snorkeling and sailing
Beach and Water volleyball
Dance lessons
Cocktail making classes
Archery
Football
Batting Cages
Euro Bungee
Rifle shooting
7.Entertainment
Nightly entertainment can also be enjoyed.
During our stay, we saw a singer/band who were super good and then after this, they sometimes had a show in the same area.
This is all outside and there are some inside spaces to sit but it is all open so not air-conditioned.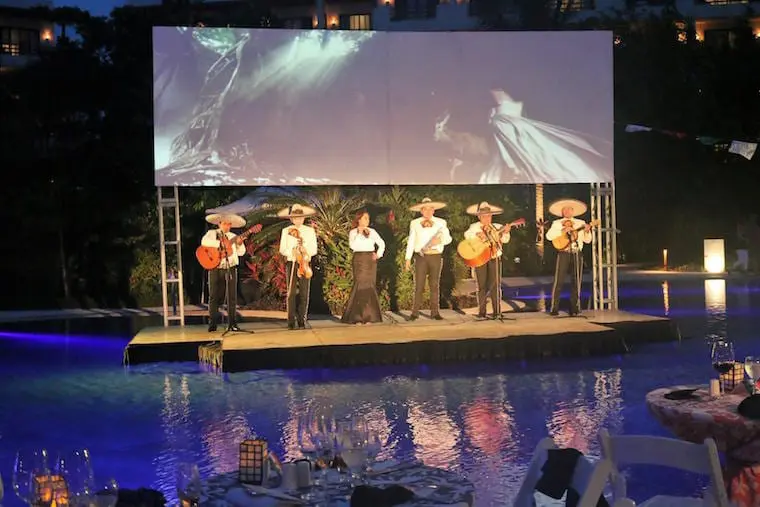 They also do have a theatre that offers other shows but we did not see any as the night we were there they didn't have any on.
They do have a disco area but we only went to look and they had karaoke at the time we were there but it was very full, and honestly, when the hotel is full this area I can imagine would get too crowded, it was small space for the number of people the hotel holds.
8.Golf
If you enjoy a spot of golf while away on vacay guests of the Secrets Akumal can enjoy privileged rates for golf at the Riviera Maya Golf Club.
Located just north of the mesmerizing Akumal Bay, the Maya Riviera Golf Club is a magnificent 27-hole golf course.
It winds through the jungle, cenotes, and lakes to offer golfers of all levels a fun, challenging round in the tropics.
Designed by the world-renowned Robert Trent Jones II, this challenging course just south of Akumal expertly blends the stunning natural wonders of the Yucatan Peninsula with modern, world-class course design.
In addition, for those short of time, the Maya Riviera Golf Club includes a fantastic 9-hole, par 27 golf course.
Course Architect: Robert Trent Jones II
Year built: 2010
Holes: 27
Par: 72/27
Turf:  Paspalum
Course length and slope rating
Length: 7,272 yards
Slope: 137
Rating: 75
Tee times: 6:30 am. – 5:00pm (1:00pm for twilight)
Talk to one of Travel Liaisons today to get you all booked in.
9. Spa
You deserve to be pampered and the Pevonia Spa was designed with you in mind.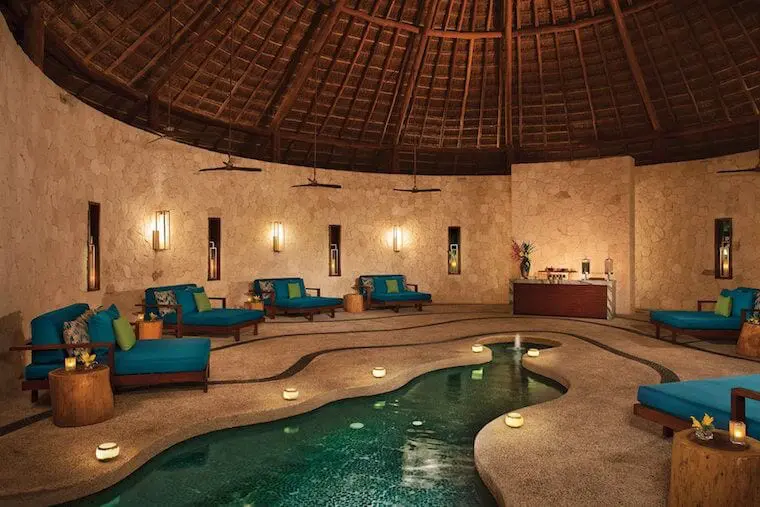 18,000 square feet of indulgence through hydrotherapy, specialty services, and a full beauty salon is waiting for you.
Treatments include:
Seaweed Wrap
Swedish Massage
Secrets Exclusive Facial
Aromatherapy Salt Glow
Aromatherapy Massage
Luminous "C" and Sea Facial
Spa Pedicure or Spa Manicure
Hot Stone Massage
Secrets Exclusive Facial
Spa Manicure and Spa Pedicure
Spa Manicure
Hair Treatment
Side-by-side massage in a serene private escape
And much, much more.
10. Weddings and Groups
Secrets Akumal Riviera Maya offers three romantic wedding packages.
With abundant options to personalize, find the perfect wedding package then make it your own.
Their packages start from $999 USD.
With a number of different locations, settings, and sceneries you really are spoilt for choice. Your dream wedding starts here.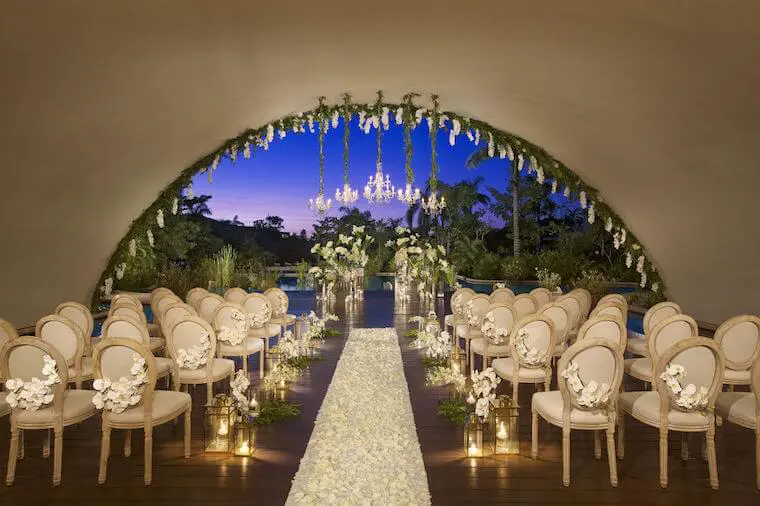 Luckily for you, our weddings team here at PlayaDelCarmen.Com Weddings help to plan 100s of wedding each year.
Our team know the hotels better than anyone and can help you plan your perfect day without stress, and within your budget.
We understand planning something away from home can be a little daunting but our planners will be there from start to finish to make sure everything runs smoothly.
Akumal is the perfect place for your destination wedding.
For Groups
Whether it's a girls getaway or an incentive group, the Secrets Akumal has fantastic group rates available.
The ballroom can accommodate up to 600, 300 classroom style and there are several breakouts available.
Talk to us today.
Book The Secrets Akumal Resort Today!
Overall Secrets Akumal is probably in my top 3 favorite resorts to stay at.
As a local agency, the best news of all is that I can get you exclusive rates and ensure you get all the best perks and discounts available.
Call us toll-free at 888-537-9797 today!
Or
Alternatively, email us at customercare@playadelcarmen.com
Secrets Akumal Resort Review
Location

Rooms

Food & Drink

Beach

Spa

Golf

Weddings

Activities
Summary
The best adults-only escape you can dream of. Everything from the service, food, to the hotel's design was simply impeccable! I cannot wait to stay here again, it's in my top 3 hotels  I've stayed at ever. Hats off to the team and staff at Secrets Akumal for making this a truly memorable stay.
---
Trending Now