My HONEST Review of the The Reef Playacar Hotel in Playa Del Carmen
---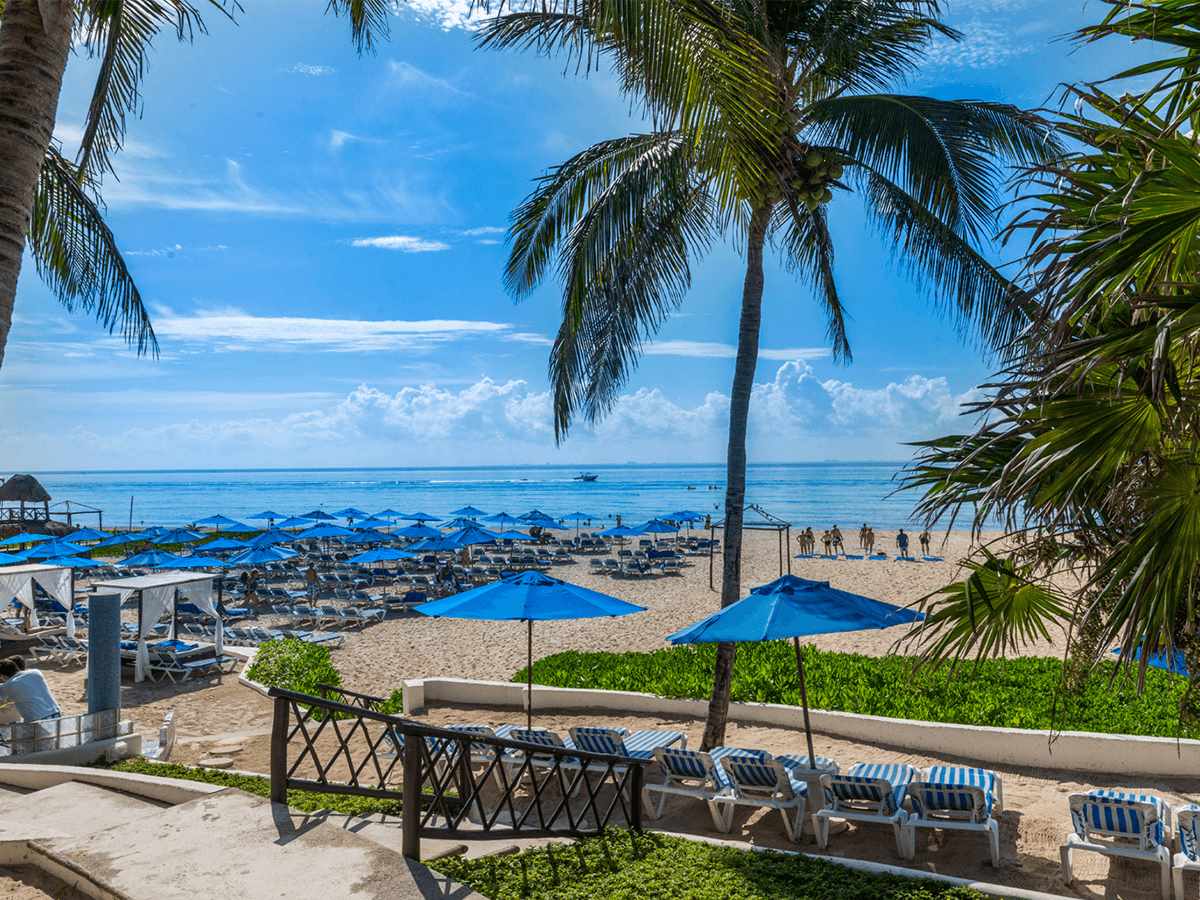 Playa's very own version of Sir David Attenborough, nature guide Barna Takats, takes his intrepid travels on the road, this time to tell the tale of yet another fancy resort in his fascinating and candid Reef Playacar Hotel review.

I'll be honest. I didn't expect much from this hotel.
With the bar set low, I spent 3 nights at the Reef Playacar to see if the hotel and its staff could change my mind.
They could and did, which is why I would recommend it as a more than worthy hotel of all the Playa del Carmen hotels.
Let me explain why…
My Reef Playacar Hotel Review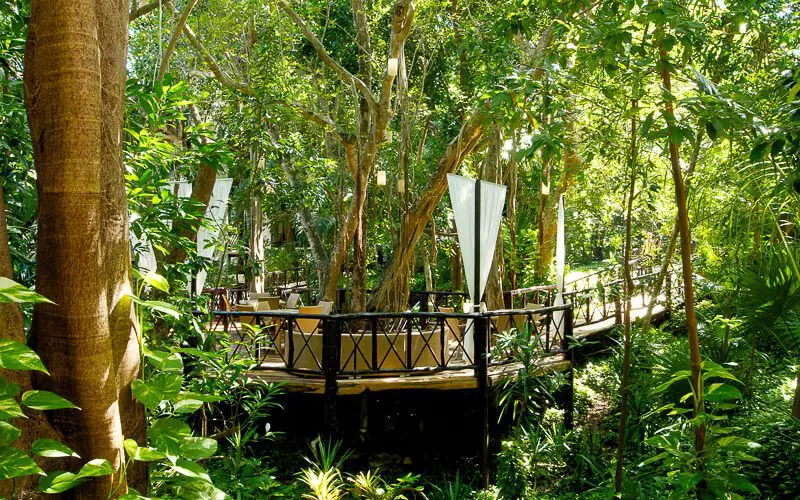 This is one of the cheapest all-inclusive hotels in the area, and it's located within walking distance from downtown Playa del Carmen.
The beach is great and the hotel grounds are amazing, making you feel totally in the jungle.
We really enjoyed our time at this hotel. We had surprisingly nice dinners every night, and if we were drinkers, we could have selected from a great variety and quality of drinks.
Of course, this is because we had the premium package, which is the way to go if you like quality drinks and fine dining (more on that later).
Reef Playacar: Perfect In Its Own Way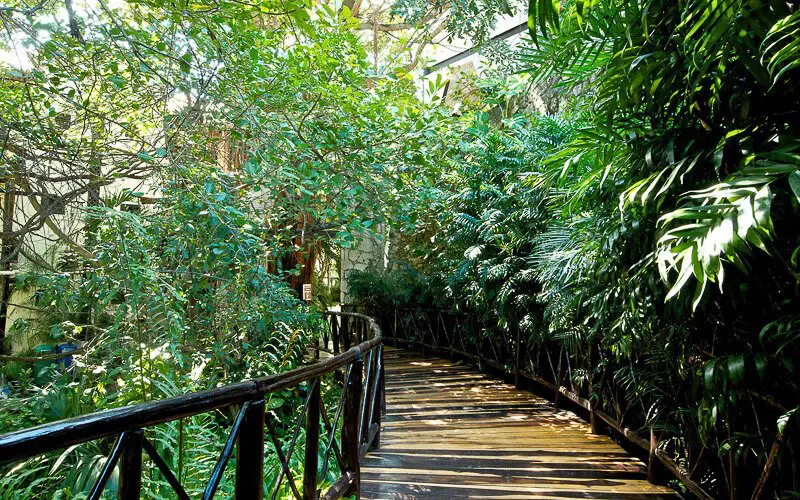 With 196 rooms, the Reef Playacar Hotel is one of the smaller all-inclusive resorts in Playa del Carmen.
The rooms are divided in small, three-story villas, with 12 rooms per building. All of them are inside the jungle.
I am not exaggerating either; all the buildings are surrounded by beautiful lush vegetation, which we really loved.
If you are coming from a non-tropical area to spend your vacation in the Caribbean this is one of the best views your balcony can have in my opinion.
The layout of the hotel is simple. You start in the lobby, pass all the rooms walking westward, where you arrive at the beach as well as the restaurants and buffet.
It's impossible to get lost, but somehow it still feels just big enough.
There are small benches to sit on here and there as well as waterfalls and hidden corners to have a nice talk or drink at without any crowds around.
Reef Playacar Rooms: Recently Renovated & Very Nice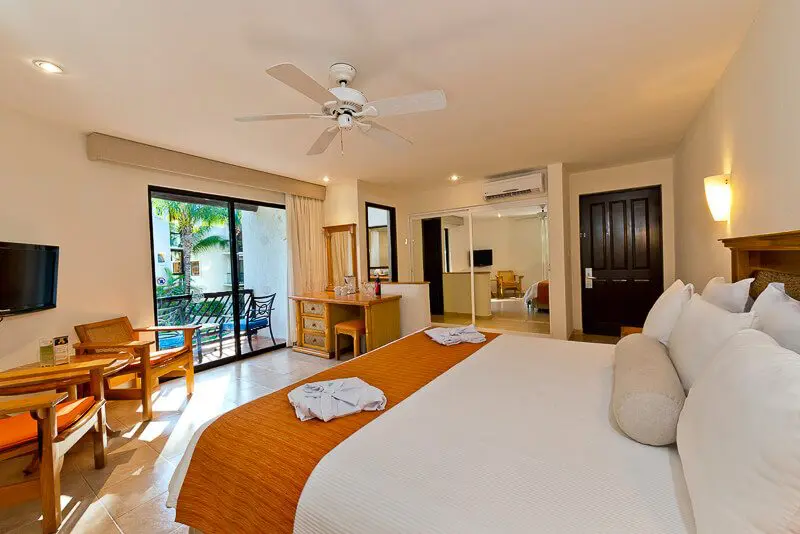 I can only write based on our room, but I would say that the rooms are spacious and have a very good vibe.
They are simple, but again, delivering everything you need: comfortable bed, new and silent A/C, decent sized flat screen TV with channels in English and Spanish, an alarm clock which you can hook-up with your phone and use it as a speaker, and a safe which could easily handle my 13" laptop.
The bathroom proved big enough, with a renovated shower and everything working to perfection.
I really couldn't complain about anything regarding the room.
We stayed on the ground floor facing the path which crosses the whole resort.
We did wake up in the morning because of the noise, someone was pushing some carts around. It wasn't too early, however, if you want more silence you should probably opt for an upper floor room facing the back of the hotel (towards the RIU next door).
Do be aware when requesting a room that there are no elevators in the buildings.
How is the Reef Playacar Beach?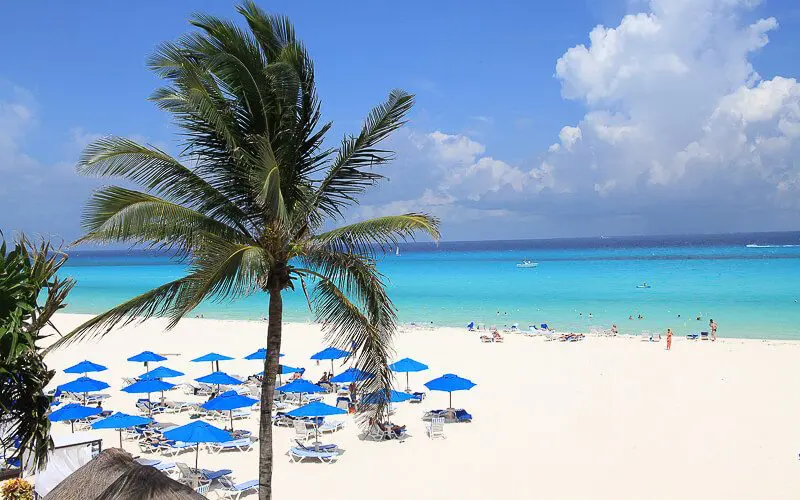 Playacar has one of the greatest beaches in the whole area, so it should come as no surprise that one of the Reef Playacar's biggest strengths is its awesome stretch of sandy beach paradise.
The resort itself isn't very wide so the beach isn't too long either. Nevertheless, it's still a huge area to enjoy.
In many other places, erosion has made the beaches almost disappear, but that's not the case in Playacar.
In fact, the Reef Playacar beach is spacious, with enough room for 10 plus rows of sun tanning beds and loads of properly shaded Bali beds.
And if that's not enough, the hotel has incorporated multiple elevated areas between palm trees where you can enjoy the sun and amazing beach scenery.
But a beach is nothing without water-sports, and The Reef Playacar delivers in this aspect as well.
The Reef Playacar has kayaks, standup paddle boards, and small sailing catamarans to use free of charge.
There is also an on-site dive center as well for those who are looking for snorkel or scuba tours that leave directly from the resort.
If you prefer to stay dry there is a great beach volleyball court as well right next to the massage hut.
And if you need some tender-loving pampering, you can also opt for a relaxing massage while listening to the waves of the Caribbean in the background…
Reef Playacar Pools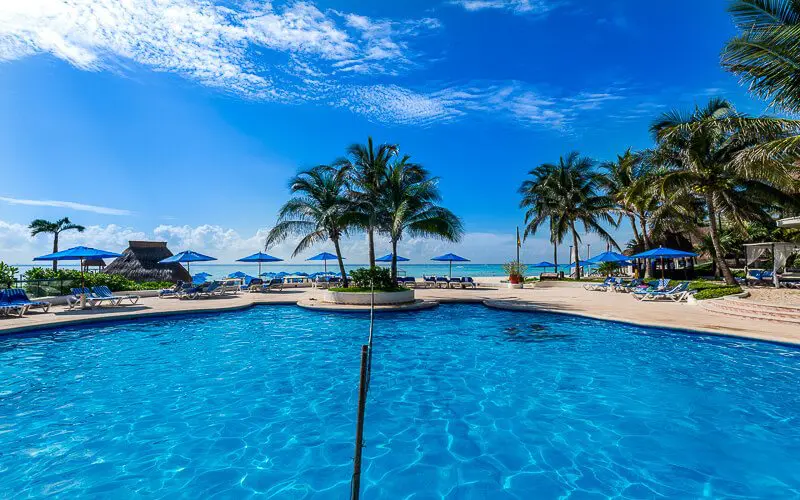 There are 2 pools at Reef Playacar.
Both are close to the beach but they attract different "crowds".
The first pool has a swim-up bar and the entertainment team is concentrated closer to this pool. In other words, this is where you find the music, dancing, drinks, and fun.
The second pool is set up to play basketball in the water and also the free scuba diving demo happens here, so this pool is more for the active ones.
Both pools are surrounded by lounge chairs and you have plenty of choices between sunny or shady areas.
There is also a snack bar and a pool bar just a few steps away, so it's pretty easy to spend a whole day around these 2 pools.
The bars, the music, and the entertainment team will make sure you're having fun at all times.
Food at The Reef Playacar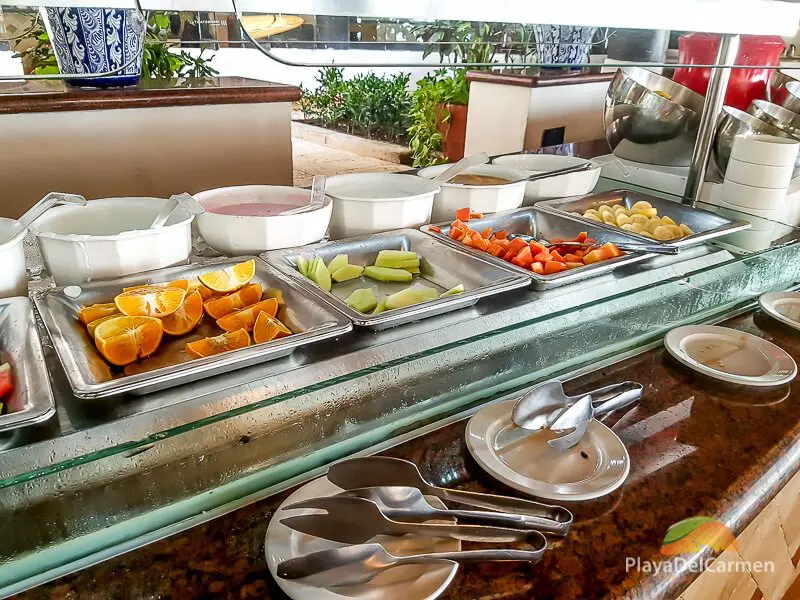 We really ate well at The Reef Playacar.
Just don't expect salmon and brie during your breakfast buffet and you'll be fine.
Go for the local chilaquiles, omelets or the dozens of different options like pancakes, french toast, fruits, yogurts, and cereals. Try to keep it a somewhat nutritious and filling breakfast.
Service is excellent at the buffet and there are plenty of good choices to keep you happily fed for the week.
I have to admit, we occasionally found ourselves skipping a proper lunch because of snack bar food and or a gigantic ice cream sundae at the inviting ice cream parlor next to the lobby.
The snack bar clearly pleasantly surprised me.
It's not a buffet, more like full snack meals and they encourage you to order a half portion if you're not that hungry. This environmentally conscious approach is really an example other resorts should follow. And the snacks are actually quite good.
I enjoyed their simple nachos and was actually impressed by their hamburgers. Don't expect a restaurant quality burger, but for what it was (poolside fast food at an all-inclusive) it was better than burgers I've tried at some premium hotels.
Being a burger lover, I really enjoyed and used/abused this treat on a daily basis.
For many foodies out there, the deal breakers often revolve around on-property "à la carte" restaurants.
Reef Playacar Restaurants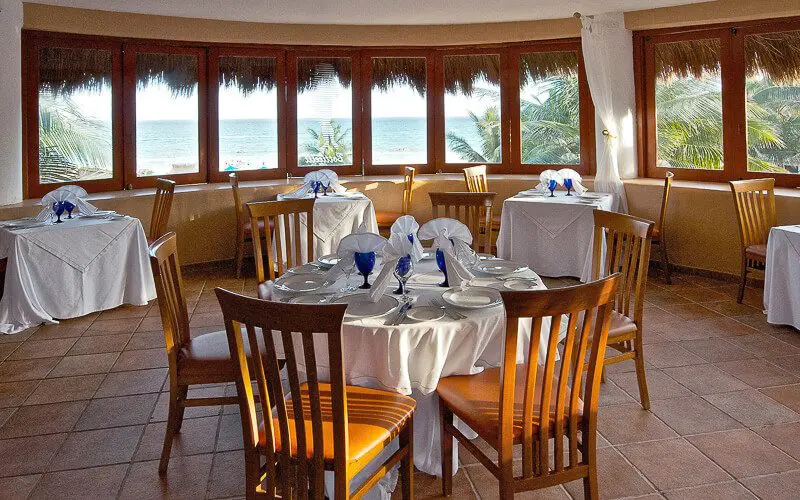 There are 2 à la carte restaurants at Reef Playacar
The first is a Mexican grill. The second is an Italian restaurant.
Both have a simple decor and are located above the buffet restaurant.
That said, however, simply does not mean (in this case at least) poor quality and both restaurants had pleasant staff and were cozy little getaways to enjoy an evening meal.
Mexican grill
The Mexican grill restaurant had a selection of simple and very tasty meat and fish dishes, and their grilled vegetable sides were delicious.
We tried a grilled fish with some curry spicing and beef fajitas. Both plates were superb with bold, refined flavors and sizable servings.
The "Tres Leches" cake was an excellent choice for dessert.
We were not drinking but house wines are included in the meal. They also have a selection of wine and Angus steaks for an extra charge.
Italian restaurant
The Italian restaurant has a similar cozy and simple decor to it as the Mexican grill. In the middle, there was a salad bar with veggies, bread, cheese and a variety of vinaigrettes.
We tried the risotto (and actually the next day came back for it), which we really enjoyed, and had a breaded chicken dish with rosemary.
I would say the flavors were not entirely "Italian" but like a nice homey little Mexican-Italian restaurant, which in my case is a compliment.
We definitely didn't feel like we were in a big hotel restaurant where everything tastes the same.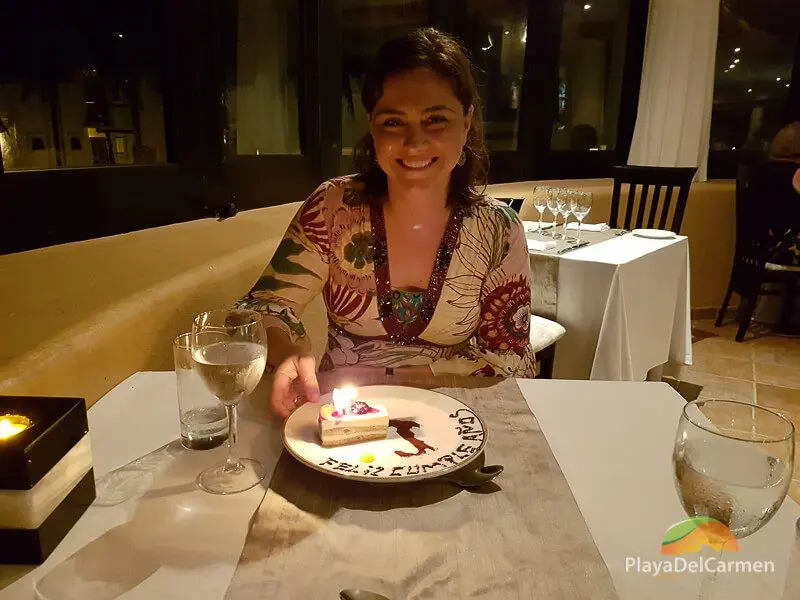 On my wife's birthday, we actually had dinner at the Italian restaurant including a "surprise" birthday cake. We also went to the grill to ask for their "Tres Leches" cake again… yeah, that good 🙂
Of course, this all included the mandatory "Happy Birthday" song, 17 candles, and cheering.
If you like feeling celebrated, consider having your birthday or anniversary here; you'll definitely have an audience cheering for you.
Finally, if you prefer to hit the town for a bite to eat, be sure to check out the Playa del Carmen restaurant guide.
Reef Playacar Activities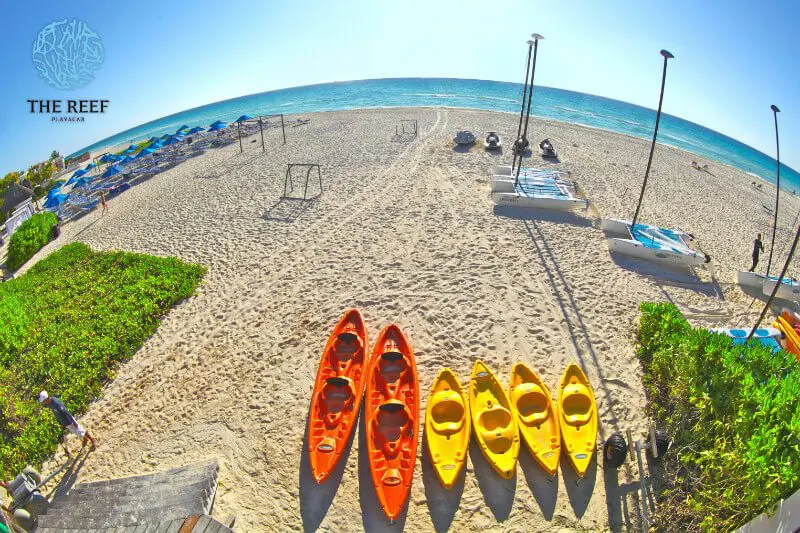 There are plenty of activities both inside and outside of the hotel.
A hotel with a great beach and nice rooms is only half of the success right? Without activities, most of us would get bored after a few days.
The Reef Playacar has you covered with activities, you can windsurf, kayak, sail, snorkel or dive on the beach or simply try out scuba diving for free in the pool.
The entertainment team is always present, organizing beach volleyball, dancing classes or other pool games.
There is also a pool table, ping pong, tennis, and basketball (although these two are on the roof and there's a low fence, so losing your balls might be a concern).
Likewise, there are daily shows in the theater and at night the bar above the lobby is open till late/early, so if you feel like having a party but don't want to leave the hotel that will be your place.
In addition, there is a small but well-equipped gym with a special feature: a tree runs through the middle which they build the gym around!
The spa is small and offers peace and quiet, so if you feel like having a massage away from the beach look no further.
If you want to combine your all-inclusive stay with some snorkeling, exploring and all-around adventure at a discount, be sure to check out the Playa del Carmen excursions page.
Reef Playacar for Kids & Families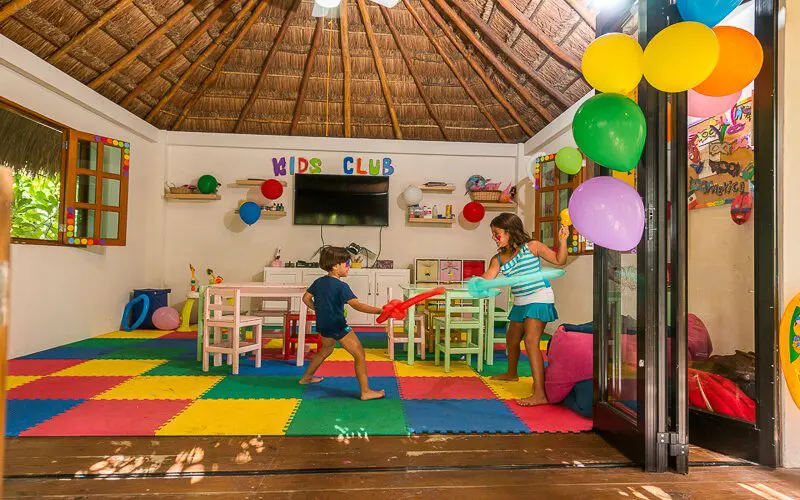 The hotel has a Kids Club as well and supervised activities for kids, so it can work perfectly for families with younger kids.
There is a strategically positioned ice cream parlor close to the Kids Club which can save the day if you have little ones.
Normally I would not list activities outside of the hotel but The Reef Playacar is so well located. A stroll on the famous 5th Avenue, the Aviary of Playacar or the Playacar Golf Club is all relevant options and a short walk away.
Also be sure to check out our 10 tips on how to Playa del Carmen with kids as well as our top 13 kid-friendly activities in Playa del Carmen.
3 Different Reef Playacar Vacation Packages
 This is important to know, depending on what are your expectations from a hotel an upgrade might be well worth it.
1) The Standard Package
Gives you access to the swim-up, beach and lobby bar, the buffet restaurant and the snack bar. It also grants you access to the Italian à la carte restaurant. Local drinks and one-time mini-bar fill are also included (to access the Grill you will have to pay 8 USD per night).
2) The Superior Package
In addition to that included in the Standard Package, also includes free access to the Grill restaurant, daily mini-bar refill, 25% discount on spa services, and some extra room amenities.
3) The Premium Package
All of the above plus free internet throughout the hotel, premium drinks (real good spirit selection at this level), and exclusive access to Nico's Lounge Bar, which is a cozy little corner area with comfortable sofas, good music, and a private bar.
If you are looking for a real bargain resort, the Standard Package covers the basics for sure. Between the Superior and the Premium without a doubt, I would go for the Premium, the free internet and the exclusive bar and drink selection (and the canned beer at Nico´s) is a solid upgrade.
Pros & Cons of Staying at Reef Playacar Hotel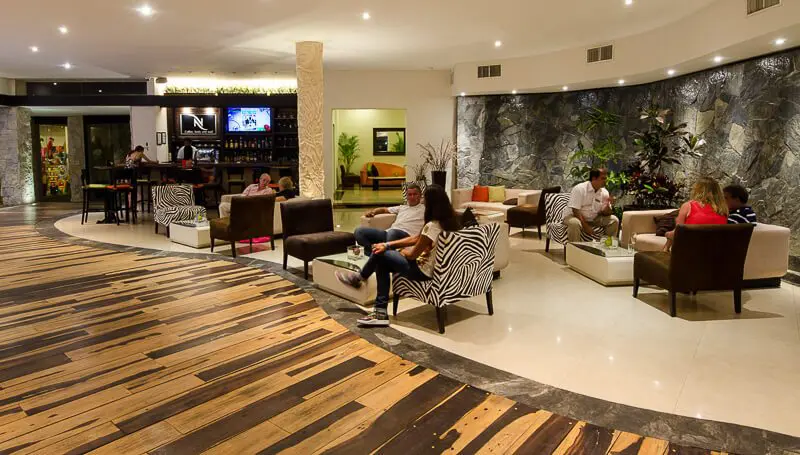 Here's my take on the pros and cons of staying at the Reef Playacar:

Pros:
Great prices
Amazing beach
Easy-to-walk resort
Lush hotel grounds
Comfortable yet simple rooms
Better than an average burger at the snack bar (I am on holiday so it is important, okay?)
Loads of activities
On-site pro dive center
Cons:
Depending on the package, limited dinner options
No other open spaces other than the pool and beach area
Downstairs rooms facing the walkways can be a bit noisy
No room service (normal for the price)
Conclusion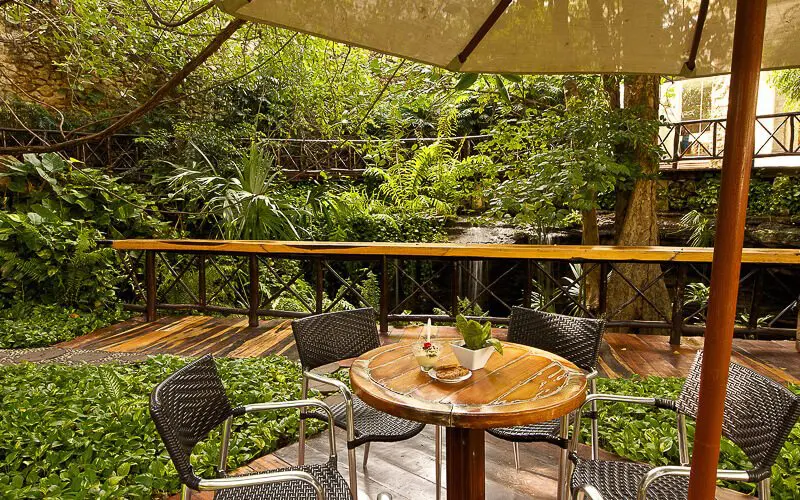 Reef Playacar Hotel is a very solid choice if you like the all-inclusive concept and are coming to the beach and on a budget.
If that's you, Reef Playacar is a perfect choice.
It's a great family-friendly option with the a la carte restaurant and the spa it is also a good choice for couples.
If you are not expecting luxury or gourmet food I think it is guaranteed you will be satisfied with this simple but awesome resort.
If you are looking for something a little more upscale, you should definitely check out the Royal Hideaway or the Riu Palace Riviera Maya.
Have you stayed at Reef Playacar? Let us know about it in the comment section?
Looking for some good 'ole home-cooked travel guru travel tips? Contact us toll-free at 888-537-9797
Reef Playacar Review
Location

Beach

Rooms

Food & Drink

Service

Activities, Entertainment & Sport

Kids Club

Weddings & Groups

Gold Course
Summary
This is one of the cheapest all inclusive hotels in the area, and it's located within walking distance of downtown Playa del Carmen.
The beach is great and the hotel grounds are amazing, making you feel totally in the jungle.
We really enjoyed our time at this hotel. We had surprisingly nice dinners every night, and if we were drinkers, we could have selected from a great variety and quality of drinks.
---
Trending Now
You may also like