Micro VS Big Destination Wedding | Which One is Right For You?
---
Have you been umming and arring on whether you want a micro destination wedding (20 people or less) or a big destination wedding?
Get the lowdown on the pros and cons of both from a team that knows!
So you can make a well-informed decision.
Plus, I'll show you the best resorts suited to either big or intimate occasions.
The team at PlayaDelCarmen.Com has helped hundreds of couples like you plan their dream wedding.
We have experience in planning both big, bold celebrations and intimate weddings. 
We'd love to be a part of your wedding story.
Go Micro or Go Big for Your Destination Wedding?
---
1. Deciding Between a Big and Intimate Destination Wedding
Trying to decide on the size of your destination wedding?
I have good news…
There's no right or wrong decision.
Large celebrations and micro weddings can both be beautiful, romantic and memorable.
I'll take you through the peaks and pits of both choices.
You can use this information to help you make your decision.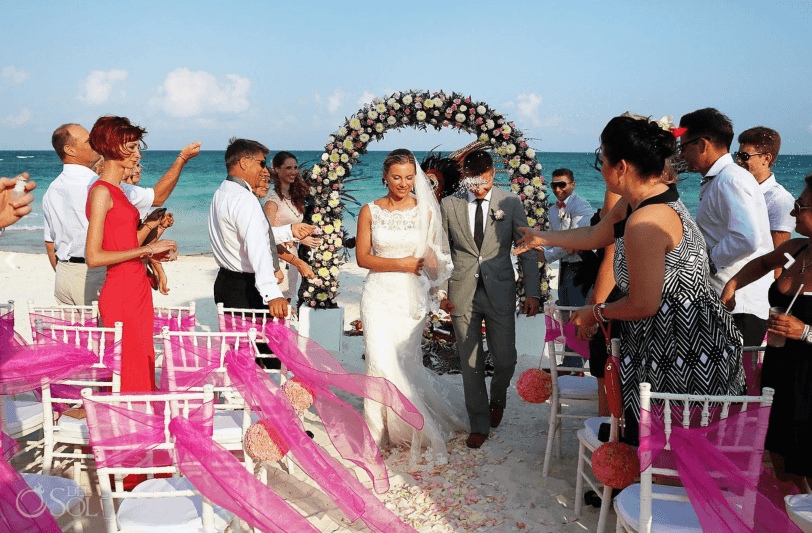 First off, I will say you should also go with your heart  💗…
If you don't want auntie Dorris there who you have spoken to in 10 years, don't invite her.
Similarly, if you want your whole neighborhood there, DO YOU! Invite them all.
Either way, we'll make sure your experience planning a destination wedding is as stress-free as possible.
Ready to find out more?
Read on…
2. Advantages and Disadvantages of a Big Destination Wedding
You may think that destination weddings are all about eloping as a couple.
That's not the case.
You can have a big destination wedding and celebrate your marriage with a huge party for all your family and friends in paradise.
Large destination weddings in Mexico are hugely popular right now given the restrictions on wedding numbers in some other countries.
How big can a destination wedding be?
You can invite as many people as your venue can hold.
Personally, I think 100 guests is a good number.
Having around this number of people at your wedding means you can usually include everyone who is close to you…
And you don't get too overwhelmed.
Want to invite more people?
No worries…
Give us a call on 888-537-9797.
And, we'll help you plan the perfect destination wedding no matter how big your guest list is.
Advantages of a big destination wedding
Wondering if you should have a big wedding in Mexico?
There are lots of advantages…
Group bookings at one hotel mean that you can get some BIG BIG BIG discounts.
Arranging a big wedding often means you can get a FREE wedding package and/or honeymoon, what's not to love? Plus, room upgrades, free anniversary night stays, spa discounts, romantic dinners on the beach and so much more!
Everyone gets to relax and have an amazing time at a luxury all-inclusive resort.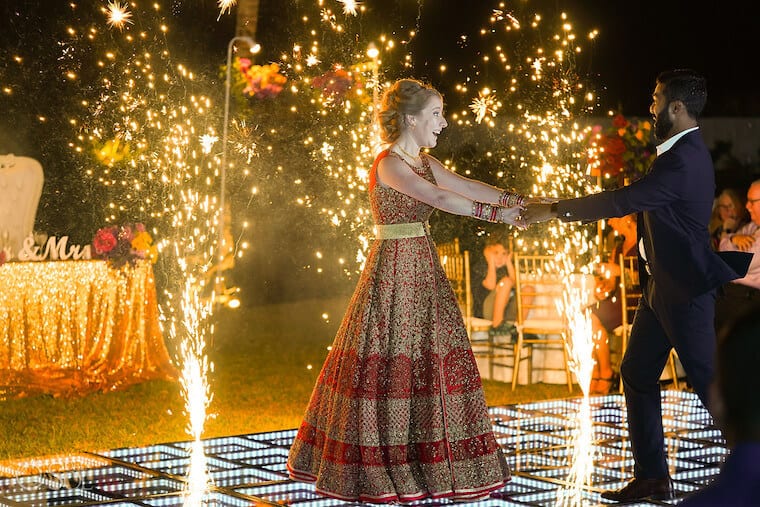 You get an expert wedding coordinator both with us and at the resort when you arrive so there's no hassle or worry even if you have a lot of guests. Plus, we'll handle all your group's bookings so you don't have to!
Everyone you love gets to come along and share in your love on your big day.
Last but not least, my own personal favorite benefit…
Your guests can have an amazing family holiday if you choose a family-friendly resort.
Prefer the idea of adults only? No problem at all many of the best resorts has both adults-only AND kid-friendly sections, or what they call 'sister resorts where the kid-friendly option is just a stone's throw away.  Win!
Based on our valuable insight and unbias approach to the hotels in the region we will help you find the best resort for you and your group!
Is a destination wedding really cheaper?
You may be thinking that a big destination wedding can't be that affordable.
You're in for a great surprise…
The average cost for a destination wedding at a 4.5★ resort with 100 guests is $10,000.
For a wedding with 200 guests at the same grade of resort, the average cost is $15,000.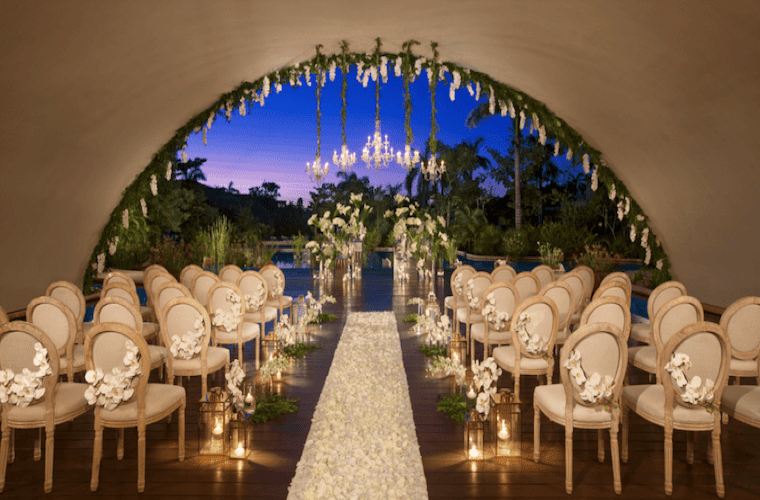 Compare that with an average cost of $35,329 for a wedding in the USA.
Pretty amazing right?
Check out our blog post for more info about the cost of an all-inclusive wedding in Mexico for the full breakdown.
Average Cost of an All-Inclusive Destination Wedding in Mexico
Disadvantages of a big destination wedding
Keeping it real, there are some potential downsides to big destination weddings.
Some potential guests may be reluctant to travel to celebrate your big day with you.
Making sure that everyone has their plans organized can be stressful.
There are many different things to think about such as the dietary needs of your guests and if they are traveling with children.
We can help with some of these potential difficulties.
You can rely on us to help with arranging accommodation for all your guests.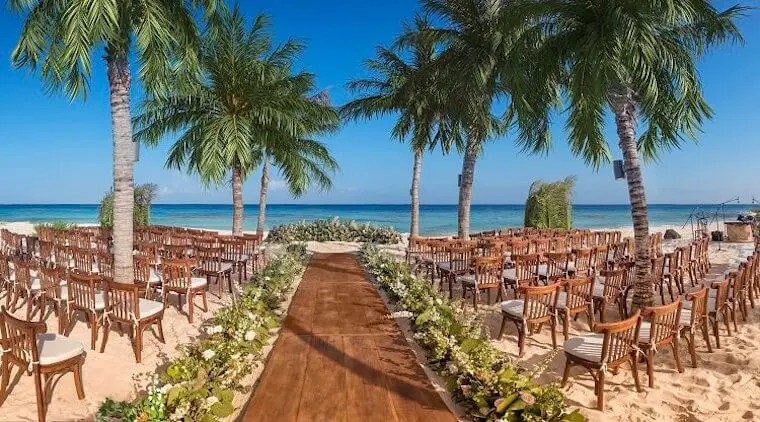 If you're coming from the USA or Canada we can also help with booking flights.
Take some time to browse our blog posts and you'll also find lots of useful information there.
Here's a couple of posts I think you'll like, to get you started:
The Best Vegan-Friendly Resorts in Cancun & The Riviera Maya
10 Best Family-Friendly Hotels in Playa del Carmen (2023)
3. Which is the best resort for a big destination wedding?
There are endless resorts in Mexico where you can celebrate your wedding with a lot of guests.
For the purpose of this blog, one of our favorites is Dreams Tulum.
The resort is stunning, as you can see…
And, you get a variety of beautiful venue options to choose from:
Beach (300 guests max)
Garden (200 guests max)
Jungle/Garden Gazebo (200 guests max)
Sunset terrace (100 guests max)
Secret Garden (80 guests max)
Convention Center Terrace (60 guests max)
Chapel (40 guests max)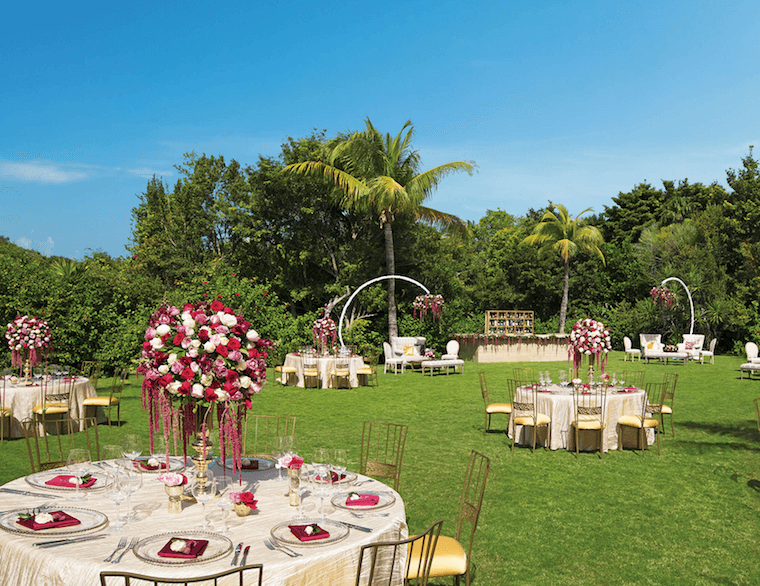 The resort has adults-only and family-friendly accommodation options.
It's perfect for a big wedding event for all the family.
The suites are just gorgeous…
And you get a hammock on your private balcony for the ideal chillout space  😍.
The average price for accommodation is $330-440 per person per night.
Maximum room occupancy is four (three adults and one kid or two adults and two kids).
Wedding packages at Dreams Tulum
Looking for a wedding package for your big destination wedding?
There are three different packages available at Dreams Tulum ranging in price from free to $3599.
For a wedding with a lot of guests, the Dreams Wedding in Paradise Package is a good choice.
The normal cost of this package is $999.
But, you can get the package FREE if you book the Preferred Club Junior Suite Ocean Front room category or higher for a minimum of seven nights.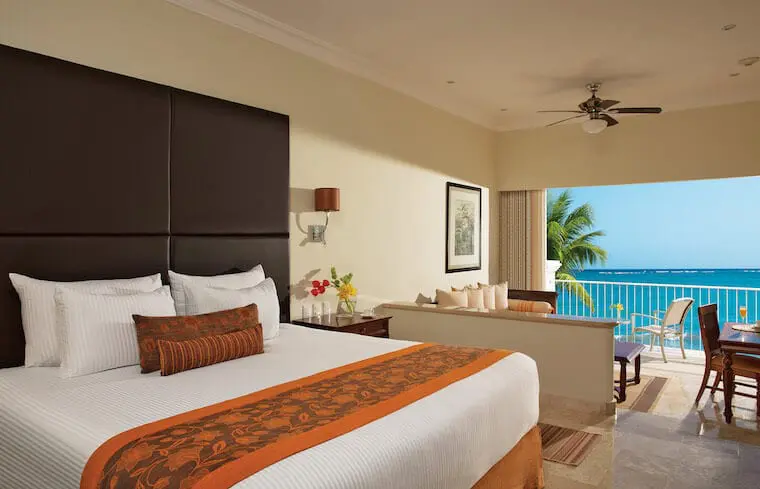 You can also get this deal if your guests book five rooms in any accommodation for a minimum of three nights.
And, you can customize whichever package you choose to make it special to you.
*cost is based on a set number of guests and will be more for a large party; we'll arrange the best deal for you*
Want to know more about weddings at Dreams Tulum?
Take a look at our blog post.
My Review | Weddings at Dreams Tulum Resort 2023 | w/Prices
Or give us a call.
Curious about other resorts for a big wedding in Mexico?
Check out this post we put together for you.
10 Best Resorts & Venues For BIG Weddings in Mexico | 100+ Guests (2023)
4. Advantages and Disadvantages of an Intimate Destination Wedding
Thinking that an intimate wedding may be better for you?
Micro weddings have certainly been popular in recent months.
This has been largely due to COVID-19 restrictions.
But, it seems as though smaller weddings will continue to trend even as restrictions are lifted.
Choosing to head to Mexico is the perfect way to have an intimate wedding that's stunning and memorable.
Benefits of a small wedding
Wondering if you should have a smaller wedding?
There are some potential advantages to consider.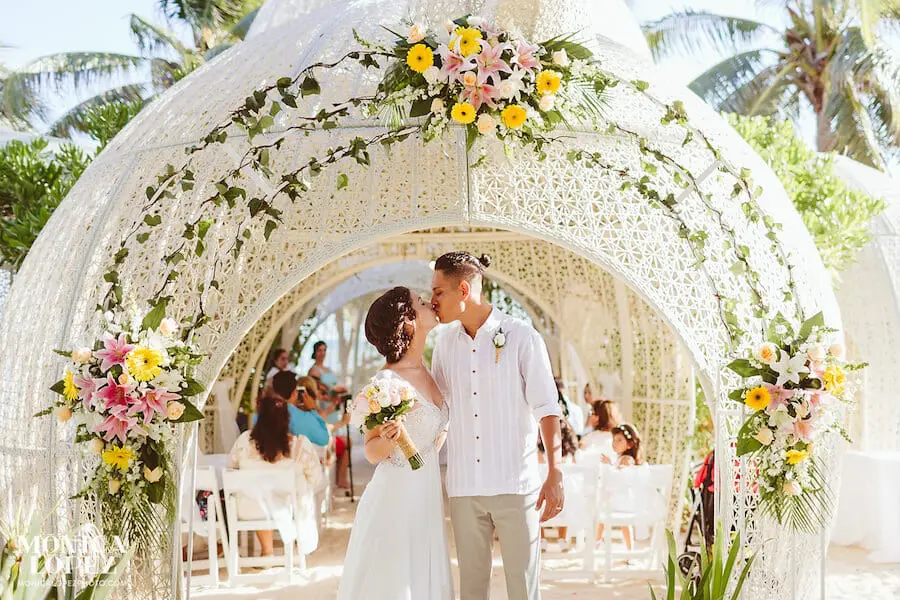 Avoiding potential stressful situations that can arise from all family and friends coming together, especially if there are any ongoing disputes that could come to the surface.
Smaller weddings often mean the reception is less expensive although you do have to take into account that destination wedding packages can make costs more manageable anyway.
Fewer guests mean that you get to spend more time with each person instead of rushing about trying to catch a couple of minutes with 100 people.
Spending less money on having a lot of guests means you can use your budget on other things such as wedding decor and room upgrades.
Disadvantages of a small wedding
Concerned about what you will miss out on if you have an intimate destination wedding?
From a personal point of view, the biggest downside of a micro wedding is that you don't get to share the occasion with everyone you love.
This may not seem too important right now but will you regret the decision later on?
Think about when you're looking back on the day in years to come.
Will you wish that everyone close to you was there to share the occasion?
Only you can answer that question.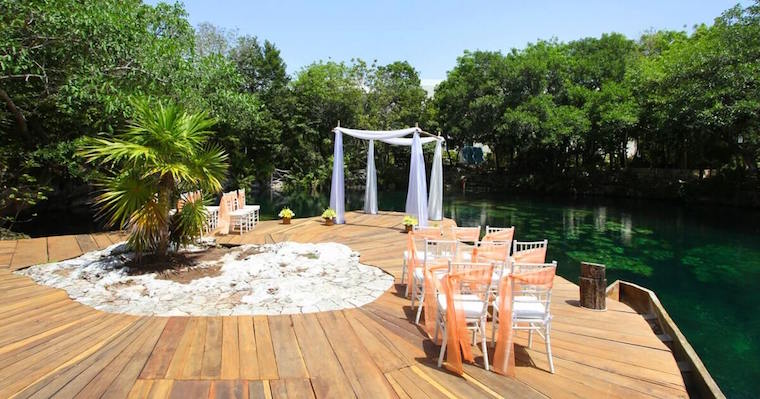 I'd also say that cost can be a disadvantage of a smaller destination wedding.
You may be able to get great deals that make it more affordable to invite a large guest list, especially if your guests pay for their own travel and accommodation.
We'll help you get the best deals and organize everything so that everyone has an amazing time.
5. Which is the Best Resort for a Destination Micro wedding?
Like the sound of an intimate wedding in Mexico?
There are many luxury resorts to choose from.
One of our favorite packages for small weddings is at Grand Palladium Costa Mujeres.
The Lovebirds package
Costs $990 and is for up to 10 guests. 
Features of this package include:
Officiant for a symbolic ceremony.
Pavilion wedding venue.
Tiffany chairs and decorated signing table.
One-tiered "Naked " or "Butterswept " wedding cake.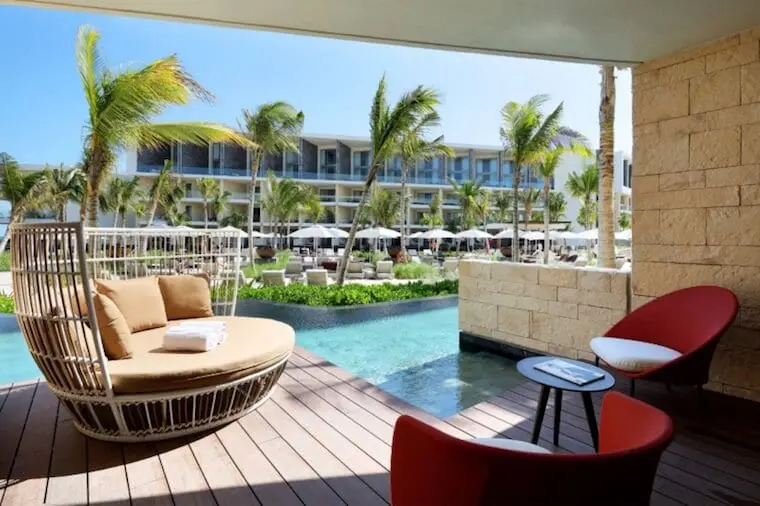 The resort is incredible too.
It opened in 2018 and features cutting-edge design using natural materials.
You get a five-star style with an eco-friendly vibe.
There are 674 rooms and they're all gorgeous, as you can see…
The average cost of staying at Grand Palladium Costa Mujeres is $250-$350 (junior suite as standard).
The maximum occupancy is six.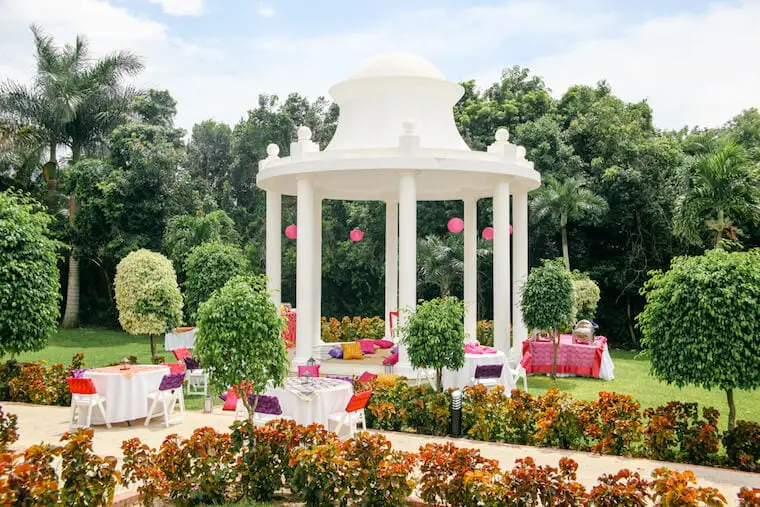 Want to know more about weddings at Grand Palladium Costa Mujeres?
Have a read of our review.
Grand Palladium Costa Mujeres Weddings | Our Honest Review 2023
6. Big or Intimate Destination Wedding – In Summary
Thinking that was a lot to take in?
Don't panic….
Here's a quick summary to help…
You can plan a big destination wedding and get some great deals on packages and accommodation.
Having a big wedding means that you get to celebrate with everyone you love and create great memories together.
You also get expert help from our wedding planners and wedding coordinators at the resort, so there's no stress, just a lot of fun.
Potential disadvantages of a big destination wedding are that some guests may not want to attend, it can be complicated for everyone to get organized and large numbers of people come with a large number of individual needs.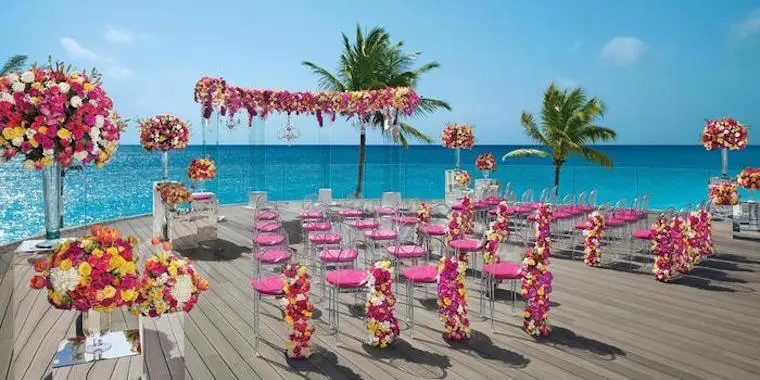 We can help reduce these disadvantages by helping with your planning and making sure everyone is catered for and has an incredible time.
We're also here to help with intimate destination weddings in Mexico.
The main advantages of this type of wedding are that you get to avoid any potentially difficult clashes between guests, you get more time to spend with each guest, and you can prioritize your budget elsewhere.
But, be careful you don't regret not inviting more people.
And remember,
We can get great deals on packages and accommodation so you can plan affordable bigger weddings just the same as you can smaller weddings.
7. Any questions or stories?
Want to know more about anything in this post?
Just pop something in the comments and I'll get on it.
I'd also love to hear about your destination wedding adventures.
Share your stories in the comments.
Did you have an amazing wedding with a large guest list in Mexico?
Tell us what you loved.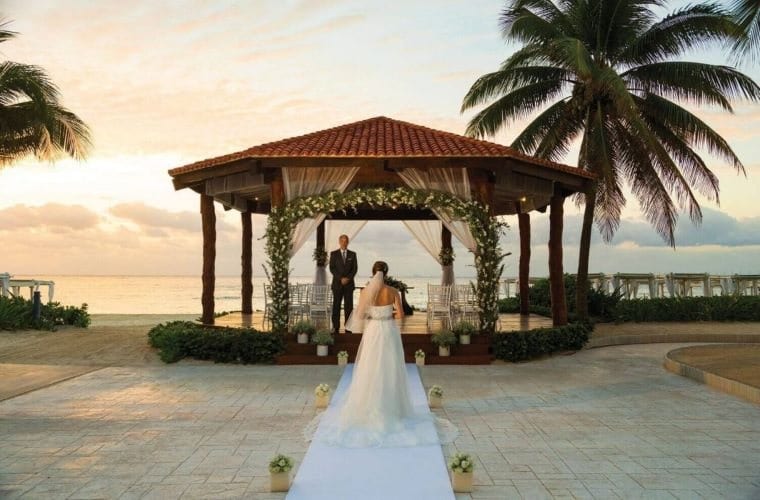 Equally, was your intimate destination wedding incredible?
Tell us why.
I'd also love you to share your less positive experiences.
What would you have done differently?
I can't wait to read your comments.
8. Ready to Plan Your Destination Wedding?
Decided what you want your destination wedding to look like?
We're here to help turn your vision into reality.
Not decided whether a big or intimate destination wedding is right for you?
No problem, we'd love to help you make your decision and plan your wedding in Mexico.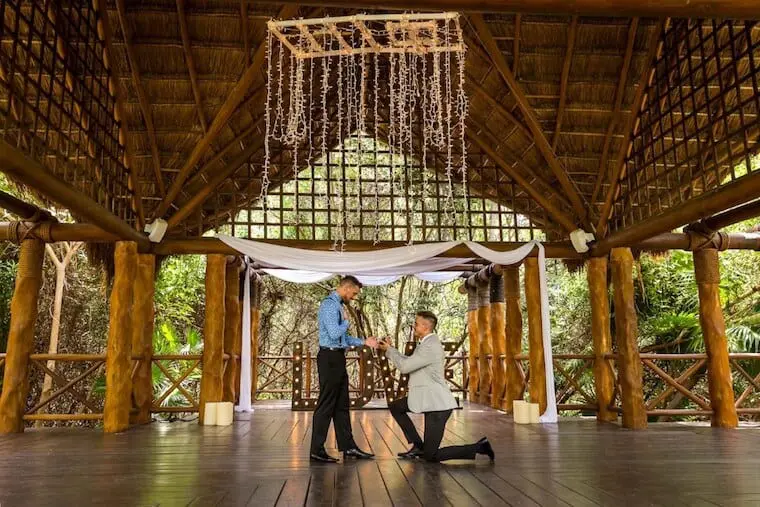 Just give us a call on 888-537-9797.
Or fill in the contact form on our website. 
We're excited to be part of your wedding journey.
9. Other Wedding Related Blog Posts You May Find Useful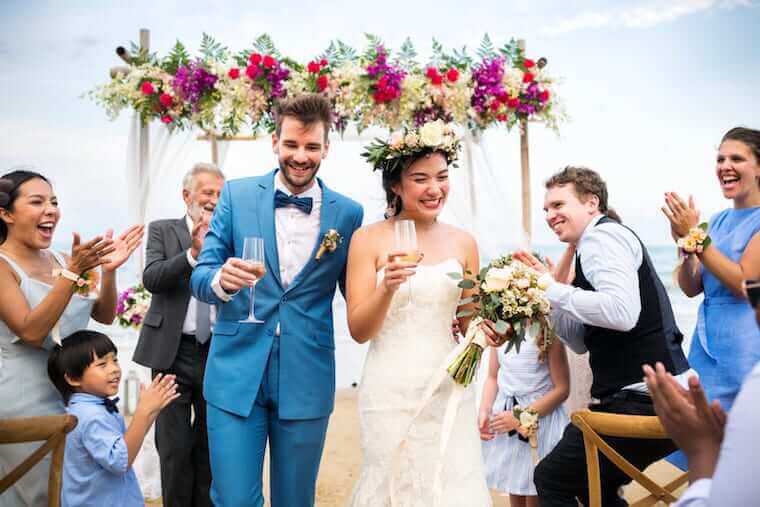 I'd really appreciate it if you could give this blog a share with anyone who might find it useful. Don't forget to leave your thoughts in the comments section, I would love to hear from you.
---
Trending Now