The Best Vegan-Friendly Resorts in Cancun & The Riviera Maya
---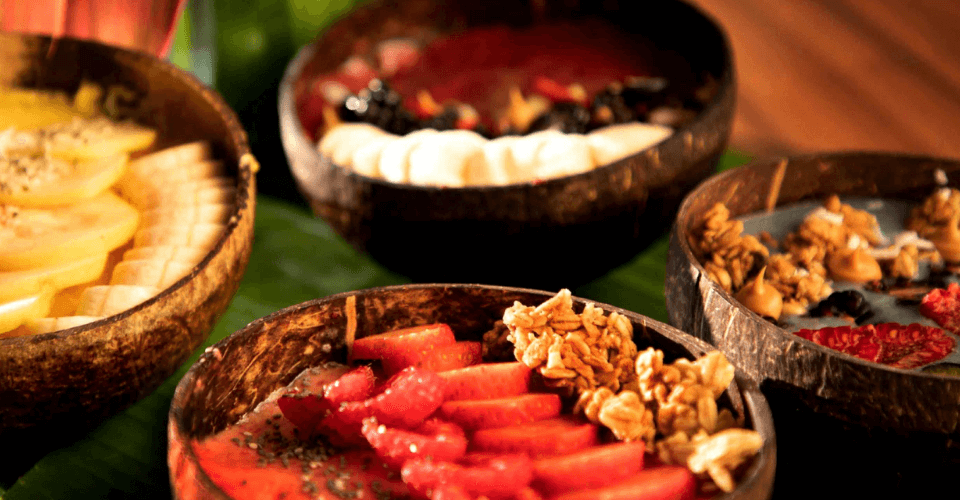 Are you vegan (or vege), planning a trip, and wondering "is Cancun and the Riviera Maya vegan friendly?"
You'll be please to know, it is!
There's a huge community of vegan/vege eco-conscious types living and working here.
The Mexican diet staples include things like rice, corn and beans, so we were already off to a good start…
However, the rapidly increasing demand for vegan and vege choices is resulting in even more delicious options than ever.
Some resorts don't just include food choices but vegan-friendly suites and spa treatments too! 
"Tell me more" I hear you say…
Top 5 Vegan-Friendly Resorts in Mexico:
---
1. Palmaïa – The House of AïA
★★★★★| Family-friendly | Riviera Maya Cancun
314 rooms
Average price per person, per night $420-$480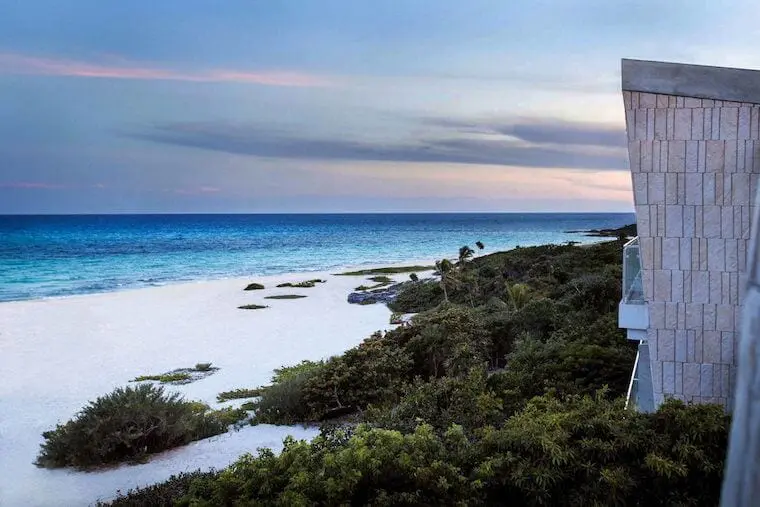 Looking for a whole vegan wellness experience in Cancun?
This is it.
The vibe at Palmaïa – The House of AïA is health and sustainability.
This amazing place is more a restorative retreat than a traditional resort.
It has a "Plant-Based Life" motto with vegan menus across all its dining venues.
The best part?
You can also book a suite that is free from any animal products.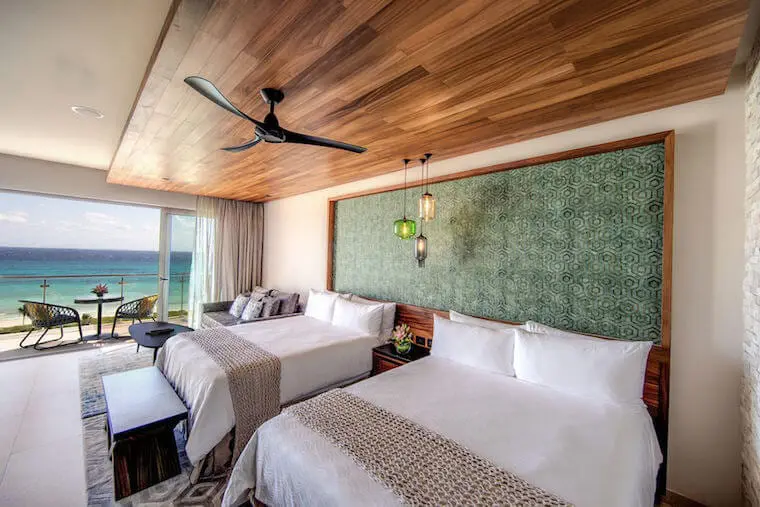 Palmaïa is all about non-violence to the planet, its creatures and yourself.
Protecting health is a huge feature of this.
I love the fact that the resort founded No Home Without Food in 2020.
The scheme delivers nutrient-rich plant-based food to families in need in the Tulum and Riviera Maya areas.
How amazing is that?
Is all food at Palmaïa vegan-friendly?
No.
Traveling with people who are not vegan?
There's no need to worry at Palmaïa; everyone is catered for.
There's a full plant-based menu at every restaurant but fresh non-vegan foods come as optional extras.
Check out the impressive vegan cuisine and drink experiences that await you.
LEK – Chef Eugenio brings native Mexican flavors to haute cuisine dishes enhanced by herbs and spices.
Su Casa – Laid back atmosphere of the Caribbean beach with a home-cooking feel.
Ume – Exotic scents and tastes of Asia.
Mar de Olivo – Tastes of Meditteranean ancestors brought right up to date.
El Caminante – Mexican street food straight from an artisanal food truck.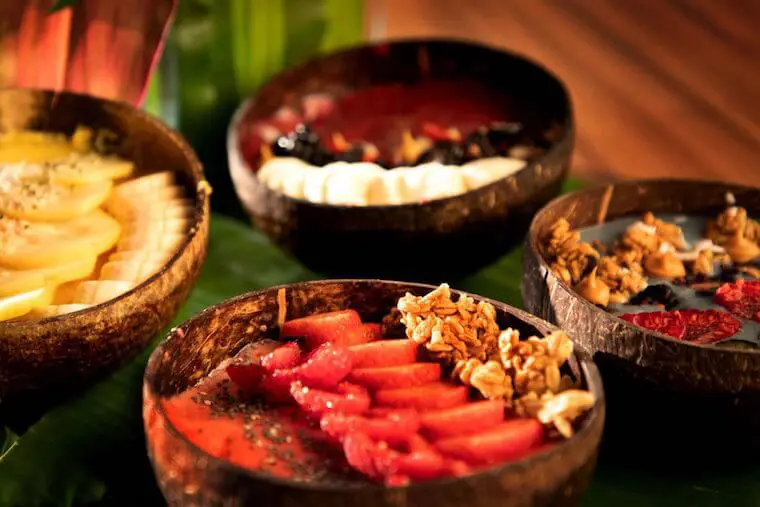 Eolo Beach Club – For sounds and drinks.
There are also pool bars where you can relax with a fresh fruit cocktail, a vegan juice bar and the exclusive Atlas Club.
What are some of the property amenities at Palmaia – The House of AiA?
Looking for a vegan resort with luxury accommodation?
Palmaia – The House of AiA has Ocean View Suites, Swim-out Suites, Family Suites, and Vegan Suites.
Set in a secluded oasis amidst dense mangroves, it's a natural paradise with a private beach.
In keeping with this natural ethos, the resort:
Uses solar and other renewable energy sources.
Gives each guest a reusable drinks container on arrival and has zero plastic bottles on site.
Hosts an holistic childrens' activity program run by Waldorf Educators.
How far is Palmaïa – The House of AïA Wellness Enclave from Cancun?
Palmaïa – The House of AïA is a 40 minute drive from Cancun International Airport.
It's also just 3.1 miles away from downtown Playa del Carmen.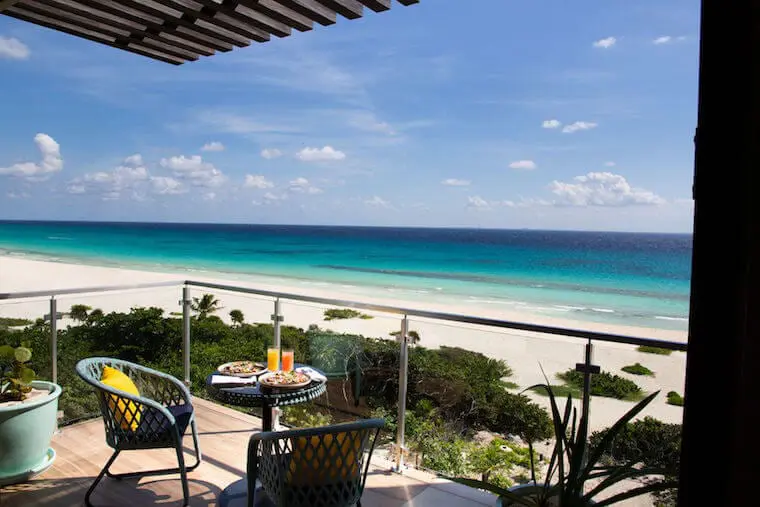 What we love about Palmaïa – The House of AïA
Being surrounded by a non-violent, vegan-friendly ethos.
An environment that's welcoming and healthy for all ages.
Protection of the environment takes center stage.
A quick heads up though, this resort is more about peace and well-being than partying.
Have a look at my blog post "10 Absolute Best Playa del Carmen Beach Clubs & Bars."
For the best of both worlds get your complete relaxation at the resort and then head to a nearby bar to let your hair down a little.
2. Hotel Xcaret Arte
★★★★★| Adults-Only Ages 16+  | Playa del Carmen
900 rooms 

Average price per person, per night $730-$780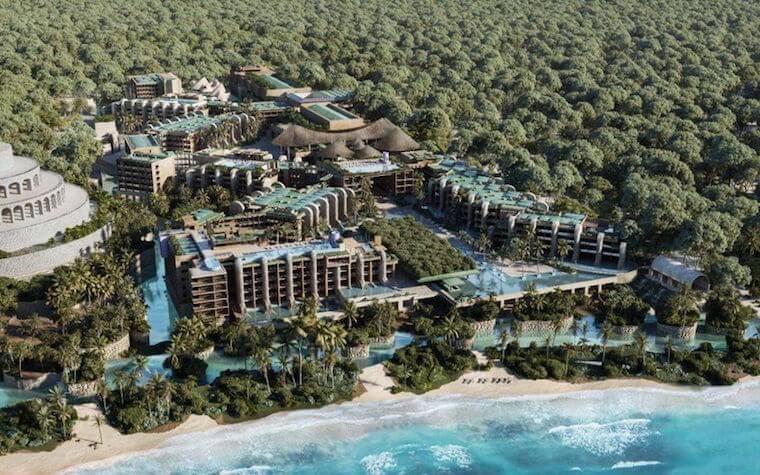 Is Xcaret Arte hotel open?
You may have heard that Xcaret Arte is a new resort that hasn't opened its doors yet.
That's true.
The good news is that this vegan-friendly resort opened to guests on July 1st 2021.
This concept luxury destination is exciting.
It blends the beauty of nature with the ultimate luxury comfort.
There's an emphasis on health and well-being.
Veganism is a major part of this.
Contemporary vegan cuisine is on the menu.
You can even learn to create your own vegan dishes, more about that later.
First, here's an insight into the exquisite eating experiences you can expect at the resort.
Michelin-starred chef Paco Méndez at signature restaurant Encanta.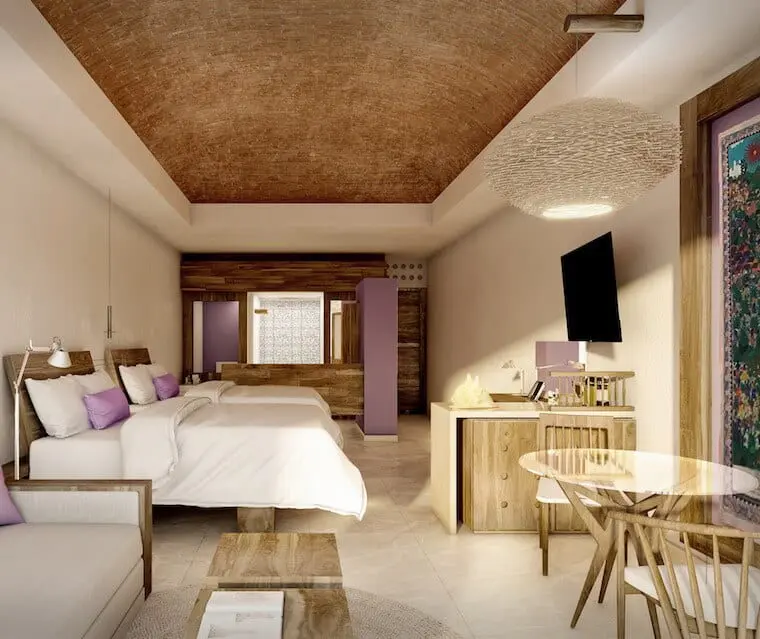 Chino Poblano where Jonathan Gómez Luna oversees a fusion of the cuisine of China and food from the state of Puebla.
Ricardo Muñoz Zurita celebrating indigenous foods from the Yucatan Peninsula.
What is included in hotel Xcaret Arte?
Xcaret Arte Resort accommodation is handcrafted and designed with an emphasis on embracing nature.
If you're looking for a vegan resort destination with luxury accommodation you're not stuck for suite options here.
Junior suites
Suites
Swim-up suites
Master suites
You can book a suite that has a view over the lush green gardens, the tranquil river, or the crystal blue ocean.
One of my favourite aspects of Xcaret Arte is the five buildings or "Casas" that make up the resort.
Named after artists important to Mexican culture, they are Casa de los Artistas, Casa de la Música, Casa de la Paz, Casa de la Pirámide, and Casa del Diseño.
Every Casa has a unique vibe and facilities including bars, libraries, and gyms.
And there's more…
Each Casa has its own artistic workshop.
For a vegan cuisine workshop choose Casa de la Paz.
What can I do at Xcaret Arte Resort?
Xcaret Arte is more than just a great vegan-friendly destination.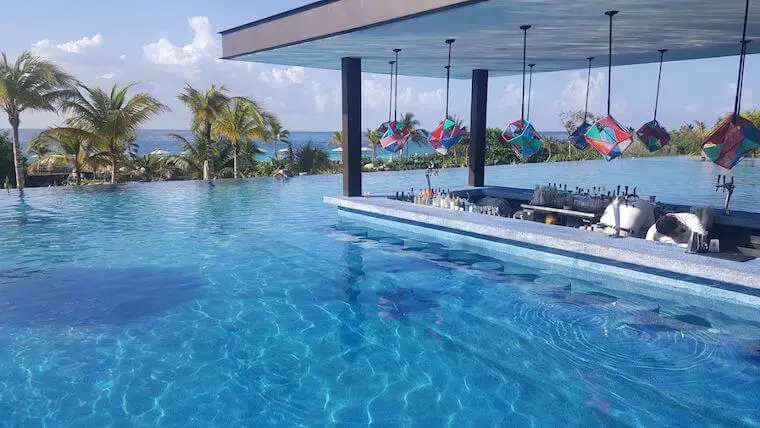 You can check out the 10 bars, from rooftop to poolside.
If you prefer a health boost, try Muluk Spa treatments to make you feel amazing. 
And then there's this…
Unlimited access to nine iconic parks and tours in Cancun and Riviera Maya:
Xcaret
Xel-Há
Xplor
Xplor Fuego
Xenses
Xoximilco
Xavage
Xenotes
Xichén
The closest of these parks and tours are Xcaret, Xenses, Xplor and Xplor Fuego.
They are all a 10-minute drive away.
How close is Hotel Xcaret Arte – All Parks and Tours / All Fun Inclusive – Adults Only to the airport?
The Hotel Xcaret Arte resort is just 45 minutes away from Cancun International Airport (CUN).
What we love about Hotel Xcaret Arte:
A clear focus on sustainability which I think is so important in the world today.
Entry to Xcaret parks and tours, and transport to get there. That's a major bang for your buck.
The adults-only adaptation to 16+.
To be honest, it's disappointing that this resort isn't an option if you have younger kids.
But, the other resorts in this list are.
Here's a hint is you're travelling with kids.
Choose a family-friendly resort and let us arrange Xcaret Parks and Tours tickets for you.
We will make sure you get the best rooms rates for your group.
Speak to the team at PlayaDelCarmen.Com and we'll get you a great deal – there are HUGE discounts to be had.
3. Finest Playa Mujeres
★★★★| Family-Friendly & Adults-Only | Playa Mujeres Cancun
450 rooms
Average price per person, per night $730-$780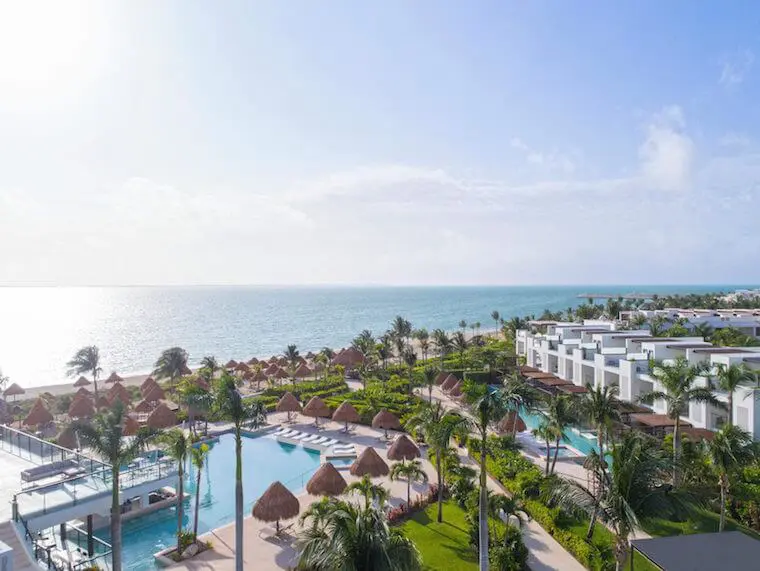 Looking for a resort that's vegan friendly with amazing scenery?
Your search is over.
Finest Playa Mujeres is aesthetically stunning and has a myriad of vegan food choices.
This isn't a resort where vegan cuisine comes as standard although full vegetarian menus are available.
But, you just need to ask.
The expert chefs produce exquisite fresh food to suit all guests' dietary requirements.
There are twelve all-inclusive restaurants at the resort.
You can sample cuisine from across the globe including French, Asian fusion, and Caribbean.
Here's a tip from a vegan visitor to the resort;
"I would have to say that my favourite meals were at Shoji and Lizo. The other restaurants were very good as well but those were my favourites. I enjoyed breakfast daily in the market kitchen and the options were clearly marked and plentiful. They really do accommodate everyone."

Andreah (Vegan)
Want to make sure you get the amazing vegan food you're looking for?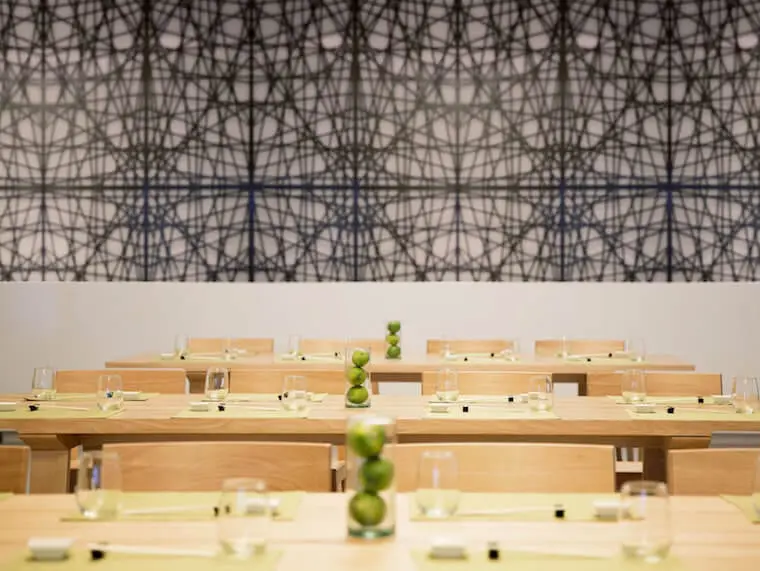 Here's my advice…
Reach out to us at customercare@playadelcarmen.com and we will speak to the Food and Beverage Guest Relations Manager.
They'll talk to the restaurant team and ensure you have everything you need.
What is the difference between Finest Club and Excellence Club?
Finest Playa Mujeres welcomes guests of all ages.
If you'd rather stay somewhere that's adults-only, the Excellence Club is on the same site.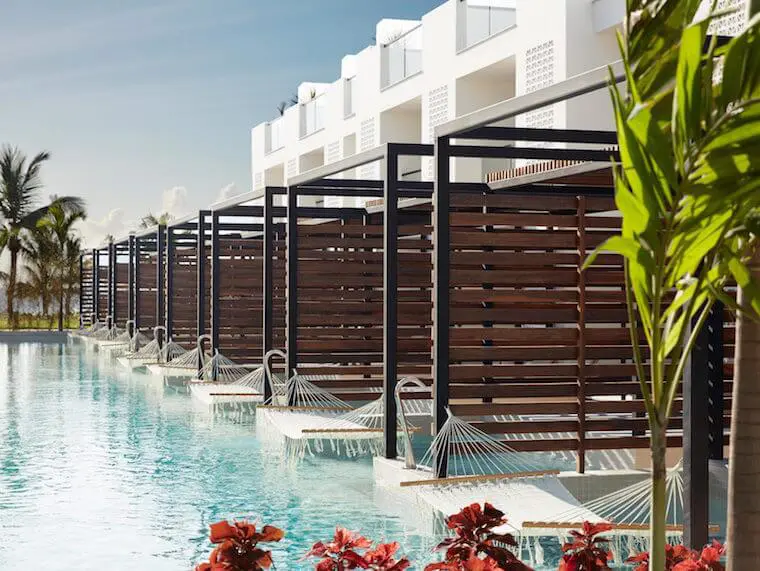 Book an Excellence Club suite and you get access to pools, beach areas, restaurants, and lounges that are adults only.
What are the amenities at Finest Playa Mujeres?
This vegan-friendly paradise has an array of sparkling pools to savour.
You can take a leisurely swim or spend some laid-back family time poolside.
There are also opportunities to learn new dance moves or take in live entertainment.
Personally, I love ONE Spa at Finest Playa Mujeres.
The choice of treatments includes mini massages and fruit scrubs.
There's even an opportunity for shared parent and child spa experiences.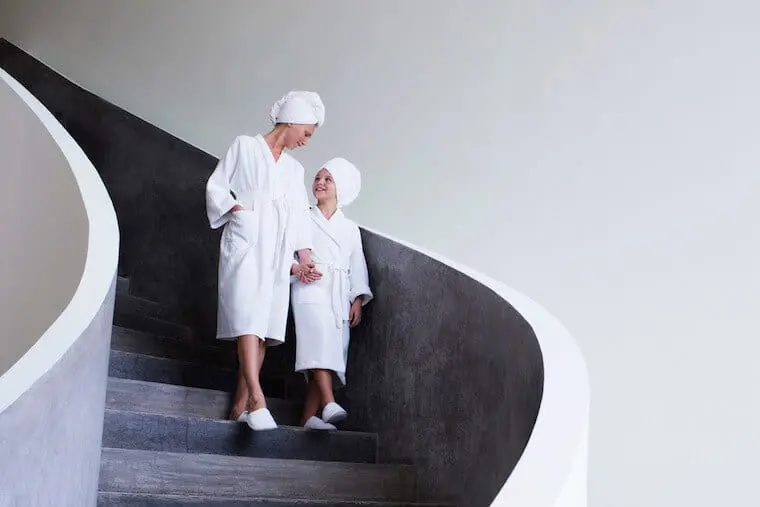 When it comes to accommodation, you can choose from luxury experiences including:
Junior suites with pool or ocean view.
Rooftop terraces with plunge pool
Imperial suites with private pool
What we love about Finest Playa Mujeres:
Family-friendly and adult-only options in one place.
Dedication to providing for dietary requirements including full access to vegan cuisine.
While this resort does not focus on being vegan friendly, it makes sure that guests get access to the vegan food choices they need.
For more about this resort, take a look at my Honest Review of Finest Playa Mujeres.
4. Grand Velas
★★★★★| Family-Friendly | Riviera Maya
Average price per person, per night $640 – $650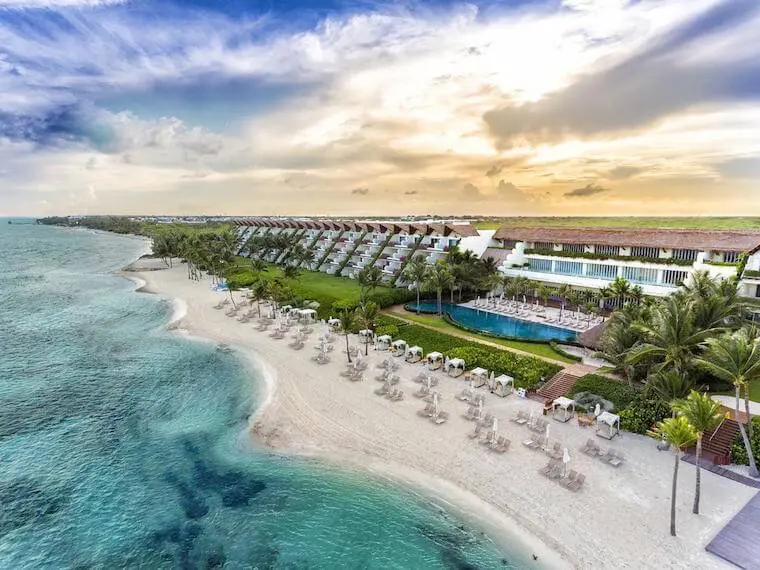 Are you a spa enthusiast looking for a resort that provides vegan spa treatments?
I have great news.
Grand Velas Riviera Maya has vegan treatments on its SE Spa menu.
The "Vegan Soul" treatments include vegan, cruelty free, organic, and paraben free products.
The treatments include, Bio + Facial and Bio Body Treatments using the BIO by Vagheggi line.
You can also try the Salt Lake Experience which includes a salt and sugar scrub, clay skin mask, salt-infused hot-tub soak, and massage.
What about vegan food?
Don't worry, Grand Velas is happy to cater for vegan dietary requirements.
Here's a bit of advice…
Contact us at customercare@playadelcarmen.com with your requirements and we will speak to the concierge before you arrive.
They'll speak to the restaurant and make sure you get the amazing vegan dining experience you're looking for.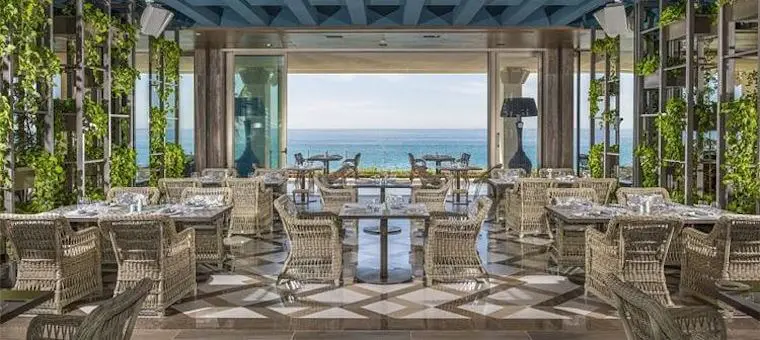 There's no shortage of restaurant experiences to try either.
There are eight haute cuisine restaurants at the resort.
You can savour the tastes of Italy and France as well as Asian fusion dishes.
After dining, there's an opportunity to relax and sip on a drink at one of the five bars and Aqua bar at the resort.
What type of room can I book at Grand Velas Riviera Maya – All Inclusive?
Every suite at Grand Velas Riviera Maya is surrounded by the natural mangrove environment of the resort.
You can choose from three distinct experiences.
The Grand Class Experience
There are 90 elegant suites in this section that are perfect for romantic occasions.
You get to relax and take in incredible views of the Caribbean from a private terrace with plunge pool.
The Ambassador Experience
If you're traveling with kids, this is a perfect choice of accommodation.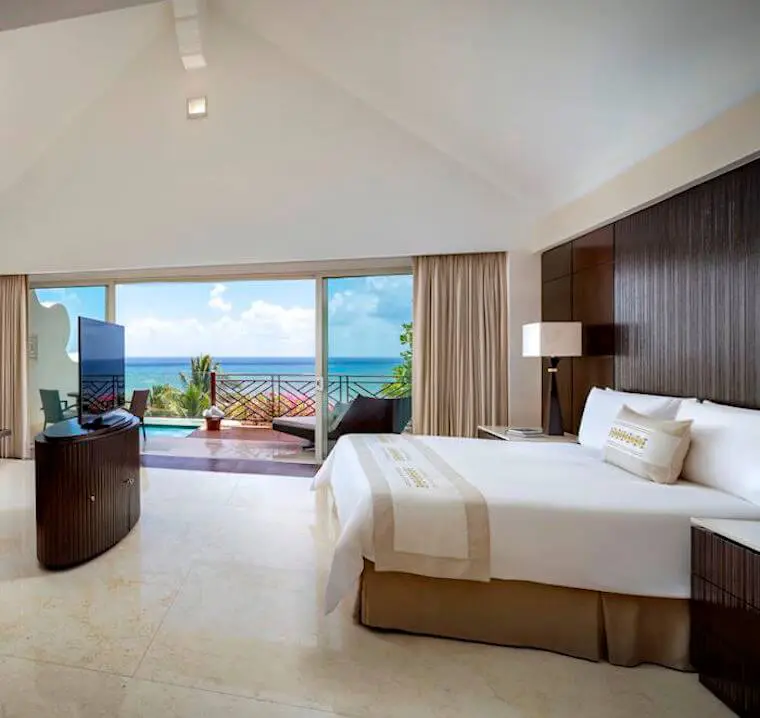 The 195 suites in this section are all close to the Kids' & Teens clubs.
They surround the main infinity pool at the resort and you can choose one with a private plunge pool for an extra touch of luxury.
The Zen Experience
As the same suggests, these 254 suites are all about relaxation and being close to nature.
You get stunning views across the pool and koi pond from your private terrace.
What is there to do at Grand Velas Riviera Maya – All Inclusive?
If you want a vegan-friendly resort with activities, you won't be disappointed at Grand Velas.
Aside from the three pools, spa and wellness center, and white-sand beach, other amenities include:
Children's playground
Games room
Mini golf
Kids' club
Teens' club
Evening entertainment program
Fitness classes
Walking tours
Live music
Local tours
What we love about Grand Velas Resort:
Vegan friendly treatments at the spa.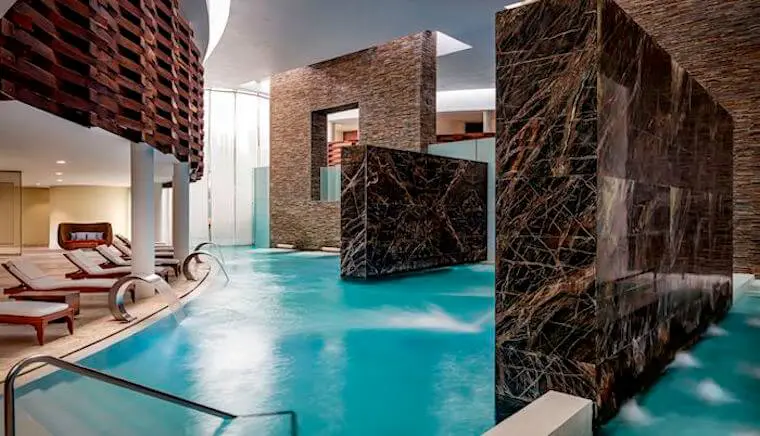 Dedication to providing for dietary requirements including a vegan diet.
Accommodation  experiences based on romance, family, and relaxation.
There are no set vegan menu options at this resort but chefs produce fine vegan cuisine on request.
This means that you can travel in a group that has various dietary requirements and everyone will get the food choices they need.
5. Sandos Cancun
★★★★★| Family-Friendly | Cancun
213 rooms
Average price per person, per night $220-$250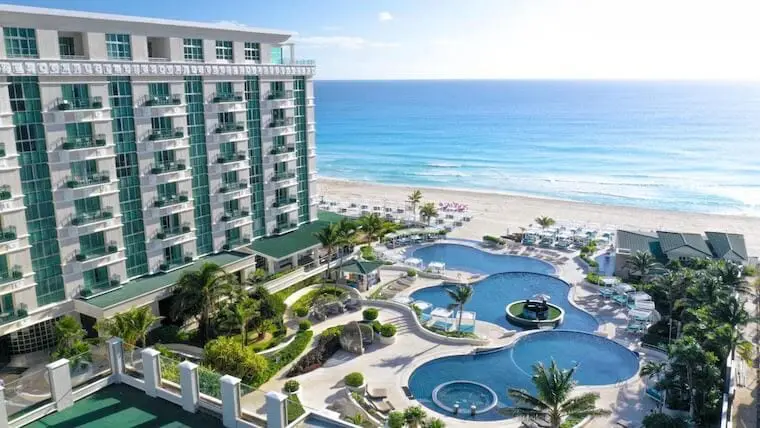 Have you been looking for a resort in Cancun with a full vegan menu?
You can stop your search.
Sandos Cancun creates special dining experiences for all vegan guests.
Check out the authentic and innovative dishes on the resort's impressive vegan menu.
Like this fresh and fun Fried Banana Salad.
Is Sandos Cancun all-inclusive?
This luxury Cancun resort is indeed an all-inclusive destination.
Three-layered infinity pools, four bars, five gourmet restaurants and a state of the art fitness center are all at your fingertips.
The accommodation is super impressive too…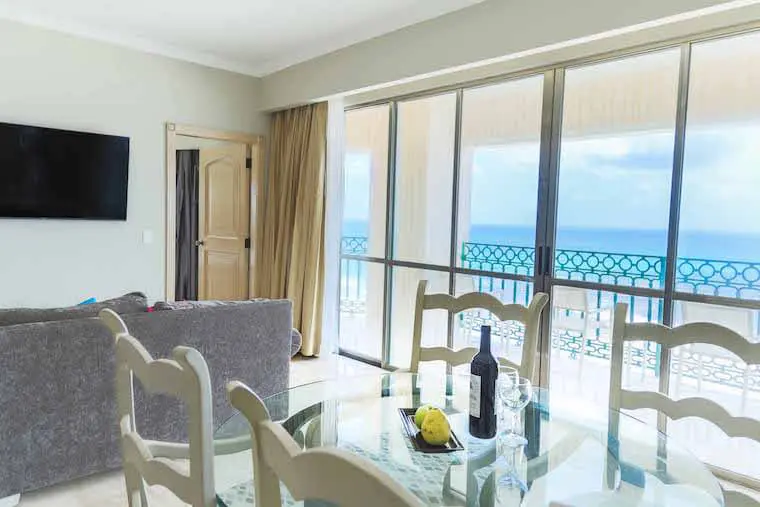 Superior rooms sleep up to three people. You get views across the white sand beach and stunning waters of the Caribbean.
Deluxe rooms also sleep up to three people. They have a fully furnished balcony and views over the Nichupté Lagoon or the beach.
Sandos Suites are ideal for up to three adults. They have a huge bathroom as well as a balcony to sit and relax on.
Laguna Suites have not one but two balconies. You get dual aspect views over the Nichupté Lagoon and the Caribbean Sea. There's also a luxurious king bed in the master bedroom.
Last, but definitely not least…
The Caribe Suite is perfect for spoiling yourself. There are two spacious bedrooms with their own private bathrooms. There's also a large furnished balcony where you can start or end the day looking out over sparkling blue waters.
What activities are there at Sandos Cancun?
At the heart of the hotel is the Spa del Mar, an oasis of tranquility and wellbeing.
You'll find everything you'd expect from a luxury spa including full body massage and health and beauty services.
Fitness is high on the agenda at the resort.
The Wellfit Experience gives you access to fun health-enhancing activities.
There are ocean-front spinning classes for fitness in stunning surroundings.
You may refer to join in with the poolside fun.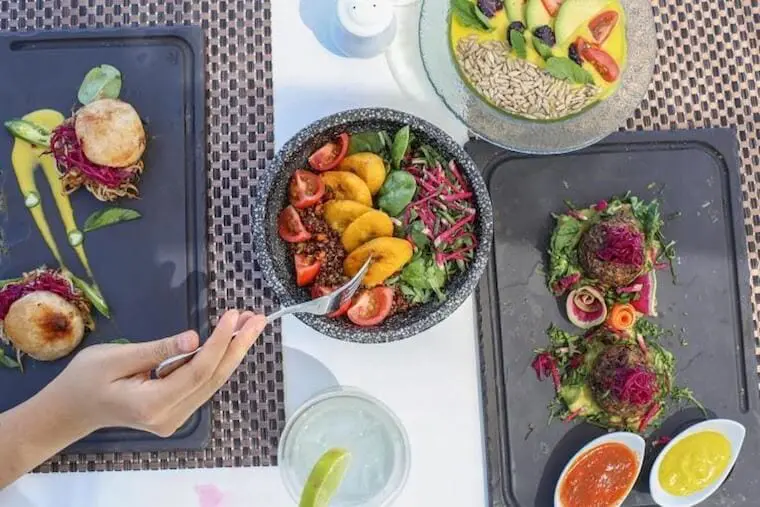 I'm a big fan of the mindfulness activities at the resort designed to help you connect with your surroundings.
What we love about Sandos Cancun:
Dedicated vegan menu packed with fresh and creative dishes.
The chance to practice mindfulness.
Sandos is only 20 minutes from the airport and there are private or shared shuttle options to choose from.
Ready For Your Vegan -Friendly Vacation in Cancun?
Are you inspired to sample the vegan-friendly delights of Cancun and The Riviera Maya?
That's excellent news.
I love helping people find a vacation experience they feel passionate about.
Take a look at my other blog posts for tons of top tips and info you may find useful.
If there's anything else you'd like me to cover, or you have questions just let me know. 🙂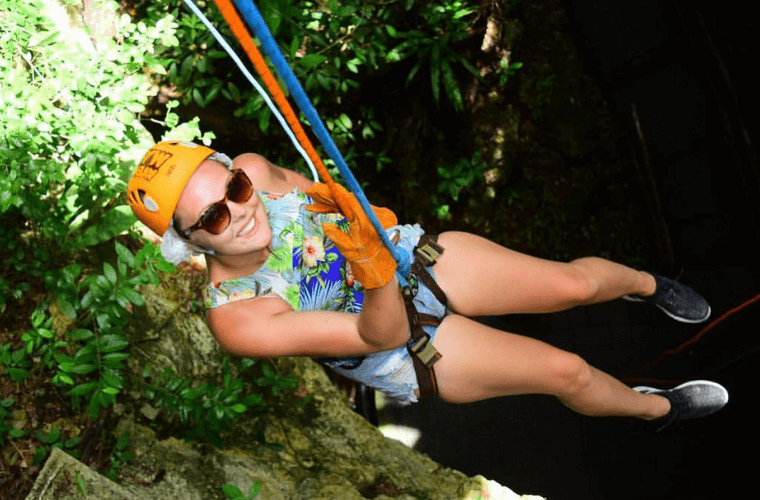 Pop in a comment for any blog and I'll get on it.
In the meantime, happy planning.
Don't forget the team at PlayaDelCarmen.Com can help you get the experience that's perfect for you.
Just call us on 888-537-9797 to get organized and make sure you're getting the best rates.
Or pop your details into the form on our website
Additional Resources By Me You May Find Useful
---
Trending Now