Best Time of Year to For a Beach Wedding in Mexico
---
Are you doing homework to find out the best time of year for a beach wedding in Mexico (East Coast: Cancun, Playa del Carmen, Tulum etc)?
I like your style! You can stop your search – you've come to the right place.
Our award-winning wedding planning team have come to their verdict.  The best time for a beach wedding in Mexico is between August and December.
Discover why in this article…
Weather, seaweed, humidity, prices – there's a LOT to consider (August to December won't be right for everyone), so let's dive right in to find the best time of year for YOU and your group.
When to Have a Beach Wedding on the East Coast of Mexico
---
1.  The Heat and Humidity Factor
You're never going to be really cold in the Mexican Caribbean.
The temperatures are always pretty warm; from May to August, it's usually super hot.
Here's a chart with the average minimum and maximum temperatures on Mexico's east coast to make life easier for you.
You'll see that it's always warm, but that heat starts to rise towards its highest levels from March/April.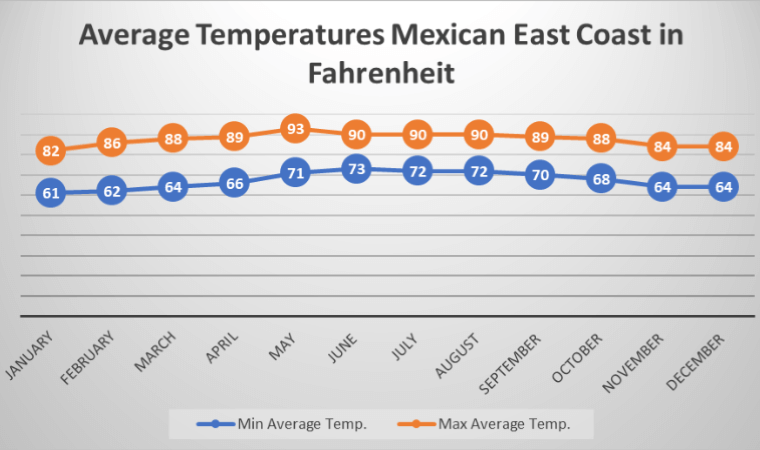 It's also important to realize that humidity levels are high at certain times of the year, so it feels even hotter than it actually is.
Humidity is especially high from March/April through September/October.
Whether you love the heat big time or prefer slightly cooler temperatures, having this info helps you find your "Goldilocks" time for a beach wedding, "not too hot and not too cold."
For more help, there are extra facts and figures in my weather-related blog post.
"Riviera Maya Weather: 8 Things You Need to Know (2023)"
2. The Rainy Season and Why You Shouldn't Panic
I've given you the lowdown on heat levels in Quintana Roo, but what about the rain?
First, I'd like to say, "Don't stress too much over rain on your wedding day."
The reason for this advice is that it doesn't usually last long when the rain does come.
Plus…
Even during the rainy season, May through October, the average monthly rainfall is four to six inches so we're not talking constant downpours.
The fact is that there's a good chance you won't get any rain, and if you do, the Yucatan Peninsula winds will normally blow the clouds away quickly.
And, you and your wedding guests will be left to soak up the sun again.
However, keeping it real, no matter what time you plan your beach wedding, there's always a chance you'll have some bad weather, especially during the wettest months, normally September and October.
This shouldn't cause you any sleepless nights because all resorts have a Plan B that involves moving your celebrations inside.
And, these indoor spaces are every bit as magical as the beach, as you can see…
To brush away any remaining concerns you may have about rain on your big day, take some time to read my blog post.
"Worried About Rain on Your Destination Wedding Day? | Mexico"
3. What to do if the Rain Arrives
Sticking with the theme of wet weather for just a little longer, you should always make sure to plan what you and your wedding guests can do if the weather is not kind to you.
Remember, this can happen any time, so planning ahead means you'll all have an amazing time.
One of my top tips for activities when it rains is driving a buggy through the jungle.
It's super fun, and the muddier, the better right?
Trust me, you and your bridal party will have a blast, and it's a fabulous way of dealing with all that wedding-related nervous energy.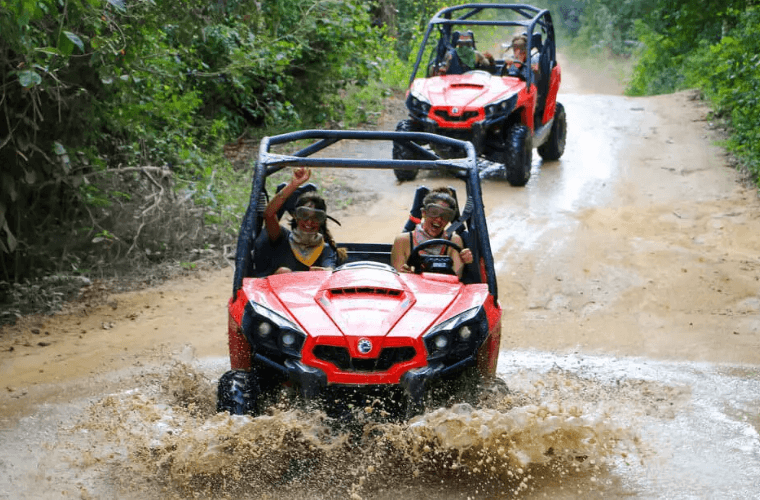 Have a read of my review to get a better idea of what to expect.
"My HONEST Review of The Jungle Buggy Tour in Playa del Carmen (2023)"
There's a ton of other stuff for you and your wedding party to do to escape the rain, including:
Visiting a local movie theater
Exploring the local underground caves and cenotes
Ziplining at Selvatica
Chilling out at a beach club
And treating yourself to some spa treatments.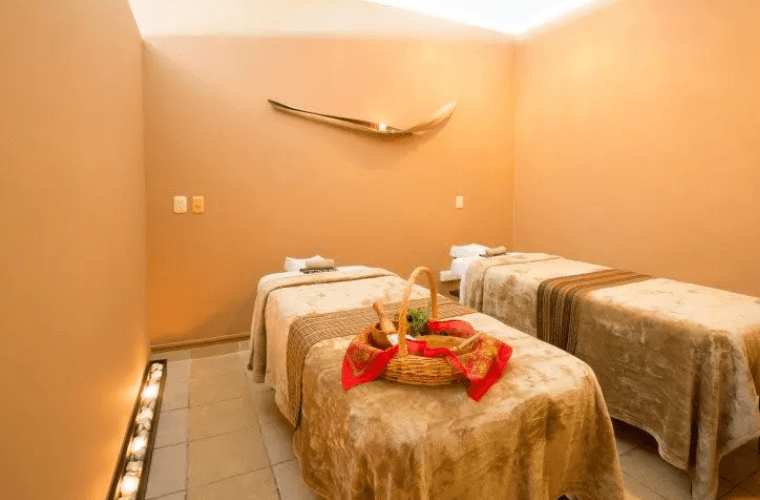 At the end of the day, this is your wedding, so enjoy it no matter what the weather has in store.
The more you relax and go with the flow, the more amazing your memories will be.
4. How likely is a Hurricane in the Mexican Caribbean?
The good news about hurricanes is that, like the rain, they're not something to be stressed about.
Normally hurricane season runs from June through November for the Atlantic/Caribbean region, with the greatest risk being from August through October.
But, this doesn't mean they're a certainty, far from it.
There's a good chance of traveling during hurricane season and having no problems at all.
However, the experience can be super stressful if a hurricane does hit.
So, this is something to think carefully about when you're deciding when to have your beach wedding.
The good news about hurricanes is that they can be tracked.
So meteorologists watch them closely and usually give plenty of warning to protect the population.
Plus, we work with the resorts and local authorities to ensure all our clients are safe and looked after if a hurricane lands.
The potential positive side to planning a beach wedding during hurricane season is that the east coast of Mexico is often less crowded than at other times.
This can make it easier to get good deals on accommodation, wedding packages, and activities.
Call us at  888-537-9797  for more information to help you make a judgment call on whether to celebrate your marriage during hurricane season.
4. When is Peak Season on Mexico's East Coast?
As the Mexican Caribbean has become more developed and popular as a travel destination, the lines between peak and low season have become blurred.
The truth is that this is a popular destination at any time of year, and it's a top choice for beach weddings.
However, there are still sometimes advantages to be had from traveling outside of peak season.
You and your wedding guests may be able to get good deals on travel, and it's often possible to get a room upgrade, depending on the dates you choose for your destination wedding and which resort you opt for.
So, it's worth knowing the different travel seasons, which are:
Peak season – March/April, July/August, and Christmas/New Year's
Shoulder season – January, February, May, and June
Low season – September and October
5. The Seaweed Situation
You can't escape the fact that seaweed can be a very real problem in Cancun and the Riviera Maya.
It's something that we get asked about all the time.
And, the couples we work with are often concerned about its effect on their celebrations.
I get it…
No one wants seaweed to spoil their big day.
The good news is that this is unlikely to happen.
Teams at east coast resorts work hard to clear seaweed if it arrives, and they'll also make arrangements to move your ceremony to a different location if the situation is especially serious on the beach.
It's also possible to keep an eye on the current seaweed position by visiting the Sargassum Early Advisory System.
When it comes to deciding when to have a beach wedding in the Mexican Caribbean, seaweed is generally more of a problem from April through October.
Although, given the fact that it's often cleared away, I wouldn't use this as your main deciding factor.
It's also worth mentioning that there's a myriad of fabulous experiences to be had if you and your wedding party need to avoid excessive seaweed for a couple of days.
You can spend time swimming in a local cenote…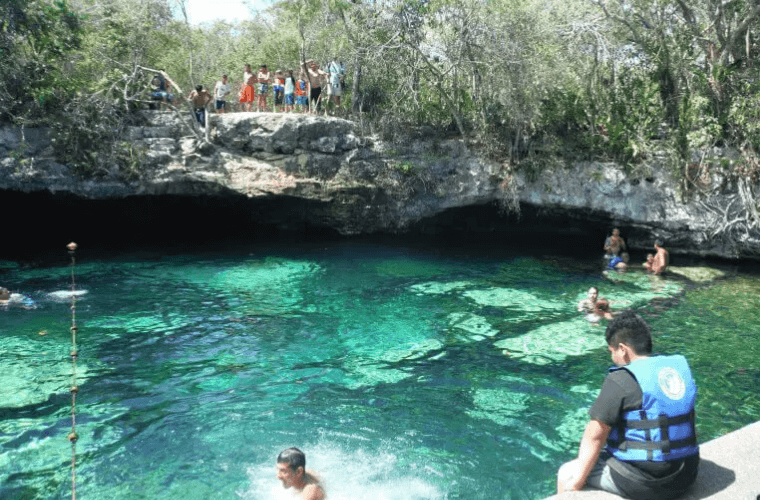 Or, why not spend time lazing by the pool or head off on one of the organized tours that we're happy to book for you?
For more info about dealing with seaweed in this part of the world, check out my blog post.
"How to Handle a Seaweed Invasion in Playa del Carmen: Activities & Ideas (2023)"
6. Knowing What You Want From Your Beach Wedding
You'll probably have seen by now that there's no one size fits all when it comes to the best time for a beach wedding on the east coast of Mexico.
While our team recommends August to December as a general guide, you need to consider what you want from your wedding.
For example, if you love the heat and you've got a healthy budget, you may want to look at March because of the fabulous weather.
On the other hand, the first two weeks in December can be a good pick because the rainy season has ended, but you can still get some good room rates.
August can also be a good shout with its warm temperatures and the fact that it's less likely to be wet than at other times during the rainy season.
If getting some extra stretch from your budget is a big deal for you, it's also worth thinking about low season despite the higher than average chance of rain.
There are often some good deals to be had at this time of year.
You may also want to consider the people who are attending your wedding.
For example, how comfortable are they with very hot temperatures, and how well would they deal with the potential stress of a hurricane?
It may seem like there's a lot to think about.
But, DON'T PANIC!
A beach wedding on the east coast of Mexico is exciting and fabulous at any time of year.
And, we're here to help you make your decision.
Just call us at  888-537-9797  for advice and support when choosing your dates.
Plan Your Beach Wedding on Mexico's East Coast
Ready to plan the dates for your beach wedding?
That's great news.
We'll be with you every step of the way, and we'll help you choose the best dates for your celebrations.
Plus, we'll put our local connections to use to get you the best possible rates and deals for your wedding, travel, and accommodation.
Call us at  888-537-9797 to get started.
We look forward to being part of your wedding story.
Have more questions about when to plan a beach wedding on the east coast of Mexico?
I'm here to answer any other queries you may have.
I'd also love to hear your thoughts about when to have a beach wedding on Mexico's east coast.
Just pop something in the comments, and I'll take a look ASAP.
Other Blog Posts You May Like
---
Trending Now
You may also like