Average Cost of a Wedding in Playa Del Carmen | 2023 Prices
---
Set your heart on a Playa Del Carmen wedding and want to know how much it will cost?
Our team of experienced wedding planners has organized hundreds of weddings in Playa Del Carmen.
With our help, every penny will pack a punch.
We're perfectly placed to share details of all of the costs involved.
Not only that, but we'll make sure you get all perks and discounts you're entitled to.
What's the Average Cost for a Playa Del Carmen Wedding?
---
1. The Average Cost of a Wedding in Playa Del Carmen
When you have a set budget for your wedding, you want to make it go as far as possible.
This can be super stressful if you don't know what costs to expect.
I'm here to make life easier for you by revealing the average cost of a wedding in Playa Del Carmen.
If you plan a wedding in a 4.5★ all-inclusive resort, you can spend anywhere from $500 to $15,000+ depending on your choices such as which wedding package you decide on and which resort you prefer.
You can expect to spend an average of $5,000 – $7,000.
Looking for more info about the cost compared with the number of people on your guest list?
No problem.
Here are the approximate prices you should expect to pay:
$5,000 for a wedding with 30 guests
$7,000 for a wedding with 60 guests
$10,000 for a wedding with 100 guests
$15,000 for a wedding with 200 guests
Is a destination wedding in Playa Del Carmen more expensive than a traditional wedding at home?
The short answer to this question is "no."
If you compare the cost of traveling to Playa Del Carmen to say "I do" with the cost of a traditional wedding at home you'll be pleasantly surprised.
I've already shown you that the average cost of a Playa Del Carmen wedding is $5,000-$7,000.
And according to WeddingWire, the average cost of a wedding in the USA in 2021 was $22,500.
That's a pretty impressive saving to be made from choosing to marry in the Mexican Caribbean.
Plus, you get to share those stunning tropical views on Instagram as you celebrate.
What's not to love? 😍
2. What to Expect From an All-Inclusive Wedding Package in Playa Del Carmen
Choosing an all-inclusive wedding package is a great way of getting the best value from your budget.
Plus, you get everything you need at your fingertips.
So, planning is way less stressful.
Packages are different depending on which resort you choose and which individual package you go for.
But, generally, you'll find they come with inclusions such as:
Symbolic ceremony
Bouquet for bride and boutonniere for the groom
Ceremony location
Sparkling wine for the toast
Wedding cake
Decor for the ceremony
Sound system
More comprehensive packages include additional features such as:
Private cocktail hour
Private reception
Live music and/or DJ
Dinner on the beach for the wedding couple
Spa service discounts for the wedding couple
You can also spend extra on personalizing your celebrations with extras such as photography services or a designer wedding cake.
Or, if you prefer, you can choose a resort that offers fully bespoke wedding services.
This gives you complete freedom to design your dream wedding but is likely to cost more overall.
Wondering whether you should choose all-inclusive or bespoke and trying to decide how much to spend?
We're happy to help.
Call us on 888-537-9797, and we'll help you plan your perfect wedding while making your budget work for you.
3. Cost Breakdown for Your Playa Del Carmen Wedding
I've shown you how much on average you can expect to pay for a wedding in Playa Del Carmen.
And introduced you to the benefits of all-inclusive wedding packages.
Now, it's time to dig a little deeper and answer a question that couples often ask us…
How much is a wedding at an all-inclusive resort?
There are many stunning all-inclusive resorts in Playa Del Carmen.
And, you can be sure of a beautiful romantic wedding, whichever one you choose.
The actual cost of your celebrations will vary depending on your resort and package choices but there are some average figures that give you an idea of what you can expect to pay.
$6,000 for an all-inclusive wedding package that covers a five to seven-night stay.
$250-$450 per person for a flight from the US to Mexico.
$100 for transfers between the airport and the hotel.
$50 for gratuities.
$500-$3,000 for extras on your big day.
These numbers do not precisely reflect what you'll pay for your wedding in Playa Del Carmen.
But, they do give you a ballpark overall figure to work with and they show you that you don't have to break the bank to afford a romantic destination wedding in Mexico.
4. Resorts for Playa Del Carmen Weddings
The array of resorts in Playa Del Carmen is super impressive.
And, they all give you the opportunity to enjoy a competitively priced wedding in paradise.
There are too many resorts to list here so I'll show you some that are most popular with the couples we work with.
I'll start with resorts in downtown Playa Del Carmen.
Celebrate your wedding at a resort here, and you're steps away from the shopping experiences on 5th Avenue and awesome dining and drinking opportunities.
Here are some resorts in downtown Playa Del Carmen you might want to choose for your wedding.
Wyndham Alltra
This exquisite resort is within easy reach of downtown shopping and entertainment.
It also has a breathtaking Caribbean backdrop that's SO romantic.
At this adults-only paradise, you can choose from wedding packages priced from FREE (based on booking conditions) – $8,236.
The cost of accommodation is moderate so you can be sure of a luxury stay at a competitive price.
The Fives Downtown
This modern downtown hotel is close to the shops and the beach.
So, you get the best of both worlds.
You and your wedding guests can also visit local attractions such as 3D Museum of Wonders, Yucatek Divers, and Xcaret Eco Theme Park.
So, there's no shortage of stuff to keep everyone entertained outside of your wedding celebrations.
Wedding packages at The Fives Downtown range in price from $1,250 to $12,950, so there's something for all budgets.
Plus, room rates are affordable, so you get a great bang for your buck.
Paradisus Playa Del Carmen
This is another favorite downtown resort with our clients.
The views are to die for and the suites are super spacious.
Plus…
There are adults-only and family-friendly sections so it's a perfect location for wedding parties with a mix of ages.
The cost of accommodation at Paradisus Playa Del Carmen is moderate so it shouldn't break your budget if you plan ahead.
Wedding packages at the resort are also competitively priced from $1840- $14, 310.
Prefer to stay a few minutes' drive away from the bustling downtown area?
No problem…
There are several luxurious resorts to choose from.
Here's a selection.
The Blue Diamond
This luxury boutique resort is just gorgeous.
It covers 36 acres of diverse landscape, including a white sand beach, tropical jungle, and manicured gardens.
This is a unique natural sanctuary that's the perfect choice if you're dreaming of a tranquil and beautiful destination wedding.
Choose this resort for your celebrations and you can expect to pay $1,945 – $8,995 for a wedding package as well as moderate accommodation costs. 
Iberostar Quetzal
I love the eco-friendly vibe at this resort.
The team's dedication to protecting the surrounding tropical rainforest has earned them Earth Check certification.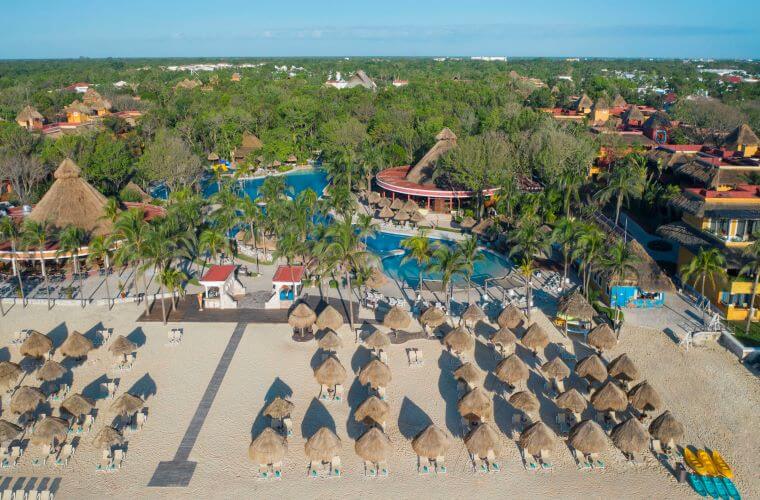 The protection of nature isn't the only positive of this resort either.
You get the top-class amenities and accommodation you'd expect from a 5★ resort.
The cost of accommodation at this family-friendly location is moderate.
When it comes to weddings, there are no packages at Iberostar Quetzal.
You get to plan the wedding you want by choosing features from the wedding inspirations catalog.
So, you can select stunning features that fit your budget.
Royal Hideaway Playacar
This exclusive adults-only destination is located on a gorgeous stretch of beach and is surrounded by lush green gardens.
It's a breathtaking wedding location.
The amenities and accommodation are impressive.
Plus, you get the added benefit of a private concierge service.
The cost of staying at this resort is moderate and you have a range of competitively priced wedding packages to choose from.
Expect to pay $1,250 – $6,700 depending on which package you choose.
Call us on 888-537-9797 for help planning your celebrations at one of these resorts or any other Playa Del Carmen location you prefer.
For more inspiration about wedding venues at Playa Del Carmen resorts, check out my blog post.
"Top 10 Wedding Venues in Playa Del Carmen | Your Ultimate Guide 2023"
5. Breakdown of Guest Costs for a Playa Del Carmen Wedding
Worried that people won't be able to afford to celebrate your Playa Del Carmen wedding with you?
I have amazing news.
If they stay at the resort where you've booked your wedding, they won't have to pay anything to attend your ceremony and reception.
It's completely FREE for them to celebrate your love with you.
The situation is a little different if they decide to stay elsewhere.
They'll need to buy a "wedding day pass" that costs around $50 – $ 100.
At this point, it's worth mentioning that you'll normally be expected to have around 80% of your guests stay at the resort where you're getting married.
So, this is something you need to mention to people as soon as you have a firm guest list in place.
It's also good to give people an idea of the cost of accommodation and other expenses if they attend your celebrations.
For a wedding in Playa Del Carmen, the average costs are:
$250-$450 per person to fly from the US
$100-$250 per person per night for accommodation at a 4★ resort
$100 for airport transfers
$50 for gratuities
This adds up to an average cost of  $700-$1,350 per guest.
They'll also need money for activities outside the resort as well as shopping for mementos.
It helps to make people aware of the cost ASAP.
This gives them more time to prepare and makes it more likely they'll attend.
Aside from communicating with your guests, if you're having a big wedding, you need to make sure the resort can accommodate you.
For more info, read my blog post.
"10 Best Wedding Resorts for 200+ Guests in Mexico (2023)"
Call us on 888-537-9797 and we'll help get the best possible deals for you and your guests so everyone gets the best value from their dollars.
6. How Much Does Wedding Photography Cost?
You only get one chance to capture perfect images of your Playa Del Carmen wedding.
So, photography is pretty high up on your list of priorities, right?
The good news is that many all-inclusive wedding packages come with photography.
Even if this isn't the case, the resort will normally have a preferred vendor you can use.
The average cost of this is $750-$3500+.
You can also choose your own local photographer if you prefer, although this is not usually the most budget-friendly option.
You can expect to pay $500-$4,000.
Plus, you'll have an outside vendor fee to pay to the resort that's usually around $400-$1,000 per vendor.
Psst…
The more features you want to be included with your wedding photography, the more you can expect to pay.
For example, more expensive features include:
Drones
Videography
Photo booths
Creative "trash the dress" shots
I'd always say it's worth investing some extra dollars because you only have this one chance to get incredible visuals of your big day.
7. Perks and Discounts Available in Playa Del Carmen
I love this part of wedding planning.
Getting great value for clients gives you a really warm glow.
After all, who doesn't love a perk or discount?
There are some pretty amazing deals to be had in Playa Del Carmen.
Depending on how much you spend and how many rooms you book, you can get:
FREE wedding packages
Discounts on resort services
Romantic meals on the beach
And, you may be able to upgrade your already impressive accommodation.
This may all sound a little complicated but don't worry.
The PlayaDelCarmen.Com team will make sure you get any great perks or discounts available so your wedding budget stretches as far as possible.
8. Types of Wedding Ceremonies
The cost of your wedding in Playa Del Carmen will partly depend on what type of wedding you choose.
For example, legal ceremonies are a lot more expensive than symbolic ceremonies due to all the additional costs involved, including:
Extra accommodation nights are required for the wedding couple to spend time in the country finalizing paperwork.
The completion of bloodwork.
Services of a judge and additional courthouse fees.
Translation of the wedding certificate in order to make the wedding legal.
These costs are the main reason why couples often decide to marry legally at home and have a symbolic ceremony at the resort.
But, legal weddings are possible for all celebrations, including same-sex ceremonies.
So, if this is what you prefer, no problem.
We'll help you arrange any type of wedding in Playa Del Carmen including South Asian and Catholic ceremonies.
You just need to be prepared for some extra costs.
We'll make sure you know exactly what to expect so there won't be any unwanted surprises and you can plan your budget accurately.
For more info about planning different types of weddings in Mexico, have a look at my blog post.
"Your Ultimate Guide On How To Get Married in Mexico (2023)"
9. What Time of Year Should You Have a Wedding in Playa Del Carmen?
The time of year you choose to get married in Playa Del Carmen has an effect on the price you pay.
You'll get pretty decent weather throughout the year, so looking at when great prices are available makes sense.
In terms of securing affordable flights, packages, and hotels, as well as getting great weather, May is a popular choice with many couples.
Image: climatesfortravel.com
And, if you're unlucky enough to get rain on your big day, the resorts have contingency plans to move celebrations inside if they were originally planned to be outdoors.
Call us on 888-537-9797, and we'll help you decide on the best time to celebrate your love in Playa Del Carmen.
10. Start Planning Your Destination Wedding in Playa Del Carmen
You can see there are lots of different factors that come together to make up the average cost of a Playa Del Carmen wedding.
Plus, you need to consider accommodation extras, tours, and activities as well.
All this can seem a bit overwhelming.
But, DON'T PANIC!
We're here to guide you through the whole planning process.
And, we'll put our local knowledge and contacts to use to make sure you get the best possible value from the money you spend.
Call us at  888-537-9797 or send an email to weddings@playadelcarmen.com to get started.
We're excited to help you create your wedding story.
Have questions about the prices for weddings in Playa Del Carmen or any other destination wedding queries? 
I'd love to see what you have to say and answer any questions you have.
Just pop something in the comments and I'll take a look ASAP.
Other Blog Posts You May Like
---
Trending Now
You may also like