Worried About Rain on Your Destination Wedding Day? | Mexico
---
Are you wondering what happens if there is rain on your destination wedding day in Mexico?
I like you already… preparing for ALL scenarios to avoid any stressful surprises.
You're my kind of person.
For some, it can be a hard pill to swallow but when organizing a destination wedding in Mexican paradise, of course, you plan for sun…
…But that doesn't mean it can't rain.
Rain On Your Destination Wedding Day:
---
The Weather Changes Quickly…
My job is to be honest with you…and the Caribbean can be notoriously unpredictable when it comes to the weather.
Especially during the rainy season which runs from June-October every year.
In the Riviera Maya my guesstimate is that most the time it's:
100% warm
35% cloudy
60% clear blue skies
5% rain
I'm not a weather girl but having lived in these parts for quite some time now, that's what I'd boil it down to day-to-day.
One thing I know for sure is that the weather can change dramatically here in a matter of minutes.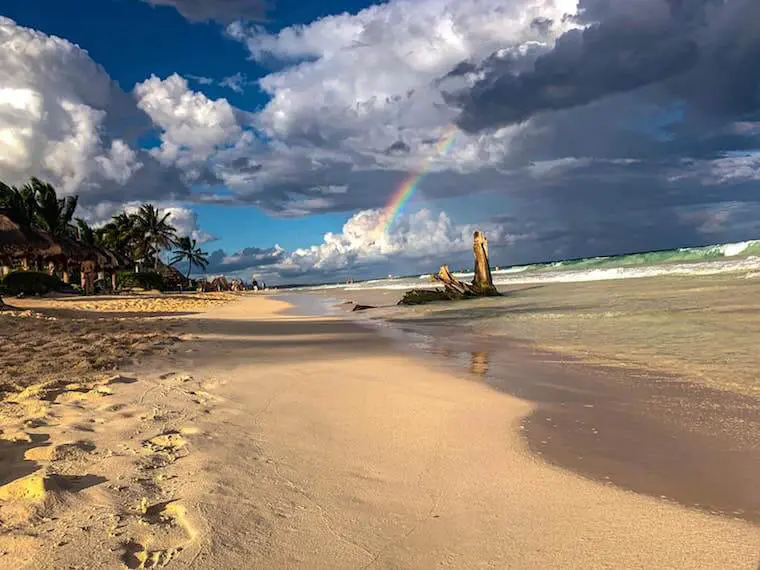 IF it rains on your wedding day (which, looking at the stats, is unlikely) it comes as quickly as it goes.
What do I mean by this?
Well, one minute it can be glorious sunshine with clear skies, and the next it can be overcast and rainy but it's usually short-lived and quickly returns to sunny skies in no time.
For a full rundown of what to expect when it comes to the weather in the Riviera Maya and a look at the different seasons (rainy and dry) check out my blog 7 things you should know about the weather before you get here. 
3 Reasons Why You Shouldn't Go Into Panic Mode If It Rains
So, you wake up on your wedding day at the resort, you look outside and it's raining…before you freak out there are a few things you should know…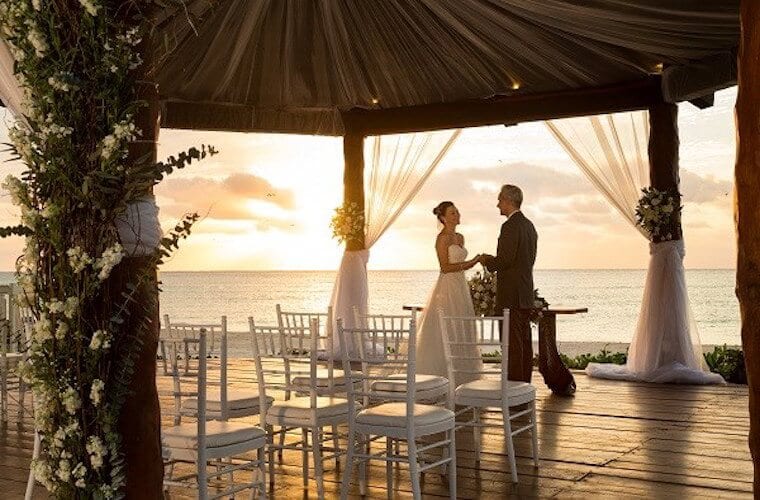 As I just mentioned the weather changes here super quickly. When it rains in the Riviera Maya it tends to POUR but it's almost always short-lived.
The resort's wedding team ALWAYS has an indoor plan B… This is not their first rodeo.
Rain, whether you love it or hate it, makes for EPIC wedding photography (more on that later). Think rainbows and dramatic sunsets!
The Resorts All Have BackUp Locations
The music to your ears at this point is the hotels and resorts always have a backup location if you're planning on an outdoor location.
Details about a plan B scenario will be outlined in your wedding contract.
Yourself and our team can check the details with you to make sure you're happy before signing anything.
If it does rain…
On the day of your wedding, the wedding team from the resort will be in contact with you early on if the forecast doesn't look promising.
For example, if it is cloudy the department will ask you "would you prefer to move the wedding to an indoor location?"
They will give you a specific cut-off time by which you need to decide what you want to do.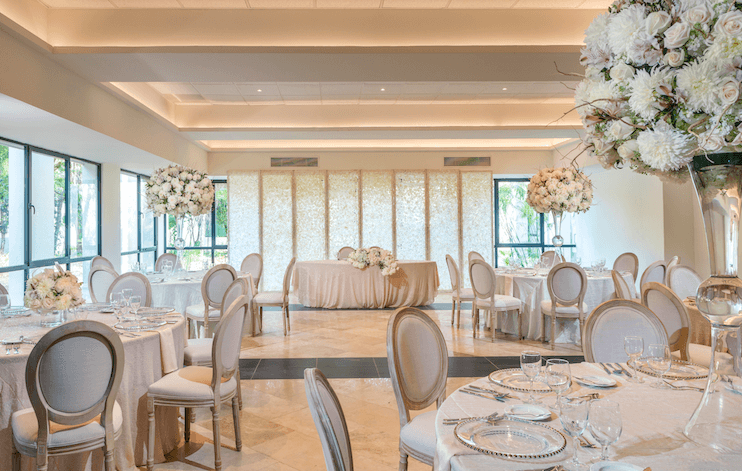 If you go with the outdoors wedding location and it rains, you either have the wedding in the rain or usually, you pay a penalty to move the set up indoors at the last minute.
All of the hotels and resorts have different protocols and regulations but generally, this is the gist of it.
Once you've chosen your resort, package, location, decor, etc, our expert wedding planners at PlayaDelCarmen.com will be on hand to help you take care of the rest.
We'll ensure you are clear on what to expect so there aren't any scary surprises on the day.
We want this to be one of the best days of your life so our mission is to go above and beyond so you can enjoy every single second of it.
How to Plan for Hot & Humid Weather
Don't skip this part…it's important.
Unless you're adapted to this climate, one thing we know for sure is that it's going to be hot and humid. 
When I arrived in Cancun for the first time it took me a few months to adapt to the heat.
I'm from the UK and in Manchester, it rains A LOT there and it's rarely ever humid. This was all new to me.
It's useful if most brides that choose to get married here have visited before, so they know what to expect.
However, if you're one of those spontaneous brides who fell in love with the pictures and was just like "I want to get married there", I highly recommend taking a pre-wedding trip first so you can get the lay of the land.
…if that's not possible here's what you need to know.
Choose Suitable Attire
Where I'm from in England, wedding dresses are heavy, big, beautiful, and generally have a lot of material.
If you've got your heart set on a destination wedding it's important you take the weather into consideration when planning your outfits…
It's going to be REALLY hot so you need to dress appropriately for what you can handle.
The last thing you want is to be sweating buckets on your big day, right?
To help you out, I put a blog together on stunning dresses you could use for inspo.
They all look great and allow breathability.
Hair & Makeup
Ladies…I've got the world curliest and out of control mane, putting heat on it in this humidity is:
A. a waste of time
B. a frizz disaster waiting to happen
Plan the best look for your hair type.
Curly girls if you're curly…go curly! Trust me.
As for makeup-less is more.
The last thing you want on your photos is for your makeup to look like it's sliding off.
Make sure one of your bridesmaids has a powder compact to hand to mattify you when needed.
The Best Time of Day to Have Your Ceremony
Once you've decided on the season you want to get married in, the next thing to do is to book the date and time…
This is always subject to availability with the hotels and resorts but planning in advance will mean you have more options to choose from.
Our expert wedding planners at PlayaDelCarmen.Com recommend having your wedding at 5 pm if possible.
Why?
This time of day it is still warm and sunny without it being too much.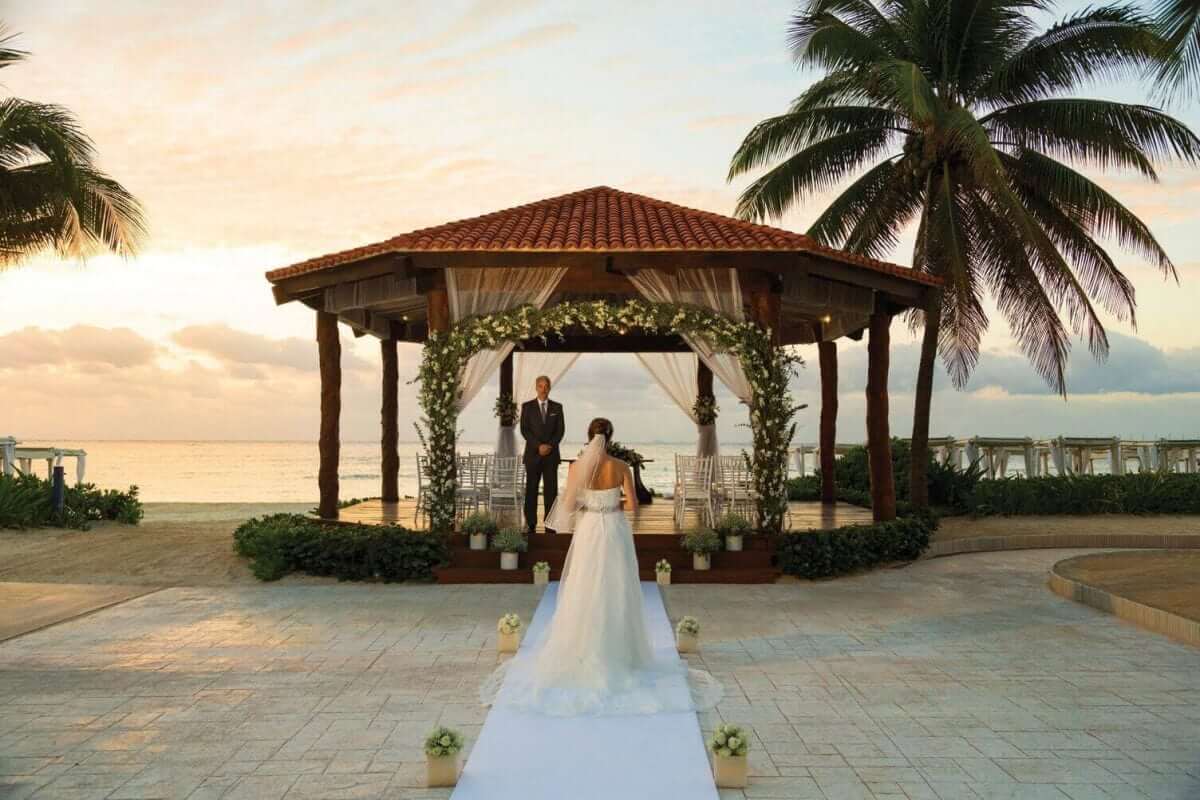 Plus, you will have the golden hour sunshine in all of your photographs.
The lighting at that time of day is just perfect!
In the summer months (May, June, July, August) 6 pm is also good as it doesn't get dark till around 7.30 pm.
Be aware that the sun goes down earlier in the months of Nov, Dec, Jan up until March.
In these winter months, the best time of day in our opinion is 4 pm.
Getting married at midday from 12-2 pm is the hottest time of the day in both seasons.  
Rain = Pretty Spectacular Wedding Photos
Rain is the giver of rainbows, epic sunset, and dramatic skies.
With the right photographer, it can an epic backdrop to your wedding photographs.
When searching for the perfect photographer in the region be sure to ask them do they have experience shooting wedding photos in the rain and if they have any examples to show you.
Choosing to have your wedding in the rainy season surprisingly has many advantages like missing the crowds and saving money just to name a few.
Photographers who actually live here in the tropics are far more likely to be able to shoot with confidence and provide an excellent standard of work.
If you need help finding someone, reach out to us today so we can point you in the right direction.
Secrets of the Maya…Could Rain Be A Blessing?
Fun fact: one of the Ancient Maya's most important gods was 'Chaak' – the god of rain.
Maya farmers, even today in Mexico's parched Yucatán still appeal to Chaak for the gift of rain.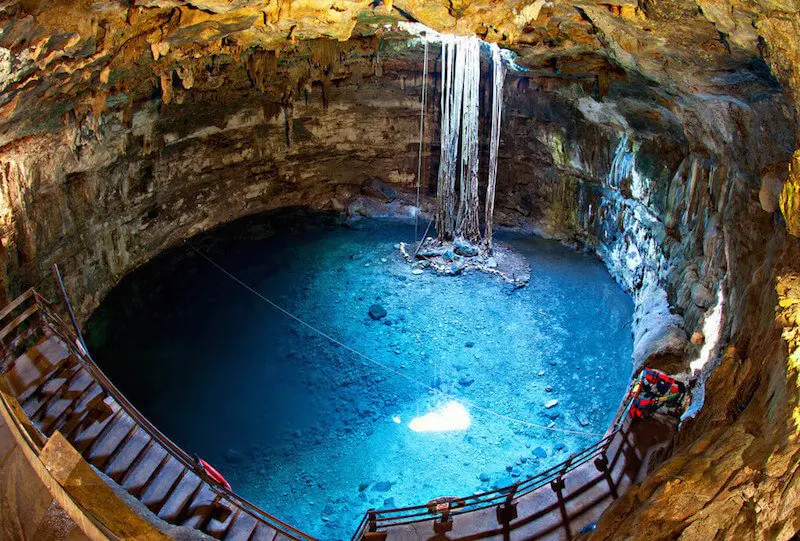 It is considered a blessing in Mexican culture because, without water, there would be no life.
Consider this next time you start to worry about whether or not it will rain on your wedding day.
Start Planning Your Wedding Today
And that's a wrap!
If there are any further questions you would like to ask me or the weddings team about planning your day in paradise reach out to us in the comments, call us on our toll-free number  888-537-9797  or email us at weddings@playadelcarmen.com
Our wedding planners have helped to organize 100s of weddings in this region and we know the ins and outs of the process better than anyone.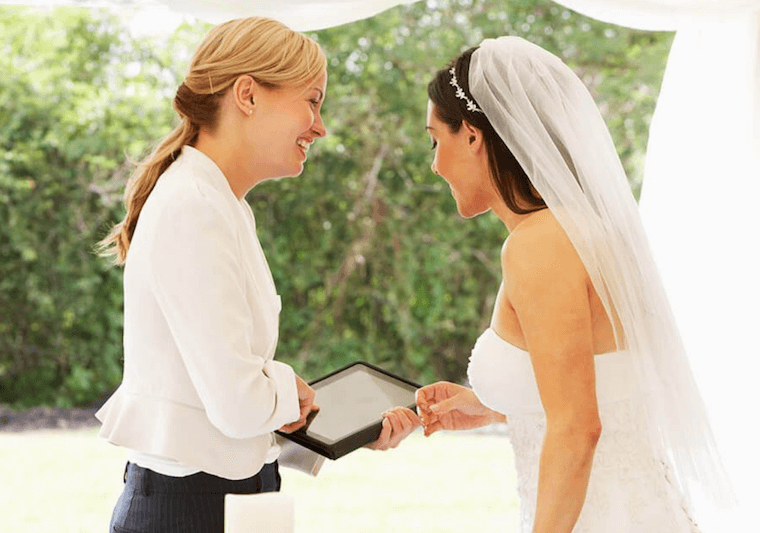 Read our review here to see what the brides and groom who came before you have to say.
Our fast-growing and friendly team is made up of wedding coordinators from all around the world all living here, on the ground, in Playa.
We understand that planning something away from home can be a little daunting but we will be here for you from start to finish.
The best part? Our services are completely free of charge.
We can help you whittle down the hotels, choose the right package for you, handle the room bookings for you and your guests, and plan any excursions you might want to take.
We look forward to welcoming you to paradise.
---
Other Resources You May Find Useful
Find everything weddings related you could ever need on the wedding section of our blog HERE. Don't forget to use the search toggle to find what you're looking for.
Happy planning!
---
Trending Now