4 Restaurants You'll Love for Christmas Dinner in Playa del Carmen
---
Are you planning on spending the holidays in Playa del Carmen?
Perhaps you're just here for a short visit, or maybe you call this wonderful beach destination your home.
Whatever the case may be, if you're far away from home and not the culinary genius you always claimed to be, now's a good time to consider where you are going to celebrate the reason for the season: food and sharing.
A Very Playa del Carmen Christmas: 4 Great Dinner Ideas
There's a lot be said for heading to a nice restaurant for a good Christmas dinner.
Besides, it should never have to come to this:
In other words, leave it to the experts to worry about standing in line at the grocery store, forgetting to buy the lettuce, slaving in the kitchen for hours, and of course, all the grime and hassle of cleaning up afterward.
The following 5 Playa del Carmen restaurants have you covered, and will pamper you while you sit back, relax, and take in the tropical holiday spirit.
Note that other restaurants such as Don Chendo, El Jardin, and La Cueva del Chango, among others, will either be closed on this day or not be offering any special menu.
Also take into consideration that none of the menus below include drinks or gratuity.
1) PATANEGRA
Anyone who is familiar with Mediterranean food knows that, done right, it is some of the most fantastic cuisine in the world. This popular Spanish restaurant in Playa del Carmen may be a bit off-the-beaten-path for those who don't venue too far off 5th Avenue, but please do your palate a favor and give this culinary gem that is Patanegra a try. As to be expected, their Christmas dinner promises to be an unforgettable gastronomic delight.
PATANEGRA MENU
Iberico sampler
Grilled octopus with potato rissole, roasted bell pepper crust and garlic emulsion
Fish fillet a la marinera with live mussels
Black Angus rump cover, salted to taste, with Portobello mushrooms and sautéed asparagus
White chocolate mousse with Bailey's ice cream and strawberry sauce
Turron and Christmas sweets sampler
R.S.V.P.: 984-147-3956 or elpatanegrarest@gmail.com
Price: $890 MXN per person
2) PLANK GOURMET GRILL & PATIO BAR
Meats and salmon slow-cooked over cedar planks served in an upscale yet earthy setting. Masters in the art of gourmet smoking techniques, this meat-induced but vegetarian-friendly culinary heaven is also one of Playa's most renowned restaurants. Recipients of the International Star Diamond Award by the American Academy of Hospitality Science, Plank Gourmet Grill rubs their meats and their clients palates in an incredibly delectable fashion. This high-end restaurant is where you want to go to celebrate your Christmas dinner in style.
PLANK MENU
Artisan flat bread with dips
Pumpkin cream with sautéed mushrooms, truffle oil & pumplin seeds or fig and gratin goat cheese sald with grilled beetroot and balsamic reduction
Roast beef with horseradish cream & gravy or smoked turkey breast, cranberry sauce & gravy
Assorted family-style side dishes
Apple and blueberry pie with vanilla ice cream, Frangelico liquor and chai tea sauce
1st Sitting:  18:00 to 20:30 – $625 MXN / $40 USD per person
2nd Sitting: 21:30 – $625 MXN / $40 US per person
R.S.V.P.: 984-803-0108 or reservations@plank.mx
+There will also be live music, photobooth and toast with sparkling wine+
---
3) INDIGO BEACH
Think about it. Relaxing at the beach as the waves gently crash against the shore, you contemplate about how nice it feels to celebrate Christmas in a tropical environment.
You slip your bare feet into the sand while sipping on a wine and enjoying how the figs stuffed with bacon and goat cheese seem to melt in your mouth.
In the background, a live band plays melodic seasons greetings as the sun sets on Christmas 2016 in Playa del Carmen. Does it get any better than this?
INDIGO BEACH MENU
Appetizer: Figs stuffed with bacon served with goat cheese mousse
Starter: Apple salad with nuts, cranberry, pineapple, white cabbage, and cream or flank steak rolls served with gratin smoked provolone cheese, and asparagus, accompanied with mushrooms in balsamic reduction
Main course: Fish meatball served with whipped thyme apple and Xcatic chili pepper relish or stuffed turkey with meat served with mashed sweet potatoes covered in a dry nuts dressing.
Dessert: White chocolate mousse with orange reduction
R.S.V.P.: By email to contacto@indigobeach.com.mx or vía telephone at by calling 984-803-2222 or 984-8031414
Price: $350 MXN per person
---
4) MANNE'S BIERGARTEN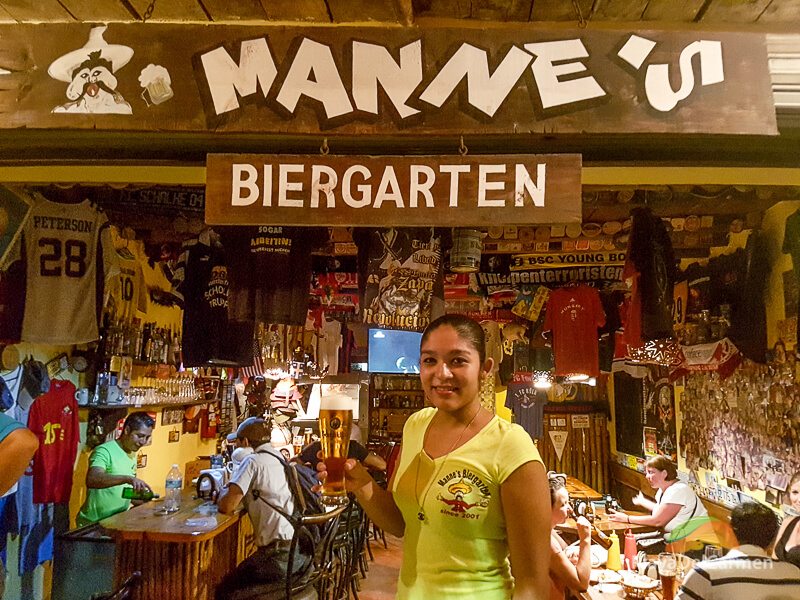 This one's for the cool kids who have yet to give up that title no matter what their age. Manne's Biergarten is about as friendly of an atmosphere as you'll find in Playa del Carmen, and as you would expect, they're going to celebrate Sankt Nikolaus in their cozy little pub. Expect a big crowd of familiar faces and lots of laughter to go along with those turkey with dumpling or duck with mashed potatoes. Frohes Weihnachten!
MANNE'S MENU
Christmas Eve & Christmas Dinner
Turkey with dumplings or mashed potatoes and red cabbage, plus Apfelstrudel – 250 pesos
1 / 4 Duck with dumplings or mashed potatoes and red cabbage, plus Apfelstrudel – 220 pesos
1 / 2 Duck with dumplings or mashed potatoes and red cabbage, plus Apfelstrudel – 350 pesos
Prime rib* with baked potato and salad, plus Apfelstrudel – 380 pesos
R.S.V.P.: 984-876-5363
*Only served December 25th
Deck the palms with shells and hominy…
Or call our travel specialists toll-free at 888-537-9797
for the best Playa del Carmen travel deals!
---
Trending Now
You may also like