10 Amazing Off-The-Beaten-Path Playa del Carmen Restaurants
---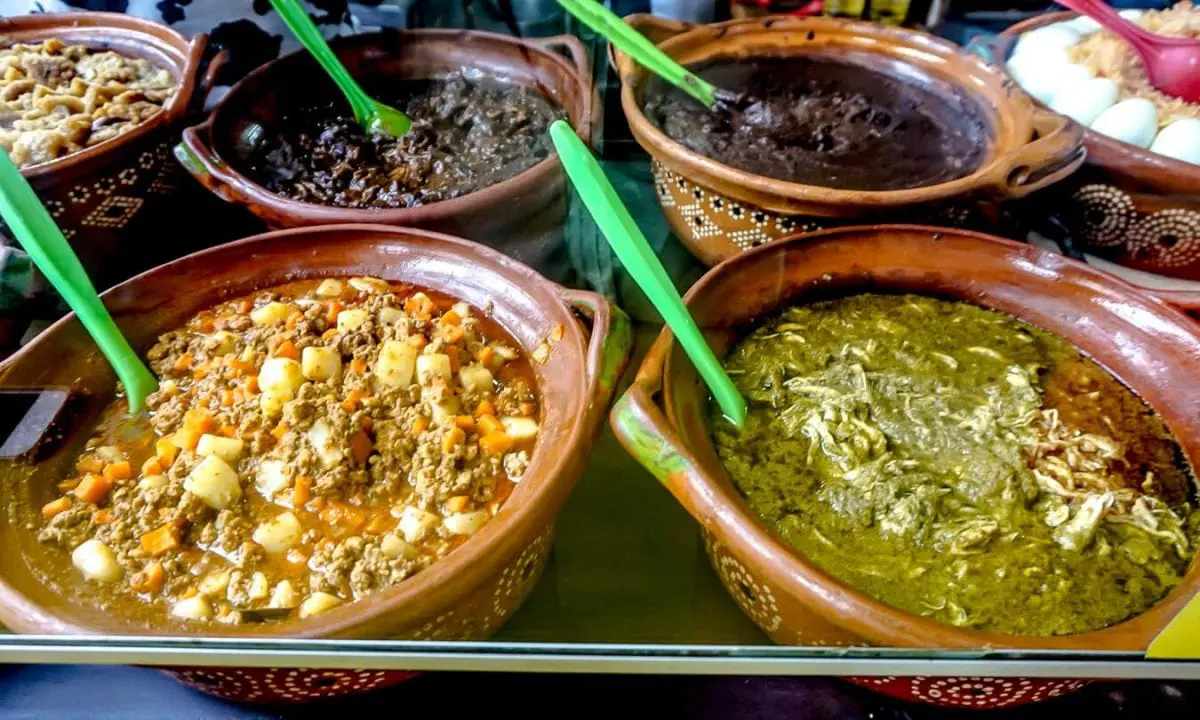 If you're a foodie or simply love exploring new places to eat and/or drink in Playa del Carmen, this post is for you.
Because if there's one thing Playa del Carmen has a lot of, besides of course Argentinians and techno parties, it's great food.
Playa del Carmen restaurants abound and they are good.
You can't necessarily get cuisine from all over the world like you could in a major metropolis somewhere where it's already starting to look like winter, but hey…
Have you happened to see our beaches?
Still, there's tons of places here to find some mouth-watering culinary delights.
10 Amazing Off-The-Beaten-Path Playa del Carmen Restaurants
So where do you find these gems, you ask.
Throughout Playa del Carmen, I answer.
There are many more than this list here, but you've gotta start somewhere.
But first, a caveat.
Not all are the best in terms of food.
That said, I wouldn't send you here if they had bad eats.
Some just have the right atmosphere for a night or lunch out in Playa del Carmen.
#1 Punto 115
More than a restaurant, this is the place to go if you want to know what Playa del Carmen is like outside of the tourist zone.
Punto 115 is a small entertainment center with several restaurants and bars located in northeastern Playa del Carmen on the other side of the highway.
This hip strip has live music, sexy people, tasty cocktails, and a few places to get a nice bite to eat.
Venues include La Drinkeria by Henry Miller, Don Sirloin, La Marnifica, La Piola, and Las Helodias.
None of the places will blow you away with their food, but you'll find some nice treats to go with that passion fruit margarita you just ordered.
Address: Avenida Arco Vial 28 de Julio
Opening hours: Varies according to establishment
---
#2 Don Chendo's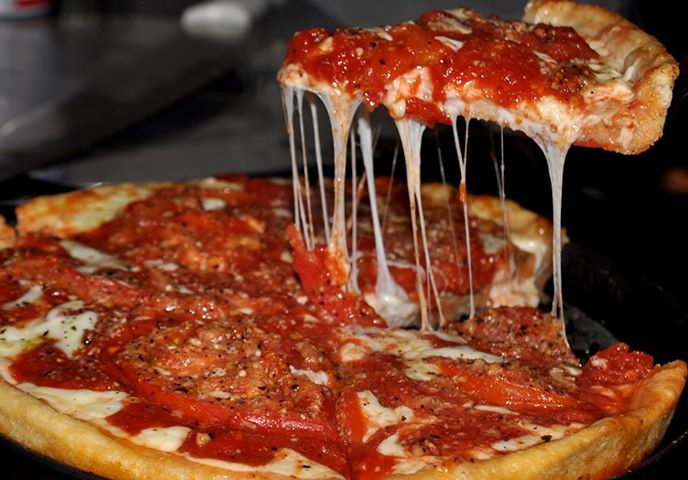 I normally would be skeptical about including pizza in a post about places to eat and drink in Playa del Carmen that are off-the-beaten-path.
After all, you can find pizza practically anywhere.
But then again, we're talking about Don Chendo's.
You see, there is pizza and then there is Don Chendo's.
Delicious, Chicago-style pizza.
This place gets everything right.
The sauce is sweet and well-spiced, toppings are quality and abundant, and the owner and his staff are as friendly and caring as you'll find anywhere.
Put simply, I sometimes daydream about their pizzas with Don Chendo's special sauce, and the only other place that provokes such culinary-induced slobbering on my part is the place right below.
Address: Avenida 30 con Calle 24 y 26
Opening hours: Mon. – Sat., 3:00 p.m – 11:00 p.m.
---
#3 El Gran Taco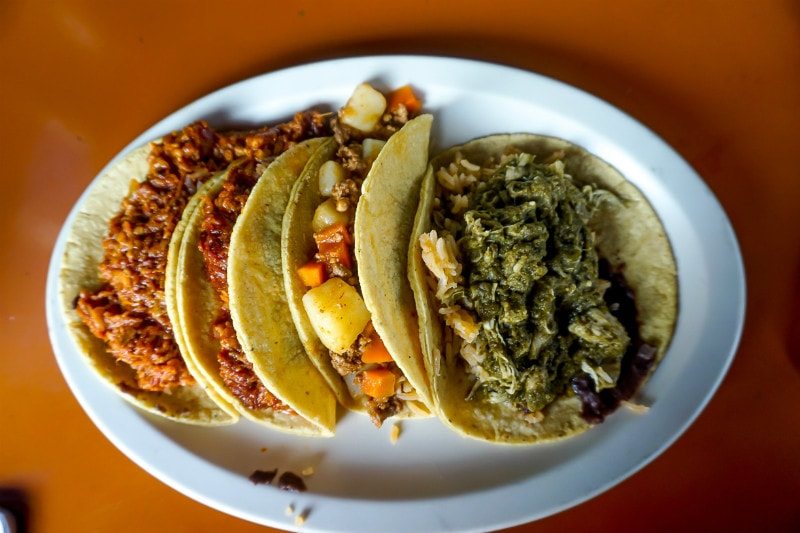 Tacos.
You can't come to Mexico without trying some tacos, right?
But like in the example above, not all tacos are created equal.
These are the crème de la crème of tacos.
In fact, if heaven exists and they too have taco trucks on every corner, as would be expected, then this place should have a monopoly.
But take note, foodies.
These aren't like most tacos you've had before or would even expect to find.
The tacos at El Gran Taco are tacos de guisado, meaning stew-filled tacos.
The fresh, thick tortillas, handmade sometimes using blue corn, are basted with refried beans and rice before being filled with your selection of over 15 different, mouth-watering stews.
I've eaten here a lot.
It's so good it even made my list of 10 reasons why you should visit Playa del Carmen.
Not only do I love everything they have; only once did I find a taco not perfectly cooked and too salty.
Address: Avenida 30 con Calle 24 y 26
Opening hours: Tues. – Sun., 8:30 a.m until there are no more (usually around 2:00 or 3:00 p.m.)

---
#4 Le Lotus Rouge
This place will blow your mind.
And it may not be for everybody.
I love it.
Every inch of Le Lotus Rouge screams crazy.
I don't mean that in a bad way, either.
Crazy in the sense of creative, spectacular, wild, and dream-like.
David Lynch would be proud.
Close your eyes and imagine the white sand beaches and blue hues of the Caribbean Sea.
Now imagine a circus-like restaurant and bar located just six blocks away.
Every inch of the establishment is covered with dolls, paintings, odd knickknacks, and anything and everything in between.
Each night has a different theme, and it's a great venue for live music by local talent.
In addition, the crowd that frequents Le Lotus Rouge tends to be an extremely friendly mix of locals, emigrants, and tourists alike.
Put this place on your list of things to do in Playa del Carmen, and then be sure to take a camera when you go.
Address: Avenida 30 con Calle 24 y 26
Opening hours: Mon. – Sat., 3:00 p.m – 11:00 p.m.
---
#5 Manne's Biergarten
Ach ja.
Der lieber Manne is as much a fixture of Playa del Carmen as the Mayan Portal or the street vendors on 5th Avenue.
Manne's Biergarten is a small bar located just two blocks from Quinta Avenida.
It may be close to all the action, but it feels like a world away.
This lil' German joint spews intimacy and a wonderful vibe just as soon as you approach it.
Manne and his wife Susie can often be found hanging around and mingling with the crowd, and the bar flies that frequent this joint are an eclectic mix of locals together with European and U.S. American immigrants.
Oh, and by the way, Manne serves up some mean German food.
Authentic, well-served, and lecker.
This place is definitely one of my favorites in Playa.
Prost, liebe Freunde und Freundinnen!
Address: Calle 4 entre 10 y 15
Opening hours: Wed. -Mon., 4:00 p.m – 1:00 a.m.

---
#6 El Hongo
El Hongo is not your typical restaurant.
Think community center with a great place to eat attached.
El Hongo is located not far from the Federal Highway that knives through Playa del Carmen, dividing the growing city between east and west.
Just a few blocks from that major traffic artery you'll find a place built on love, hope, and a commitment to a better future.
The nice couple that runs El Hongo dedicates a large part of their time and efforts to supporting the local children with cultural and environmental education.
Here's how the fine folk at El Hongo so aptly describe their creation:
"A family-friendly place built with tons of love and art, supporting ourselves with recycling, being consciencious, sharing knowledge, good food, good music, and above a really good vibe."
We couldn't have said it better.
They provide a window to a world of education that many kids would not have due to lack of funds.
But what these soon-to-be adults lack in money they make up for in spirit, creativity, and the unbridled beauty and curiosity of being a kid.
And then there's the restaurant.
Open for breakfast and lunch, El Hongo serves up delicious, slow-cooked Mexican grandma-style cooking made with the same love and dedication with which they contribute to making the world a better place.
Pay them a visit and experience Playa del Carmen beyond the beach and tourist circuit.
Address: Calle 19 Sur, entre Calle Diagonal 80 Sur y Calle 85 Sur
Opening hours: Tues. – Sat., 9:00 a.m – 5:30 p.m; Sundays 9:00 a.m – 3:00 p.m
---
#7 PapaCharly Pasta Factory
There are a lot of Italians and a lot of Argentinians in Playa del Carmen.
In fact, there are a lot of Argentinians with Italian heritage, of which they're very proud, so it's sometimes hard to tell the difference between them.
Enter stage left, PapaCharly Pasta Factory.
This Argentinian owned and operated pasta shop is the perfect combination of two eternally entwined cultures and their love of all things pasta.
Set off in the area of Playa del Carmen known as Little Italy, Papa Charly's has incredible food, good portions, and a truly inviting vibe.
Coming here just feels right, and then the food is served and you're in Argentialian heaven.
Address: Calle 30 y Avenida 25
Opening hours: Mon. – Sat., 3:00 p.m – 11:00 p.m.

---
#8 El Curandero
Ah, yes.
The healer.
The place to go when the night before got the best of you.
The seafood mecca to cure that banging headache innate in spending a night out at Playa del Carmen bars and nightclubs.
El Curandero is relatively new to Playa del Carmen, but the quality of its vibe and the deliciousness of its food will result in a long and prosperous career of healing the ailing and providing relief to the needy.
Open morning, afternoon and at night, El Curandero has the cure.
Pacific-style seafood and sports bar, hipster style.
Address: Avenida 34 norte entre 25 y 30 norte
Opening hours: Mon. – Sun., 8:00 a.m – 12:00 a.m.

---
#9 The Public Place
This place has a warm and welcoming vibe.
It's as close to a cozy pub as you could expect to find in a town on the Caribbean.
Live music, hip people, and great pub-style food make this  gem unique in Playa del Carmen.
Located on the northern outskirts of the Playacar residential area, Public Place is a great choice for a night out within walking distance of both downtown and Playacar.
Address: Av. Aviación, Plaza Paseo Coba, Local 210, Playacar Fase II
Opening hours: Mon. – Sun., 4:00 p.m – 2:00 a.m.

---
#10 El Rincon Yucateco
One of the many wonderful aspects of Mexican culture is the amazing diversity of their cuisine.
The country has 32 states in the Republic, each having its own array of specialties.
Yucatan cuisine is no exception; it's just plain exceptional.
Even though Playa del Carmen is technically found in the Yucatan Peninsula, the food here is more cosmopolitan than Yucatecan.
In fact, it's easier to find Italian food and just about anything else than it is to wander in to a quality Yucatecan restaurant.
Luckily for us, there's El Rincon Yucateco.
Located just north of the shopping district, Rincon Yucateco will allow you to savor the goodness that is our beloved and delicious regional cuisine.
Address: Calle 46 norte con Avenida 10
Opening hours: Tues. – Sat., 8:00 a.m – 5:30 p.m.; Sundays 9:00 a.m. – 3:00 p.m

---
A Special Bonus from Chef Farfan
Okay, so why 10 if we now have 11?
Because I consulted my culinary oracle here in the office, Luis Farfan.
Luis is one of our awesome travel specialists who likes to hook people up with good deals and great travel tips.
Among his many talents, he's also a chef.
And like me, he loves food.
So before publishing this I went to him like a young martial artist would do with his master before entering into battle with the invading forces.
But instead of giving me advice such as, "Flow like water," or "Be one with the wind," he instead suggested yet another awesome Playa del Carmen restaurant.
Here's his bonus answer, and why he's my gastronomic Sifu.
---
#11 Carnitas Y Barbacoa Silao
You're probably asking yourself what the hell does carnitas and barbacoa even mean.
We'll let Luis explain:
The best aspect of a multicultural city like Playa del Carmen for us foodies is that you can find gastronomy from all over.
That being said, this meat lover foodie paradise is a bit hidden deep in town, but it offers great food.
As the name of the restaurant suggests, the main dishes are barbacoa, which is spiced lamb slow cooked over mesquite wood fire over hours and hours, then cut and served with handmade tortillas, onion, cilantro, lime and a wide array of salsas.
Carnitas are one of the pillars of the Mexican gastronomy, so famous that has made it's way to the U.S. in many restaurants (you might have tried it already).
Here you will find well-made traditional carnitas, which is basically slow braised pork with spices.
And again, because Mexicans love to serve and eat everything this way, the meat is cut and served up with the same condiments of cilantro, onions, limes, and salsas.
But there is yet another unique foodie experience in this place as well.
Until now, I never knew what the perfect drink to go with a taco was ( I always have them with beer, soda or flavored water); that was until I found tepache (a soft drink made with fermented pineapple and spices that can be found with or without alcohol).
This millenary drink has been part of Mexican gastronomy since the times of the Aztecs, and packs a unique punch of flavor that is perfect with anything that you can put on a tortilla.
Plus, it's refreshing and healthy!
Address: Av. Petempich and 115th Street (across the street from Punto 115)
Opening hours: Mon. – Sun., 7:00 a.m – 6:00 p.m.
Did we whet your appetite for a foodie trip to Playa del Carmen?
Get savory travel tips from Luis and his merry band of travel specialists toll-free at 888-537-9797!
---
Trending Now
You may also like