Your Guide to Saving Money on a Destination Wedding (2023)
---
Planning your destination wedding and want to get the best bang for your buck?
I hear you.
The great news is that a destination wedding is more affordable than a traditional celebration.
The average cost of a wedding in the US in 2021 was $22,500 while the average cost of a wedding in a 4.5★ all-inclusive resort in Mexico is $5,000 – $7,000.
So, you're onto a winner already.
And, that's only the start…
Our award-winning wedding team are here to make sure you get all the perks and discounts you are entitled to.
Here's how to make your savings stretch even further.
Ideas for Saving Money on a Destination Wedding
---
1. Get Married Legally in Advance
Marrying legally at home before arranging a symbolic destination wedding saves you time and money.
You don't have to pay any extra-legal costs at your destination and you aren't stuck with having to gather the documents needed for a legal wedding.
This is a big deal because the list of stuff you need is seriously long.
It includes:
Marriage application forms
Birth certificates
Visitors permits
Blood test results
Chest x-ray plates if necessary
Foreign marriage permits
And, of course, valid passports.
Of course, your choice of ceremony isn't solely about the cost.
If you prefer to marry legally at your destination, we're here to make it happen.
But unlike a lot of wedding companies in this region, we'll ALWAYS be straight with you. It's easier to legally marry at home first.
Check out my blog post for more info.
"Your Ultimate Guide On How To Get Married in Mexico (2023)"
You can also call our award-winning weddings team on our toll-free number 888-537-9797  if you have any questions.
2. Make Sure You Have a Wedding Planner in Place
Wedding planners are worth their weight in gold.
They know the ins and outs of arranging a wedding in their location. It's so important to have boots on the ground!
This includes how to make your wedding dreams come true at a stunning venue without breaking the bank.
So, investing in these professional services saves you money in the end.
Top resorts often include an on-site with their wedding packages. However, it's likely they have a wedding every single day, so you can imagine how busy they get.
Think of them more as your personal assistant on the day.
For the ultimate planning service, you need an experienced team that has worked closely with all of the hotels in the region and knows what to expect.
(Arguably) one of the best parts about getting married in Mexico?
All of our wedding planning services and the service of your on-site planner come at no extra cost to you!
So, you get all that valuable expertise at no extra cost. You don't get that anywhere else in the world!
Read some of recent wedding reviews below:
We started planning our wedding before COVID and ended up having to reschedule it twice. Ruby and Alison with playadelcarmen.com were on it and very responsive every step of the way. They were able to get us a great rate for the hotel rooms for our guests and worked with the hotel to provide us with a very nice upgrade. All of our guests raved about how helpful Ruby was and were very pleased with her service. We are very happy we used playadelcarmen.com because I don't think we would've gotten this kind of customer care anywhere else. – Codi Kelly (Facebook)
PlayaDelCarmen.com particularly Veronica helped coordinate our beautiful wedding at Hotel Xcaret. We were met with several challenges due to COVID and had to postpone a couple times. Thanks to Veronica we were able to get everyone rebooked with no issues. Thank you for all your hard work Veronica! Your hard work didn't go unnoticed. We had a beautiful wedding and our guests had a blast. – Liseste Lopez (Facebook)
3. Choose Your Dates Carefully
The date you choose for your destination wedding helps to determine how much it costs.
So, it pays to be careful with your decision.
If you're planning to say "I do" in Mexico you'll get decent weather throughout the year.
So, it makes sense to book your wedding for a time when wedding packages, flights, and accommodation are most affordable.
This makes May the best month for getting the most value from your money.
And, if you're unlucky enough to see some rainfall on the day of your ceremony don't worry.
The resort will move your celebrations indoors if your original choice was an outside space.
And, the venue will be every bit as stunning and romantic.
4. Look for Deals on Accessories in Advance
Booking your destination wedding should always be done at least 12-16 months in advance to make sure you get the dates and resort you want.
When you make this booking, it's a good idea to start looking around for accessories for your trip as well.
Doing this gives you the chance to get off-season bargains on items such as sunglasses, hair clips, and even wedding favors.
So, you get more for your budget.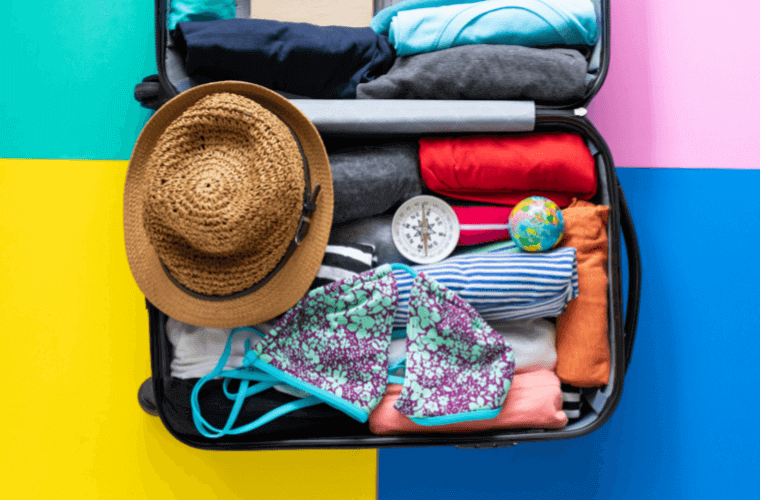 When you're shopping for essentials don't forget to make a list so you have time to get everything you need at the best possible price and nothing is forgotten.
Essentials include:
Bathing suits and beach cover-ups
Hats
Sunscreen
Sandals
Bug spray
And, of course, your dress for the big day.
Many brides we work with don't spend as much on their outfits as they would for a traditional wedding dress.
A simple romantic design often works best, especially for beach ceremonies.
5. Create a Honeymoon Registry
I love the idea of a honeymoon registry.
It's a great way of saving money on your celebrations.
Technically, your honeymoon is after your destination wedding.
But, if it's all part of the same trip you can use the registry to help you fund your activities while you're away,
You can even add a tip jar to the list of potential gifts.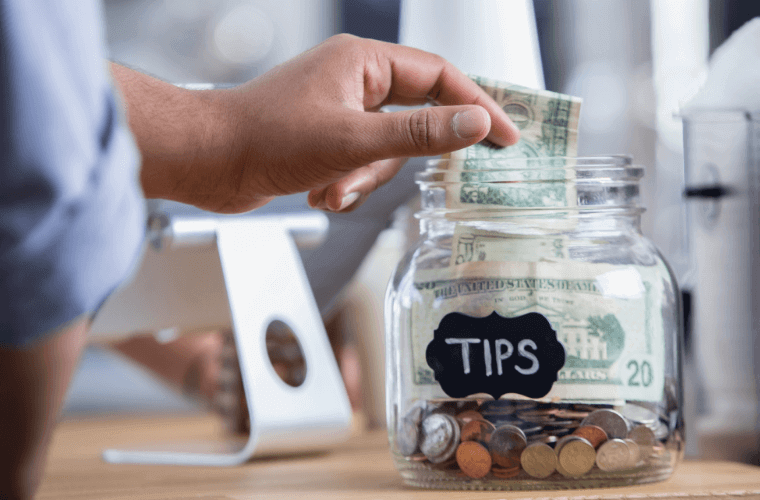 The cost of tips can add up pretty quickly, especially if you eat and drink outside of your wedding resort and take several tours.
So, having this gift in place can save you a ton of cash.
Here are some ideas for your guests: 
https://www.playadelcarmen.com/blog/honeymoon-registry-ideas/
6. Choose a Budget-Friendly Wedding Package
Wedding packages give you amazing features at a competitive price.
There are some incredibly affordable options that offer INSANE bang for your buck.
Most packages include features such as ceremony decor, the services of a non-denominational minister, and often a cocktail hour and/or reception.
So, everything is in place and you don't have to worry about any organization.
If you're concerned that your wedding may be predictable if you choose a package instead of a bespoke celebration, don't worry…
Resorts have arrangements with their own suppliers so you can customize your wedding as much as you like to make it personal to you.
No two weddings are ever the same!
Some of the best resorts even have arrangements with designer suppliers so you can choose from the creme de la creme of table decor, flowers, cakes and more.
Talk to us today to discuss your options, 888-537-9797
7. Take Advantage of Group Booking Offers
Did you know that your wedding guests can help you save money on your destination wedding?
At some resorts, if you book a certain number of rooms for you and your wedding party you can take advantage of deals and discounts.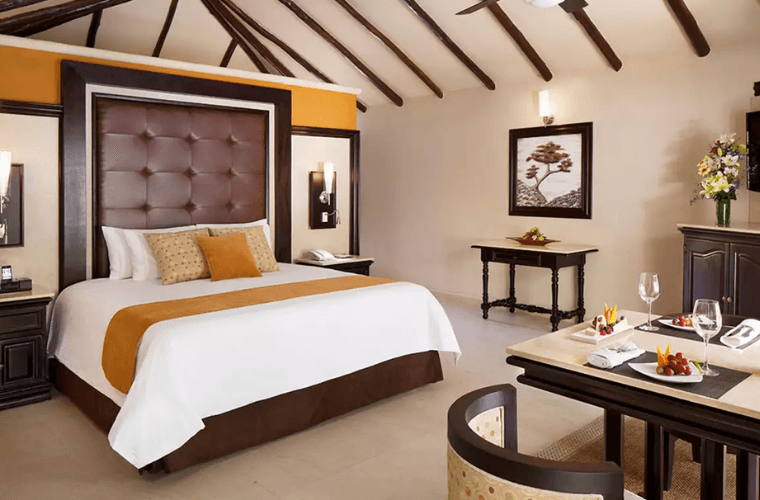 These discounts don't just apply to accommodation, they often include dining and activities too.
One of the block booking benefits our clients love is the preferential rates offered by Karisma resorts.
Take a few minutes to read my blog post for more info.
"10 Irresistible Perks of Booking Your Wedding at A Karisma Hotel"
It gives you an idea of the kinds of perks and discounts you'll be entitled to at many of the resorts this side of paradise!
Or, call us at 888-537-9797 if you have any questions.
8. Use Local Vendors
You can often get great deals on photography, videos, and flowers by using local vendors close to the venue for your wedding.
Remember to do your research online before you travel, checking reviews and finding as much background info as you can.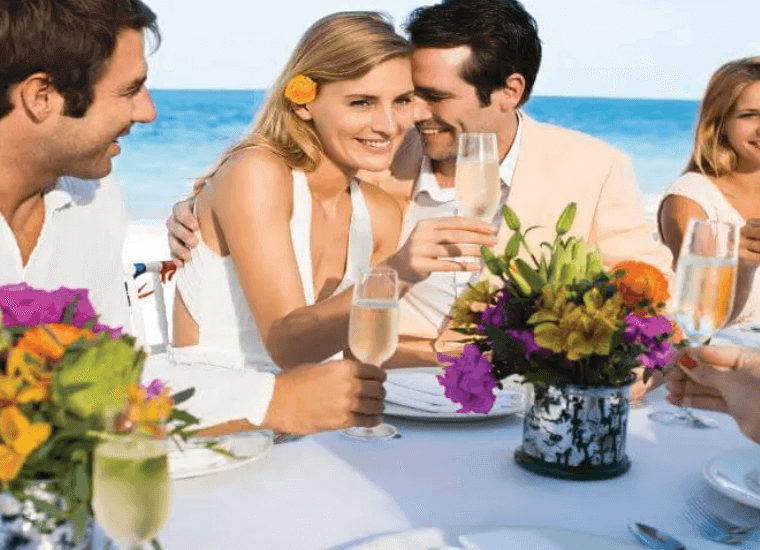 Many all-inclusive resorts have preferred vendors they recommend and you will usually be required to pay an outside vendor fee if you choose a different provider.
For example, a wedding photography package will cost you around $750-$3500+ and there will be an outside vendor fee of around $800-$1,000 to pay on top of this.
So, you need to decide whether choosing independent vendors is more or less cost-effective than choosing a wedding package that includes extras such as photography and floristry.
9. Say "I do" At An All-Inclusive Resort
If you like the idea of a luxury resort-based experience for you and your wedding guests, it makes sense to choose an all-inclusive destination for your wedding.
Dining, drinking, accommodation, activities, and entertainment are all included in the price so there are no unexpected costs.
You know exactly what you're paying which makes budgeting easier.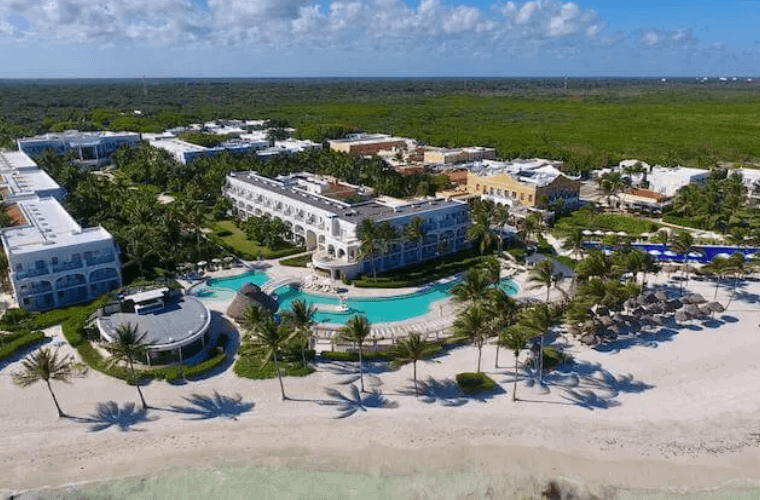 It's not only money you can save by choosing all-inclusive either.
Everything you need is at your fingertips so there's no need to waste time searching for a place to eat or live entertainment to watch.
Check out my blog post for inspiration when you're choosing an all-inclusive resort.
"10 Best Resorts for All-Inclusive Destination Weddings (2023)"
Heads up…
This money-saving tip only works if you're happy to spend most of your time at the resort.
If you want to venture off-property for most of the time you're away you may not get full value from the all-inclusive experience.
However, this is by far the most popular option amongst our clients.
The quality of all-inclusivity in Mexico is some of the best in the world. The food, drinks, and service are all world-class.
Of course, the more you pay the better quality you can expect, but as a general rule, you won't be disappointed – Mexico is brimming with mouthwatering flavours!
10. Book Tours and Activities in Advance and Get Great Deals
Your ceremony and celebrations will be the focal point of your destination wedding experience.
But, you and your guests will also want to spend some time exploring.
The most cost-effective way to do this is to book tours and activities in advance.
Speak to the team at PlayaDelCarmen.Com and we'll get you amazing, exclusive, deals on your bookings.
This includes discounts of 10-20% on many tours.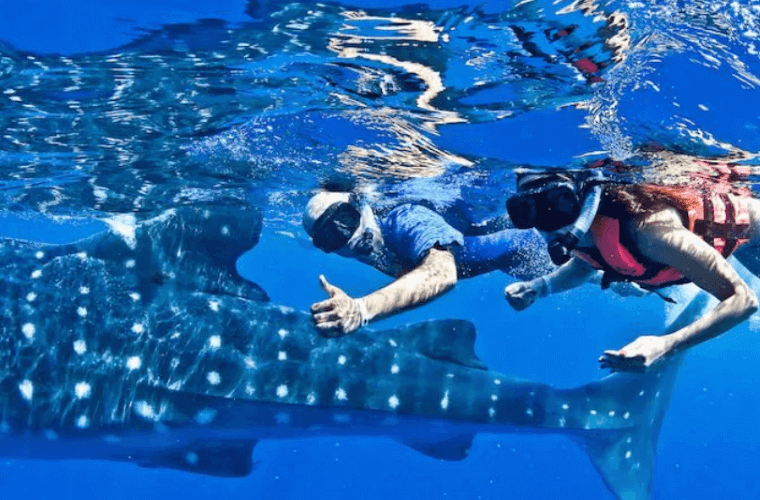 Tours we can book for you include the Tulum Full Day Explorer which gives you the opportunity to visit the Tulum Ruins, swim the reef, and discover an underground cenote.
Or, you may prefer the adrenaline rush of the Jungle Buggy Adventure.
You get to drive a dune buggy off-path through the jungle.
What's not to love 😍?
If you want to know more about saving money on tour bookings, call us at 888-537-9797 .
With so many different your providers offering the 'same' experience here in Mexico, the quality can vary GREATLY.
You can be assured that choosing our recommendations means you'll be getting only the creme de la creme.
We pride ourselves on testing each and every tour that comes on to the market here. The result? An opinion you can trust.
11. Find a Destination That's Easy to Reach
If the destination you choose for your wedding is difficult to reach it can cost you more money to get there.
This includes expensive flights to remote airports and long taxi rides if your wedding location is a long way from the nearest airport.
On the other hand, if you choose a high tourism destination for your celebrations, your travel costs are likely to be reduced.
For most US readers you're likely no more than 3-5 hour trip from paradise!
You also have the advantage of being able to book direct flights more easily which is way less stressful than having to cope with layovers.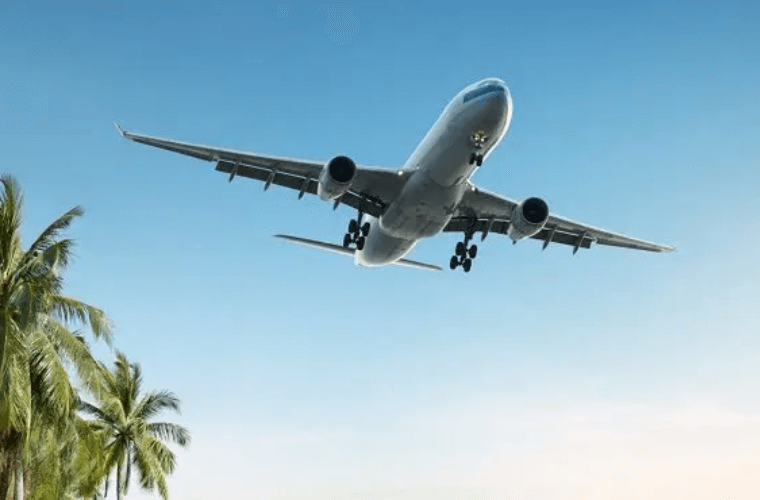 Steering clear of remote wedding locations means that you aren't faced with expensive taxi journeys when you land.
You can make use of affordable shuttle services instead.
Most resorts even include transfers in the cost of your stay.
So, there are no additional costs involved.
For Canadian and US readers it's worth noting that we can package your airfare and hotel costs to save you even more money!
12. Go For an Intimate and Romantic Vibe
Finally…
One tip that can't fail to help you save money on your destination wedding is reducing the guest list.
Many of the most affordable wedding packages include up to 20 guests – any more than this resorts often start charging 30-50 USD per head which can quickly add up if you were hoping to keep costs down.
Having an intimate celebration with just a few close family and friends is a lot more affordable than a big wedding.
And, it's no less romantic or special.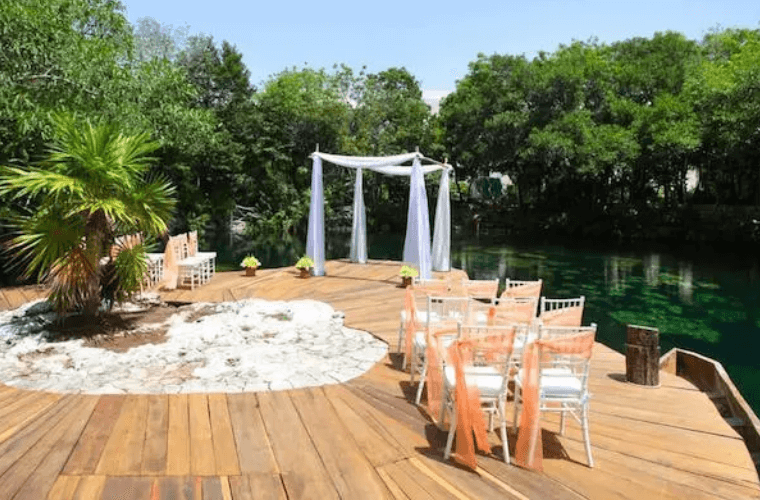 In fact, sharing your big day with only those closest to you can make the occasion more memorable.
Dreaming of a large destination wedding but still want to save money?
No problem.
We're experts at arranging all sizes of destination weddings and we'll make sure you get the best value for your dollars.
Ready to Save Money on Your Destination Wedding?
Want some help putting these money-saving destination wedding ideas into practice?
We're happy to help.
Our award-winning wedding team at PlayaDelCarmen.Com works with local resorts, vendors, and tour providers.
And we'll make sure you get the best bang for your buck.
Call us at  888-537-9797 or complete the contact form on our website and we'll help you make the most of your budget when you're planning the wedding of your dreams.
Have any questions or suggestions about saving money on a destination wedding?
I'd love to see what you have to say.
Pop any suggestions or money-saving stories you have in the comments so that we can all get the benefit of your insights.
Also, what do you think of our ideas, are they useful for you?
Share your thoughts with us and feel free to ask any questions you may have.
Other Blog Posts You May Find Useful
---
Trending Now