Guide to Choosing Destination Wedding Planner or Travel Agency
---
Do you want to plan a destination wedding alone?
The answer is no…. why do that to yourself?
So, a great wedding planner is a must-have if you want to make your wedding dreams a reality.
But, how do you find the right person, or people, to help you?
I'm here to give you the advice you need to make the right choice.
Ready to get started?
Keep reading…
A Guide to Choosing the Right Wedding Planner or Coordinator
---
1. Find Someone Who Has Excellent Local Knowledge
If you're planning a destination wedding, you need help from someone who knows the local area.
Hiring a wedding planner or destination wedding travel agency who has this knowledge helps you discover the wedding venues and packages that are best for you.
And, you get the inside scoop on what to see and do in the local area.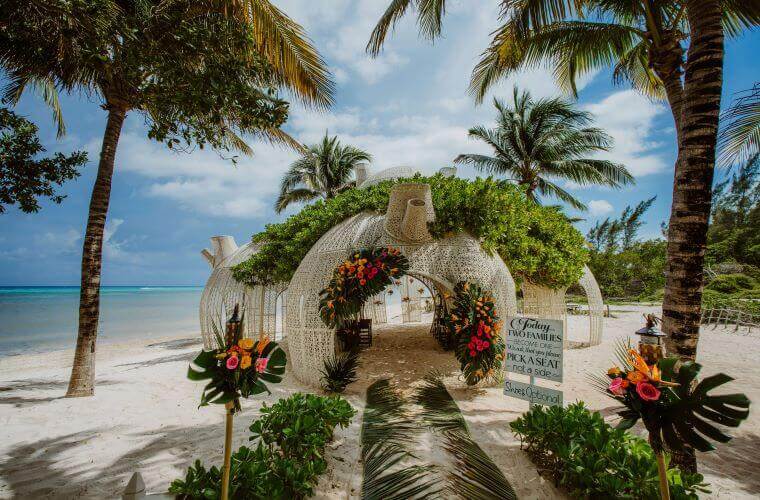 Our team knows all of the wedding venues in Playa Del Carmen, Cancun, and Tulum, and we've visited them.
So, we know the pros and cons of each venue as well as other considerations like accommodation, dining, and activities.
We have the first-hand local knowledge you need to find the perfect venue for your wedding, and we'll help you make great memories during your Mexican adventure.
2. Do Your Research Before Hiring
An experienced wedding planner or agency is a valuable asset.
They take the stress off your shoulders so that you can concentrate on enjoying your wedding and your entire stay.
Independent reviews will show how many weddings a planner has organized and how couples feel about them.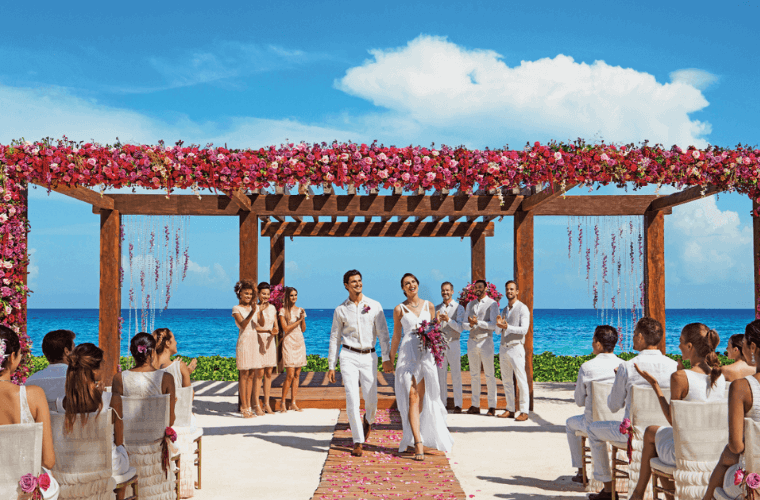 We've worked with hundreds of couples to make their wedding dreams a reality.
We know each wedding is different, and we pride ourselves on getting to know couples so that we can put our experience to use in a way that best suits them.
3. Look at Their Online Presence to Get a Feel for Their Experience
You want to work with a wedding planner who knows exactly what they're doing.
Having a confident professional has your back makes everything much easier.
Checking out what a planner or destination wedding travel agency has to say online is a good indicator of whether they know their stuff.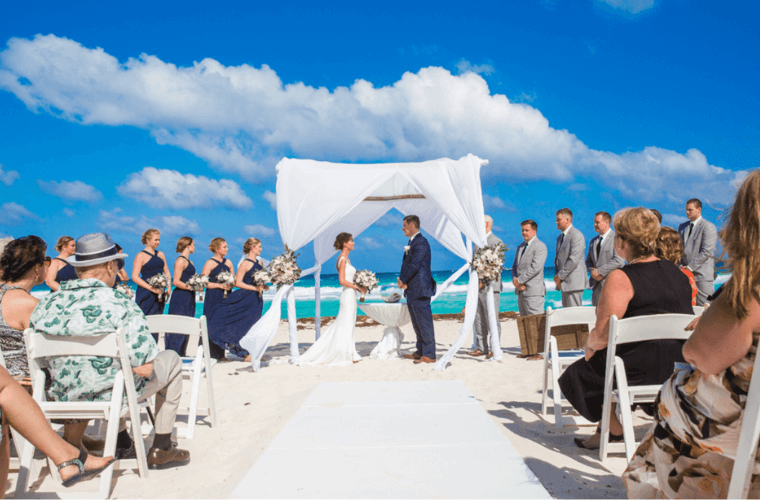 You only need to look at our wedding blogs section to know that we understand what it takes to plan a beautiful wedding, and we have the expertise you need as you organize your celebrations.
Need more reassurance?
Read our reviews on Facebook.
We're happy to answer any questions you have if you call us at 888-537-9797.
4. Understand What They Can Do For You
If you want to achieve the wedding, you're visualizing you need a wedding planner who can deliver what you need.
So, it's essential to check the scope of what a planner can do for you.
Make sure that the services available align perfectly with your requirements.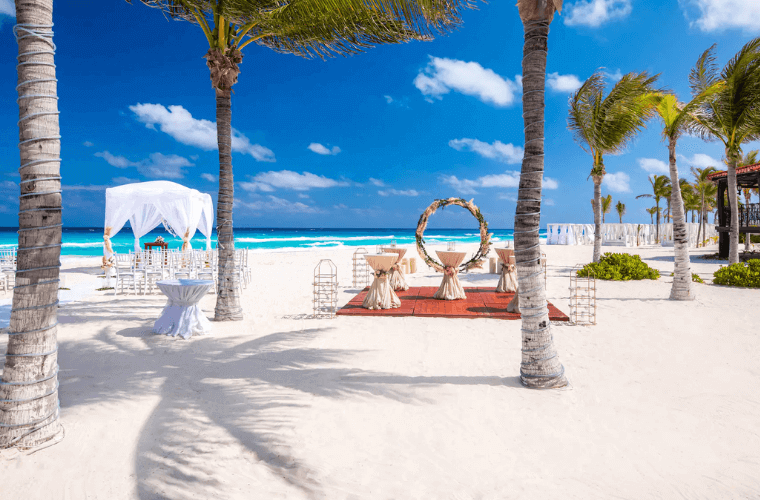 In the case of PlayaDelCarmen.Com, we provide a comprehensive service that includes:
Best hotel and package suggestions.
Securing a block booking for you and your wedding guests for the dates you need.
Organize travel for you, your partner, and everyone attending your celebrations.
Liaising with the onsite wedding team on your behalf so that everything is exactly as you want it.
Providing suggestions for local vendors.
Answering all questions on an ongoing basis.
Call us at 888-537-9797 if you'd like to know more.
5. Book a No-Obligation Consultation
Your wedding planner is going to be a major part of your life for several months.
So you need to be on the same page.
And, they need to be able to understand your personality and your wedding vision.
You can find out if this is the case during a no-obligation consultation.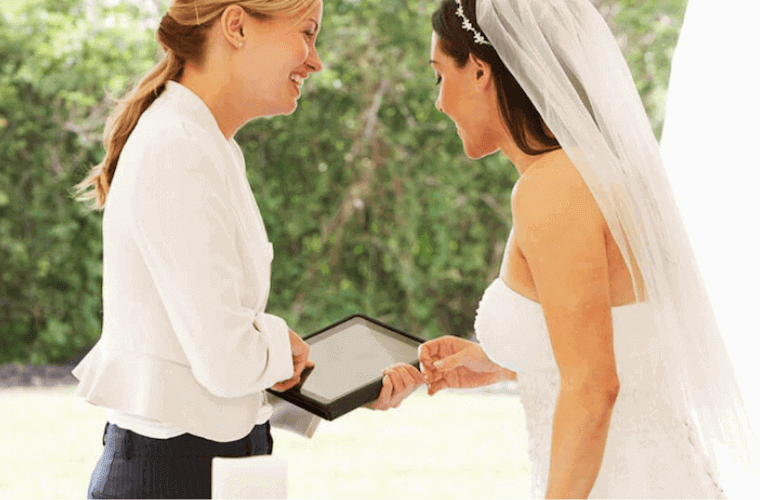 We know how important it is for you to make sure you gel with the person who's planning your wedding.
So, we're happy to set up a virtual consult with you, and we're excited to get to know you.
Our friendly team is international, so we'll have someone from close to your part of the globe to talk to you, including folks from Ukraine, the US, Mexico, the UK, and France.
6. Is a Meet and Greet at the Venue Possible?
We love meeting couples months ahead of their wedding and getting to know them at their chosen venue.
It's a great way to get inspiration for the planning to come and gives everyone an opportunity to get to know each other in person.
While a meet and greet aren't essential for an amazing wedding, it can really help with setting everything on the right track.
If you'd like to do this, just contact us at 888-537-9797.
7. Does the Cost Fit With Your Budget?
It can be difficult to pay attention to your budget when you get swept away by the romance of marriage.
But it has to do done.
The good news is that we can make life easier for you.
You get our wedding planning services FREE as part of the package.
So, you don't have to bust your budget on a costly independent planner or agency.
Many resorts do have their own wedding professionals on-site, but you'll find they're more of an assistant to help during your celebrations.
We're with you right through your journey, and we'll plan logistics for all your wedding parties as well as the details for your wedding.
Plus, we'll act as a middle person between you and the resort team.
And, we'll ensure you get maximum value from the money you spend.
Have a read of my blog post as a starting point for planning a budget-friendly destination wedding.
"10 Best Destination Wedding Packages Under $10,000 in 2023"
8. Can They Provide Specialist Wedding Celebrations?
Every destination wedding is different, so you need a wedding planner who has experience organizing an array of different celebrations.
This includes South Asian weddings and Catholic ceremonies.
We plan many specialist wedding celebrations, so we appreciate the importance of aesthetics and traditions. We'll make sure that every aspect of your wedding is perfect no matter what type of celebration you choose.
9. Is Every Detail Catered For?
Everything about your wedding needs to be perfect.
So, the wedding planner you work with must be passionate about paying attention to every detail, no matter how small.
Our speciality is planning all-inclusive weddings that are tailored to each couple and have a bespoke romantic vibe.
Dreaming of a beach wedding with a stunning Caribbean backdrop?
No problem…
Whether you want an intimate ceremony or a big celebration on the sand, we'll arrange it for you.
This blog post will give you some inspiration to get you started.
"10 Best Resorts for Your Beach Wedding in Cancun 2023"
Prefer the ultimate in luxury and glitz for your destination wedding?
I hear you.
Our experienced and professional team will find the perfect all-inclusive wedding package for you, or we'll help you plan a customized celebration from scratch.
That's not all…
We'll organize every aspect of your special occasion for you and your wedding guests.
This includes finding the right accommodation for you and securing great deals.
We'll also arrange tours, activities, and entertainment.
And, if you're travelling from the US or Canada, we'll book your flights too.
Work with us, and we'll plan every last detail of your destination wedding for you.
So, you can concentrate on relaxing and enjoying the journey.
10. Start  Planning Your Destination Wedding Today
Ready to plan your destination wedding in paradise?
That's amazing news.
The team at PlayaDelCarmen.Com is excited to be part of your story.
Our wedding planning services make everything easy for you.
We arrange everything, including destination wedding packages, venues, photographers, transportation, and fun things to do.
And, we'll make sure you get the best deals to save you money.
Plus…
Our planning services are FREE as part of the package.
And we have experience arranging all types of weddings, dealing with all budgets, and working with wedding parties of any size.
Sound good?
Just connect with us and share your preferred dates and estimated budget.
Then we're good to go.
Call us at 888-537-9797  to start planning your wedding today.
We look forward to hearing from you.
Have questions or comments about finding a wedding planner?
If you have anything to say about this post, I'd love to hear from you.
I'm happy to answer any questions you may have.
And I'd be interested to hear your wedding planning insights.
Just pop something in the comments, and I'll take a look.
Other Blog Posts You May Like
---
Trending Now
You may also like