Weddings at ATELIER Playa Mujeres | My Honest Review (2023)
---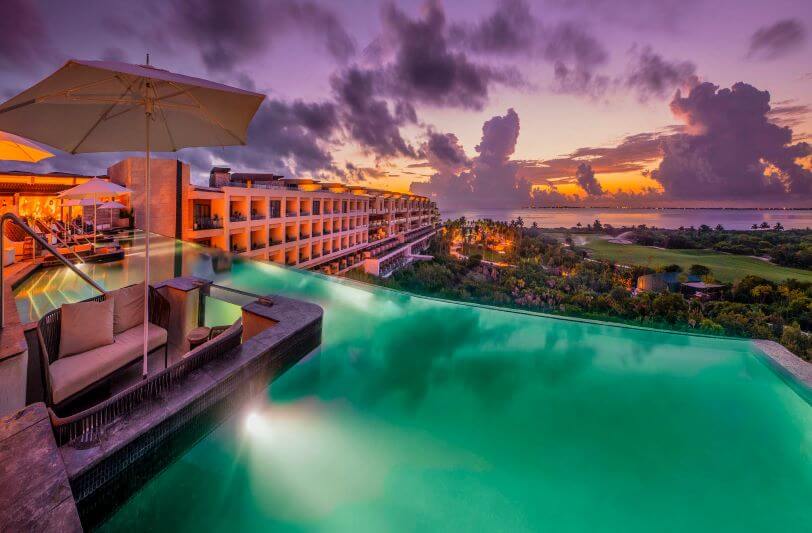 Have questions about Atelier Playa Mujeres as a venue for your destination wedding?
We've got you covered!
Today I'm dishing all the inside info you'll need on Atelier wedding packages, wedding venues, accommodation, amenities, and activities.
The location of Playa Mujeres is one of our favorite coastal gems in the region
…. and soon you'll find out why.
Our experienced wedding planners have organized 100's of destination weddings.
As local ex-pats and nationals, we know the drill better than anyone.
Ready to find out if it's the resort for you and get the best deal?
Let's get started…
Atelier Playa Mujeres Destination Weddings | Your Ultimate Guide
---
1. Hotel Overview
★★★★★ | Adults-only (16+) | Playa Mujeres
Looking for a luxury resort within a stunning natural landscape for your destination wedding?
Atelier features high-end amenities and is surrounded by lush tropical greenery and the Caribbean Sea.
It's an adults-only paradise that welcomes guests aged 16+.
I love the innovative design of this place that blends a Mexican theme with contemporary excellence.
It's gorgeous 😍
How many rooms does Atelier Playa Mujeres have?
There are 431 rooms at Atelier.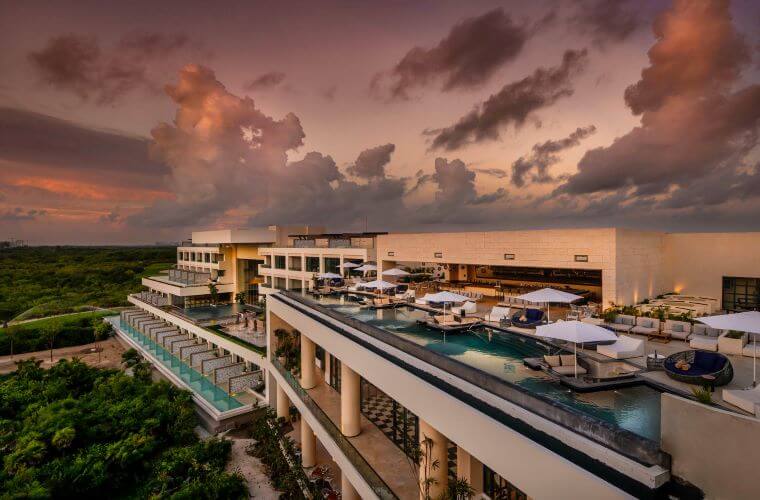 You get amenities including a deep soaking tub, tablet computer, smart TV, and free WiFi.
The rooms also have amazing views across a golf course or the Caribbean Sea.
The average cost of a room is $450-$600 depending on which suite option you choose and when you stay.
Is Atelier Playa Mujeres all inclusive?
Choose Atelier for your wedding and you and your guests get the benefits of first-rate all-inclusive accommodation.
This includes:
Unlimited food and drink.
Total-Rest Beds®.
Chill-Out Bath® and deluxe bathroom amenities.
24-hour room service.
Pool concierge.
Daily replenished minibar with water, soft drinks, beer, tea, and coffee.
How far is Atelier from Cancun Airport?
Atelier is around a 40-minute drive from Cancun International Airport.
The team at PlayaDelCarmen.Com will make sure that your transportation is included when you plan your wedding.
So, you can just sit back and enjoy the drive.
2. Wedding Package Options
Dream of a romantic destination wedding in Playa Mujeres?
Atelier is the perfect place to say "I do."
Every luxury wedding package at the resort covers essentials including:
On-site Wedding coordinator.
Symbolic ceremony.
Semi-private venue with a basic ceremony setup.
Corsage and boutonniere for the wedding couple.
Romantic decor in your room on your wedding night.
Sparkling wine.
Want a romantic occasion for just the two of you?
The Together Package is a perfect choice.
You get an intimate ceremony for you and your partner which costs from $780.
Other wedding packages at Atelier are:
One Kiss Package for up to 10 people costs from $1,170.
Entice Package for up to 20 people which costs from $4,950.
And, for complete luxurious romance:
The Bliss Package for up to 50 people costs $11,690.
I love some of the inclusions in this package, like a special cocktail hour with hors d'oeuvres, a diamond dinner with a diamond open bar, photography coverage for an hour…
And…
An artist painting live during the ceremony, how cool is that? 😎
3. Ceremony & Reception Venues
At PlayaDelCarmen.Com we know those amazing destination weddings aren't just about the package.
The venue is super important.
At Atelier there are three venue options to choose from, beach, terrace, and meeting room.
Want to take a closer look?
Here goes…
Beach
The soft white sands at Atelier are stunning.
Choose this space for your wedding ceremony to embrace the beauty of nature.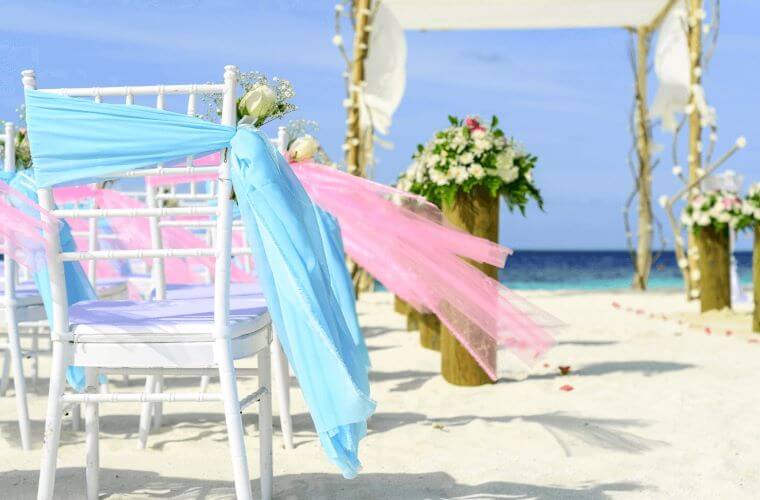 The beach is a semi-private location with a ceremony capacity of 180 people.
Ceremonies can start at 3 pm.
Terrace
Choose the Terrace at Atelier for your wedding ceremony and you get to exchange vows against the stunning backdrop of Caribbean skies.
It's a beautiful and elegant space.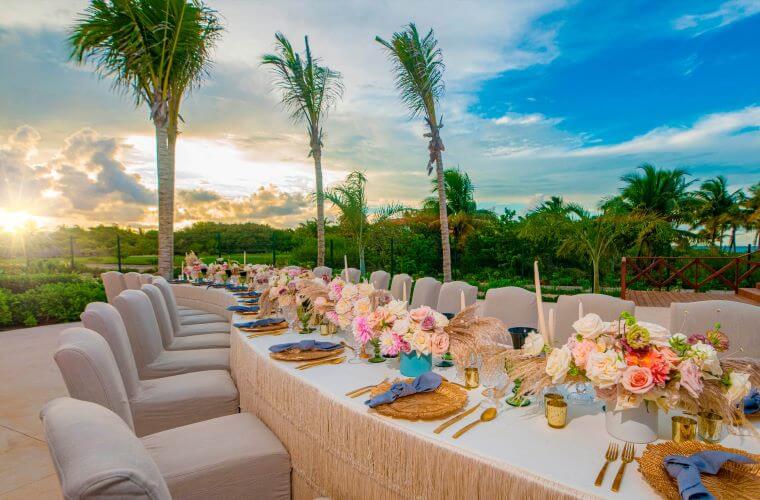 The terrace is a semi-private venue with a maximum capacity of 90 people.
Ceremonies can start at 12 pm.
Meeting rooms
Like the idea of a private space for your wedding ceremony?
The meeting rooms at Atelier give you just that.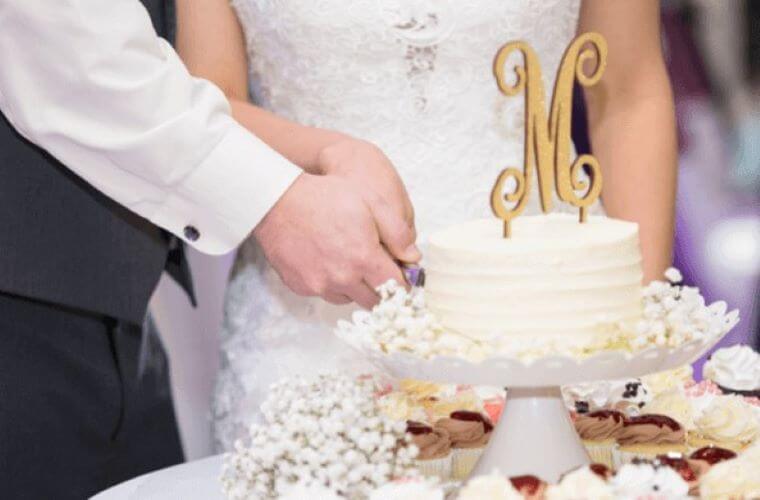 The maximum capacity of this venue option is 80 people.
Ceremonies can start at 12 pm.
4. Gay Weddings at This Resort
Atelier loves welcoming same-sex couples for their wedding celebrations.
Most couples choose to have a symbolic ceremony in Mexico and take care of the legal side back home.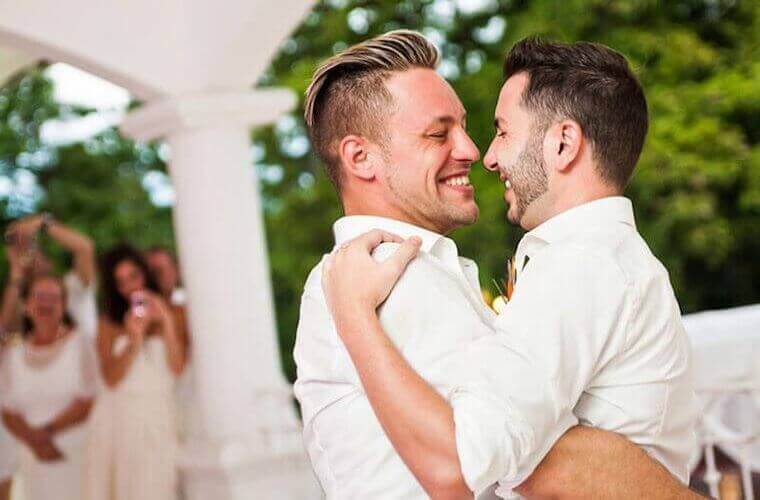 For same-sex couples who want a legal ceremony in the country, a little extra paperwork and organisation is needed.
We're here to help and make sure that everything goes smoothly.
Call PlayaDelCarmen.Com on 888-537-9797.
5. Rooms Types
Looking for a destination wedding location with stunning contemporary accommodation?
Every room at Atelier is decorated with artwork representing Mexican culture.
Plus…
You get to relax on a Total-Rest Bed® that's complemented with a pillow menu and top-quality bed sheets.
Perfect for helping you get the sleep you need before your big day.
The Molton Brown® bath amenities are pretty amazing too.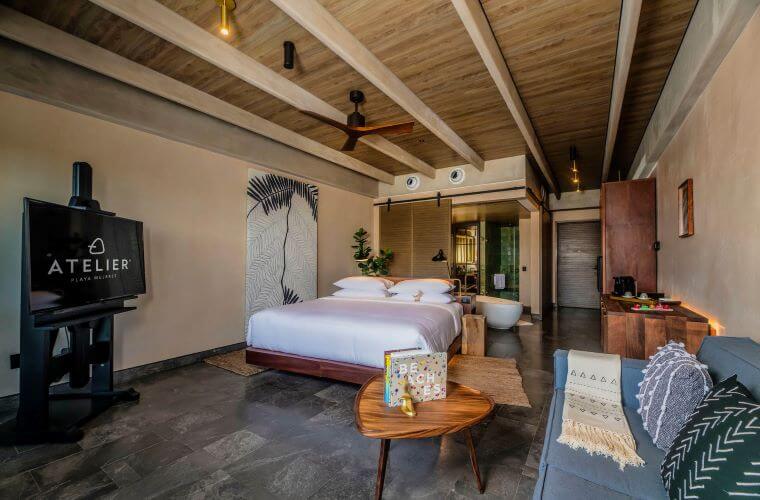 Want to know more about the accommodation at Atelier?
Let's explore…
Junior Suites are the most affordable option at the resort and they're pretty special as you can see…
You get a balcony and elegant decor as standard.
These suites come with either one king, two queen, or two double beds.
Choose an ocean view for a special touch.
Do you or your guests have accessibility needs?
Choose the handicap junior suite which features all the luxury you would expect together with accessibility facilities.
What are INSPIRA Suites at ATELIER Playa Mujeres?
Looking for accommodation with extra zing?
INSPIRA Suites at Atelier are the answer.
You get a personalized accommodation experience with world-class service.
Extra features you get when choosing INSPIRA include:
Access to the INSPIRA Lounge.
Use of an exclusive section of the beach.
Exclusive access to the infinity pool at El Cielo Sky Bar during the day.
A rolling bar with whisky, tequila, vodka, and champagne bottles.
Complimentary calls in Mexico, and to the USA and Canada.
You also get to choose from a range of gorgeous swim-out suites including my personal favorite the Inspira Party Suite.
Just look how impressive it is…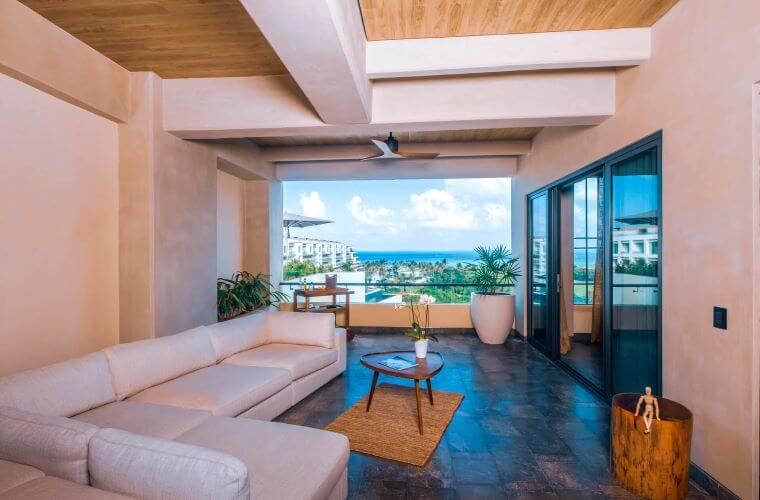 You get a prime location next to El Cielo Sky Bar.
The suite also includes a private rooftop terrace that features a plunge pool.
How special is that? 💗
All Inspira suites feature top-class facilities.
Plus…
You get two rounds of golf if you stay seven nights or more.
Pretty amazing if that's your thing.
6. Beach
The beach at Atelier is pretty spectacular…
The sand is white and soft beneath your feet, perfect for a romantic stroll on your wedding eve.
Or, you can relax in one of the beach cabanas.
Is there any seaweed on the beach?
There is sometimes seaweed on the beach at Atelier.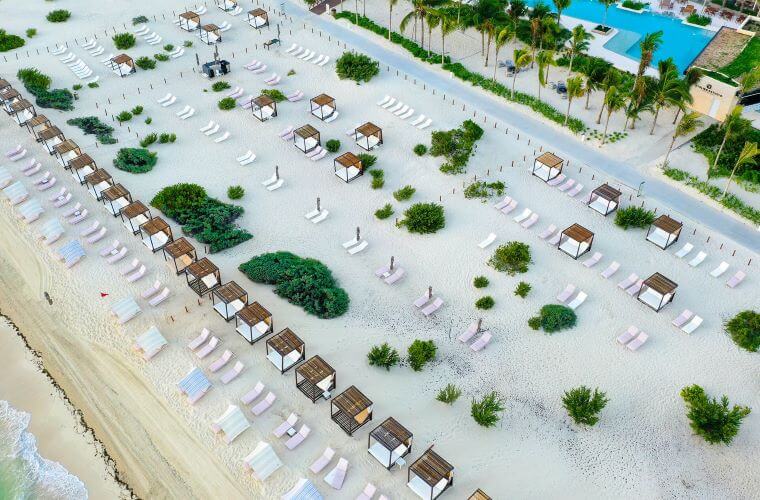 But, the hotel clears it and creates a pristine and glorious space.
I'd also like to give a shout-out to Isla Mujeres for beaches to die for.
You can take a romantic day trip with your partner.
Take a look at my blog post for more info.
The Ultimate 1-Day Guide to Isla Mujeres – What to Do in 24 Hours
7. Food & Drink
Diverse and memorable dining and drinking experiences are an essential part of your dream destination wedding.
Atelier delivers in this area with authentic Mexican and international cuisine coupled with magical mixology.
Restaurants
You and your guests get to choose from a selection of amazing dining experiences at Atelier.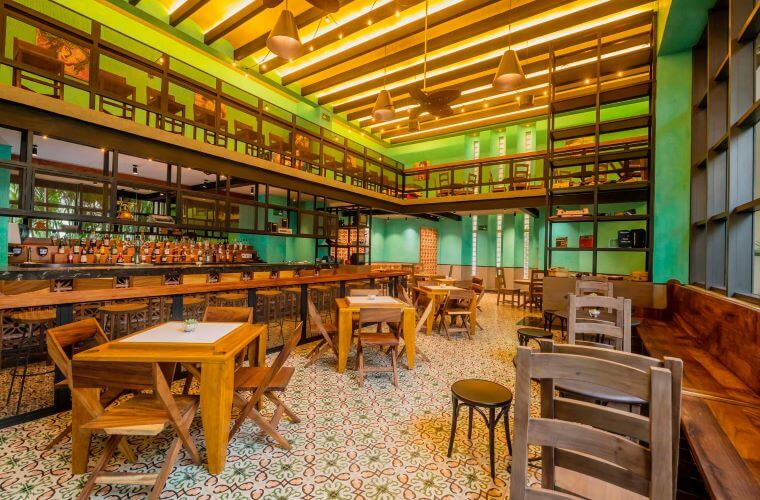 Here's a taste of what to expect:
Mercado 19 for colorful surroundings and traditional Mexican dishes.
Maria Dolores by Edgar Nunez for exquisite contemporary Mexican cuisine and where reservations are essential.
El Suspiro for mediterranean cuisine and seafood lunches.
Takeshi for a taste of Asia.
Cilento for rustic Italian specialty dishes.
Los Abrazos for delicious meats from Argentina, Brazil, Uruguay and Chile.
Cafecito Coffee Shop for artisanal coffee and sensational desserts.
Limon Y Sal for gourmet snacks.
Alba for healthy food and drink options including juices, salads, and organic food.
Bars
After dinner drinks with your partner, cocktails with the bridal party, or beers with all your guests.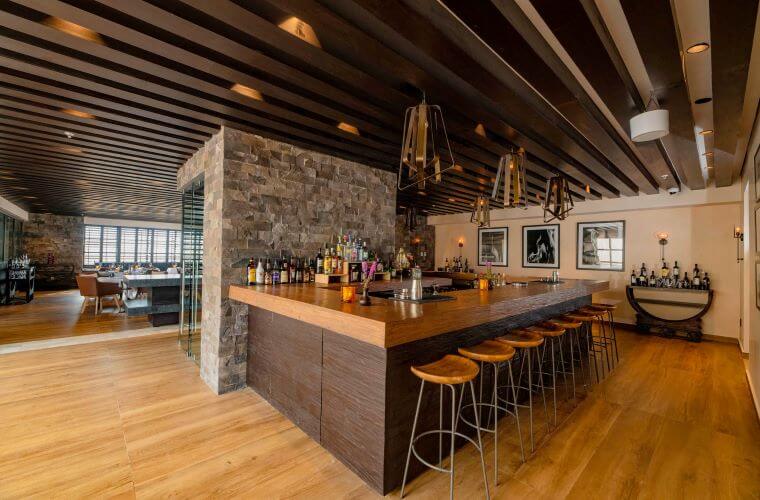 Atelier has them all covered.
You get to drink at sophisticated bars with exquisite Caribbean views.
Here's some extra info for you:
Don Fernando Lobby Bar for spectacular views and top-shelf liquors.
El Deseo Theater Bar for drinks before and after the entertainment.
La Oficina Bar for Mexican vibes and premium cocktails.
El Cielo Sky Bar exclusively for guests in Inspira suites during the day.
El Suspiro Swim Up Bar for cocktails and beachfront views.
Bar de la Calle for drinks while shopping.
Limon Y Sal Swim Up for relaxing beverages in the pool.
8. Activities & Entertainment
Want great activities for you and your guests at your destination wedding?
No problem.
There are plenty to choose from at Atelier.
You can work off pre-ceremony nerves at the state-of-the-art gym.
Then, you and your bridal party can treat yourself to some pampering at Nuup Spa.
If golf is your thing why not play a round at the 18-Hole golf course designed by Greg Norman *there's an extra cost for this*.
Plus…
There's live entertainment to enjoy that appeals to all tastes.
What activities can I find close to Atelier?
Want to venture out of the resort to explore?
That's great.
The locally based team of PlayaDelCarmen.com will recommend and book activities and tours for you and your guests.
Need help choosing?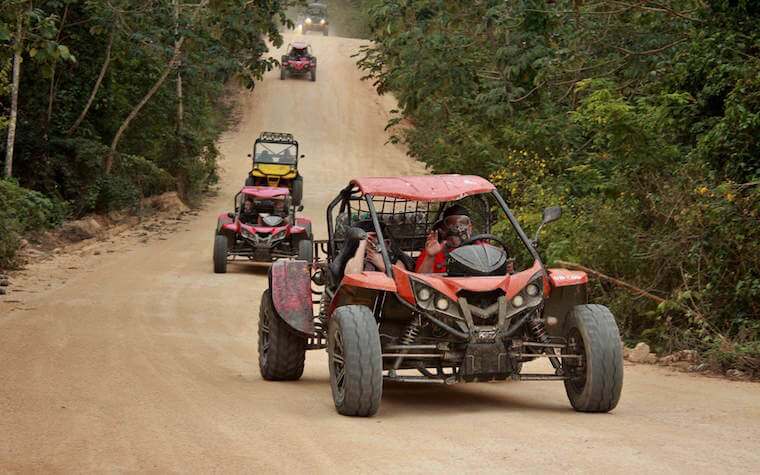 I'd definitely recommend the Jungle Buggy Tour I just experienced for the second time.
Here's my review for you to have a look at.
My HONEST Review of The Jungle Buggy Tour in Playa del Carmen (2023)
I also put together a list of amazing group tours you and your guests might love.
10 Best Tours for Group Vacations When Travelling to The Riviera Maya (2023)
Or, just give the team a call and we'll be happy to help with all your wedding planning needs.
This includes getting the best deals on activities for you and your guests.
9. What Brides Said…
"We had a group of 9 people with 3 junior suites and 1 rooftop suite for our wedding. We had our wedding in the rooftop suite overlooking the ocean and the golf course. The wedding planners Marcos and Elisa were amazing and took care of all the details for our trip. The resort is the best I have ever stayed in. The food and restaurants are great, and the service is perfect! The golf course was just the right amount of challenging, and the Spa was first class. Again the service was amazing. Thank you Marcos for helping create our special event! Definitely recommend this resort, it is a very special place, and we will be back each year for our anniversary."

Dan S

"We recently returned from Atelier where we had our wedding. Let me tell you, I couldn't be happier how it turned out. Our wedding was perfect! The wedding planner, José and his assistant Areli, met us the first day we arrived to make sure everyone was on the same page. They assured us that all of our expectations were going to be met. Little did we know, the wedding coordination team would far exceed those expectations (even with our last minute adjustments and changes). The food, the venue (the Garden el Trompo), and the music were spot on.

David K

"Our friends and family continue to rave about their week at this resort. Again, I cannot give enough praise to this resort and the staff. The week went off without a hitch and was everything I could have ever dreamed of. Thank you to everyone involved in our wedding and our week in paradise! We will never forget you all."

Taylor K
10. Why We Like It
We love being part of a couple's wedding journey.
And, we're proud of our expert wedding planning services.
So we only ever recommend resorts and experiences we love.
When it comes to Atelier, I especially love:
The eclectic range of restaurants and bars.
The beautiful expanse of pristine white beach.
Inspira Party Suite accommodation, just wow.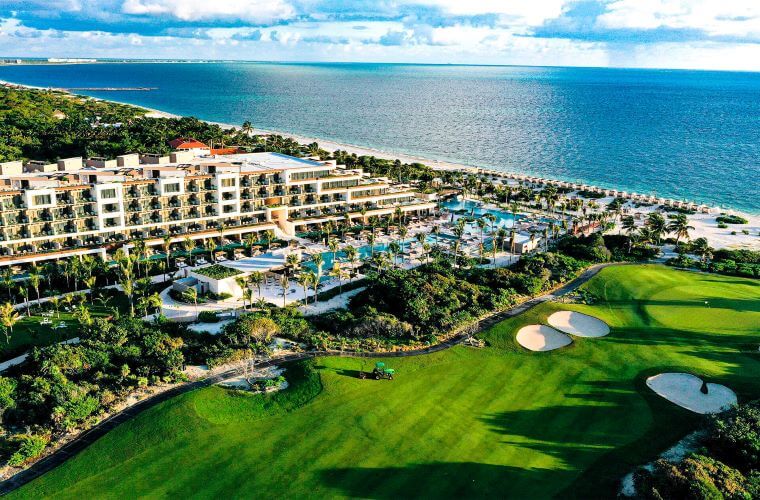 If you have guests traveling with kids this adults-only resort isn't a great choice for them.
But, they can stay at the sister resort Estudio Playa Mujeres where kids are very welcome.
And, they'll love the Doodle Land® concept with interactive programs and amazing activities for younger guests.
Have comments or questions about Atelier?
Pop something in the comments and I'll get right on it.
I'd really love to hear from you.
11. Additional Resources You May Find Useful
12. Get Married in Paradise
Love the sound of a wedding at Atelier?
That's great news.
The PlayaDelCarmen team would love to get you the best deals on accommodation, wedding packages, and activities.
Call us on 888-537-9797. or complete the contact form on our website.
We can't wait to turn your wedding ideas into reality.
Weddings at ATELIER Playa Mujeres | My Honest Review (2023)
Hotel Overview

Rooms

Food & Drink

Activities

Wedding Packages

Wedding Venues

Beach
Summary
When it comes to Atelier, I especially love:
The eclectic range of restaurants and bars.
The beautiful expanse of pristine white beach.
Inspira Party Suite accommodation, just wow.
---
Trending Now